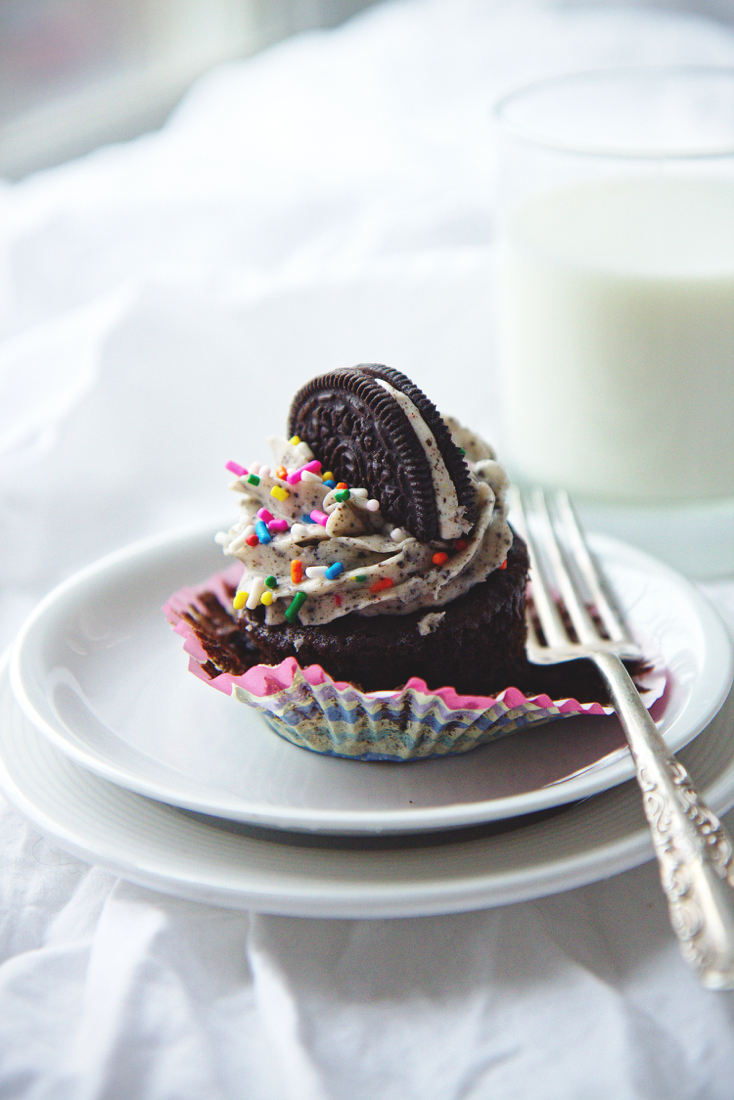 A little party may not, but you know what? a few finals definitely hurt me.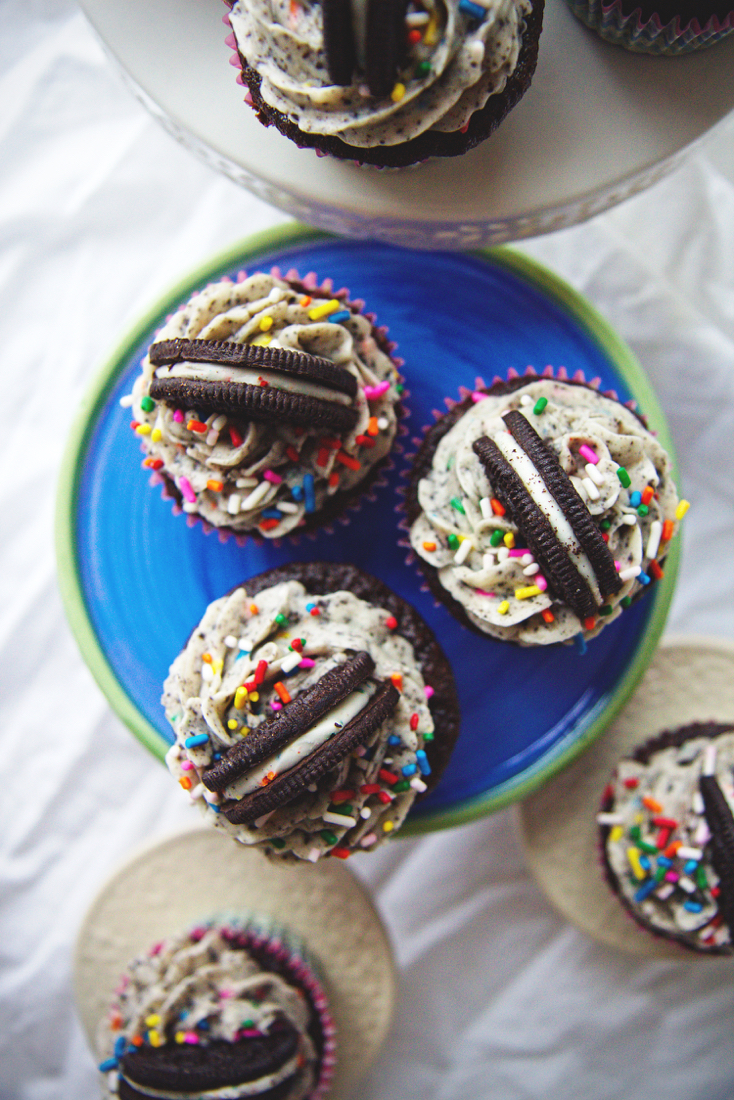 Luckily for my sore, sorry self, I am done.
I turned off all my alarms this morning.  I got 10 hours of sleep.
I am home, and now the holiday fun begins.
Before I came home, I sent off some gifts to my person and his family, theirs snuggled in his suitcase, his meticulously packaged in thick wrapping paper and gold ribbon and carefully nested into a big fedex box.
I have lists of presents to collect and wrap and place under the tree.  Then I have to wait, breathlessly, for them to be opened.
For that matter, we have a Christmas tree to search for—we must find a properly plump one that won't leave green trails scraping across my mother's white ceilings (it always does).
I have cookies and caramels to make and citrus begging to be transformed into an olive oil cake.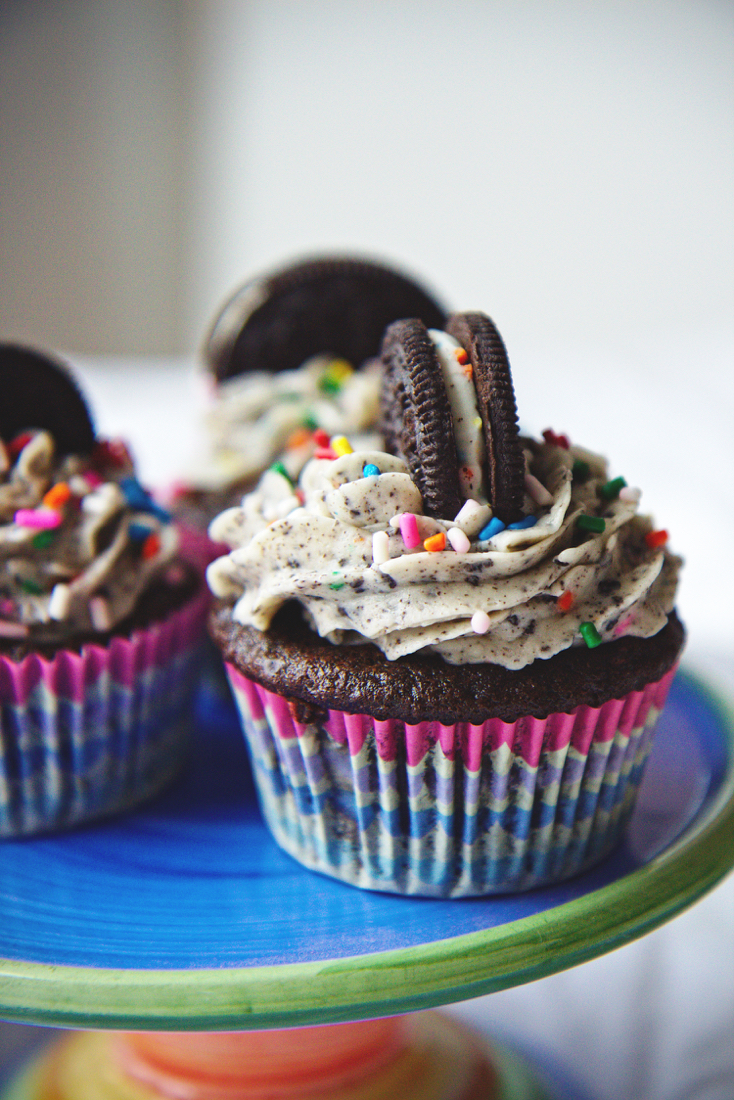 I actually remembered to bring my camera home with me, this time, so expect plenty of new posts coming through (so much free time for baking and blogging!!!!!).
These cupcakes are relics from before finals began.
I barely had time to shower during finals, people, let alone make sprinkly, happy Oreo cupcakes.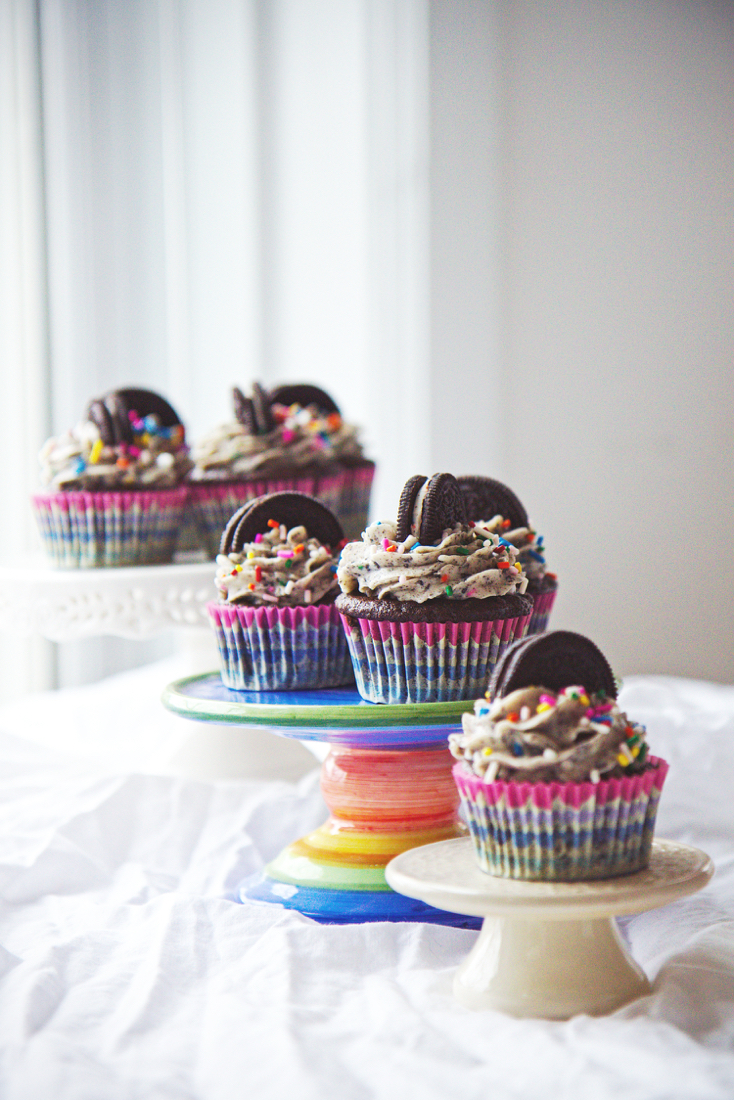 I saw some birthday cake Oreos in the store the other day, and they were practically begging to be made into extra special, sprinkled cookies and cream cupcakes.
These are simple, but very fun, and perfect for birthday parties and the like.
Simple dark chocolate cupcakes with Oreos baked right in are topped with crumb- and sprinkle-flecked American buttercream icing with a heavy dose of salt.
They're topped with half an Oreo and, of course, more sprinkles.
Easy, quick, cute—exactly what I want out of a cupcake.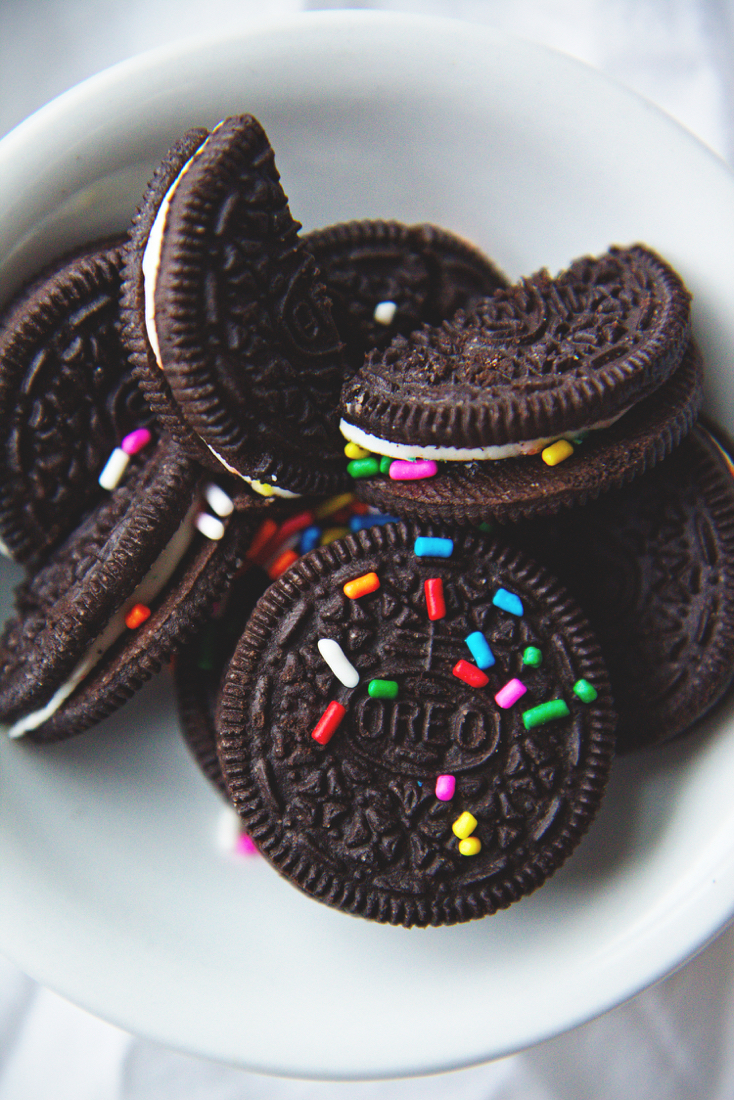 It's winter break!!  Plenty of reason to celebrate with cupcakes!
(Also, happy 12/13/14!)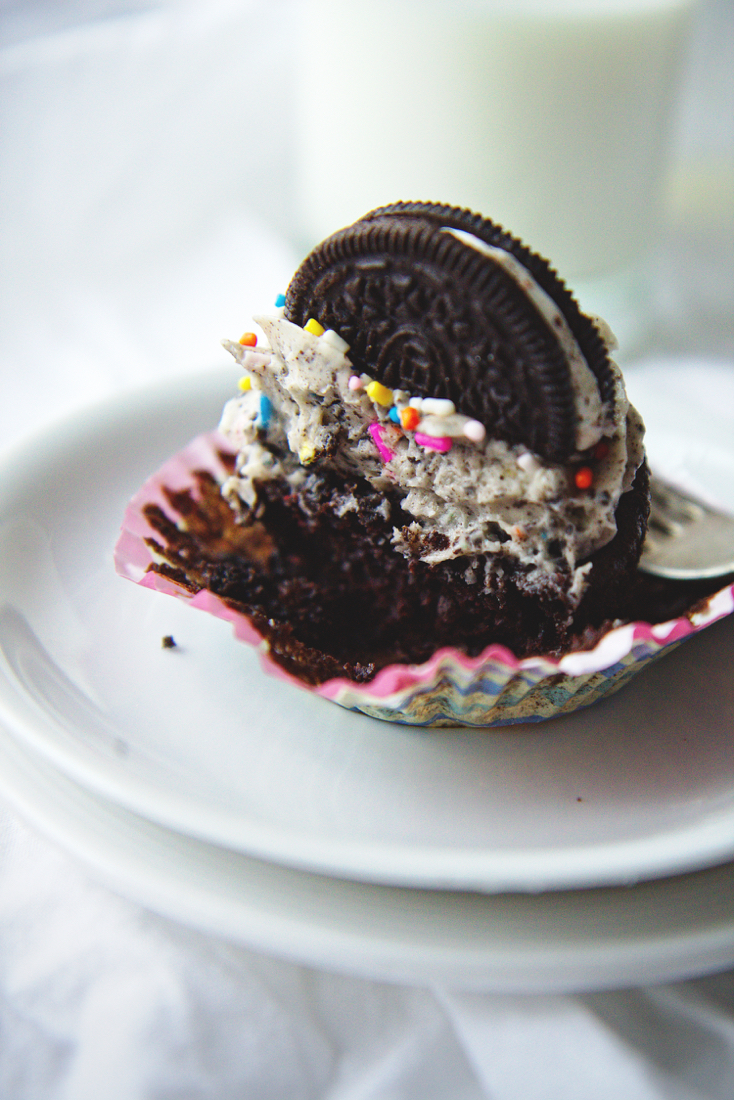 Birthday Cake Oreo Cupcakes
makes 12 cupcakes
cupcake portion adapted from Sweetapolita
ingredients:
for the cupcakes:
3/4 cup (95 grams) flour
3/4 cup (150 grams) sugar
1/4 cup (30 grams) cocoa powder
3/4 teaspoon baking soda
3/4 teaspoon baking powder
3/4 teaspoon cornstarch
1/2 teaspoon plus a small pinch kosher salt (~5/8 teaspoon)
1/3 cup (80 mL) low-fat milk
1/4 cup (60 mL) coffee, hot
3 tablespoons (45 mL) oil
1 egg
2 teaspoons vanilla extract
6 birthday cake Oreos, cut up into pieces
1 teaspoon flour
for the oreo frosting:
1 cup (230 grams) unsalted butter
1/2 teaspoon kosher salt
2 cups (230 grams) powdered sugar
3 tablespoons (45 mL) half and half
6 smashed birthday cake Oreos (1/4 cup crumbs)
2 tablespoons sprinkles
6 birthday cake Oreos, halved, for decorating
extra sprinkles
directions:
Make the cupcakes: preheat oven to 350 degrees F.
Line 12 cupcake tins with liners.
Whisk together flour, sugar, cocoa powder, baking soda, baking powder, corn starch, and salt.
Whisk together milk, coffee, oil, egg, and vanilla extract.
Pour the wet ingredients into the dry while whisking vigorously; batter will be a little thin.
Toss chopped Oreos with flour, then stir into batter.
Portion out batter into cupcake tins.
Bake for 15 minutes, until springy to the touch.
Allow to cool completely.
To make frosting, place butter and salt in the bowl of a stand mixer and beat on high for 5 minutes.
Scrape the bowl and beat for 2 more minutes.
Add in the powdered sugar very slowly, while mixing on low speed.
Drizzle in half and half once all the powdered sugar is incorporated, and beat on high speed for 2 more minutes.
Add in the Oreo crumbs and some sprinkles and stir to combine.
Pipe onto cooled cupcakes, nestle half an Oreo on top, then top with more sprinkles!