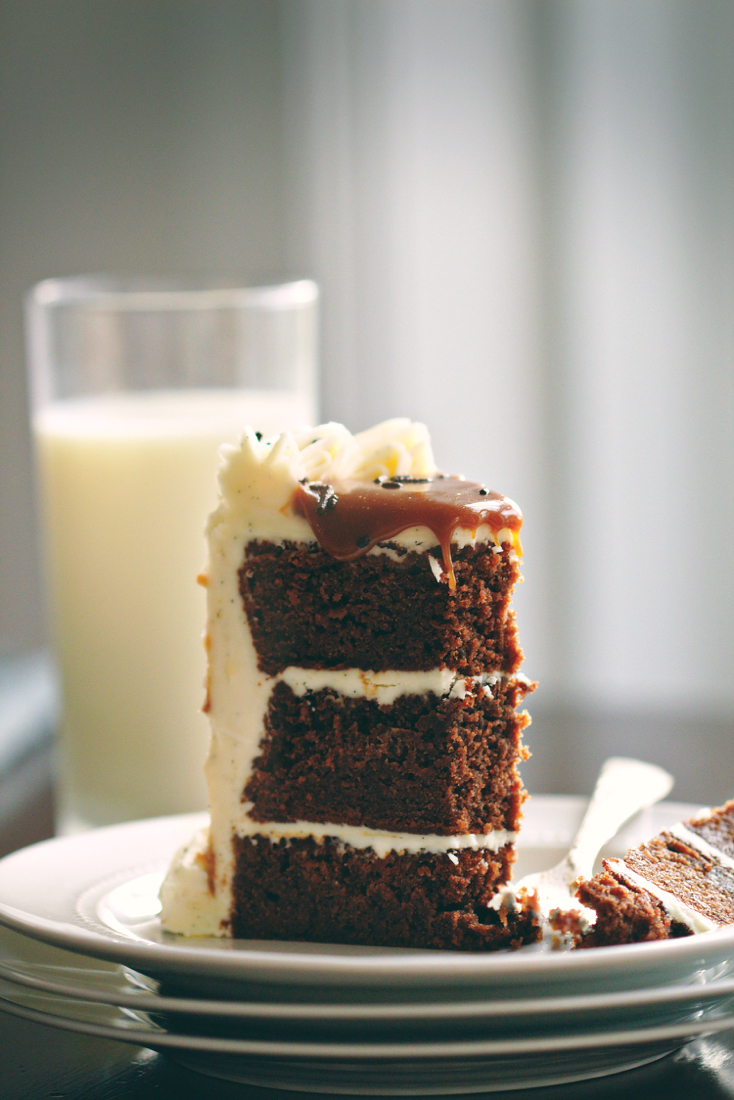 File this one under: Anything But Vegetables.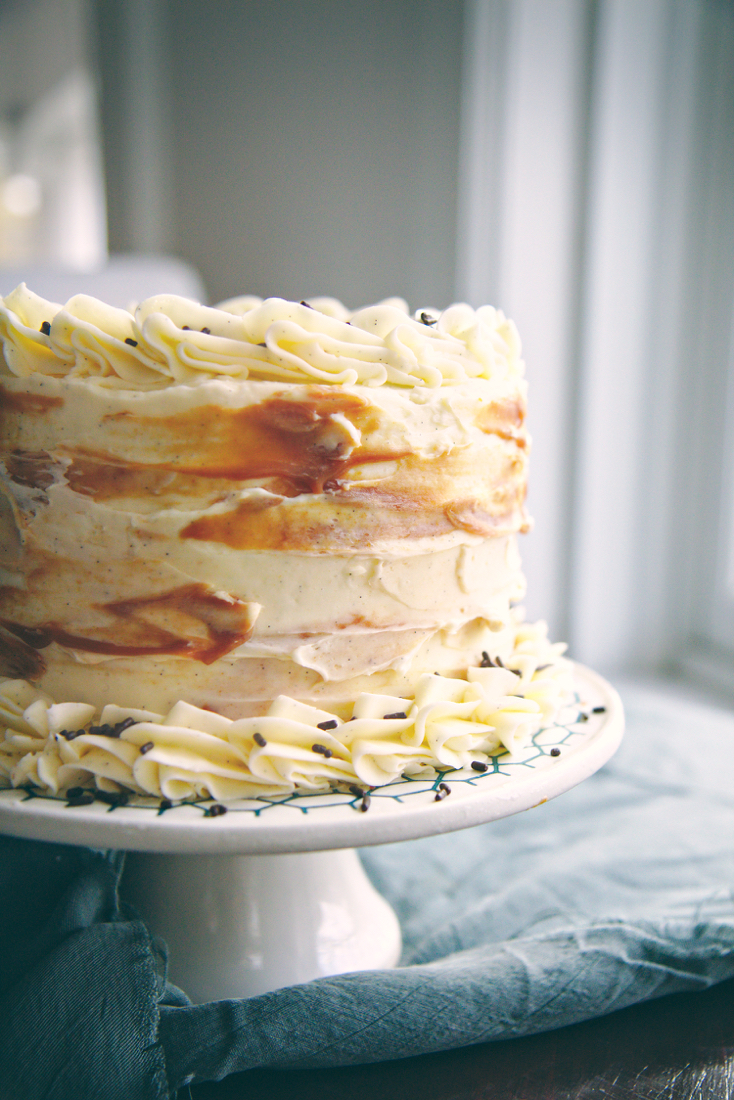 A certain blonde with whom I live is going to be very happy to see this post be published—
that's right, friends, this is Alexa's birthday cake.
Remember last year?  Of course you do, I link back to that post ALL the time.  Lauren Conrad pinned it, for God's sake.
It's been a bit more than a year, now, that Alexa and I have been friends.  Miraculously, we are both still alive and have, for the most part, all of our limbs (Grandma, I'm kidding).
Who knew that the gals I met on the first day of O-week would be my roomies, my #1 wingwomen, my comfort blankets and tissue fetchers and popcorn sharers and best friends?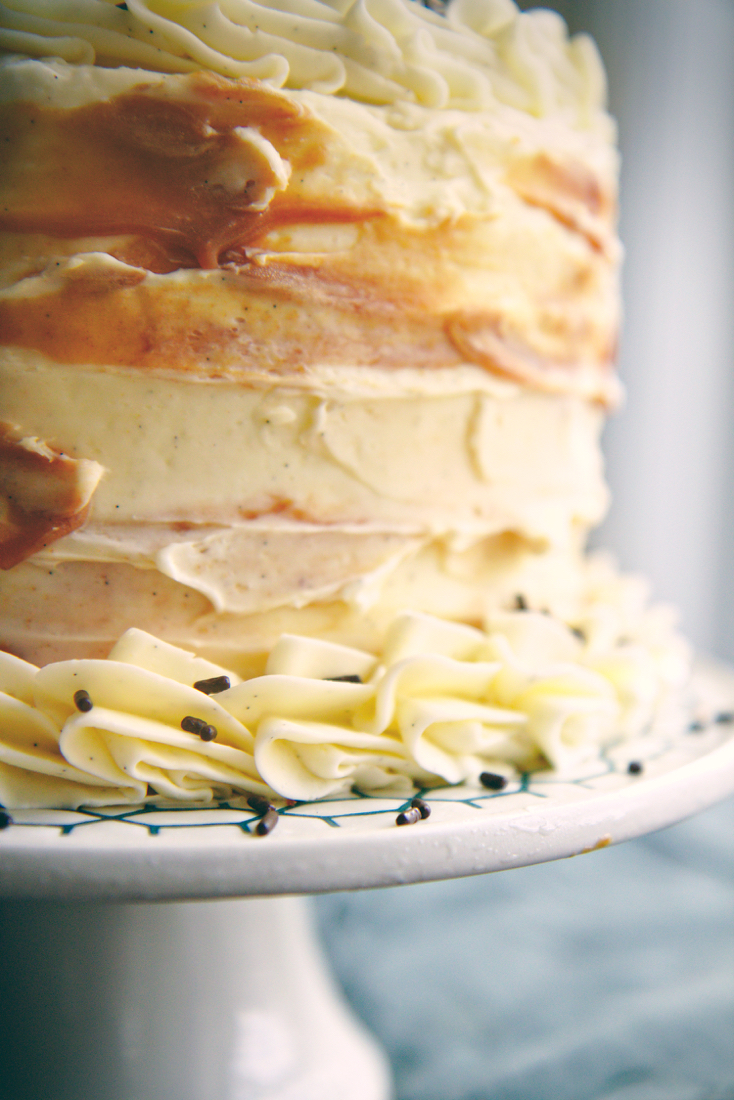 Spoiler: Alexa definitely didn't.  She was fairly certain I hated her…
(She still hasn't gotten the hint, guys. I think she's following me.)
Anyways, it's been quite an eventful year+ and I couldn't be more grateful to have spent it with such good people.
I couldn't have asked for a better house-mate, better roommate, and better friend.  Alexa is such a giver and can ALWAYS put a smile on my face or at least a blanket round my shoulders.
She knows what to say, who to hate, how to make popcorn the best, and how to be the most loyal, loving friend out there.
Ugh. So much love.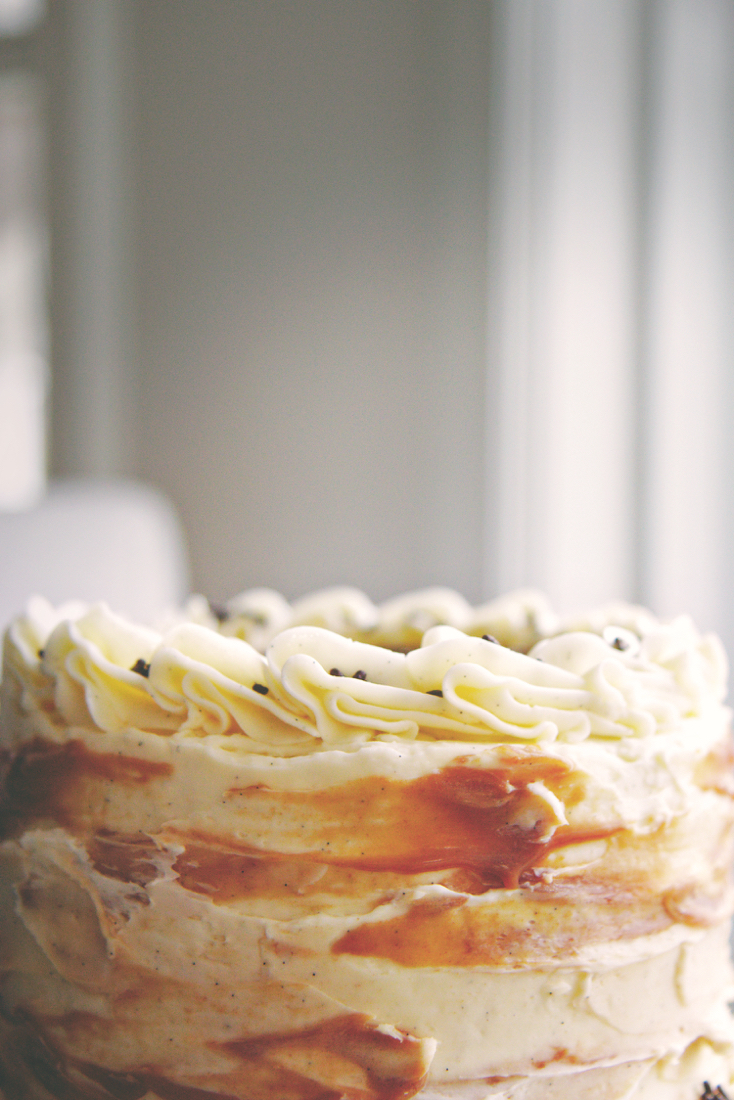 To celebrate her birthday, I made an over-the-top cake, obviously.
Alexa loves diet coke, as a sorority girl should.
Alexa loves chocolate and vanilla bean, like normal people do.
Alexa thinks that salted caramel is the stuff of gods (she is right).
Alexa is looking over my shoulder and drooling wishing for another cake right now—
"Please? I ate this for all three meals."
Alexa is going to kill me for putting that up on the internetz but it's ok friends I will survive because I am holding birthday cake oreo cupcakes hostage right now.
(Look for those here in the coming weeks!!!)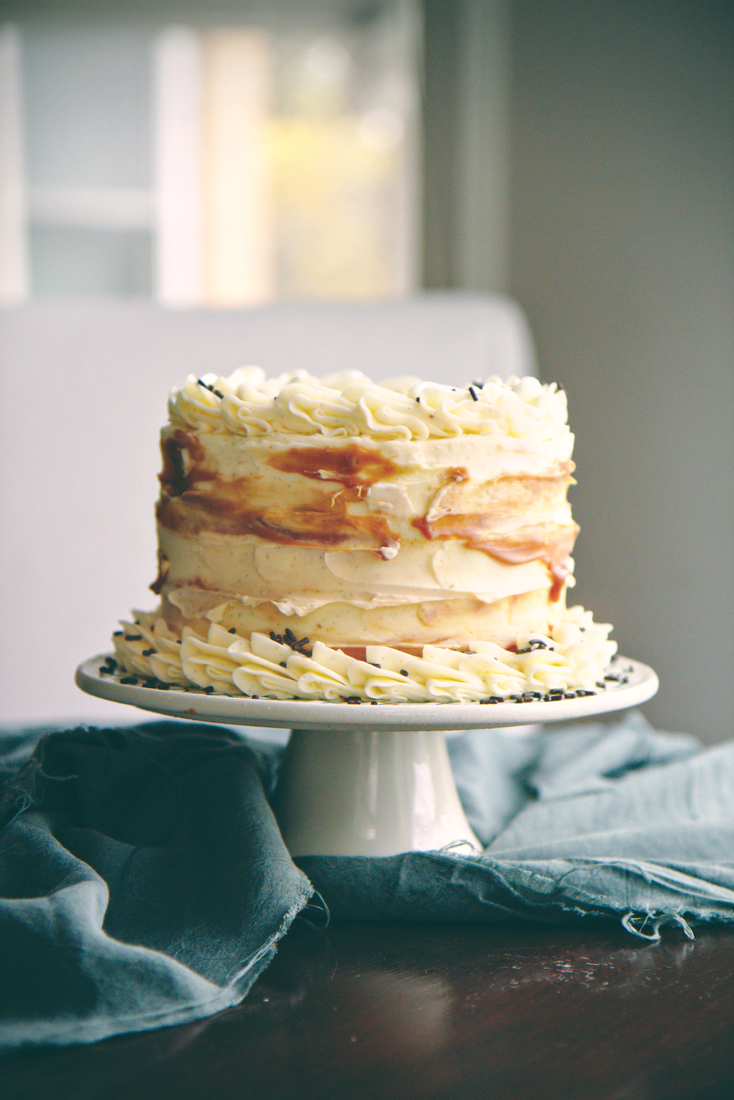 I knew I had to make a chocolate coca cola cake, and I wanted to incorporate a fat vanilla bean and some gold and sparkly caramel in there somewhere as well.
The end result is a rich, moist chocolate cola cake with vanilla bean buttercream swirled with heaps of salted caramel glammed up with gold luster dust and chocolate sprinkles.
It's sparkly and gooey and sweet and salty and I think it was just about a perfect way to celebrate my BFF's birthday.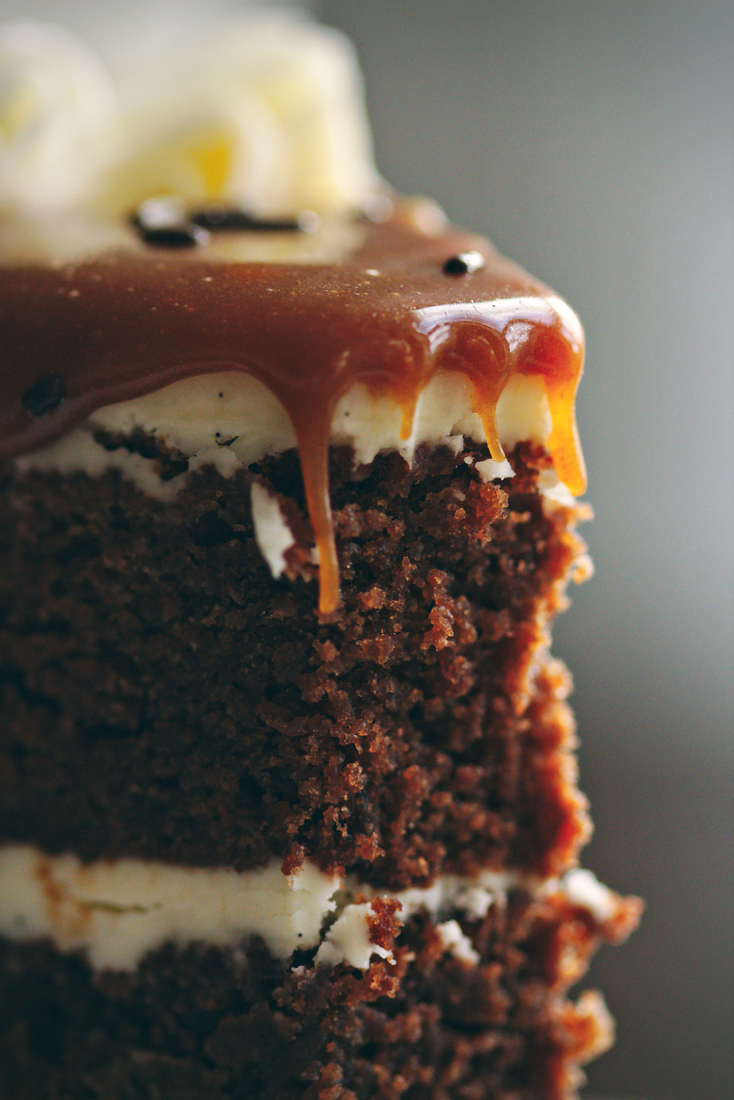 Some notes on the cake:
you can make the cake portion and the caramel ahead, but make the frosting right before you are going to decorate the cake; the finished cake can be stored in a cool place at room temperature overnight.
The luster dust is optional, but a very nice glam touch to the caramel on top of the cake.
This caramel recipe is good for pouring, so if you don't want to smudge it on the sides, just pour it over the top and let it drip down!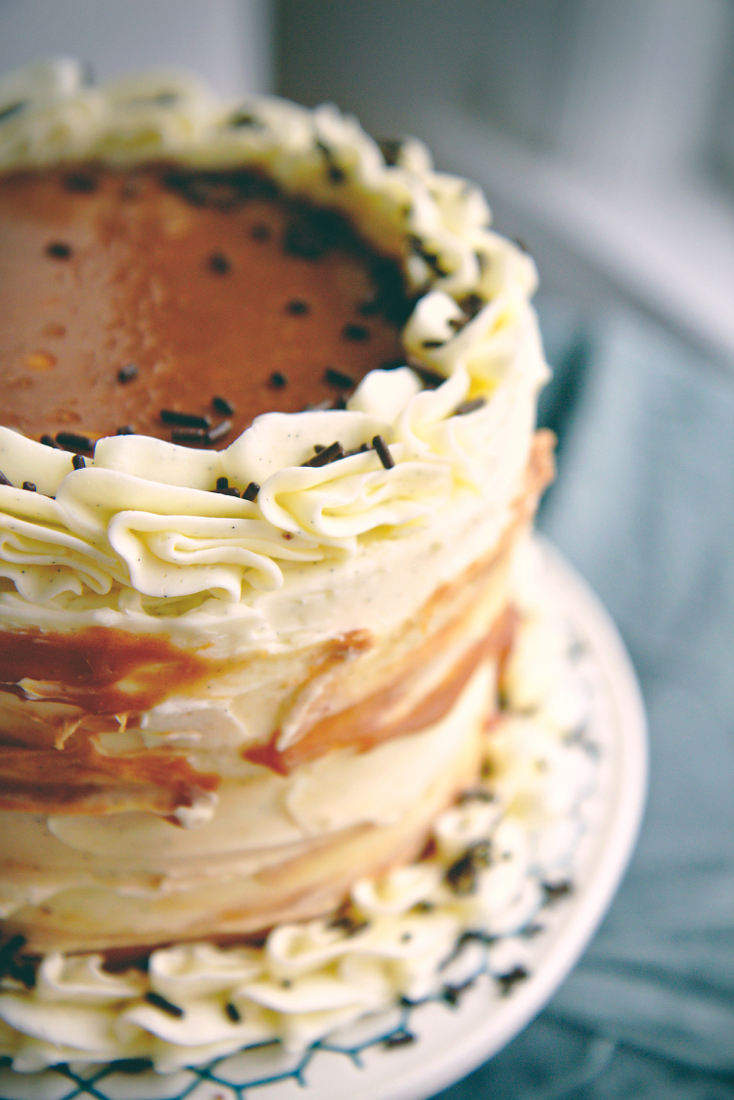 Happy belated birthday, darling girl.
You're wonderful.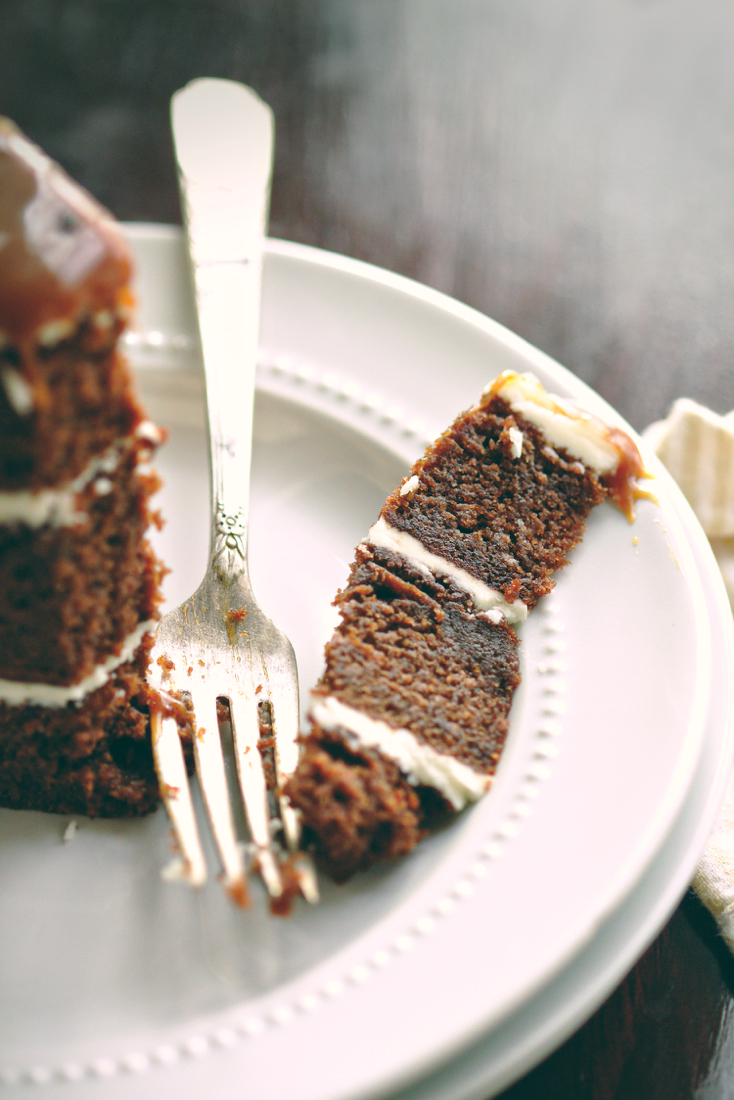 Alexa's Birthday Cake
Coca cola + chocolate + caramel + vanilla bean
makes 1 3-layer 6-inch cake
cake portion adapted from Confessions of a Cookbook Queen
ingredients:
for the cake:
1 cup (240 mL) Coca cola
1/2 cup (120 mL) vegetable oil
1/2 cup (113 grams) butter
1/4 cup (30 grams) dark cocoa powder
1 1/2 teaspoons kosher salt
2 cups (400 grams) granulated sugar
2 eggs
1/2 cup (120 mL) buttermilk
1 teaspoon vanilla extract
2 cups (240 grams) flour
1 teaspoon baking soda
for the salted caramel:
100 grams (1/2 cup) sugar
30 grams (2 tablespoons) water
1 tablespoon corn syrup
90 grams (1/4 cup plus 2 tablespoons) heavy cream
2 tablespoons butter
1/4 teaspoon kosher salt
1 teaspoon gold luster dust, if desired
for the vanilla bean frosting:
1 1/2 cups (350 grams) butter, soft
1 whole vanilla bean, scraped
1 teaspoon kosher salt
3 cups powdered sugar
2 tablespoons to 1/4 cup (30 mL to 60mL) half-and-half
directions:
Make the cake: grease and flour 3 6-inch round pans and preheat the oven to 350 degrees F.
Place butter, oil, coca cola, cocoa powder, and salt in a large pot.
Heat over medium heat, whisking, until it comes to a boil.
Pour the hot mixture over the sugar and whisk to combine.
Whisk in the eggs vigorously.
Stir in the buttermilk and vanilla extract.
Whisk flour and baking soda together, then stir into the batter.
Portion batter out into the prepared pans and bake for 20-25 minutes, until springy to the touch and a tester comes out clean.
Make the caramel: heat the sugar, water, corn syrup, and salt together, whisking at the beginning until they dissolve.
Stop stirring and allow to caramelize into an amber color, then remove from heat and quickly whisk in butter and cream, being careful of the splattering.
Whisk until completely smooth, adding luster dust if desired, then allow to cool before using.
Make the frosting: place butter and salt in the bowl of a stand mixer and beat on high for 6 full minutes.
Scrape the bowl and add the vanilla bean and powdered sugar; stir on low speed until powdered sugar is incorporated, then beat on high while slowly drizzling in 2 tablespoons of half and half.
If the frosting is too thick, add more half and half until the proper consistency is reached.
Beat on high speed for 2 minutes, then use immediately to frost the cake as desired.