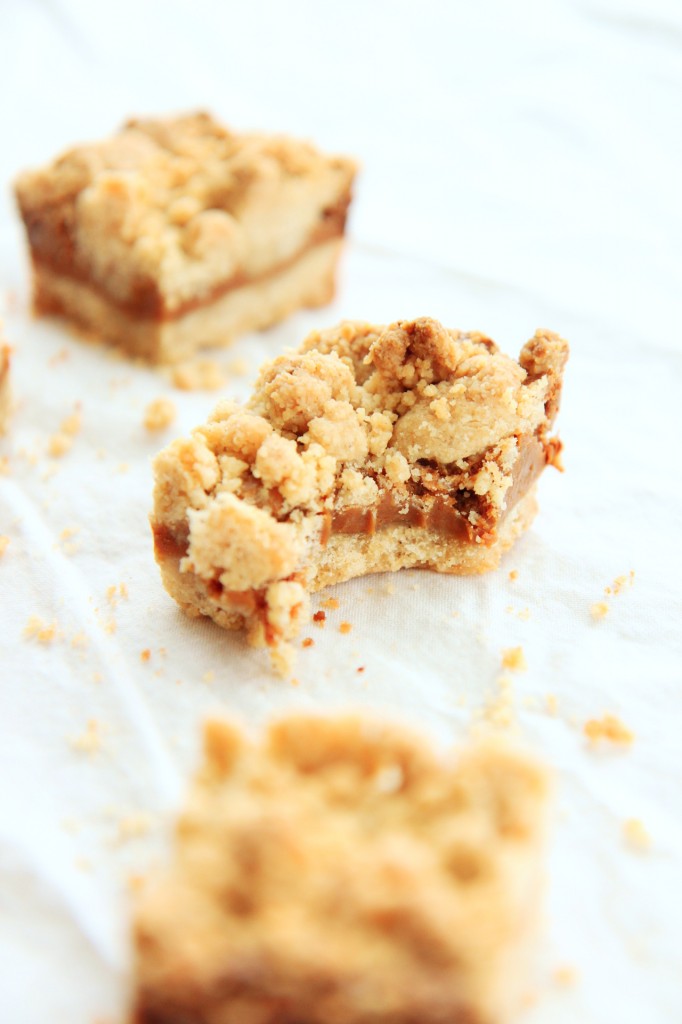 "Carpamus dulcia, nostrum est
quod uiuis, cinis et manes et fabula fies."
May we pluck sweet things, for after death we will be but ashes and a story.
-Persius 5.151-2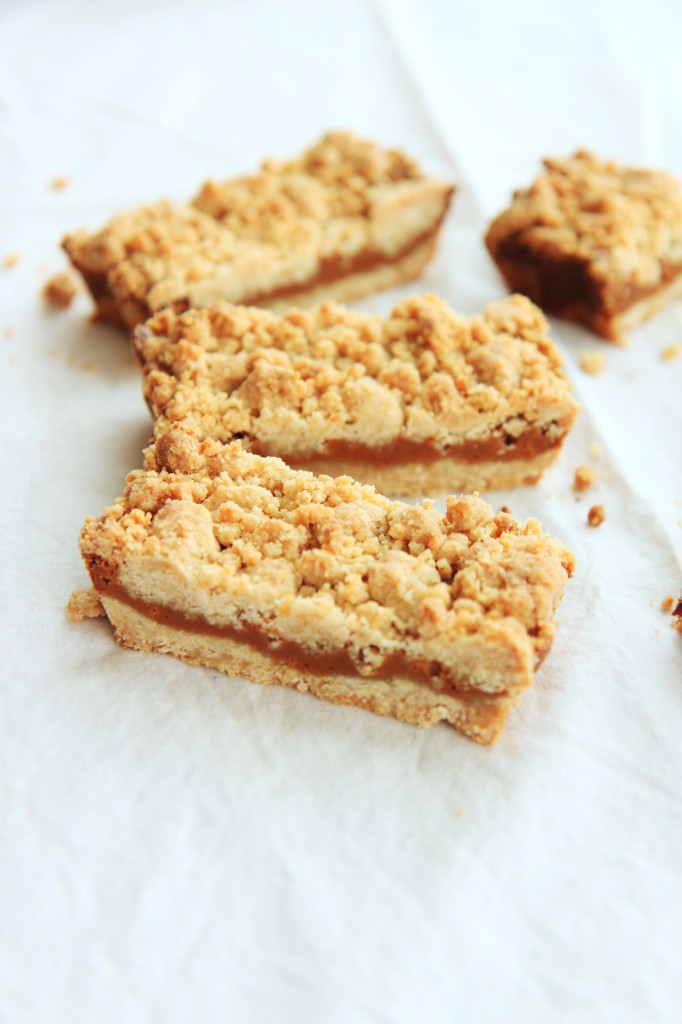 Henceforth, I think it should be called drool-ce de leche.
I mean, really.
Soft, smooth caramel, rich with milk and always with an extra pinch of salt.
Could there be anything better?  Drizzle it on ice cream, put it into chocolates, sandwich it with cookies, fill cakes with it, stir it into coffee, eat it with a spoon… ahem.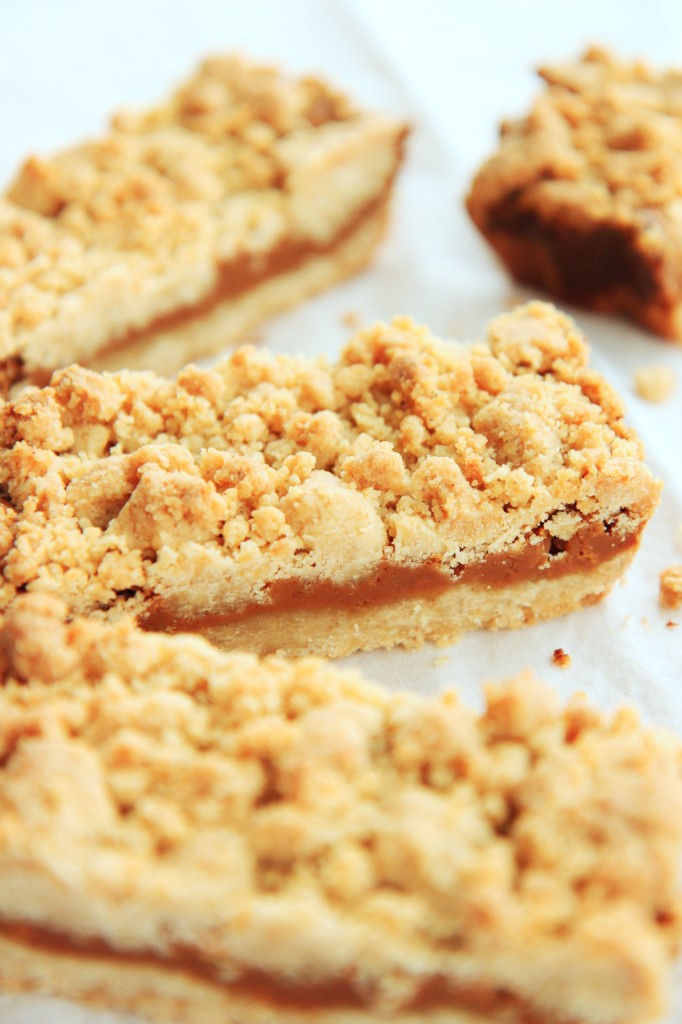 Other than eating it from a spoon, these cookie bars are the best use for dulce de leche I have encountered.
A thick layer of brown butter shortbread, redolent of vanilla is bathed in salty-sweet dulce de leche, then topped with more brown butter shortbread crumbs.
7 ingredients.  One bowl.  By far the best bar cookies on this blog.
My favorite parts were the caramelized, crunchy edges, which I maximized by making these bars in a rectangular tart pan.  Seriously addictive.  I love desserts with more than one texture.
Between the crunchy edges lie bites of super soft caramel sandwiched with crumbly shortbread.  Transcendent.
Best eaten with strong coffee or tea.  With friends.  It's the only way to ensure you won't eat the whole pan.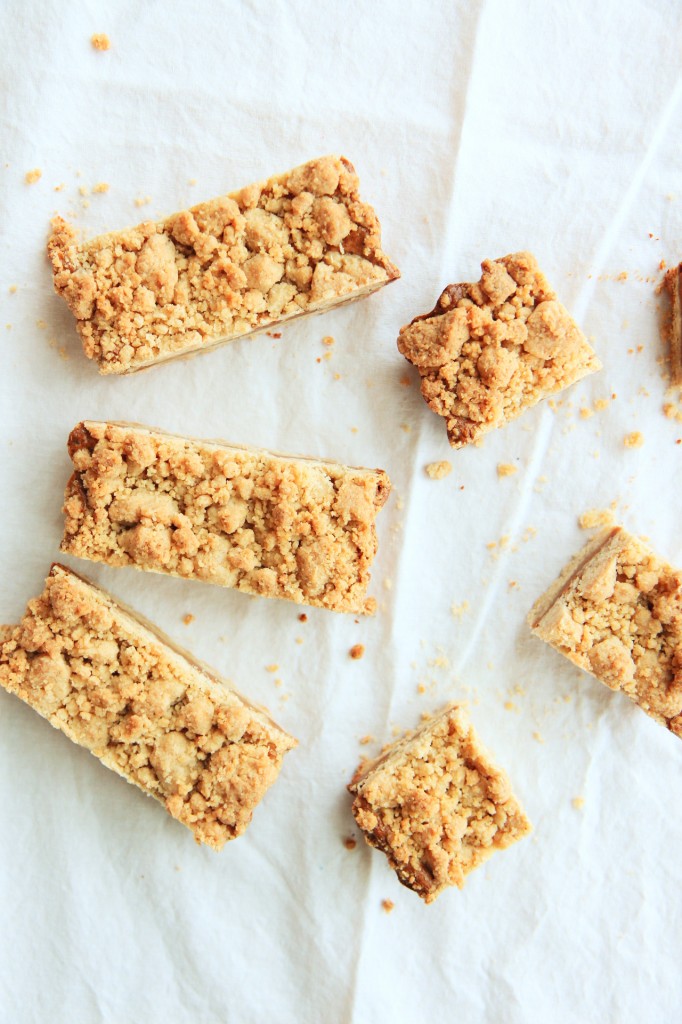 The dulce de leche I used in these bars was my first attempt at making it on the stove top, with a shortened simmering time and no water bath.
I added about a 1/4 cup of brown sugar and a few hefty pinches of salt to a can of sweetened condensed milk, and cooked it in a heavy pan until it caramelized.  However, it hardened into (delicious) caramels, so I rewarmed it with 6 tablespoons of butter and another pinch of salt.  The dulce de leche didn't want to absorb the butter, even when it was warm and pliable, so I added 2 tablespoons of skim milk and blended it with my immersion blender.
What resulted was the creamiest, smoothest dulce de leche I've ever tasted in my life.
It was thick and spreadable, like  La Salamandra (no joke) and was much richer than dulce de leche made with just sweetened condensed milk.  It also took a tiny fraction of the time (somewhere around 30 minutes, versus 2 hours in the oven).
Since it was the result of dumping a bunch of unmeasured things into a sauce pot, I can't give you a solid recipe.
Yet.  It is in the works.  I promise.
But! These bars are way too important not to share.  Use some other recipe for dulce de leche, or even store-bought.(Do go for La Salamandra-type quality rather than Nestle, though…)
Here are some options:
the best way to make dulce de leche from a can (this is what I usually do)
completely homemade dulce de leche (omg.)
La Salamandra
See?  There are no excuses for not trying these cookies.
Brown Butter Dulce de Leche Crumb Bars
makes 1 13 3/4x 4 1/2 inch tart pan; double for a 9×9 or 8×8 pan
ingredients:
1 cup dulce de leche
16 tablespoons (1 cup) butter
2 scant teaspoons kosher salt
1 cup sugar
1 egg
1 tablespoon vanilla extract
3 cups flour
directions:
Preheat oven to 350 degrees F.
Butter a 13 3/4 x 4 1/2 inch tart pan.
Place your butter in a heavy sauce pan and cook until browned and fragrant, about 5 minutes.
Scrape the brown bits and the butter into a large bowl; add the salt and sugar and whisk until fully combined, about 2 minutes.
Quickly whisk in the egg to prevent scrambling, then stir in the vanilla extract.
Dump the flour on top and stir with a large spoon until the dough comes together.
The dough will be cohesive, but you should be able to crumble very easily.
Press half of the dough into the bottom of your tart pan, firmly pressing to make an even layer.
Spread the dulce de leche all over the shortbread layer, then crumble the rest of the dough on top, pressing the crumbs slightly into the caramel to ensure that they will stick.
Bake for 25-30 minutes, until the crumbs are deep golden and the edges are caramelized.
Allow to cool, then slice and serve.