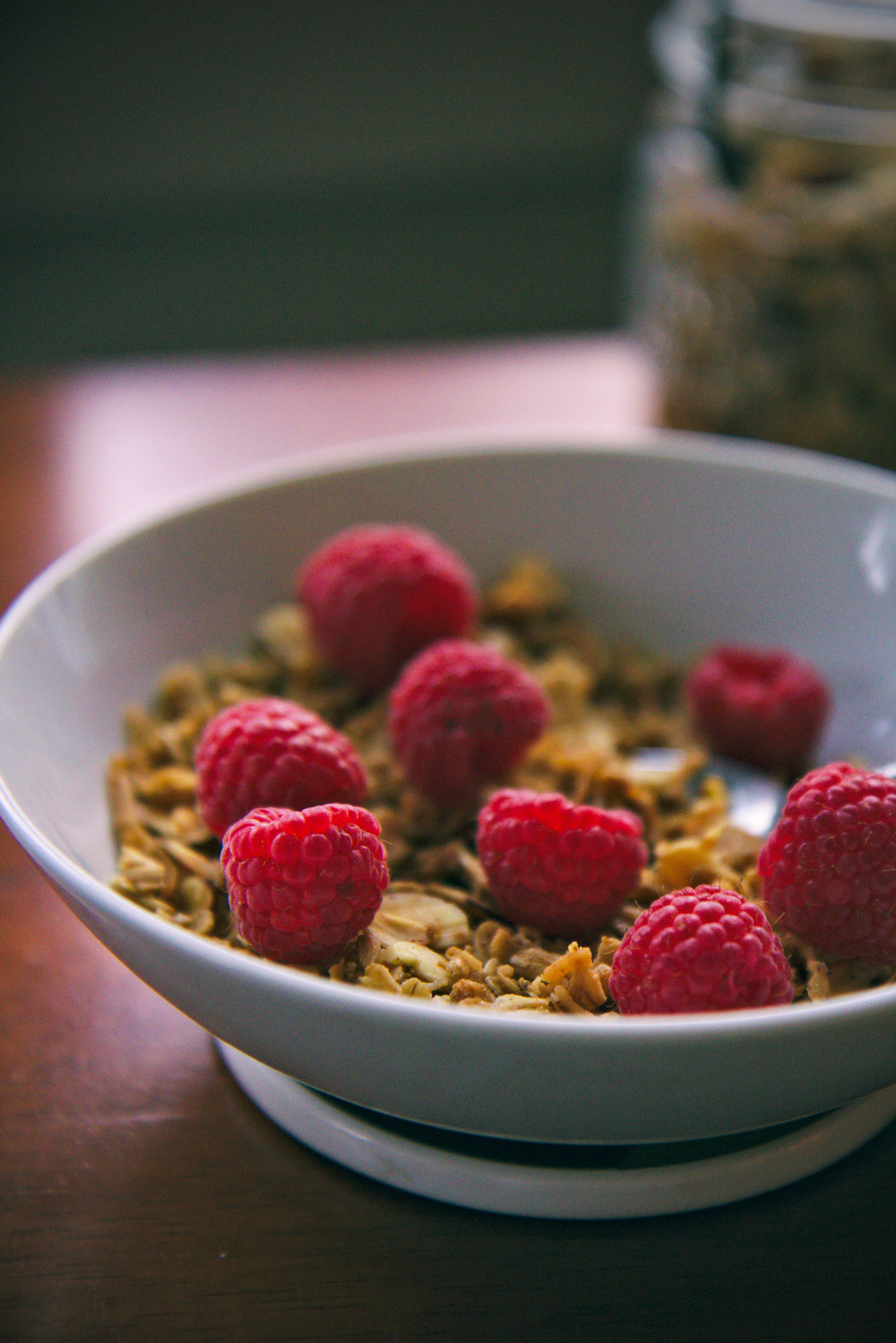 "We've got this gift of love, but love is like a precious plant.
You can't just accept it and leave it in the cupboard or just think it's going to get on by itself.
You've got to keep watering it. You've got to really look after it and nurture it."
—John Lennon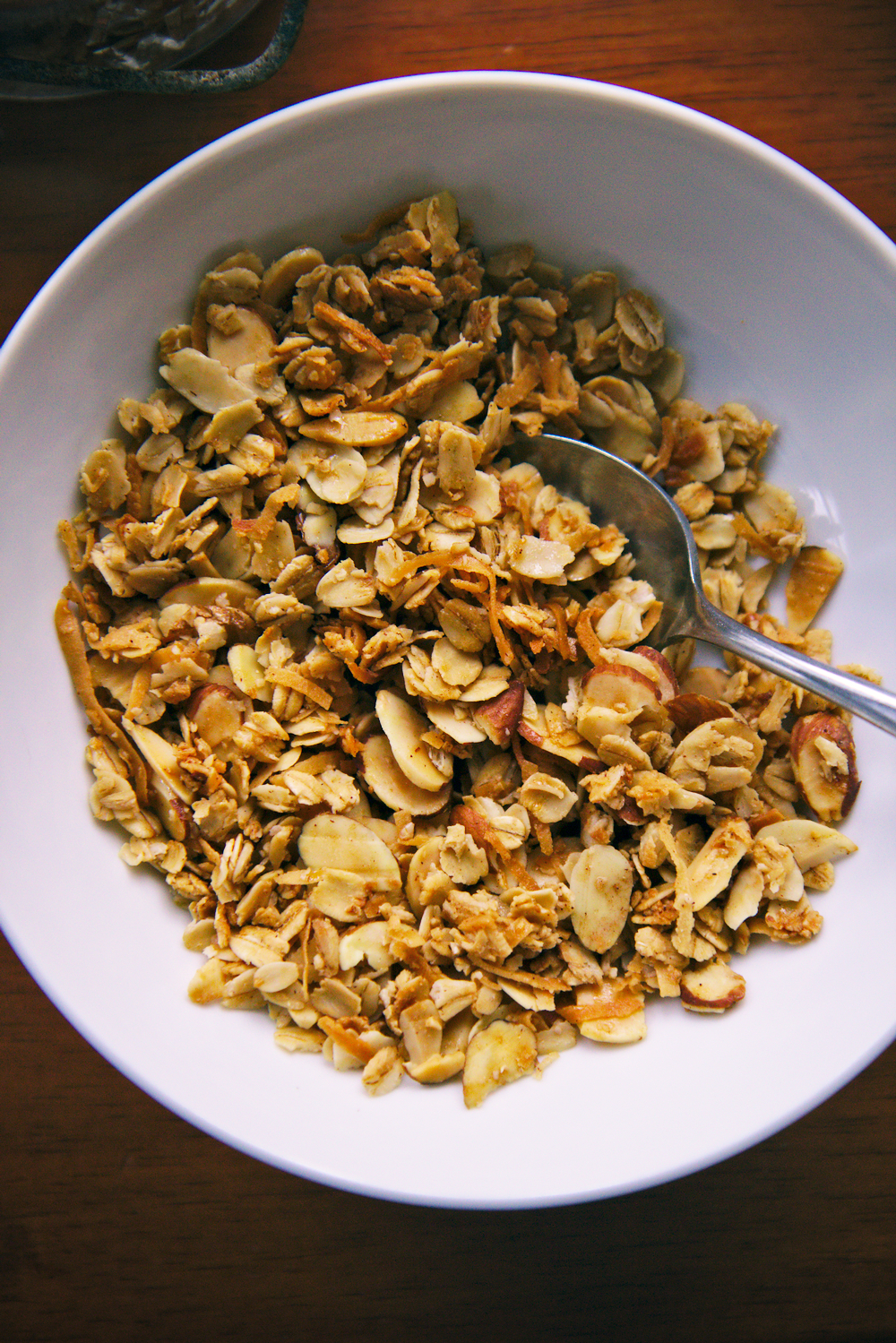 Welcome, brand new baby year, fresh and bright white and snow covered.
Welcome, welcome 2015!!
(I'm back in Chicago, and it's snowing a fair amount.
Class starts tomorrow.
It's going to be below 0 deg F on Wednesday.
Le sigh.)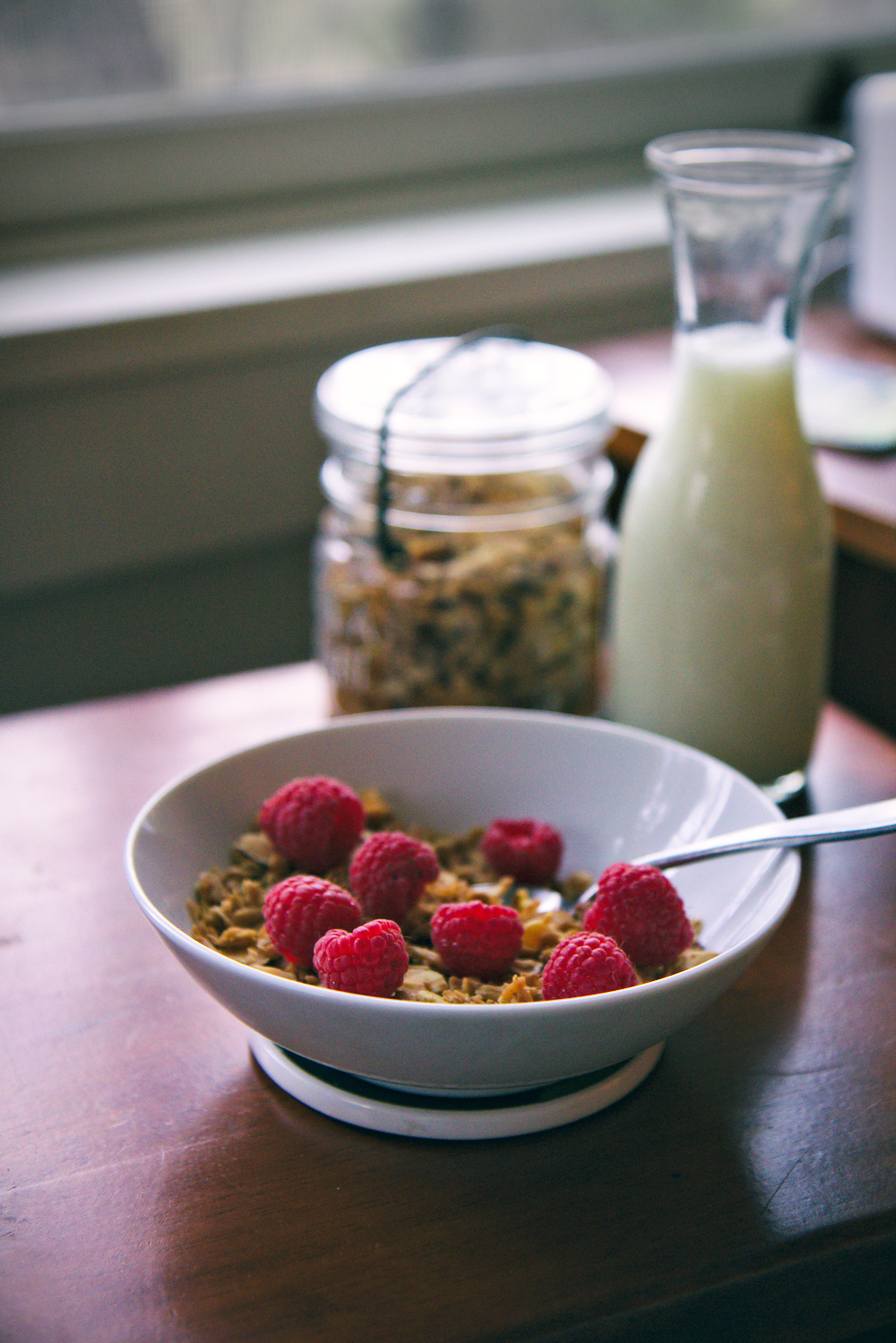 My mama loves granola.  She eats it for breakfast almost every day.
My mama is *ahem* particular about her granola.  She likes maybe one out of every 5 she tries.
So before I left to come back to school, I made a whole bunch of simple, healthy granola for my mom.
Heaps of oats, plenty of maple syrup, rich and buttery coconut oil, a hint of spice.
This batch fills up an entire large canister of rolled oats, and it uses about half of one, so it's a perfect way to finish off the jar floating around your pantry.
It's utterly delicious with cold milk—cow's or otherwise (I recently tried hazelnut-almond-cashew and fell in love)—and fresh raspberries or strawberries, difficult as they are to source in the depths of winter.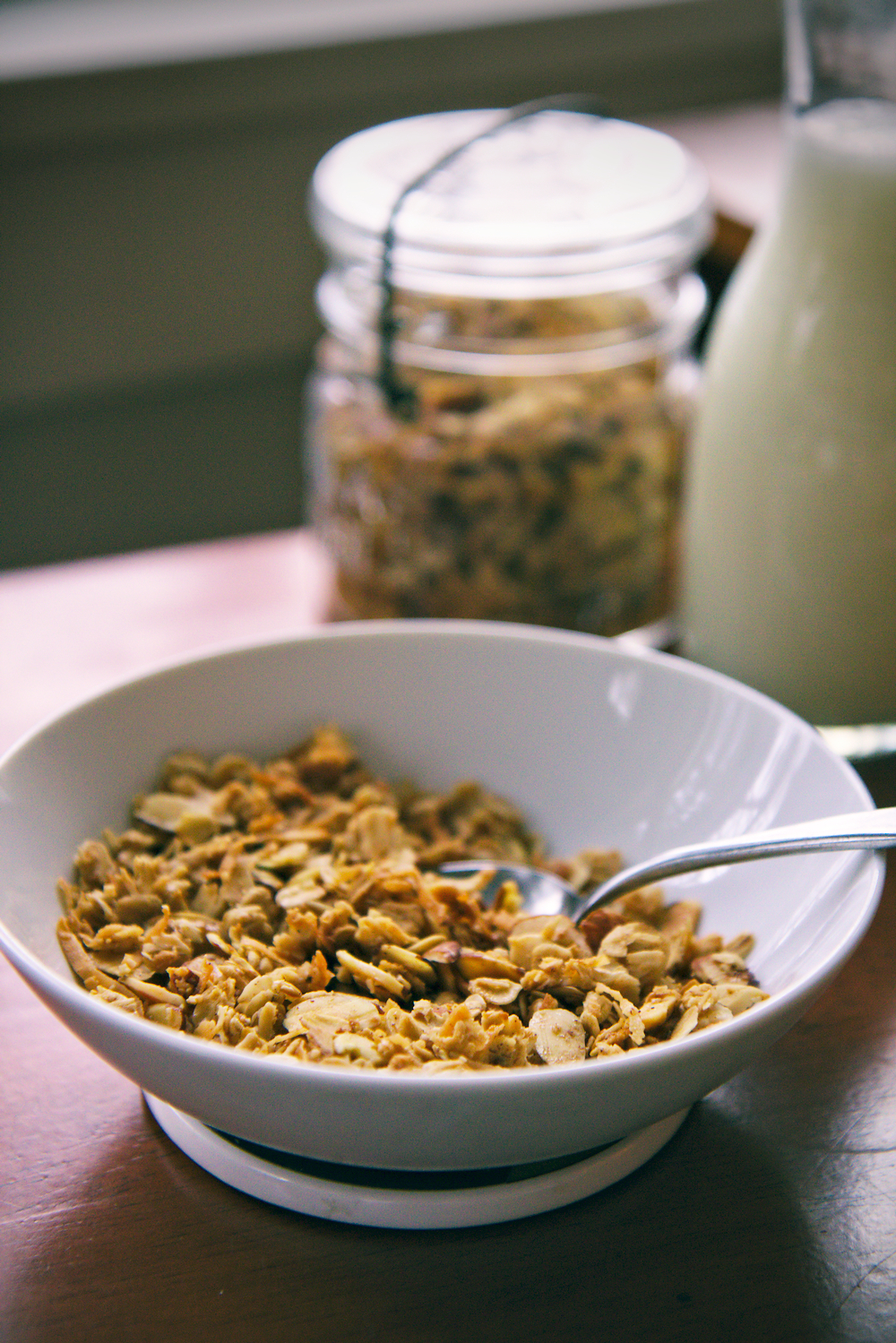 This granola is crunchy, sweet, with a whisper of salt.
It's toasty and full of almonds and coconut.
It's simple—a hint of cinnamon, maple syrup to sweeten, and that's pretty much it.
It's vegan and gluten-free if you want it to be—just make sure all your ingredients are certified vegan or GF either way.
It's super easy to customize: add a tablespoon of vanilla extract or replace the almonds with hazelnuts or pecans, use coconut chunks or chips instead of flakes, toss in dried mango or raisins or cranberries or banana chips.
Anyways, this is meant to be a nourishing first post of 2015 (!) but also a short one, as I have to unpack and settle into our little home here in Chiberia.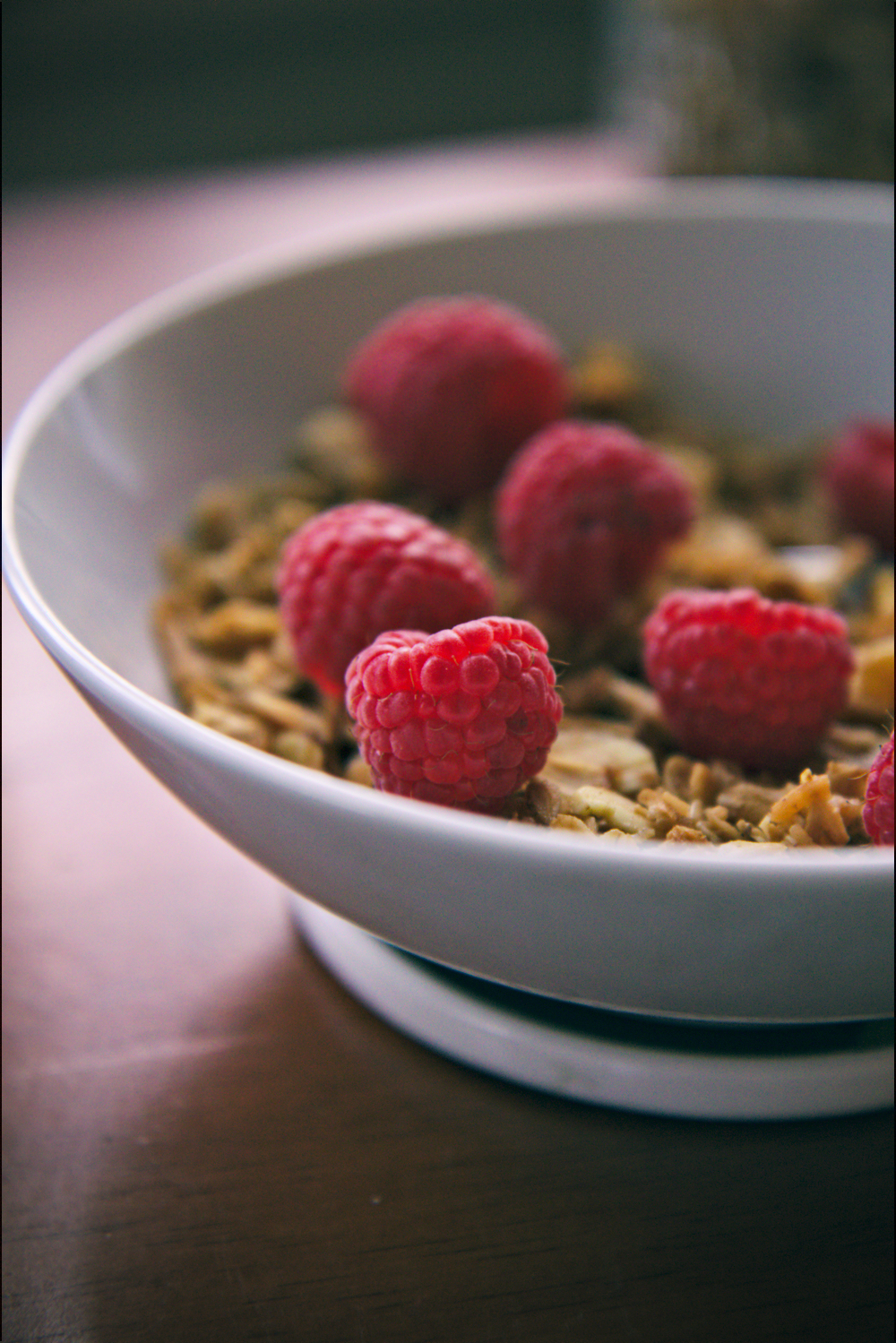 Almond Coconut Granola
gluten-free, vegan
makes ~6 cups of granola
ingredients:
5 cups of rolled oats (certified GF if necessary)
1 cup of sliced almonds
1/2 cup sweetened flaked coconut (or use unsweetened)
1/4 teaspoon ground cinnamon
1/2 teaspoon kosher salt
1 cup maple syrup
1/2 cup melted coconut oil (or ghee)
directions:
Preheat oven to 300 degrees F and line 2 baking sheets with parchment paper.
Stir oats, almonds, and coconut together.
Stir salt, maple syrup, and coconut oil together, then pour wet ingredients over and stir with a spoon until all is coated.
Spread oats out onto baking sheets and tamp down lightly to pack.
Bake for 15 minutes, then lightly stir with a spatula and rotate sheets.
Bake for 15 more minutes, then stir and rotate again.
Bake for 10-15 more minutes, until evenly and lightly browned and toasted.
Remove from oven and let cool completely on sheets.
Store in an airtight container for up to 2 weeks.