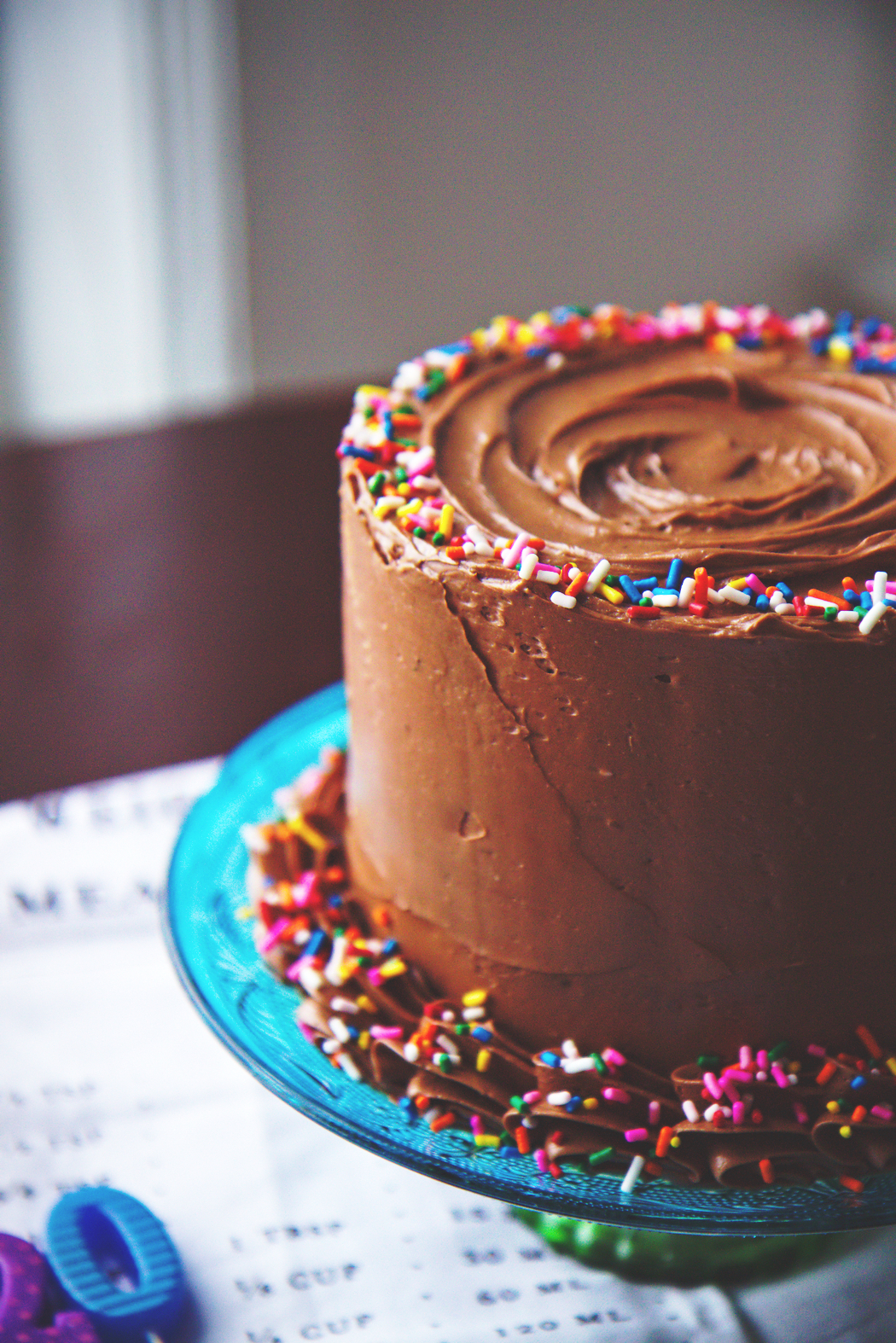 "There's no one just like you," she said.
"That's why we need to celebrate."
—Karen Kingsbury
FAME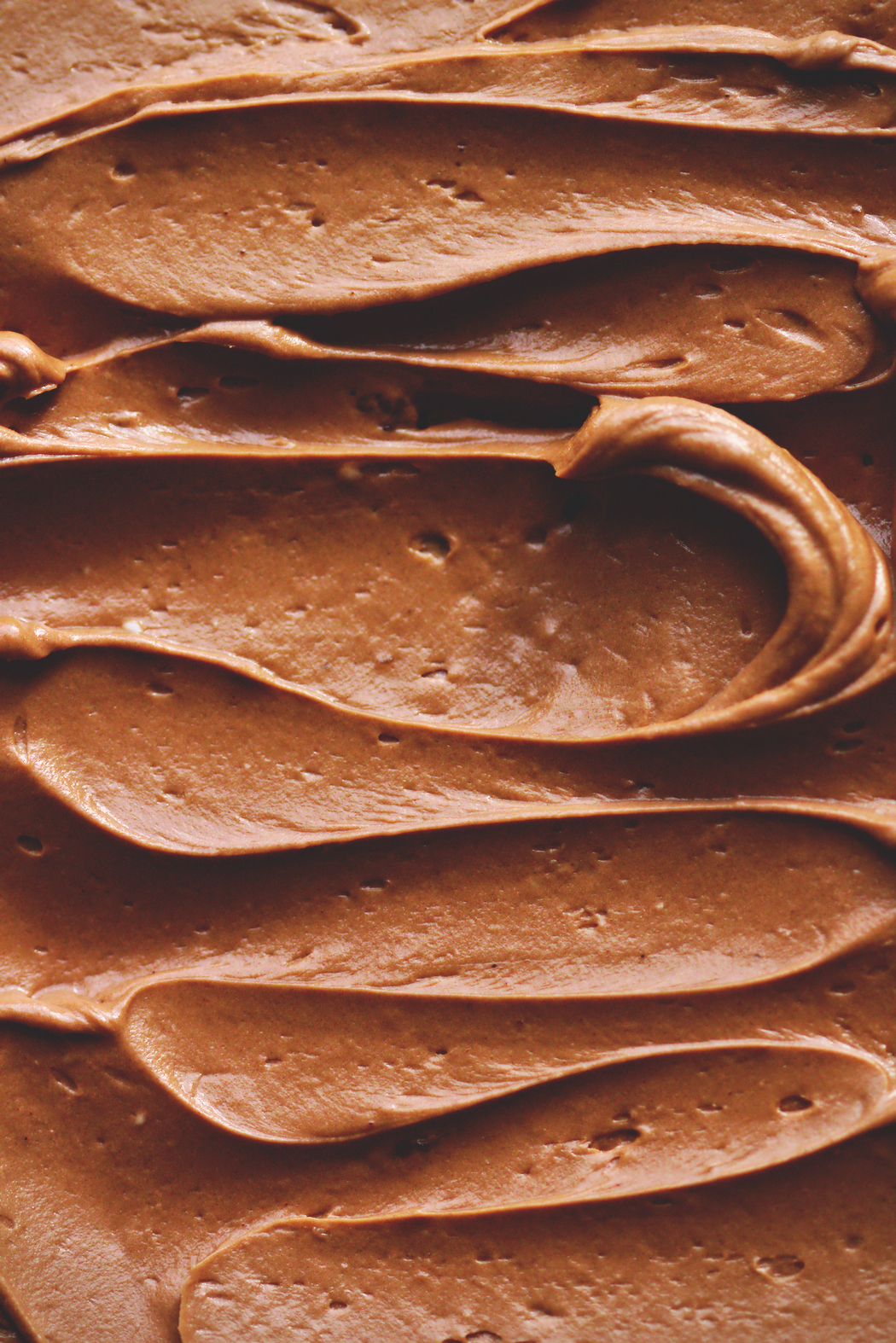 "A party without cake is just a meeting."
—Julia Child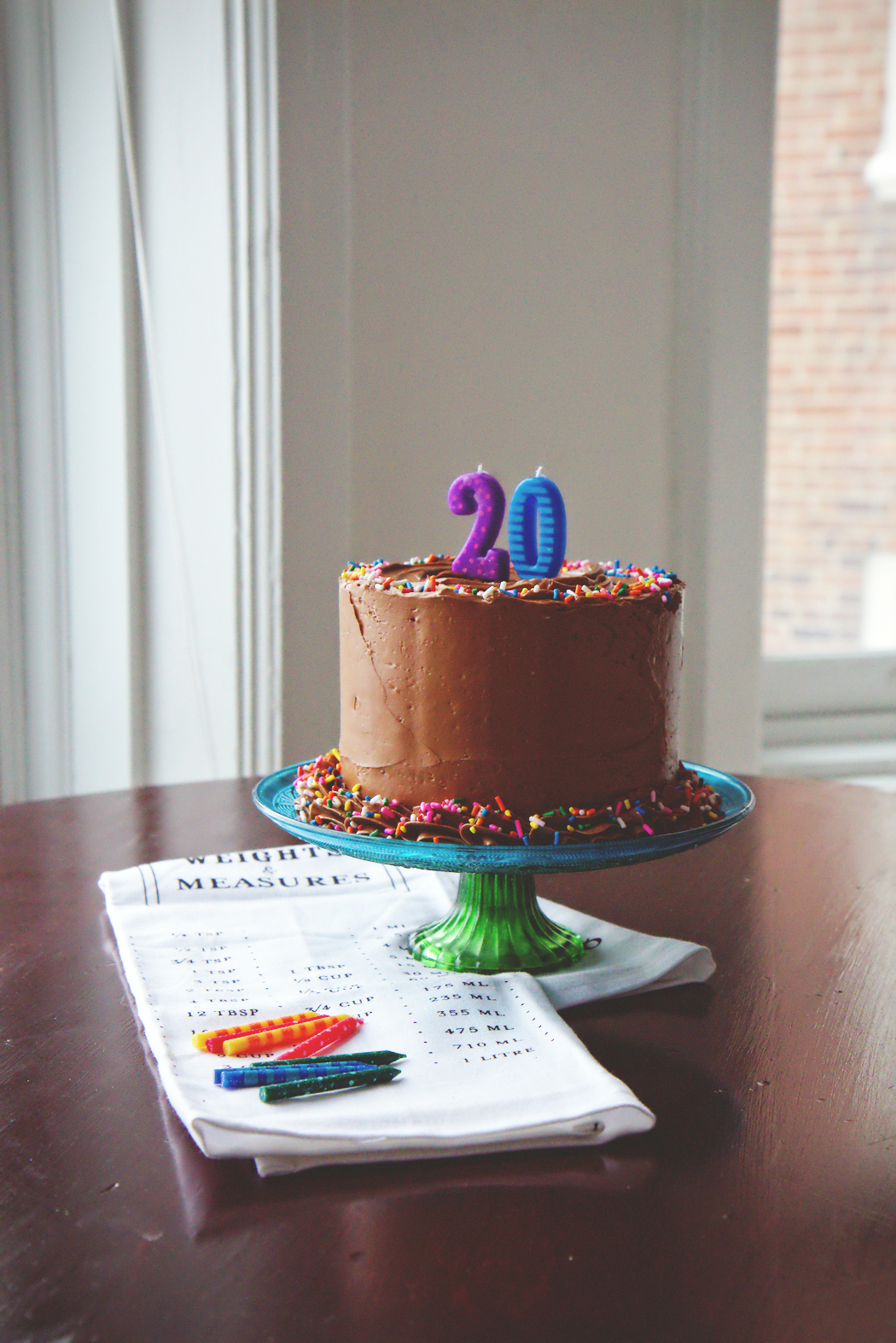 A birthday without cake is just another dreary day.
A birthday without cake, loves, is not a birthday at all.
Birthdays are for cakes.
(Note: cakes are definitely not only for birthdays, however.)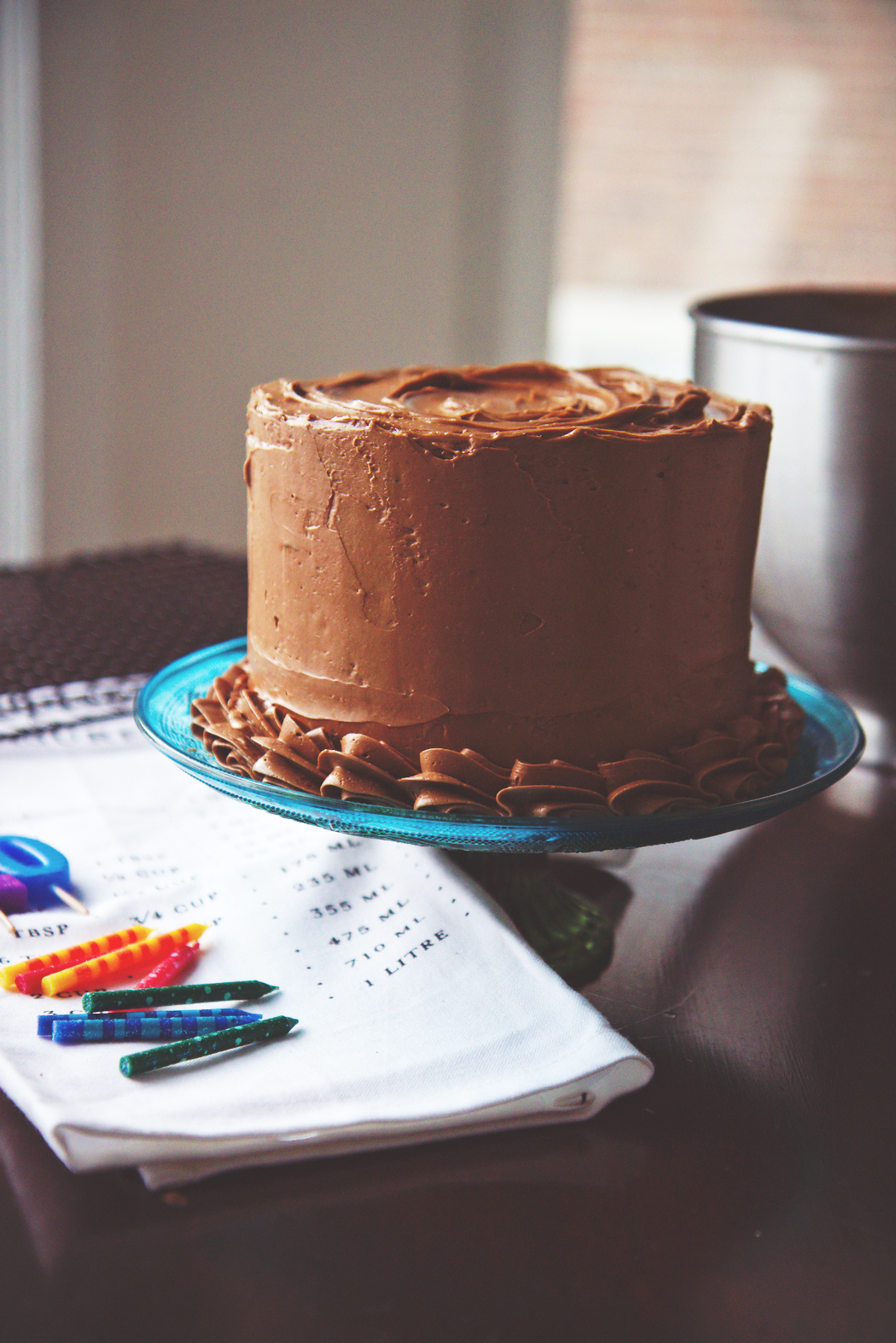 I'm slowly curating the birthday cakes of my roommates (Daly's birthday is 3 days before mine, so it always happens before we get to school, but a half birthday, perhaps?).
Alexa will love this—it tickles me pink how much she loves her birthday posts.  She also, for the record, loves pink.
Just for reference, here's Alexa's cake from last year, and the one from this year.
Dunno if I can possibly link back to that caramel popcorn cake one more time, but oh well.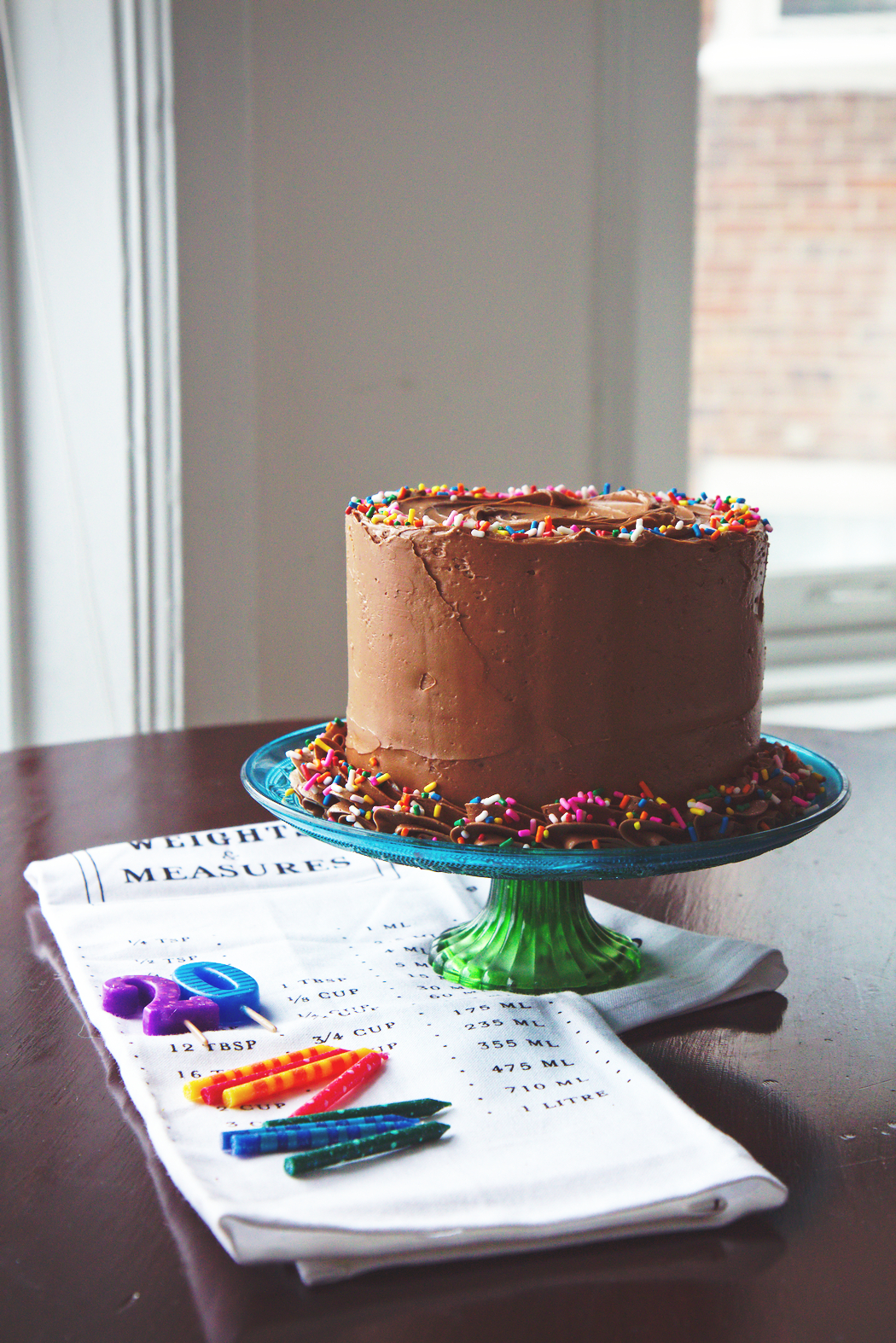 But this is a birthday cake (and post) for a girl who loves the color mint and Paris, soy lattes and Back to the Future, the Old Major sandwich at Z&H and puppies.
Who embodies the Duchess Kate Middleton and has the most brilliant hair and sleeps like Sleeping Beauty (yes, that deeply).
The one who inspired these whole wheat peppermint mocha brownies with her love of Starbucks.
Betsszzyyyy!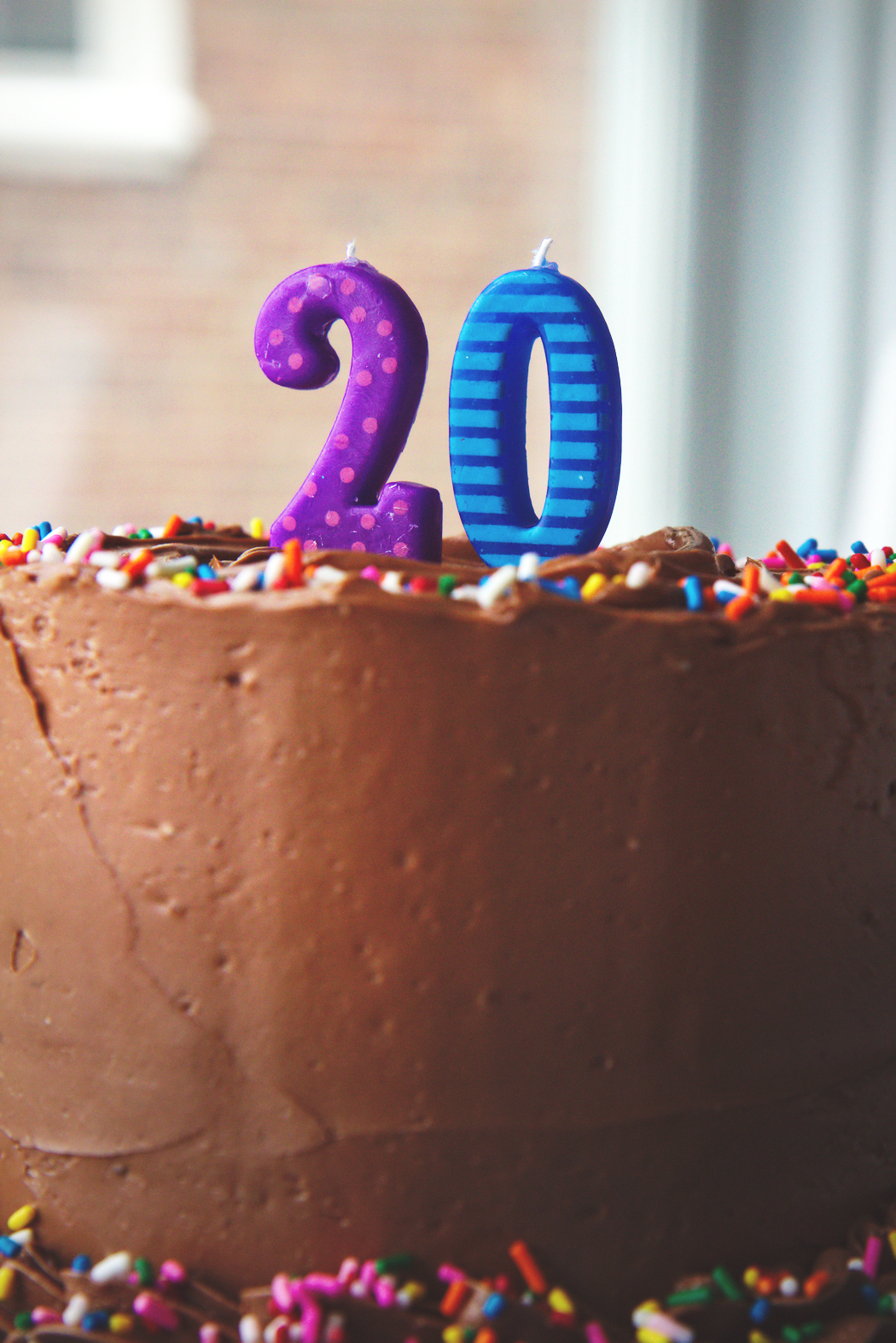 Elizabeth made it through 2 decades of life.
Obviously, we needed to celebrate with a very big, very chocolaty cake.
Thing is, her birthday was the day after we got back from winter break!  So I hadn't prepared anything (usually I'll bake the layers a day ahead or something along those lines, since the days can get so excitingly monotonously busy around here) the day of.
Still, I poked around in my kitchen for ~2 seconds and knew exactly what I had to make her.
A cake tailored to a few of her favorite things.
A cake just like her.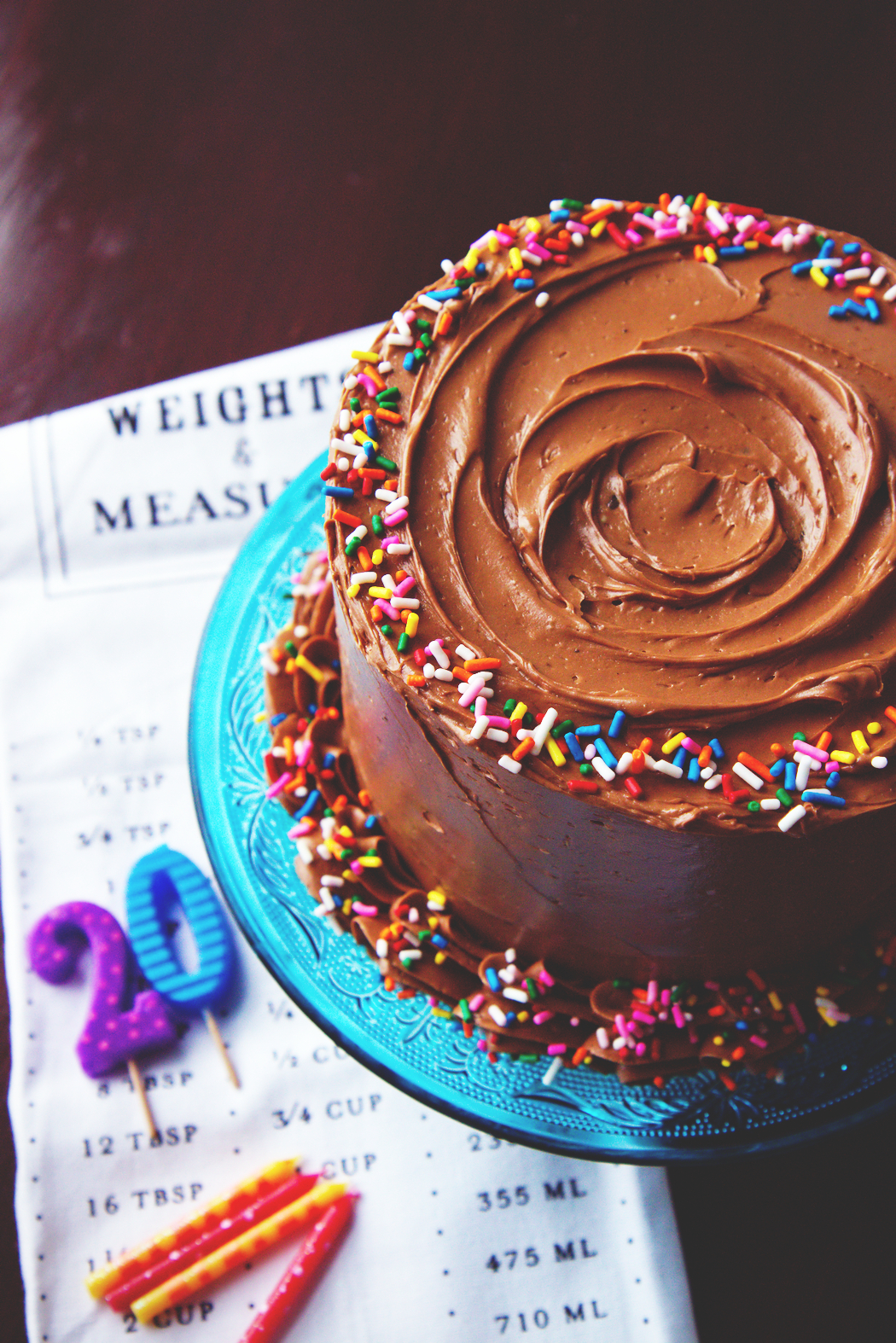 This cake is really easy, and miraculously fast.
I had it imagined, made, decorated, and photographed within 2 and a half hours.  Not too bad, especially when you consider that the photography took longer than any of the other processes.
The cake itself is a springy dark chocolate and coffee—mocha—cake.  It's soft and feels light yet rich at the same time, with a good balance of sweet and bitter from the coffee and cocoa.
It's a one bowl, one whisk, and one measuring cup kind of recipe, perfect when you need a cake, stat!
The frosting is a Nutella Italian meringue buttercream, so conceived because I had no confectioner's sugar but lots and lots of bittersweet chocolate.
It's impossibly light and buttery while still maintaining plenty of chocolate flavor, which I always find is missing in chocolate egg-based buttercreams.
First, a plain Italian meringue buttercream is whipped up, one big glossy cloud.  Then heaps of cooled chocolate get whisked in, and a fair dollop of Nutella, too.
The color change is mesmerizing: from the palest yellow to a red-brown cocoa.
The end result is seriously amazing.
It's salty and sweet, chocolaty and a little bit nutty.
Italian meringue buttercreams are so silky—they pair perfectly with a cake that has a soft, tight crumb.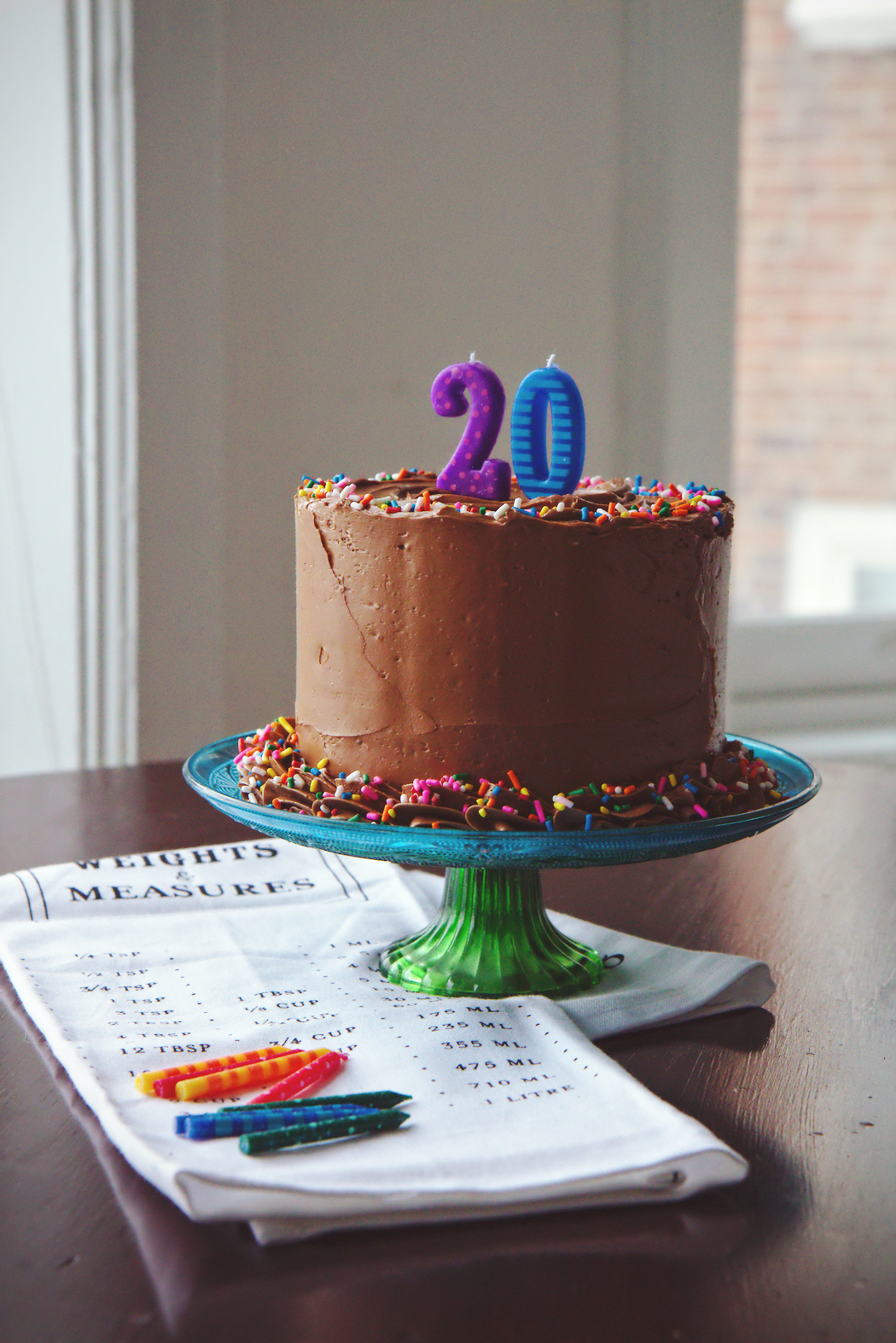 This is a cake that's perfect for a birthday.
It's fun (sprinkles!), has flavors that everyone will like, and makes the right size cake for sharing with friends.
It frosts like a dream and will look impressive no matter how you decide to finish it up—just don't forget the candles.
But seriously—don't the adorable candles on this cake practically beg for extra sprinkles?!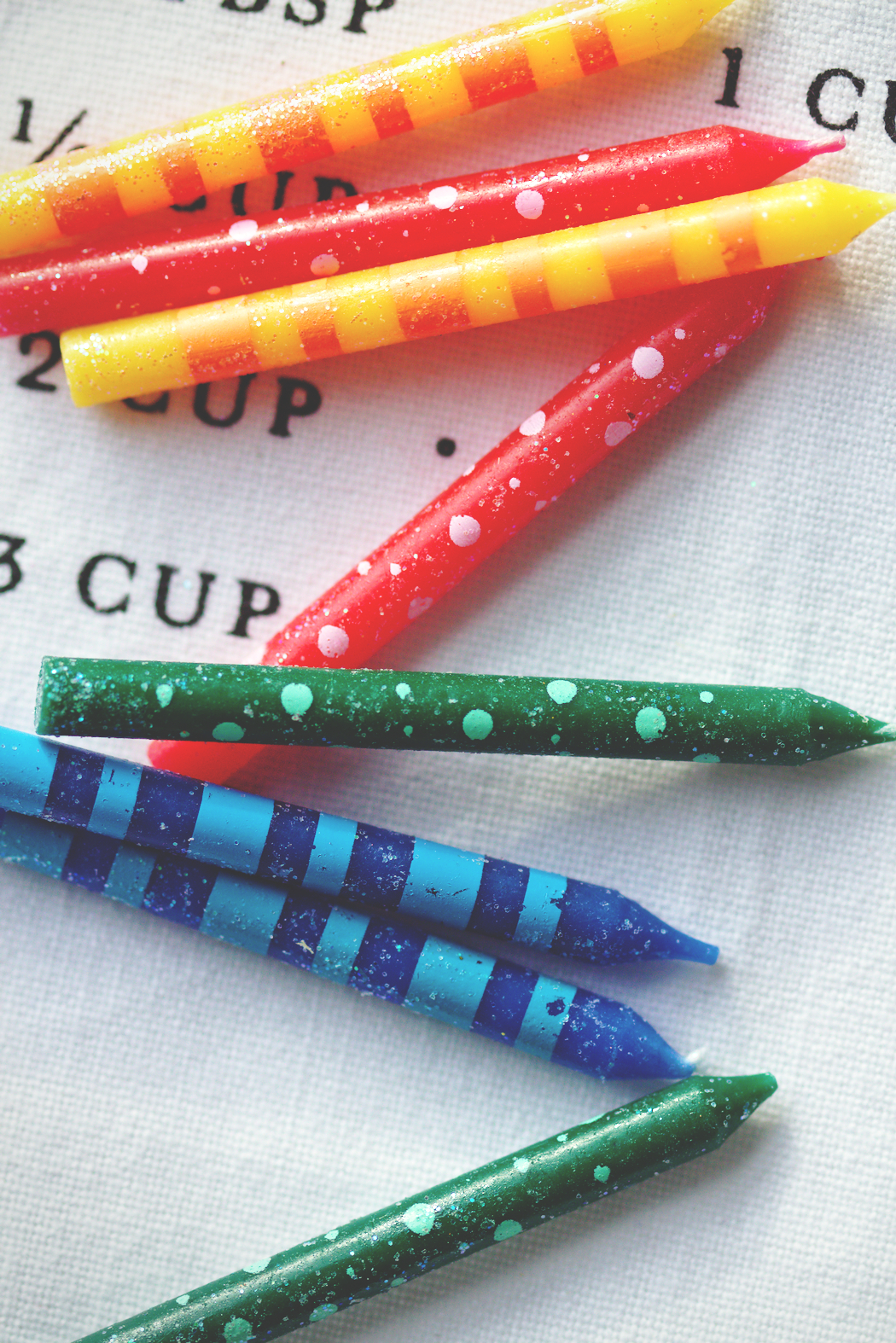 Happy belated birthday, Elizabeth darling.
xx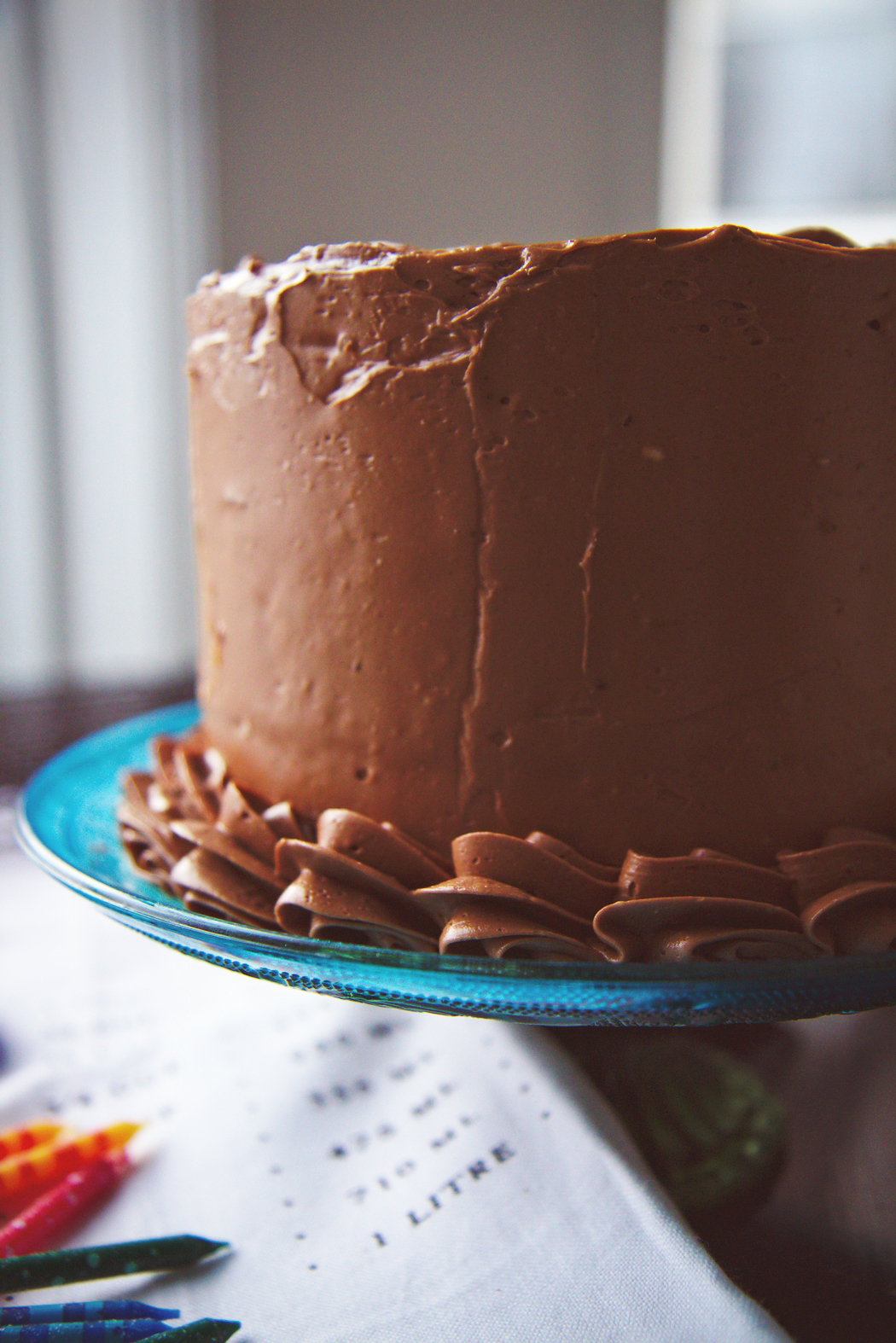 Mocha Cake with Nutella Italian Meringue Buttercream
makes 1 3-layer, 6-inch cake
ingredients:
for the mocha cake:
1 2/3 cups (190 grams) flour
1 1/2 cups (300 grams) sugar
1/2 cup (60 grams) cocoa powder
1 5/8 teaspoon baking soda
1 1/4 teaspoon baking powder
1/2 teaspoon kosher salt
5/8 cup (200 mL) buttermilk (or milk plus 2 teaspoons apple cider vinegar)
1/2 cup (120 mL) coffee (or hot water plus 1 tablespoon espresso powder)
1/4 cup plus 3 tablespoons (105 mL) vegetable oil
3 eggs
1 tablespoon vanilla extract
for the Nutella Italian meringue buttercream:
3 egg whites
3/4 cup (150 grams) sugar
3 tablespoons (45 mL) water
1/2 teaspoon kosher salt
1 1/2 cups (345 grams) unsalted butter, soft but cool
8 ounces (200 grams) bittersweet chocolate, melted and cooled
1/2 cup (~120 grams(?)) nutella
sprinkles, for decorating
directions:
Preheat oven to 350 degrees F and grease and flour 3 6-inch baking pans.
Whisk flour, sugar, cocoa, baking powder, baking soda, and salt together.
Whisk buttermilk, oil, coffee, eggs, and vanilla extract together, then whisk wet ingredients into dry.
Portion batter out evenly into pans and bake for 18-22 minutes, until a tester comes out nearly clean and the cakes are springy to the touch.
Allow to cool completely.
Make the icing: place egg whites in the bowl of a stand mixer fitted with the whisk attachment.
Place sugar, salt, and water in a small pot over medium heat, fitted with a candy thermometer.
Begin to whisk egg whites while syrup heats up.
Once syrup reaches 245 degrees F, the egg whites should be at semi-stiff peaks.
Pour the hot syrup into the meringue while beating at high speed.
Whip until the meringue is glossy and cooled to body temp.
Whisk in 1 tablespoon of the butter at a time, beating until the frosting comes together into a glossy, fluffy, light mixture.
Slowly add in the cooled chocolate while whipping, then add in the Nutella.
Scrape the bowl and whip for another minute to ensure homogeneity.
Frost cooled cake as desired, and add sprinkles!