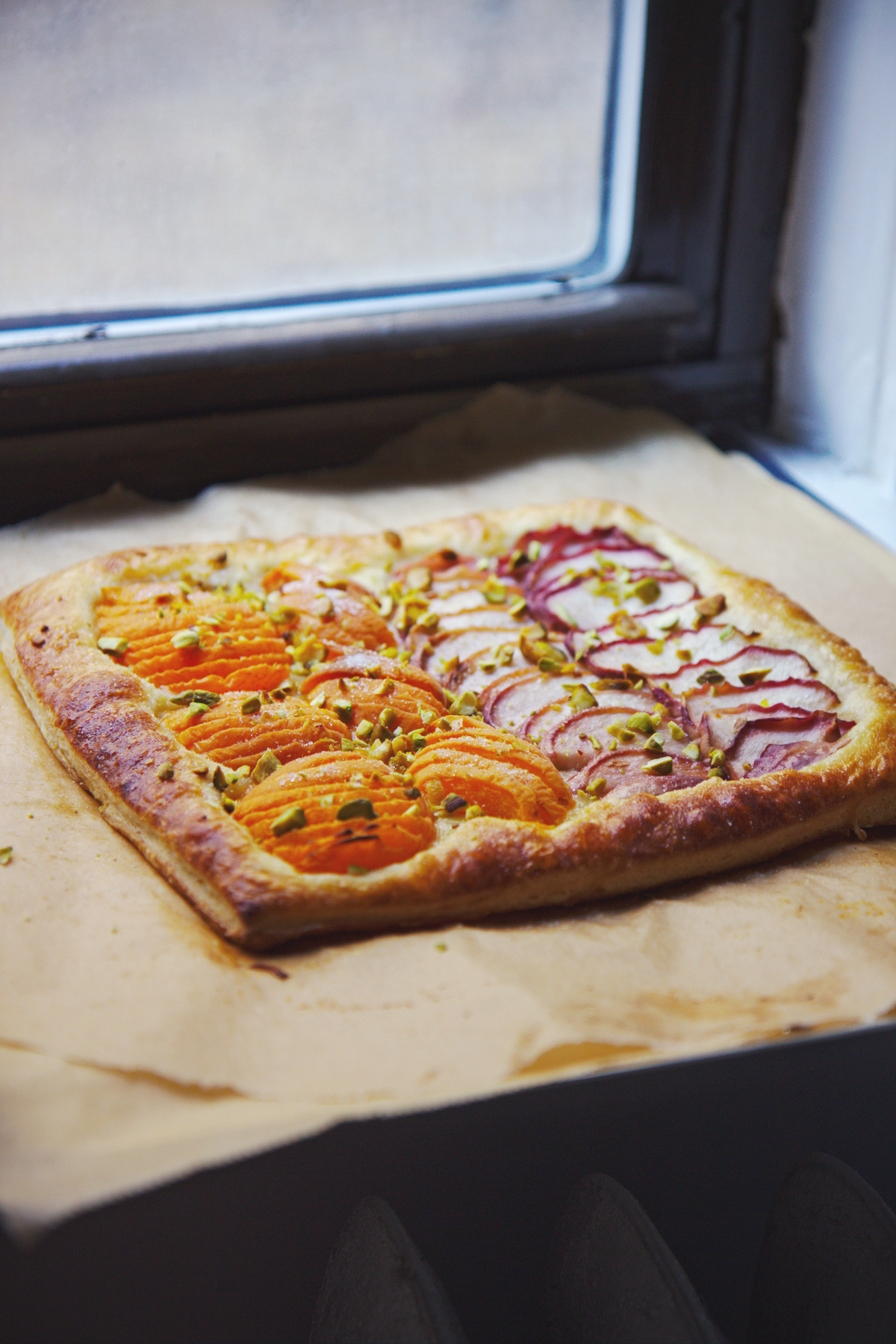 They had been elegant in the tree, tiny coquettes
blushing more and more until I picked them,
then they were minimalist and matte-colored
in wooden bowls, so barely furred one couldn't
help but clothe them, enclose them with your hand,
caress each one thoroughly before taking a bite,
exploring the handsome freckles left
from some minor blight.
—Jennifer Grotz, Apricots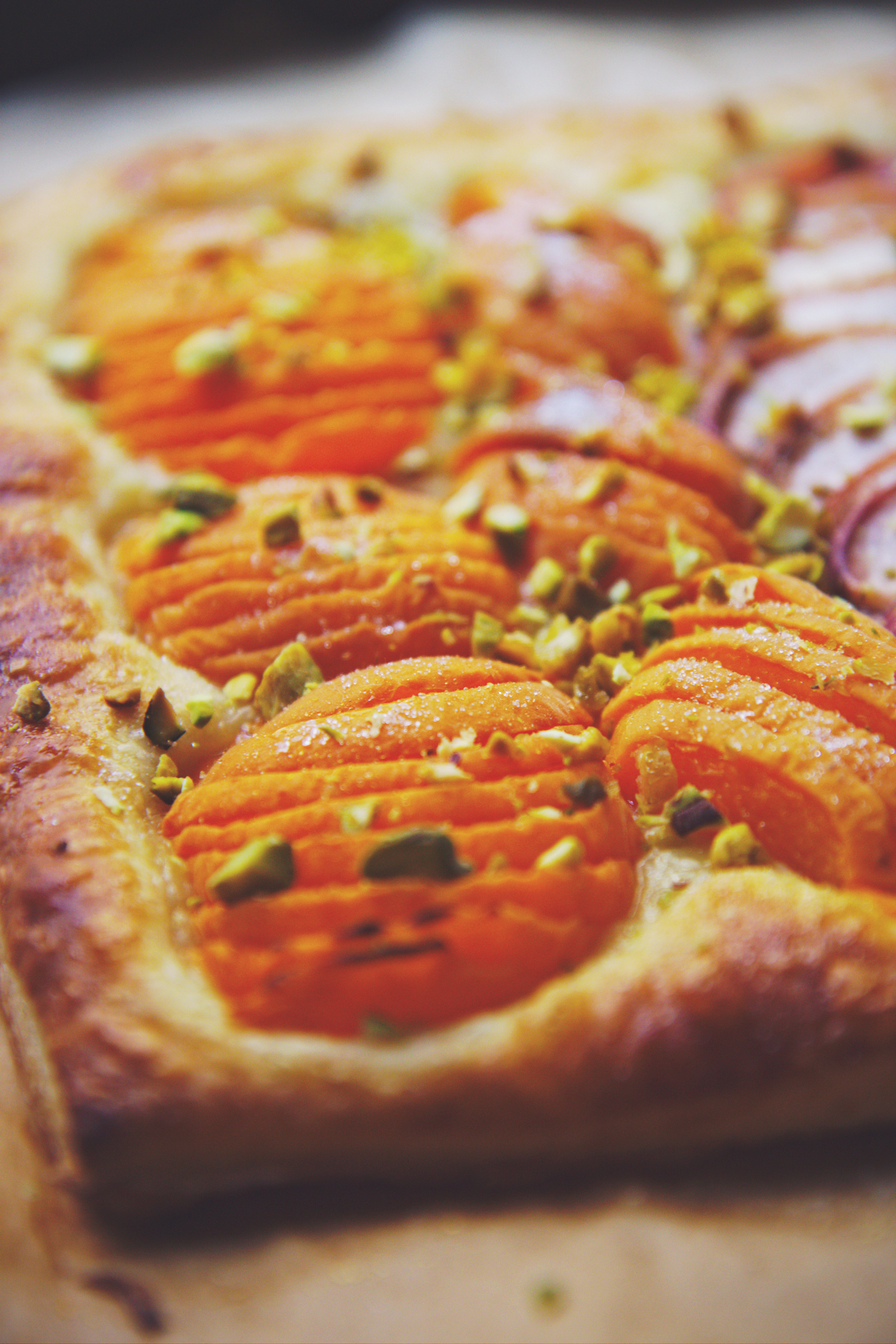 This is an interruption of the berry desserts that have smartly marched across your screen for what must feel like ages.
(Chocolate, long forgotten, is making an appearance soon.  Promise.  And then at least one more berry post. Oops.)
But this post...This post is devoted to stone fruits.
Peaches and drupes (stone fruits) are some of my most favorite fruits… of course, La Pêche Fraîche is a dead giveaway.
There haven't been an overwhelming number of peach/apricot/plum posts, however.
(The last I mean to remedy when plums charge in in all their autumnal glory.)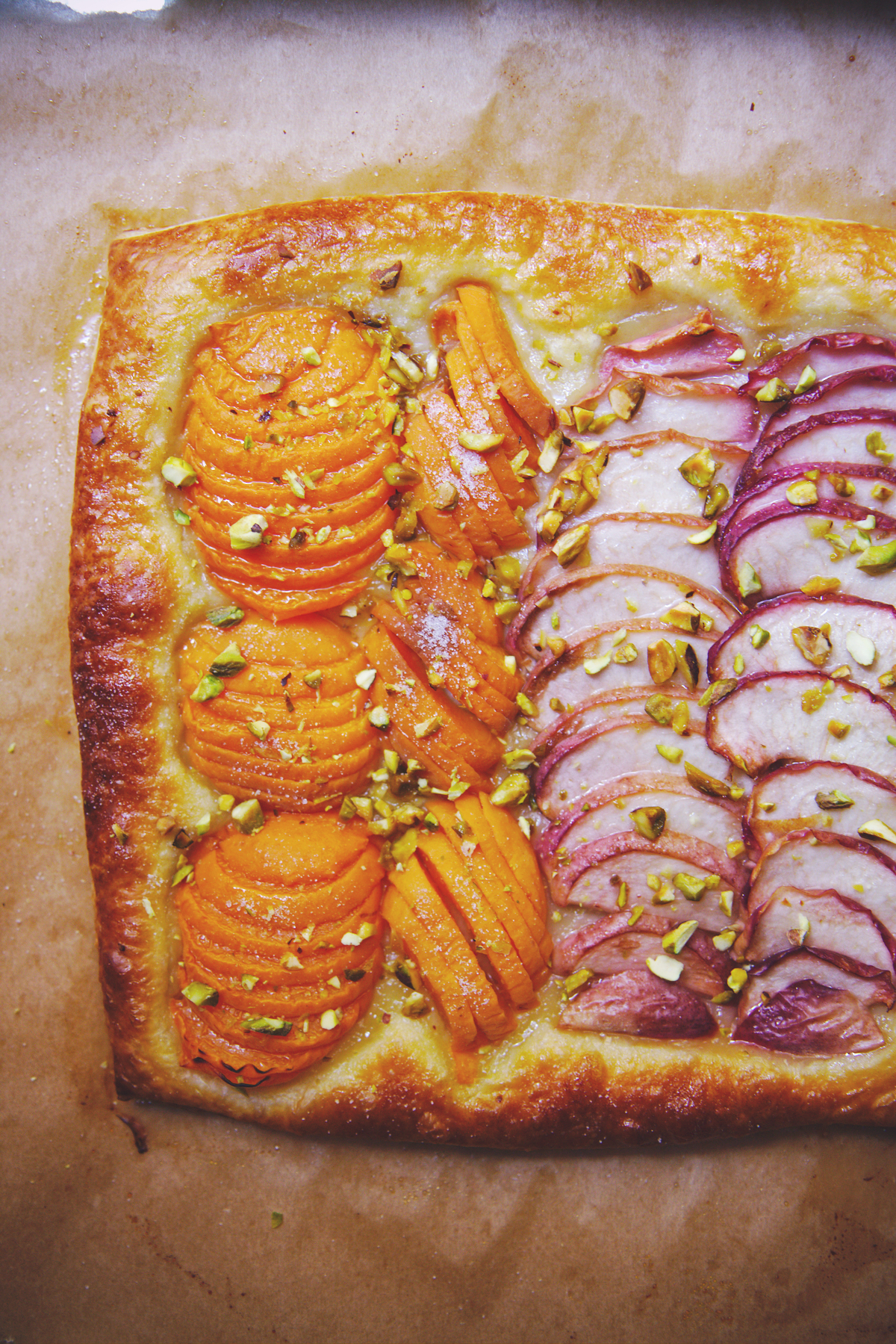 There was this (pin-happy) celebration of 100 posts, an ombréed, OCD tart filled with all of the sweetest, ripest stone fruits I could find.
Or this giant slab pie, perfect for feeding a crowd, complete with an utterly absorbing, fun-to-make lattice and homemade vanilla ice cream (le duh).
This simple peach tart, made and shot quickly.  Very much a throw-together tart, skin-on, that comes out as a whole much greater than the sum of its parts.
This old (old!) rendition of Cook's Illustrated's perfect peach pie.  It was delicious, but still didn't manage to convince me that peeling peaches for pie is utterly necessary (such a headache!).
So… This is not very many posts, seeing as I've racked up nearly 250 over the lifespan of the blog.  Eeep!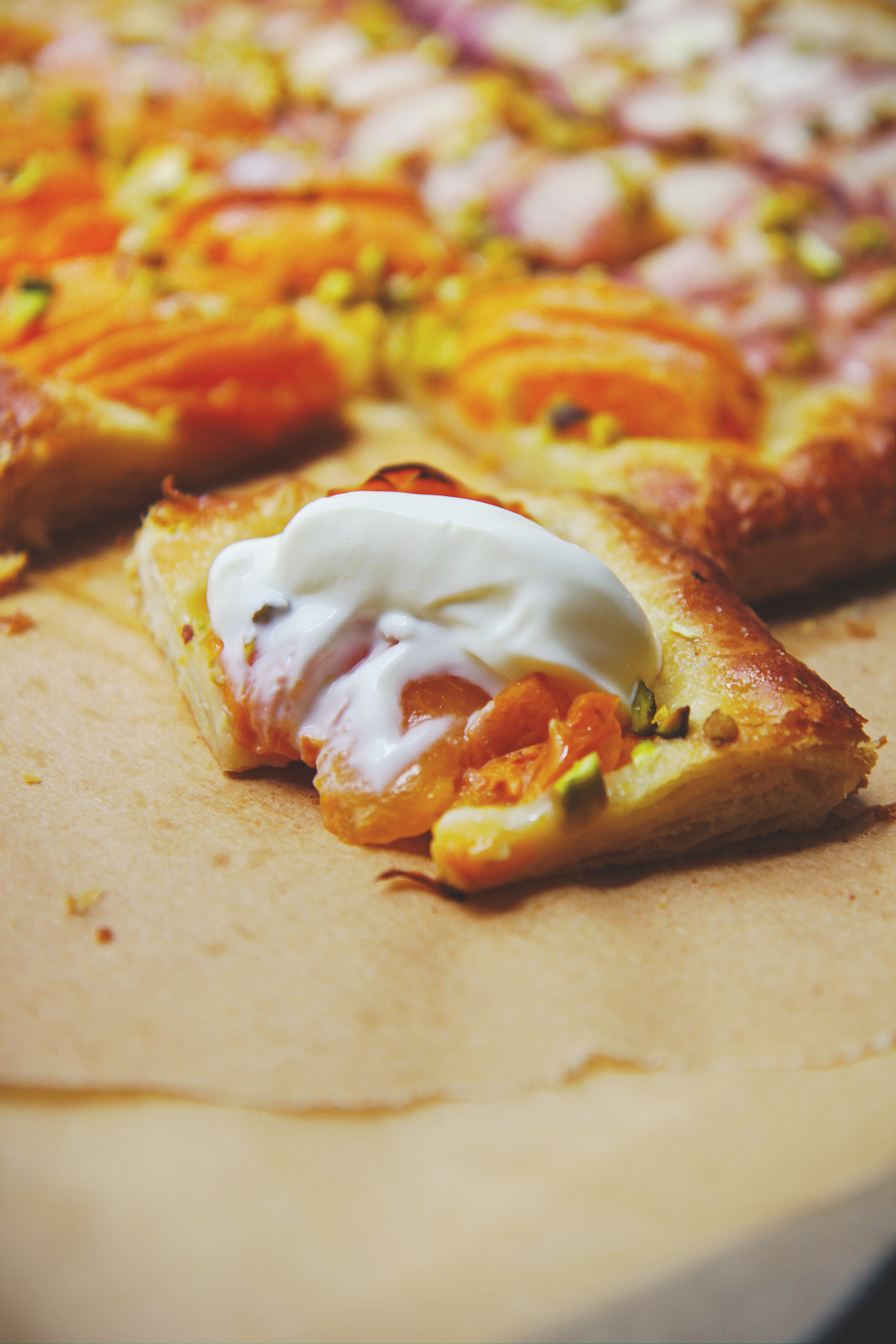 I don't quite have enough of my own links to really devote a link-love post to stone fruit, but fear not!
I have compiled a few absolutely mouthwatering peachy bits and bobs from around the blogosphere.
Let's start with the unfairness that is Laura's glut of peaches, no?
*Pouts* whyyyyyy don't I have such beautiful peach trees bursting with life around me?!  Add to those ripe peaches her maple coconut granola and that right there is a proper summer breakfast.
More elegant simplicity with the seasonal fruits: Kristin's olive oil pound cake, tinged with citrus and served simply with fresh peaches and coconut whipped cream is a dream come true.
Uggghhh. Slay me, Michelle.
Bourbon + brown sugar + peach pie.  Give me the pie and 5 minutes and you will regret giving me the pie at all.
That thang is a work of beauty right there.
More bourbon + peaches, with brown butter and maple and melty vanilla ice cream, too.
Alanna always has the best photographs.
These in particular left me salivating and wondering why in the heck I haven't made a thousand crisps and eaten them all hot with cold ice cream.  This must change.
Be still my beating heart.
Custard cakes have been on my mind (read: pinboards) lately.
Then Sam went and added ripe, custardy in their own right apricots and my world turned upside down.
OMG. That vanilla bean custard layer…
(P.S. Can't wait for that prune cake.  I looove prunes.)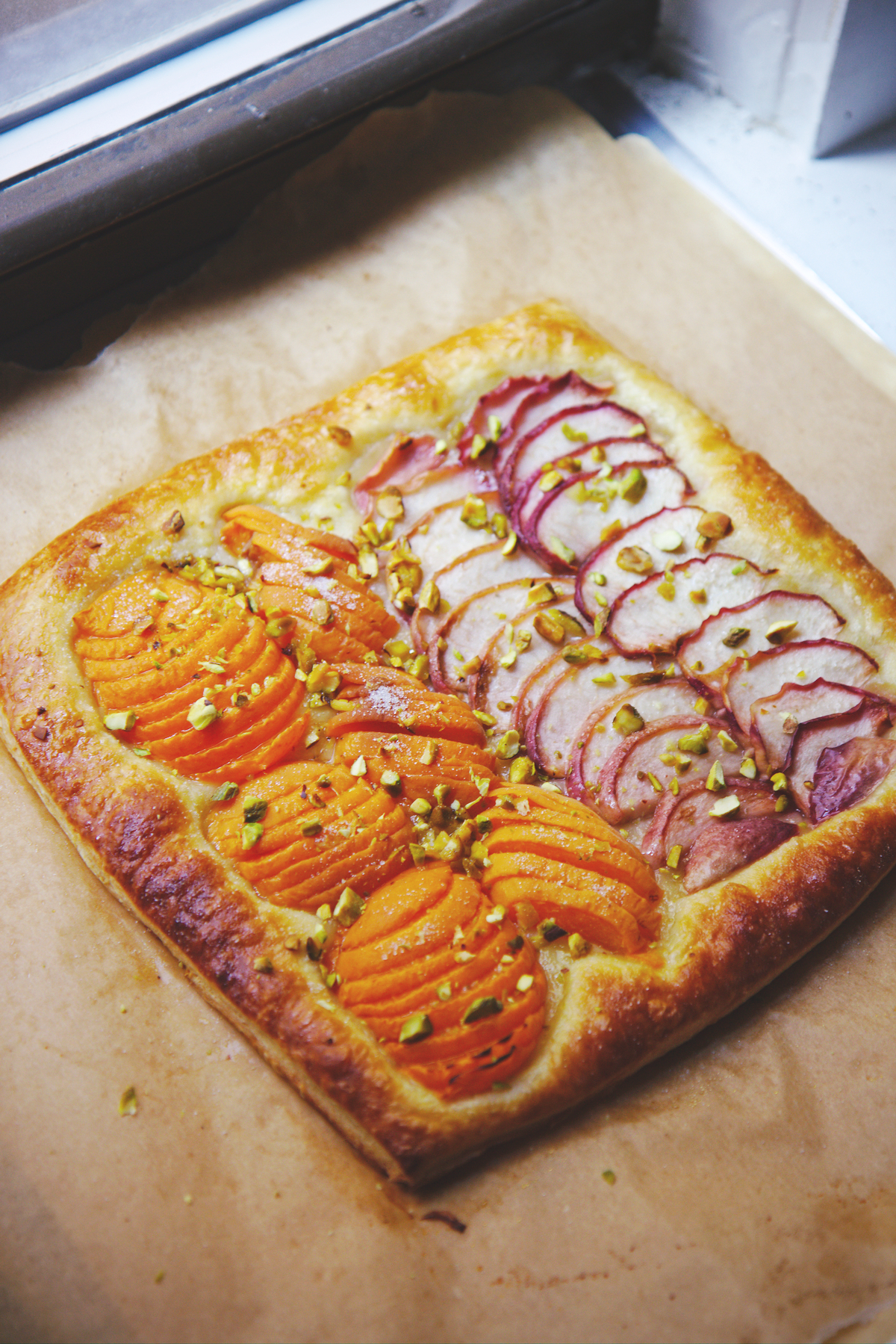 Today, I'm sharing a cheater's simple stone fruit tart with you without a modicum of shame.
Yep, I used purchased puff pastry for the first time.  And its convenience and dependability were awesome.
No fuss, stupid fast, beautiful, tasty, and simple.
5 ingredients, if you count the egg wash and pistachio garnish.
If you thaw your puff pastry the night before, you can have this beauty on your table in 25 minutes flat.
This really lets the fruit shine—there's virtually no added sugar or other ingredients to distract.
For this reason, it's vital to choose ripe fruits—a little bruise or droopy skin here or there is a-OK.
It will intensify the flavors of the tart.
If you find yourself in a situation where you need a quick, sweet and fruity fix, or you want a fool-proof yet impressive dessert to serve to friends, or you have some droopy, slightly sad little drupes that are a day away from necessitating jam, this is the recipe to reach for.
Infinitely adaptable.  Unendingly forgiving.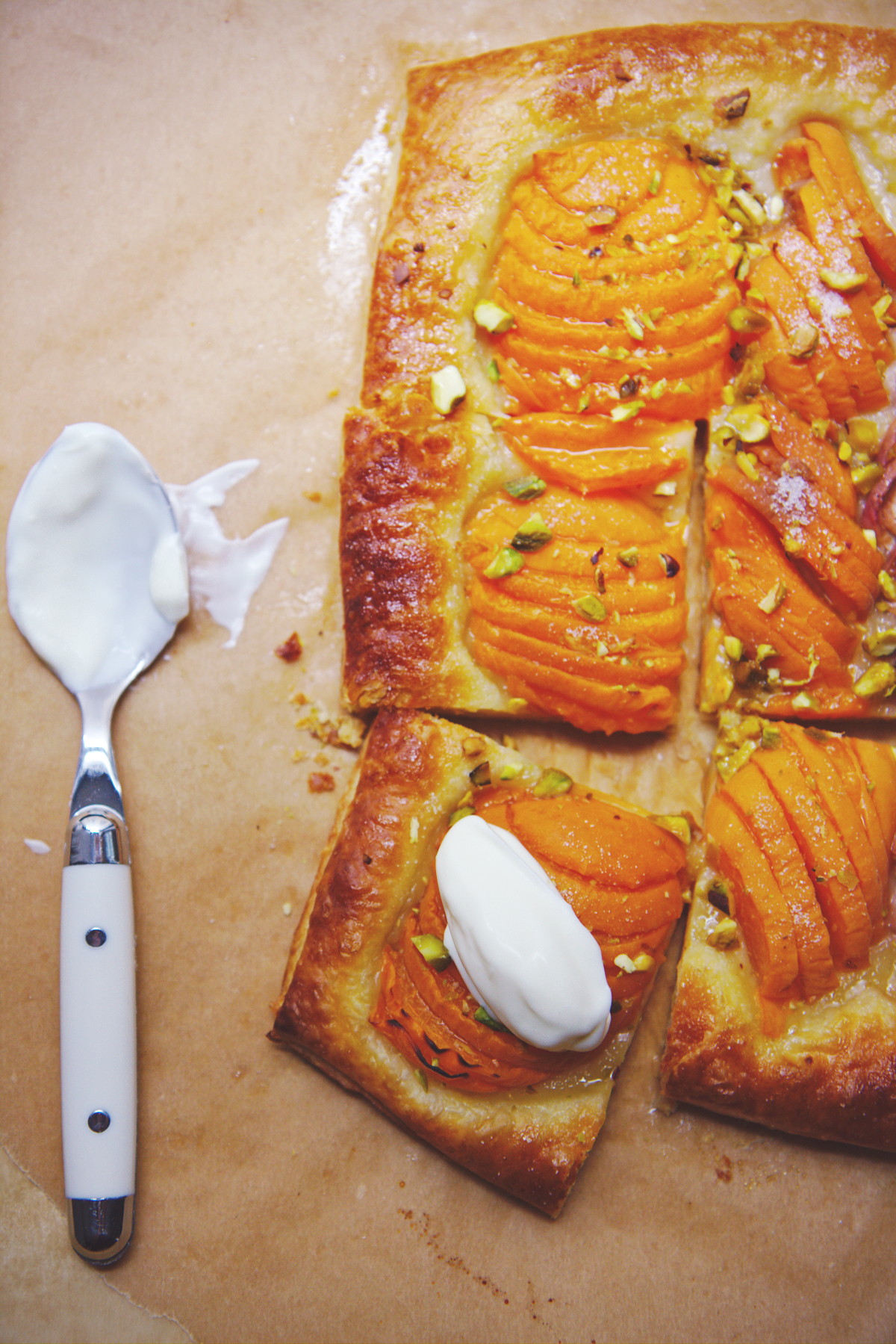 You can use any stone fruit or sliceable fruit that you wish, really: plums, apples, dry pears, peaches, apricots, nectarines, pluots, cherries… all fair game.
Nothing too juicy or acidic, and you're pretty much set.
The (store-bought!) puff pastry rises up, golden and shiny, in the oven; the weight of the fruit prevents it from getting too airy, which allows for a sturdy crust that can be eaten by hand.
The fruit becomes syrupy in the hot oven, bathing itself in sweet, sticky juice.
A smattering of pistachios provides crunch, and a cool, creamy dollop of crème fraîche ties this simple summer treat together.
The tart comes out looking quite beautiful for the minimum amount of effort put in, with the bright, warm colors of the fruit foiled by green pistachios and pure, snow-white cream.
This, I think, is the definition of keeping it simple (stupid).
Don't mess too much with perfectly ripe/slightly overripe summer fruit.
Let it pop against the backdrop of buttery pastry.
Highlight it only with a conservative touch of sugar and a few crunchy pistachios.
Indulge in a spoonful of cream to add richness and I think anyone would agree that this is a far more exciting use for droopy, tired fruits than jam…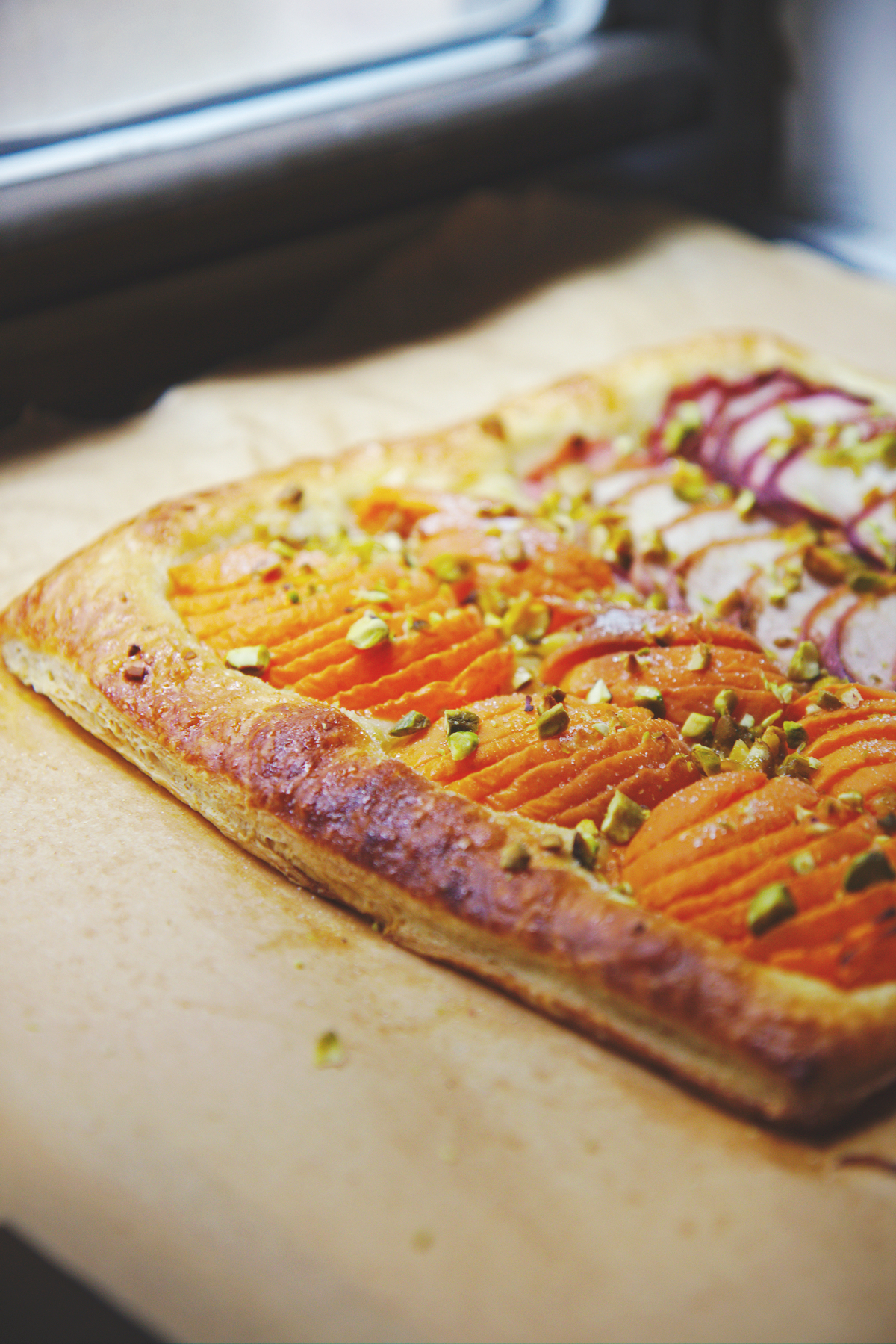 Seriously Easy Stone Fruit Tart
makes 1 10×10 tart
ingredients:
1 sheet all-butter puff pastry, thawed overnight in the fridge
4-6 pieces of very ripe stone fruit, of your choice, sliced thinly
1 egg beaten with 1 teaspoon water
3 tablespoons of sugar
2 tablespoons chopped pistachios
crème fraîche or vanilla ice cream or sour cream, for serving
directions:
Preheat oven to 400 degrees F.
On a very lightly floured surface, gently roll out the puff pastry until it is approximately 11×11 inches.
Trim the edges carefully , being sure not to rock the blade, to make an even square of 10×10.
Carefully transfer the puff to a baking sheet lined with parchment.
Brush an inch border with the egg wash, and lightly sprinkle 1 tablespoon over the center part of the pastry.
Carefully arrange your sliced fruit over the pastry.
Choose any design you like, but avoid layering one slice completely on top of another.
Sprinkle the tart with 1-2 more tablespoons of sugar, depending on how sweet your fruit is.
Pop in the oven for 25 minutes, until the crust is puffed and golden and the fruit is slumped and juicy.
Remove from oven and sprinkle with pistachios; serve warm with cold crème fraîche or vanilla ice cream.