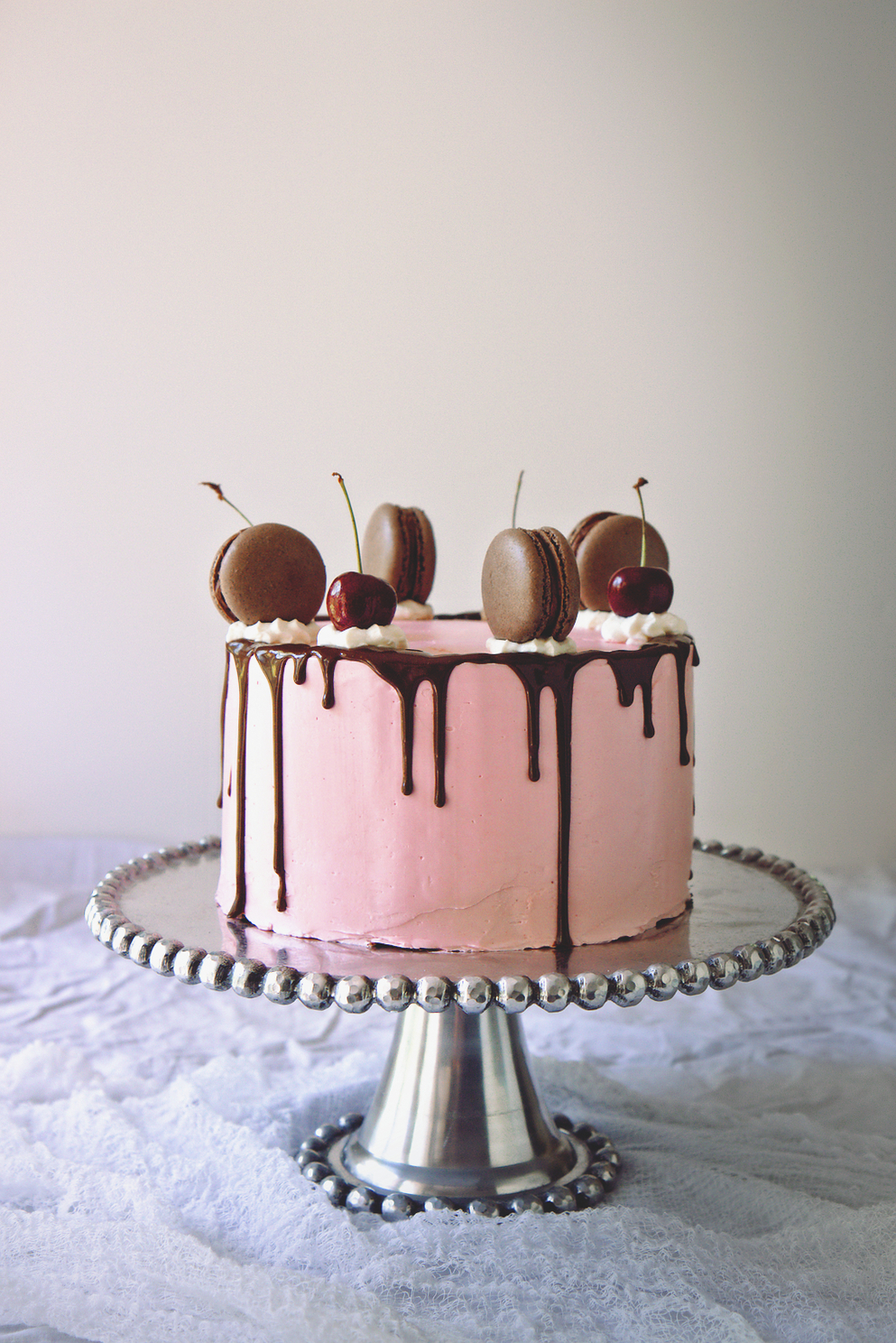 Lost in the forest, I broke off a dark twig
and lifted its whisper to my thirsty lips:
maybe it was the voice of the rain crying,
a cracked bell, or a torn heart.
Something from far off it seemed
deep and secret to me, hidden by the earth,
a shout muffled by huge autumns,
by the moist half-open darkness of the leaves.
–Pablo Neruda, Lost in the Forest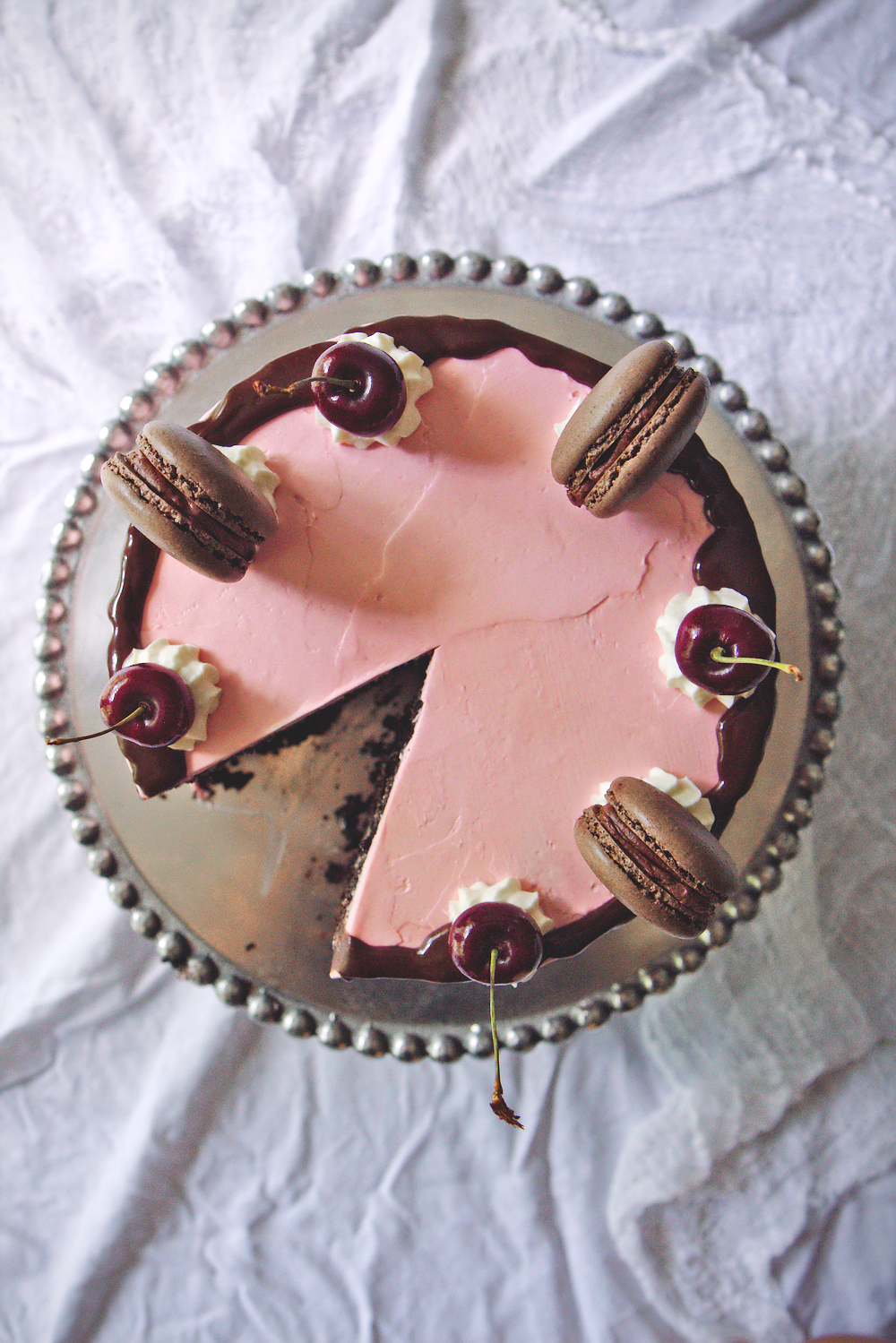 I can't write the introduction to this post.
I have tried, deleted, tried again.  And again.
It was my dad's birthday that prompted this cake.
So, I guess I'll start with that: happy birthday, again, Daddy.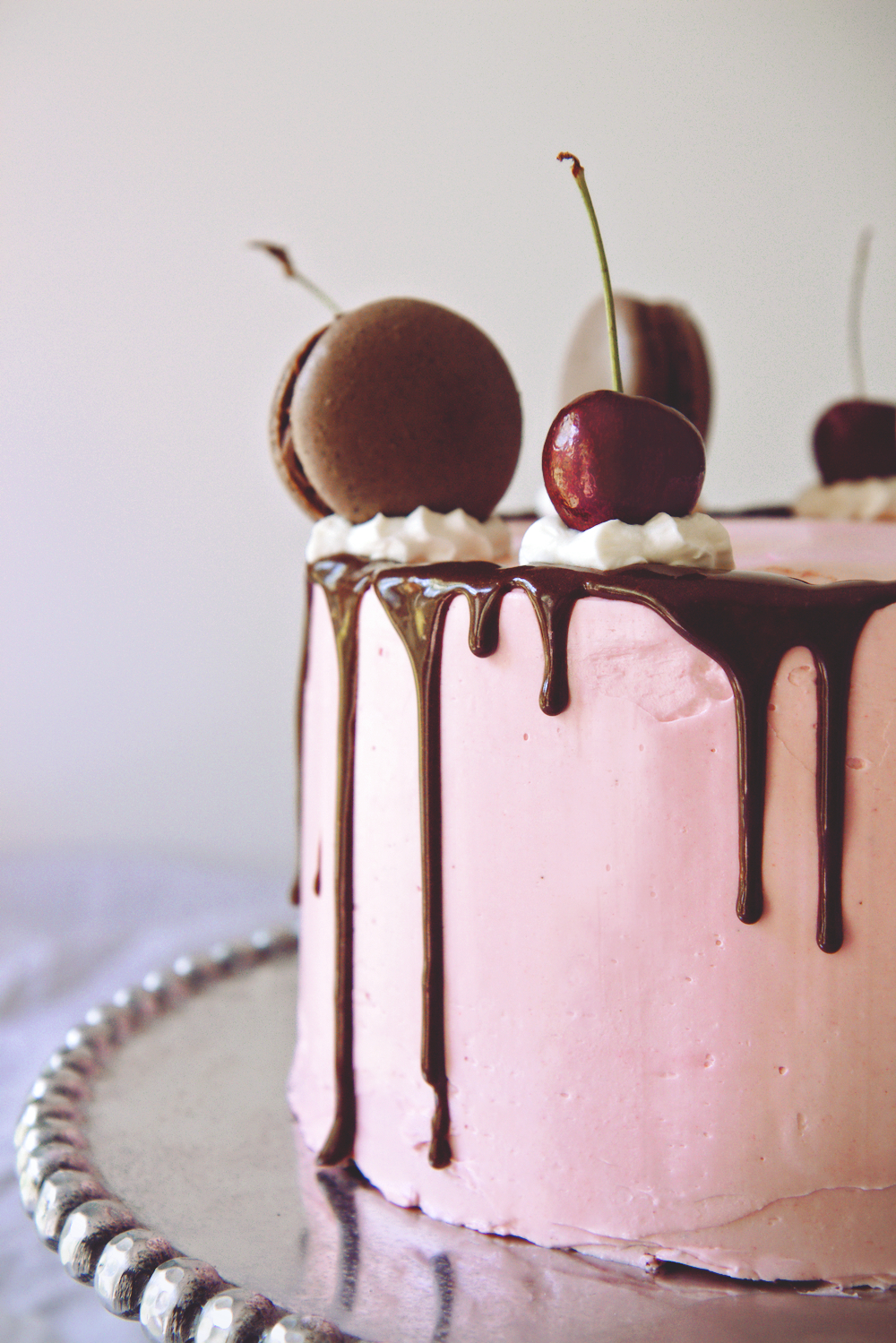 I was going to begin by talking about how all news seems like bad news these days;
how this blog is not meant to discuss politics but rather butter and sugar;
and yet how stiflingly hard it is to read the paper,
to come to the realization of just how many things are going so very wrong on our planet;
how such current events leave me, as far as writing goes, speechless—wordless—frozen.
This opening, as you can probably intuit from the summary, was wholly incongruous with the happy, cheery, pink cake I'm currently shoving in your face.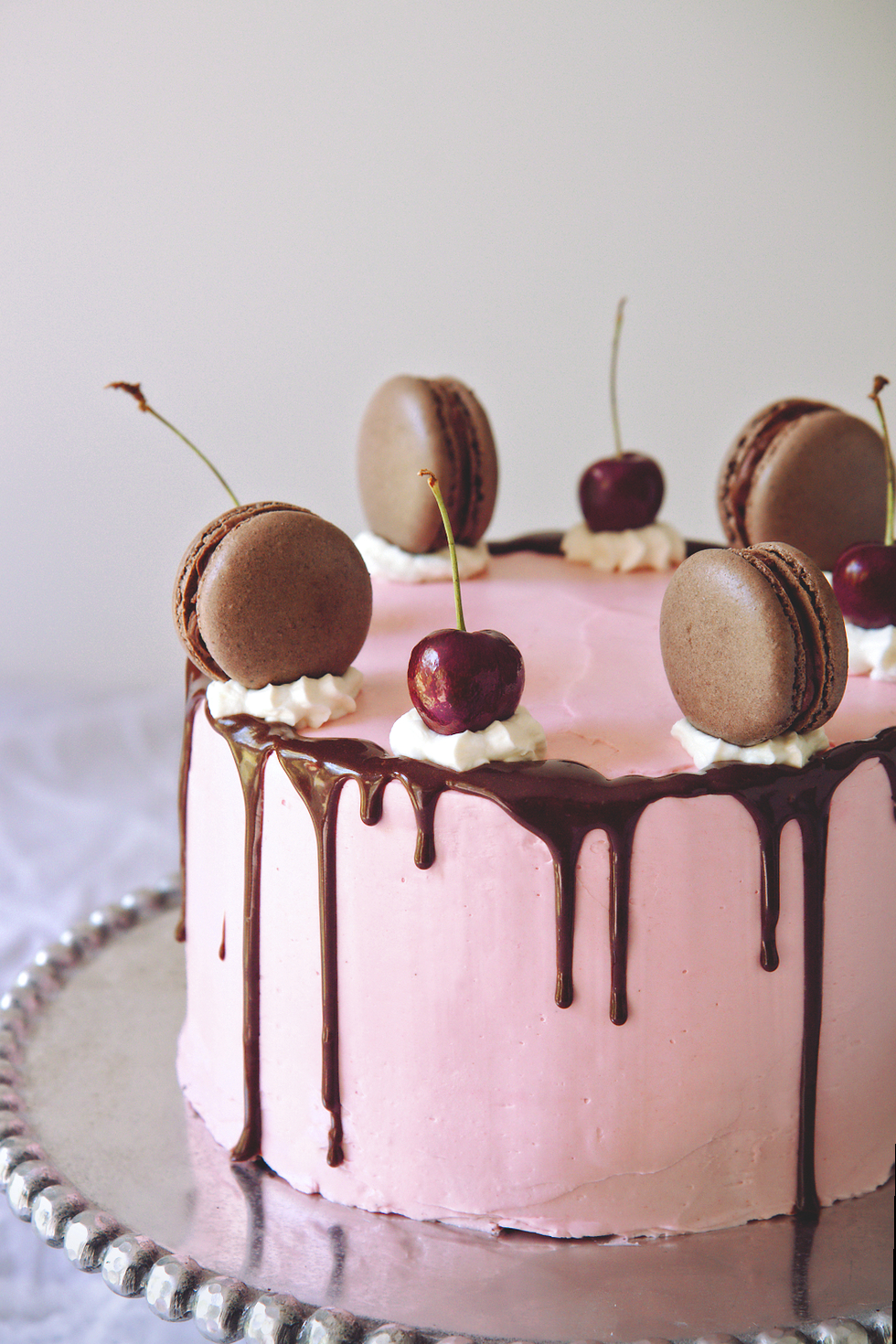 It's like the New York Times—and Bill Hayes—read my mind.
If you're a usual reader, you know that I've been struggling of late to put the pen to the page.
So much white space between photographs.
I'm practicing non-writing, I suppose, but I'm still in the stages of denial.
I want to write, I can and should write, but I feel I have little to say.
My life is just so goddamn monotonous these days (which, if I'm being truthful, I love. That's what summer is for) and I mostly spend my time, apart from baking, which you already hear about, reading Game of Thrones or working out or or pining after N, and life around the world, as I have just mentioned, is terrifyingly depressing—death and doom seem inescapable.
These things do not a lively blog post make, friends.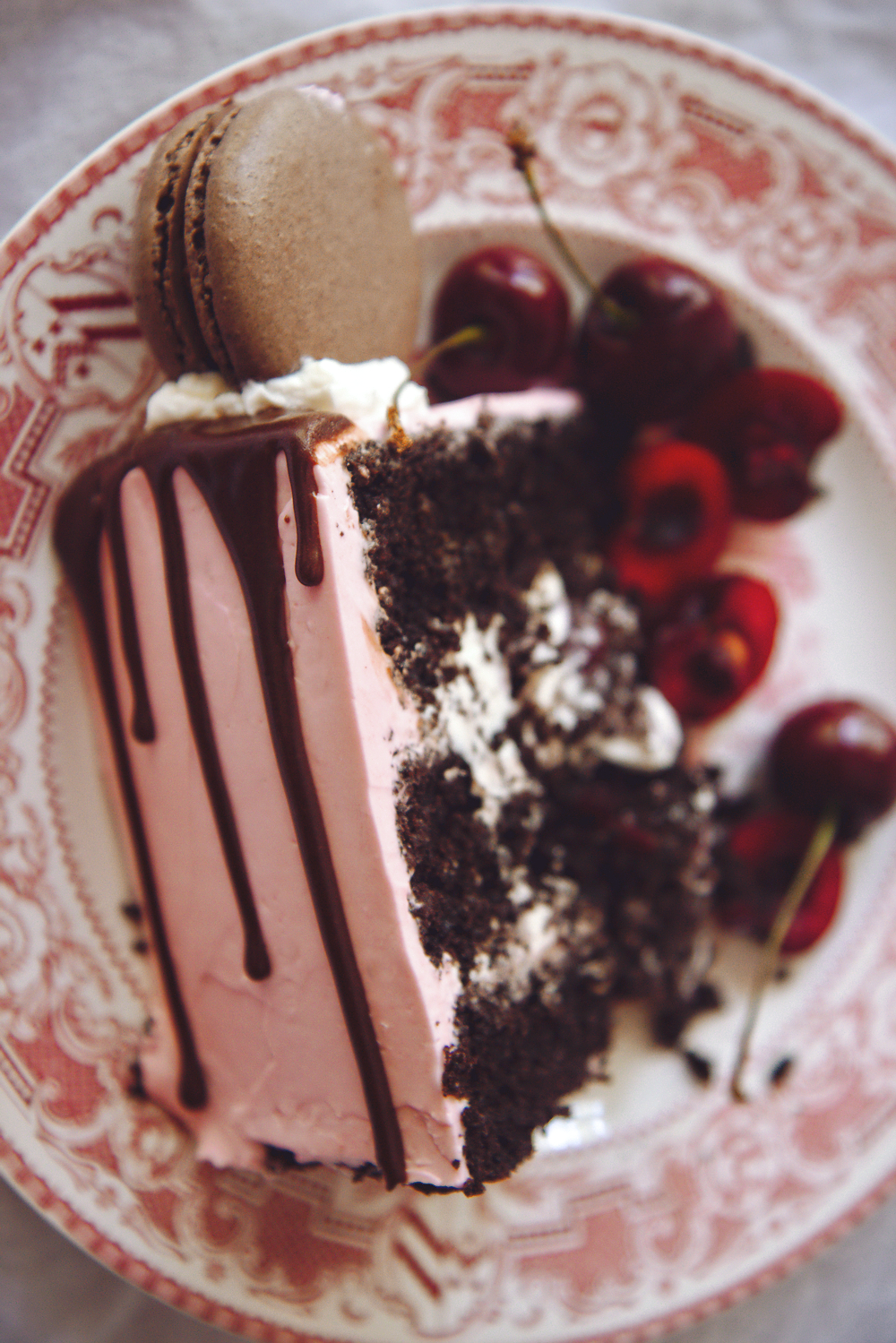 This space begs to be filled and yet frustratingly sucks up the feeble, meager lines that I proffer up.
It demands real writing, real words, and even when I concede to "non-writing", a few snippets here and there, nothing serious, it whispers in my ear, sending shivers and doubt up my spine… don't you think they'll get bored without words?
For what is this blog without words?
Confessions of Confection.
It's an empty shell of what I envision it to be; La Pêche Fraîche started because I had so much to complain about say, and because people generally only respond favorably to such whining when it is accompanied by dessert.
(I'm kidding, of course—in reality, the whining came after the desserts.)
Most of the posts of which I am proudest (oh, say, here, here, here, or here, if you want to hear me toot my horn tout my writing. Toot toot) came pouring out with a tumble of emotions and little in the way of the forceful tugging I now must do.
Fo now, each paragraph is another stubborn tooth to be pulled from the bleeding gums of my mind, and rather than satisfying as it is laid on the page, it leaves a gaping hole of limp disappointment.
(My recent experience with wisdom teeth has given me an exquisitely clear understanding of such pain.)
Ugh stop looking at me like that.
I knew I shouldn't have used that analogy.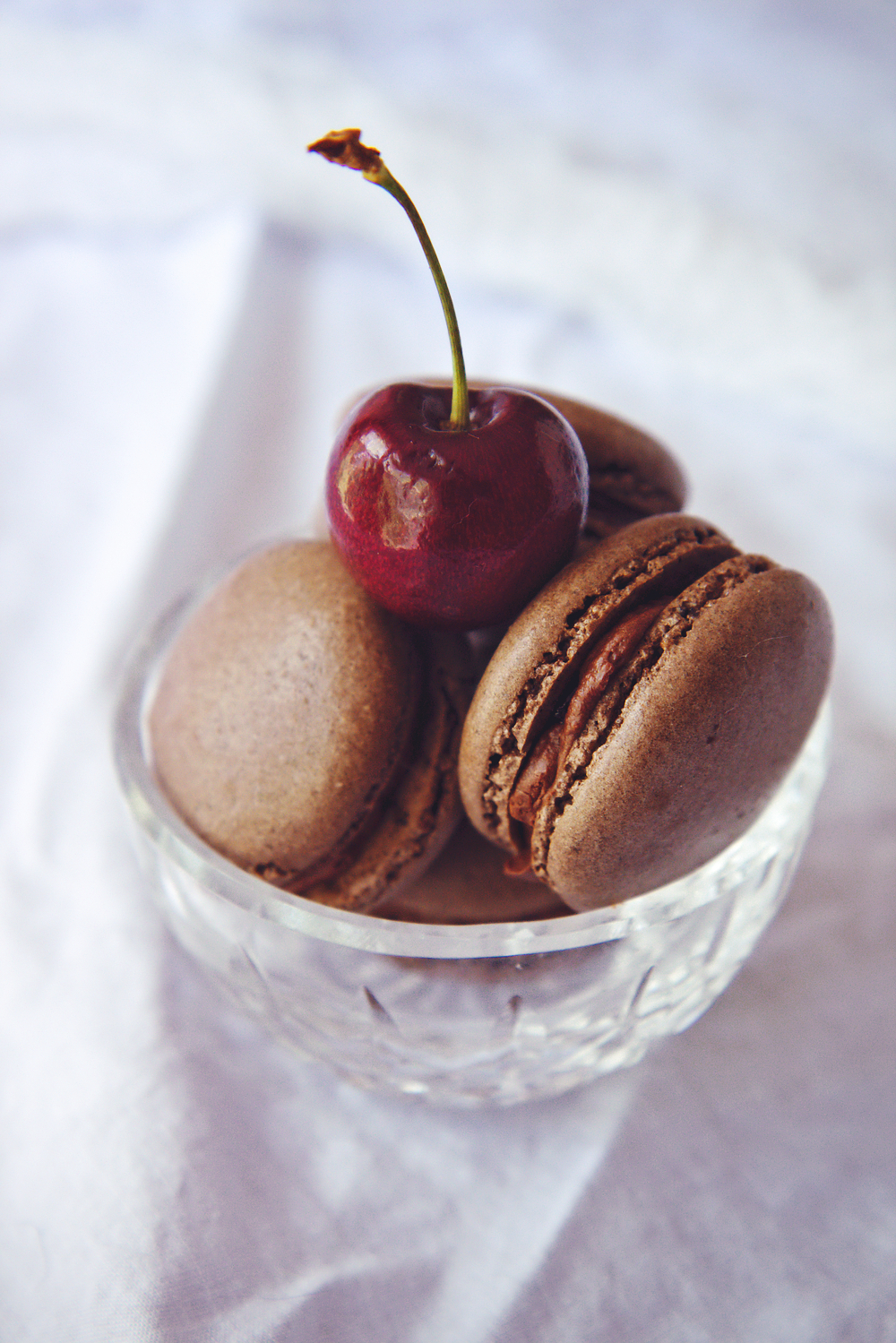 And look here, now, somehow I have managed to produce more volume of self-indulgent grousing than literally everything else I have written lately combined.
How very me.
But there is cake, people!
Not just cake, there is a great feat of sugar that demands to be spoken about, a great big fat pink elephant in the room post.
This is a cake for crazy people.
I'm serious.  But let me explain.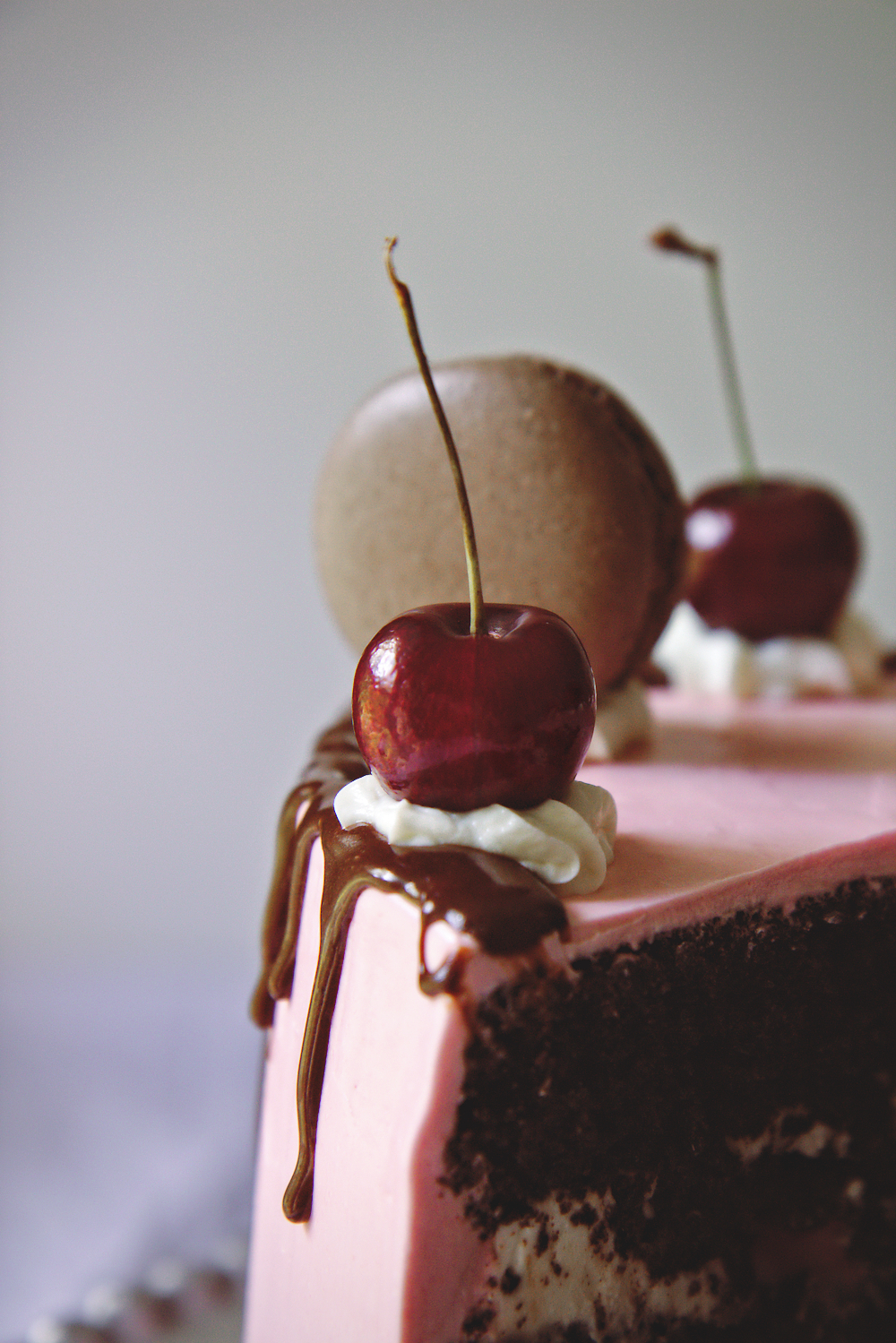 Before I even try to explain the ridiculousness of this cake, scroll way, way, way down to the recipe/ingredient list.
That should give you a head start on shaking your head.
I think I have carpal tunnel just from typing that monstrosity.
7 main components, here:
mocha mayonnaise cake
quark whipped cream filling
cherries marinated in kirsch
chocolate cherry macarons, filled with
whipped ganache
cherry italian meringue buttercream
ganache glaze
Yaaaaaagh.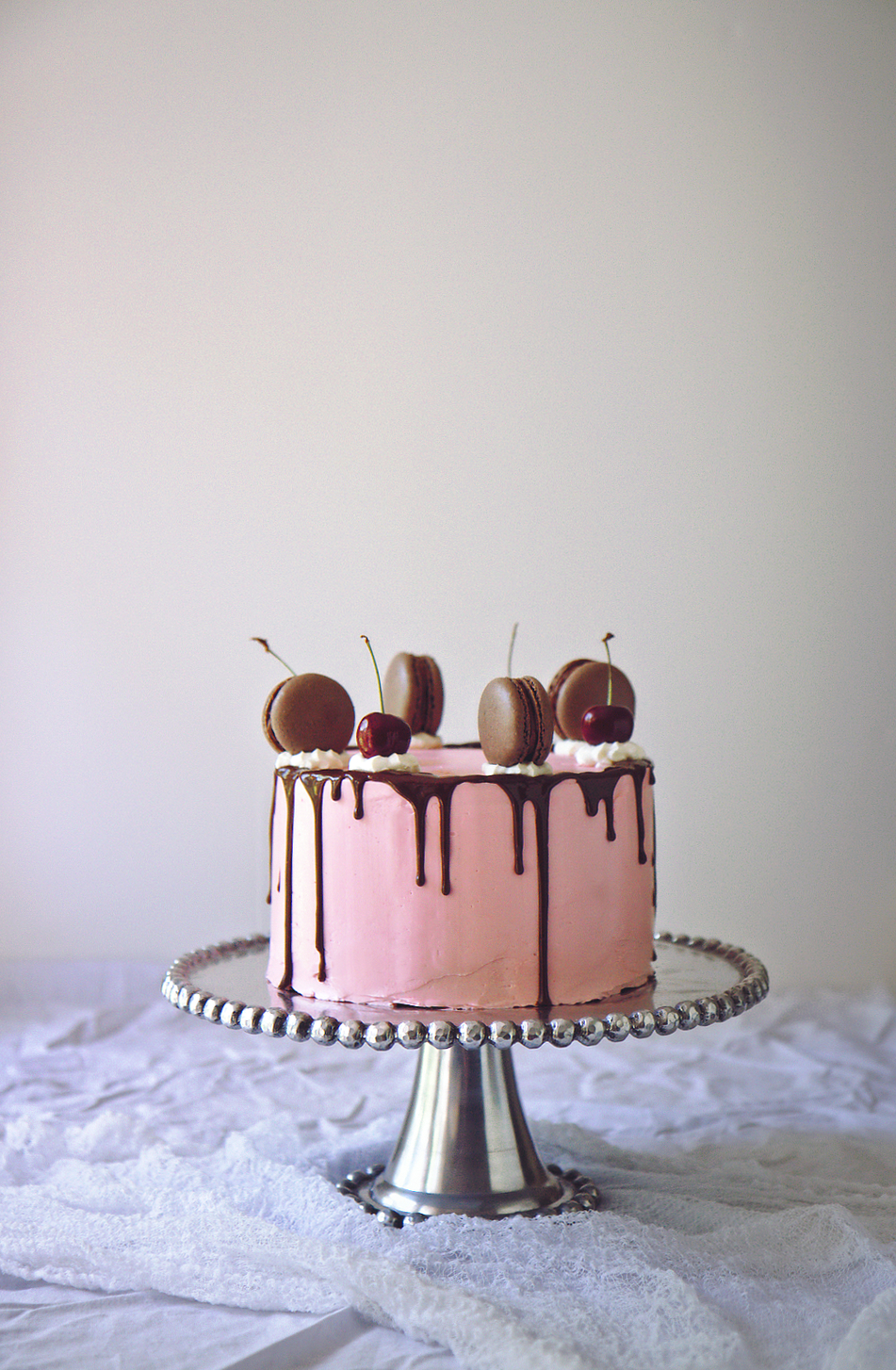 If you're anything like my brothers, hearing the word mayonnaise in the same sentence as cake will cause you to wrinkle your nose, put your fork down, and push your plate away à la Calvin and Hobbes.
But!
Mayo is just emulsified eggs, oil, salt, and vinegar (I should know, I just made a huge batch with my immersion blender for my dad's birthday dinner.  I added black truffle oil.  Divine!), which are already in a cake.
The addition of mayo makes this cake super tender and soft, with a light, tight crumb.  Perfect for sky-high layers.
Adding strong coffee makes the cake deeply chocolaty, with a bitterness that offsets the rest of the sugar marvelously.
The quark whipped cream filling tastes like a lightened up cheesecake, slightly tangy and quite fluffy.
It's far more interesting than the classic whipped cream, which is a bit one note.
(Quark is like a cross between a farmer's cheese and crème fraiche, and you could sub half as much cream cheese without the need to press the moisture out.)
In Germany, it's illegal to call a cake Black Forest (Schwarzwälder Kirschtorte) if it doesn't contain kirsch (kirschwasser).
With that in mind, fat, fresh cherries, pitted and halved and seeping sweet red juice are gently cooked in kirsch and sugar, until they have soaked up all the flavor and released their juice.
The resultant boozy cherries are drained of their juice and nestled in the whipped cream along with chocolate macaron shells; the juice is gently brushed over the cakes to add extra moisture.
Then, the juice is reduced to a sticky, bright red kirsch syrup, which is poured into a whipped, glossy Italian meringue buttercream, adding a blush of color and delicate kirsch/cherry flavor.
Chocolate macarons, crisp on the outside, yield to reveal fudgy whipped bittersweet chocolate ganache and a rubied center of tart cherry jam, which is a fruity suprise.
Fresh cherries, bittersweet chocolate glaze, more whipped quark, and the macs top this cake; the decoration reminds me of a banana split or an ice cream cake—cute and whimsical!
You can make it in steps: up to a week before assembling, make the cake layers.  Wrap them in a double layer of plastic wrap and a layer of aluminum foil and freeze them; take them out of the freezer and put them in the fridge the day before you assemble the cake.
Make the cherries in kirsch up to 3 days before; just store them in the juice, then drain them the day you assemble the cake to brush the layers and reduce to syrup.
Make the macaron shells up to a week before; store them in an airtight container and assemble a few cookie sandwiches for decorating the day before you put the cake before, so they can age and mingle with the fillings.
Make the ganache the day before you assemble the cake; to whip it for the macaron filling, simply let it come completely to room temperature before beating; for the glaze, gently warm it in 5 second bursts in the microwave until it is melted and shiny again.
The day of, drain the cherries and brush the cake layers with the unreduced juice.  Reduce it to syrup and make the cherry Italian meringue buttercream.
Whip up your super quick quark filling (say that 10 times fast), and build your cake.
If you plan ahead, you can do it.
Or, pick and choose which components you want to use!
For a simpler cake, use the chocolate layers, the filling, and the cherries: dust the top layer with powdered sugar and you still have quite an impressive cake.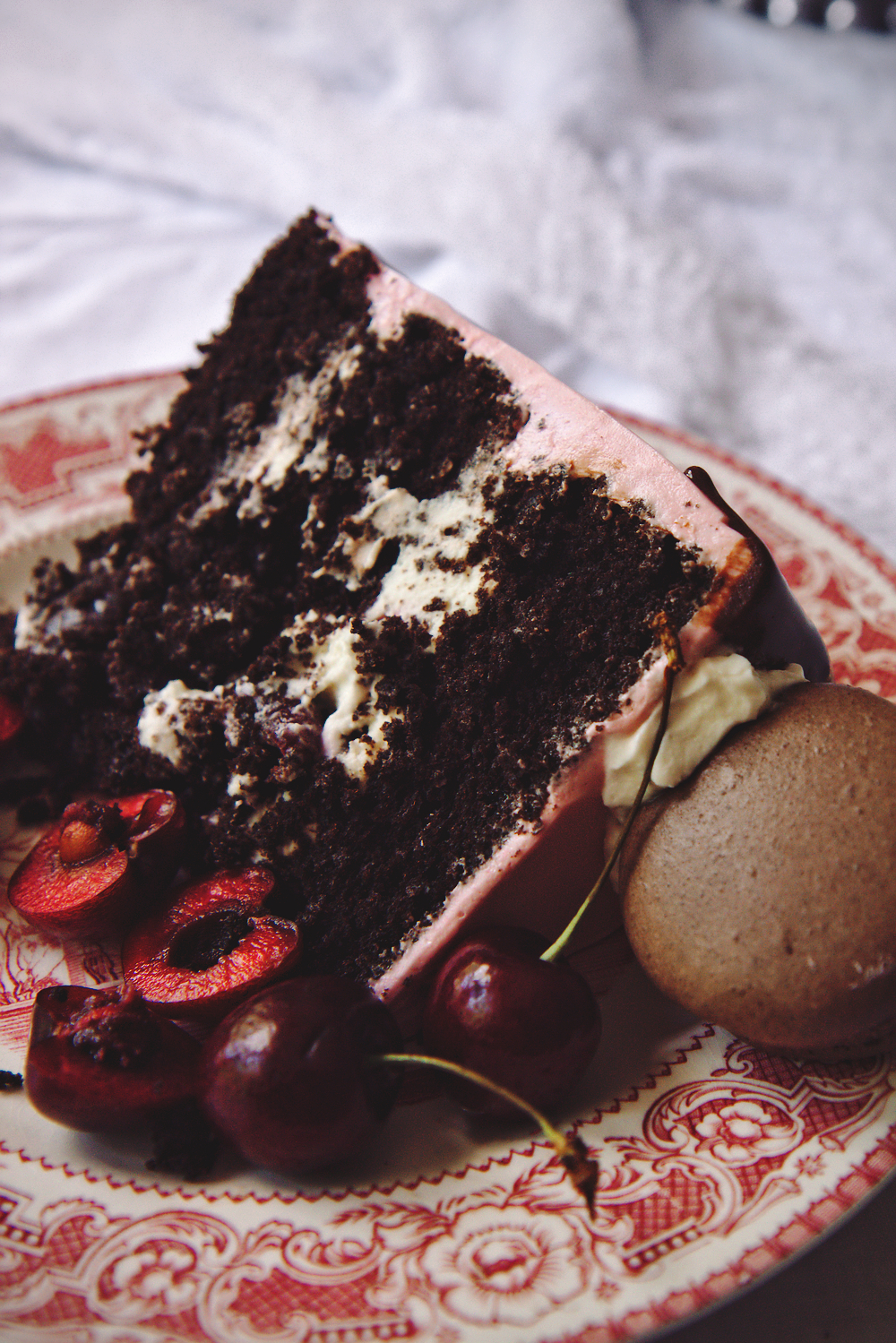 I expect there are a fair amount of people who have closed the tab and are now wondering whether it is ethical to continue reading, thereby encouraging the continuation of, a blog run by a mentally unstable individual.
This cake is an undertaking.  But dare I say it's worth it?
My family—especially my dad, who made a quiet, simple request for black forest or German chocolate and received this enormous pink confection in answer—loved it.
It's a project, and it will leave your kitchen dusted with a fine layer of cocoa powder and flour and splattered with enough cherry juice to look like a murder scene.
But it also leaves you with a boozy, chocolaty, pink cake, surrounded by happy, contented people, and that, my friends, is reason enough alone.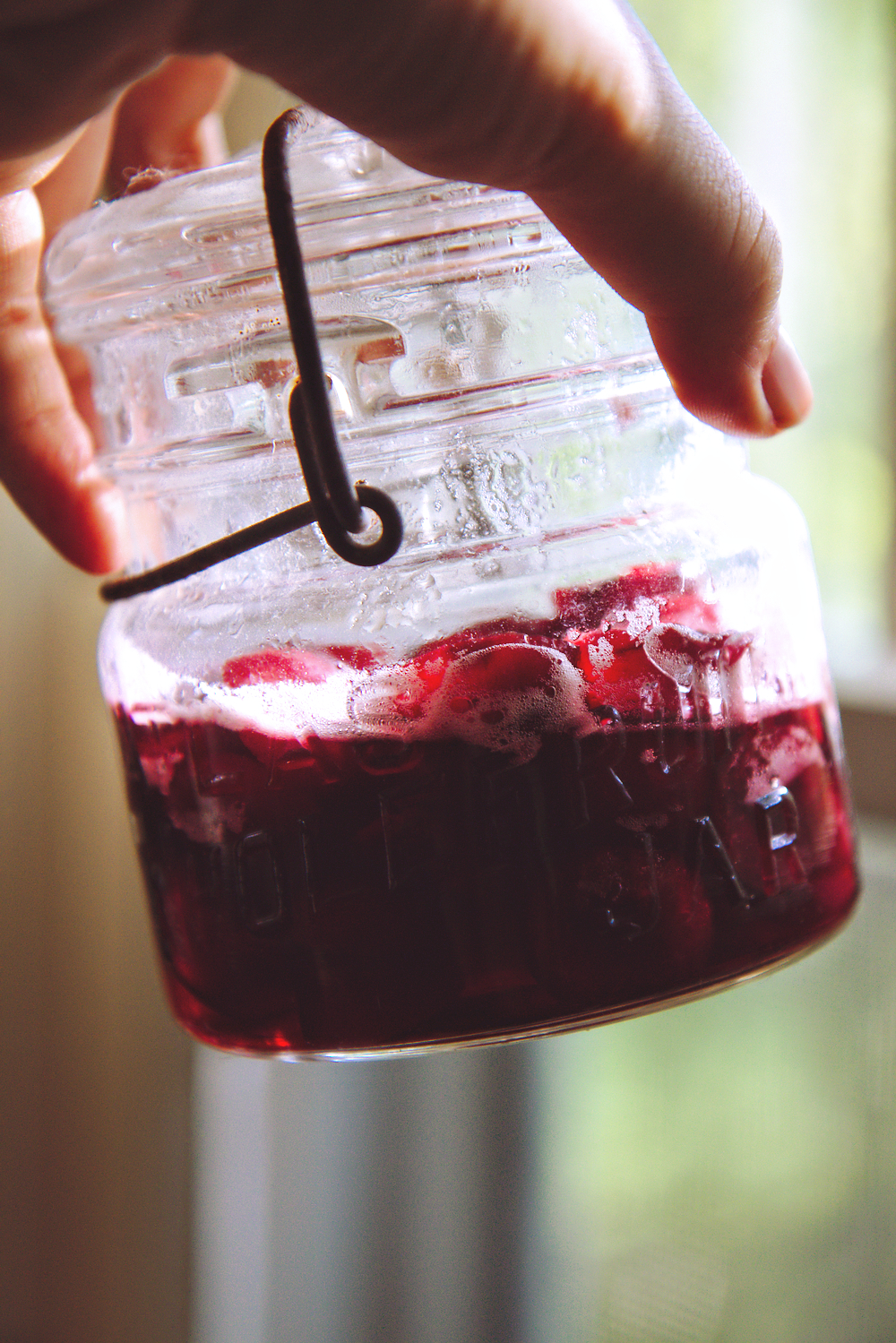 Gâteau de Forêt Noire
cake portion adapted from Sweetapolita
macaron portion adapted from Annie's Eats
cherries in kirsch adapted from Call me Cupcake
makes 1 8-inch 3-layer cake
ingredients:
for the chocolate cherry macarons:
100 grams confectioner's sugar
100 grams almond flour
12 grams cocoa powder
170 grams egg whites, divided into two 85 gram portions
120 grams sugar
80 grams water
pinch salt
whipped ganache, recipe below
good quality cherry jam
for the chocolate ganache (whipped and glaze portions):
100 grams (3.5 ounces) dark chocolate, chopped
100 grams (1/4 cup plus 2 tablespoons plus 2 teaspoons) heavy cream
1 tablespoon corn syrup (optional)
pinch salt
for the mocha mayonnaise cake:
170 grams (3/4 cup, 1 1/2 sticks) butter, soft
460 grams (2 cups packed) brown sugar
1 1/4 teaspoons kosher salt
2 egg yolks
2 eggs
220 grams (1 3/4 cups) flour
90 grams (3/4 cup) cocoa powder
1 1/4 teaspoons baking soda
1 teaspoon baking powder
1 tablespoon apple cider vinegar
180 mL (3/4 cup) milk
180 mL (3/4 cup) coffee
60 mL (1/4 cup) mayonnaise
for the cherries in kirsch:
275 grams cherries, weighed pits and all
1/4 cup kirsch
1/4 cup sugar
1 teaspoon apple cider vinegar
for the cherry Italian meringue buttercream:
reserved (reduced) cherry kirsch juice, recipe above
2 egg whites
115 grams (a smidge more than 1/2 cup) sugar
big pinch kosher salt
30 grams (2 tablespoons) water
220 grams (2 sticks, 1 cup) butter, diced and cool
1 drop red food coloring, optional
for the whipped quark filling:
227 grams (8 ounces) quark
360 mL (1 1/2) cups heavy cream
100 grams (3/4 cup) powdered sugar
to assemble:
fresh cherries
directions:
First, make the macarons (can/should be done 1 day ahead): sift confectioner's sugar, almond flour, and cocoa powder together.
Discard the large pieces of almond flour that don't fit through the sieve.
Add one 85 gram portion of egg whites to the sifted ingredients and stir very well until a thick, uniform paste forms; set aside.
Prepare 2 baking sheets with parchment and a pastry bag with a large round tip; preheat oven to 350 degrees F.
Place the other 85 gram portion of egg whites into the bowl of a stand mixer fitted with the whisk attachment with a pinch of cream of tartar or a drop of vinegar.
Place the sugar, water, and a pinch of salt into a small pot; fit the mixture with a candy thermometer.
Begin to heat the syrup on medium heat; when the temperature reaches 180 degrees, begin to whip the egg whites; when it reaches 220, the egg whites should be approaching soft peaks; at 240, they should be at soft peaks.
Remove the syrup from the heat when it reaches 245 degrees F; pour it, carefully, into the whipping egg whites, being careful not to splatter the whisk attachment with hot syrup (aim for the side of the bowl).
Allow the meringue to whip until it is glossy and stiff-peaked, about 3 minutes.
Take 1/4 of the meringue and stir it vigorously into the almond paste, to lighten the stiff paste somewhat.
Add the rest of the meringue and carefully begin to fold the mixture together.
Stop the macaronage when the mixture flows like lava/makes a ribbon/reabsorbs a blob after 10 seconds.
Fill the prepared pastry bag and pipe out small macarons on both of the sheets.
Place the first sheet in the oven and reduce the temperature to 325 degrees F.
Bake until a cookie lifts off of the sheet cleanly, about 12-15 minutes.
Raise the oven temperature once more and place the second sheet in the oven; reduce the oven temp and bake as before.
Allow the cookies to cool completely.
Make the ganache: place the chocolate, corn syrup, and salt in a bowl and heat the cream to just before boiling, either in the microwave or on the stovetop.
Once the cream is hot, pour it over the chopped chocolate and leave it to sit for 2 minutes.
Gently begin to whisk; continue until the mixture comes together in a glossy, shiny glaze.
Place half of the ganache aside for glazing the finished cake and the other half in the fridge to cool.
Once the chilled portion is significantly thickened and cool to touch (but not solid!), whip it with a hand or stand mixer until it is fluffy and lightened in color, about 2 minutes.
Set aside 1/2 of the shells to layer inside the cake; pair up all the other shells.
To fill the cookies, place a heaping teaspoon of ganache on one shell; gently scoop out a tiny divot in the center and fill it with 1/4-1/2 teaspoon of cherry jam.
Sandwich the cookies and refrigerate overnight before eating or using in the cake.
Make the mocha mayonnaise cake: grease and flour 3 8-inch round pans and preheat oven to 350 degrees F.
Place soft butter, kosher salt, and brown sugar in the bowl of a stand mixer fitted with the paddle attachment and beat on high for 5 minutes, until very light and shiny.
Add in the egg yolks and eggs and beat for another 3 minutes; scrape the sides of the bowl.
Whisk flour, cocoa powder, baking soda and baking powder together.
Whisk coffee, milk, and apple cider vinegar together.
With the mixer running on medium, add in the wet and dry ingredients, alternating and beginning with dry.
Beat for 30 seconds after everything is added to ensure homogeneity.
Scrape the sides of the bowl and add in the mayonnaise; mix on low speed for 30 seconds until the mixture is homogeneous once more.
Portion out the batter into the pans and bake for 22-25 minutes, until a tester comes out with only a few crumbs and the tops are springy.
Remove from oven and let cool 10 minutes in the pans, then turn out of the pans and cool completely.
Make the cherries in kirsch: halve and pit cherries and place in a sauce pot with kirsch, vinegar, and sugar.
Cook on medium heat for 15 minutes until the cherries have released their juice and are soft but not mushy.
Remove from heat and allow to cool completely.
Once cool, drain the cherries from the juice (save the juice!!).
Poke holes all over the bottoms of the cakes (these will become the tops) with a toothpick, then gently brush with a little of the cherry juice—you want to flavor the cake, but not soak it.
Place the remaining cherry juice back into the pot and heat over low heat until simmering; allow to reduce to 3 tablespoons of liquid, about 2/3 of the original volume; reserve this syrup.
Make the cherry Italian meringue buttercream: place egg whites in the bowl of a stand mixer.
Place water, salt, and sugar in a small pot over medium heat fitted with a candy thermometer.
When the temperature reaches 180 degrees, begin to whip the egg whites; when it reaches 220, the egg whites should be approaching soft peaks; at 240, they should be at soft peaks.
Remove the syrup from the heat when it reaches 245 degrees F; pour it, carefully, into the whipping egg whites, being careful not to splatter the whisk attachment with hot syrup (aim for the side of the bowl).
Allow the meringue to whip until it is glossy and stiff-peaked and cooler, about 4 minutes.
Add in the cool butter a tablespoon at a time, whipping on high speed the entire time.
Whip until the mixture becomes fluffy and shiny and homogeneous (keep whipping if it appears to curdle—you simply haven't beaten it long enough, don't worry!), about 4 minutes.
Drizzle in the reduced cherry syrup and (optionally) add 1 drop of red food coloring if you want the frosting more pink than purple.
Make the quark whipped cream filling: On a bed of paper towels (use 3 on the bottom and two on top) scrape 3/4 of the quark and press down lightly; the towels will absorb the excess moisture.
Meanwhile, begin to whip the heavy cream and powdered sugar, with a whisk attachment or an immersion blender.
Once the whipped cream reaches stiff peaks, gently mix in the thickened quark.
Place in the fridge to cool and thicken before assembling the cake; reserve 1/3 cup for piping on top of the cake.
To assemble, place the first cake layer (juice soaked side up) on a cake stand.
Add half of the remaining quark filling , spreading so that the center is depressed; arrange half of the drained cherries in a single layer on the cake.
Top with the next layer; spread the rest of the whipped cream but reserve 1/4 cup.
Top with the rest of the cherries and a layer of the reserved macaron shells.
Spread the reserved 1/4 cup of whipped cream over the macaron shells and top with the last cake layer.
Refrigerate for at least 20 minutes before crumb coating.
Spread on a thin crumb coat of the cherry frosting, being careful to seal in the whipped cream between the layers.
Refrigerate for at least 20 more minutes.
Frost the cake with the rest of the cherry frosting, then place back in the fridge.
Gently heat the reserved ganache, either in a double boiler or in the microwave in 5 second bursts.
Heat until it has loosened up again, whisk until it is shiny and glossy.
Remove the cake from the fridge and carefully drizzle the ganache around the edges.
Place the reserved quark whipped cream in a pastry bag fitted with a star tip and pipe 8 stars evenly around the cake.
Place 4 fresh cherries on 4 of the stars and 4 assembled macarons on the others.
Enjoy your hard earned cake!