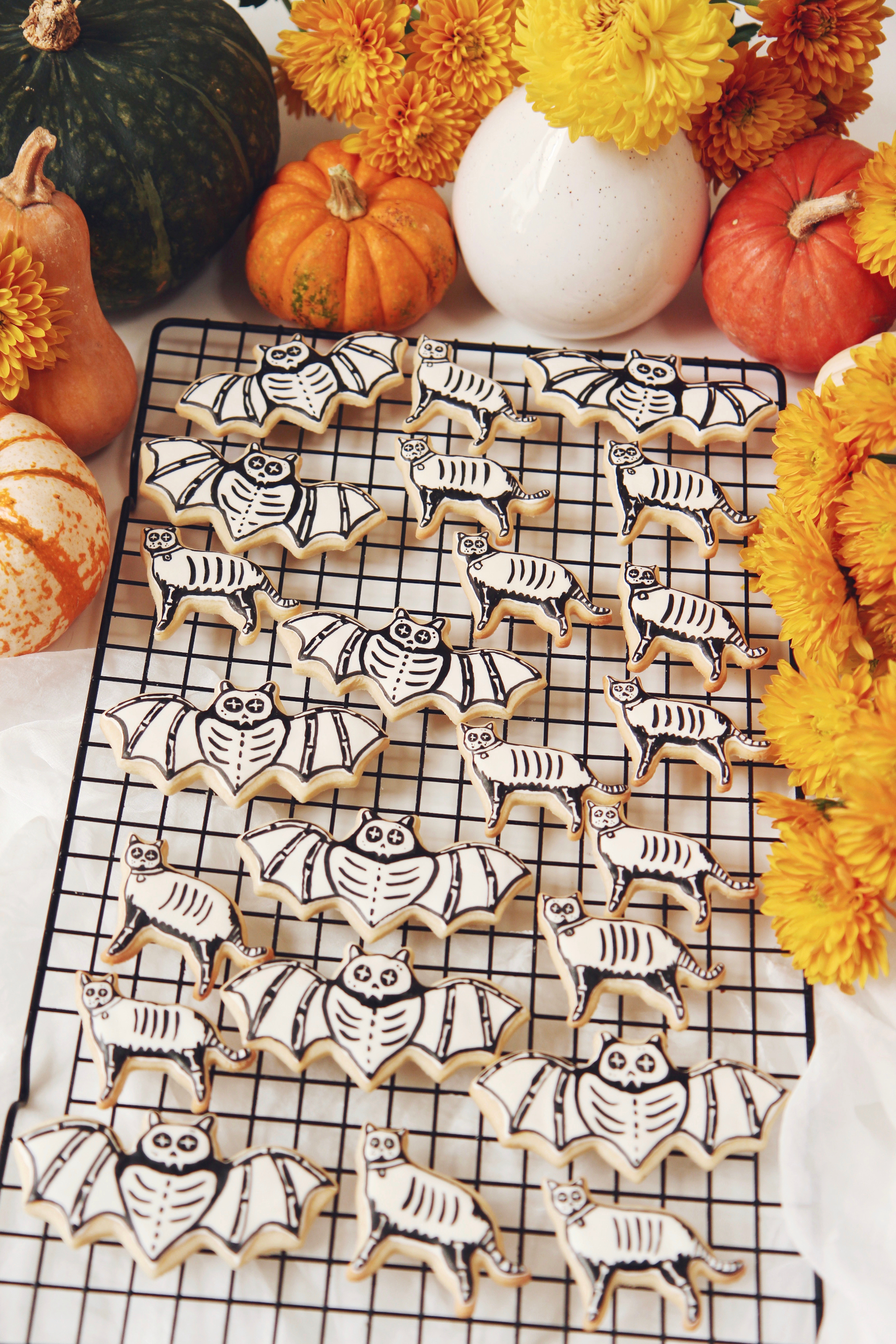 "Some tiny creature, mad with wrath, is coming nearer on the path."
—Edward Gorey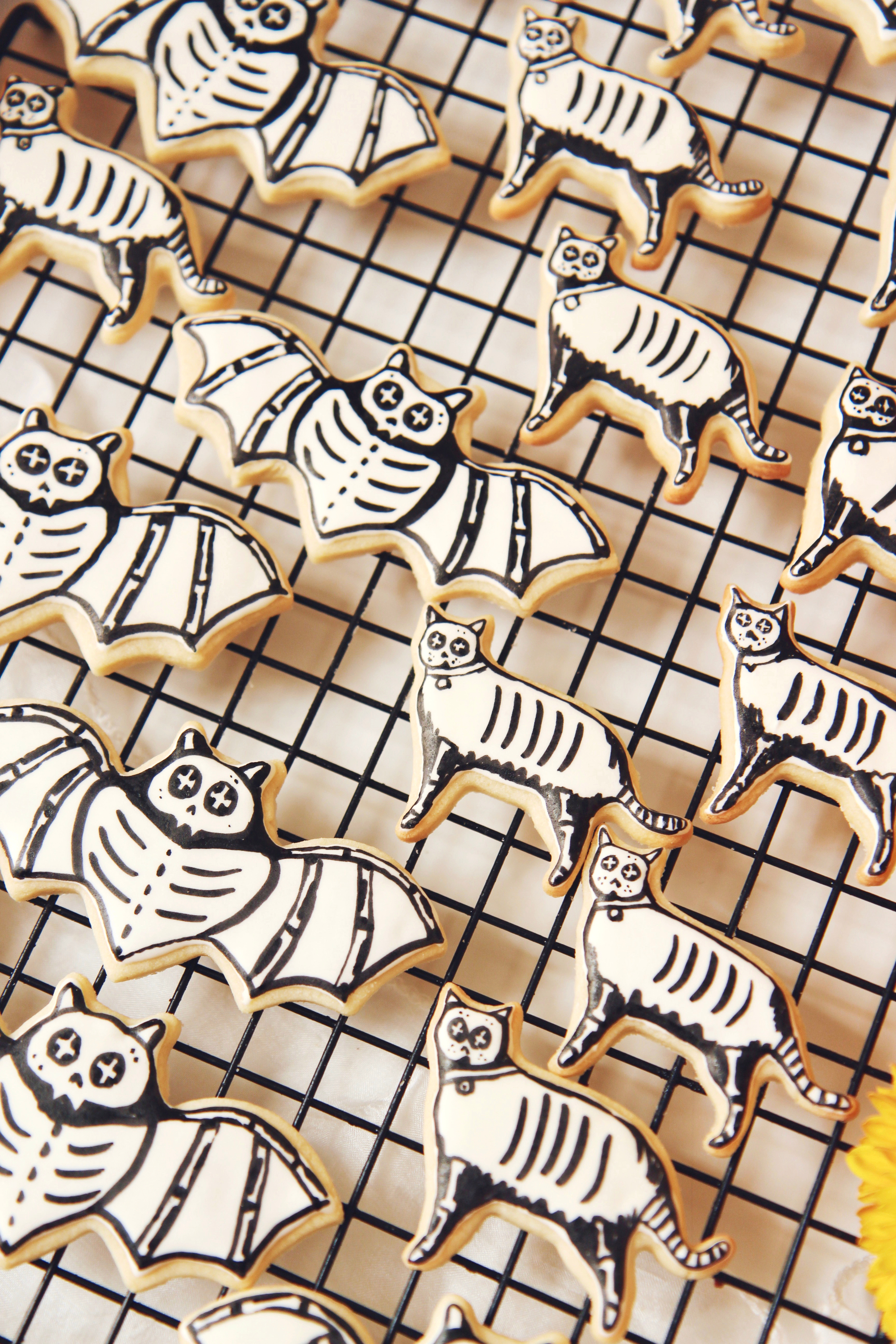 Happy Halloween!
The leaves have changed here and I feel confident that it is irreversibly autumn.
It took long enough, given that we are nigh in November.
Kids/people/the yout' tend to celebrate Halloween the weekend before the actual date round these parts.
I went as Bulbasaur (well, technically Ivysaur) and N went as Ash Ketchum. (Although many of my friends asked me if I was, "ummm… Mother Nature?")
It was a fun costume and I ate 3 peanut butter cups and we were out until 4am dancing in a Brooklyn warehouse and now everything in my possession is tinted a faint shade of green.
I call that a success.
I do have a faint longing to celebrate on the actual day, but I will be studying rather than trick-or-treating. I suppose I am about 10 years too old to do that anyways, although a nostalgic movie night would be just the ticket.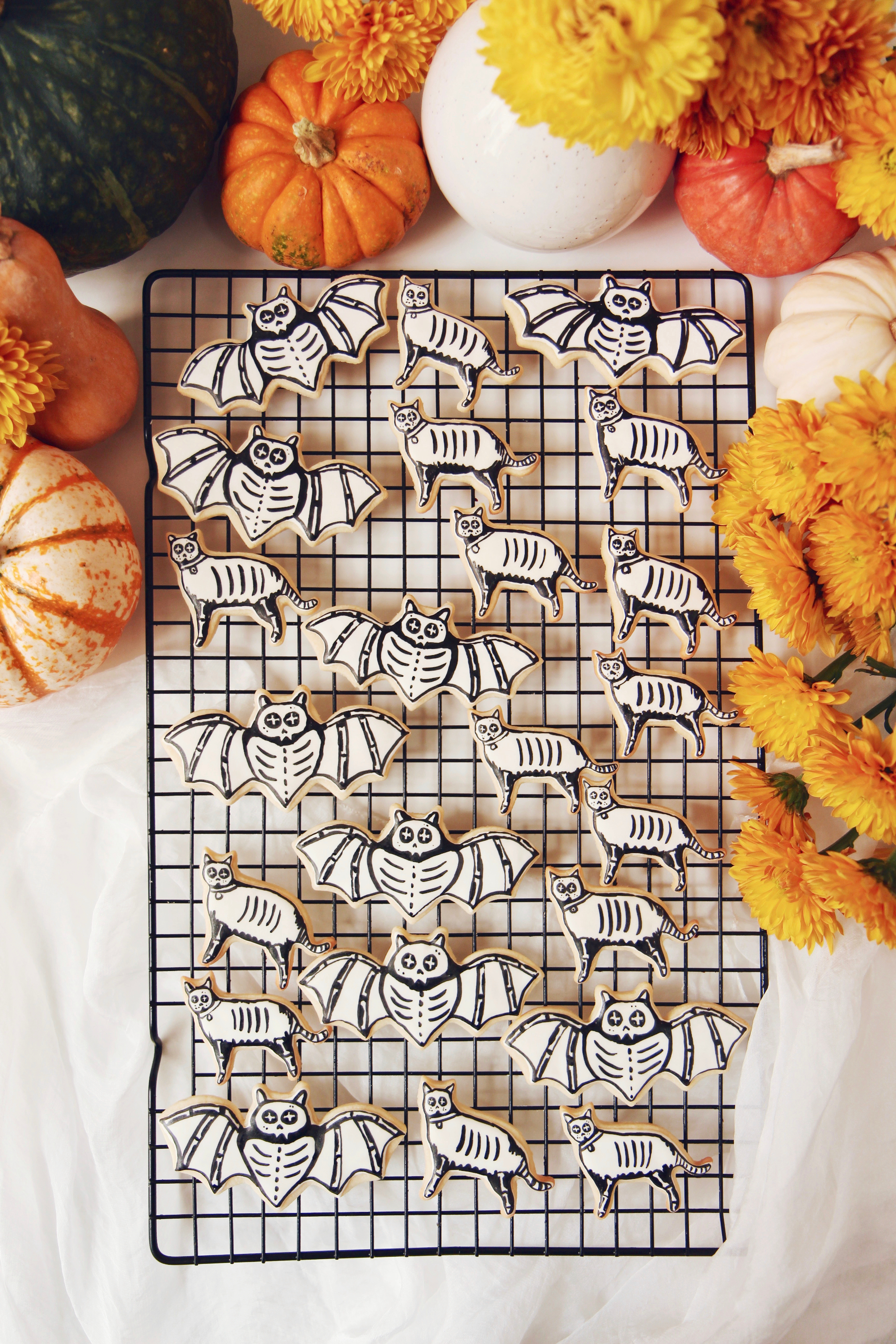 These little cutie cookies are nothing to be afraid of.
Whenever I make sugar cookies, I use my trusted and time-tested dough. The ratios never change (3-2-1-1-2-3) and it has never failed me. It rolls out nice and flat and doesn't spread in the oven at all.
Having a solid base is what is key for making attractive royal icing cookies!
The royal icing is, as always, Bridget's trustworthy recipe. I use it for all my royal icing cookies!
Once it was completely dry (I left them overnight in a dry kitchen. If yours is humid, I'd suggest putting them in an airtight place, like your turned-off oven to dry. The water in the air can make them stay sticky for longer.), I went in with my black Americolor food color pens and drew in all the details.
To really get fine details, it's important for your pen to be new or almost-new. The tip can wear down over time, just like a regular marker, which can make it a nightmare to get all the really little bits done.
Once everything is dry, these are crisp and buttery cookies with a crunchy, sweet top. Simple—and classic for a reason.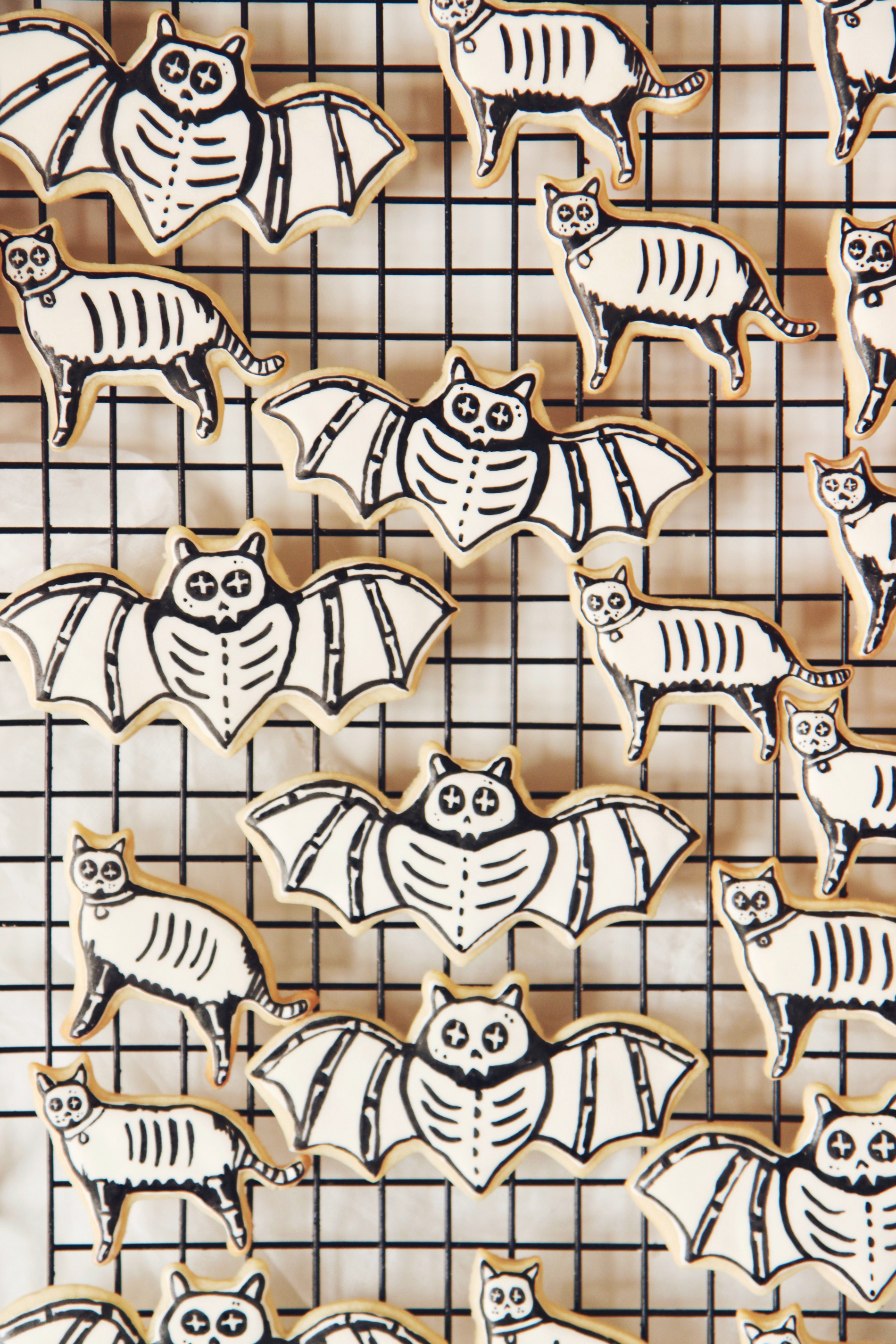 Halloweenie things, previously:
Tortured little ghosties trapped in a salted chocolate ganache over a classic pumpkin cake
Pumpkin and condensed milk cakes, à la tres leches
The cutest fanged bats, eyeballs, and pumpkin-moji cookies
Much older, but this peanut butter cup cake may need to make a comeback
Definitely NOT making a comeback, this ludicrous bleeding heart cake.
Actually, and don't let the anxious med student inside my brain hear this, maybe I should recreate this after I'm done with Anatomy…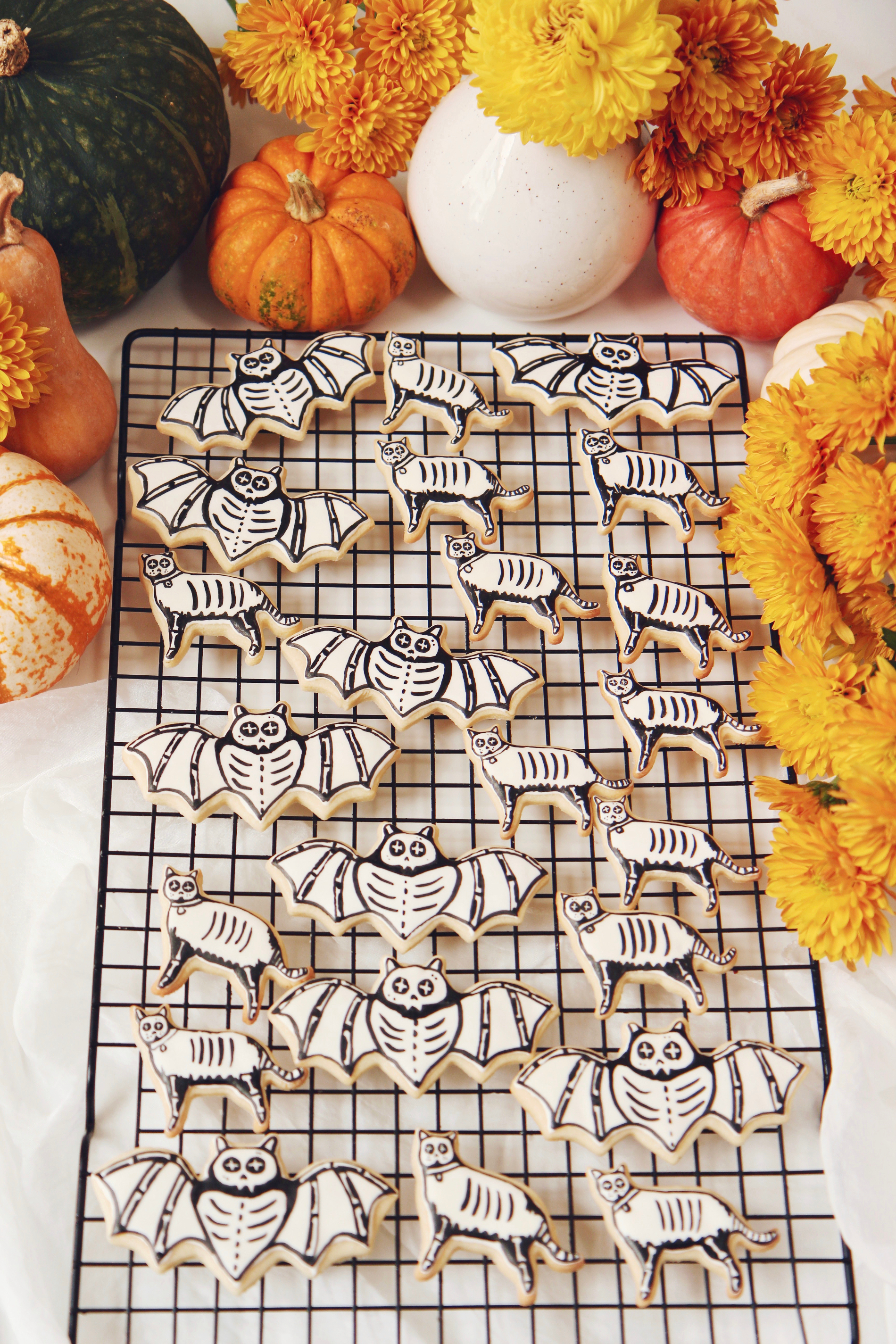 Perfect Roll-Out Sugar Cookies
makes 30 2 1/2 inch cookies, more if cutters are smaller
ingredients:
225 grams (1 cup) butter
200 grams (1 cup) sugar
2 teaspoons kosher salt (or 1 teaspoon table salt)
1 tablespoon vanilla
1 large egg
360 grams (3 cups) flour
directions:
Beat butter on high speed until light and fluffy, about 2 minutes. Add in the salt and sugar and vanilla and beat on high for another 3 full minutes.
Add the egg and beat for another 2 minutes; scrape the bowl and beat until homogeneous again.
Mixture should be light and fairly fluffy.
Add in the flour and stir on low speed until fully combined.
Roll out to 1/4 inch-3/8 inch thickness on a lightly floured surface.
Cut into desired shapes and bake for 8-10 minutes.
Decorate with royal icing.
Allow icing to completely dry, then use food color pens to add detail!