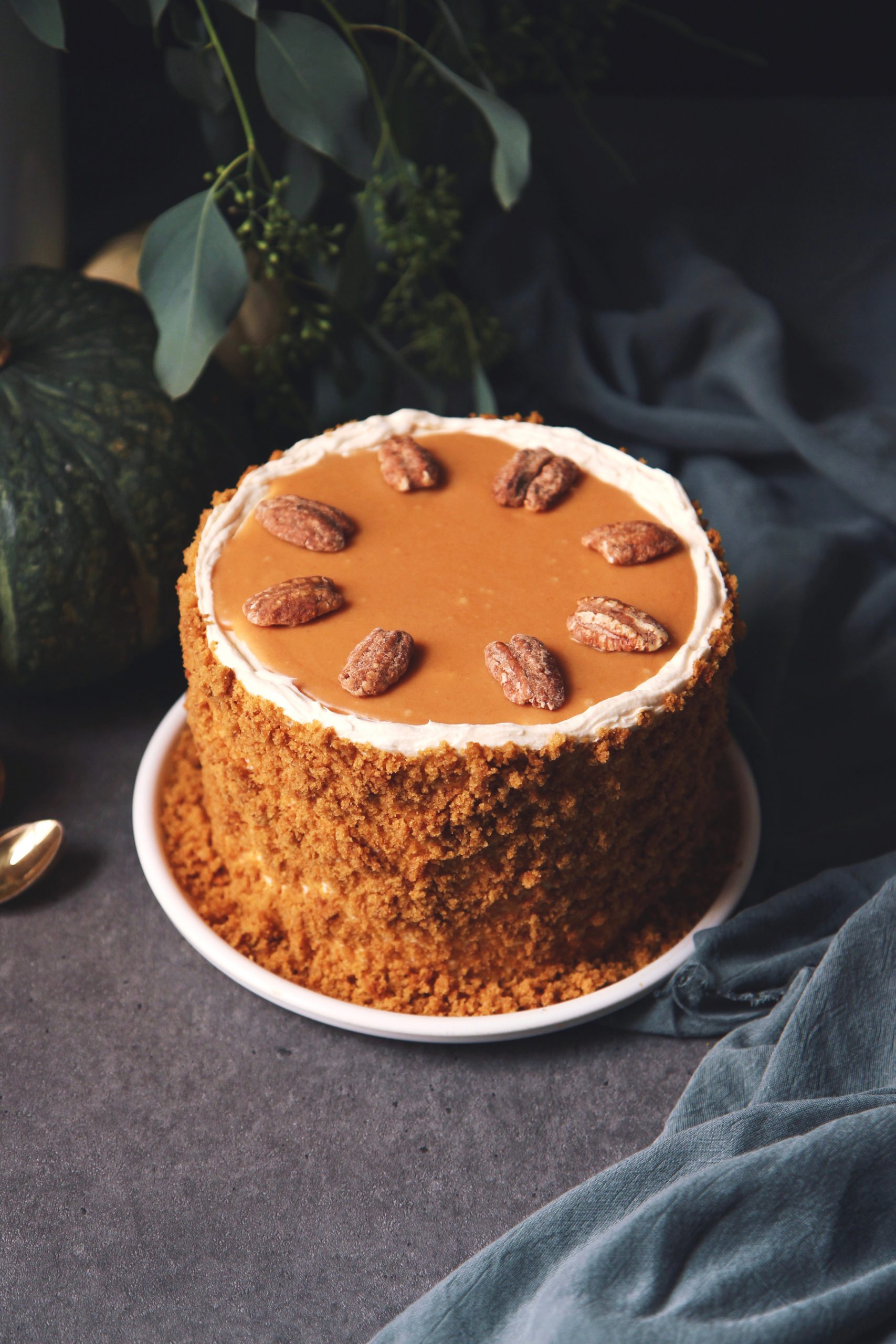 "If you wish to make an apple pie from scratch, you must first invent the universe."
Carl Sagan, Cosmos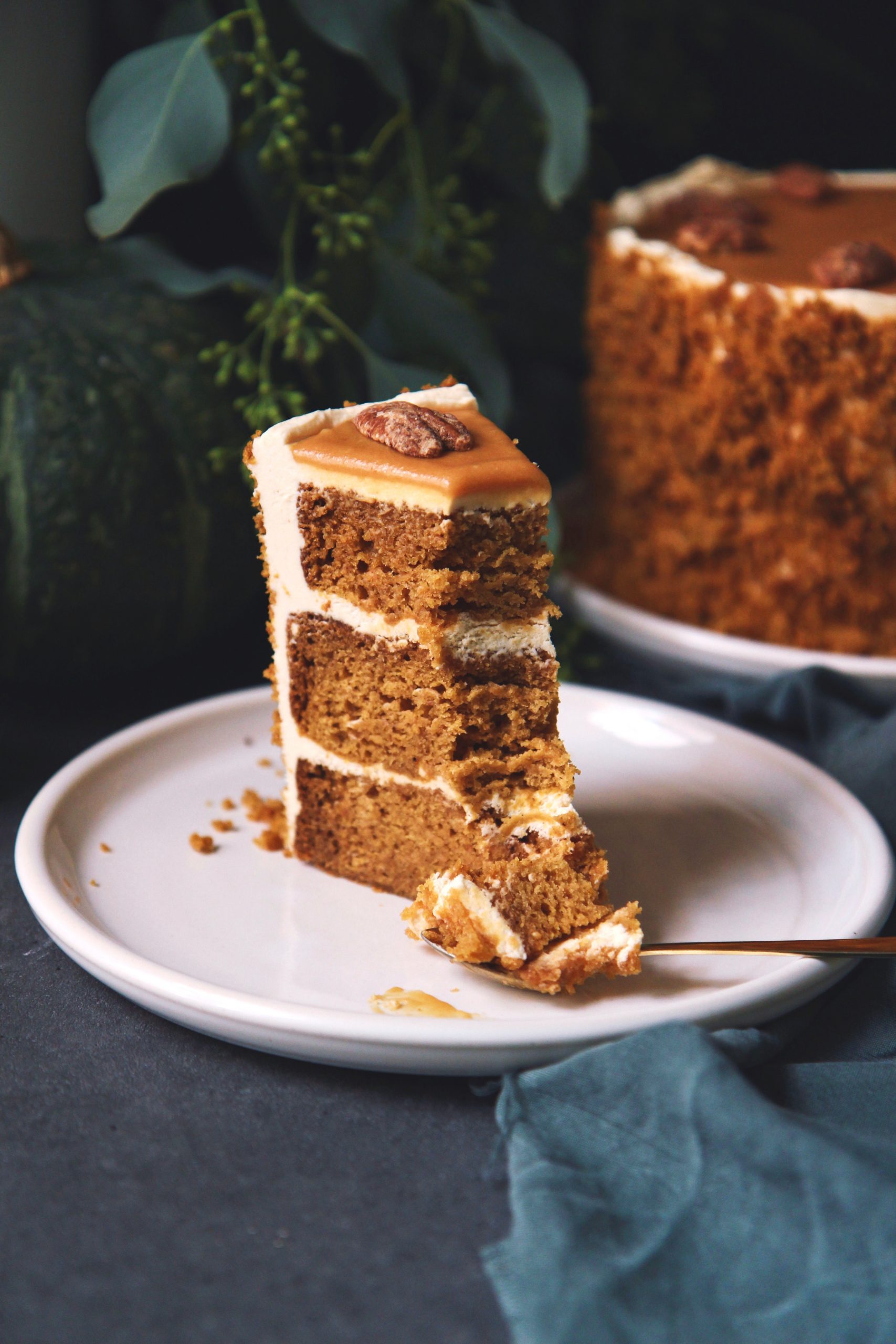 Black tea, cloves, cinnamon bark, cinnamon leaf, orange peel, ginger, green cardamom, lemongrass, coriander seeds, black pepper, and nutmeg conjure up one of the dreamiest chais I have ever had the pleasure of tasting; it's called Kathmandu Cosmos, a name as bewitching as the multitudes of spices it contains.
The constellation of ingredients melt together into a flavor as warm as a sweatered hug or a perch a few feet from a crackling fireplace.
Infused into heavy cream, it becomes a heady, fragrant base for a magnificent spiced caramel that adds a subtle—but present—layer onto a fairly typical pumpkin cake.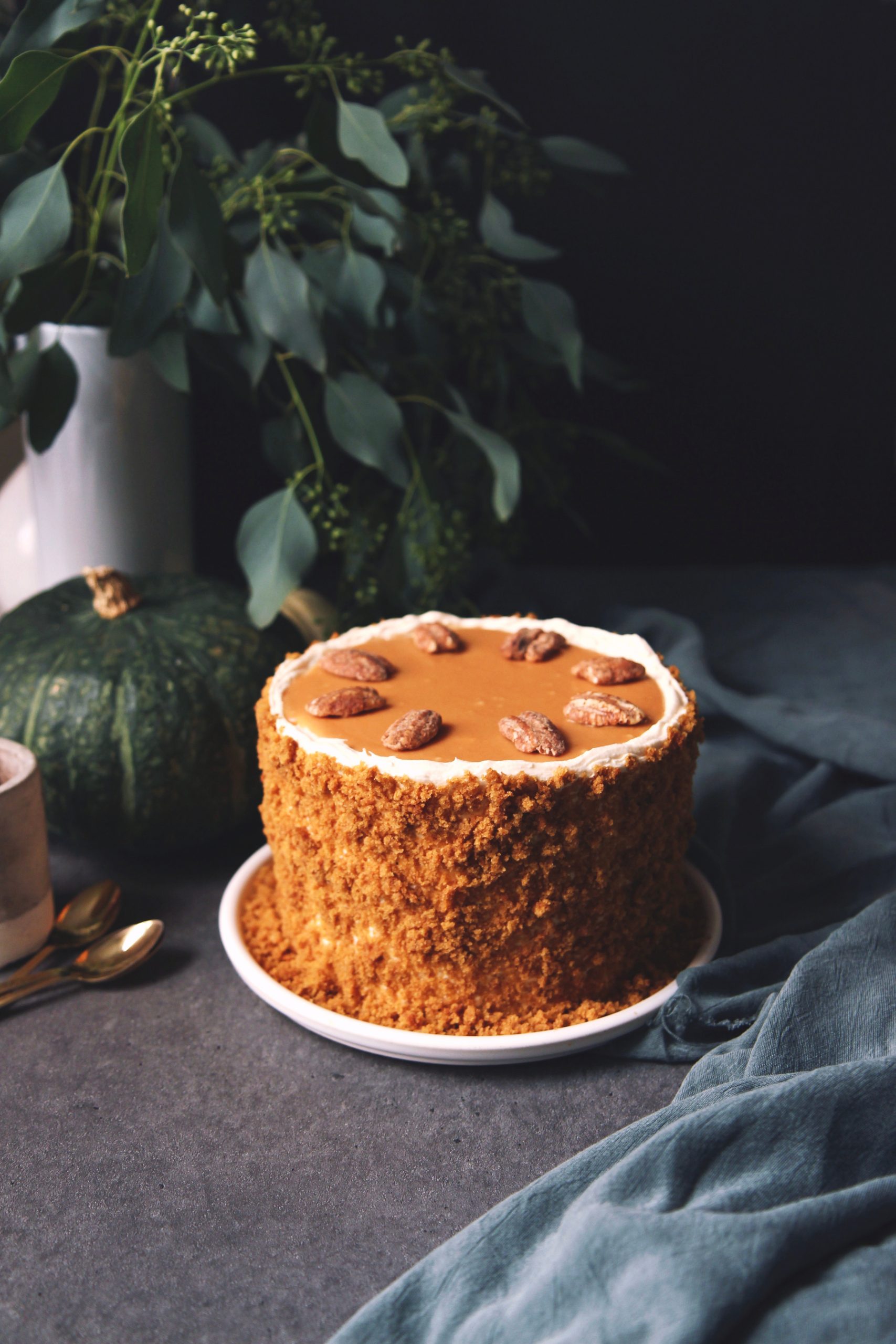 The base of the cake is a simple, dependable pumpkin cake: reliably moist and well spiced, with a sturdiness that allows for sky-high stacking. It's frosted with a cream cheese Italian meringue buttercream, something I was very nervous about making since the last time I made it it was very fussy.
The ratios on this one made it much smoother and easier in coming together; a good measure of the chai salted caramel is whipped into the frosting, tinting it the palest shade of beige.
I will be frank. I don't love the way this cake decoration looks; I love the crumbed outside, inspired by the famous Brooklyn Blackout cake, but the high sided edges I hoped to have peeking out on top ended up looking more messy than purposeful, although they did their job of damming the stream of sticky caramel.
I think I need to practice. I weirdly haven't made many cakes lately, with mostly tarts and pies emerging from my oven.
What a burden! To have to make and eat more cakes. Ha.
I hope you all had a lovely holiday with whomever and wherever you celebrated.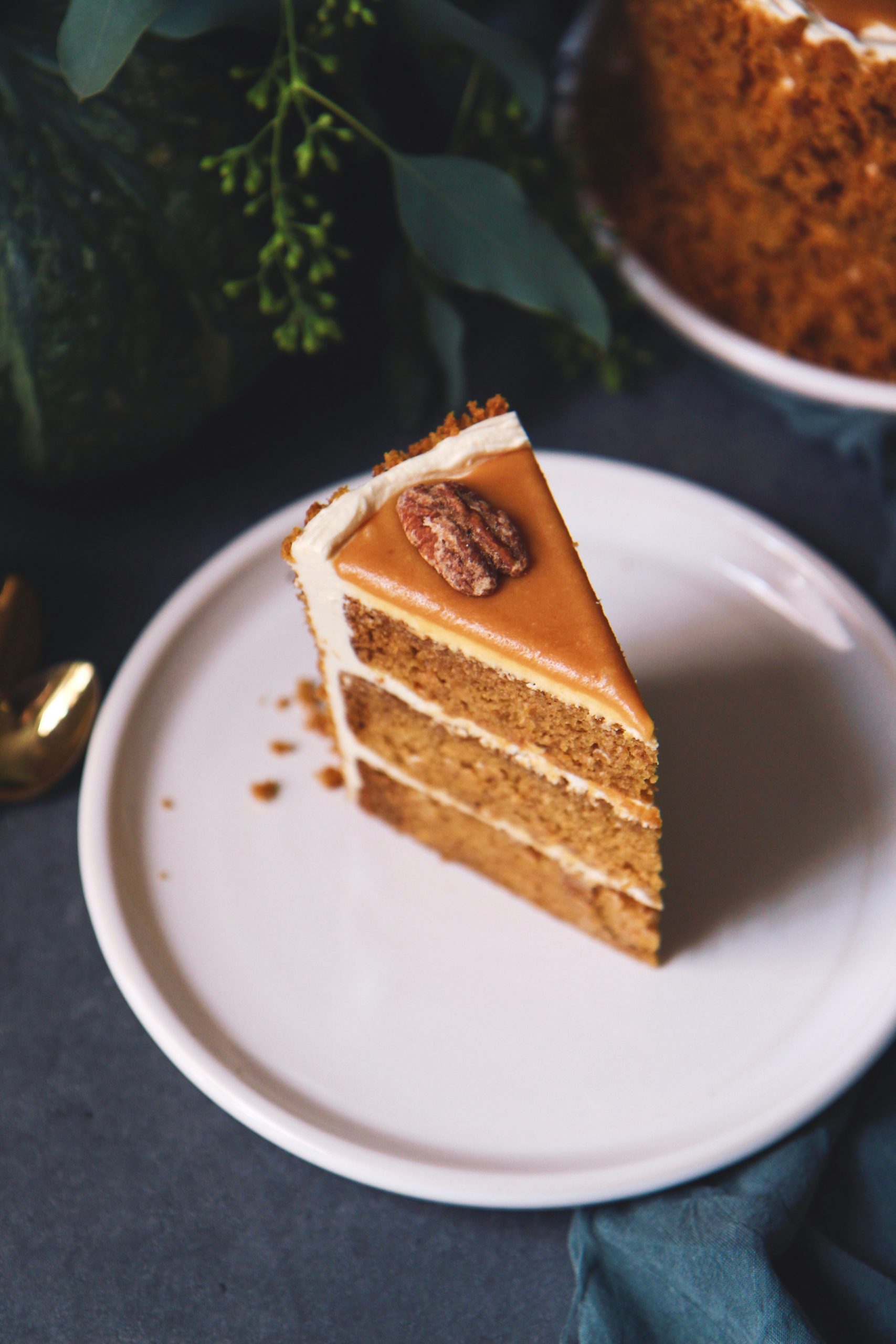 Holiday recipes (a bit late for Thanksgiving now…)
Pies, obviously:
Brown Butter Smoked Salted Honey Pie
Pumpkin Meringue Tart
Apple, Pear, Butterscotch, and Cheddar Pie
Vegan Campfire Pie
Pumpkin Spice Brown Butter Chocolate Pecan Pie
Lime and Honey Apple Pie (cringe, so old)
Cakes, non-traditionally:
Parsnip and Miso Caramel Cake
Brown Butter and Molasses Cupcakes
Pumpkin Cake with Spiced Meringue Buttercream
Plum and Chocolate Sour Cream Pound Cake
Olive Oil, Ricotta, and Almond Pound Cake
Cheesecakes, to round it out:
No-Bake Checkerboard Pumpkin Cheesecake
Raw Vegan Pumpkin Cheesecakes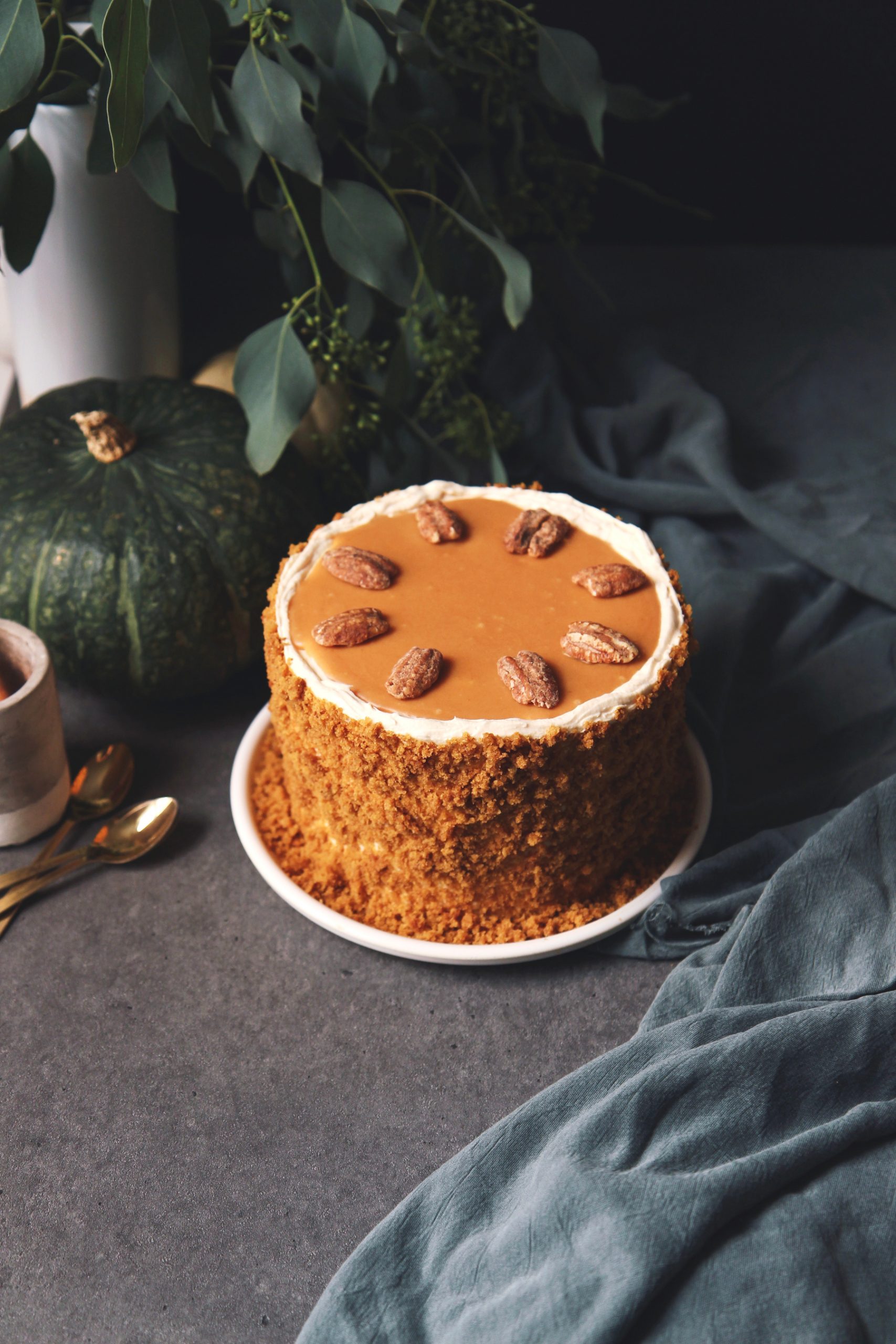 Pumpkin Cake with Chai Caramel Cream Cheese Frosting
makes 1 3×6-inch layer cake (or 1 4×6-inch layer cake, if not decorated with crumbs)
caramel portion adapted from Sally's Baking Addiction
for the cake:
350 grams (1 3/4 cups) granulated sugar
225 grams (2 sticks, 1 cup) unsalted butter, softened
1 tablespoon cinnamon
1/4 teaspoon grated nutmeg
1/4 teaspoon ground allspice
1/8 teaspoon ground cloves
1/2 teaspoon ground ginger
1 teaspoon kosher salt
2 teaspoons vanilla extract
1 teaspoon almond extract
1 tablespoon molasses
3 large eggs
420 grams (1 15 ounce can, scant 2 cups) pumpkin purée
125 grams (1/2 cup) unsweetened applesauce
330 grams (2 3/4 cups) AP flour
1 1/2 teaspoons baking powder
1 1/2 teaspoons baking soda

for the caramel:
120 grams (1/2 cup) heavy cream
1 1/2 heaping tablespoons chai (or 2 teabags)
200 grams (1 cup) granulated sugar
90 grams (6 tablespoons) butter
1 teaspoon sea salt
for the frosting:
2 egg whites
100 grams (1/2 cup) sugar
2 tablespoons water
225 grams (1 cup) butter
170 grams (6 ounces) cream cheese, at room temperature
to assemble:
candied pecans, optional
Directions:
Make the caramel: heat heavy cream to a simmer, then drop in your chai in a tea strainer.
Allow to cool to room temperature, then remove the tea.
Heat sugar over medium heat, swirling the pan (not stirring!) until it is amber colored.
Pull it off the heat and quickly whisk in the chai cream, butter, and sea salt.
Allow to cool completely before using.
Make the pumpkin cake: grease and flour 4 6-inch baking pans.
Preheat oven to 350 degrees F.
Put sugar, spices, butter, and salt into the bowl of a stand mixer.
Beat on high for 3 full minutes, until the butter and sugar are fully incorporated.
Add in the extracts, molasses, and 1 of the eggs and whip until the egg is fully incorporated.
Add the second egg, whip, then add the third and whip for a full 2 minutes, scraping the sides as needed.
Whisk the flour, baking powder, and baking soda together.
Whisk the pumpkin and applesauce together.
Add half the wet mixture, then half the dry, and beat on low-medium speed to incorporate.
Scrape the bowl, and add the second half of the wet and dry mixtures.
Portion batter into the prepared pans and place in oven.
Bake for 20-25 minutes, until a tester comes out with a few moist crumbs, or until the cake registers 200-210 degrees F.
Allow to cool completely.
Meanwhile, make the frosting: place egg whites in the bowl of a stand mixer fitted with a whisk attachment.
Place the sugar in a pot with the water and heat over medium heat while whipping the eggs.
Heat the sugar syrup until 240 degrees F; the egg whites should be at soft peaks.
Pour the syrup into the whipping egg whites, being careful not to splash.
Whip until the meringue has reached stiff peaks and cooled to room temperature.
Drop the butter into the meringue 2 tablespoons at time, whipping in between until fully incorporated.
Once all the butter is added, whip for at least 3 minutes, until everything comes together and becomes fluffy.
Add in the cream cheese and a 1/2 cup of caramel sauce and whip only just until incorporated.
(Optional: crumble one of your cooled layers into large crumbs.)
Decorate the cake as desired, then decorate the outside with the cake crumbs.
Pour the caramel on top, then add candied pecans if desired.