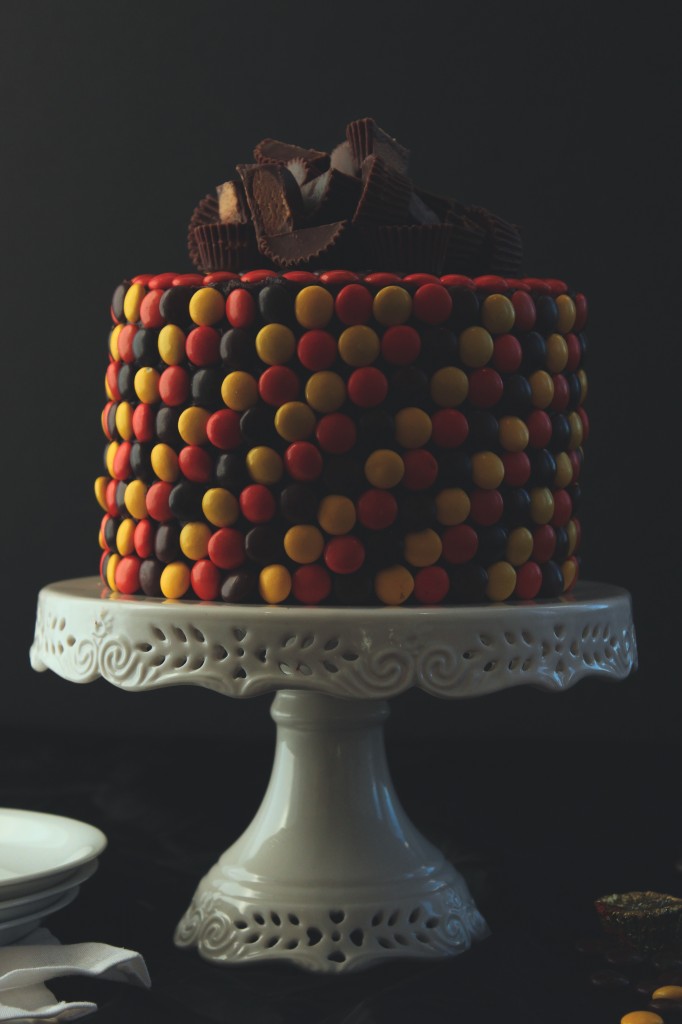 This cake soothed some of my OCD tics for a beatific hour or so.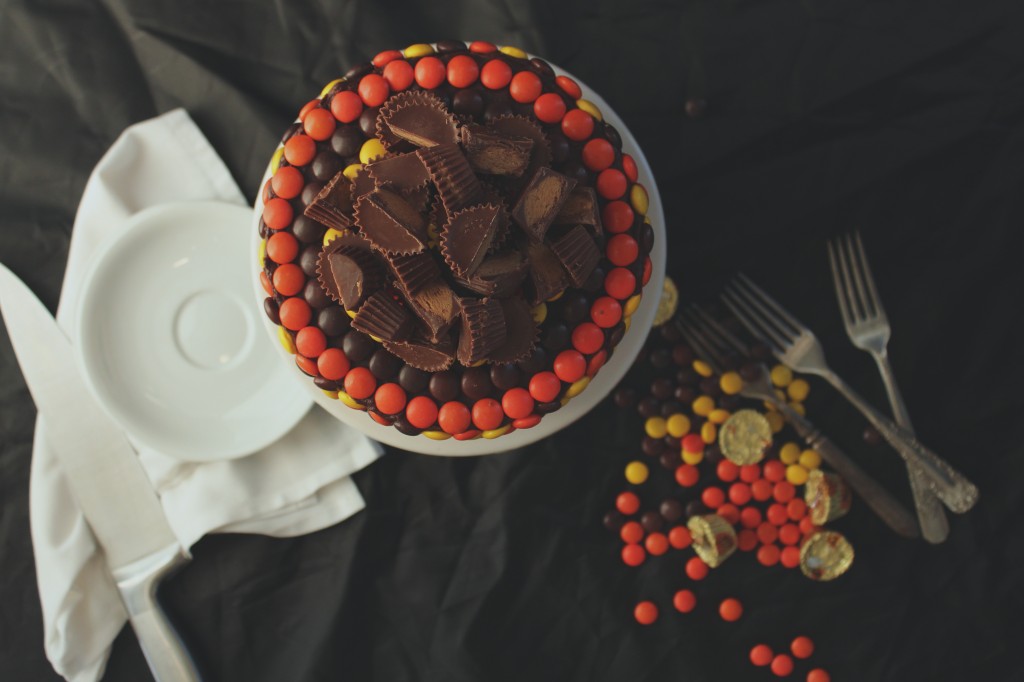 It was very fulfilling to separate the Reese's Pieces by color.  I felt good, even though it ate away at 45 minutes of my free time, which is precious little here in college.
I ended up sorting through almost twice as many as I needed.  Oh well.
While I was mindlessly dropping each color into its own bowl, I stopped biting my lips, something which has become quite a subconscious and destructive tic.
Cake works wonders, I tell ya.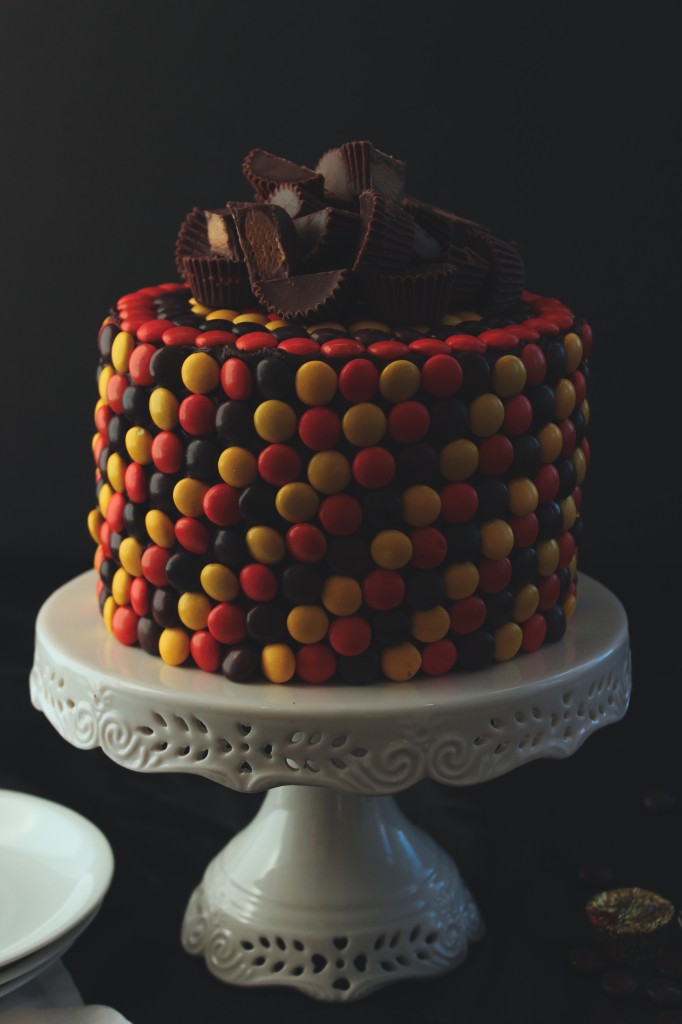 The inspiration for this cake hit me in a CVS candy aisle, like all good ideas do.
I was buying Robitussin for this ridiculous cold I still have.
They were selling bags of Reese's Pieces, 2 for $6.
My first thought was
CAKE.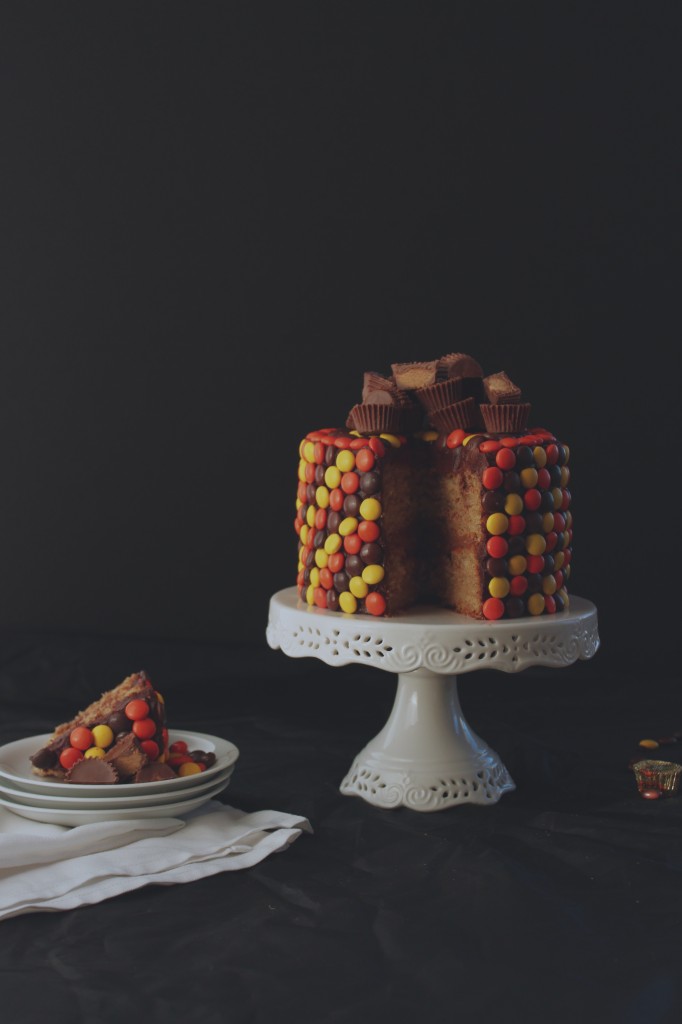 Reese's Pieces have never been among my top candy choices.
To be honest, I would almost certainly choose m&ms over them any day.
That being said, they are purrrfect for Halloween treats.
Other times of the year, the colors leave something to be desired.
When Halloween rolls around, though, it's go time.
Armed with lots of Reese's Pieces, I began to plan for a Halloween cake.
Obviously, it had to be peanut butter
and therefore
also chocolate.
But most recipes I found were chocolate cakes covered in some sort of peanut butter frosting.
I had my heart set on the opposite- peanut butter cake with chocolate frosting.
Mainly because, well, have you seen how many chocolate cakes are on this blog?  It's a little ridiculous.
I feel like I make a chocolate cake every two weeks.
I needed change.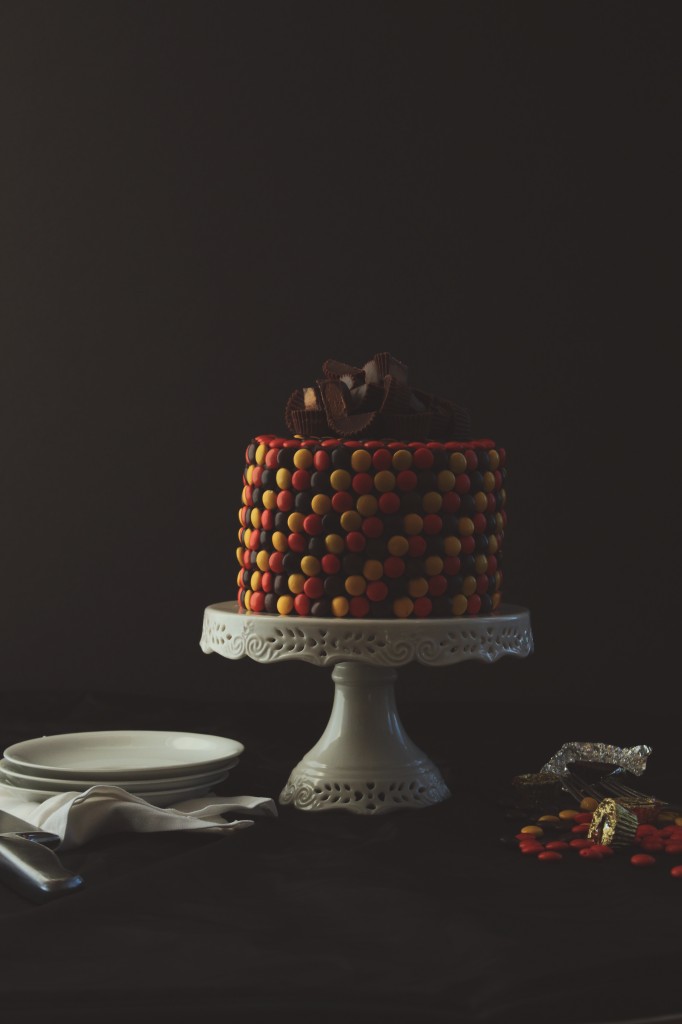 In the end, the cake was a two layer peanut butter cake which was soft and flavorful, covered in whipped peanut butter and bittersweet chocolate ganache, and decorated with Reese's Pieces and PB cups.
It was supposed to be three layers
but
I dropped one of the pans and it fell on the ground and broke into a million pieces and my friends and I gobbled it up, fresh and hot, right then and there.  RIP.
This is a scavenged cake because I swiped the peanut butter for it from the dining hall.
I convinced my friends to each grab me a few of the little tablespoon-sized packets.
I myself grabbed a few and the resultant ridiculous amount of PB was smuggled out in my backpack, which ended up being the perfect amount for this cake.
Hooray!
P.S. note that this is another Halloween post sans pumpkin.  Ahem.
Peanut Butter Cup Cake
cake portion adapted from Simply Gloria
ingredients:
for the cake:
1 cup creamy peanut butter
1/2 cup butter, softened
1 1/4 cup sugar
big pinch kosher salt
2 eggs
splash vanilla
1 cup milk, plus 1 1/2 teaspoons apple cider vinegar
2 1/4 cup flour
1 1/4 teaspoon baking soda
1 teaspoon baking powder
for the ganache:
1/2 cup plus 2 tablespoons cream
6 tablespoons butter
8 ounces (1/2 pound) chocolate, chopped
1/2 cup peanut butter
for decoration (optional):
Reese's pieces
peanut butter cups, chopped
directions:
Make the cake: preheat oven to 350 degrees and grease and flour 3 6-inch pans.
Whisk flour, baking powder, and baking soda together; set aside.
Beat peanut butter and butter together until completely smooth, about 4 minutes.
Add in the sugar and salt and beat until combined well, about 2 minutes.
Scrape the sides of the bowl and add the eggs and vanilla; beat until completely combined, 2 minutes more.
While mixing very slowly, stream in the buttermilk while simultaneously shaking in the flour mixture.
Mix until completely combined then scrape the sides of the bowl and mix a little more.
Spread into your pans and bake for 25-27 minutes.
Allow to cool completely.
Meanwhile, make the frosting: melt the cream, chocolate, and butter together in a microwave safe bowl; gently stir together and put in fridge to cool.
Once the ganache is semi solid and chilled, whip it until it becomes fluffy; add the peanut butter and whip until the ganache is fluffy, light-colored, and spreadable.
Decorate to your heart's content!