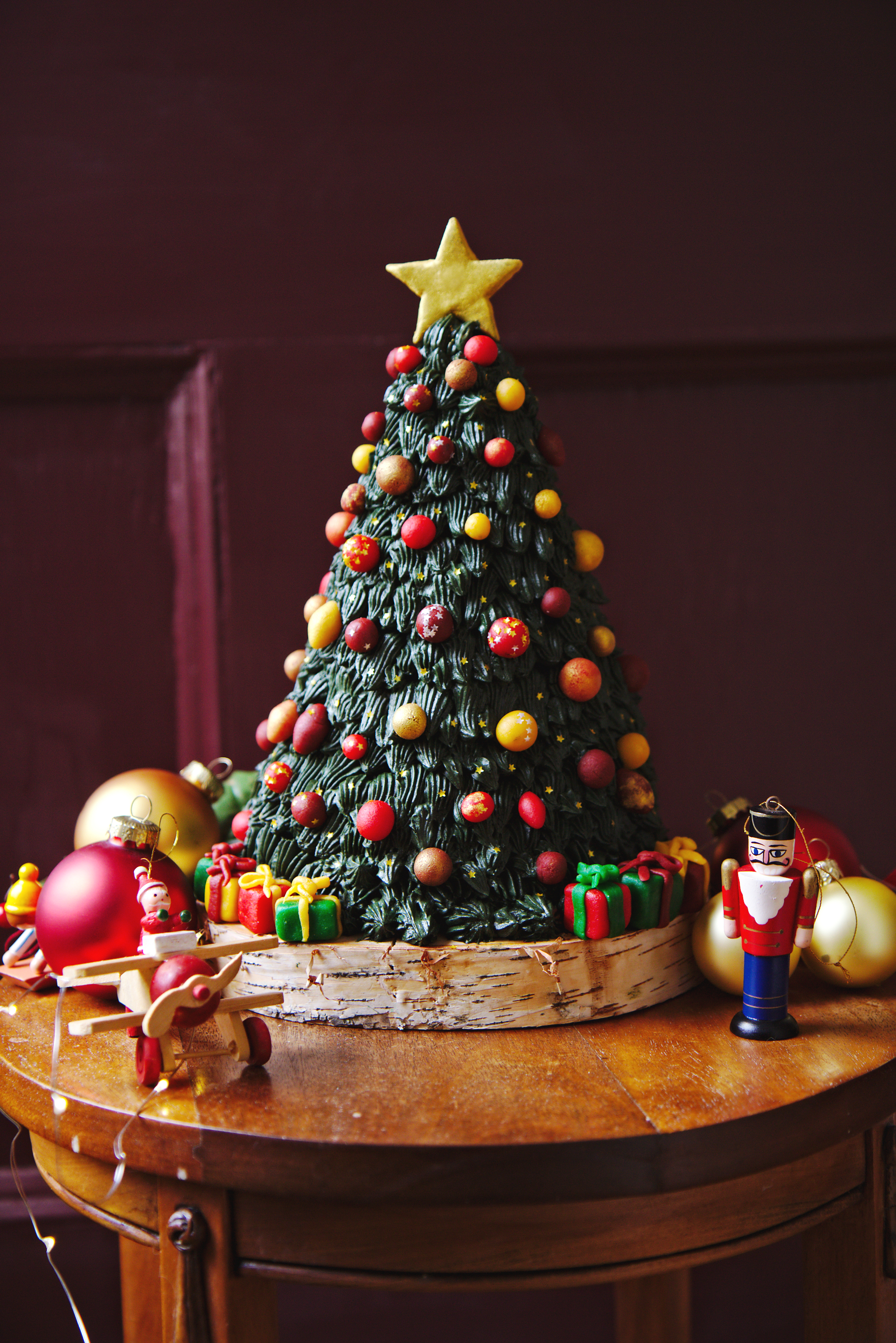 "I just like to smile.
Smiling's my favorite!"
—Buddy the Elf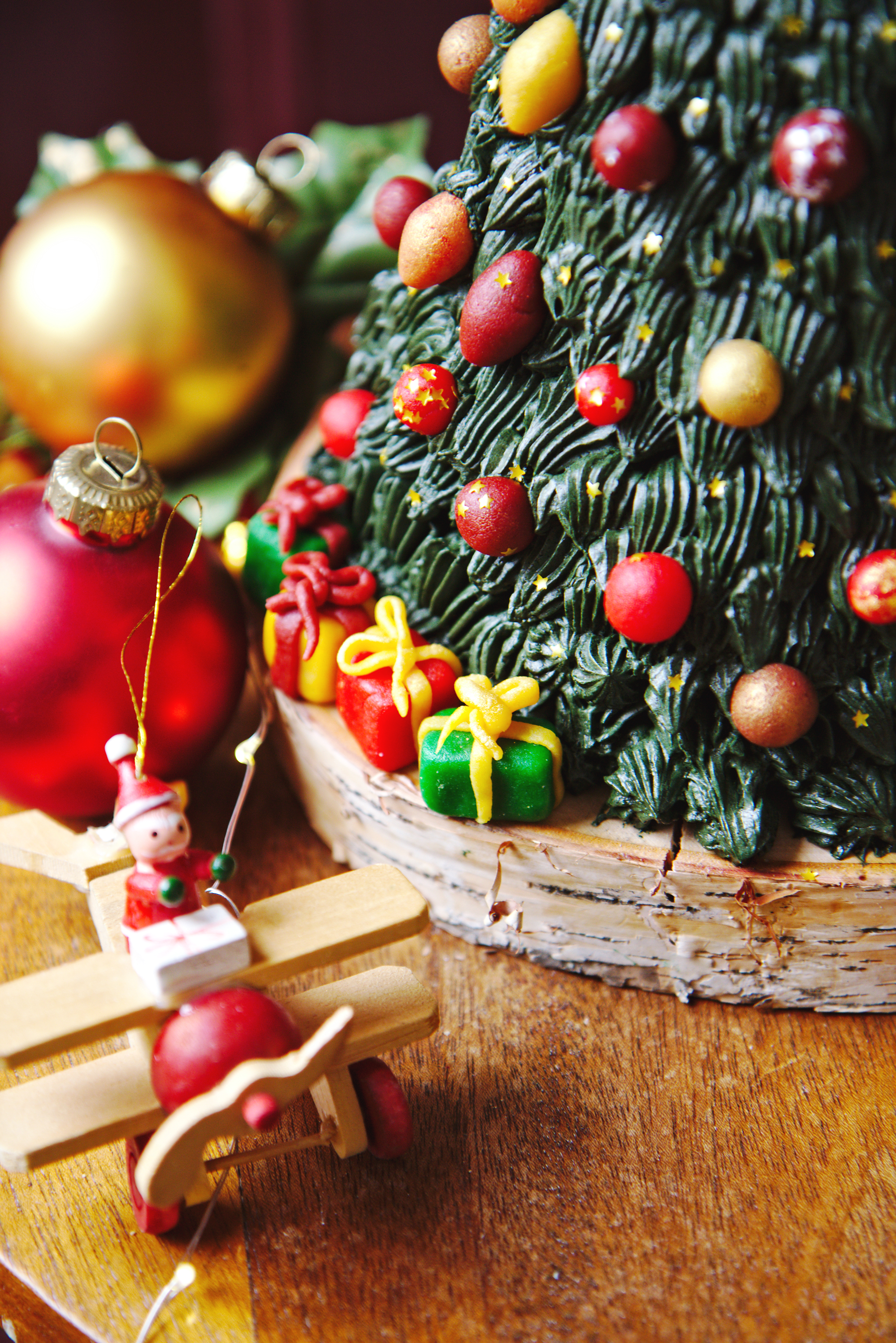 Hello everyone!
I hope you have all had a wonderful holiday season; I've spent a few extremely restful days with my family (except one of my older brothers, who had to stay back home), and I'm feeling very grateful for each and every one of them.
Christmastime holds many of my most cherished and vivid memories from childhood, and as I grow older and more sentimental, I realize increasingly why: not because of the material goods or the delicious food, but because it's a time of gratitude and giving back and cozy, hygge nights with your loved ones watching Elf or playing fibbage.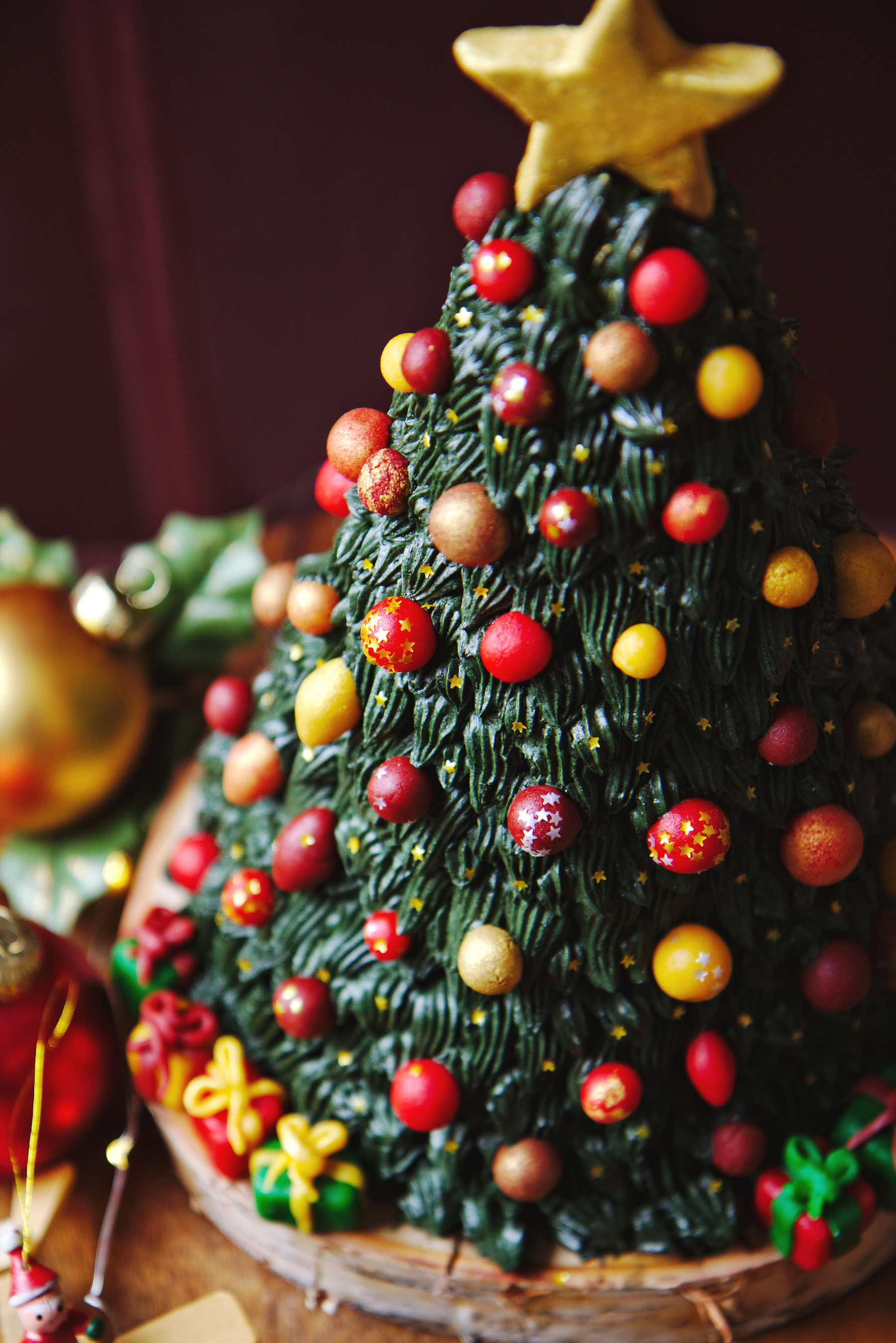 This Christmas tree cake continues my tradition of making a big Christmas cake for my family that we all end up way too full to even make a dent in. Having started the day with morning buns, banana bread, and having challah and scalloped potatoes for dinner last night… and going to see Star Wars and eating popcorn and candy this afternoon… we are all very satiated, to say the least.
Still, it's always a fun creation and I enjoy making something whimsical that isn't cookies (so. many. cookies.) that I can share.
Three years ago, I made the souche de Noël.
Two years ago, a woodland wonderland cake.
Last year, a golden spice cake.
And this year, I made a different kind of tree! An actual Christmas tree!
It's made of dense, moist butter cake with eggnog cream filling (the secret ingredient is hard boiled egg yolks! Weird, right?) with brown sugar and chocolate Italian meringue buttercream and marzipan ornaments and presents.
It's over the top and takes a bit of effort, but it is certainly a showstopper and centerpiece, and I am going to enjoy a thin sliver tonight.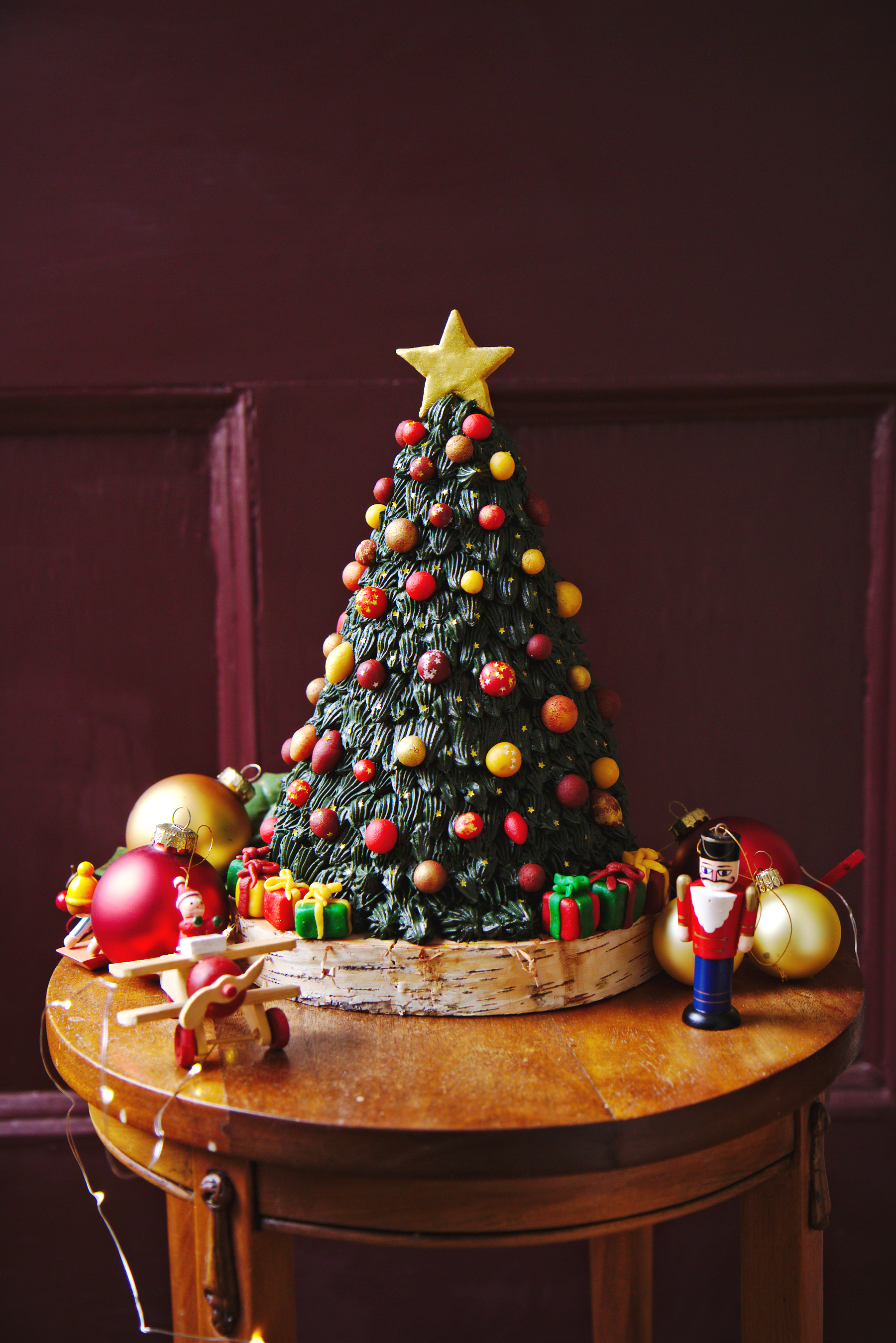 Merry Christmas to all, and to all a good night.
P.S. For those of you wondering, promenade en traîneau means sleigh ride.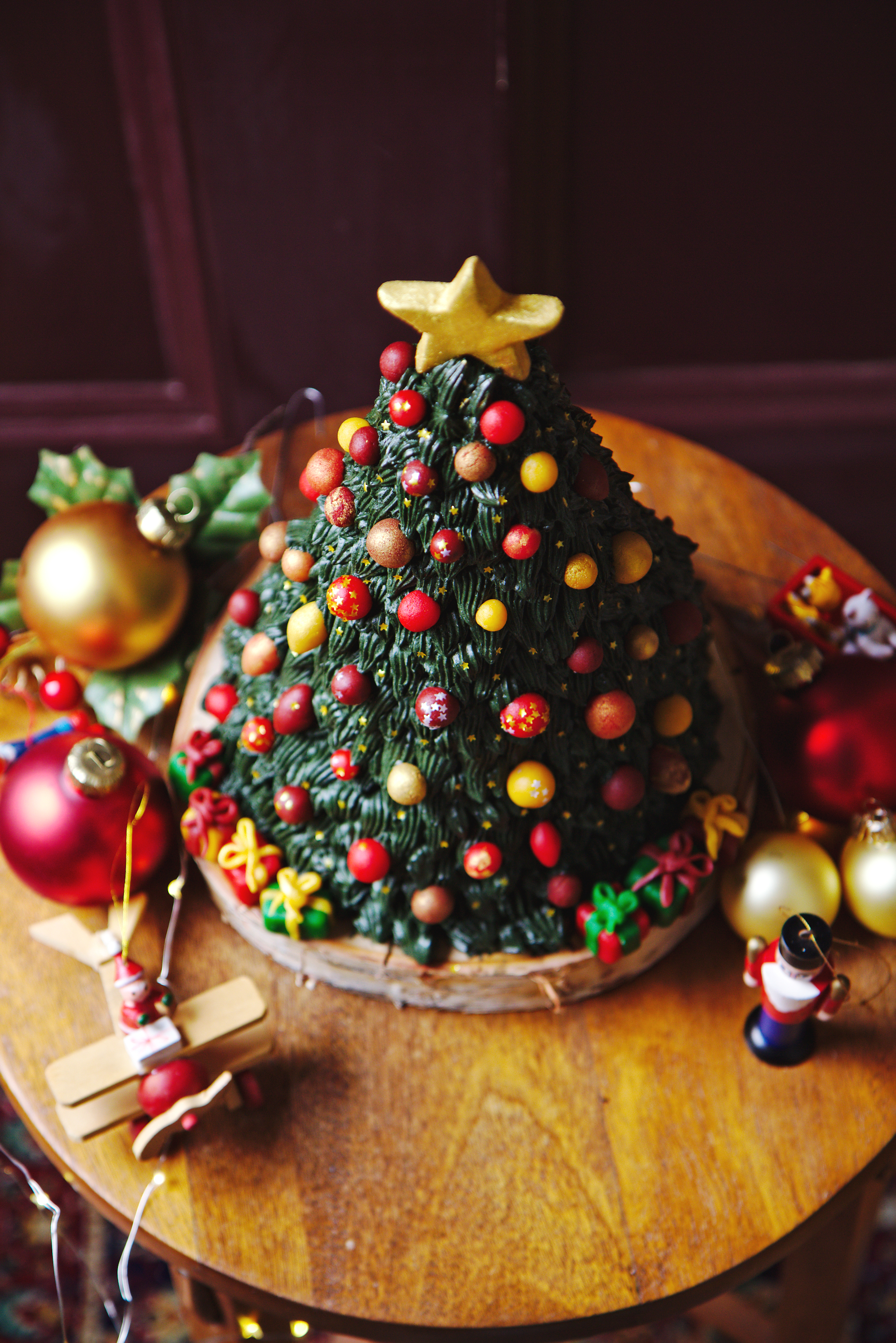 Christmas Tree Cake
makes 1 large, 4 tiered cake
ingredients:
for the yellow cake:
225 grams (2 sticks) unsalted butter
400 grams (2 cups) sugar
1/2 teaspoon salt
4 whole eggs
2 egg yolks
300 grams (1 1/4 cups) buttermilk, room temperature
2 teaspoons vanilla extract
360 grams (3 cups) flour
1 tablespoon plus 1/2 teaspoon baking powder
for the eggnog filling:
2 hard boiled egg yolks
113 grams (1 stick) butter, softened
380 grams (3 cups) powdered sugar
1/2 teaspoon freshly ground nutmeg
pinch ground cloves
1/4 teaspoon salt
60 grams (1/4 cup) heavy cream or half and half, as needed
for the brown sugar and chocolate frosting:
2 egg whites
1/2 teaspoon kosher salt
100 grams (1/2 cup) brown sugar
225 grams (2 sticks) butter
75 grams (2 2/3 ounces) dark chocolate, chopped
75 grams (1/3 cup) heavy cream
to assemble:
(225 grams) 8 ounces marzipan
directions:
Make the cake: grease and flour 2 6-inch round baking pans, 2 cupcake wells, and 2 mini cupcake wells, and preheat oven to 350 degrees F.
Beat butter on high speed for 3 minutes, until completely fluffy and no lumps remain.
Add the salt and sugar and beat for 5 full minutes; the mixture should be very light and fluffy.
Add the eggs and the egg yolks and beat for another 3 minutes.
Scrape the sides of the bowl and add in the buttermilk and vanilla extract; gently stir with a spoon until about half is incorporated.
Add in the flour and baking powder and stir until incorporated; beat for 30 seconds on high to ensure homogeneity.
Spread the batter into the prepared pans.
Bake for 18-20 minutes, until a tester comes out with a few moist crumbs.
Allow to cool completely.
Make the filling:
Cream butter until soft and fluffy.
Press the egg yolks through a fine sieve into the butter and cream on high until fully incorporated.
Add the powdered sugar, nutmeg, cloves, and salt and whip until fluffy and thick.
Add cream 1 tablespoon at a time until the eggnog buttercream is spreadable.
Meanwhile, make the brown sugar and chocolate buttercream: place egg whites in the bowl of a stand mixer.
Place sugar, salt, and water in a small pot.
Begin to heat the sugar mixture on high as you whip the whites on medium speed.
When the syrup reaches 245 degrees F, your egg whites should be at firm soft peaks (almost hard peaks, but not dry).
Drizzle the syrup into the meringue with the mixer running; whip on high until cooled to body temperature.
Beat in butter one or two tablespoons at a time.
Beat buttercream on high speed until thick, glossy, and fluffy, about 5 minutes.
Heat heavy cream to just barely boiling, then pour over the chopped chocolate and let sit for 5 minutes, or until mostly melted.
Whisk together until glossy and smooth and allow to cool slightly.
Whip the buttercream on high and stream in the ganache.
Add green food coloring as needed to get a dark green color.
Layer the tiers largest to smallest (you will have an extra cupcake and mini cupcake for snacks) and fill with eggnog buttercream; use a serrated knife to sculpt it into a cone shape.
Place the cake in the fridge and allow to harden.
Frost the outside with a thin layer of green, then use large and small french star tips to pipe needles.
Tint the marzipan with food coloring and dust with luster dust, if desired.
Shape marzipan into small ornaments and presents and a large star for the top of the tree.
Place them around the tree and use a lollipop stick or skewer to attach the star.