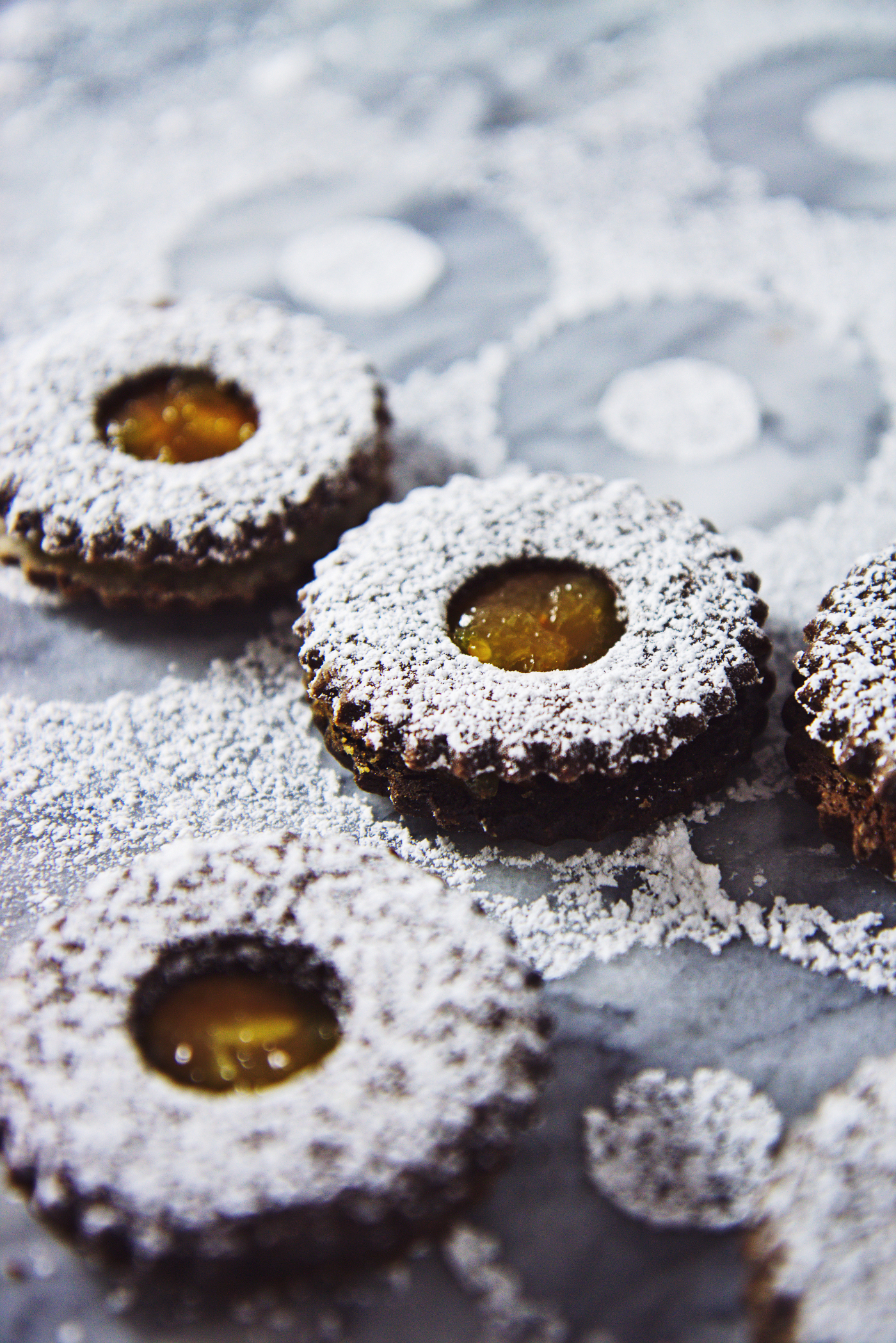 "When I'm worried
and cannot sleep
I count my blessings
instead of sheep."
Bing Crosby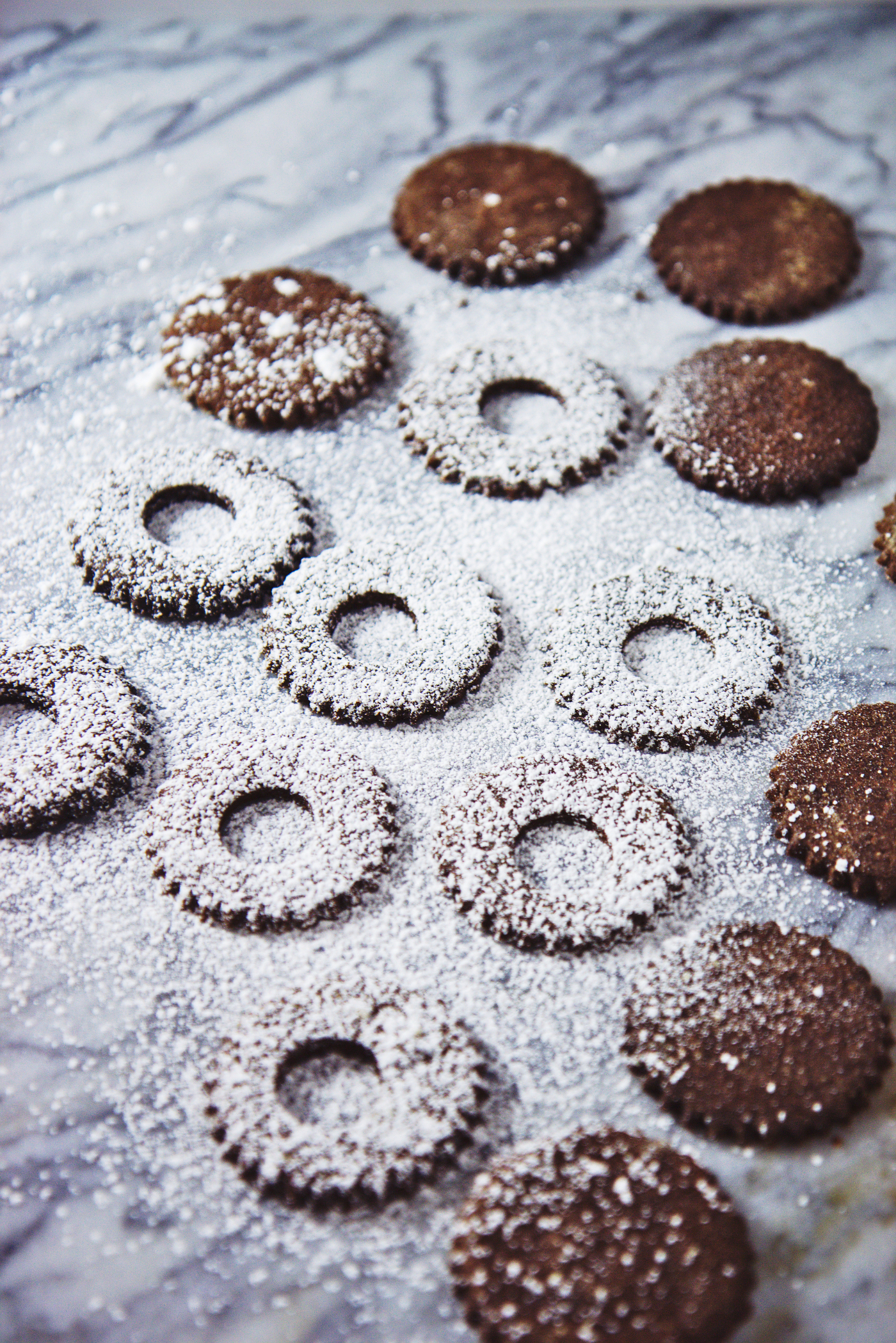 We had our first snow here in New York City this past Saturday.
I was out traipsing around with my girlfriends, dressed as a reindeer, painted-on nose and all.
Yes, I tried valiantly to rally for Santacon, a (somewhat perverse) day before Christmas when millennials around Manhattan put on Santa costumes and drink during the few December daylight hours. It's only a little embarrassing when everyone else is doing it, but it is hugely disruptive and not quite family-friendly.
Let's just say it didn't exactly suit my vibe. But at least I tried! I ended the day tucked into bed in my pajamas with pumpkin sushi, tipsily facetiming my best friend. I guess I can chalk that up to a win.
(By the way: pumpkin tempura sushi is SO much better than sweet potato tempura sushi. Don't @ me.)
P.S. If you have a few moments, please consider voting for my cookies in the Bob's Red Mill x FeedFeed contest going on here!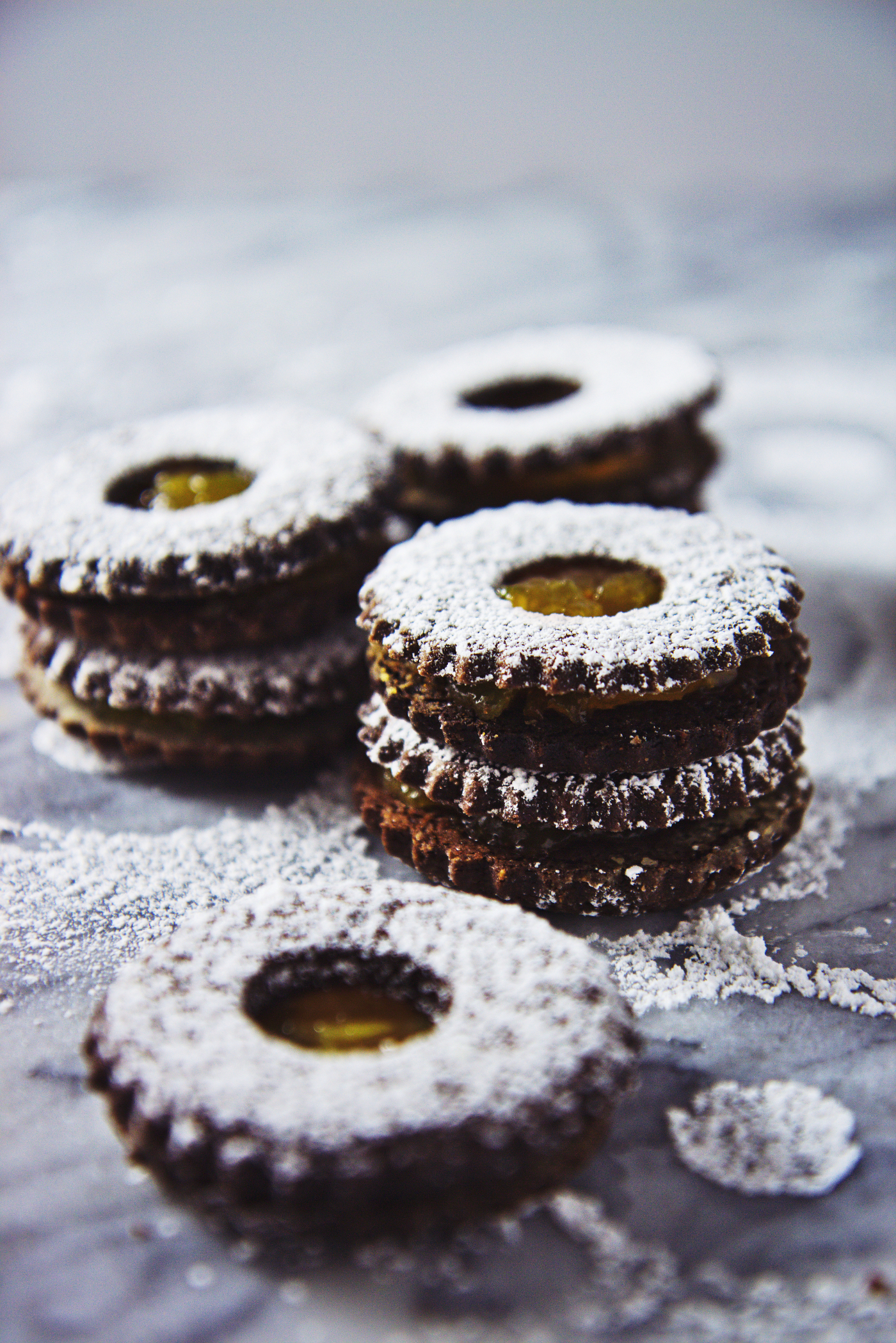 Today, I'm sharing the first of multiple Christmas/holiday posts.
These chocolate orange linzer cookies are the perfect addition to your cookie boxes!
To make these, fluted rounds of dark chocolate almond dough, fragrant and buttery, are dusted with powdered sugar and sandwiched together with tart, slightly bitter orange marmalade. It's one of my absolute favorite flavor combinations, with a perfect balance of complex flavors (and none too sweet).
If you're at all a fan of orangettes, which are candied orange peel dipped in dark chocolate, you will love these cookies! They are a fun take on traditional Linzer cookies.
This recipe makes 16 cookies; I tend to scale recipes to fit the number of cookie boxes I intend on preparing; I would likely double this recipe and save any leftovers for my family.
Top tip for gifting sweets: make like Sesame Street and count!
Count while choosing your recipes; count while buying your boxes; count while cutting/portioning your dough; count when they come out of the oven and count when they are decorated.
It really helps, especially when you're making many types of cookies.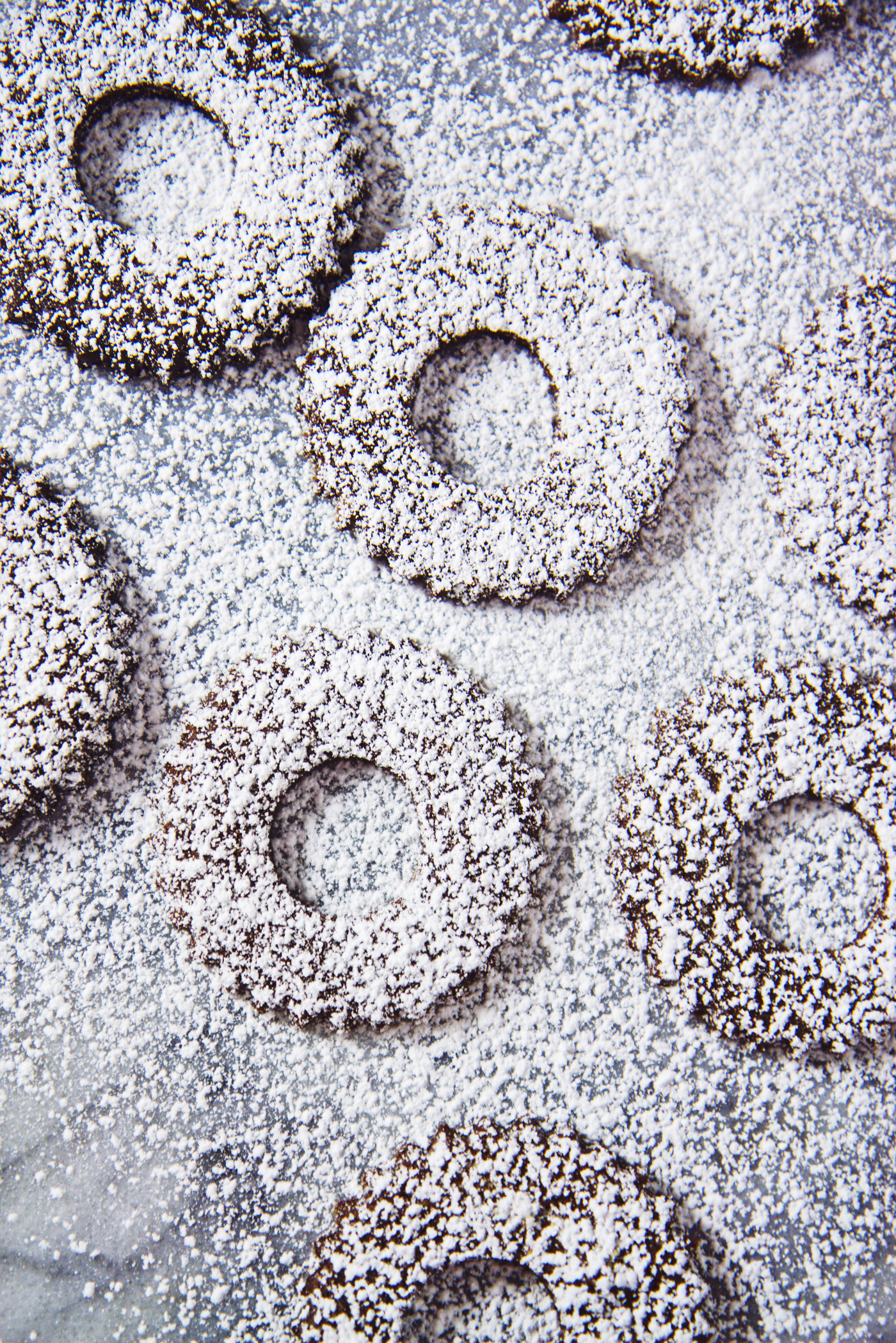 Tried and true recipes from Christmases past:
Cakes:
My pride and joy, the most elaborate cake on the blog: la souche de Noël.
Golden and gleaming, an almond and orange spice cake.
A classic: red velvet with a winter woodland theme.
The fluffiest of cakes, a chocolate and peppermint cake with marshmallow frosting.
Oldie but a goodie: chocolate buttermilk cupcakes with peppermint buttercream.
Cookies:
Super intricate and crunchy maple and black pepper gingersnaps.
Luster-dust highlighted sugar cookie Christmas trees.
Festive eggnog sugar cookies, decorated with royal icing and sprinkles.
Twists on the classic: honey spice and dark chocolate sugar cookies, perfect for cutting into shapes.
Pepparkakor with lemon royal icing, decorated with mehndi-inspired swirls.
Chocolate peppermint macarons… Finnicky little buggers.
Classic Linzer cookies with different fillings.
Maple, nutmeg, and rye sugar cookies, dressed all in winter white.
Chocolate, sour cherry, and coconut cookies; grapefruit butter cookies; and dark chocolate pecan snowcaps, all crammed into one post.
Cinnamon toast crunch marshmallow treats, chocolate peppermint shortbread, Russian teacakes, 5-spice snickerdoodles, another post bursting with recipes.
Whimsical peppermint marshmallow ropes; not cookies per se, but great for gifting.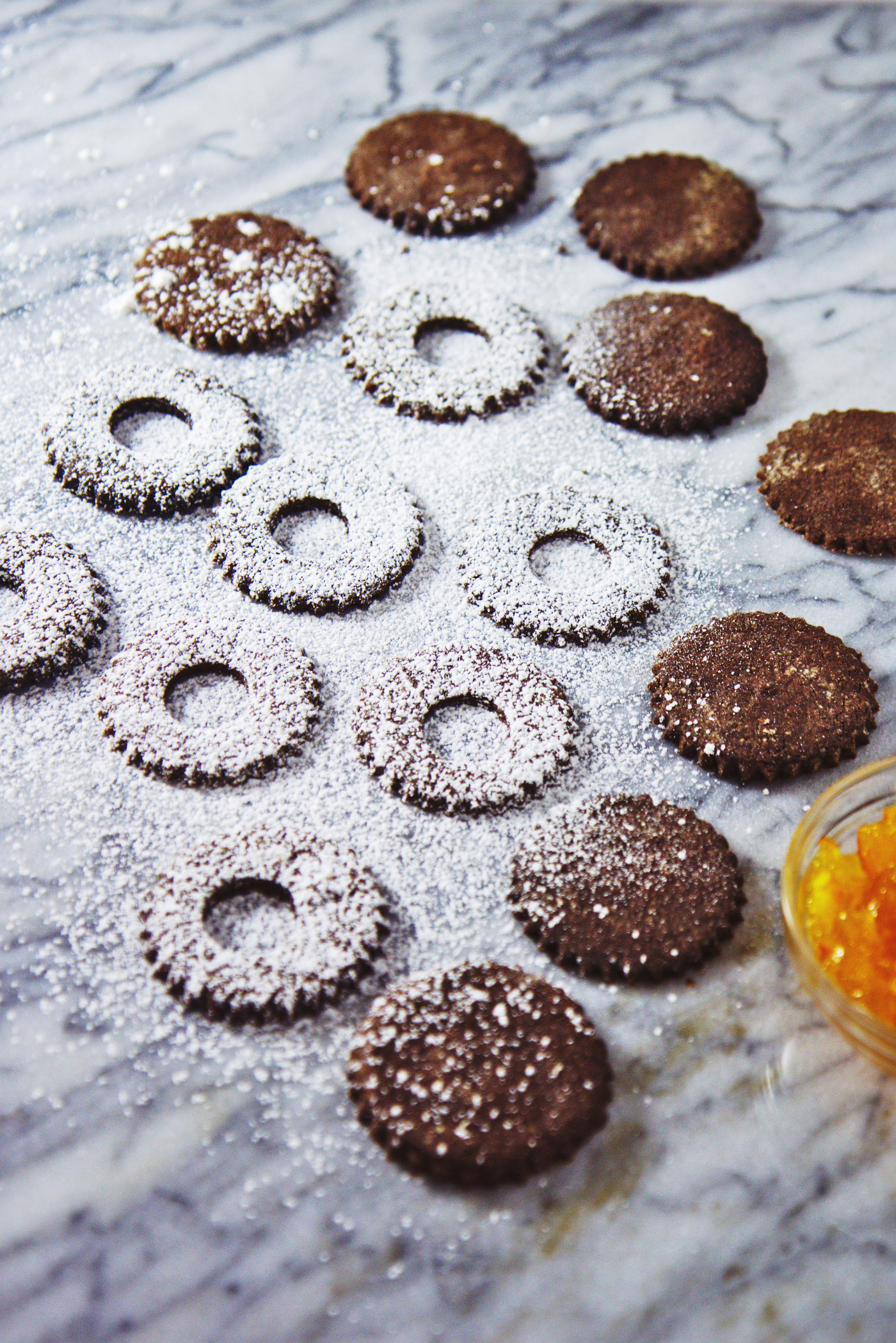 Chocolate Orange Linzer Cookies
makes 16 cookies
ingredients:
for the chocolate cookies:
170 grams (3/4 cup, 1 ½ sticks) unsalted butter, softened
¼ teaspoon (or to taste) kosher salt
100 grams (1/2 cup) granulated sugar
1 egg
80 grams (3/4 cup) almond flour or almond meal
90 grams (3/4 cup) all-purpose flour
30 grams (1/4 cup) cocoa powder
to assemble:
orange marmalade
powdered sugar
directions:
Make the cookies: beat butter on high speed with the kosher salt and granulated sugar for a full 5 minutes.
Scrape the sides of the bowl and add in the egg; beat for another full 4 minutes.
Scrape the sides of the bowl and add in the almond flour, flour, and cocoa powder.
Gently stir the dough together until homogeneous.
Gather into a ball and wrap with plastic wrap.
Refrigerate for at least 15 minutes and up to one night.
If the dough is fully chilled, allow it to warm up until pliable.
Roll out to ¼ inch thickness on a well-floured surface.
Cut out 32 circles; cut smaller circles in the center of 16 of the cookies.
You can gather the scraps and re-roll as necessary.
Place onto parchment lined baking sheets and freeze until solid, at least 45 minutes.
Preheat oven to 325 degrees F.
Bake cookies (straight from the freezer) for 10 minutes, or until fragrant and the edges are crisping up.
Allow to cool completely.
Place the cookies with holes aside and dust them with powdered sugar.
Place a half-teaspoon of marmalade onto the bottom halves and then sandwich together.
SaveSaveSaveSave
SaveSave