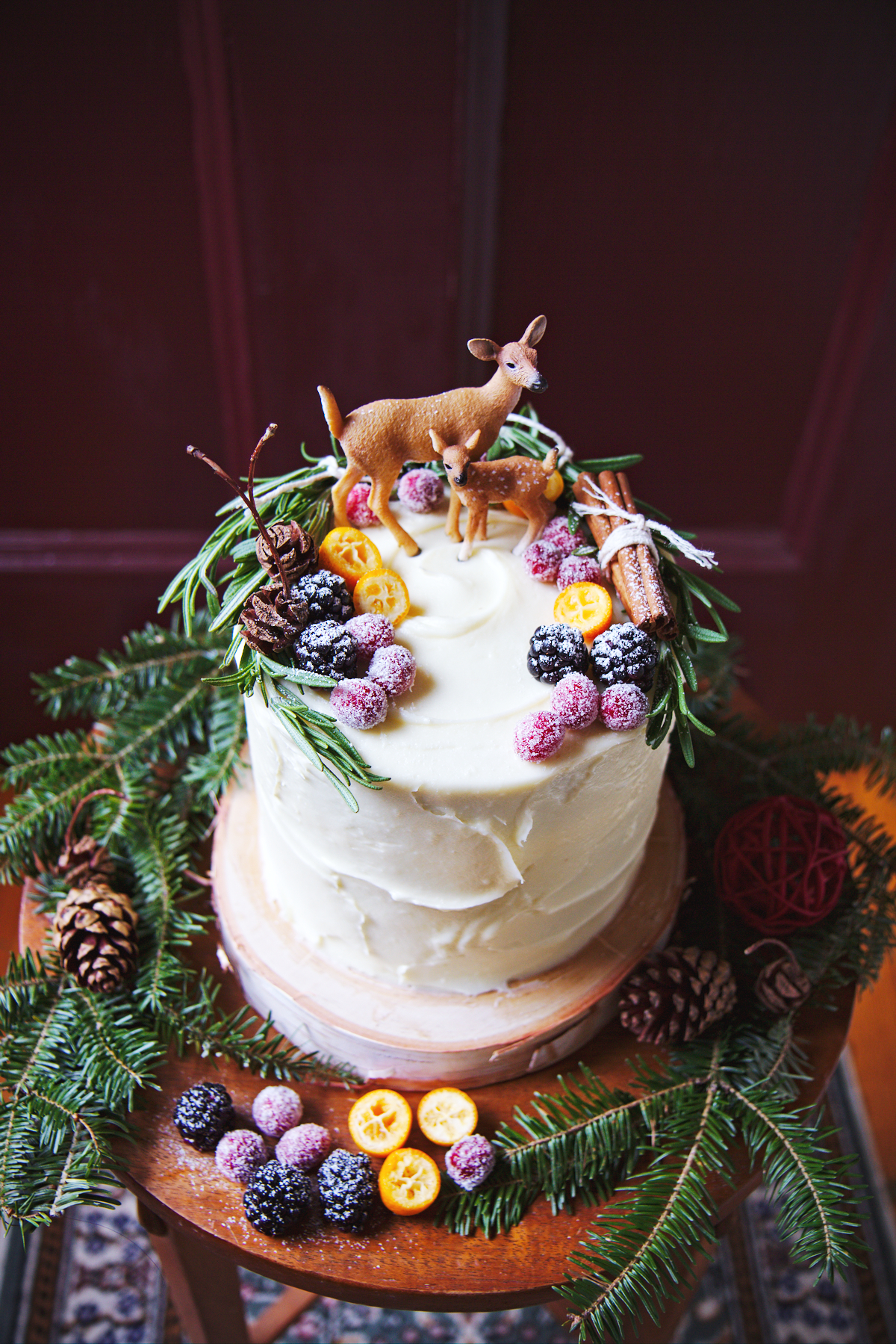 Calvin: This whole Santa Claus thing just doesn't make sense. Why all the secrecy? Why all the mystery?
If the guy exists why doesn't he ever show himself and prove it?
And if he doesn't exist what's the meaning of all this?
Hobbes: I dunno. Isn't this a religious holiday?
Calvin: Yeah, but actually, I've got the same questions about God.
—Bill Watterson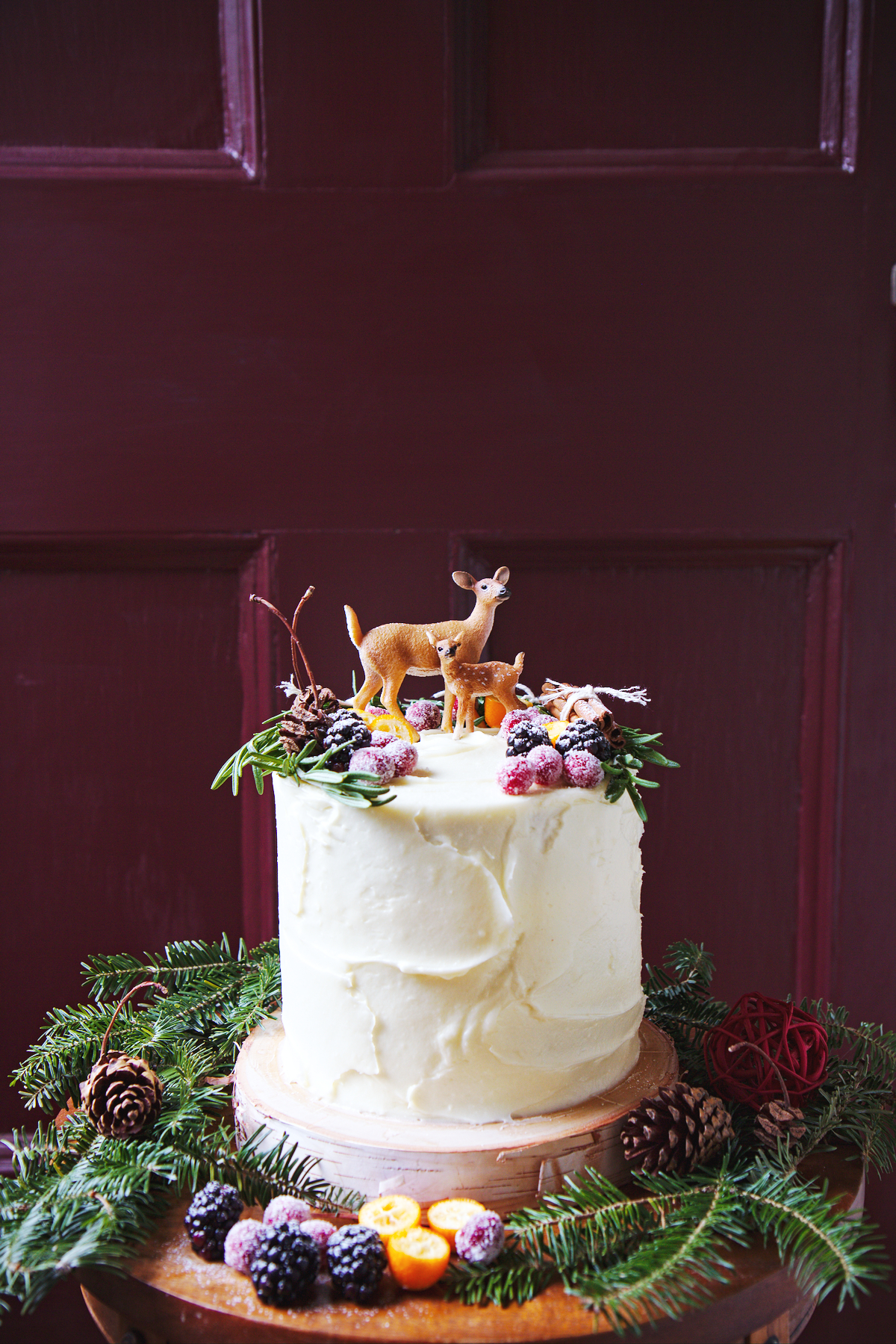 Merry Christmas Eve!
I hope you all had a wonderful Festivus and Christmas Eve Eve, and are now prepared for Christmas itself.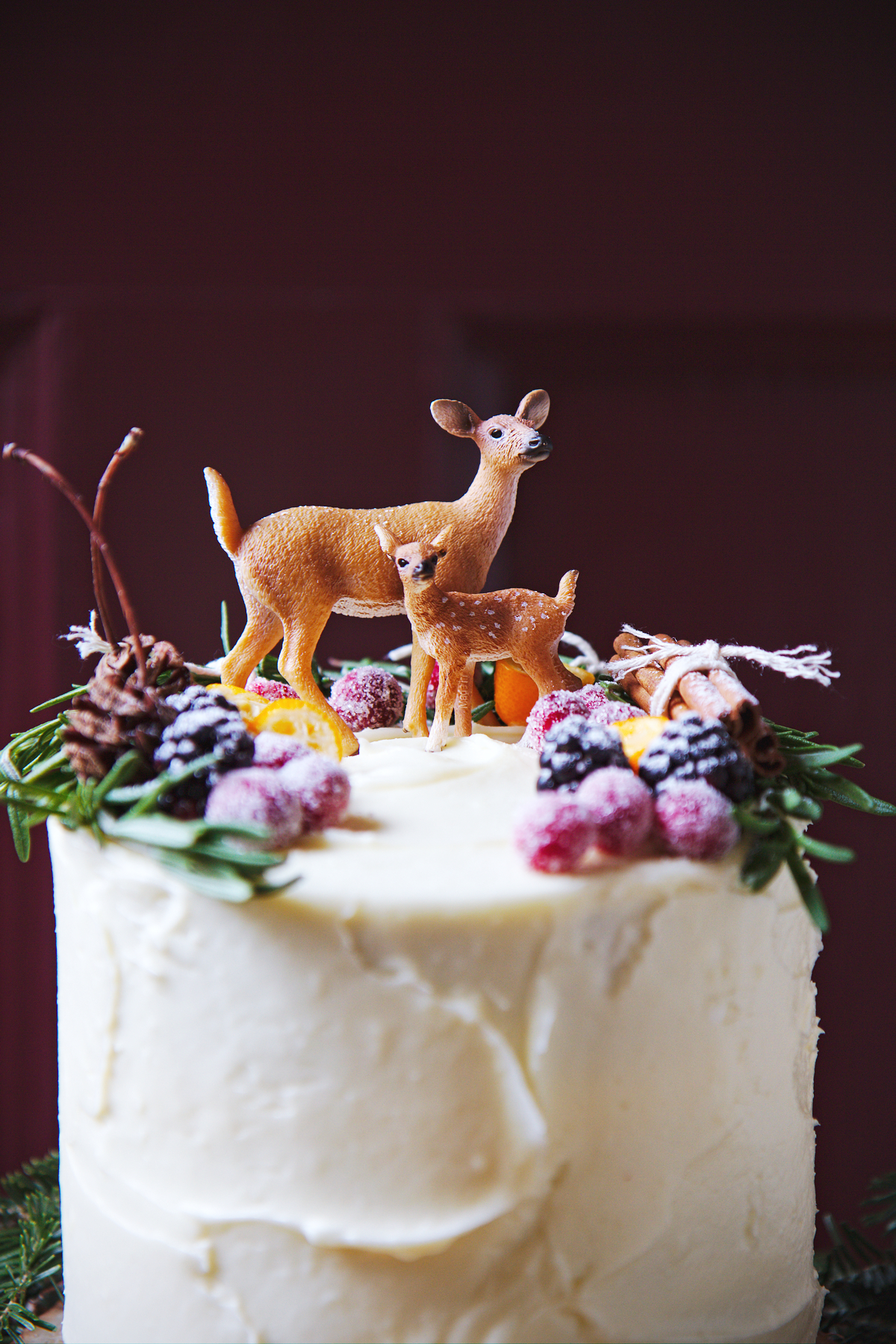 We have not even a single lick of snow around my hometown; it's been 60s and sunny and utterly autumnal, despite the fact that it's the end of December.
So today, instead of a winter wonderland cake, I'm sharing a woodland wonderland cake.
Seems legit.
(It's actually just an excuse to use my adorable new Schleich deer figurines.)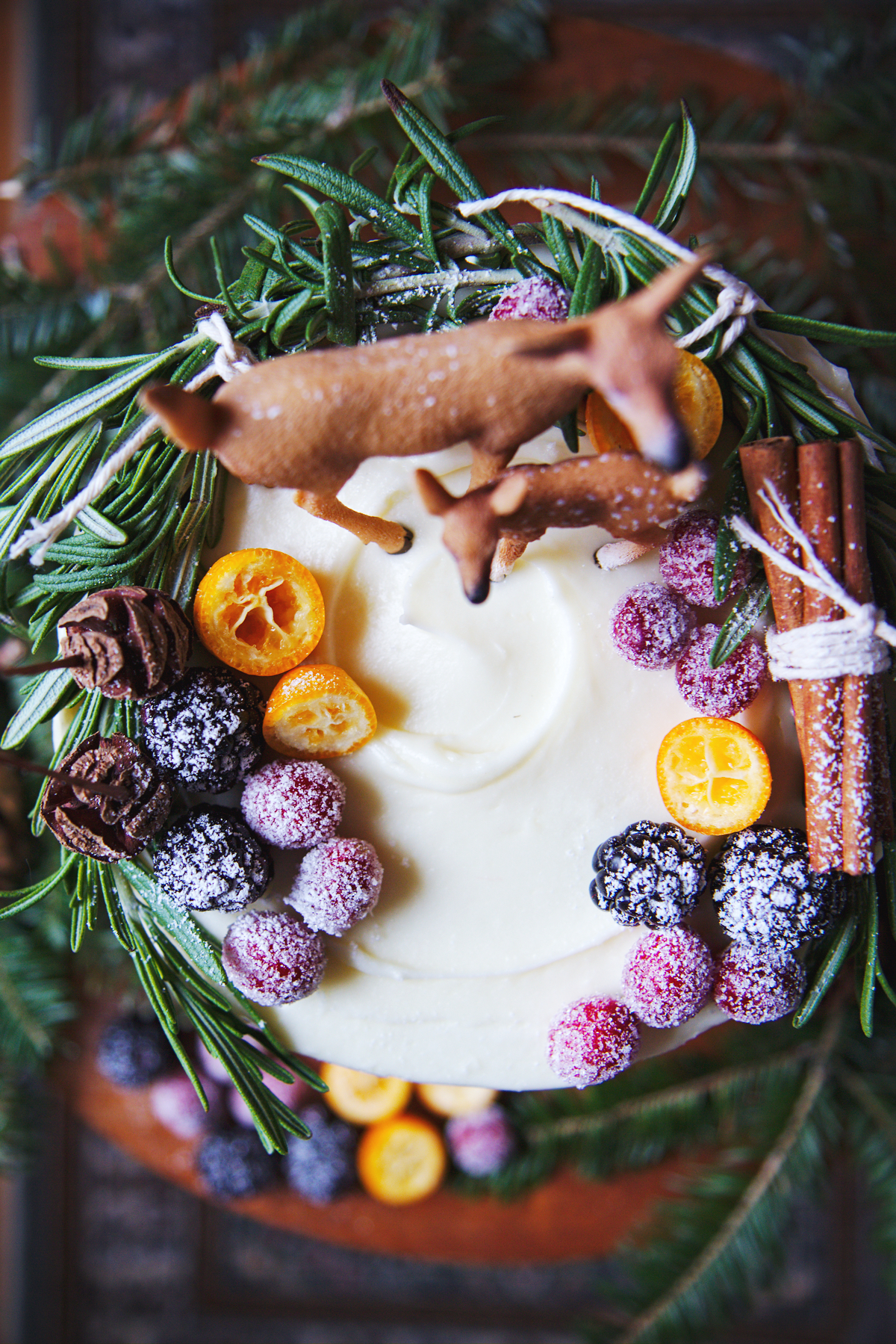 This cake is a dressed-up red velvet.
It's a foolproof recipe, with a touch of cocoa and a generous amount of buttermilk; the batter remains moist with a tight crumb and the distinctive "red" velvet flavor.
The frosting is white chocolate cream cheese, my new go-to when it comes to a tangy frosting.
Adding a good measure of melted white chocolate to your standard cream cheese frosting gives extra body and allows the frosting to set better when chilled—it doesn't run and become a drippy mess.
The white chocolate is subtle—the frosting remains tangy and creamy and rich, just thicker and more luscious on the tongue.
The cake is decorated with all sorts of "woodland" goodies: blackberries, kumquats, and sugared cranberries, little bundles of cinnamon and rosemary, pinecones, and that stinkin' adorable mama deer and her fawn.
A dusting of powdered sugar finishes the cake off nicely.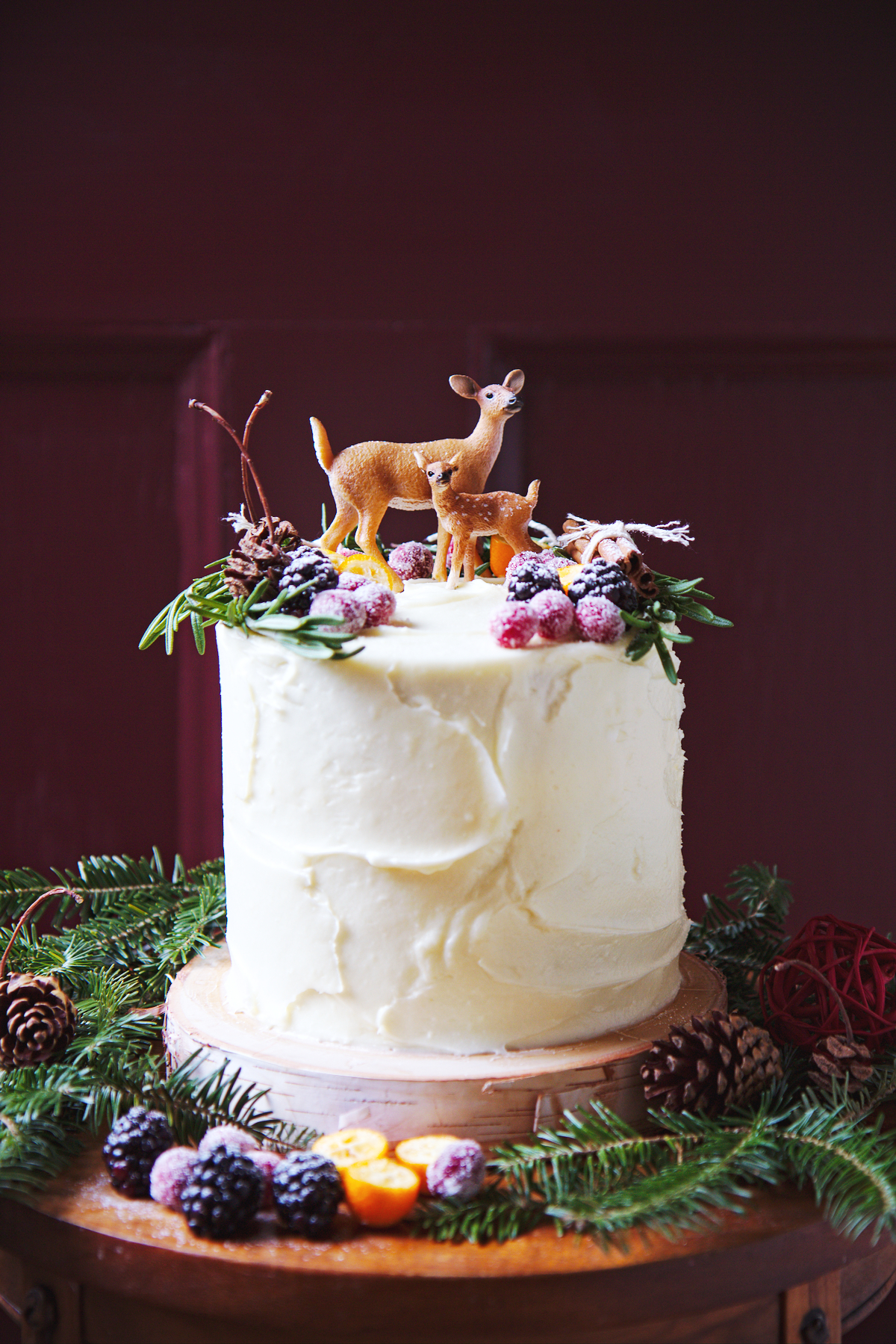 Normally, I wouldn't put anything inedible on top of a cake, but I really was vibing on the woodland aesthetic.
This cake comes together very quickly, and can be decorated in any number of ways.
Whatever you're baking for the holiday, I hope it comes out wonderfully and that you get the chance to share it with loved ones—that's what I'll be doing with my treats.
I'll be back after the holiday.
Merry Christmas!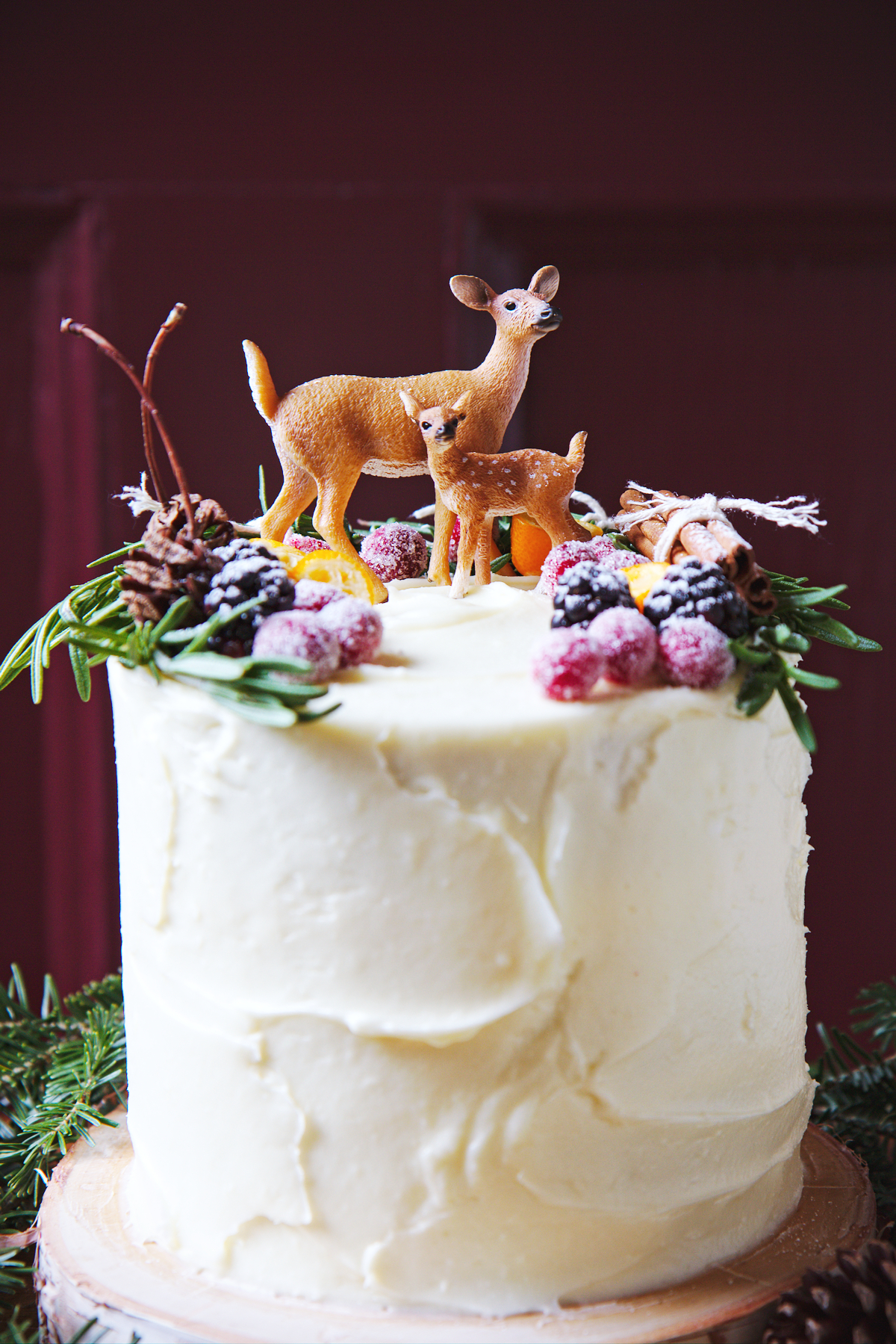 For one last and final time for the year, a quick Christmas post rundown (with treats easy and fast and long and arduous, too).
This year: eggnog sugar cookies
chocolate peppermint cloud cake
chocolate peppermint shortbread, 5-spice snickerdoodles, Russian teacakes, and cinnamon cereal marshmallow treats
festive marshmallow ropes
1 year ago: honey spice and dark chocolate roll-out cookies
chocolate, sour cherry, and coconut cookies, grapefruit butter cookies, and dark chocolate pecan snowcaps.
peppermint and chocolate cupcakes
souche de Noël (eggnog layer cake with ganache)
2 years ago: pepparkakor
candy cane and chocolate macarons,
Nutella and various fruity jam Linzer cookies,
maple, nutmeg, and rye roll-out cookies
gingerbread layer cake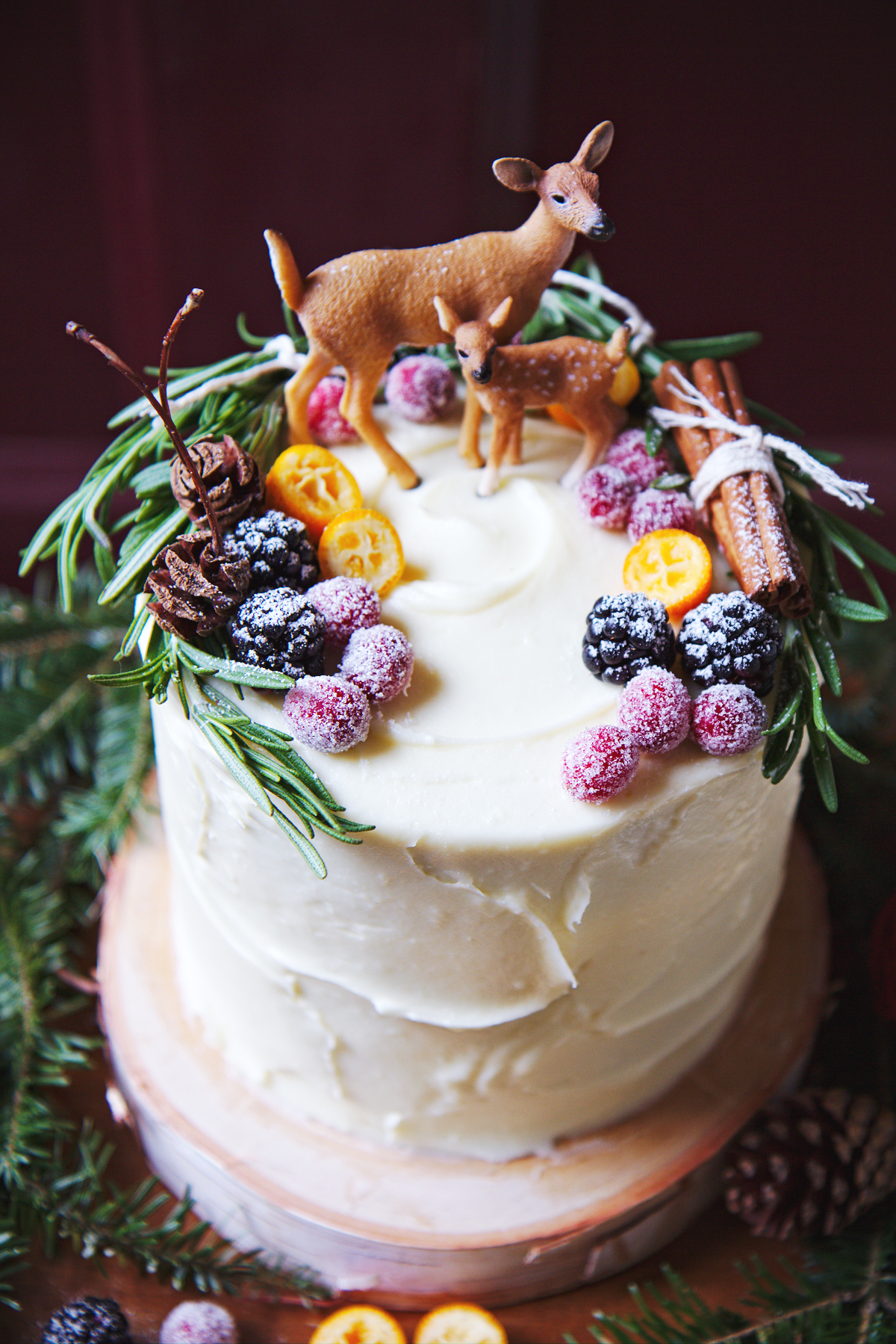 "One can never have enough socks," said Dumbledore. "Another Christmas has come and gone and I didn't get a single pair.
People will insist on giving me books."
—J.K. Rowling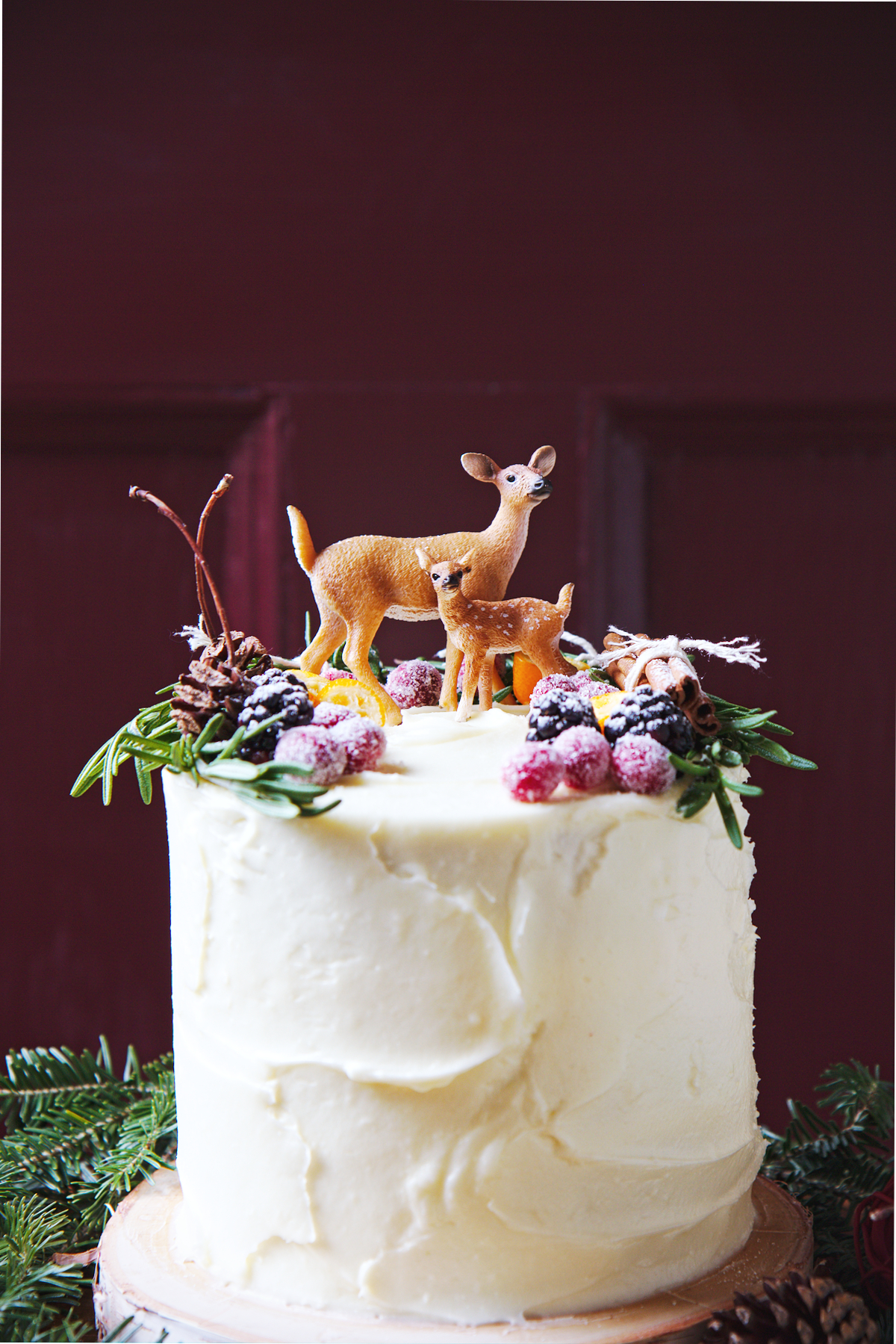 Red Velvet Woodland Cake
makes 1 3-layer 6-inch cake
ingredients:
for the cake:
113 grams (8 tablespoons) butter, softened
30 grams cocoa powder
333 grams (1 1/2 cup plus 1/3 cup) sugar
3/4 teaspoon kosher salt
2 eggs
2 teaspoons red gel food coloring
2 teaspoons vanilla extract
240 grams (1 3/4 cups) flour
240 mL (1 cup) buttermilk
1 teaspoon vinegar
1 teaspoon baking soda
for the frosting:
175 grams (12 tablespoons) butter, soft
225 grams (8 ounces) cream cheese, room temperature
3/4 teaspoon kosher salt
115 grams (4 ounces) white chocolate, melted and cooled
450 grams (4 cups) powdered sugar
for decorating:
mini (sanitary) pine cones
kumquats
cinnamon stick bundle
mini animal figurines
sugared cranberries
berries
rosemary bundles
directions:
Make the cake: preheat oven to 350 degrees F and grease and flour 3 6-inch pans.
Beat butter until soft and light, about 3 minutes if already softened.
Add in the cocoa powder, salt, and sugar and beat for 3 full minutes; the mixture should be glossy and very fluffy.
Scrape the sides of the bowl and add in the eggs, food coloring, and vanilla extract.
Beat for 5 full minutes; the mixture should have tripled in size.
Scrape the bowl and dump the flour on top of the butter.
Place the baking soda over the flour.
Mix the buttermilk and vinegar together.
Start mixing the flour into the batter at a very low speed; simultaneously, start drizzling in the buttermilk.
Once all is incorporated, beat on high speed for 20 seconds to ensure homogeneity.
Portion out the batter equally into your 3 pans and bake for 20-22 minutes, until springy to the touch and a tester comes out nearly clean.
Allow to cool completely.
Make the frosting: place butter in the bowl of a stand mixer and beat for 5 full minutes at medium speed.
Add the cream cheese and salt and beat for 2 more minutes; add the melted and cooled white chocolate and beat at high speed until  combined.
Sift in the powdered sugar and stir until combined, then beat at high speed for 2 minutes, until light and fluffy.
Stack and crumb coat the cakes, then refrigerate the cake for at least 30 minutes (leave the frosting at room temperature).
Finish icing the cake.
To decorate, tie the rosemary bundles and cinnamon bundle together with some string.
Arrange the rosemary and figurines first, then add the cinnamon and fill in with berries, kumquats, and cranberries.
Dust with powdered sugar to finish.