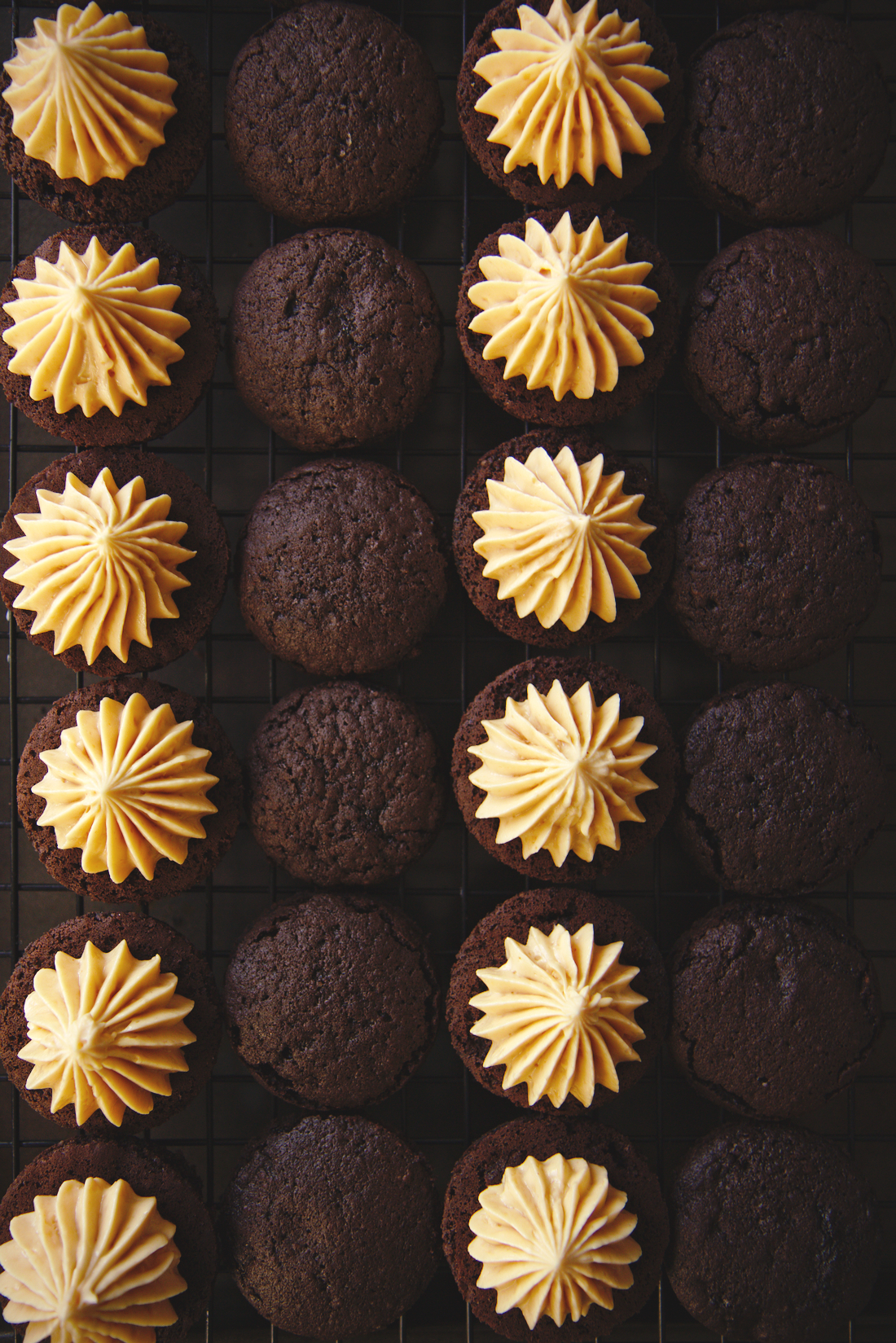 "What's comin' will come
and we'll meet it when it does."
—Hagrid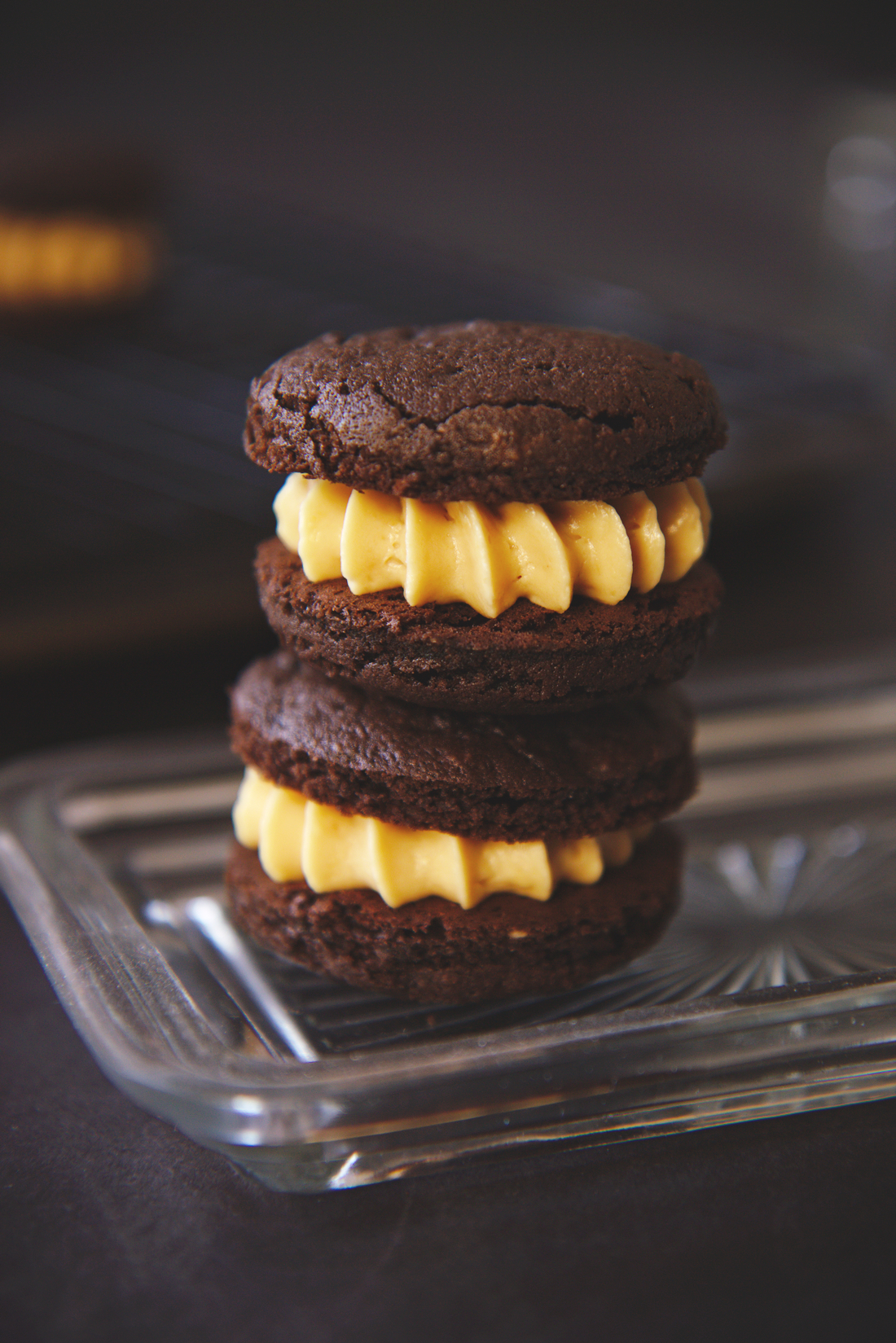 Because peanut butter is like a big hug.
And because I need a big hug (it's finals, oh yes it is).
My brain is too fried to tell you about the hell that are finals here at good old UChicago.
Instead, I'm going to share with you some things I've been loving lately; things that are so nice they wrap me up in a big hug all on their own.
First of all, these soft silk camisoles from J. Crew. I have three of them, and wear them under sweaters or blazers with pants or skirts or whatever I so please.
Ridiculously versatile, unbelievably soft and well-made.
Love them.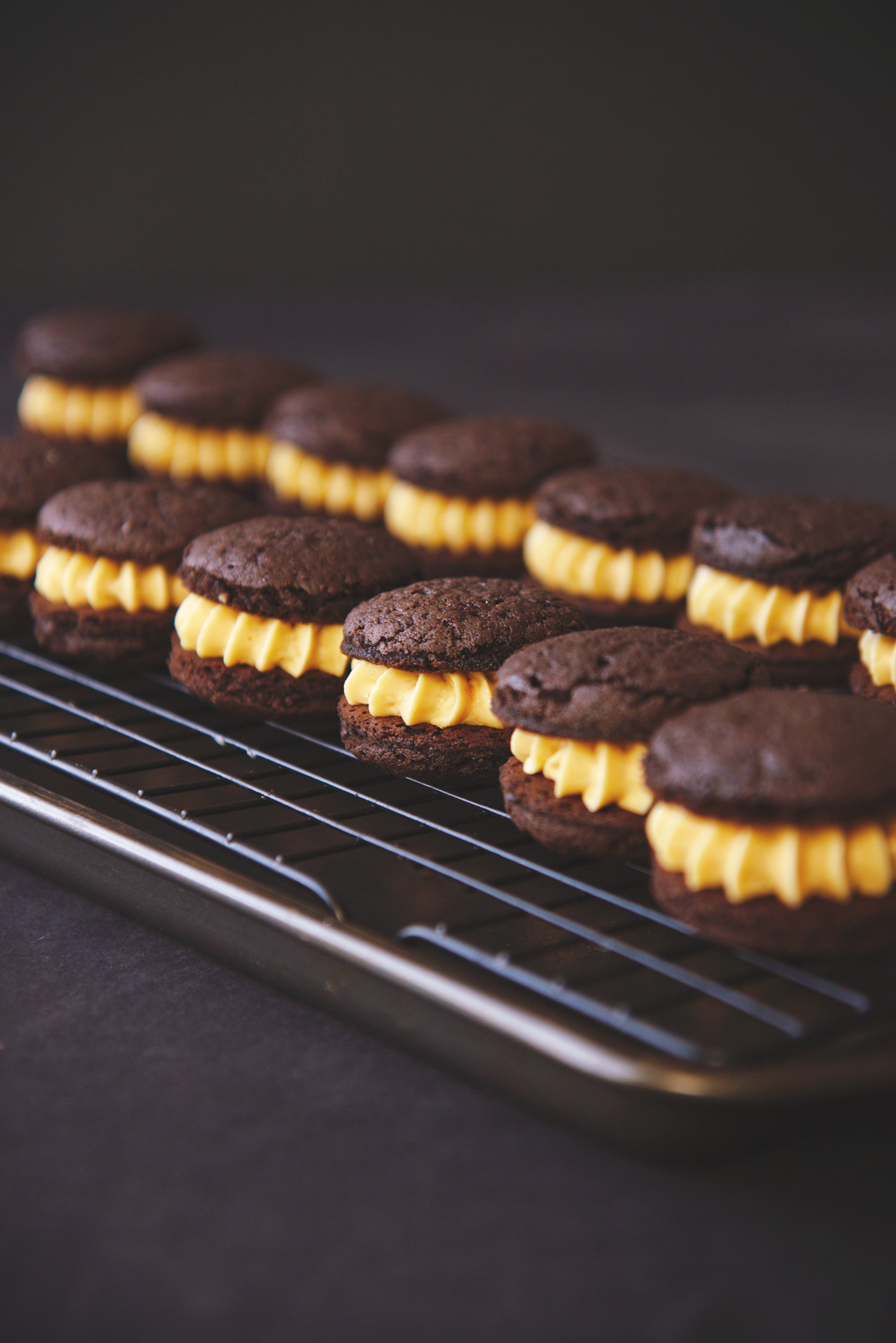 Secondly, I purchased these konjac face sponges from Sephora on a whim, because they intrigued me, and because I never feel like washing with just my fingers gets my face completely clean after a long night.
They're magical—they puff up and become soft and supple, and they are gentle but effective at removing dirt and grime.
Speaking of clean and fresh, my Pinterest "Space Inspiration" board is leaving me with white-washed dreams, full of greenery and subway tile.  I could get lost in any of those homes.
This butternut mac and "tease" is all I want in my life.
It looks so, so good—like WOW.
I've been making baked sweet potato fries as a quick meal lately—a bunch of sweet potato, cut super thin and rolled in lots and lots of coconut or olive oil with a heavy sprinkling of salt, tossed onto a foil lined baking sheet in the oven for 15 minutes at 450.
After you're done, turn the oven to 350 and bake kale chips while you eat your sweet potatoes.
Double yum!
And since today's recipe involves PB, I have to link to Mandy's jaw dropping sticky rice balls in green tea—stuffed with runny peanut butter!  Now I'm craving sticky tang-yuan, too.
(Or mochi.  We had killer mochi ice cream at Sunda the other day.  I could live off of mochi, no lie.)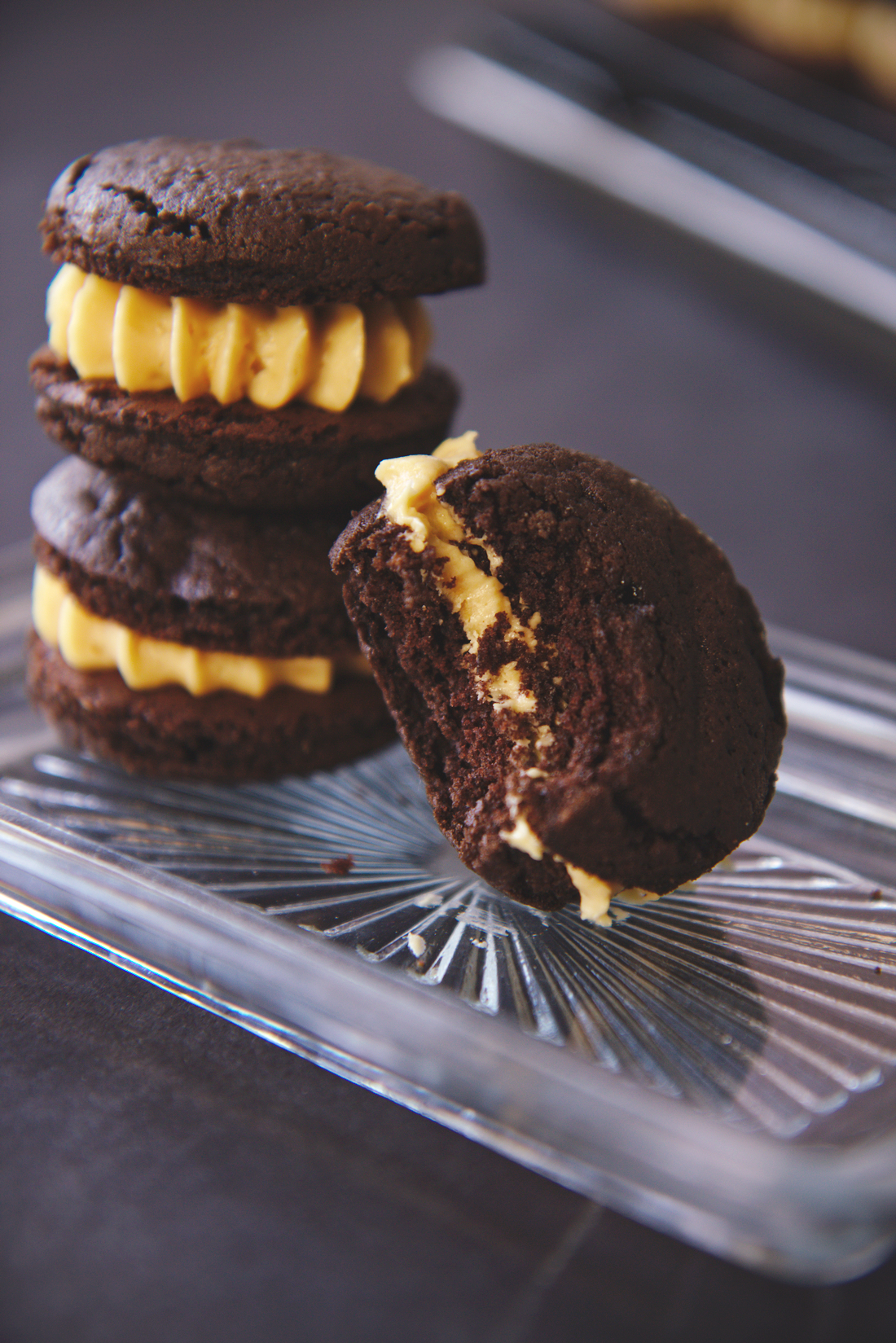 Anyways, for the peanut butter sweets included in this post:
These cookies are really tiny little cakelets—like whoopie pies, but eensy-meensy.
Each little cookie sandwich is a soft and fluffy dream.
The base is a rich, chocolate butter cake with a fine crumb and the perfect amount of dark cocoa flavor—there's just enough of it surrounding the cloud of peanut butter frosting to make you take another bite, and then another cookie.
The combination of chocolate and peanut butter is timeless—talk about a comfort combo.
There's plenty of salty-sweet action going on in these cookies, and a they strike the perfect balance between fluffy rich cake and fluffier, salty-sweet frosting.
Plus, I love that they're only two-bites big.
It gives you an excuse to eat 5.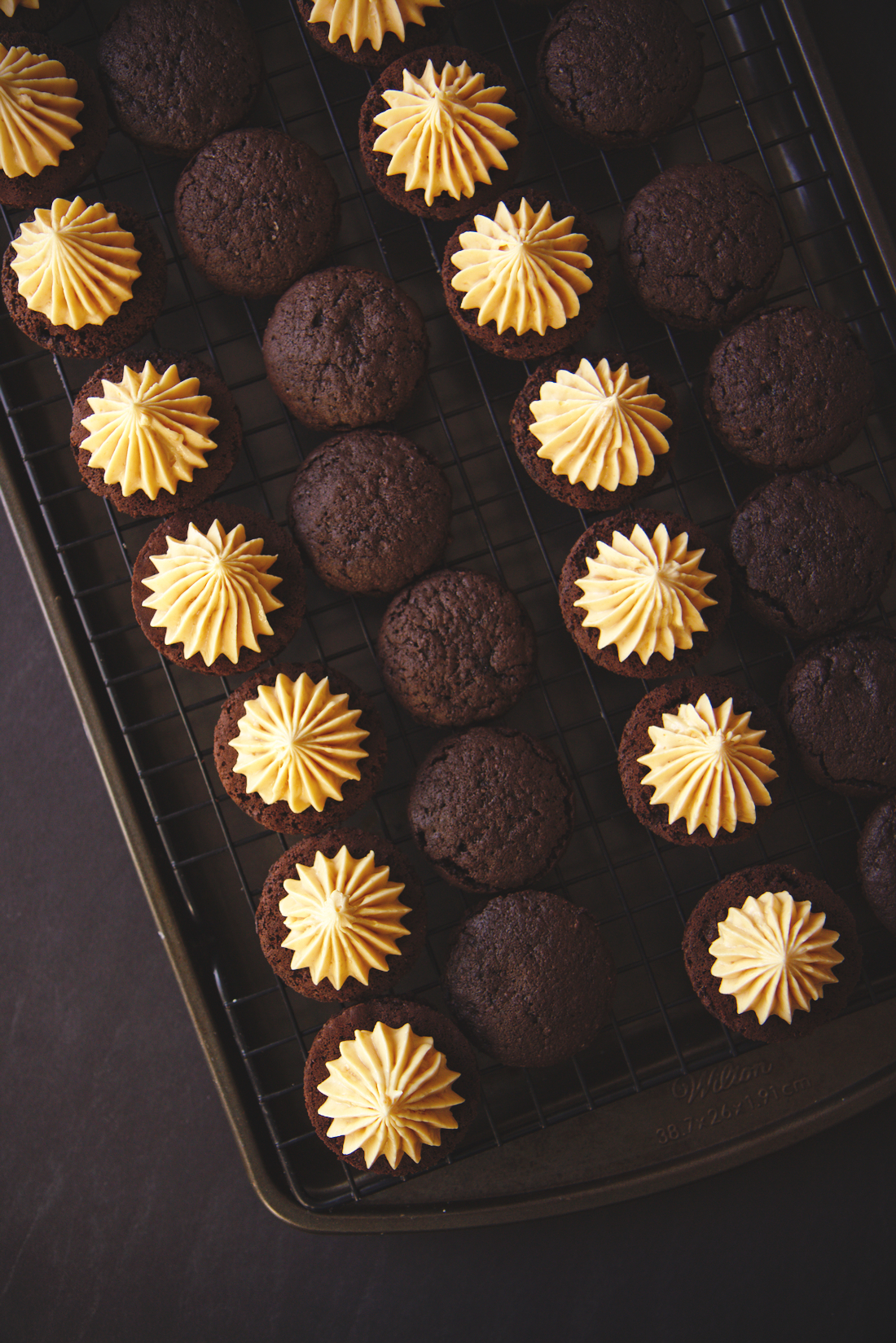 Some notes:
I used an oversized French pastry tip to get the starburst pattern on my frosting dollops.
This is by far my favorite pastry tip right now—you'll see it in action on some cupcakes very soon!
I got my cookies to be perfectly even by using a small round cookie cutter to trim the edges of each cookie as it emerged from the oven.  You don't need to do so if you don't want to—just match up your cookies by approximate size and wonkiness.
The peanut butter frosting has a nearly equal ratio of butter to PB—you need to whip this mixture up wildly in order for it to be totally fluffy and amazing, so just set a timer and let your mixer do the work.  And don't forget the salt!
The consistency of the frosting, due to all that PB, is really dependent on what type of peanut butter you use.  Be ready to add in an extra few tablespoons of powdered sugar or heavy cream, since your PB might be runnier or thicker than mine was.
(Oh, and if you use natural peanut butter?  Please don't forget to stir, or you'll have an oily mess on your hands!)
I need to go finish writing a paper and begin studying for Genetics, so wish me luck and send me positive vibrations and brainwaves.
I'll pay you back in cupcakes next week.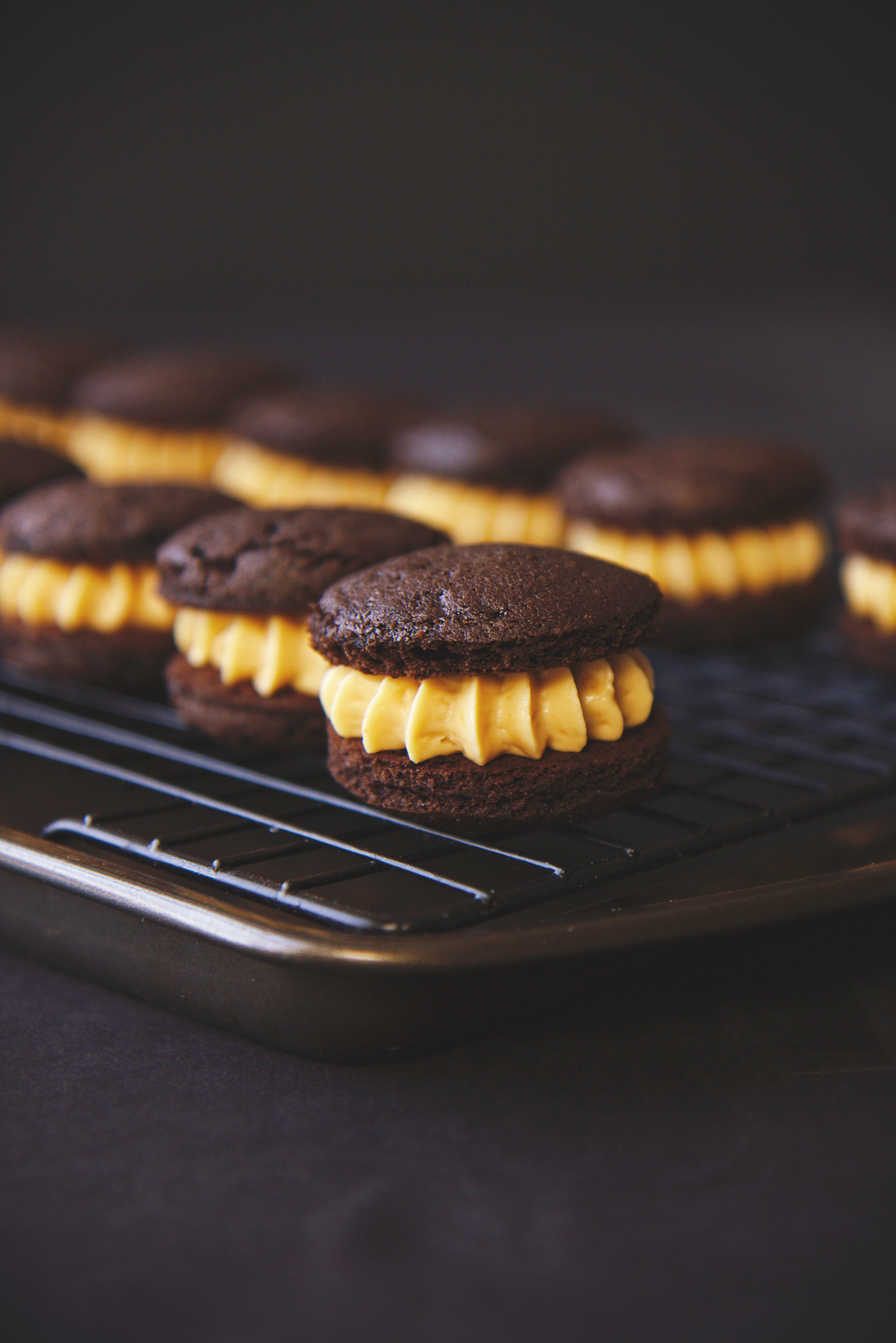 Mini Chocolate and Peanut Butter Cake Cookies
cookie portion adapted from Saveur
makes 24 cookie sandwiches
ingredients:
for the cakes:
8 tablespoons butter, very soft
1 cup plus 2 tablespoons sugar
1/4 teaspoon kosher salt
1 egg
1 teaspoon vanilla extract
1/4 cup plus 2 tablespoons cocoa powder
1 3/4 cups plus 2 tablespoons flour
3/8 teaspoon baking powder
1 teaspoon baking soda
3/4 cup milk
for the peanut butter frosting:
6 tablespoons butter, very soft
5 tablespoons creamy peanut butter
1/4 teaspoon kosher salt
2 cups (or as needed) powdered sugar
2 tablespoons cream
directions:
Make the cookies: preheat oven to 350 degrees F and line 2 baking sheets with parchment paper.
Place butter in the bowl of a stand mixer and beat on high speed for 2 minutes.
Add in the sugar and beat for 2 more minutes.
Add in the egg and vanilla and beat for 4 full minutes.
Scrape the sides of the bowl and add in the cocoa powder.
Beat on high speed for 30 seconds.
Scrape the bowl; add in the flour, baking powder, and baking soda; only stir until half combined.
With the mixer running on low, stream in the milk.
Once fully incorporated, beat on high speed for 15 seconds to ensure homogeneity.
Scoop out portions of the batter with a 2 teaspoon (or whatever size you want) scoop.
Make sure to leave plenty of room between cookies.
Bake for 11 minutes.
Immediately after removing from oven, use a small round cookie cutter to clean up the sides if you desire.
Allow to cool while you make the frosting.
To make the frosting, place butter and peanut butter and salt in the bowl of a stand mixer and beat on high for 5 minutes (set a timer!).
Sift in the powdered sugar, add the cream, and stir slowly until fully incorporated.
If the icing is too runny (the consistency is dependent on your peanut butter), add in up to 3/4 cup more powdered sugar.
If it is too stiff, add in up to 3 more tablespoons of cream.
To frost the cookies, flip half over onto their backs and, using a pastry bag filled with the peanut butter frosting or just a butter knife, dollop a generous amount of frosting on each cookie.
Place the top cookie on the sandwich and enjoy!