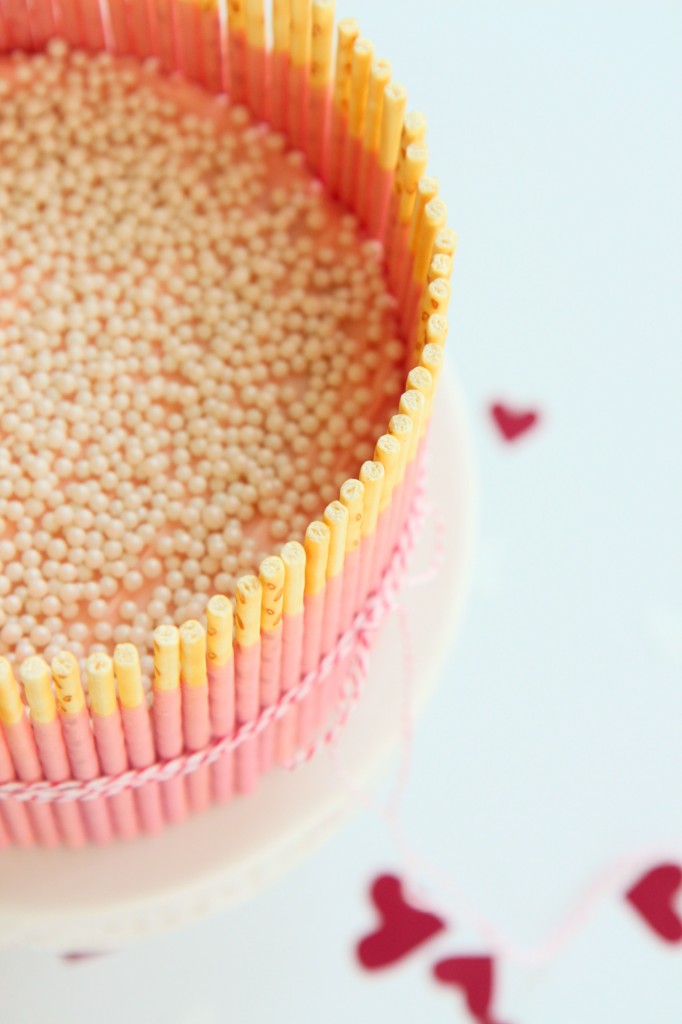 Oh, I know how it is in the spring
when Japonica's in bloom
and rivers of many waters bring
life to the unplucked fruit.
Then the vineyards of the Maidens flower
on every shaded vine;
all flourish in that restful hour—
but, oh, this can't be mine!
All seasons are the same to Love,
it's always time to storm;
thunder is always flashing over
my head, and there's a swarm
of desiccating furies in my mind.
Love chews away my heart
from the roots, in the dark.
Ibycus, Fragment 286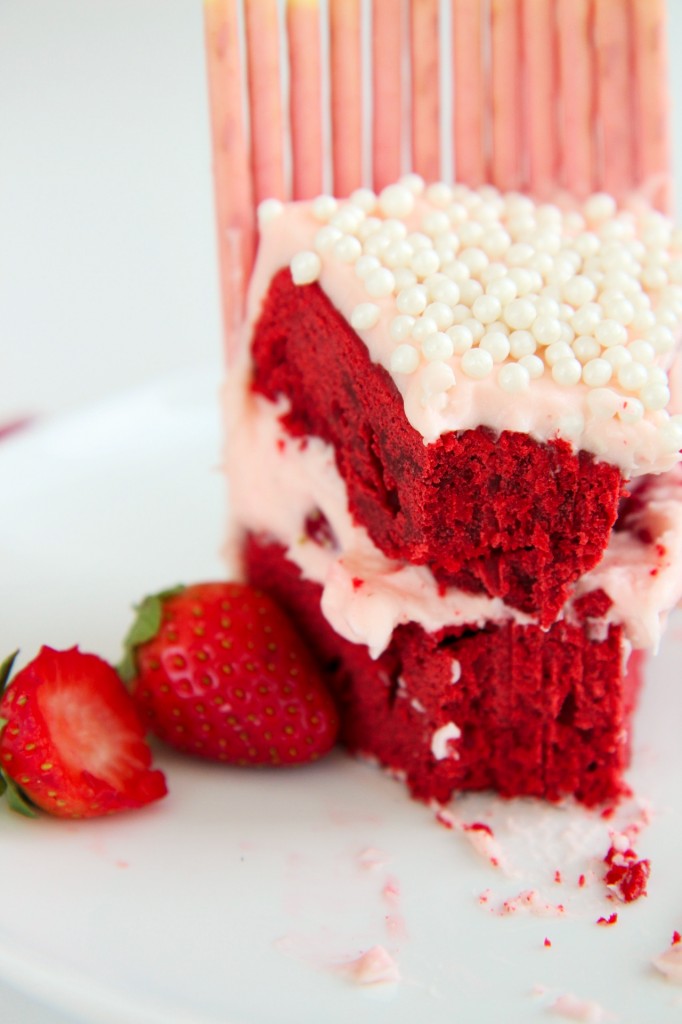 It makes me sad when people say they hate Valentine's day.
I love Valentine's day!  Not because I spend it with anyone special (womp womp) but because I love the idea.
I love love.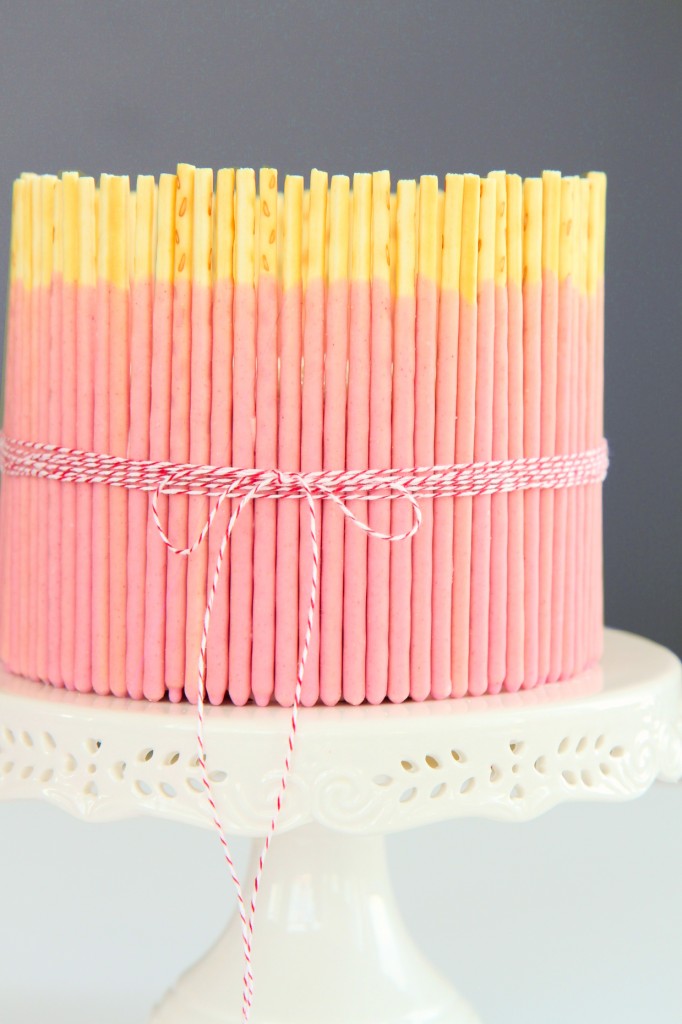 I guess I can see the strikes against Valentine's day (too mushy, too commercialized, too silly, too much effort) BUT my gosh just how wonderful of a concept is it, honest and truly?
A day to celebrate love: a day to show your appreciation to those who make your life a little bit better every day.
A day to share tokens, sweets, and affection with your sweetheart, with your friends, with your family.
A day to honor a man who accepted illicit love, who just wanted people to be happy and content.
Appropriate, with all that's going on in Sochi at the Winter Olympics.
People are people.  Love is love.
Everyone deserves to be loved; everyone deserves to give love.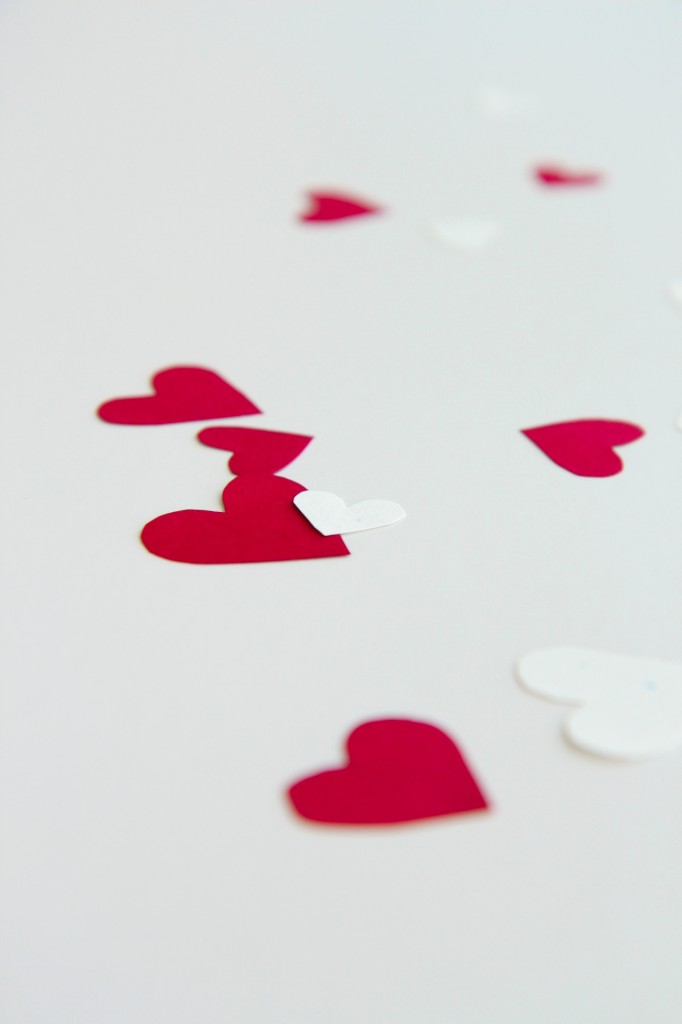 Regardless of whether you like Valentine's day or not, I know y'all like cake.
And so that is what I'm bringing you.
I'm sharing love and cake.  Doesn't that just sound like the best combination ever?
Cake, love, and pocky.  Sign me up.
Isn't this little cake the cutest!  Oh!  It makes me so happy.  Happy cake love.  Happy, pinky, red velvet cake love.
It abounds.
Pink for all!  All the pink.  This cake doesn't have to be only for Valentine's day.  Pink is a year-round color
(Although perhaps especially appropriate for Wednesdays.)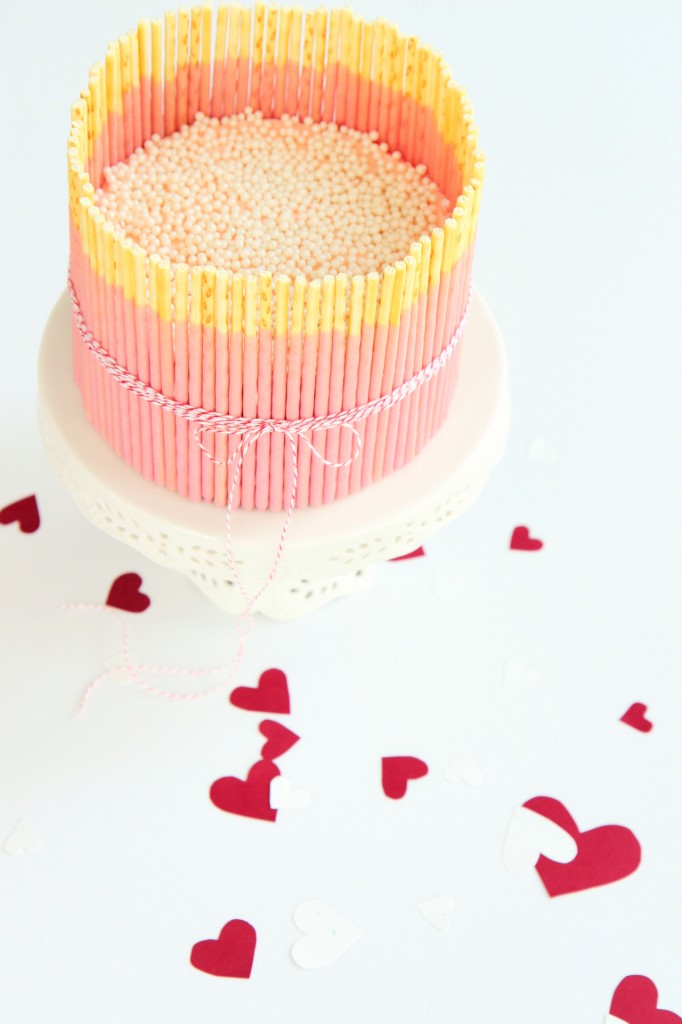 Speaking of pink…
Have you ever had Japanese Pocky?
They're little biscuit sticks, dipped in chocolate.  They're crunchy, creamy, and utterly addictive.
In fact, true story: I have been planning on making this cake for ages, not even necessarily for Valentine's day.
I purchased a bunch  of Pocky from Amazon, but kept stalling making the cake (and munching on Pocky).
Eventually, I had eaten all the Pocky!!!!!
So, another bulk order later, I decided to make the cake ASAP.
Since we're in the depths of Valentine's day themed posts on this blog, I knew the pink would be perfect.
And what a pink it is!  Pale and not too orangey, it's the color of cherry blossoms (sakura-iro).
A lovely contrast to the vivid cake within.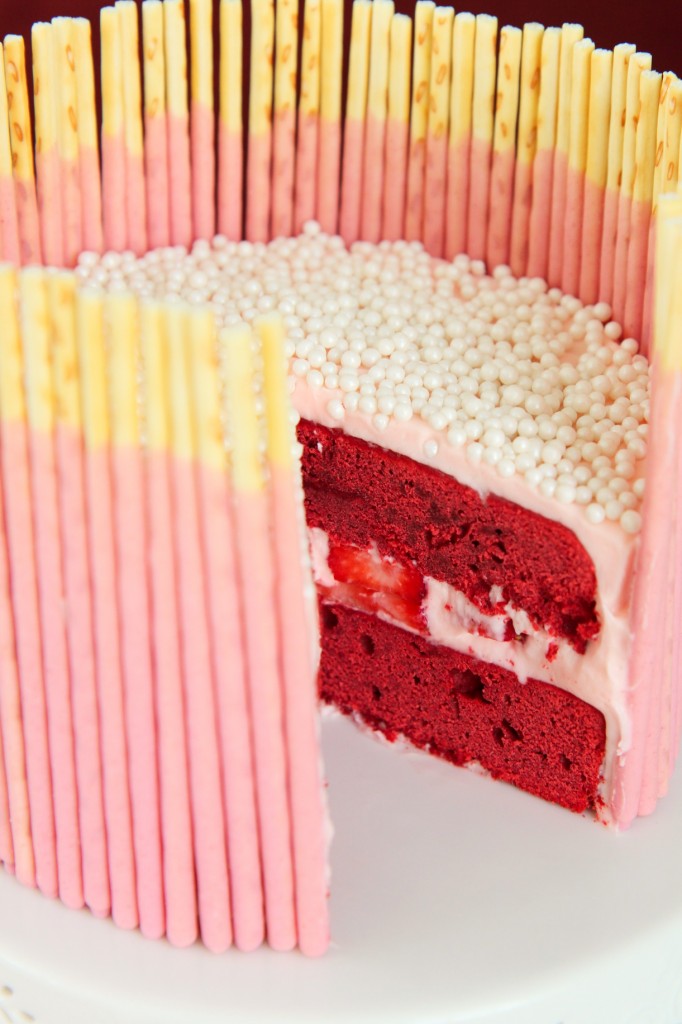 Red velvet brownies, rich and a touch chocolaty, are dense and moist, somewhere between a cake and a true brownie.  They make a perfect base for our cake.
They get a generous swirl of cream cheese frosting, fluffy, tangy, and sweet, and a heap of fresh sliced strawberries, which are a nice foil to all the richness going on in the cake and frosting.
The whole deal is ringed with strawberry/white chocolate pocky sticks and tied with some baker's twine.
A bite with a little of everything is a myriad of flavors and textures:
toothsome and rich brownies
tangy and soft cream cheese frosting
fresh, bright strawberries
crunchy sprinkles
crisp, creamy pocky!
Cuteness (and deliciousness) to the max!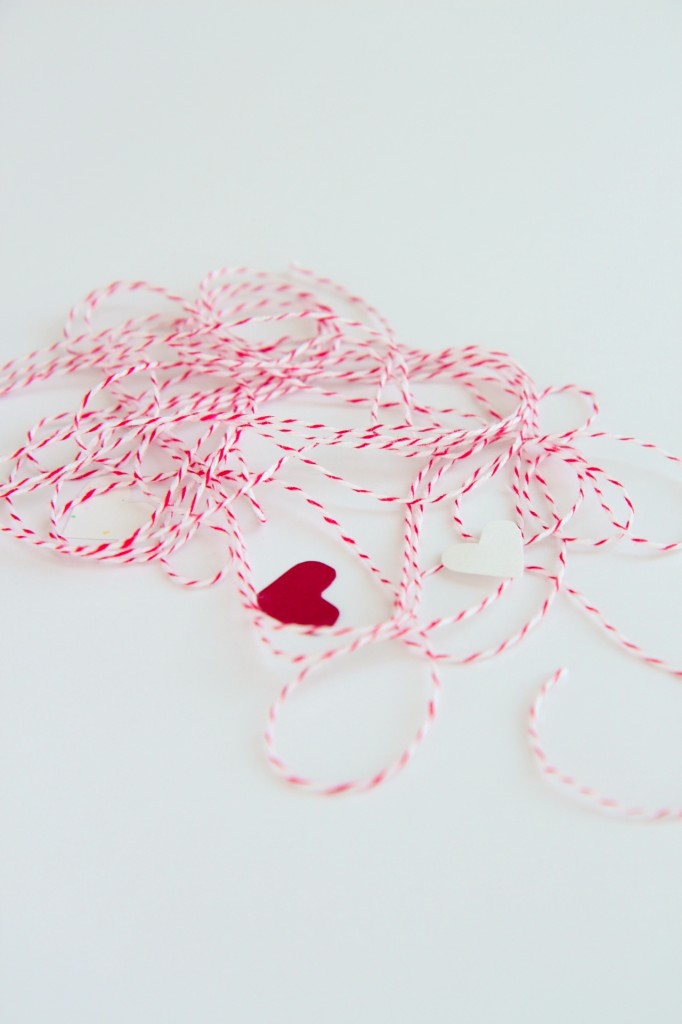 All the red and pink going on in this cake make it quite fun; the pocky sticks are visually exciting and make this cake a real statement piece.
This is a bold cake.
Cutting into it is a surprise; the bright red velvet is a stark contrast to the pastel exterior.
It would make a great birthday cake, especially for a little girl who loves pink. Omg.
If you can't tell, I'm mildly obsessed with this cake.  I can't stop using exclamation points.
IT'S JUST SO CUTE!!!!!!!!!
I want to stick Pocky on the outsides of all my cakes, from now on.
(Another perk: no need to worry about the neatness of your frosting job.  Score.)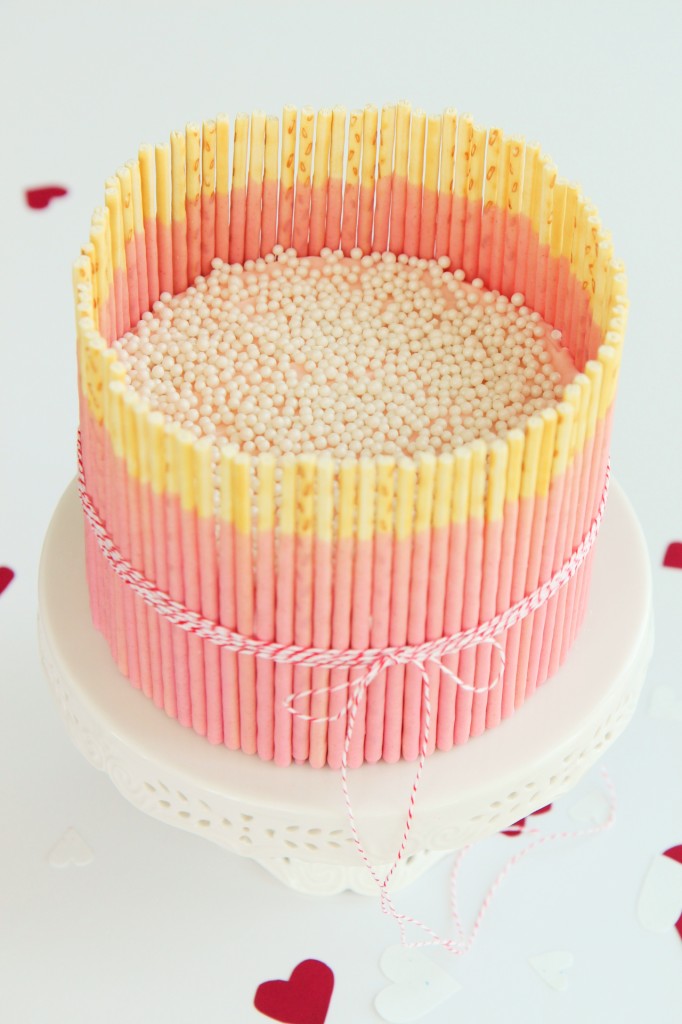 Anyways, be mine?
Parce que je te kiffe!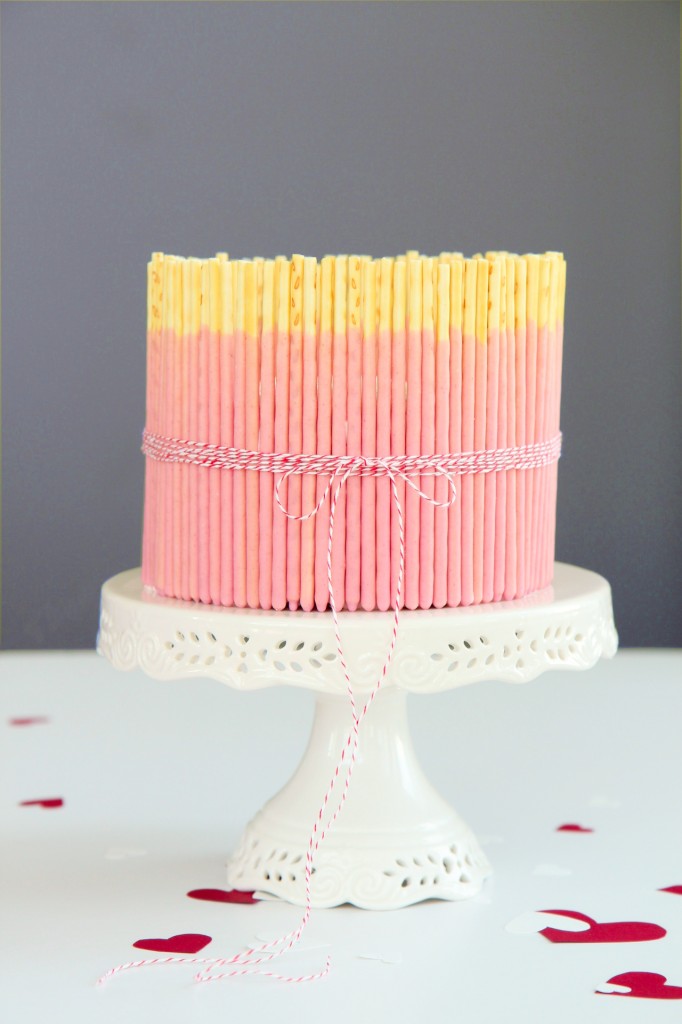 Red Velvet Brownie Cake
ingredients:
for the red velvet brownie layers:
8 tablespoons (1/2 cup) butter
1 cup sugar
1/4 teaspoon salt
2 eggs
1 egg yolk
2 teaspoons red food coloring
1/2 cup plus 2 tablespoons buttermilk
1 teaspoon vanilla
2 tablespoons cocoa powder
1 tablespoon cornstarch
1 1/4 cup plus 1 tablespoon flour
1 3/4 teaspoons baking powder
for the cream cheese frosting:
8 tablespoons (1 stick, 1/2 cup) butter
1/2 teaspoon kosher salt
8 ounces (1 package) cream cheese
1 1/2 cups powdered sugar, or as needed
1/4 cup powdered milk
drop of pink or red food coloring
to assemble:
7 or 8 packages of strawberry pocky, inspected for broken sticks
10 strawberries, sliced thickly
sprinkles, for the top (I used sugar pearls)
directions:
Make the cake layers:
Preheat oven to 350 degrees F and grease and flour 2 6-inch pans.
Beat butter with sugar and salt until light and fluffy, about 4 minutes.
Add in the eggs and yolk and beat for 4 more minutes; mixture should be very glossy and not grainy.
Whisk the buttermilk, food coloring, and vanilla together.
Whisk all the dry ingredients together.
Scrape the bowl with the butter and add in the wet and dry ingredients while mixing on low.
Beat on high to fully homogenize the batter, then spread into prepared pans.
Bake for 20 minutes, until a tester comes out with only a few crumbs.
Make the frosting: beat butter and salt on high speed for 5 minutes, until fully softened and fluffy.
Add in cream cheese and beat for 4 more minutes; the mixture should be very fluffy, light colored, and homogeneous.
Scrape the sides of the bowl and beat for 2 more minutes; add the powdered sugar and powdered milk and slowly beat to combine.
Add more powdered sugar if the consistency is too runny still (up to another 1/2 cup).
Tint frosting to desired shade with food coloring.
Assemble the cake:
Place a dollop of frosting on cake plate, then place first cake layer on top.
Spread a thick layer of frosting onto the top of the first cake layer, then arrange strawberry slices over.
Spread a thick layer of frosting on the bottom of the second layer, then gently place it over the strawberry slices.
Frost the rest of the cake generously, making sure the sides have plenty of frosting to stick the pocky to.
One at a time, press the pocky sticks into the side of the cake, biscuit side up.
Add sprinkles to the top, if desired, and tie with a ribbon (remove to cut).
Serve with cold milk and extra strawberries!