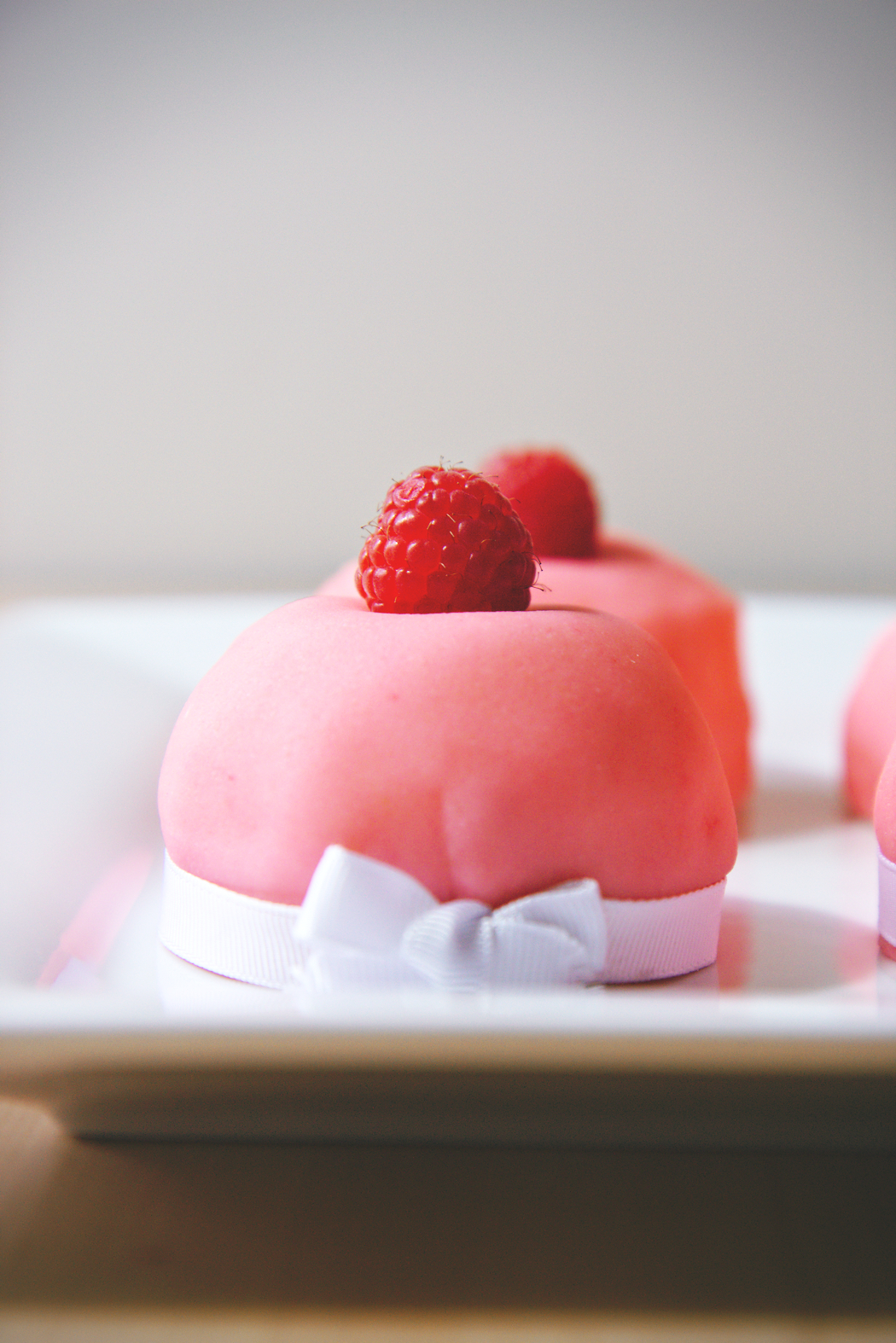 Love, whose month is ever May,
Spied a blossom passing fair,
Playing in the wanton air:
Through the velvet leaves the wind,
All unseen can passage find;
That the lover, sick to death,
Wish'd himself the heaven's breath.
–Shakespeare, Love's Labour Lost, Act IV, scene 3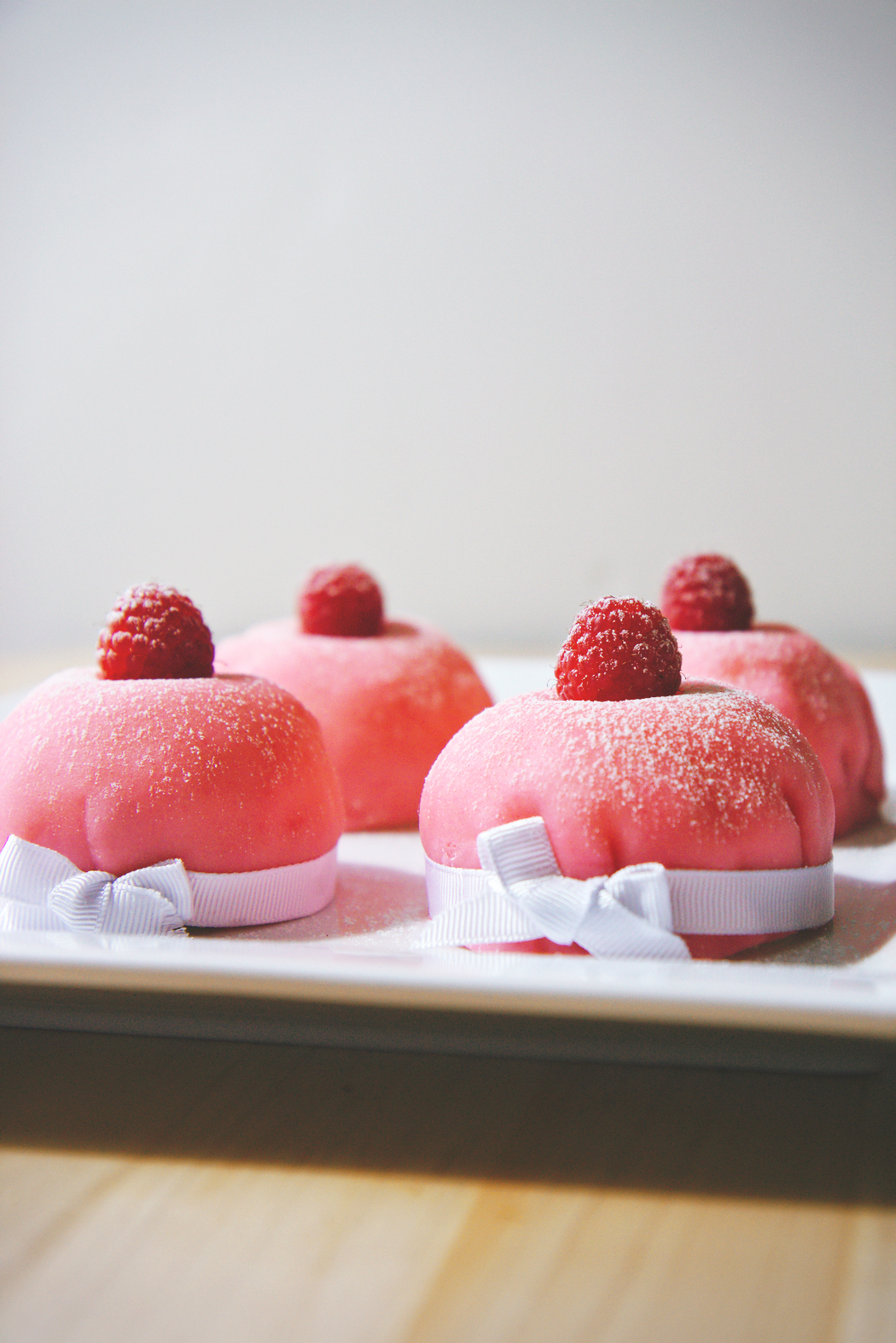 Oh, I know, this month is never May.
It's snowy and windy and cold instead.
(It's not even snowing that much here in Chicago.  For you poor folks on the east coast, I'll keep quiet.
My advice—find a good movie or book and a cup of hot cocoa or soup and curl up for the day.
Snow storm or not, that's what I wish I was doing…)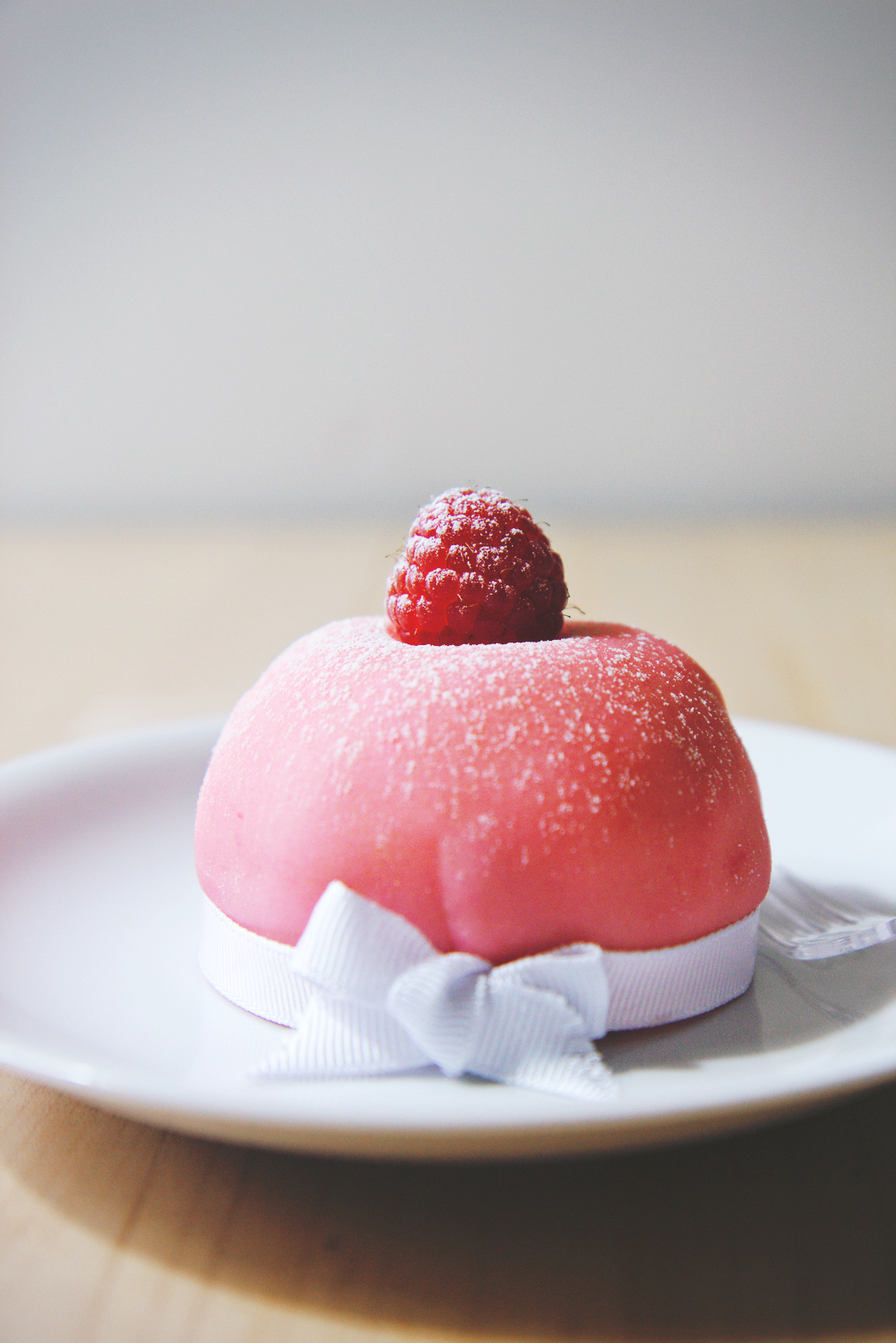 These cute little cakes are miniature prinsesstårta.
For those of you who aren't familiar, princess cakes are Swedish pastries, traditionally favored by princesses.
These are like traditional prinsesstårta, only mini: a simple round of soft vanilla sponge is spread with a layer of tart raspberry jam and then a heaping dome of barely sweetened whipped cream hides away a single raspberry in the center.
The creamy little snowball is topped with pink marzipan, sweet and fragrant with almonds, and a dusting of powdered sugar atop another perfect berry.
They're really, really delightful.
Light and not too sweet (and thus a very European dessert), with the floral almond contrasting wonderfully to the raspberry, with vanilla and cream playing (very important) supporting roles.
They taste very much like shortbread or shortcake to me, with the combination of fruit and cream.
I definitely recommend giving these a try—the assembly is really not difficult, and the final product looks like it came out of the pastry case of a little Swedish pâtisserie.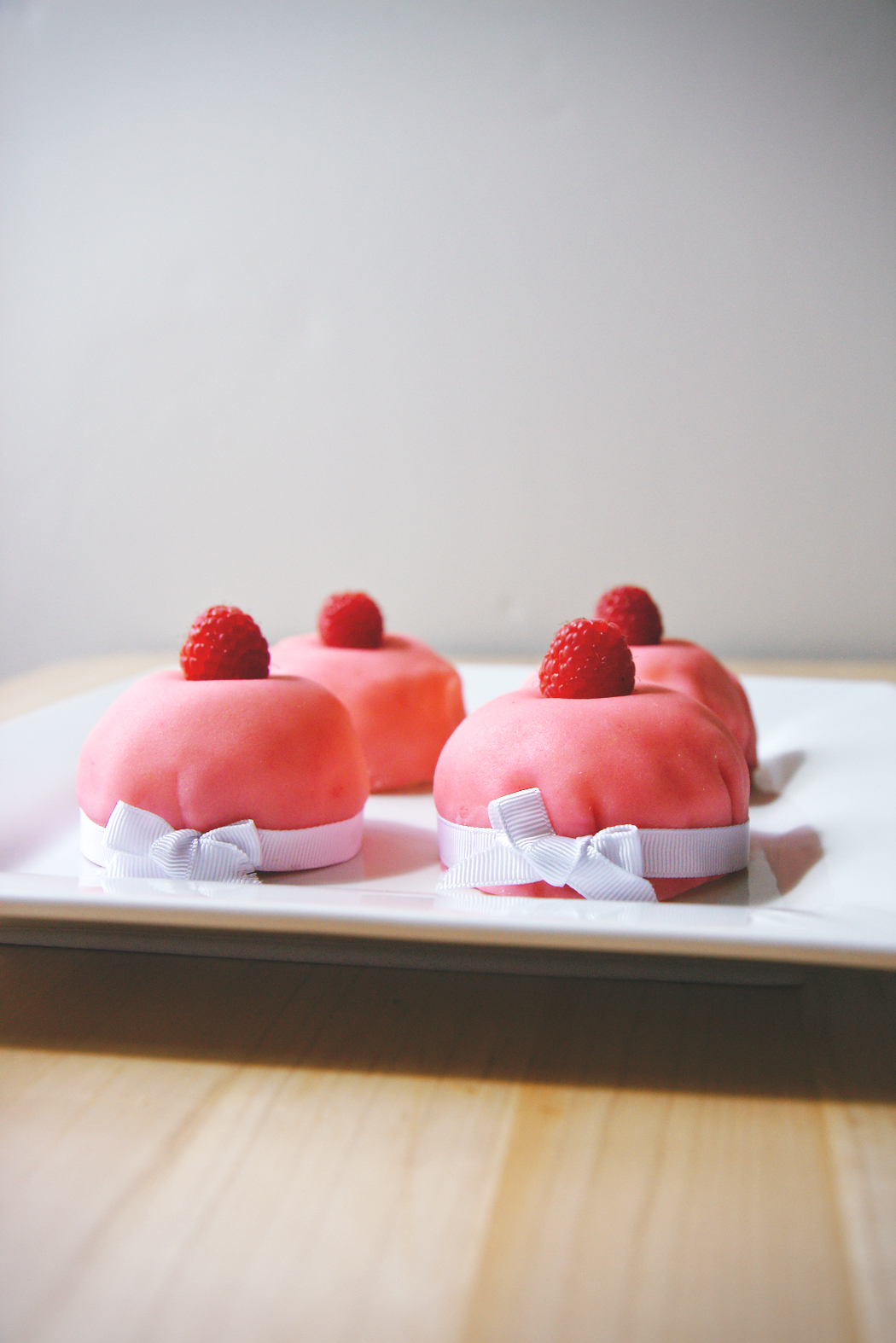 Mini pink prinsesstårta with ruby red raspberries would be perfect for a light Valentine's day dessert.
If you are really, really kind and love your S.O. very much, you might be able to split one cake.
But you should really each plan on having two one.
Trust me.
There will be more sweets for your sweetie gracing this page soon, because once I'm out of the weeds of 4th week (Two science midterms in 4 days. Ouch.), I fully intend on getting lost in some butter, flour, and sugar to soothe my ego, which will most certainly be aching.
For more inspiration, check out some of last year's V-day treats:
strawberry pocky cake
grapefruit possets
mendiants
Pee. Ess. check out Molly's gorgeous mini princess cakes!
(How can anyone not just adore her and her blog? Ugh so much mooshy blog love.)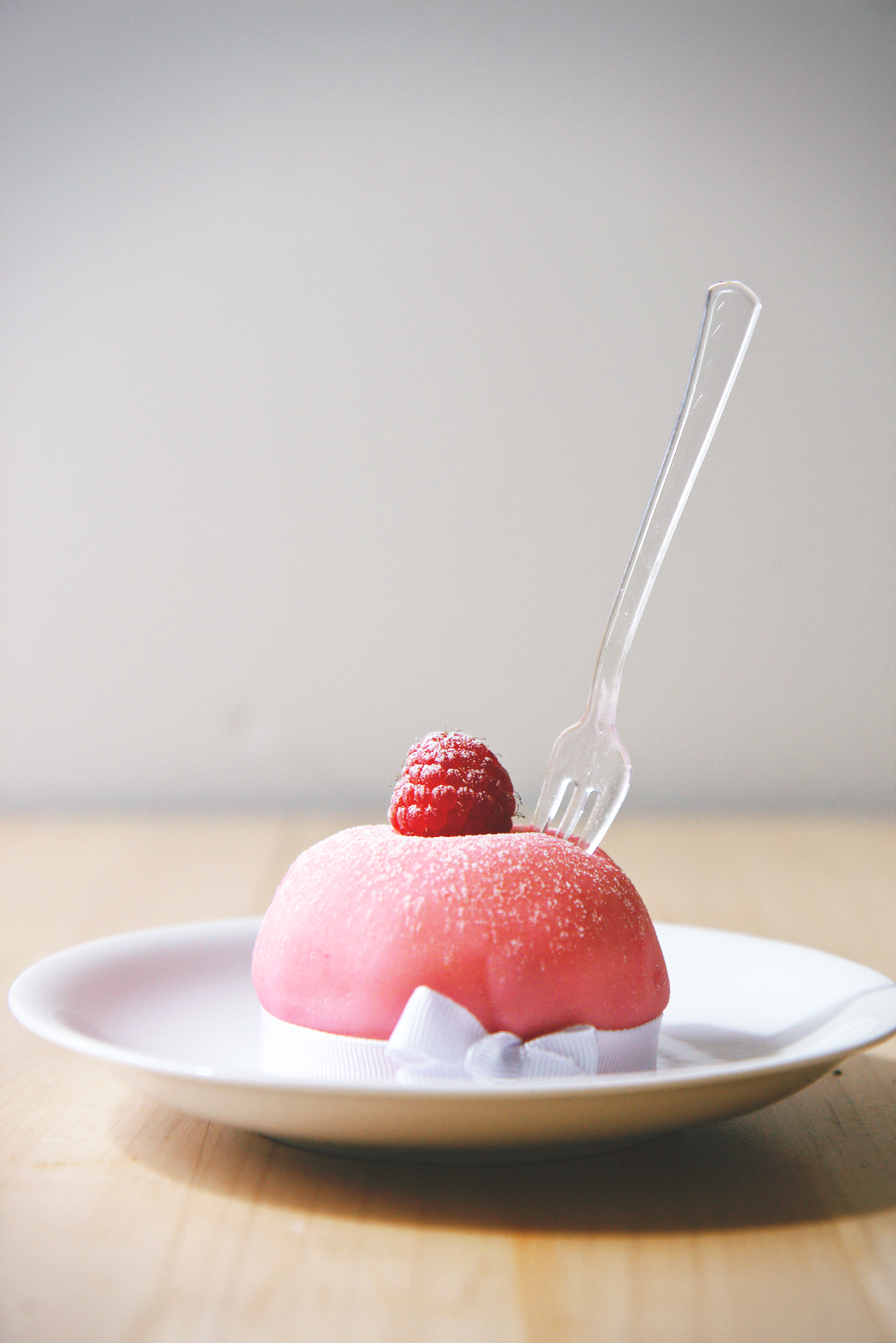 Mini Raspberry Prinsesstårta (Princess Cakes)
sponge portion adapted from Poires au Chocolat
ingredients:
for the sponge:
80 grams flour
30 grams cornstarch
1/2 tsp baking powder
pinch of fine sea salt
3 eggs
25 mL cold water
120 grams sugar
to assemble:
480 mL (2 cups) heavy (double) cream, cold
1/4 cup powdered sugar, sifted
1/4 cup raspberry jam
15 raspberries
200 grams marzipan, tinted however you like
powdered sugar
directions:
Make the sponge: preheat oven to 350 degrees F and grease, line with parchment paper, and lightly flour an 11×15 inch jelly roll pan.
Whisk flour, cornstarch, baking powder, and sea salt together.
Separate eggs and place whites in the bowl of a stand mixer.
Whisk the egg yolks with the cold water and sugar for 4 minutes (until pale and fluffier), then sprinkle the flour mixture over and gently fold in until mostly combined (some pockets of flour should be present).
Begin to whip the egg whites with the whisk attachment; whip until they reach stiff peaks.
Fold the egg whites in, gently, to the egg yolk mixture.
Fold until the flour pockets are gone and the egg whites are all incorporated homogeneously.
Do not over-fold.
Spread the batter all over the jelly-roll pan.
Bake for 12 minutes, until golden and springy in the middle.
Remove from the oven and sprinkle lightly with powdered sugar.
Cut 2-3 inch rounds while still somewhat warm; discard/snack on scraps.
Allow the rounds to cool before assembling.
To assemble, first roll the marzipan out very thinly and cut rounds that are approximately 2 inches larger in diameter than the sponge cake rounds.
Spread a small amount of raspberry jam onto the cakes, then place a raspberry in the center.
Heap up whipped cream on the cake, shaping it with a mini offset spatula into a dome shape.
Drape marzipan over the cake and smooth, folding wrinkles to look uniform.
Repeat with all the rounds.
Top each with a second raspberry and a dusting of powder sugar.
Serve slightly chilled, with strong tea.