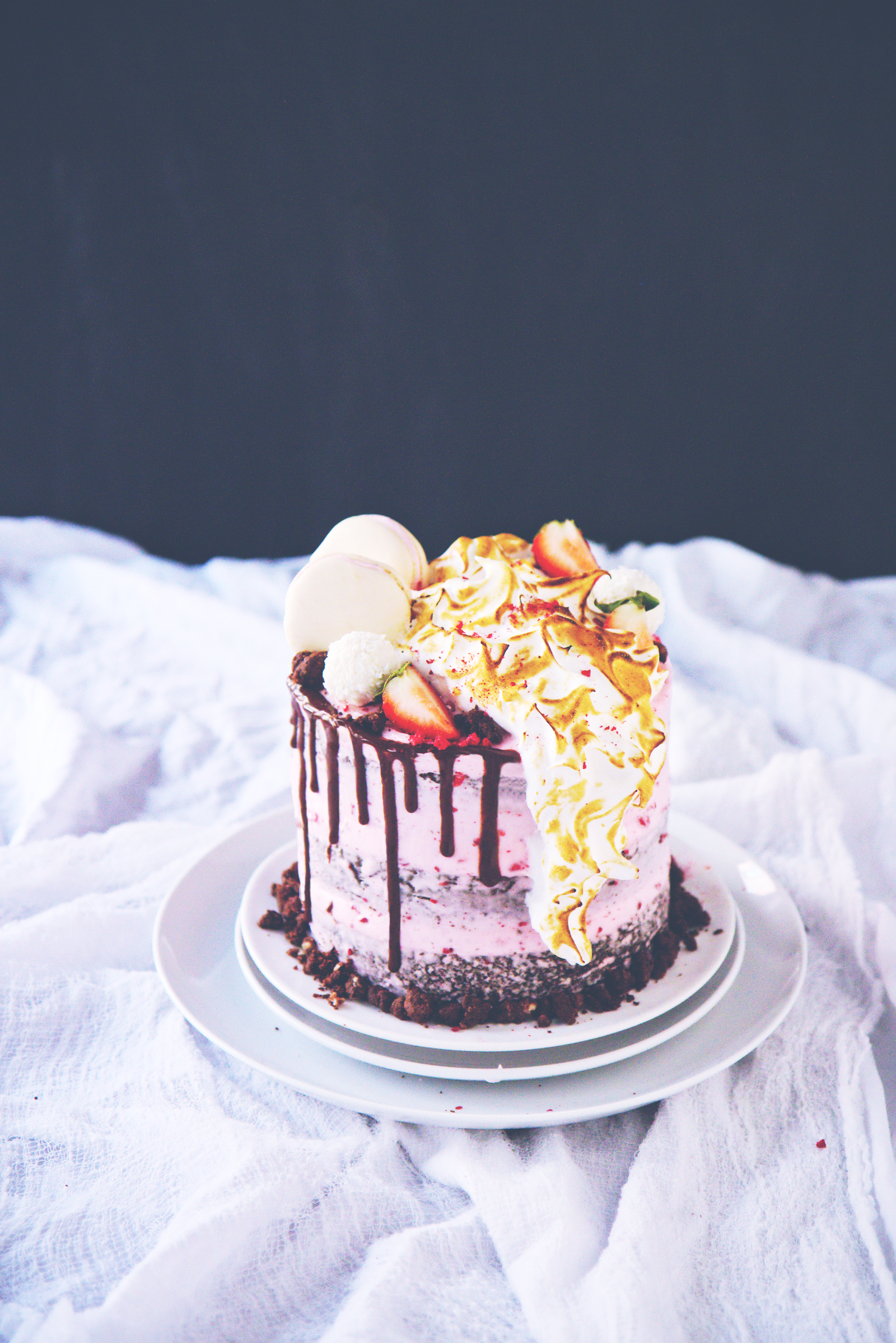 "Recognizing that people's reactions don't belong to you is the only sane way to create.
If people enjoy what you've created, terrific. If people ignore what you've created, too bad.
If people misunderstand what you've created, don't sweat it.
And what if people absolutely hate what you've created? What if people attack you with savage vitriol, and insult your intelligence, and malign your motives, and drag your good name through the mud?
Just smile sweetly and suggest—as politely as you possibly can—that they go make their own fucking art.
Then stubbornly continue making yours."
― Elizabeth Gilbert, Big Magic: Creative Living Beyond Fear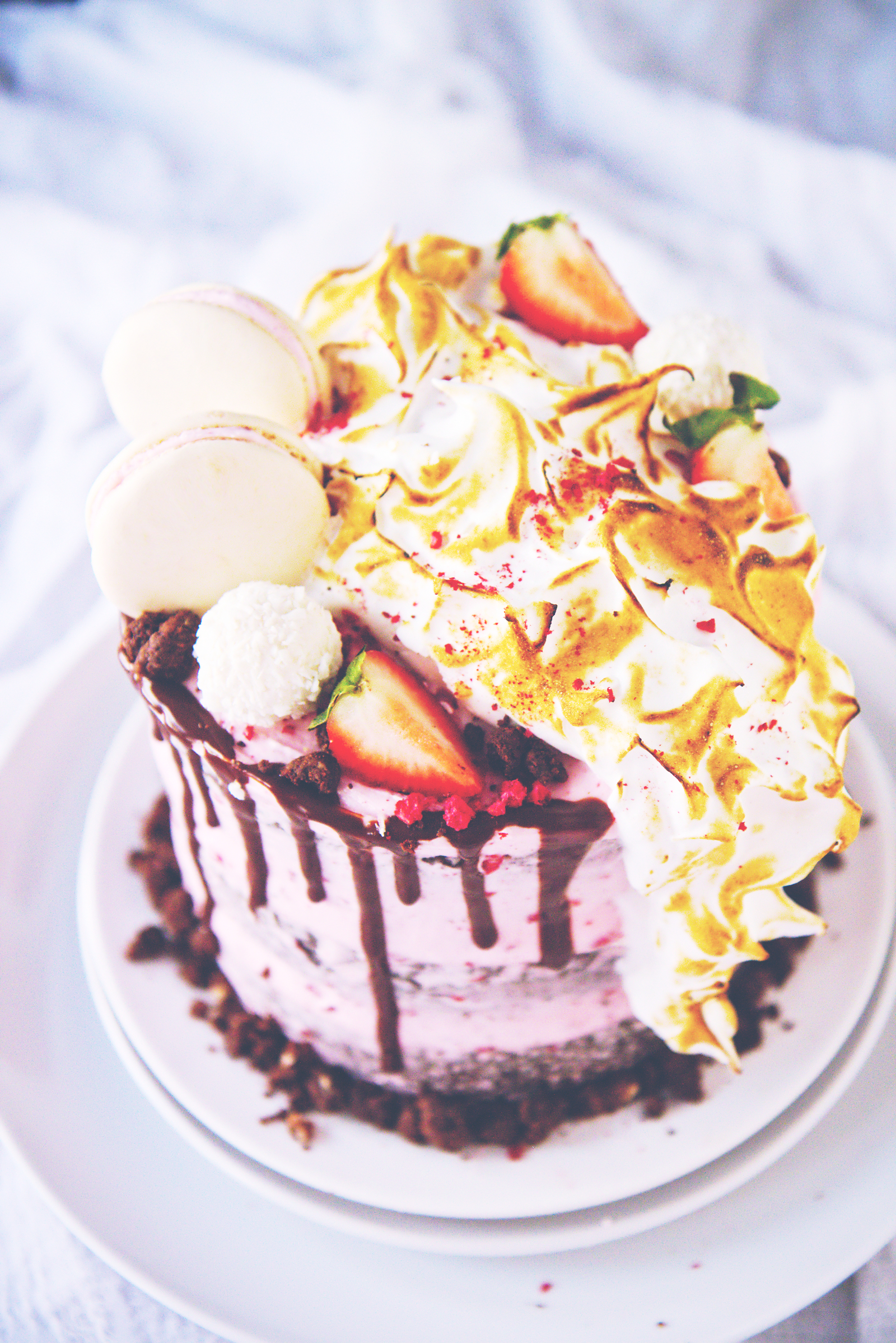 Happy birthday to this little blog!
La Pêche Fraîche is four years old.
Which means I've been running this blog for 20% of my time on this earth. Don't ask me how…
The blogiversary rundown:
3 years
2 years
1 year (Oy vey.)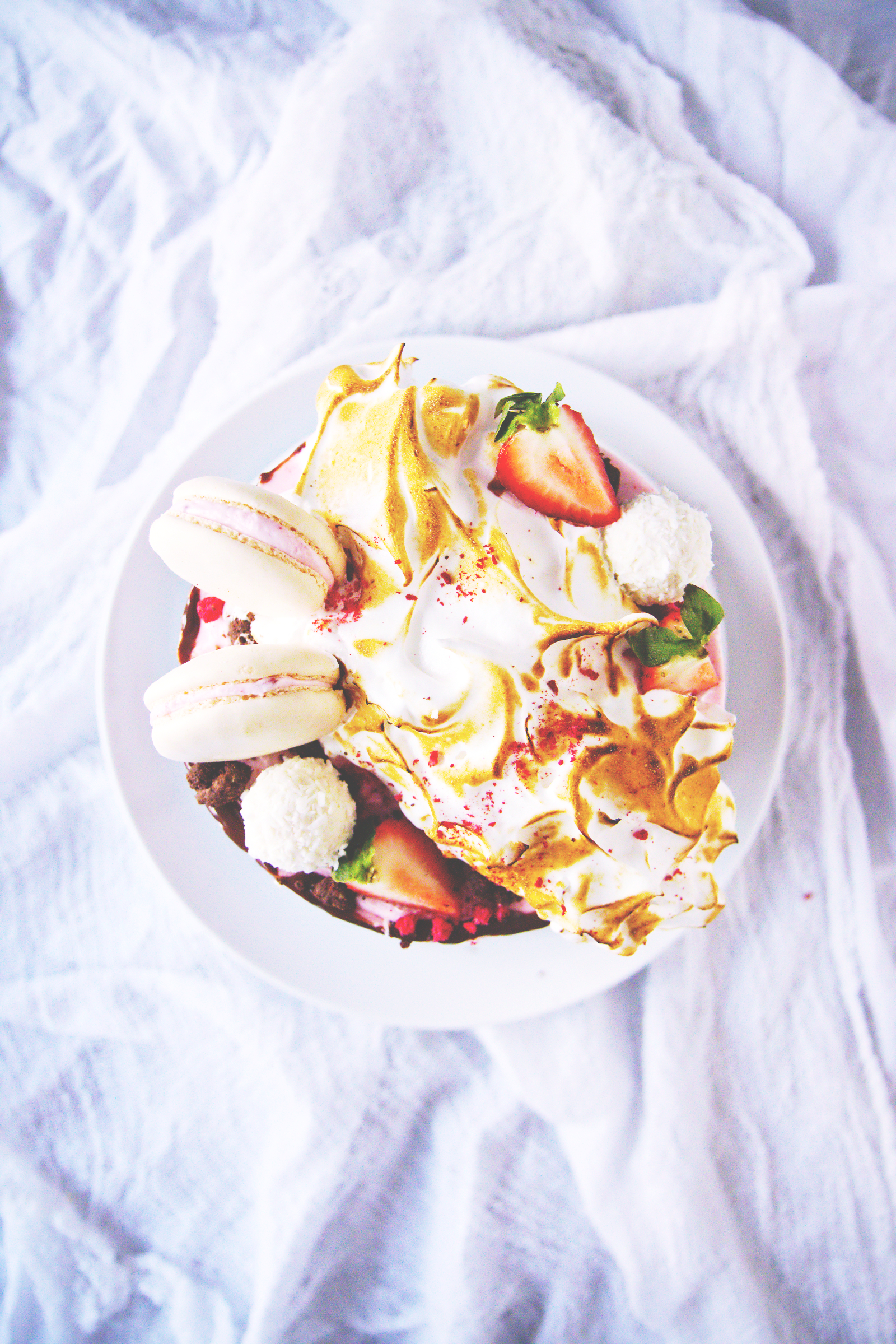 My blog has grown along with me, starting at the tender age of 16 and sticking with me as I graduated high school and left home for the first time to come to UChicago, got my first (and second) real job, moved to NYC all on my own, snagged a wonderful boyfriend etc, etc.
The coming year will see me turn 21, will see me finish up college (yipes), and more. If all goes as planned, there will be many, many sweet treats to share along the way.
You'd think that by now, I'd have gotten the hang of things, but every new post is a learning experience.
Take this post, for example.
Another blogiversary means another pink cake. It's become tradition for me, although I do suspect that I will, at some point, run out of pink cake ideas. I didn't have much time to make the cake so I tried to prep ahead; I didn't have enough egg whites to make an Italian meringue buttercream so I went with American; my macarons were far from perfect (surprise, surprise). My chocolate ganache drip looked a bit wonky and I ended up disliking the minimal frosting look, although the entire cake together had a sort of eclectic charm.
All things to learn from, and not terrible goof-ups.
But then! I managed to leave my camera at 1600 ISO throughout the entire. stupid. shoot. And what's more, I didn't notice until the next time I pulled out my camera, meaning half a week later, when the cake was long, long gone. Damn.
And now, the majority of this post is going to be me complaining about this post. Hahahaha.
All in all, I actually prefer last year's and the year before. Both the aesthetics of the cakes and the words contained within the post. So maybe go read those.
That being said, this cake was a runaway hit with everyone who tasted it, so I'll count it in the successes, rather than the flops.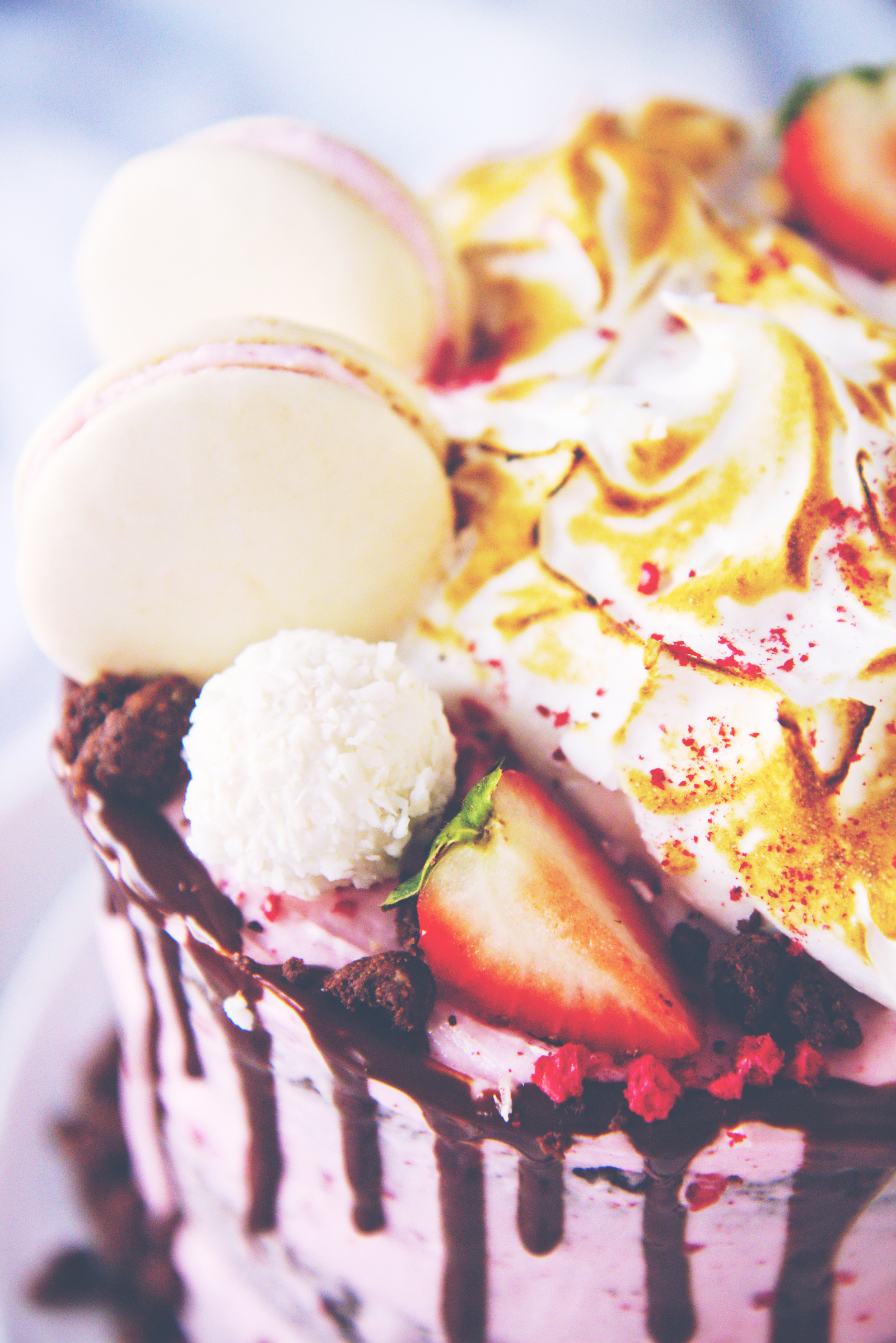 This cake is a mix of inspiration from Andy Bowdy, Don't Tell Charles, and Cordy's Cakes, all of whom you can find on Instagram, and all of whom make jaw-dropping cakes.
It's a moist chocolate cake filled and frosted with raspberry buttercream, with layers of almond macaron shells, decorated with a river of toasted Italian meringue, dark chocolate ganache drips, coconut rafaellos, cocoa crumble, more macarons, and strawberries.
There are many components, but most can be made ahead, and it is really a delicious combination.
The macaron shells between the cakes are a magical touch. I had a few people come up to me after eating the cake who asked what in the world was between the layers that made the cake sooo damn good. I had forgotten to tell everyone that there were cookies inside the cake.
Surprise cookies are almost always magical.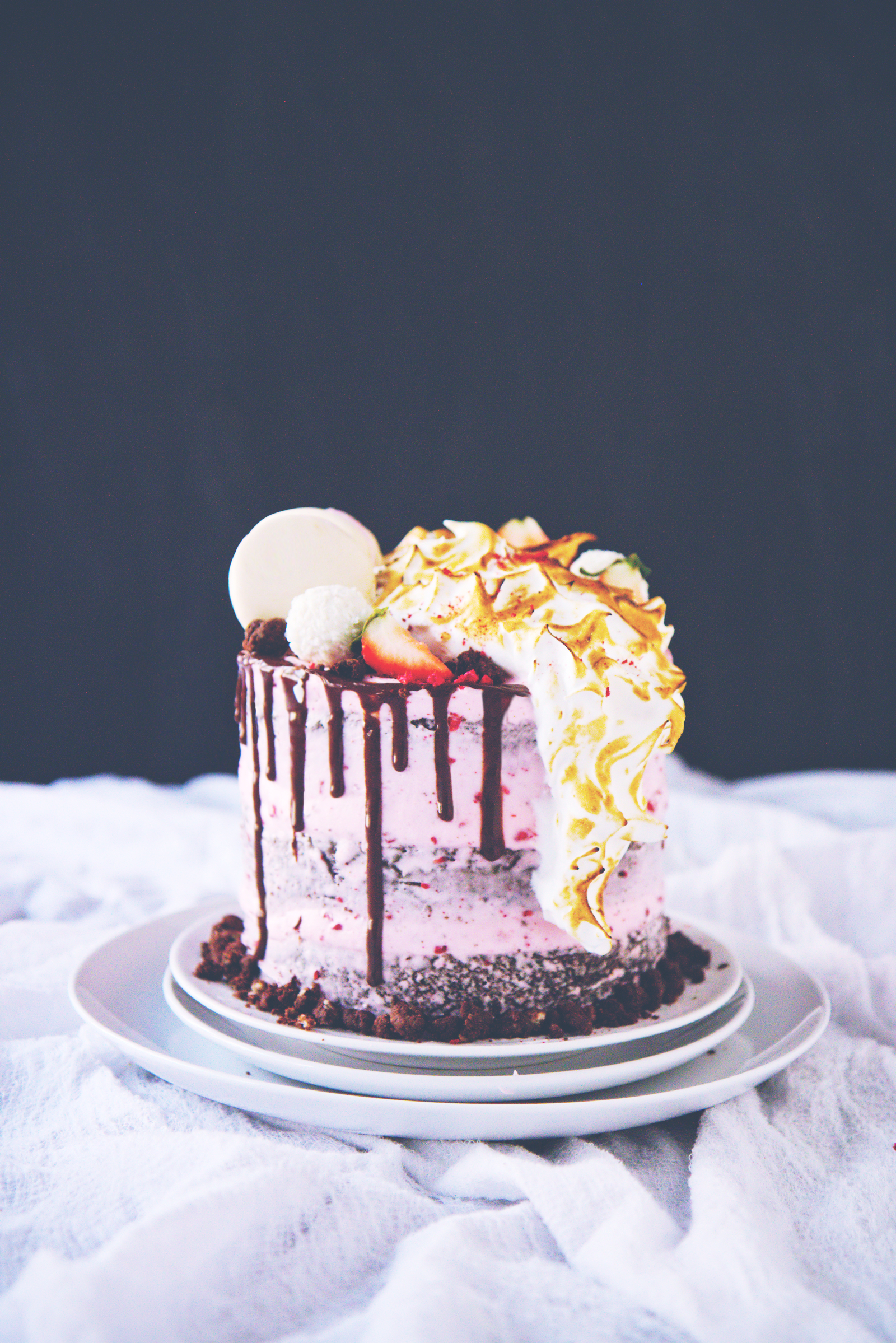 Thank you all for your continued support, love, and readership.
I appreciate everyone who visits this page, even when nothing exciting or new is happening.
La Pêche Fraîche may be my own folly, but in the end, it is for you.
Here's to another year of love, happiness, and lots of cake.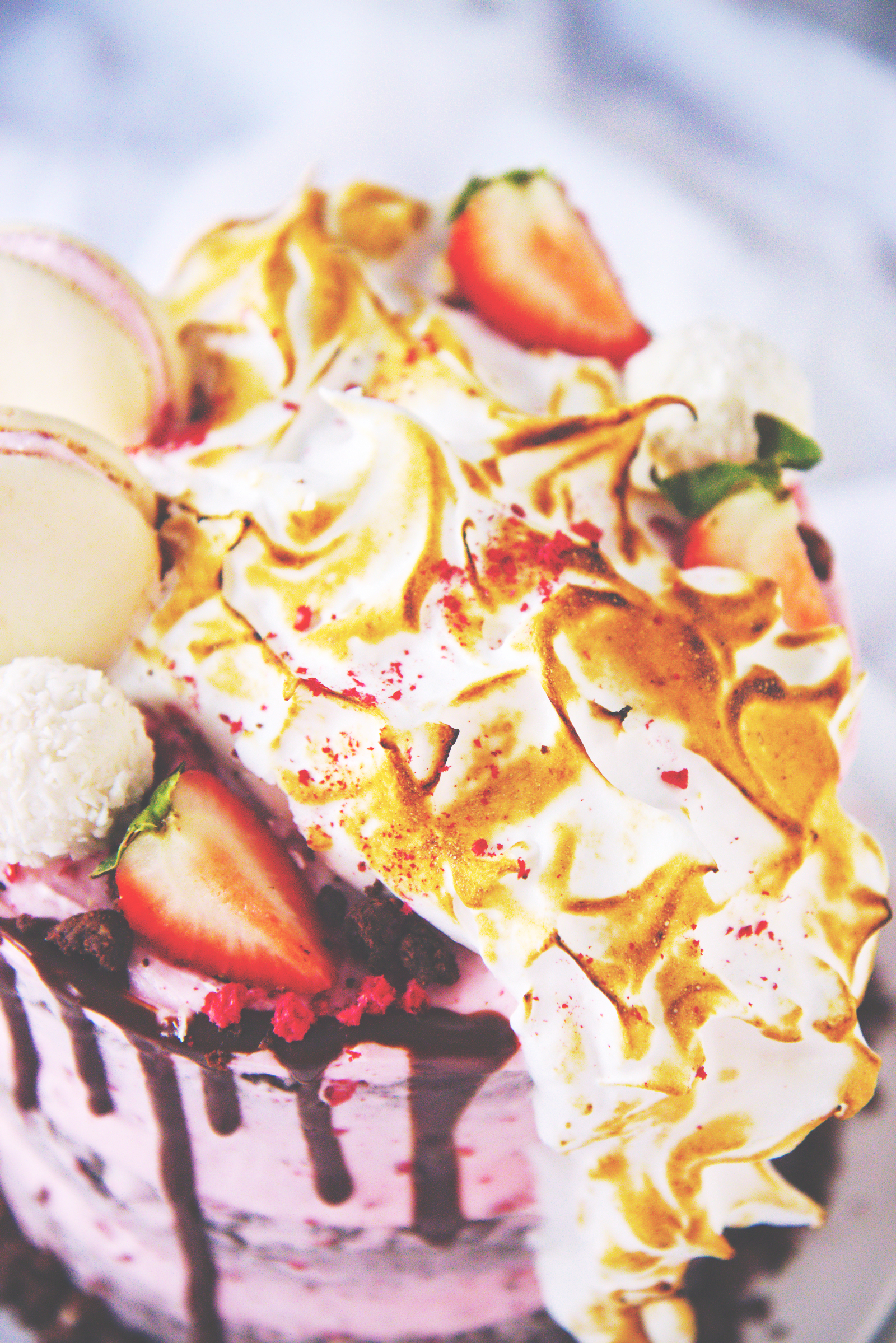 An Eclectic Chocolate Cake
makes 1 3-layer 6-inch cake
cake portion from Liv for Cake
ingredients:
for the cake:
90 grams (3/4 cup) cocoa powder
300 grams (1 1/2 cups) granulated sugar
56 grams (1/4 cup) vegetable oil
180 grams (3/4 cup) buttermilk
180 grams (3/4 cup) hot coffee
1 teaspoon salt
2 eggs
2 teaspoons vanilla extract
180 grams (1 1/2 cups) AP flour
1 1/2 teaspoons baking soda
1 teaspoon baking powder
for the raspberry buttercream:
225 grams (1 cup) unsalted butter, softened
1/2 teaspoon kosher salt
600 gram (5 cups) confectioner's sugar, as needed
30-90 grams (2-6 tablespoons) half-and-half or whole milk, as needed
1/3 cup freeze-dried raspberries, crushed into powder
drop pink food coloring, if desired
for the meringue:
2 large egg whites
100 grams (1/2 cup) granulated sugar
pinch salt
30 grams (2 tablespoons) water
for the cocoa crumb:
30 grams (2 tablespoons) butter, melted
30 grams (1/4 cup) confectioner's sugar
20 grams (2 tablespoons plus 2 teaspoons) flour
15 grams (2 tablespoons) cocoa powder
to decorate:
60 grams (2 ounces) dark chocolate, chopped
60 grams (1/4 cup) heavy cream
sliced strawberries
rafaellos
1 batch macaron shells
crushed freeze-dried raspberries
directions:
Make a batch of macaron shells (I use Annie's recipe and follow her directions to a T) ahead of time and store in a air-tight container.
To make the cocoa crumb: preheat oven to 350 degrees F.
Line a sheet pan with parchment paper.
Stir together the melted butter with the sugar, then add the flour and cocoa powder at the same time. Carefully incorporate until the mixture is sandy and crumb-like.
Shake the crumbs onto the prepared pan and separate a little; bake for 5-6 minutes, until dry to the touch; allow to cool.
Crumb can be made up to a week in advance and stored in an air-tight container.
Make the cake: grease and flour 3 6-inch round pans.
Place cocoa powder and granulated sugar in a big bowl; whisk together.
Add the oil, buttermilk, hot coffee, and salt and whisk vigorously until combined.
Add the eggs, whisking after each addition.
Stir in the vanilla.
Add the flour on top of the batter and the baking powder and baking soda on top of that.
Whisk the batter together until it is homogenous; it will be liquidy.
Portion out evenly into the 3 prepared pans and bake for 15-18 minutes in a 350 degree F oven, or until a tester comes out with a few moist crumbs.
Allow to cool completely.
Meanwhile, make the frosting: place butter and salt in the bowl of a stand mixer fitted with the paddle attachment.
Beat on high speed for 2 minutes, until very light colored and doubled in volume.
Scrape the sides of the bowl and add in 4 cups of the powdered sugar 1/2 cup at a time, beating on high speed after each addition.
Add in 2 tablespoons of half-and-half and beat on high speed to incorporate.
Scrape the bowl and taste the frosting; if it is too thin, add the next cup of powdered sugar; if it is too thick, add another tablespoon of half-and-half at a time.
If it is too buttery, add the extra cup of powdered sugar plus 2 tablespoons half-and-half and beat on high speed for another minute.
Add the crushed freeze-dried raspberries and food coloring, if desired, and beat to combine.
To assemble the cake, place 1 layer on serving platter and top with 1/2 cup of frosting; top with a few macaron shells and the next cake layer.
Repeat until last cake layer is used; frost with the remaining icing, leaving it semi-naked if desired.
Place in fridge while you prepare the toppings.
Melt chocolate 2/3 of the way in the microwave; microwave the cream until hot but not boiling.
Pour cream over chocolate and set aside for 1 minute.
Fill a few of the macaron shells with extra frosting; set aside or put in fridge to set.
Whisk the ganache together until very shiny, smooth, and uniform; set aside while you make the meringue.
Place egg whites and a pinch of salt in the clean bowl of a stand mixer fitted with the whisk attachment.
Place sugar and water in a small pot over medium heat; begin whipping the egg whites.
When syrup reaches 240 degrees F, the egg whites should be at soft peaks.
Carefully pour hot syrup into whipping egg whites and whip on high speed until cooled, fluffy, and shiny, about 2-3 minutes.
Remove cake from fridge and decorate with a mound of meringue.
Arrange cocoa crumbs around the bottom, pour a little ganache down the sides to create a drip, and arrange sliced strawberries, more cocoa crumbs, macarons, and rafaellos around the meringue.
Torch meringue and sprinkle a little freeze-dried raspberry powder over the cake.
Serve within the day.