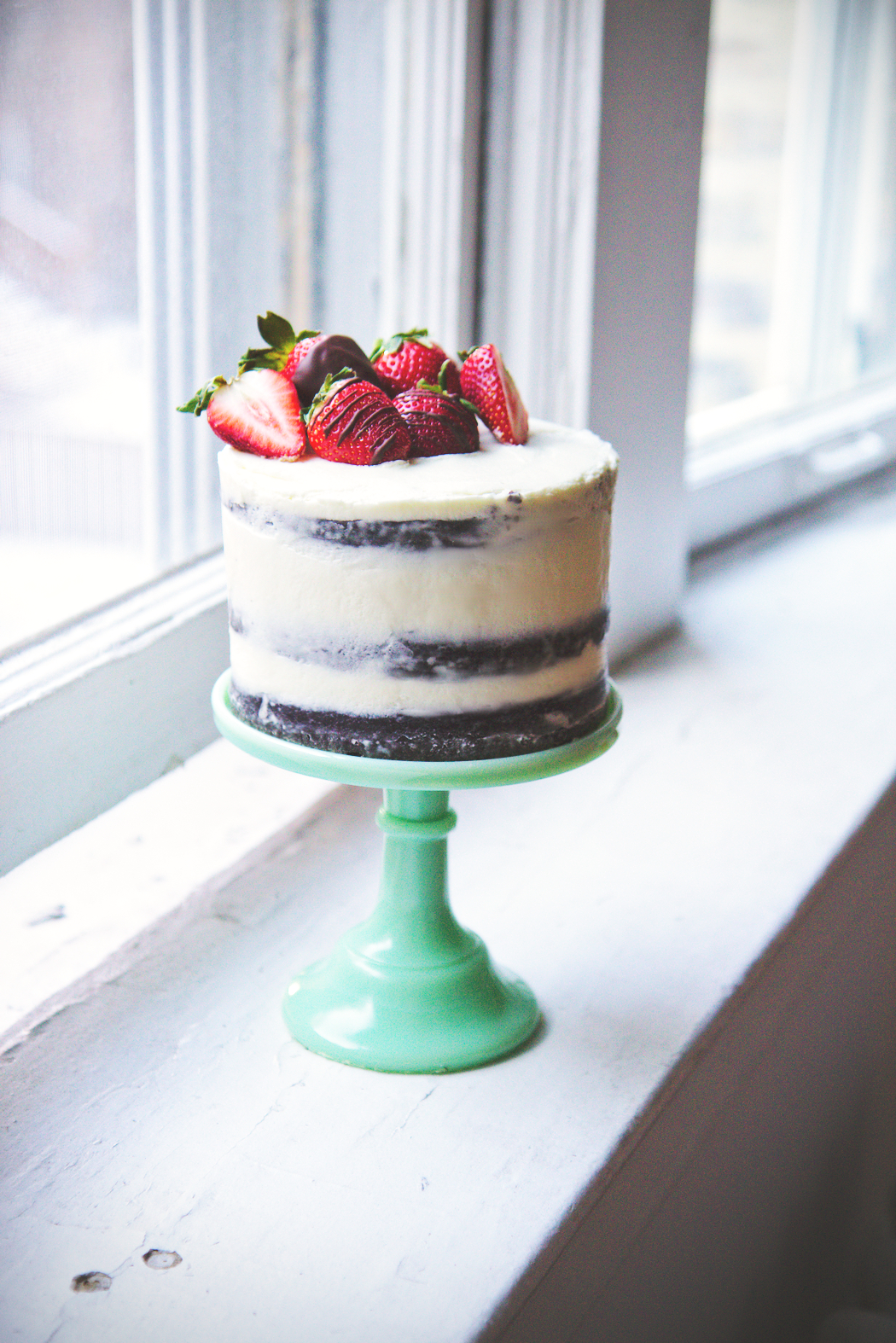 "As the winter winds litter London with lonely hearts
Oh, the warmth in your eyes swept me into your arms
Was it love or fear of the cold that led us through the night?
For every kiss your beauty trumped my doubt."
—Mumford and Sons, Winter Winds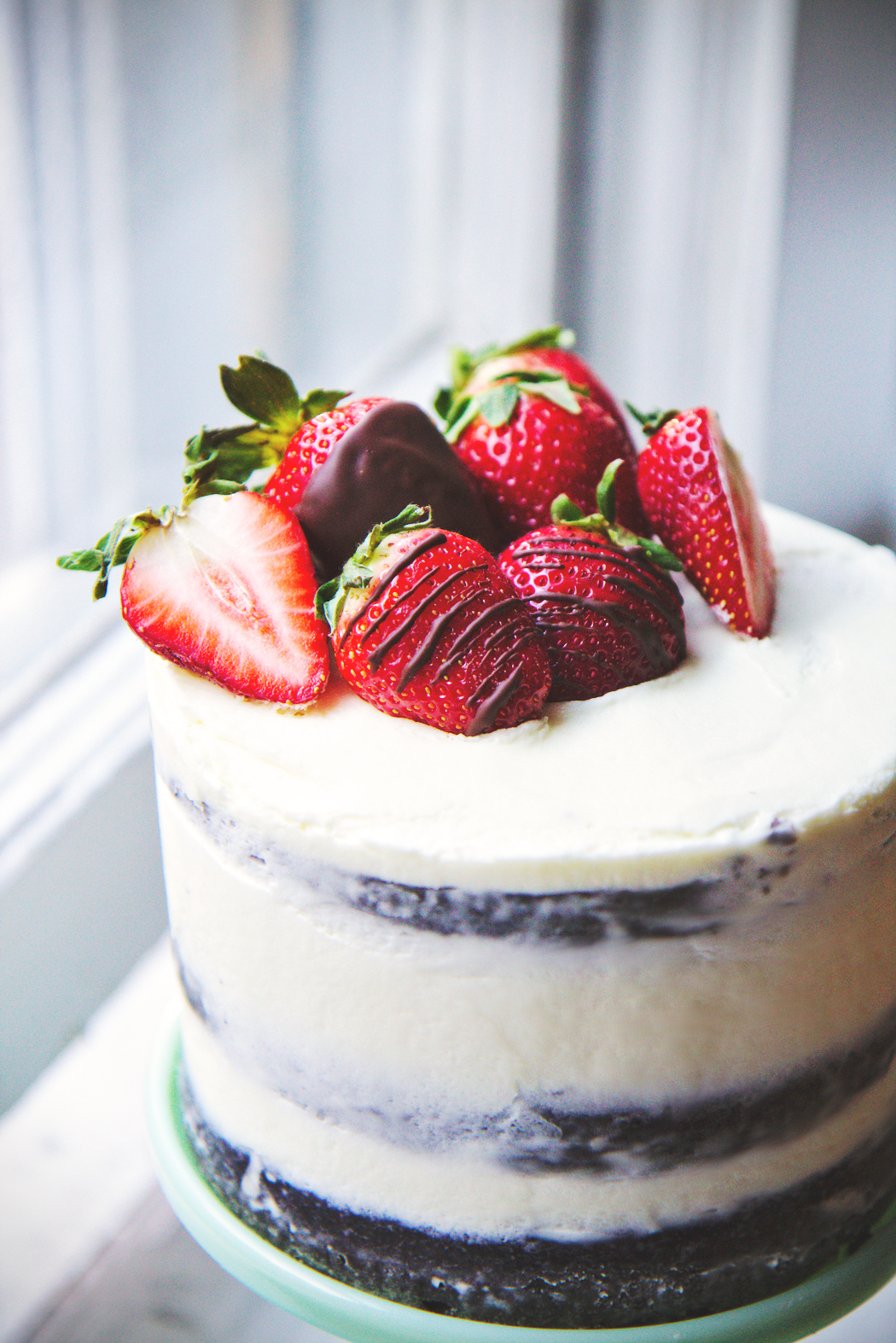 Current mood: ecstatic.
Reasons: Game of Thrones Season 5 trailer was released.
The Game of Thrones Season 5 trailer was released two days ago and I have watched it 19 and a half times.
Despite the half foot of snow that smothered Chicago on Sunday and the reading and pset sitting in my "to-do" pile, I am very, very happy.
(I just watched episode 2 of season 1 for, incidentally, the 19th time…  Am I obsessed yet?  Yes.)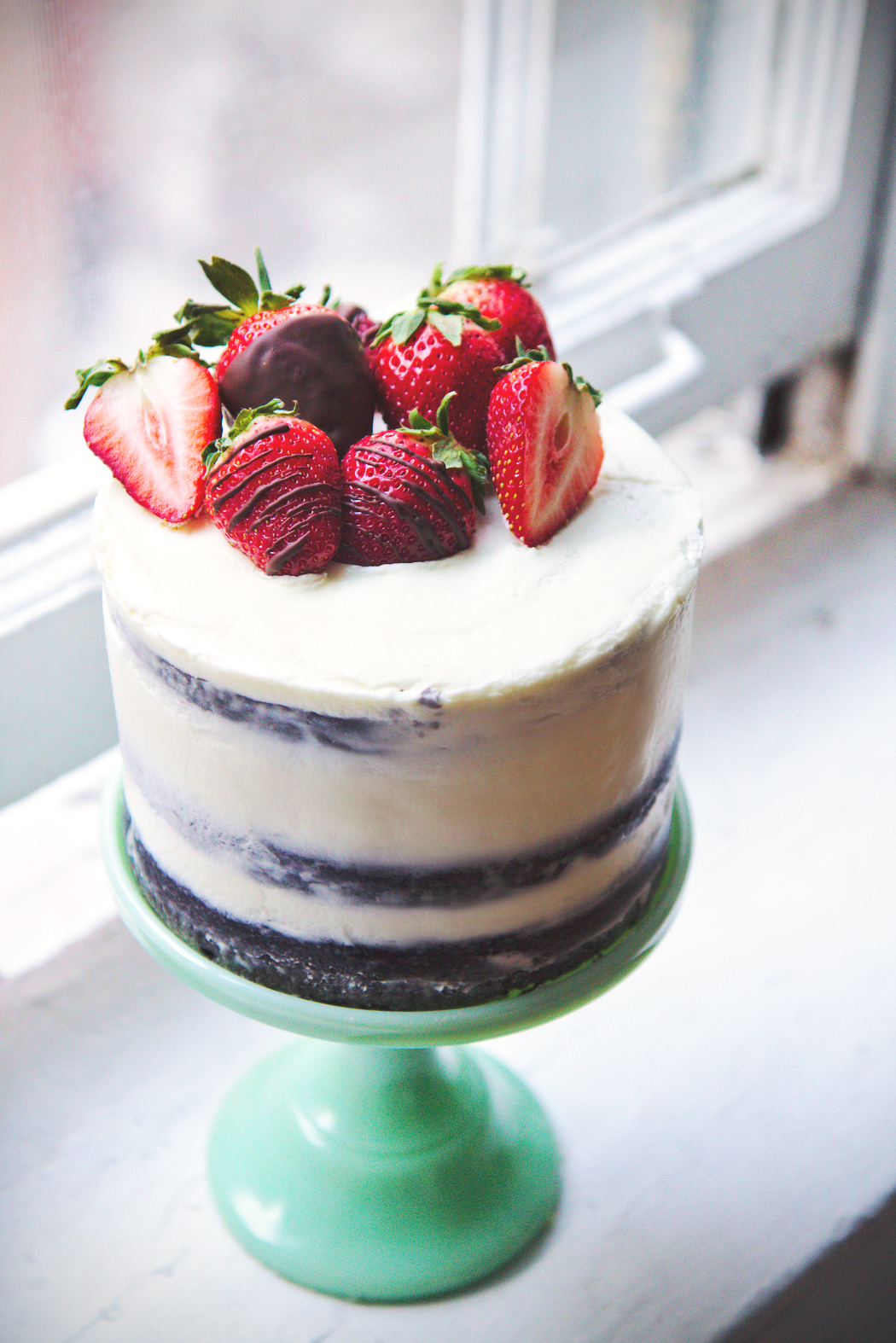 If you're anywhere on Pinterest or instagram (hey, you! Go follow me. The link in under that picture –> over there), you know about the naked cake boom that has been taking over weddings, pastry, and the food-blogosphere.
They're trending.
#nakedcake
What is a naked cake?  It's a cake whose layers show through the (minimal) frosting.  They're often topped with berries or flowers, and they are so so so pretty as big tiered towers.
Here, check out this beautiful board of cakes.  OMg.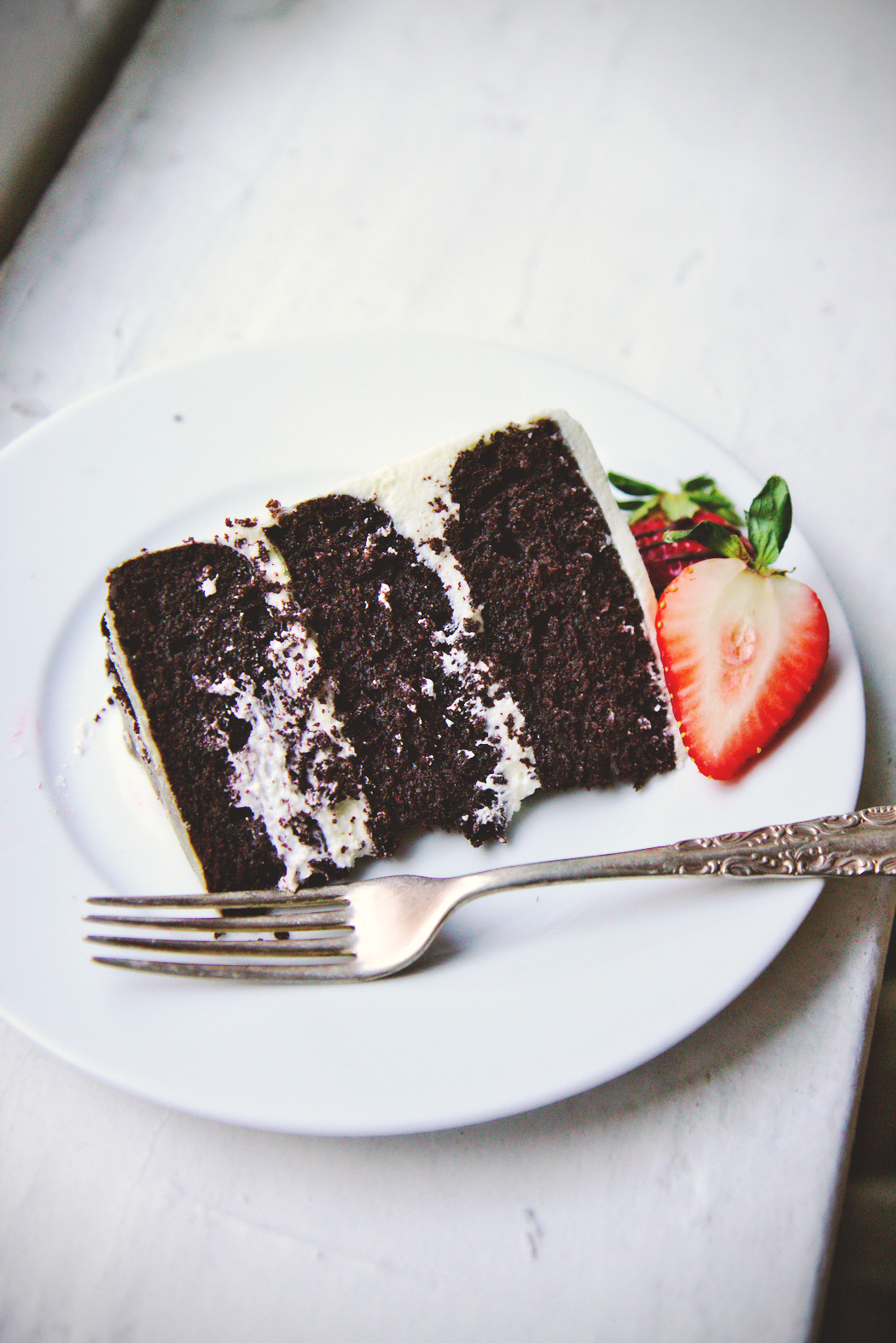 I thought a ~naked~ cake would be perfect for Valentine's day.
Did I just say that?  Oh, God.  I was joking.
(My dearest father is cringing somewhere.  Sorry family.)
This is the first one I made.
I learned some lessons along the way.
First, choose a sturdy cake.  You don't want a ton of crumbs.
Second, also use a thick, sturdy frosting.  You want it to hold up even in a fairly thin layer.
Third, berries always look amazing on top of a cake.  And they would be delicious inside of the cake, provided that you don't have a roommate who is averse to fruit.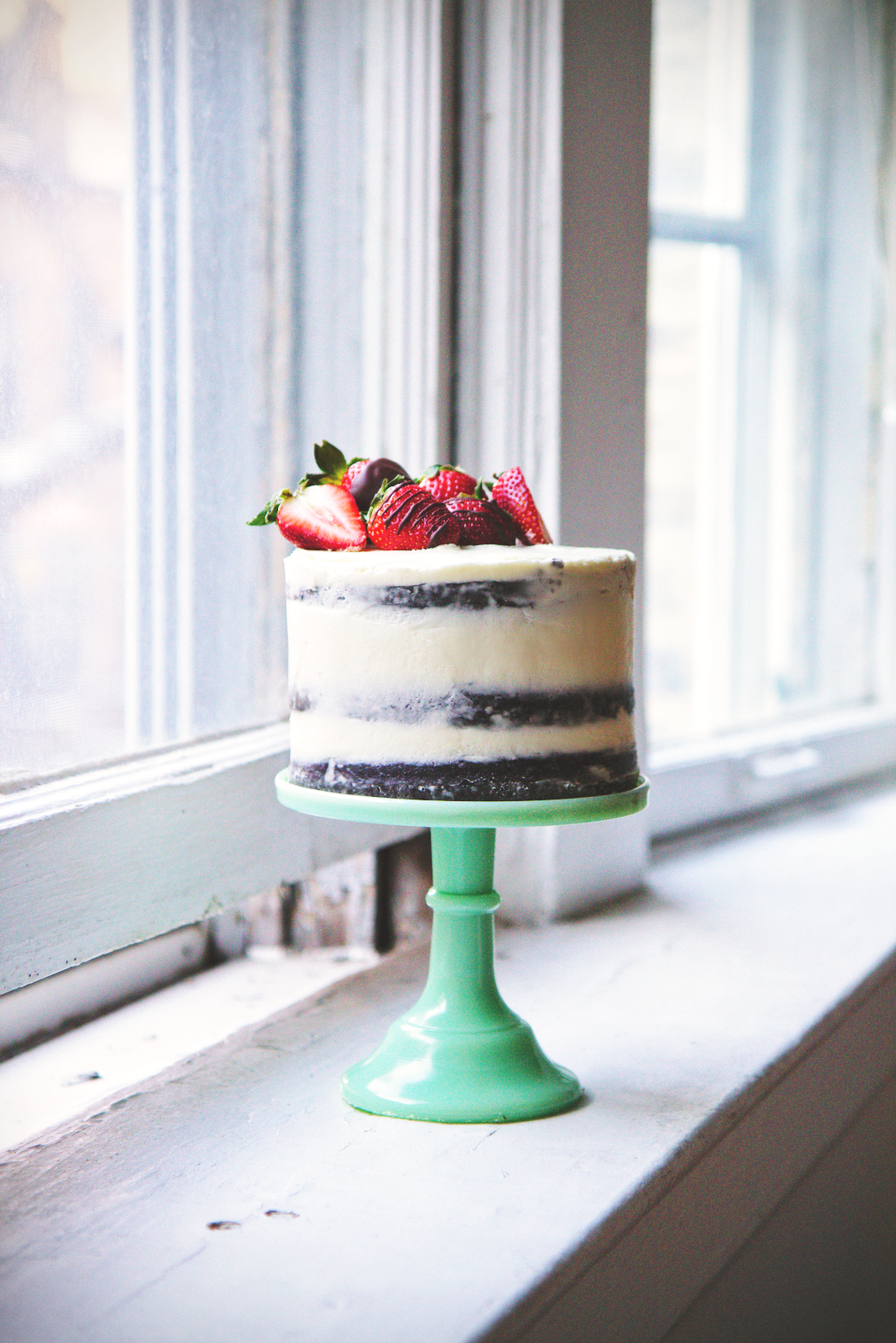 The cake base for this cake is my absolute go-to chocolate cake; it's a recipe I've been working on and modifying slightly as time progresses. It's perfectly moist and finely-crumbed while staying sturdy and not falling apart.
It slices like a marvel and is deeply chocolaty with a hint of balancing salt and a firm bite.
The frosting is a traditional American buttercream with a twist: a touch of goat cheese gives it creamy tang, with an earthiness that pairs well with cocoa.  A touch of cream keeps it soft and spreadable, and a shower of powdered sugar plays the foil to the deep, damp cake.
The chocolate covered strawberries on top make the cake extra special, and seriously…
Who doesn't love chocolate covered strawberries?! 
They make pretty much anything that much better.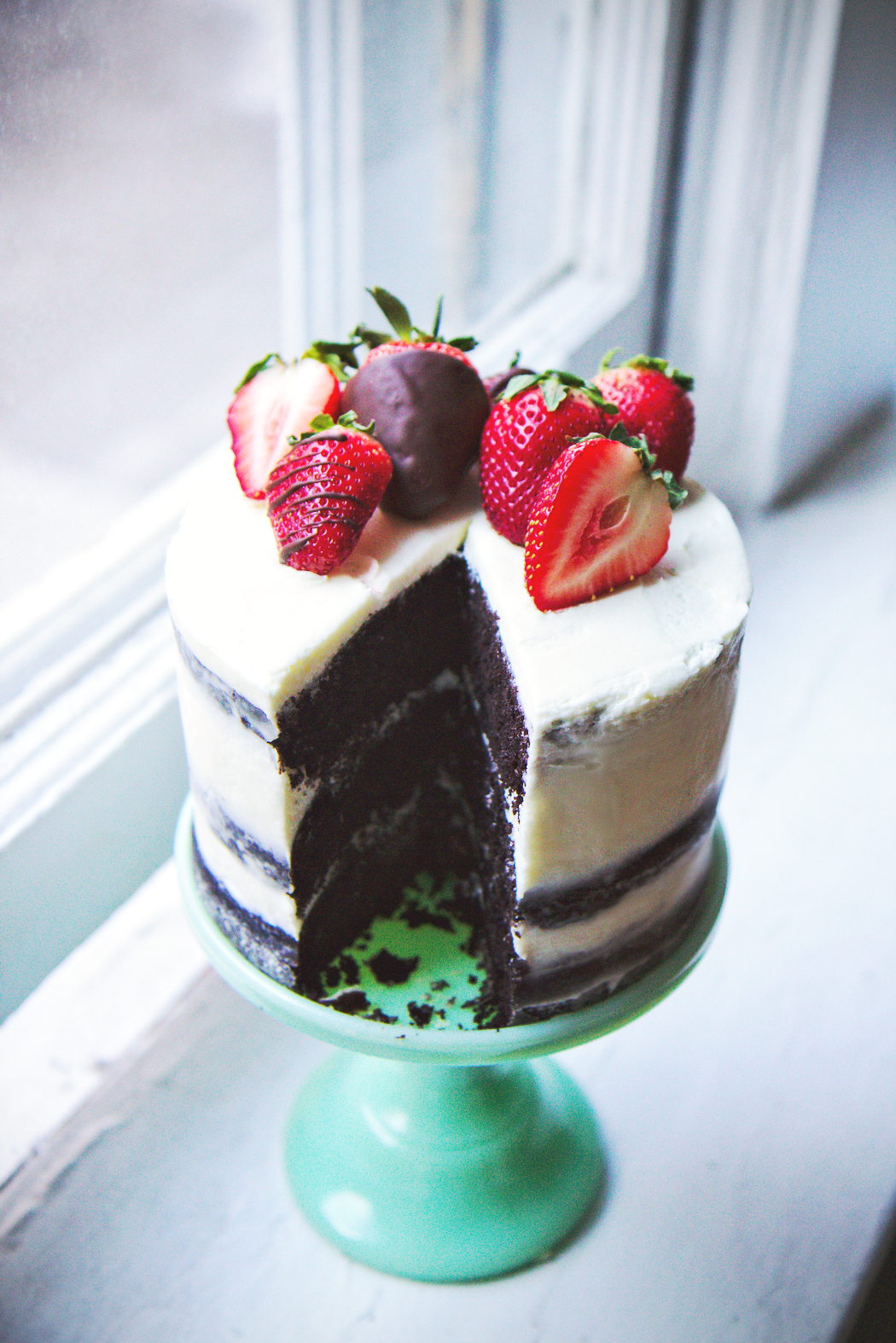 For my first naked cake, I'm pleased with how it turned out.
Soon, I want to try a vanilla cake so I can frost it even more sparsely (less worry about dark crumbs).
Also, after I just wrote that, I realized I have made one naked cake before: this rouge-fruited beauty.
Anyways, in keeping with the February spirit aka oh-god-it's-almost-Valentine's-day panic, I'm leaving you with this cake.
It's got chocolate, and cheese, and chocolate-covered strawberries; it's naked and surprising; it will win over any Valentine whom you desire*.
*results may vary
xx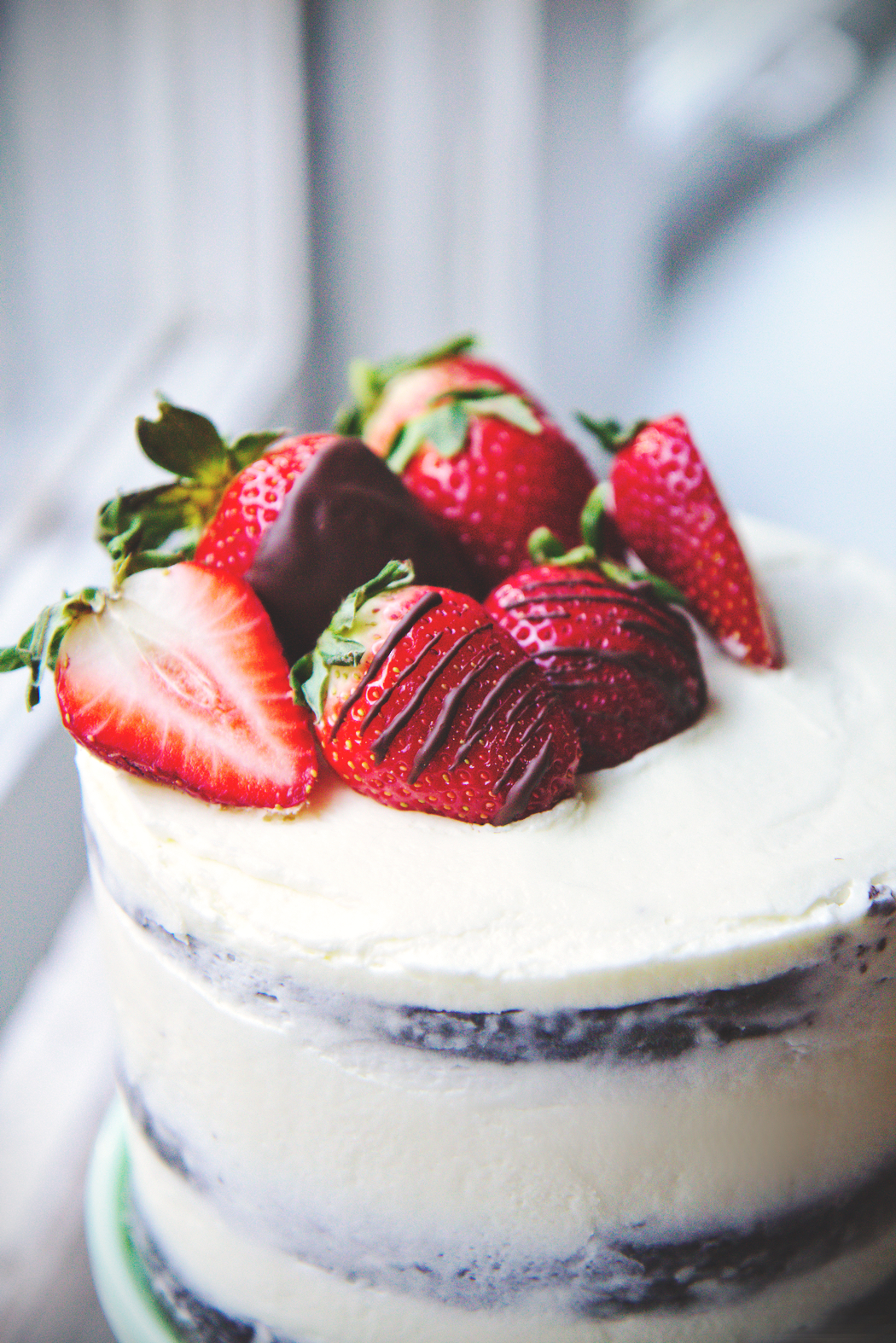 Chocolate Cake with Goat Cheese Frosting (and Chocolate Covered Strawberries)
makes 1 6-inch 3-layer cake
ingredients:
for the chocolate cake:
1/2 cup vegetable oil
1 1/2 cups sugar
1/2 teaspoon kosher salt
1 egg
1 1/4 cup hot water
1 tablespoon vanilla extract
1/2 cup cocoa powder
2 1/4 cups flour
1 1/2 teaspoons baking soda
for the goat cheese frosting:
8 ounces (2 sticks) butter, soft
3 ounces soft goat cheese, warmed to room temp
1/4-1/2 teaspoon kosher salt, to taste
3-4 cups confectioner's sugar, to taste
2-4 tablespoons heavy cream
for the chocolate drizzled/covered strawberries:
8 ounces strawberries, smaller is better
3 ounces dark chocolate
(sliced strawberries, optional, for between the layers)
directions:
Make the cake: preheat oven to 350 degrees F and butter and flour 3 6-inch round pans.
Whisk the oil, sugar, salt, and egg together vigorously until lighter in color and fully homogeneous.
Whisk the cocoa powder and vanilla extract into the hot water, then slowly stream it into the sugar mixture while whisking quickly.
Dump the flour on top of the batter and the baking soda on top of the flour.
Gently beat/stir to incorporate all of the flour evenly.
Portion batter out into prepared pans (you may have a little extra).
Bake for 18-22 minutes, until the tops are springy and a tester comes out nearly clean.
Allow to cool completely before frosting.
Make the frosting: beat the butter on high speed for 5 minutes, until super fluffy and light.
Beat in the goat cheese and salt until completely homogenized.
Sift the confectioner's sugar over the butter and cheese and slowly stir to combine; increase speed until completely mixed in and the frosting is fluffy.
Pour in cream 1 tablespoon at a time while whipping at high speed until the frosting is a pipeable consistency.
To frost the cake, place 1/3-1/2 cup frosting between each of the layers, then use the remaining frosting to crumb coat/frost the outside and top of the naked cake (optional: layer sliced strawberries over the frosting between the layers).
To make the chocolate covered strawberries, melt the chocolate over low heat, either over a bain marie or in a microwave.
When 3/4 of the way melted, whisk vigorously until the rest of the chocolate is melted and is shiny and smooth.
Dip or drizzle the strawberries as desired (do this over a piece of parchment paper).
Allow to cool and harden completely, then top the cake with the strawberries.