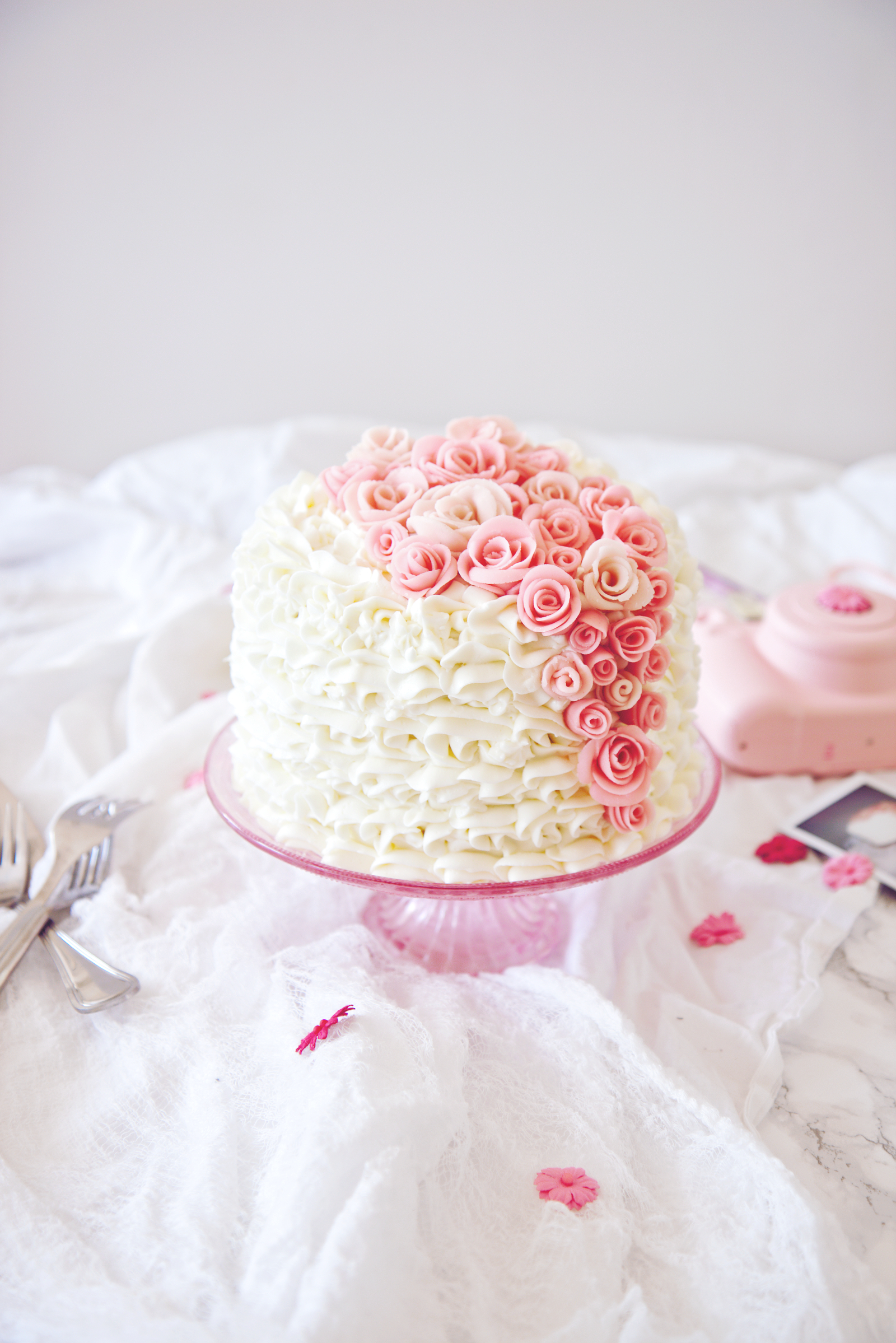 When you kiss me heaven sighs
And though I close my eyes I see la vie en rose
When you press me to your heart
I'm in a world apart
A world where roses bloom
And when you speak, angels sing from above
Everyday words seem to turn into love songs
Give your heart and soul to me
And life will always be la vie en rose
—Louis Armstrong, La Vie En Rose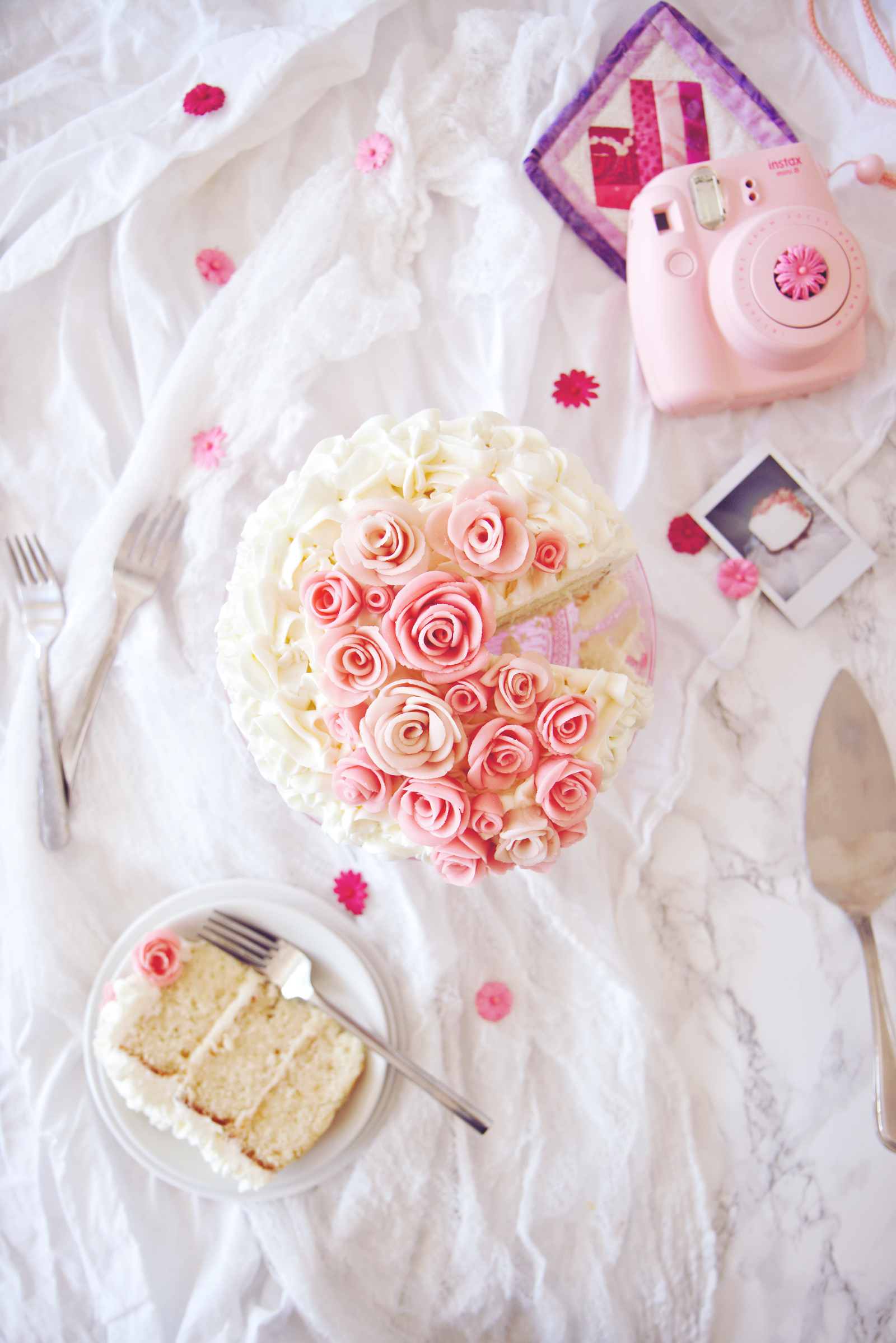 Happy Valentine's Day!
My hope for today is that it serves as a reminder for all of us to be more open and loving every day, to everyone. I love the badass, irrepressible origins of V-day, but I don't really buy into the modernized and commercialized part of it (ha, get it?!).
Hug and kiss your loved ones extra today, if you can, but also remember tomorrow how nice it can be when a stranger flashes a smile at you, or pays a coffee forward, etc. etc.
Now that I contemplate that, is it too late to add to my 2017 resolutions?!
I never turn down an opportunity to bake something whimsical and fun, however, so here we are with pink everywhere for the last three posts and I regret nothing. Pink is awesome.
As an aside: microbes are also f*&#ing awesome. Check out this adorable (OK, maybe only adorable to me) piece in the NYT about the microbiome, perfect for Valentine's Day. I maintain my stance that it is one of the last great frontiers left to us as the human race.
Also, shoutout to my wonderful roommate Alexa, whose adorable pink polaroid camera is featured in these photos. How cute, right?!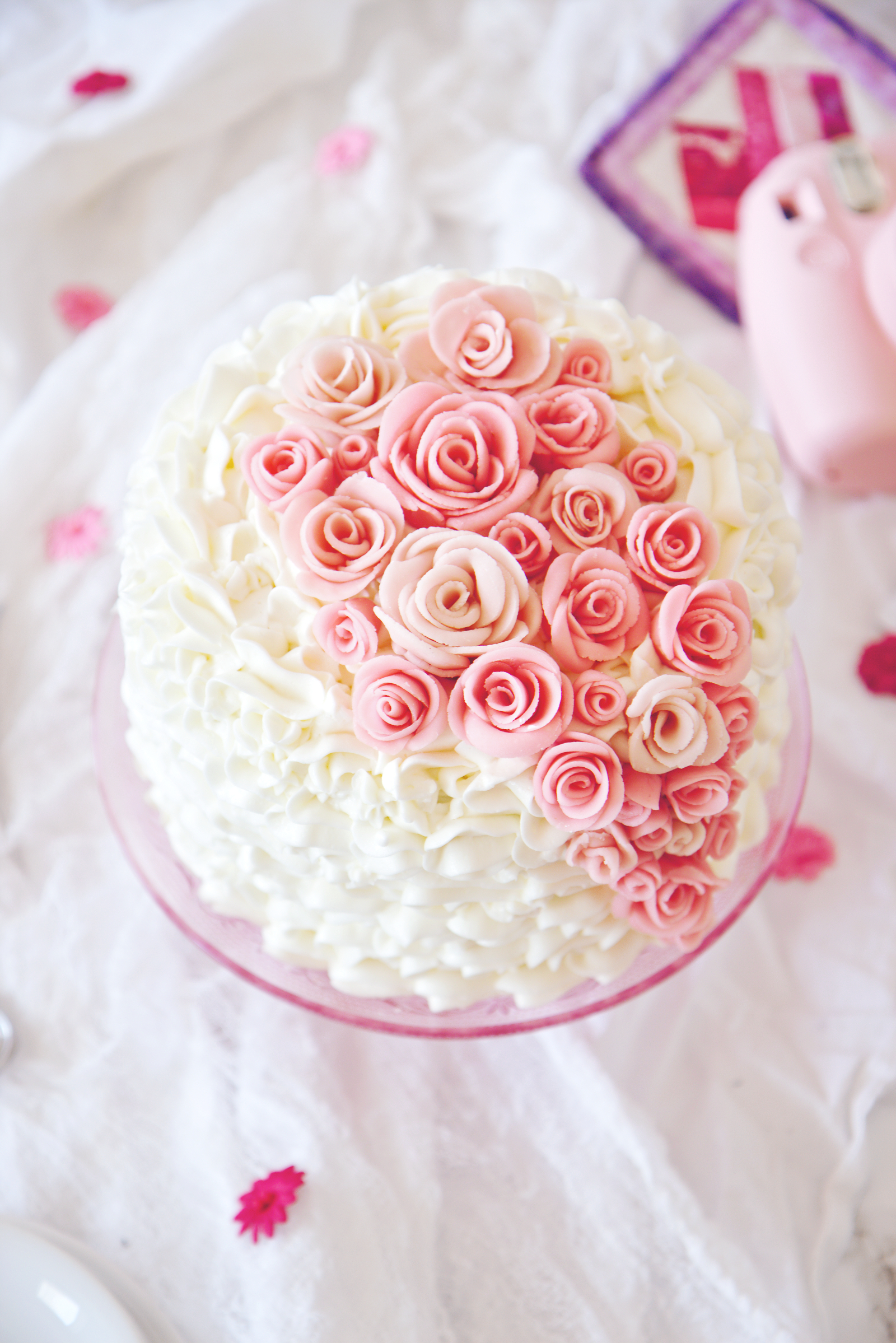 For this cake, I really wanted to play on the Swedish Princesstårta, or princess cake, which consists of a sponge, whipped cream, (sometimes) pastry cream, jam, and marzipan.
I made mini ones two years ago (gag, how is that possible), as you might have spied on my Instagram just a few weeks ago.
I bought this cookie cutter a while back, which purports to be the "easiest rose" in the world. I started dreaming of making roses out of marzipan, which I love with a burning, fiery passion, because I am somewhat turned off by fondant and gum paste.
So I hunkered down with a half-pound of marzipan last Friday and got to work; you will need a roller set and a foam board to properly create the roses. I also got through an entire movie and two hour-long shows before I was completely satisfied. I'm sure it could be done in less time—there is a slight learning curve, however! If you want to make your own roses, I suggest two things.
First, google "FMM easiest rose cutter how-to" or something along those lines in order to find a video that you can watch and learn from!
Second, if you want perfect, lifelike roses, do NOT use marzipan—use half fondant, half gum paste, or some other similar mix, because this will allow you to get thinner, non-ragged petals. Marzipan requires a slightly thicker petal, which obviously looks less true to life. You also may want to pick up some powdered colors, to dust on the edges of the petals—this makes it look very realistic.
All in all, my experience with the easiest rose cutter in the world was very positive, and I will be experimenting more with a sturdier mix of medium to make more realistic roses in the future!
If you do decide to use marzipan, rest assured that no matter how the roses look, they will be delicious: an advantage of marzipan is that it maintains its delightful chew even if prepared ahead, and it actually tastes good, unlike gum paste.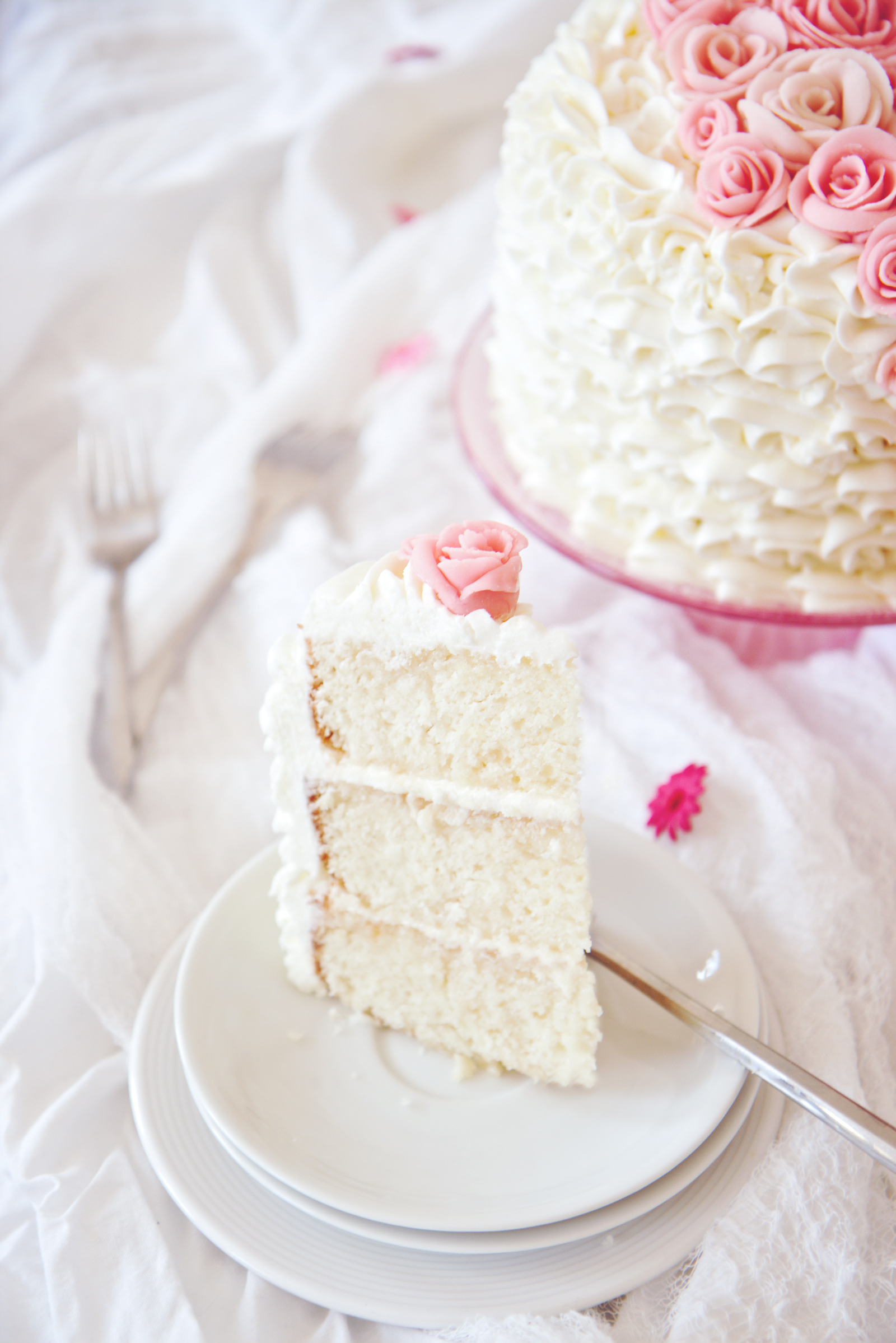 The base of the cake is a simple milky white cake. It's not too eggy, which is my main problem with many sponge cakes. It has a soft, fine crumb and doesn't overwhelm the other flavors.
An almond simple syrup is amply brushed over the cake, in order to retain moisture: another problem I have with many traditional white/yellow/sponge cakes is that they tend towards dryness.
Over that, I spread a thin layer of all-fruit apricot preserves—I use an all-fruit, no-sugar version because 1) it's what I always have on hand and 2) there is a lot of sugar going on in this cake, so it provides a nice, slightly tart contrast.
The frosting is an incredibly fluffy salted mascarpone buttercream, which is creamy just like the traditional whipped cream and which provides another type of contrast to the sweetness. I really wanted a big ruffly cake, so I laid an extremely thin crumb coat down and then piped big shells with a star tip to create a thick layer of frosting without overloading the cake itself. (Pro tip: fill in any small spots with a mini star tip and leftover frosting. The cake is very busy, so no one will notice any little patchwork you do.)
Finally, the chewy, sweet, and fragrant marzipan roses adorn the cake as the perfect accompaniment.
This cake takes all the classic flavors present in princess cake and updates the components. I'm thoroughly pleased with the results. It makes a stunning centerpiece to any celebration. I think this would be SO cute for a tea party or Galentine's day or any princess's party.
Sending love to all of you! xx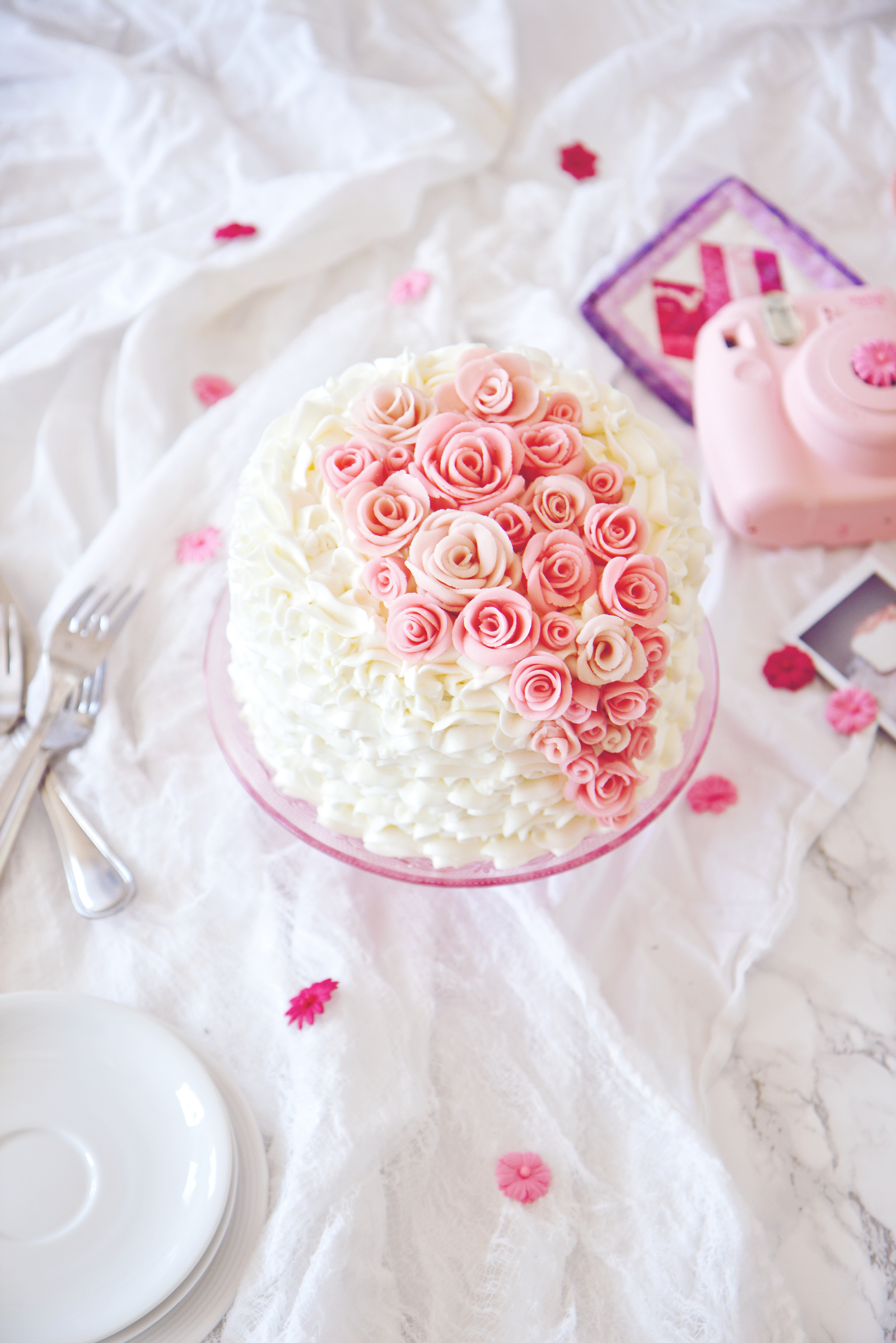 Valentine's Day, previously:
2017:
Thick, soft M&M cookies
Mocha cupcakes topped with fluffy swirls of vanilla bean Italian meringue buttercream
2016:
Ginger, Malted Vanilla, and Hibiscus layer cake
Baby pink XO salty sugar cookies
Raspberry white chocolate and Nutella éclairs
Brown butter and vanilla bean teacakes
2015:
Fluffy, buttery copycat Lofthouse cookies
Chocolate covered strawberry cake with goat cheese frosting
Dolled-up red velvet cake
Mini pink princesstårta
2014:
Pink grapefruit possets with Ritz crunch and pistachios
Dark and white chocolate French mendiants
Strawberry pocky cake
Salty dark chocolate tarts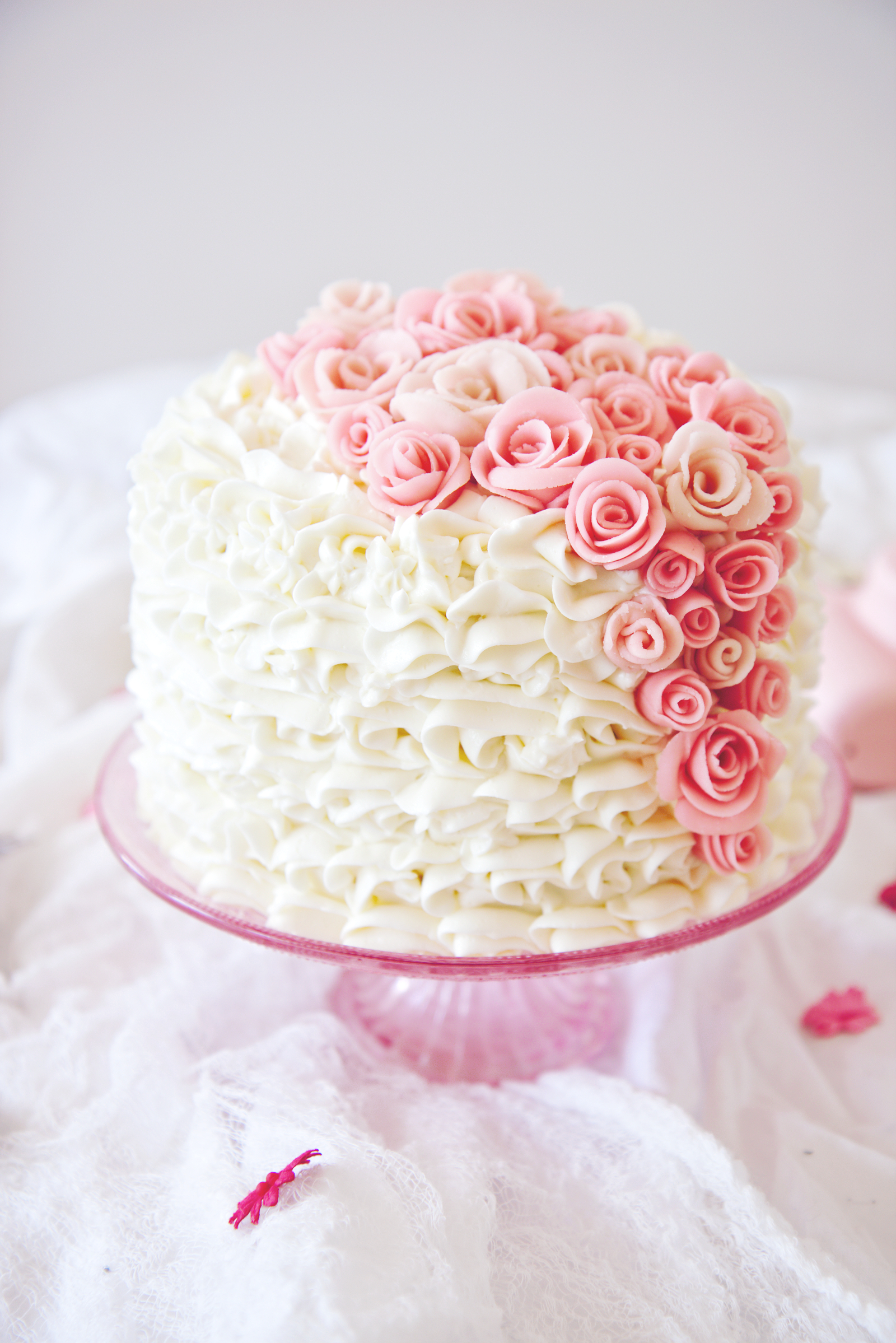 Princess Layer Cake
makes 1 3×6-inch layer cake
ingredients:
for the cake:
225 grams (2 sticks, 1 cup) unsalted butter, soft
1/2 teaspoon salt
400 grams (2 cups) sugar
2 eggs
35 grams (1/3 cup) milk powder
300 grams (1 1/4 cups) buttermilk
360 grams (3 cups) AP flour
1 tablespoon plus 1/2 teaspoon baking powder
for the frosting:
225 grams (2 sticks, 1 cup) unsalted butter, soft
400 grams (3 1/4 cups) powdered sugar
1/2 teaspoon salt
225 grams (8 ounces, 1 cup) mascarpone, room temperature
60 to 80 grams (1/4 to 1/3 cup) heavy cream, room temperature
100 grams (1/2 cup) sugar
drop almond extract
80 grams (1/3 cup) water
apricot or raspberry or strawberry preserves
8 ounces marzipan, tinted and rolled as desired
directions:
Preheat oven to 350 degrees F and grease and flour 3 6-inch baking pans.
Make the cake: cream butter, salt, and sugar together until light and fluffy; add in each of the eggs and beat on high until doubled in volume.
Add in the milk powder and buttermilk and stir until batter is homogeneous; it will thin out.
Add in the flour and baking powder and stir to combine.
Portion out into prepared pans and bake for 15-17 minutes, or until a tester comes out with a few moist crumbs.
Allow to cool for 5 minutes before turning out onto a wire rack to cool completely.
Meanwhile, make the frosting: cream butter on high speed for 5 full minutes.
Add in the powdered sugar and stir slowly until combined; it will be very thick.
Add in the salt and mascarpone cheese and beat until homogenous.
Add in the heavy cream 1 tablespoon at a time, beating on high speed in between each addition, until frosting is thin enough to be pipeable but thick enough to hold a peak,
Make the syrup: place sugar and water in a small bowl and microwave on high for 30-45 seconds, or until the sugar is completely dissolved.
Stir in the almond extract and set aside.
Trim the cake as needed to level it; brush each side with ample sugar syrup.
Layer the cake, placing plenty of syrup on each layer; spread 2 tablespoons of apricot preserves on top of each layer, then 1/4 cup of frosting on top of the preserves.
After adding the final layer, add a very thin crumb coat of frosting all over the cake and refrigerate for at least 15 minutes.
Using the rest of the frosting, pipe ruffles or flowers as desired.
Decorate with marzipan shapes!