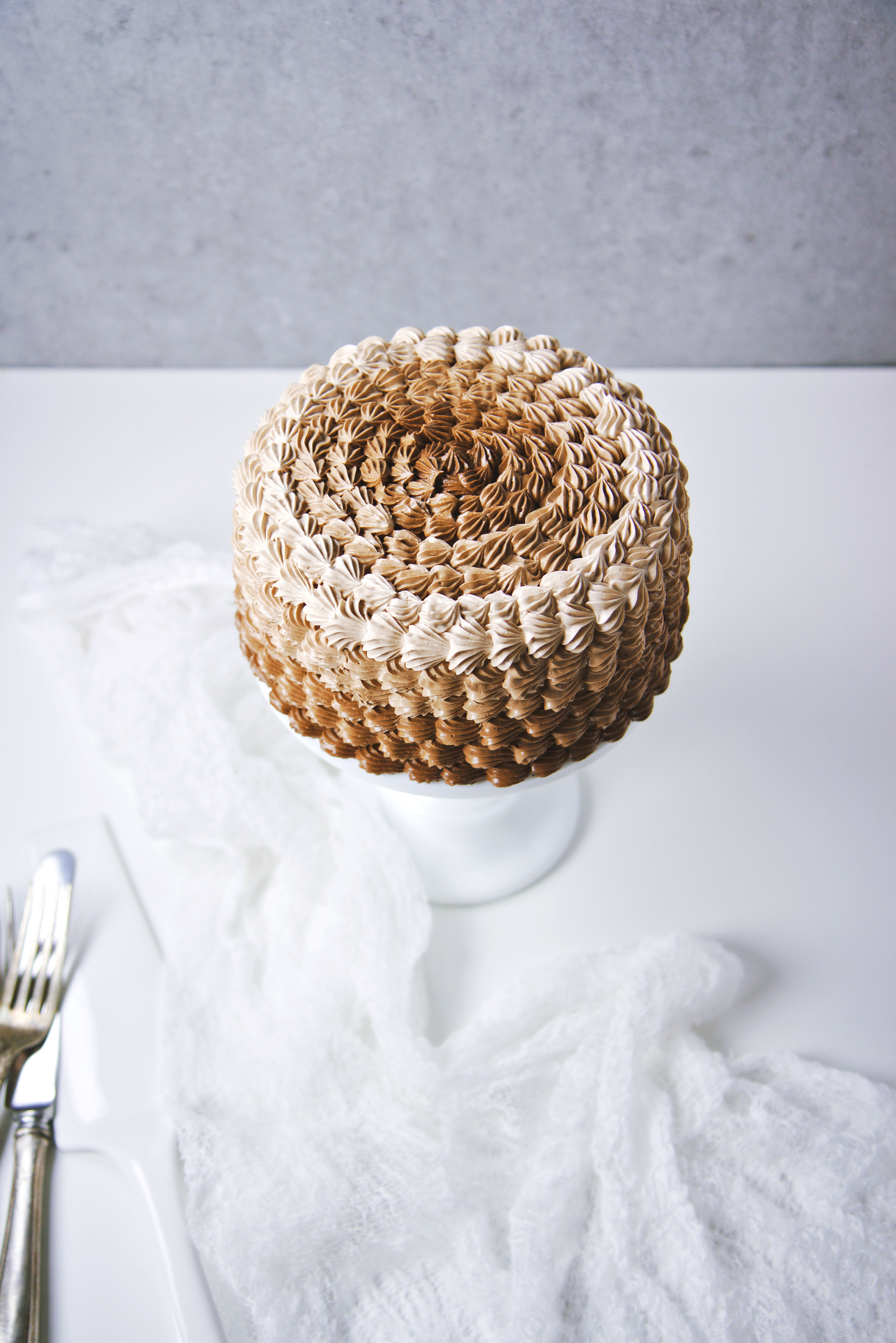 "Sometimes I can hear my bones straining under the weight of all the lives I'm not living."
—Jonathan Safran Foer, Extremely Loud and Incredibly Close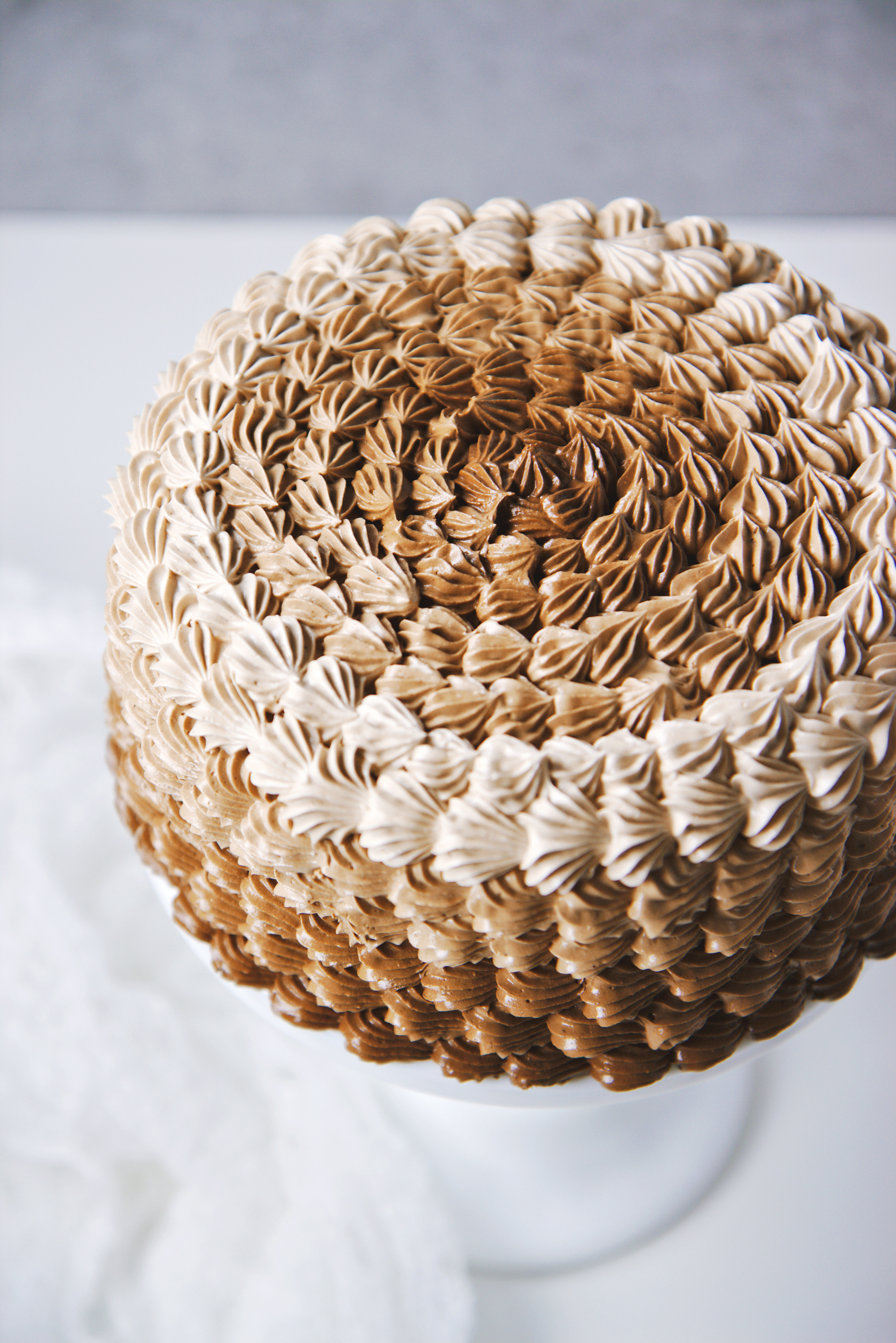 Yesterday, my parents sent me the dreamiest bouquet of pale peach roses, white hydrangeas, and black and white anemones.
Last night, my instagram bio ticked from 21 to 22.
(I don't have a Facebook anymore, so no messages will be received from acquaintances collected through the years. I'm, like, so off the grid. *rolls eyes*)
Tonight, I will drink and be merry with some of the best people I have ever and will ever know.
Today, though, I am taking time to reflect and relax into my new age by myself.
My atoms in their current arrangement have made the long trip around the sun twenty two times.
In this time, my body has grown, my mind has expanded, my hormones have been tamed (…kind of?); I have shed skin cells and old clothes and loves alike. I have been fortunate to see many corners of the world and optimistic enough to dream of other, unknown parts.
I have pushed and pulled and trudged my way through years of schooling and through an altogether too short stint at my alma mater. In the best of times, I have excelled and succeeded; in the worst of times, I have simply kept on moving.
Four years ago, on the cusp of 18, I left my childhood home and my parents for the first time; in many ways, I felt and was alone. The birthdays following were distinctly part of my college years.
So although 22 is a relatively unremarkable birthday, this one means a lot to me. It is my first birthday after college and striking out into the world. It is the bookend to the collection that began at 18.
Today, in a new city and in a different sense, I feel and am alone.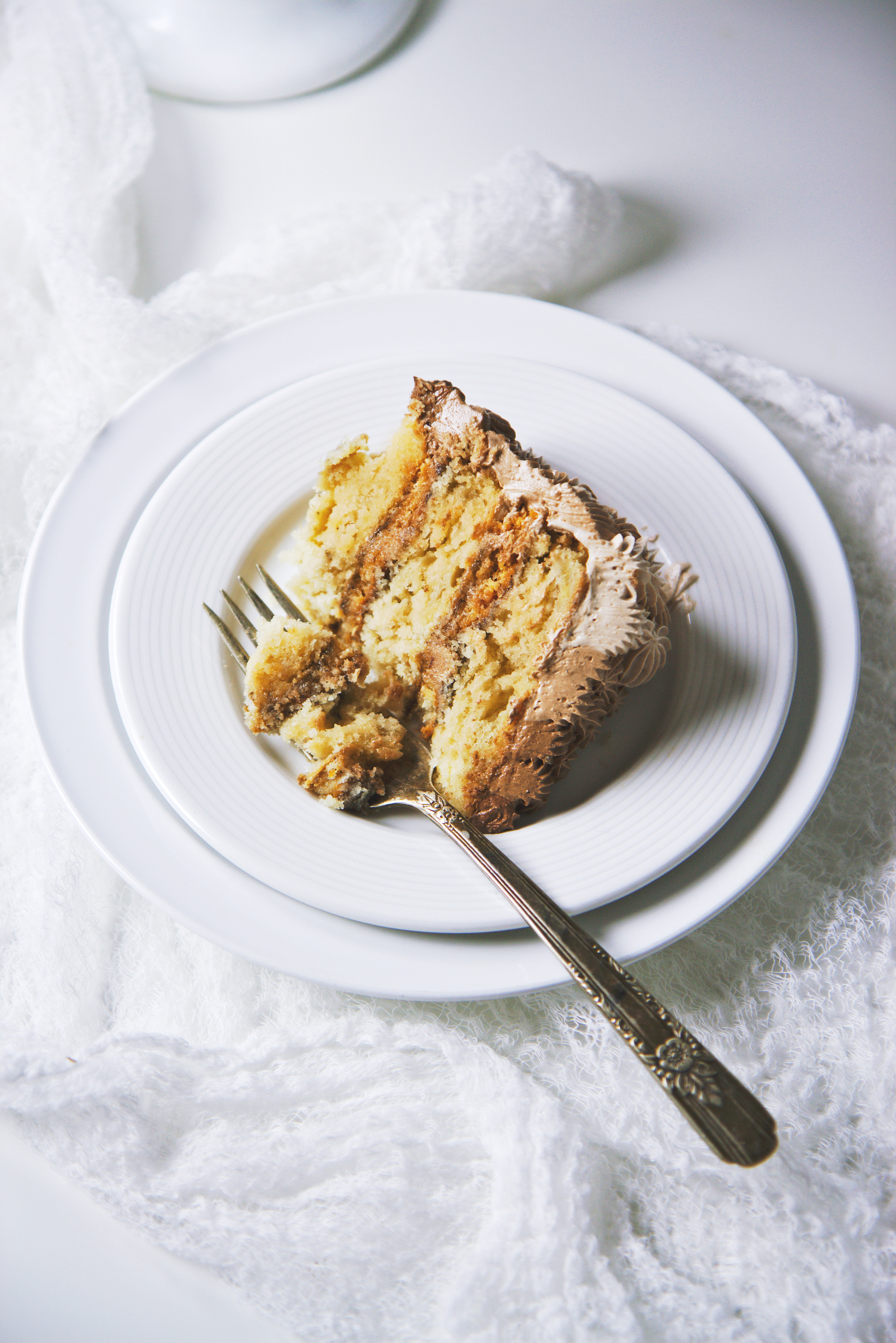 Is it sad or freeing to be alone on your birthday?
It is coldly realistic or melancholic to realize that we all age on our own?
We live our lives with ourselves. It is as simple and as difficult as that. Though none of us will ever stop changing, we have but one body and mind to live in and put up with.
It's easy to wistfully romanticize our past lives and selves; it is also easy to make grand resolutions about our future.
I hope that everyone has the opportunity to fall in love with who they are in the present, which is a far harder endeavor, in my experience.
I hope that you have the chance, whether this year or in many years to come, to spend a birthday by yourself and not feel lonely.
I hope this especially for myself.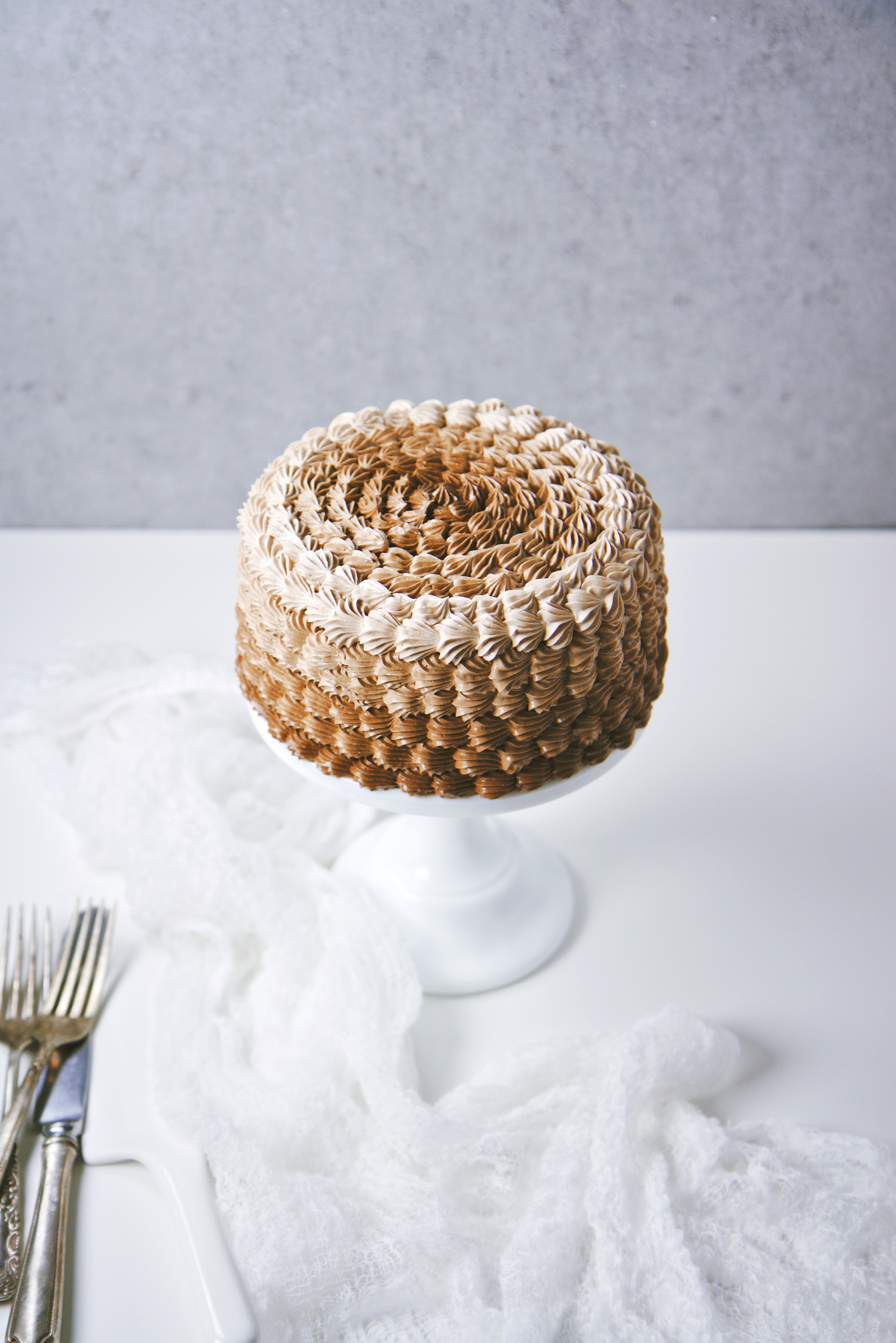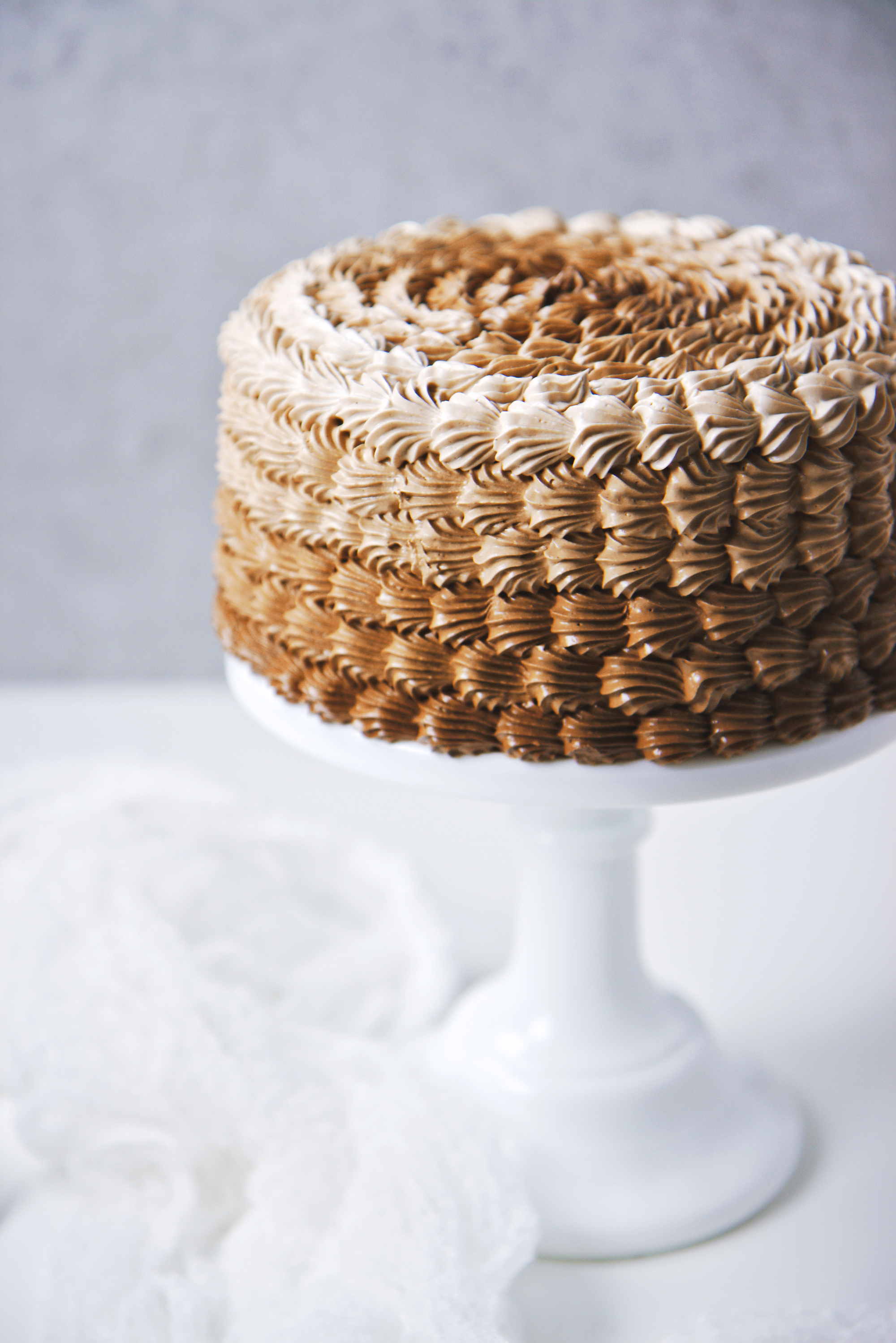 My twenty-second birthday cake is not a simple one. It's not an afternoon affair, not something to whip up casually sans plan.
No one should be surprised by this, least of all readers of this blog who have seen my other involved creations. I have a flair for the dramatic and a birthday is an excuse to indulge both my creative urges and tastebuds.
This is all to say, I know that this recipe is more than a little ridiculous. A lot of effort went into making this cake just right. It is worthy of a celebration.
Make it for a loved one; make it for yourself. And prepare to impress.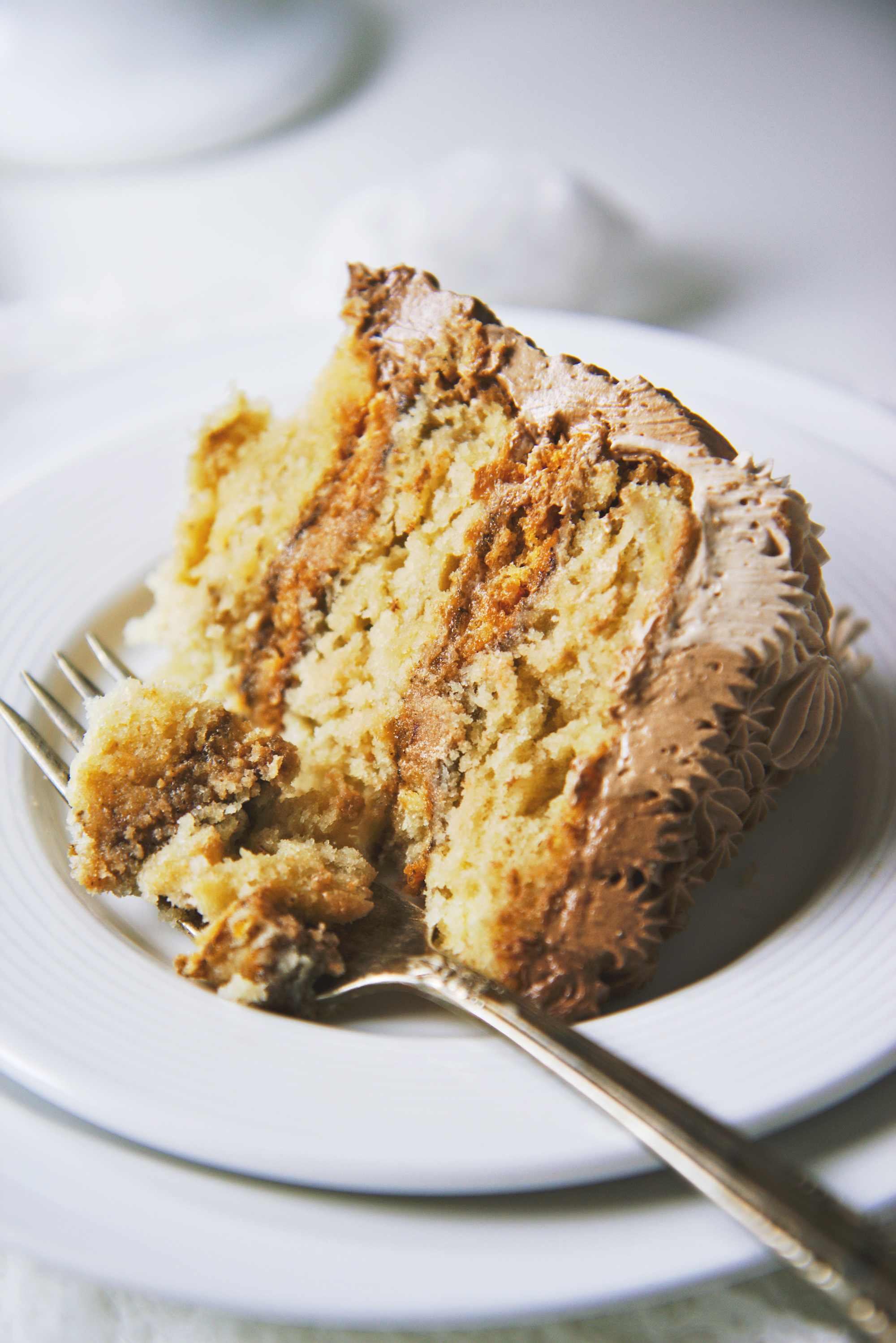 This cake starts with a super moist banana cake—it is the least banana bread-y banana cake I have made, which I consider an achievement. There is a time and place for a lovely, dense banana bread. This cake is not that.
The layers have a swipe of silky, slightly bitter coffee pastry cream, flecked with espresso and enriched with egg yolks and butter.
Hidden inside the cake are two layers of dacquoise; a crisp almond and meringue confection that softens and turns into a whisper of caramel and almond married with the coffee cream. It is the reason that this cake is better on the second day. The crunch is fabulous, yes, but the dacquoise becomes an ethereally light filling when it softens—just like meringue does in a pavlova or Eton mess.
The whole affair is finished with a cloud of rich, chocolaty Italian meringue frosting, my favorite way to ice a cake. I love that with each bite, you get a varying amount of chocolate. It makes eating a piece that much more interesting.
This cake is a labor of love, and its whole is greater than the sum of its parts. The flavor combination is very unique—but it works so well. In fact, I like it so much that I am planning on dreaming up new ways to use banana, almond, coffee, and chocolate (to me, that sounds like a hella good muffin).
Note also that this can be made ahead of time; the pastry cream up to 3 days in advance, and the dacquoise up to 2 days. You could make the cake ahead and freeze it as well. It's manageable. I mean, sort of.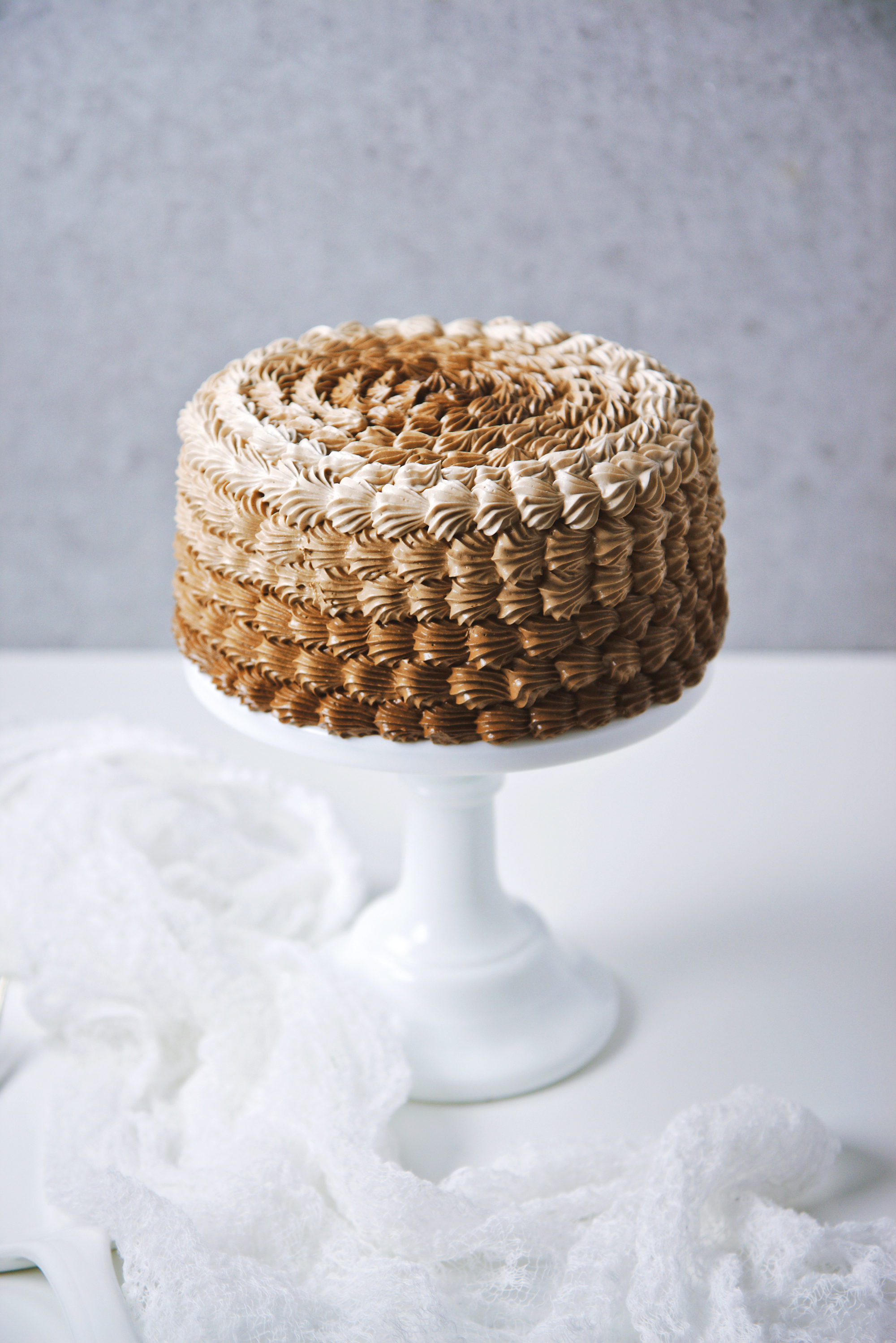 Birthdays, previously (and no, I don't know what happened to 17 and 19…):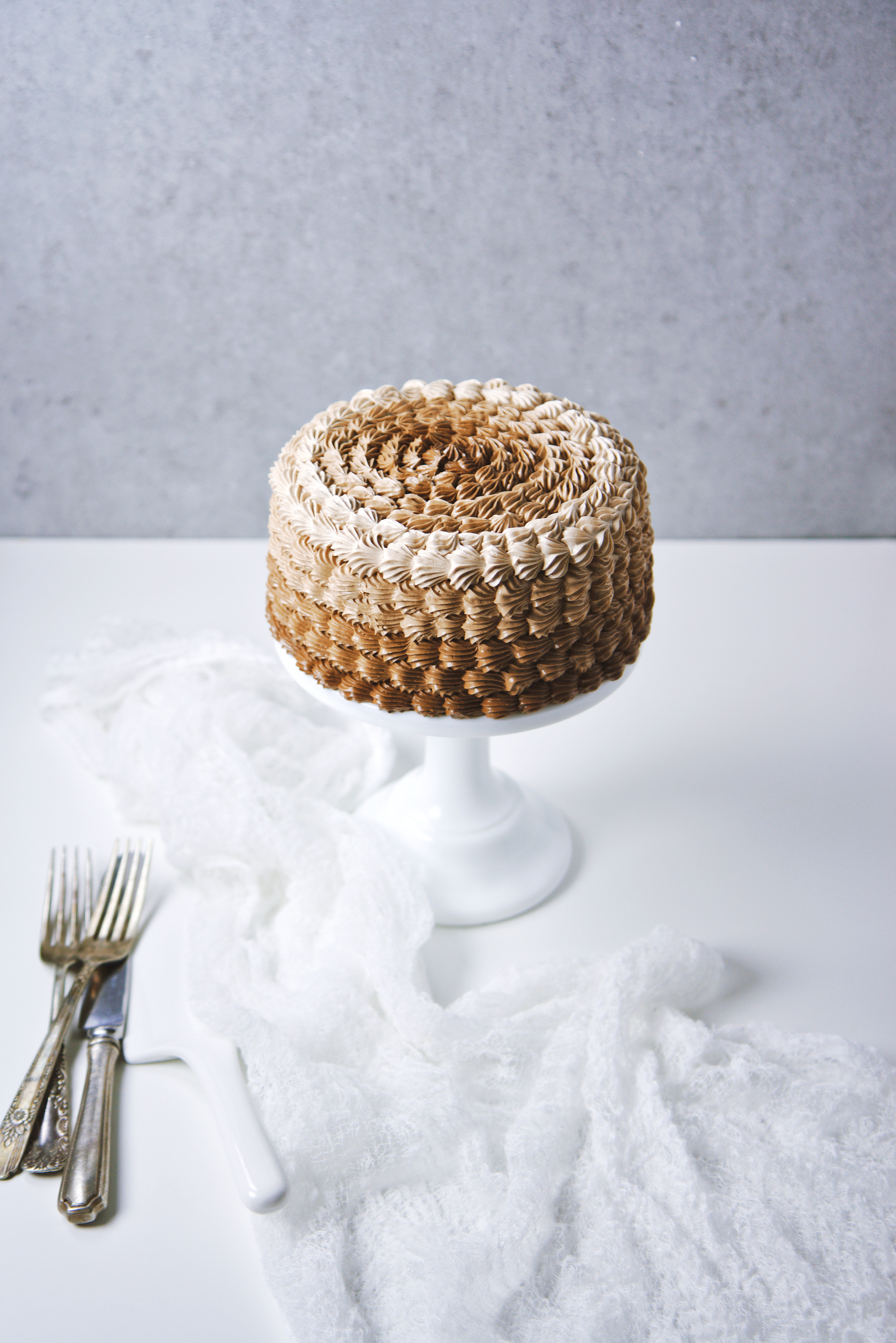 Banana Cake with Almond Dacquoise, Coffee Pastry Cream, and Chocolate Meringue Buttercream
makes 1 3×6 inch layer cake
pastry cream adapted from the Kitchn
for the almond dacquoise:
4 egg whites
150 grams (3/4 cup) sugar
65 grams (2/3 cup) almond meal or flour
40 grams (scant 1/4 cup) sugar
big pinch salt
for the coffee pastry cream:
1 tablespoon espresso powder
360 grams (1 1/2 cups) milk
100 grams (1/2 cup) sugar
hefty pinch salt
4 egg yolks
30 grams (1/4 cup) flour
15 grams (2 tablespoons) butter
for the banana cake:
150 grams (2/3 cup, 10 tablespoons plus 2 teaspoons) butter, softened
170 grams (3/4 cup plus 1 tablespoon plus 1 teaspoon) granulated sugar
1/2 teaspoon salt
2 ripe bananas
120 grams (1/2 cup) milk
200 grams (1 2/3 cup) flour
2 teaspoons baking powder
for the chocolate Italian meringue buttercream:
3 egg whites
pinch salt, to taste
150 grams (3/4 cup) sugar
25 grams (1 1/2 tablespoons) water
340 grams (1 1/2 cups, 24 tablespoons, 3 sticks) butter
170 grams (1 cup) dark chocolate chips or chunks, melted and cooled slightly
20 grams (1/4 cup) cocoa powder, as needed
directions:
First, make the dacquoise, up to 2 days in advance.
Preheat oven to 250 degrees F and trace 3 6-inch circles on a piece of parchment lining a baking sheet.
Place egg whites in the bowl of a stand mixer and begin to whip.
Once foamy, add in the first (150 grams, 3/4 cup) portion one spoonful at a time, and whip on high speed until the meringue is glossy and fluffy and stiff peaks have formed.
Whisk together the almond meal, remaining portion sugar, and salt, and gently fold into the meringue.
Pipe onto the circles you traced, and bake for 65-85 minutes, until the dacquoise is dry and slightly golden colored.
Remove from oven and let cool completely; you can store the baked dacquoise for up to 2 days in a moisture-free, air-tight container.
You will only need 2 dacquoise layers for the cake; the third is insurance in case of cracking (one of mine did, when I dropped it); you can trim them if they spread a little with a sharp knife so that they fit in the cake.
Make the coffee pastry cream: place espresso powder (or you could use whole beans, if you don't like the grains) and milk over medium heat.
Meanwhile, whisk the egg yolks, sugar, salt, and flour together.
Once the milk is just shy of boiling—it should be at a simmer—carefully pour in 1/3 of it into the egg yolk mixture while whisking constantly.
Place the egg yolk mixture into the saucepan with the remainder of the coffee-milk, whisking all the while.
Heat over medium heat while whisking constantly, until thickened.
You should be able to coat a spoon and draw a line with your finger that does not fill in with cream.
Remove from the heat and whisk in the butter.
Strain through a sieve, then blend on high speed with an immersion blender or in a regular blender (wait until it is cooled, though!) for about 20 seconds—don't go too long with the blender, just enough to get it smooth.
Place a piece of plastic wrap against the surface of the pastry cream and allow to cool completely.
Make the cake: preheat oven to 350 degrees F and grease and flour 3 6-inch baking pans.
Place butter, sugar, and salt in the bowl of a stand mixer and beat on high speed for 4 full minutes.
Meanwhile, mash the bananas with the milk in one bowl and stir the flour and baking powder together.
Scrape the sides of the stand mixer and add in 1/3 of the flour mixture.
While you stir the flour mixture in, add in half of the banana mixture.
Add another third of the flour mixture, adding the remainder of the banana mixture and the remainder of the flour mixture one after the other while stirring on low speed.
Increase the speed to medium for 30 seconds, to ensure that the batter is homogenous.
Portion out into prepared pans and bake for 18-25 minutes, or until a tester comes out with just a few moist crumbs.
Allow to cool for 10 minutes before turning out onto a wire rack and allowing to cool completely.
Make the Italian meringue buttercream: place egg whites in the bowl of a stand mixer fitted with the whisk attachment.
Place sugar, salt, and water in a small pot over medium heat, fitted with a candy thermometer.
Begin to whisk egg whites while syrup heats up.
Once syrup reaches 245 degrees F, the egg whites should be at semi-stiff peaks.
Pour the hot syrup into the meringue while beating at high speed.
Whip until the meringue is glossy and cooled to body temp.
Whisk in 1 tablespoon of the butter at a time, beating until the frosting comes together into a glossy, fluffy, light mixture.
Portion into 4 separate portions—one portion should be slightly smaller than the other three.
Place one of the larger three portions back into the bowl of the stand mixer; while whipping on high, add about 3/4 of the melted and cooled chocolate and 2 tablespoons cocoa powder.
Whip until chocolate is fully incorporated.
Into another of the three larger portions of frosting, add about 3/4 of the remaining chocolate (so about 3/16 of the original portion) and 1 tablespoon cocoa powder; stir vigorously to combine.
Into the remaining of the three larger portions, stir in the remaining chocolate and 1/2 tablespoon cocoa powder.
Into the smallest portion, stir in 1/2 tablespoon cocoa powder.
At this point, tint any of the 4 portions as you see fit with a few extra teaspoons of cocoa powder.
To assemble the cake, place a dollop of pastry cream on a cake stand and place 1 of the banana layers on top.
Spread 1/8-1/4 cup of the pastry cream onto the banana cake; place one of the almond dacquoise layers on top and spread with another 1/8 cup pastry cream.
Top with a second banana cake, more pastry cream, the second dacquoise layer, more pastry cream, and the final banana cake layer.
Use a small amount of the three larger portions of frosting (the darkest three) to lightly crumb coat the cake—you don't need a thick crumb coat here.
Using 4 pastry bags filled with each of the colors, pipe an ombre effect with desired piping tip (I used a single tip and 4 couplers).
SaveSave
SaveSaveSaveSaveSaveSave
SaveSave
SaveSaveSaveSaveSaveSave
SaveSave
SaveSave
SaveSave
SaveSave
SaveSave
SaveSave
SaveSave
SaveSave
SaveSave