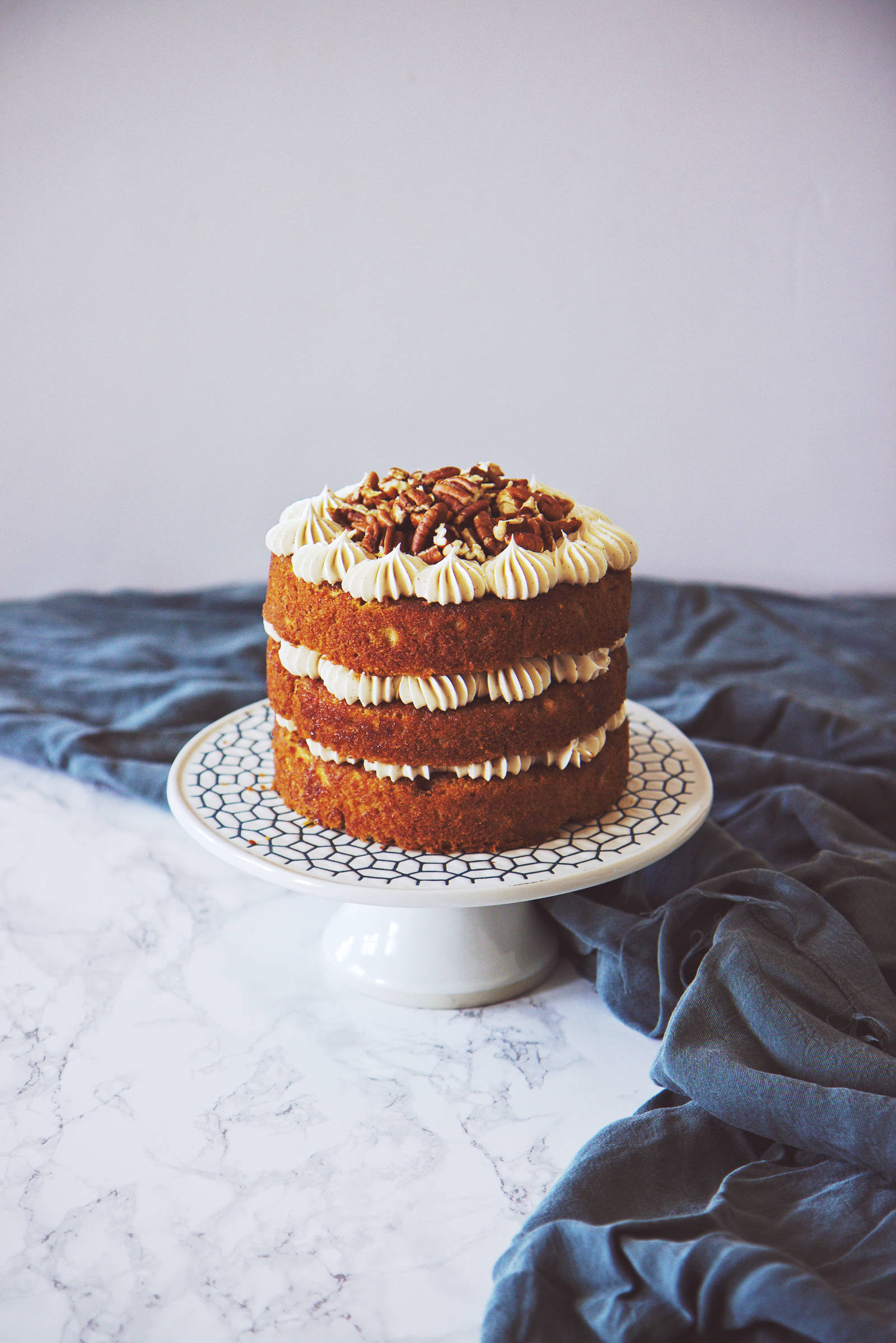 I will teach my daughter
not to wear her skin like
a drunken apology.
I will tell her
'Make a home out of your body,
live in yourself,
do not let people turn you into a regret,
do not justify yourself.
If you are a disaster,
it is not forever.
If you are a disaster, you are
the most beautiful one I've ever seen.
Do not deconstruct from the inside out,
you belong here,
you belong here,
not because you are lovely,
but because you are more than that.'
—Azra T., Your hands are threads, your body is a canvas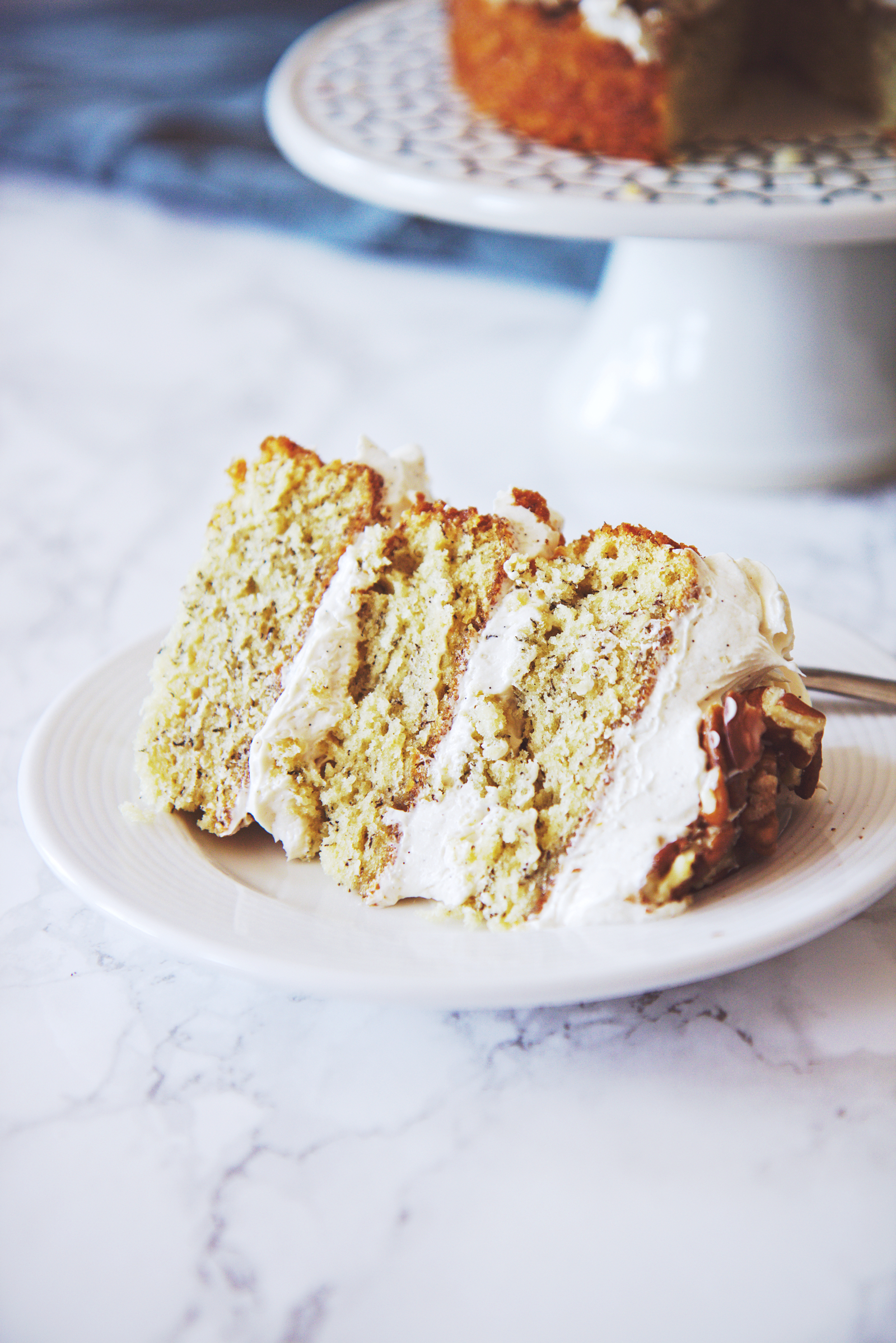 March! Le Mars! Spring! Semi-warmer weather! Sunrises before 7am!
March is always fun for me as a food blogger: with pi day and St. Patty's day and spring fruits starting to roll in, there's lots of fodder for creativity.
It's Lent right now and I've been trying to come up with a treat to send to my best friend, who gave up wheat and chocolate, which is also a good prompt for creativity: dreaming up ways to feed a friend with dietary restrictions.
I welcome it, because it's a challenge that pushes me outside of my comfort zone, and also because I think everyone deserves to be able to eat delicious food.
I have given up purchased drinks: no boba, no tea, etc., even though I no longer consider myself a Catholic.
(Or maybe I'm just a bad Catholic. Honestly, the apple doesn't fall far from the tree: when asked what he would be giving up for Lent, my dad said "Lent.")
I was mostly interested in how it would affect my spending habits; I have discovered that I didn't make as many purchases at Starbucks and the like as I perhaps thought, so maybe I should have challenged myself more.
Still, it's a good way to inform my budgeting, which I have been attempting to adhere to strictly since moving to the city that never-sleeps-but-still-pays-ridiculous-sums-for-the-apartment-that-barely-fits-its-never-used-bed. It's all too easy to watch your money fly into the gaping maw of the expensive abyss that is New York City.
Please do not ask me how much I have spent on Ubers/Lyfts/expensive-ass groceries from WF because it's the only grocery store near me. Le sigh. I miss u everyday, Wegman's.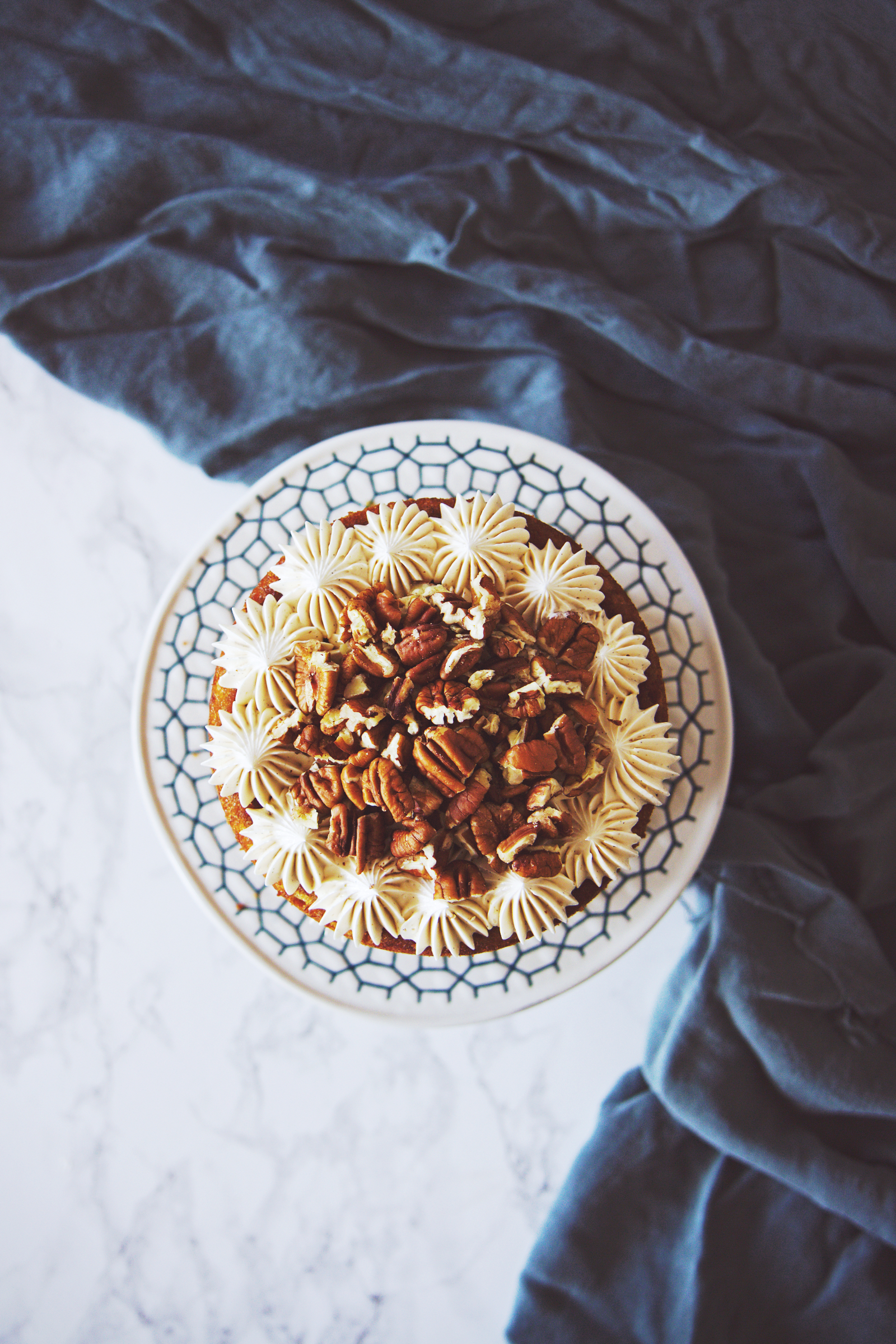 This concept of giving things up for a period of time has been increasingly in vogue in the food world: Whole30s abound, juice cleanses proliferate, and soup/broth cleanses have appeared, as well.
As someone who has been plant-based for essentially half of my life, I'm no stranger to needing accommodations.
I have done a juice/smoothie "fast" once before, and my lovely mumma once signed me up for a soup subscription so that I would have nutritious food to eat when I was too busy with school to cook (AKA always). Neither felt like a lifestyle choice, though.
I wonder how sustainable any of it is: how much of "giving something up" is good for the long-term?
I personally think that by framing it as giving something up, one is more likely to feel frustrated by it.
My friend, N, (who did a juice fast recently) and I were talking about this last week. I forget who coined the exact phrase, but we called what she was doing a juice feast. A simple addition, but it sounds heaps less ascetic and much more healthy. She ended up really enjoying her juice feast!
I never feel or felt restricted when I gave up meat and fish, nor when I gave up milk. Increasingly, I have been eliminating dairy and eggs and leather, as well. I mostly only use dairy and eggs when I bake. Instead of feeling limited, I have found that I have gained a sense of purpose and satisfaction in my diet and lifestyle. I don't mean to sound preachy, of course.
But when you think of what you gain, it's a lot easier to make a lifestyle choice. You'd be surprised!
If you're curious, you could try doing Meatless March! Or Meatless Mondays!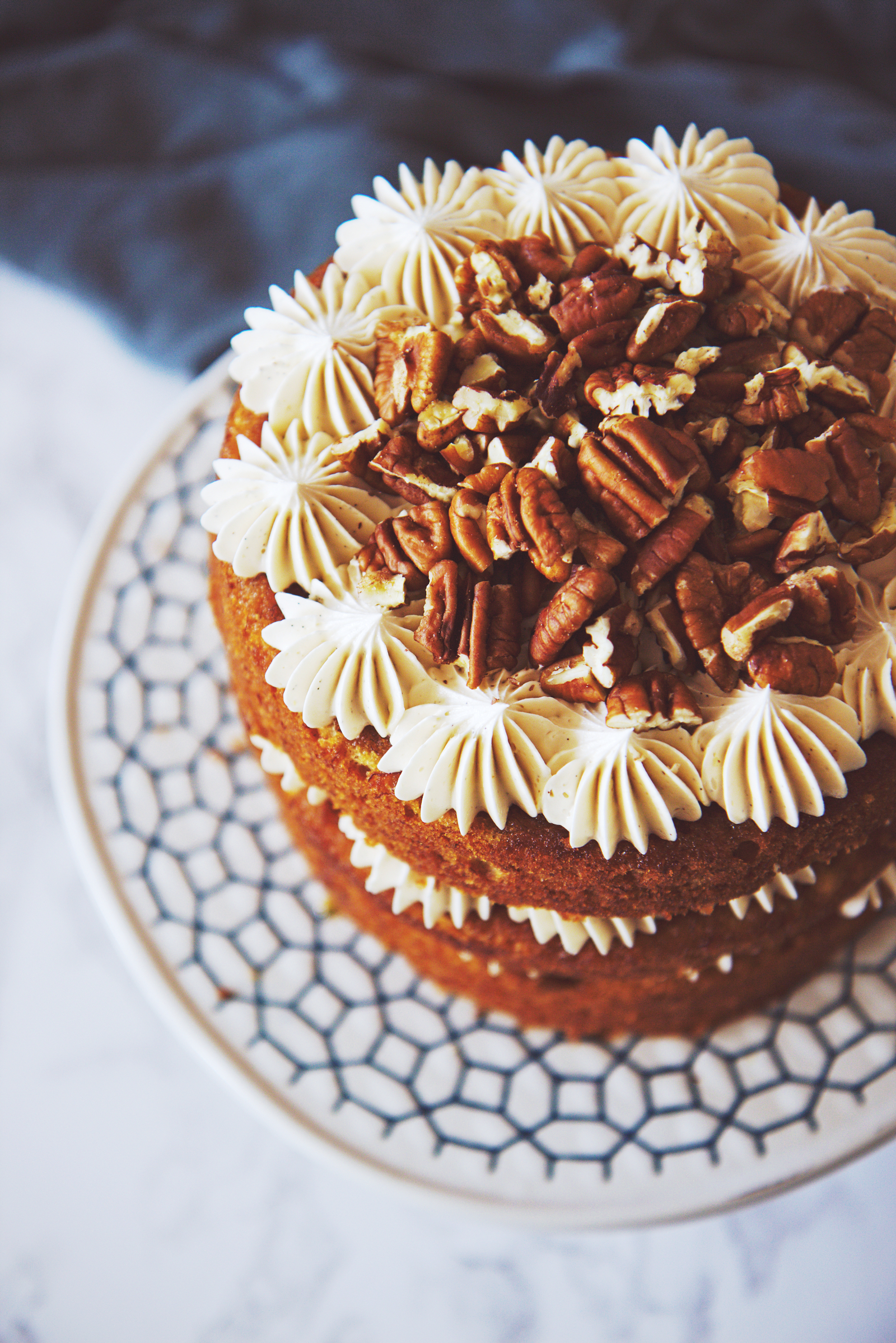 More and more, I've seen people who give up bananas (not for health reasons/allergies, but because of the sugar).
At the gym the other morning, I heard a très millenial conversation, in which one participant declared that he was only allowed one serving of domestic fruit a day, hence only having 4 strawberries in his smoothie. His friend immediately asked, what about international fruit? He said, sagely, those are too high in sugar, so I don't eat any: I haven't had a banana in 7 months.
I had to hold in my laughter. It just seemed like the silliest distinction. I'm all for healthier eating and limiting sugar, because Lord knows we get enough of it, but to use political borders to define your allowed fruits?!
I for one, am never permanently giving up bananas. Ever.
Banana cake is one of the best desserts ever, in my opinion, and you would be hard-pressed to find flavors that don't go brilliantly with it!
This naked cake has a base of moist buttermilk banana cake, adapted from the dependable Milk Bar cookbook. Honestly, I think you could even add another half a banana in to punch up the flavor, although it is lovely and soft as is. (Too many bananas, and I fear you begin to slide into banana bread territory.)
The frosting is maple Italian meringue buttercream, and it's all I want to eat for the rest of my life. I want every waffle or pancake I ever lay eyes on to be served with this, in lieu of butter and maple syrup. It is a fluffy cloud of heaven.
A smattering of pecans finishes the cake in a fittingly rustic manner.
Anyways, my friends, love yourselves. Eat a slice of banana cake once in a while. Everything in moderation.
And stop vilifying perfectly good fruits, damn it!
Banana cakes, previously:
My 22nd birthday cake, an over the top affair with banana cake, almond dacquoise, coffee pastry cream, and chocolate Italian meringue buttercream
Roasted banana and salted chocolate cupcakes
Classic banana cake with speculoos glaze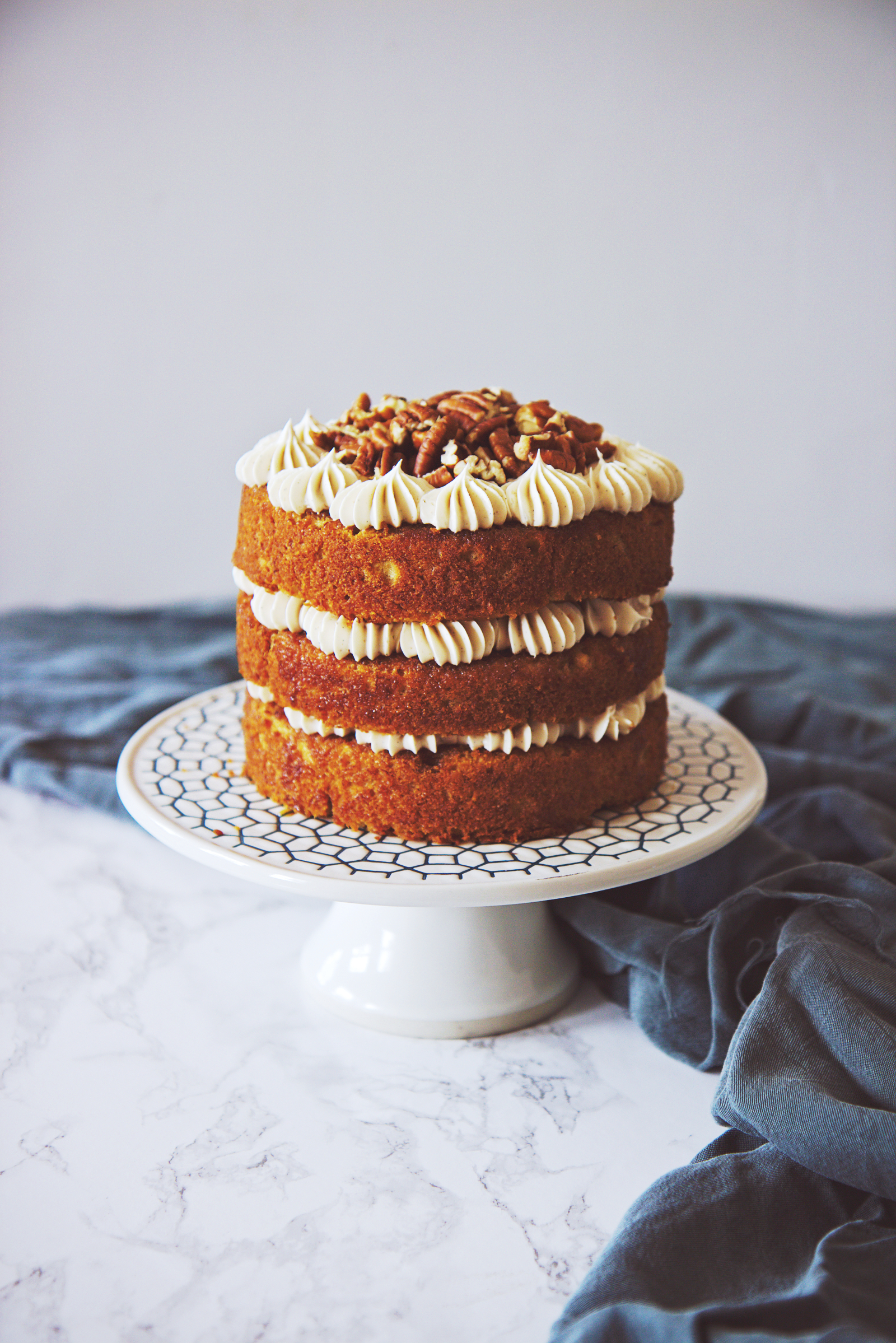 Maple Banana Cake
makes 1 3×6-inch layer cake
cake portion adapted from Momofuku Milk Bar
ingredients:
for the banana cake:
85 grams (6 tablespoons) butter
200 grams (1 cup) granulated sugar
1 egg
110 grams (1/2 cup) buttermilk
25 grams (2 tablespoons) oil
225 grams ripe (brown) bananas, roughly two
225 grams (1 1/3 cups) AP flour
3/4 teaspoon baking powder
1/2 teaspoon baking soda
1/2 teaspoon kosher salt
for the maple Italian meringue buttercream:
2 egg whites
40 grams (2 tablespoons) maple syrup
15 grams (1 tablespoon) water
100 grams (1/2 cup) granulated sugar
1/2 teaspoon salt
225 grams (16 tablespoons, 1 cup) butter
to assemble:
chopped pecans
directions:
Make the cake: preheat oven to 350 degrees F and grease and flour 3 6-inch pans.
Beat butter and sugar for 5 full minutes: mixture should be very light and fluffy and not gritty.
Add egg and beat for another 3 full minutes.
Scrape the bowl and add in the buttermilk and oil and stir until just starting to combine.
Mash the bananas very well and add to the mixture, again stirring a few times.
Add the flour on top of the batter, with baking powder, baking soda, and salt on top of the flour.
Stirring slowly at first, then increasing speed, mix batter until fully combined.
Scrape the sides of the bowl and mix again for 20 seconds to ensure homogeneity.
Portion the batter evenly into the three prepared pans.
Bake for 18-20 minutes, until a tester comes out with just a few moist crumbs and the tops spring back when pressed.
Allow to cool completely.
Meanwhile, make the maple Italian meringue buttercream: place egg whites in the bowl of a stand mixer fitted with a whisk attachment.
Place maple syrup, water, sugar, and salt in a small pot over medium heat.
Begin whisking the egg whites.
Keep an eye on the syrup and egg whites; when the syrup reaches 240 degrees F, the egg whites should be at soft to barely-stiff peaks.
Pour the syrup into the egg whites while whipping on high speed (careful to pour down the side of the bowl to avoid hitting the whisk).
Whip on high speed until the meringue has cooled to room temperature and is glossy and shiny, about 6 minutes.
Add the butter 1 tablespoon at a time while whipping on high speed.
Whip until the buttercream is fluffy and smooth, about 5 more minutes.
Fit a piping bag with a jumbo French star tip and fill with the buttercream.
Pipe a little frosting on the base of a cake stand, then place the first layer on top.
Pipe a layer of buttercream onto the layer, then top with a second and repeat with the third.
Pipe concentric circles on the third layer, then top with chopped pecans.