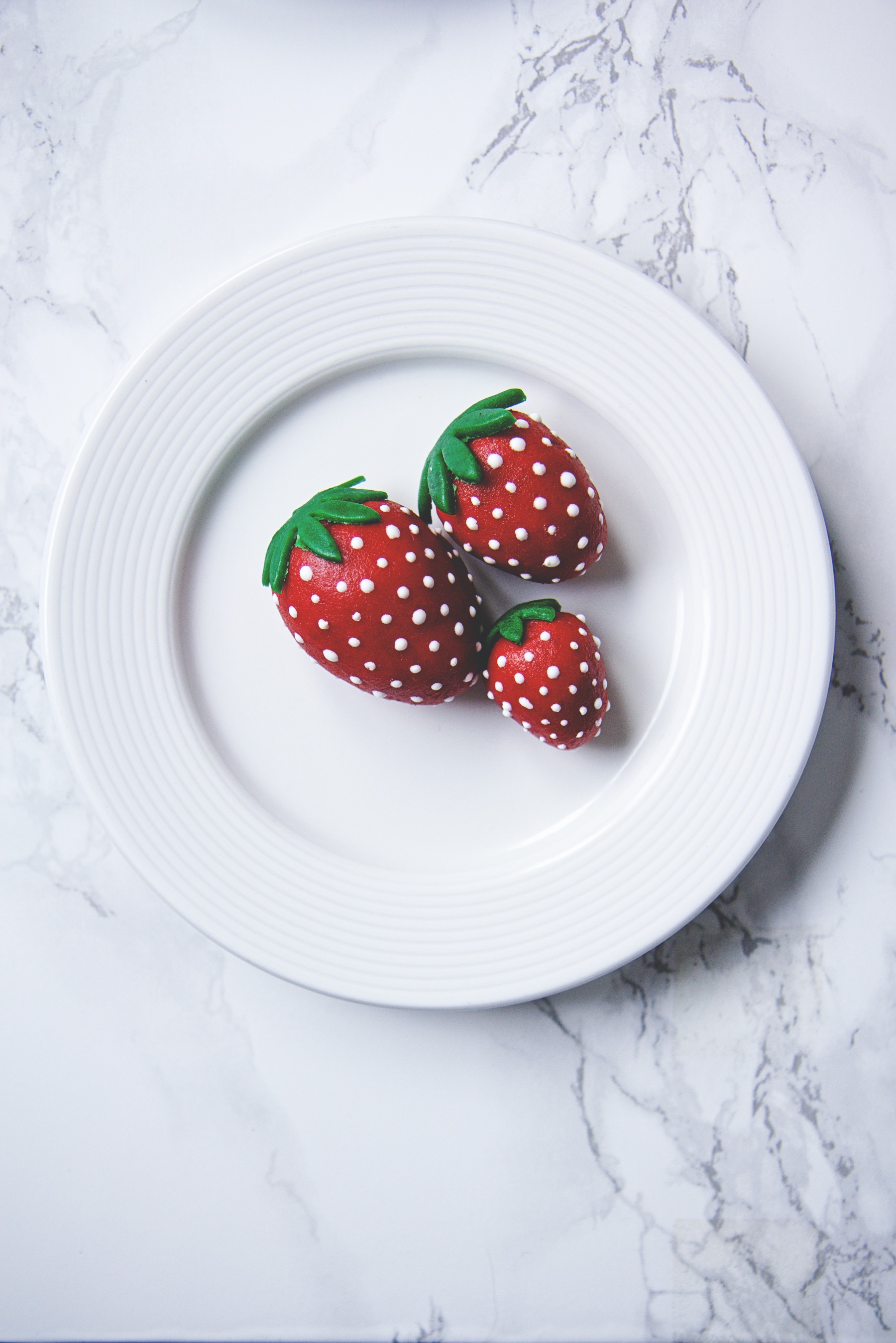 With strawberries we filled a tray,
And then we drove away, away
Along the links beside the sea,
Where wind and wave were light and free,
And August felt as fresh as May.
And where the springy turf was gay
With thyme and balm and many a spray
Of wild roses, you tempted me
With strawberries!
A shadowy sail, silent and grey,
Stole like a ghost across the bay;
But none could hear me ask my fee,
And none could know what came to be.
Can sweethearts all their thirst allay
With strawberries?
—William Ernest Henley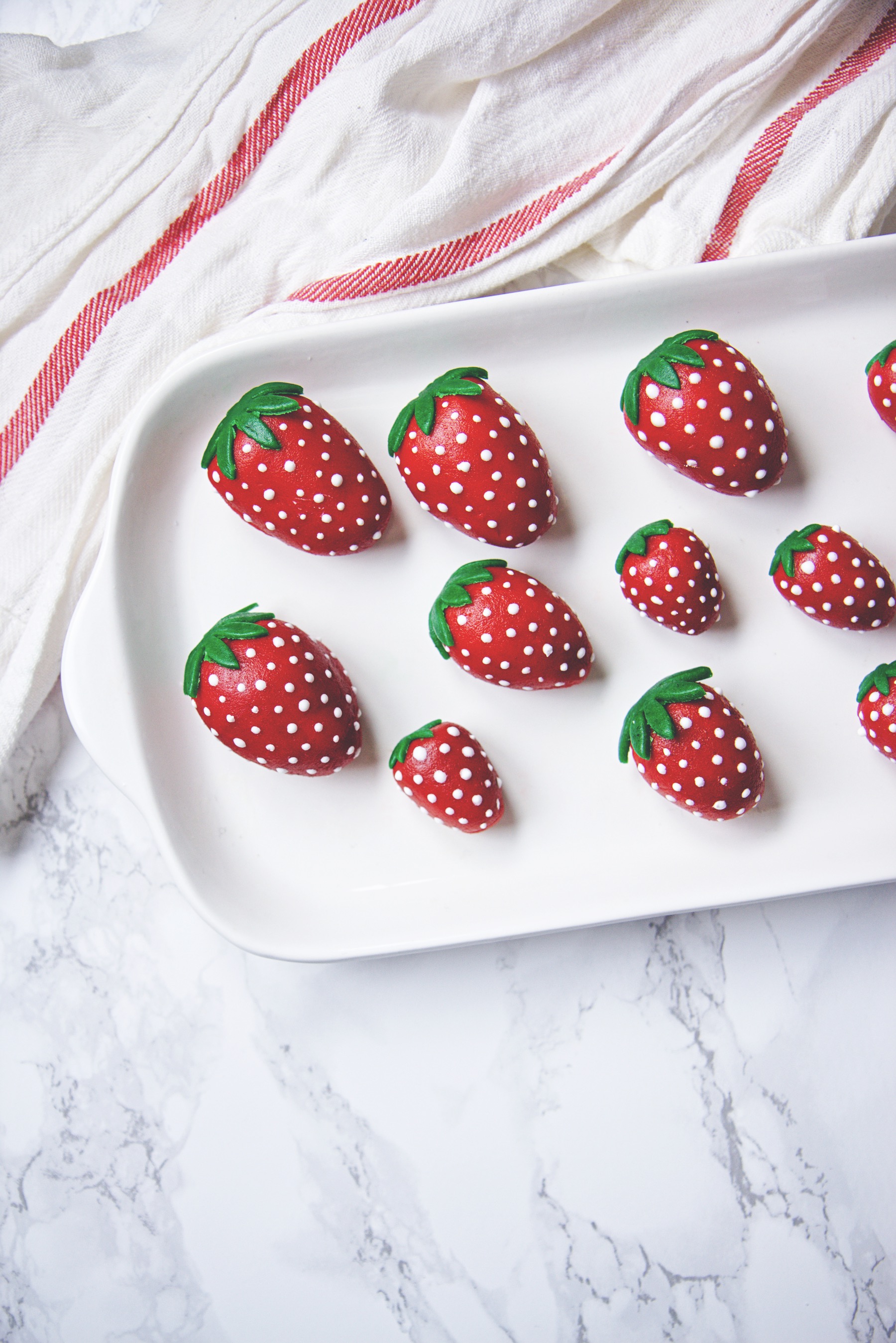 Happy Valentine's Day!
Do all my posts start with a remark about how quickly time passes? Am I getting so predictable and old that it's the only source of small talk I have to share with you all?
…But, whoa, February is halfway gone already?!
I was just remarking to my dad how February is the shortest month by far, seeing as it not only has 28 days, but it also comes directly on the heels of the incontrovertibly longest month.
Grey, dreary January.
Here in New York City, however, February has been greyer by far than January.
Rainy, gloomy days that keep me snuggled up in bed. Not that I mind.
In fact, re-emphasizing rest and self-care has led me to inadvertently stay dry for most of January and February thus far. I do like going out for drinks or enjoying a bottle of wine over dinner with my friends, but it's always an eye opener to spend weekend mornings not feeling hungover. While I'm not consciously staying away from alcohol, it's something on which I am going to try keep a close eye.
I've been tracking a bunch of different habits on a homemade bullet journal, and I find it very interesting to look back and see the shape of my days. I just finished the first side yesterday, and I'm very excited to turn the page over and start on a fresh sheet.
If you've never tried using a bullet journal, I cannot recommend it highly enough. It's an awesome way to keep track of your life, especially for people who like to stay organized. There's a sense of a completed to-do list at the end of each day, when you get to X off boxes all along a column. Very satisfying, indeed.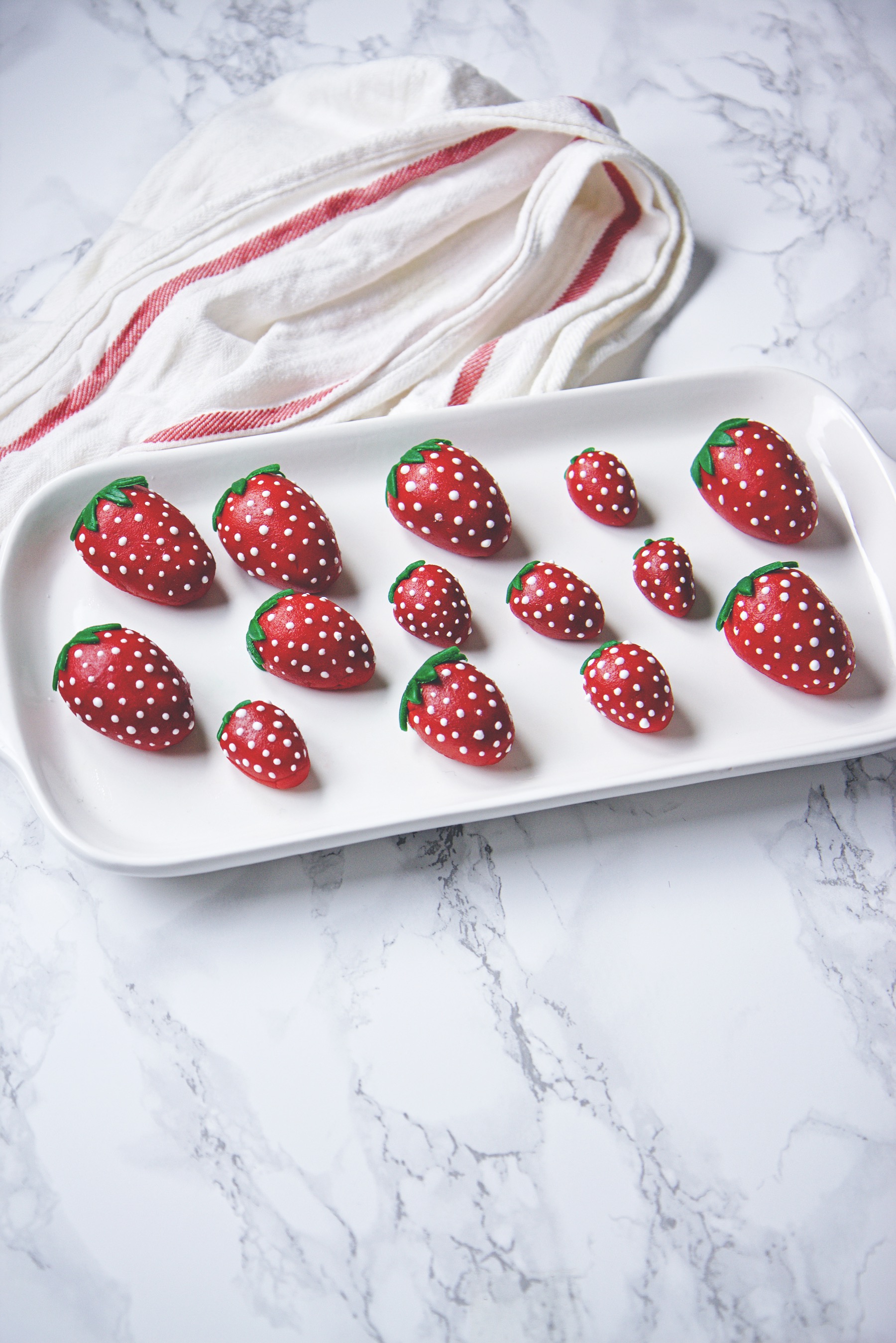 I absolutely adore Valentine's Day. Every year, I get very excited to make special baked goods.
Many people say that your first Valentine's Day out of a relationship is torturously difficult, but it's not so for me. Single or no, the idea of a day set aside to remind us all to celebrate love and hold our dear ones tighter is something I cherish.
Somehow, these last two years I have managed to do something insane with marzipan.
Last year's cake, which I just 'grammed, took me hours and hours to complete.
I tend to get these fanciful ideas in my head, especially ones involving marzipan and gold leaf, and they completely wipe out my better judgment and time-worn experience that would hit the brakes when it comes to delicate little projects like this. Remember when I asked you to keep me away from gold leaf?
Yeah, well… In addition to today's mini cakes, I have a cake with marzipan AND gold leaf coming your way soon. Évidemment, je n'aie jamais compris la leçon.
I never fail to get suckered in.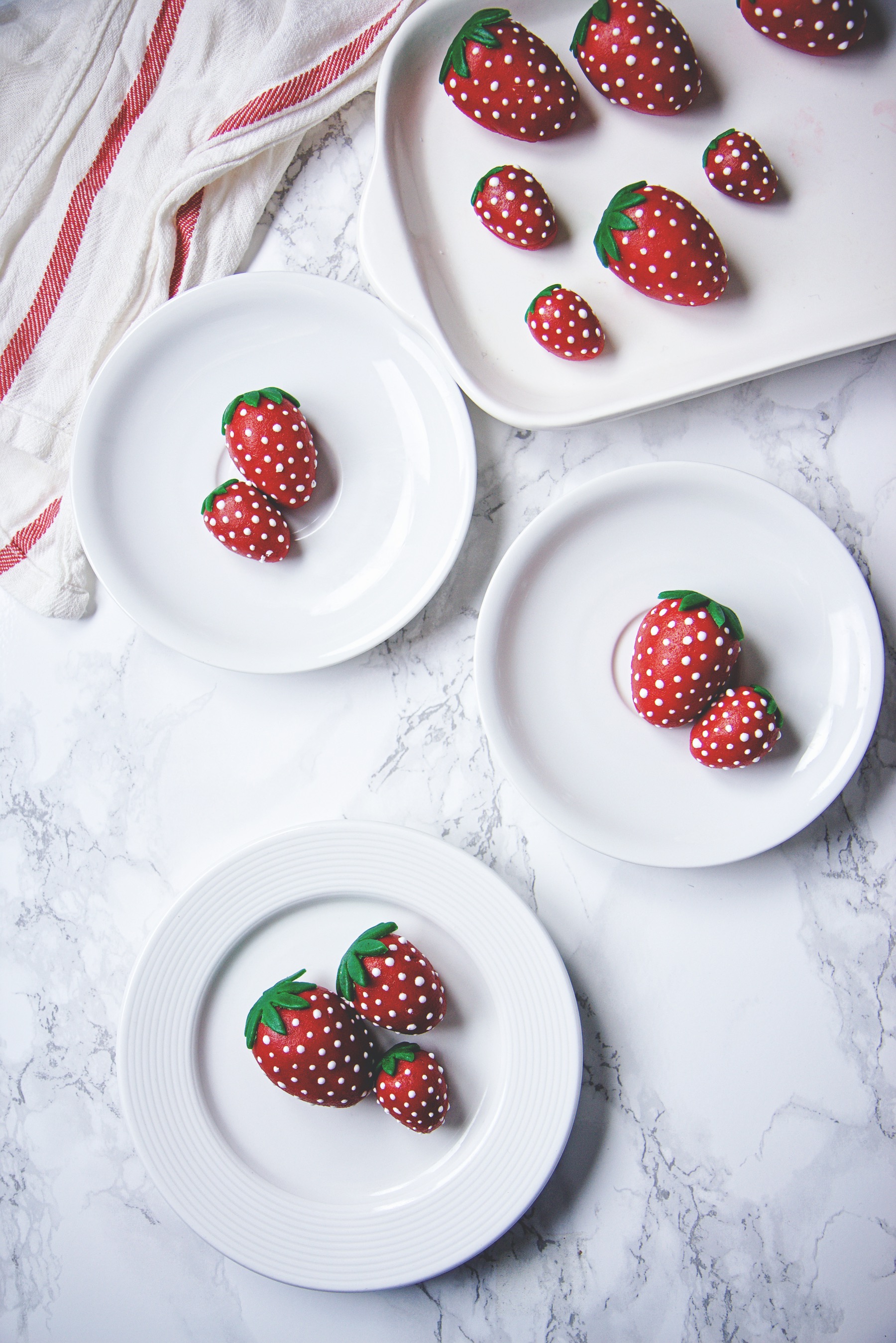 These happy little cakelets are just the cutest, aren't they?!
These are strawberry cake truffles.
They're made of balsamic vinegar and olive oil chocolate cake, velvety and damp, with the faintest savory notes threaded through it.
Sweet strawberry buttercream is folded into the cake crumbs, and they are shaped into little naked strawberries.
Tinted marzipan, chewy and toothsome, blankets the truffles. It is accented with little dots of royal icing that harden to a hint of crunchiness, just like what you would expect from tiny strawberry seeds.
The overall effect is unbelievably kawaii, and these are sure to charm anyone you give them to. If you have Serious Chocolate Lovers in your life, you could even dip them in melted chocolate to make chocolate dipped "strawberries."
(You know, if this recipe isn't extra enough for you already. Ha!)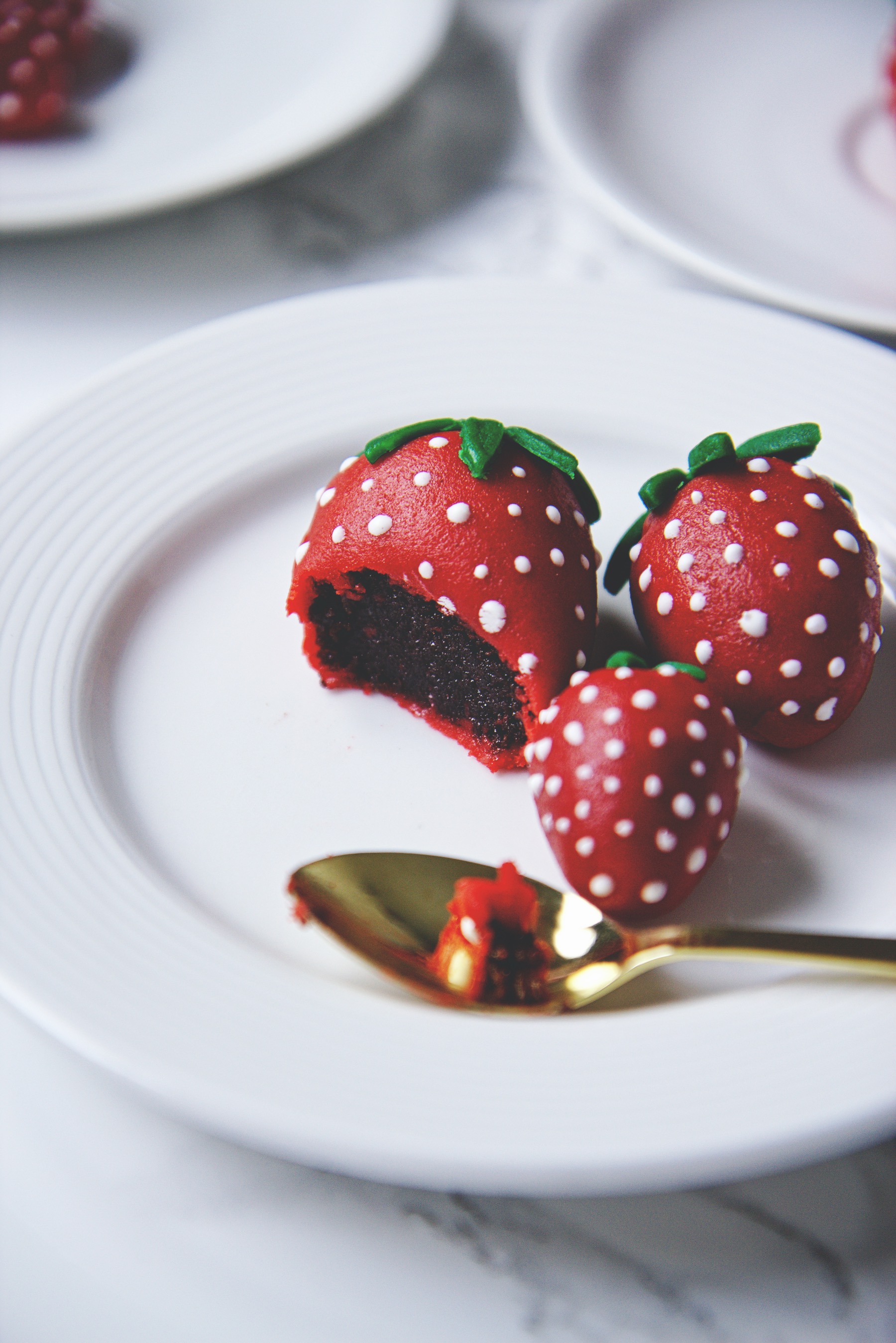 Lots of love, darlings! I hope you all have a happy, contented Valentine's Day.
xo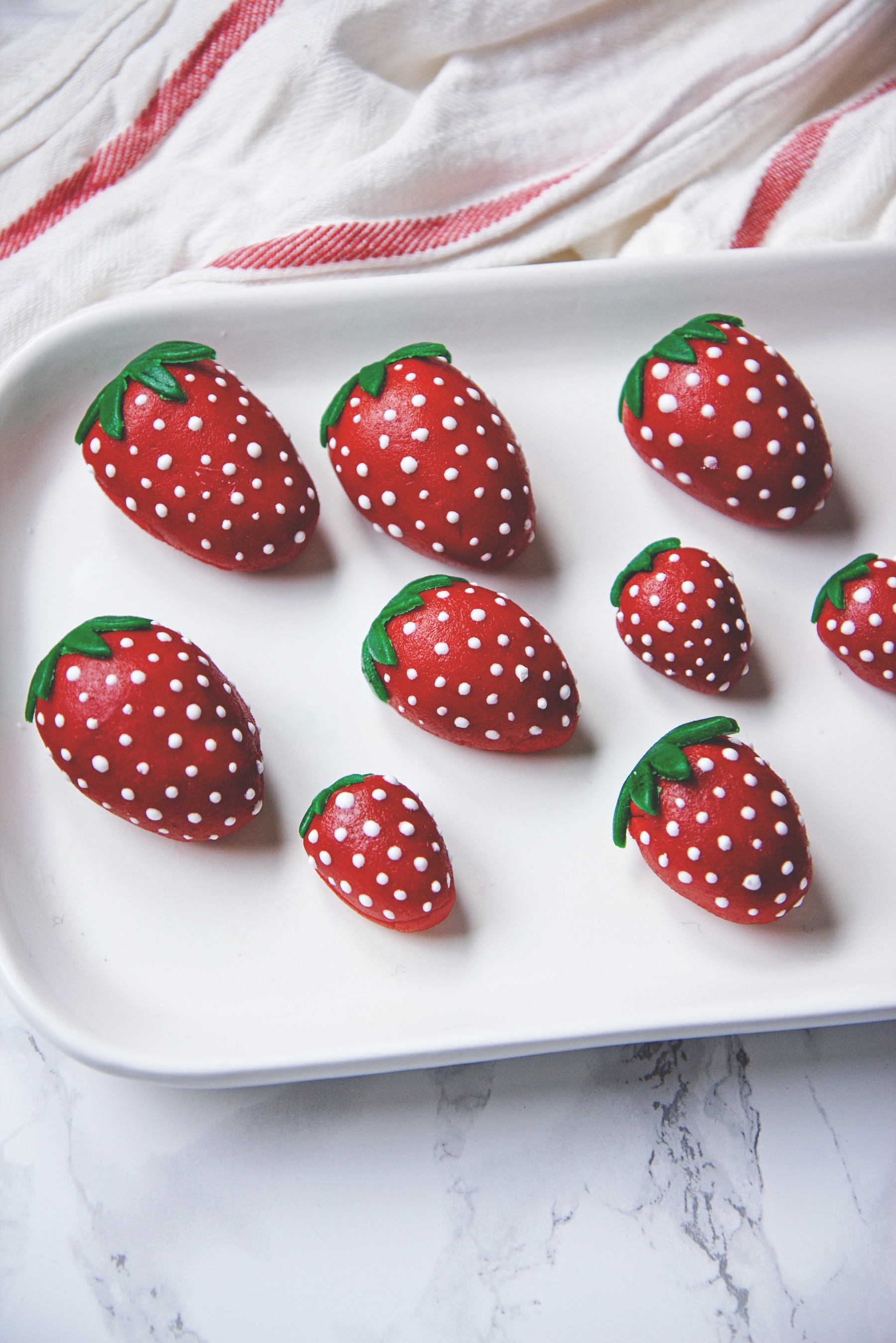 Valentine's Day, previously:
2017:
Fluffy, ruffled princess layer cake with a cascade of marzipan roses
Thick, soft M&M cookies
Mocha cupcakes topped with fluffy swirls of vanilla bean Italian meringue buttercream
2016:
Ginger, Malted Vanilla, and Hibiscus layer cake
Baby pink XO salty sugar cookies
Raspberry white chocolate and Nutella éclairs
Brown butter and vanilla bean teacakes
2015:
Fluffy, buttery copycat Lofthouse cookies
Chocolate covered strawberry cake with goat cheese frosting
Dolled-up red velvet cake
Mini pink princesstårta
2014:
Pink grapefruit possets with Ritz crunch and pistachios
Dark and white chocolate French mendiants
Strawberry pocky cake
Salty dark chocolate tarts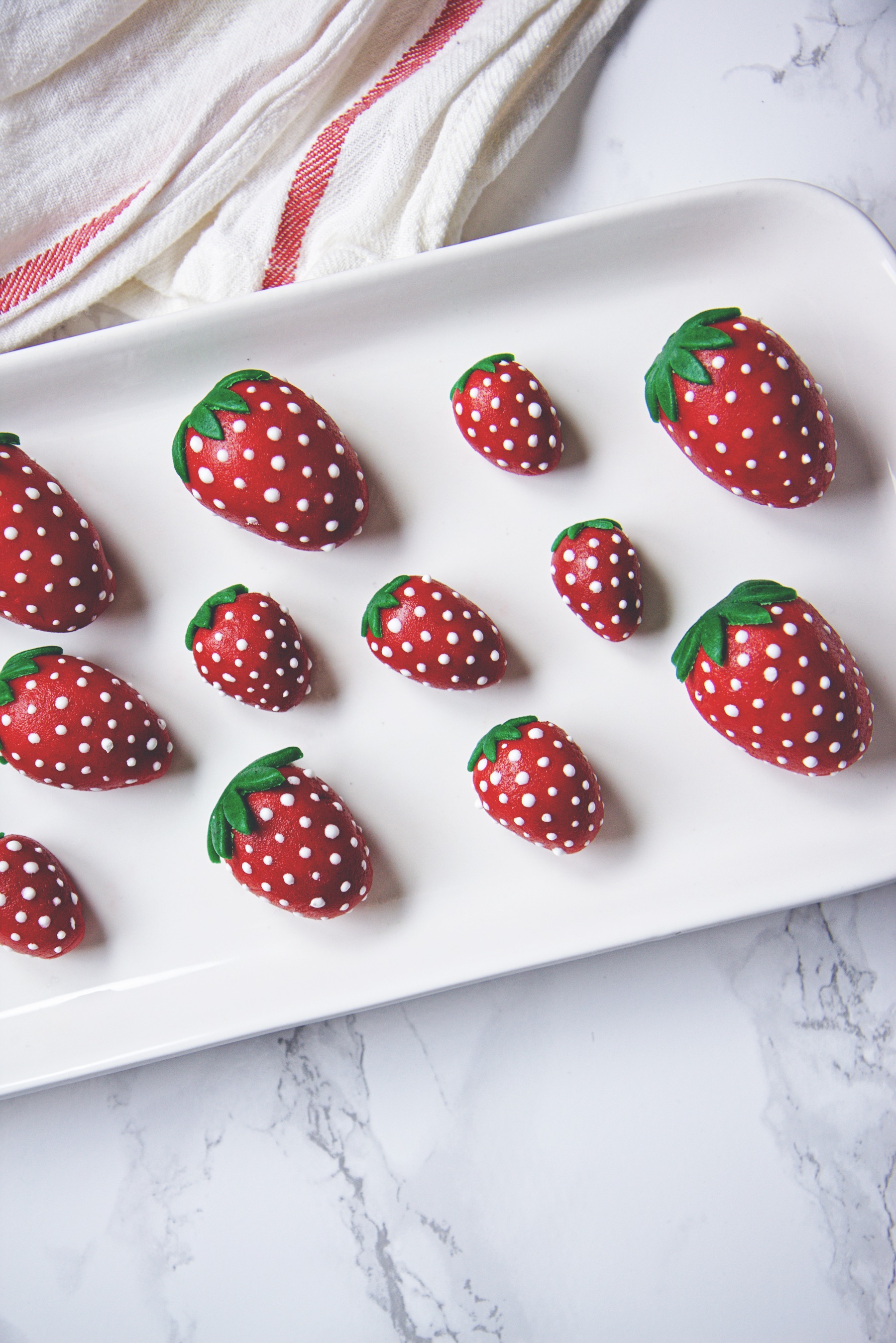 Strawberry, Chocolate, and Marzipan Cakes
makes 36 mini cakes
ingredients:
for the balsamic olive oil chocolate cake:
180 grams (1 1/2 cups) AP flour
60 grams (3/4 cup) cocoa powder
1 1/2 teaspoons baking soda
1/2 teaspoon salt
300 grams (1 1/2 cups) sugar
114 grams (1/2 cup) olive oil
360 grams (1 1/2 cups) hot coffee
15 grams (1 tablespoon) balsamic vinegar
for the strawberry buttercream:
113 grams (8 tablespoons) butter, softened
227 grams (2 cups) powdered sugar
1/2 teaspoon salt
30 grams (2 tablespoons) milk or cream, or as needed
170 grams (1/2 cup) strawberry jam
to assemble:
336 grams (12 ounces) marzipan
food coloring, as desired
royal icing (meringue powder + water), as desired
directions:
Preheat oven to 350 degrees F and grease and flour 2 6-inch pans.
Place flour, cocoa powder, salt, baking soda, and sugar in a bowl and whisk together briefly.
Slowly stream the hot water or coffee into the dry ingredients; once it's mostly incorporated, whisk vigorously while you add in the olive oil and balsamic vinegar.
Scrape the bowl to ensure homogeneity, then portion evenly into the two pans.
Bake for 18-22 minutes, until a tester comes out with a few crumbs and the tops are springy.
Allow to cool completely before continuing.
Once cool, cut off any crusty edges and crumble the cakes into fine crumbs.
Set aside.
Make the frosting: whip butter with powdered sugar and salt until light and fluffy; add in the milk while whipping so that the mixture is thick but spreadable.
Fold in the jam until combined; it may curdle (that's okay!) due to the amount of jam.
It's all just for binding, anyways, so it won't matter.
Add the frosting into the cake crumbles and stir until the mixture is a cohesive ball.
Scoop out teaspoon – 2 teaspoon measures and roll into conical strawberry shapes.
Refrigerate until hardened, at least 1 hour.
Meanwhile, tint the marzipan; here, I used Americolor and Wilton colors in red, black, and green, and added a touch of cocoa powder to the leaves to temper down the brightness.
Once the cakes are hardened, roll out a knob of red marzipan to 1/8 of an inch thickness.
Wrap the marzipan around the cake gently, pinching off excess at the seams and gently smoothing with your fingers.
Place the cake seam side down and return to the fridge.
Repeat with all the red marzipan; once that is all finished, roll out the green marzipan to 3/16 inch thickness.
Using fondant flower cutters, cut out the top leaves for the berries.
Affix to the top of the berries, using a tiny amount of water if needed.
Decorate the berries with a toothpick and white royal icing to create little dots as seeds.
Serve at room temperature the day they are made (marzipan will get a bit soggy if left in the fridge too long).