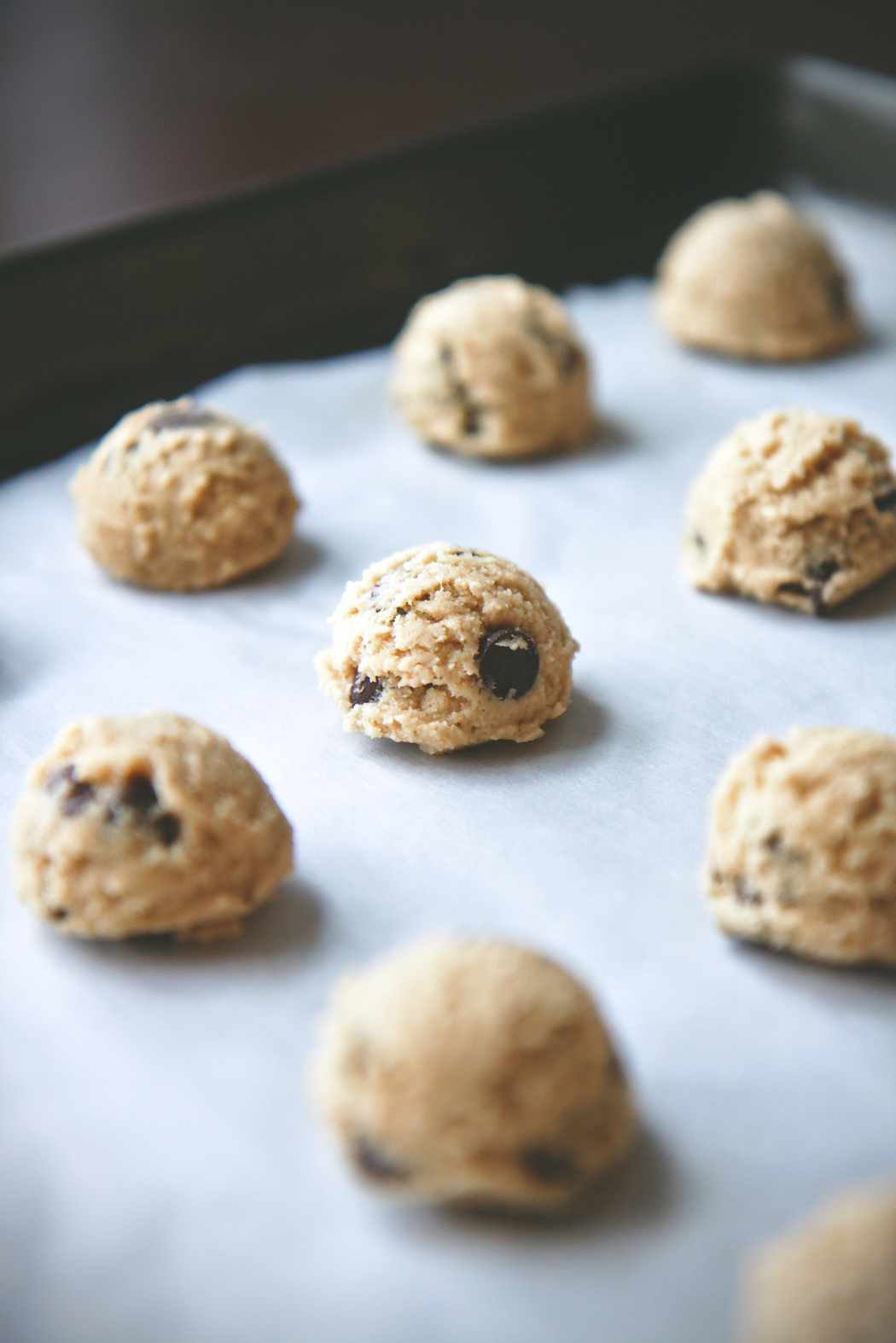 Your heart is a weapon the size of your fist.
Keep fighting.
Keep loving.
—Leah Wilson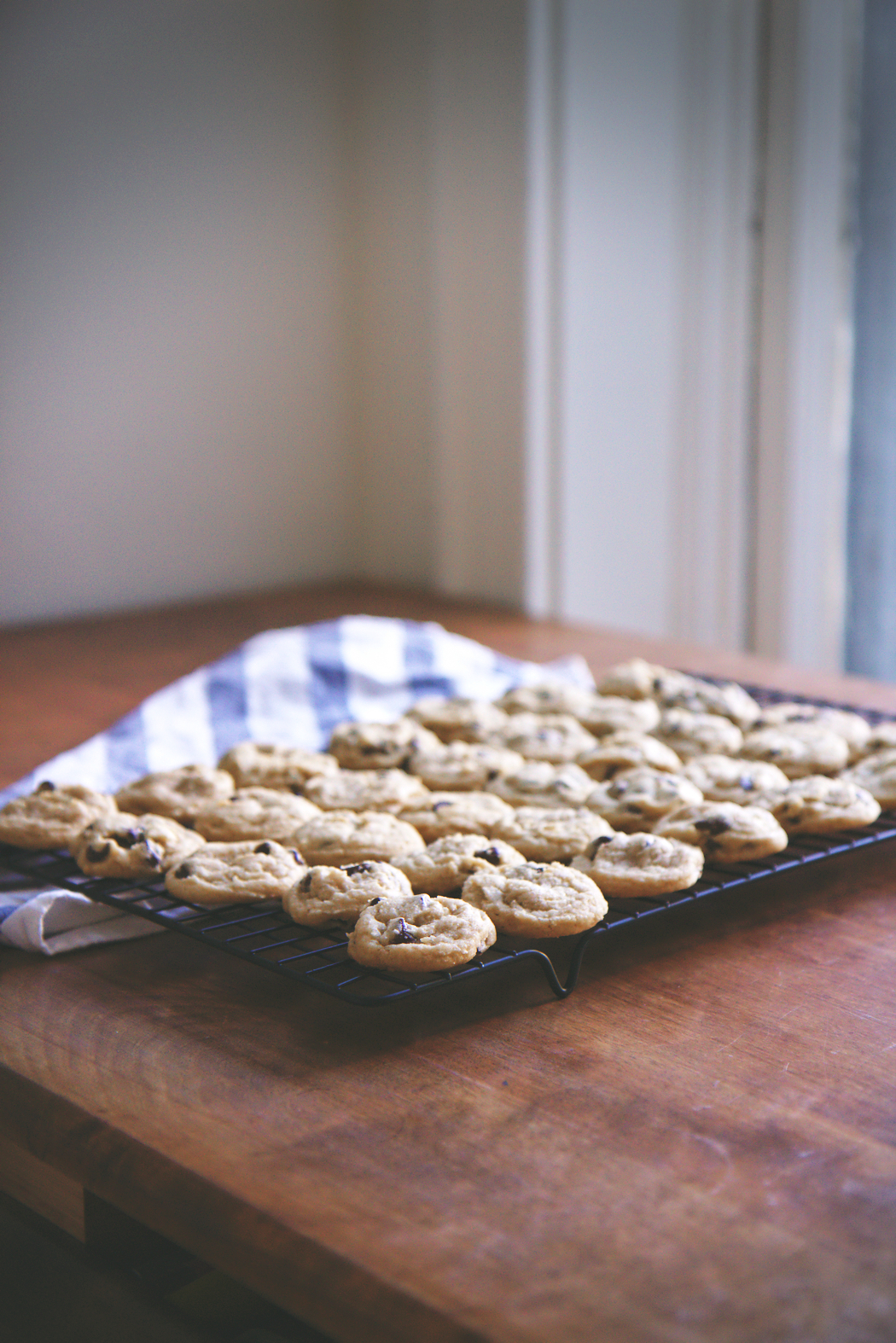 How is winter treating you lately?
We've had a string of not-so-terrible days, so mild, in fact, that parkas are forgotten, gloves and hats stripped off and left behind, where the prospect of a fresh salad for dinner doesn't seem nearly as cold and uninviting of an idea as before.
I mean, gosh, 40 degrees F—anyone up for iced coffee?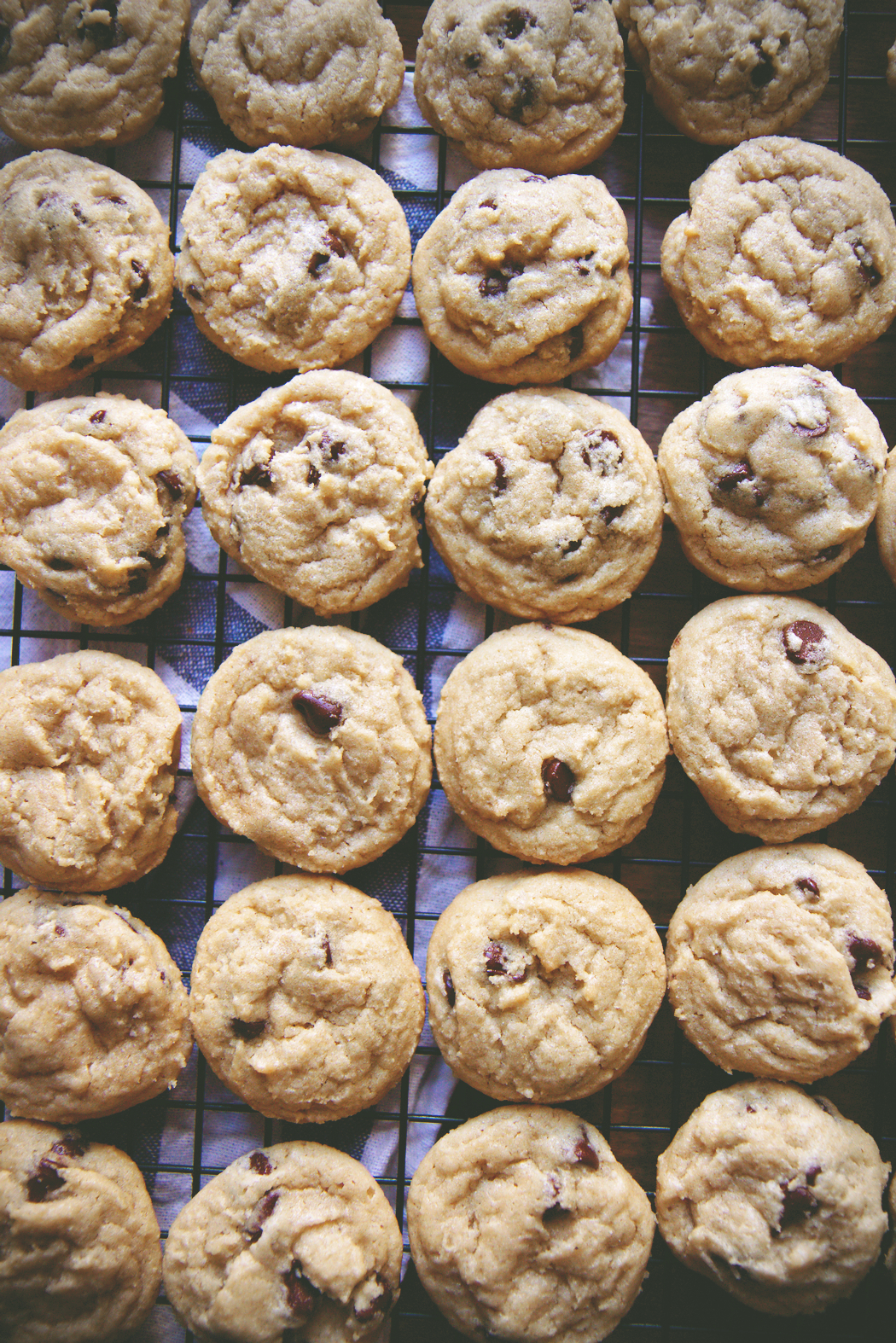 Actually, I'm still off of caffeine, miraculously.
In fact, I've used more caffeine in my Organic Chemistry lab experiments than I have actually consumed over these last few months.
Last July, I went off of coffee—I was drinking too much of it, and still feeling tired every day.
The transition was unpleasant (migraines, vomiting, etc.), but luckily for me, it was summer.  Sleeping until 12 wasn't so big of a deal after all—and how can one really be grumpy when it's sunny and warm?
(Don't ask my parents, because they'll tell you I was plenty grumpy sometimes…)
This December, I went completely off of caffeine—no black or green tea, no diet coke.
I'm still feeling fairly fresh in the mornings.  I think my body has transitioned well; not having that extra boost definitely pushes me to get more sleep, which is never a bad thing.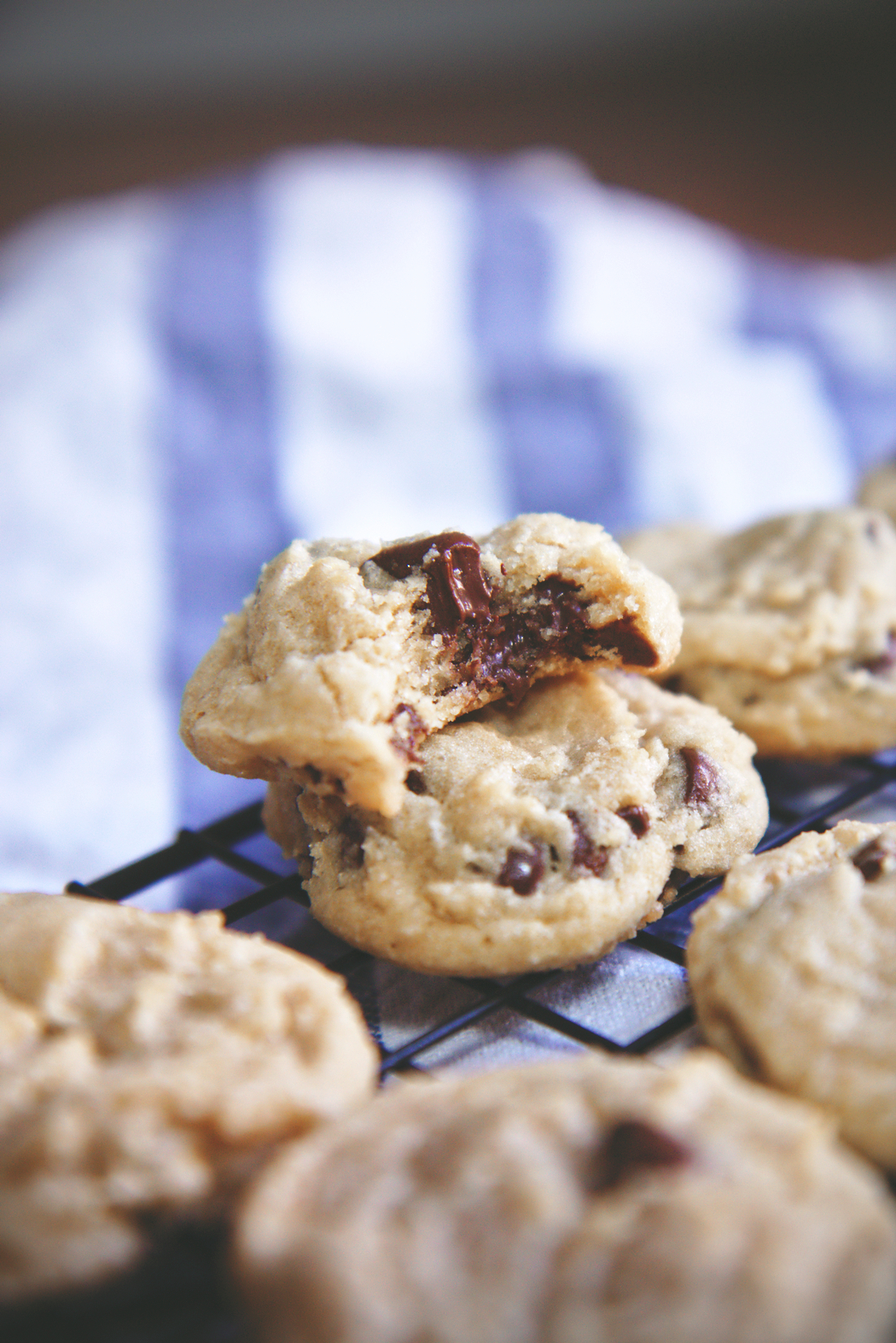 So even though I sleep like a baby without the interference of the caffeine fairy who so conveniently likes to flit around right when you try to go to sleep, there is one thing that keeps me up at night:
N can't eat anything that I make, since he's lactose intolerant.
Life without butter and cheese is sad indeed (although that being said, he can eat truly prodigious amounts of food and not worry about the accumulation of a single ounce of fat, so don't feel too bad for the kid…); but I daresay it might be worse if your girlfriend is, allegedly, some fanatic pastry blogger, and yet you never get to see even a single thing that comes out of her kitchen.
(Save for this cake that I made with him in mind, of course.)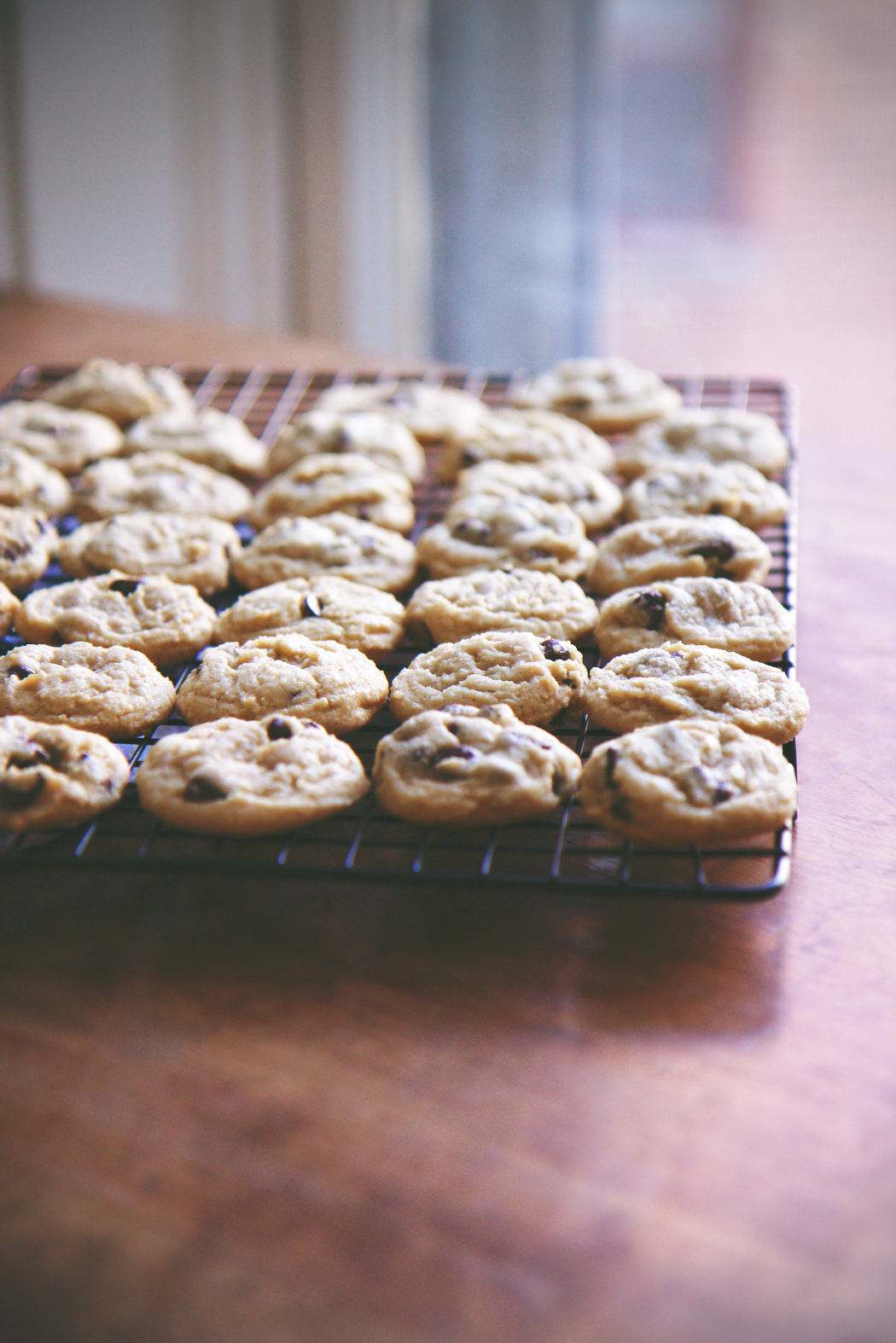 So I made him cookies that he could enjoy without worry.
I went for the classics, because, honestly, there is no better cookie than a soft, still-warm chocolate chip.
(He can't dunk them in milk, though! GAhhhh.)
These cookies are soft on the inside, but crisp on the bottoms; they're rich and full of texture and flavor.
Made with plenty of brown sugar and rice-milk based chocolate chips, with Earth Balance and a hit of salt.
They're everything you want chocolate chip cookies to be, just without the dairy.
The secret is to underbake them, and let them settle into little pillows of perfection.
I made them tiny, because it means you can eat 9 of them without a second thought, obviously.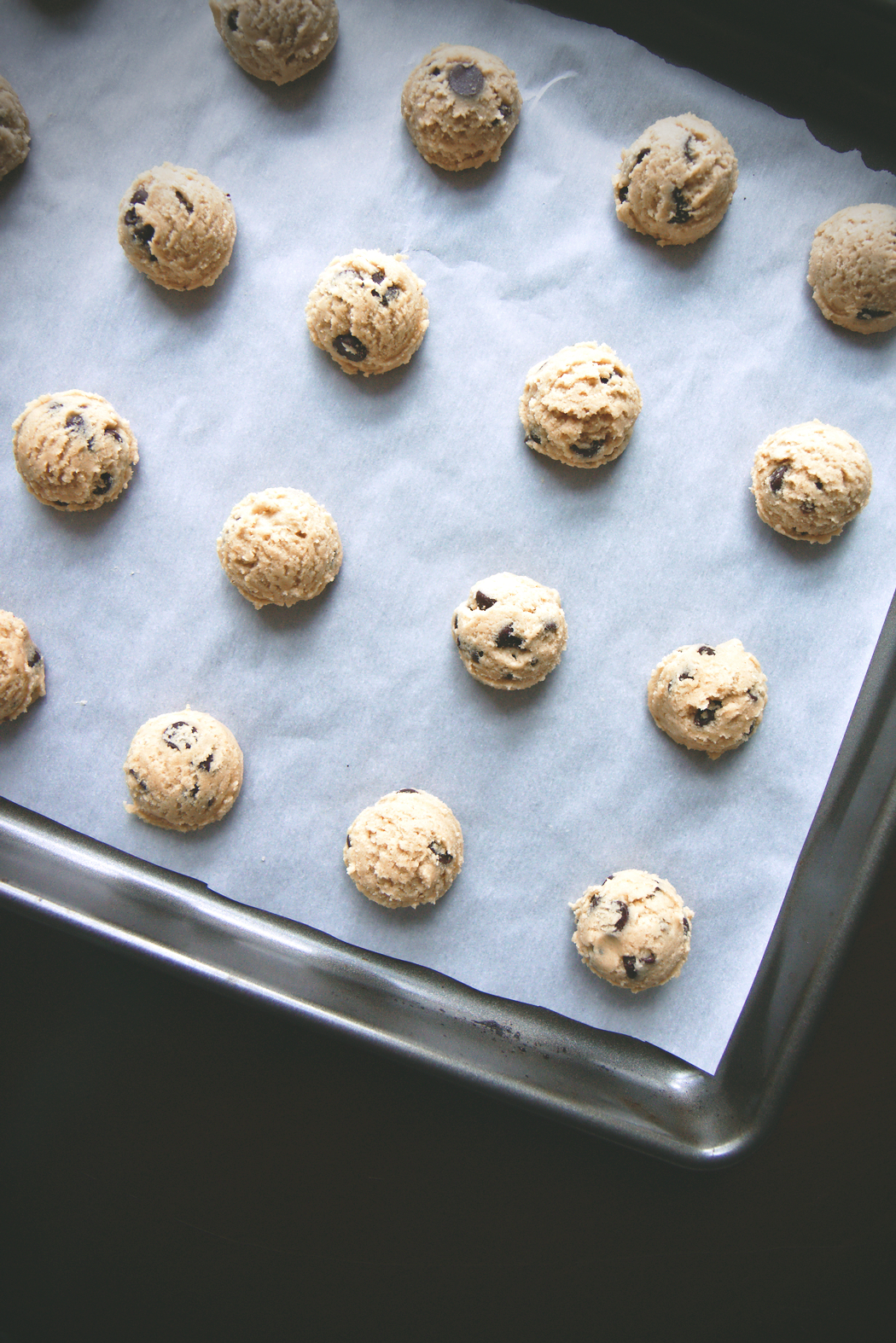 Note: these cookies can easily be made with real butter and dairy-full chocolate chips.
But since you can eat dairy, might I suggest this divine, melt-in-your-mouth shortbread?
Or these softbatch peppermint cookies with buttery chocolate frosting?
Or even these extra-intense brown butter chocolate chip cookies, fat and fluffy and the opposite of dairy free?
Or dairy-full vanilla and chocolate roll-outs in the shape of dairy cows? (Mooo.)
Back soon (with butter)!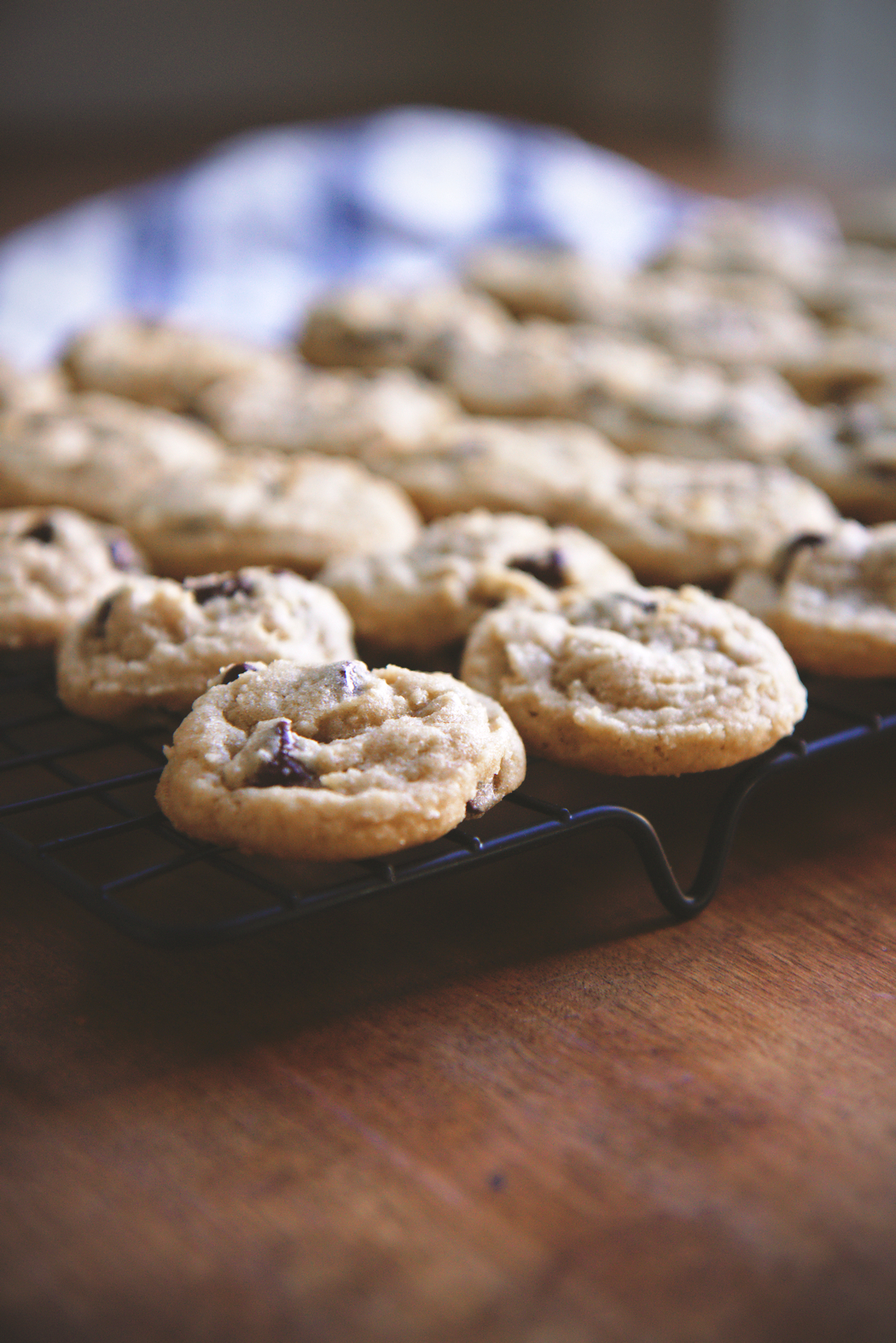 Dairy Free Chocolate Chip Cookies
makes 36 small cookies
ingredients:
113 grams (4 ounces, 8 tablespoons) Earth Balance buttery sticks (or other dairy-free butter sticks)
75 grams (1/4 cup plus 2 tablespoons) white sugar
90 grams (1/4 cup plus 3 tablespoons, packed) brown sugar
1/4-1/2 teaspoon sea salt, to taste
1 teaspoon vanilla extract
1 egg
180 grams (1 1/2 cups) all-purpose flour
1/2 teaspoon baking soda
1 cup dairy-free chocolate chips (I use RiceDream brand)
directions:
Place Earth Balance in the bowl of a stand mixer and beat for 3 full minutes.
Add in the white sugar, brown sugar, and 1/4 teaspoon salt and scrape the bowl; beat for 4 full minutes until fluffy and light.
Scrape the bowl, add in vanilla extract and egg and beat for 4 more minutes (set a timer) until very light colored and glossy.
Scrape the bowl and add in the flour and, on top of the flour, the baking soda.
Mix with a spatula or wooden spoon until dough comes together; it should be thick and require a little elbow grease.
At this point, taste, and if it needs more salt, sprinkle another 1/4 teaspoon over the top of the dough and either use your mixer or spoon to fully beat the dough.
Stir in the chocolate chips.
Portion out in 2 tablespoon scoops onto baking sheets lined with parchment paper.
Freeze for at least 1 hour and up to overnight.
When ready to bake, preheat oven to 350 degrees F.
Space cookies 1 1/2 inches apart on the sheets and bake for 9 minutes; they will look puffy and still a little underbaked.
Remove from oven and let cool on cookie sheet for 10 minutes before removing to cooling rack.
Serve with a cold glass of (almond) milk!