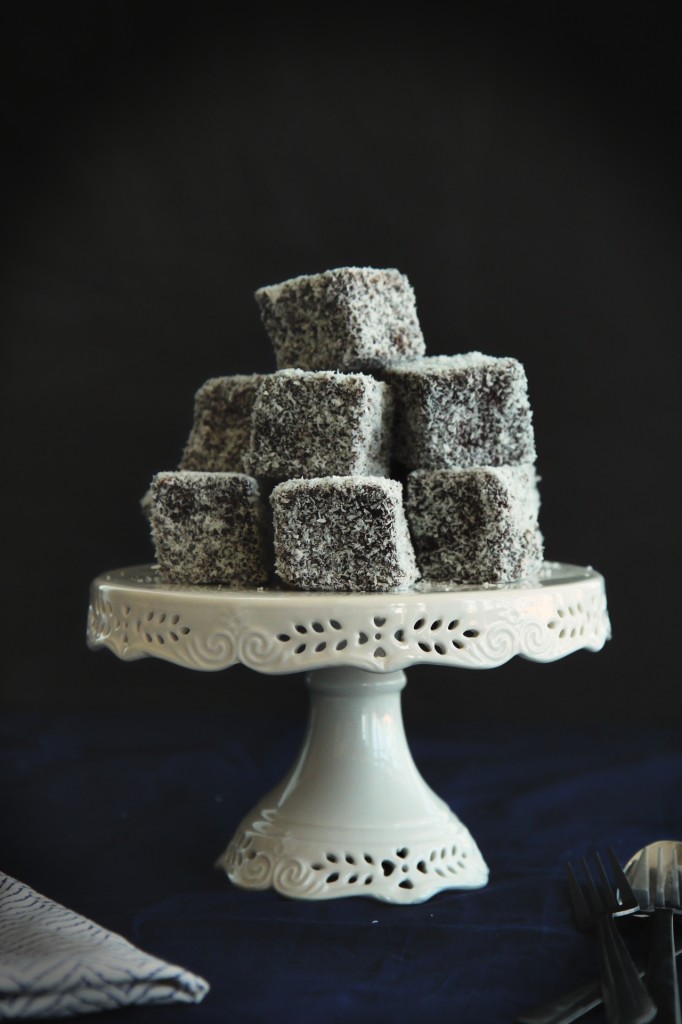 My good lords and ladies, would you care for a bloody poofy woolly biscuit?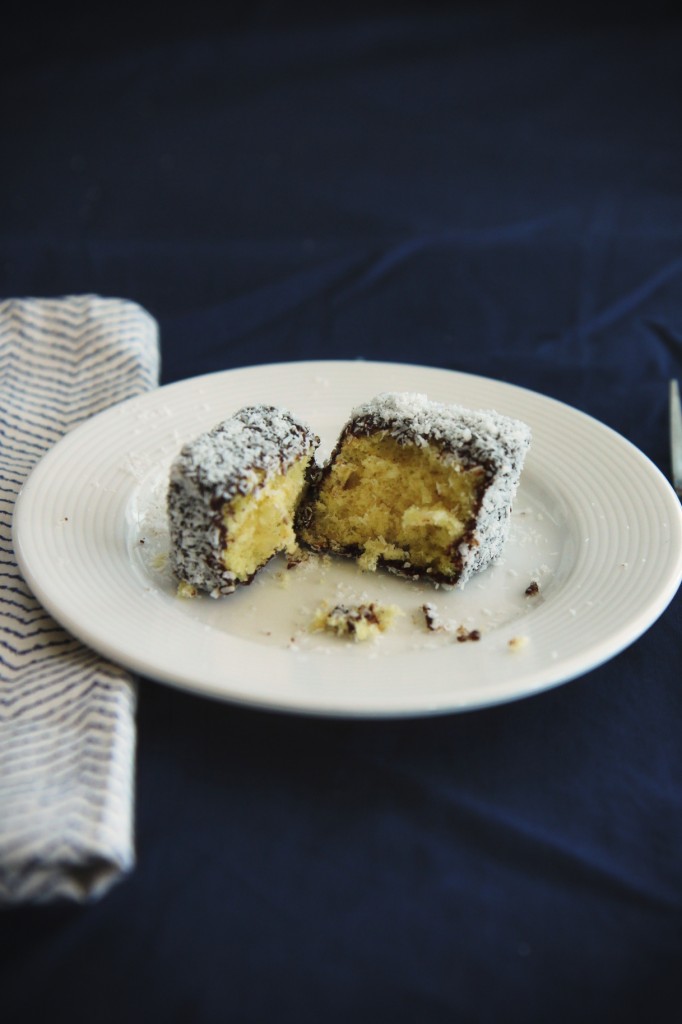 What, that doesn't sound appealing to you?!
Allegedly, that's what Lord Lamington, after whom these little confections may or may not be named, was fond of calling them, and not exactly lovingly.
The history of the lamington is a bit convoluted, with different stories attributing its origin to various sources.
They're quite widely popular, so there must be something behind them.
Lamingtons are enjoyed from Queensland to Toowoomba to South Africa to… Cleveland.
(In other Australia-related news… more weird ass marsupials discovered on the only freaky continent to boast marsupials!)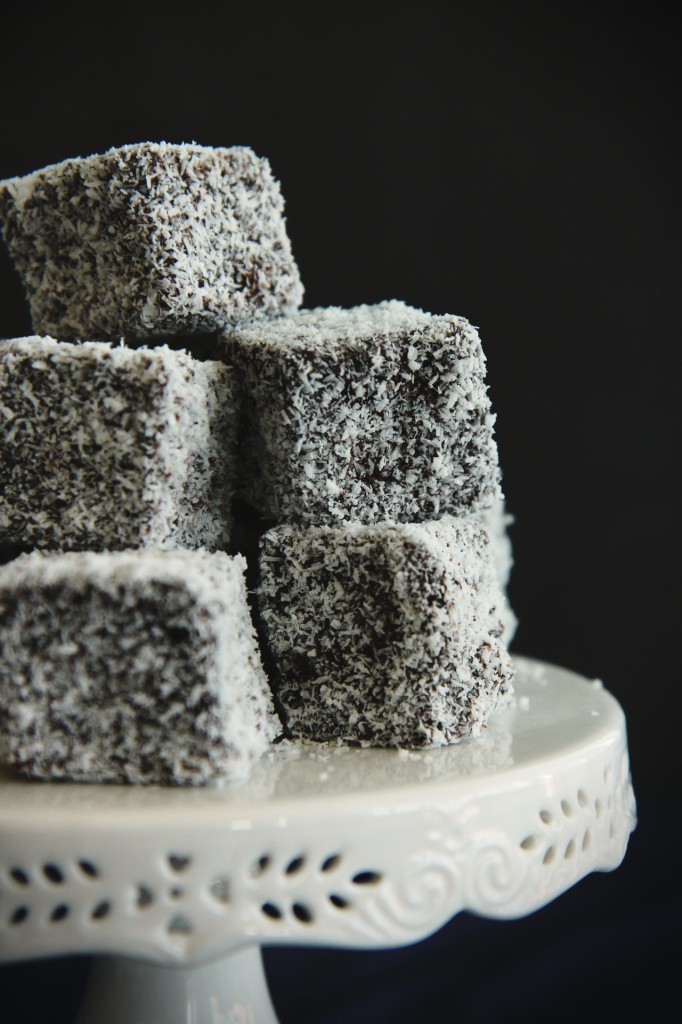 When I found some desiccated coconut in the famed and fabled land of Hyde Park Produce, I knew instantly I had to make lamingtons. (After, of course, I stirred heaps of it into this cake and this cake, too.)
The traditional form is a cube of vanilla sponge cake, sometimes split in two and filled with jam, dipped in chocolate glaze and covered with coconut.
I didn't deviate too much, because I've never tried a real lamington!
Here, a moist, light vanilla sponge cake is filled with rich, thick coconut pastry cream, coated in a dark bittersweet chocolate glaze and dusted with plenty of chewy, nutty desiccated coconut.
Lord Lamington must have been crazy, because these treats are fabulous.
They're really not sweet, with a myriad of textures: the sponge cake is fluffy, the coconut cream buttery, the glaze melty and the coconut shreds are chewy.
The flavors meld beautifully, with the coconut pastry cream giving an aroma of coconut to the interior as well as the exterior, the thin shell of chocolate not overpowering the delicate vanilla or coconut.
These were snapped up from my house table ridiculously quickly; people remarked how pretty and how delicious they were.
(Nary a "bloody poofy wolly biscuit" to be heard!)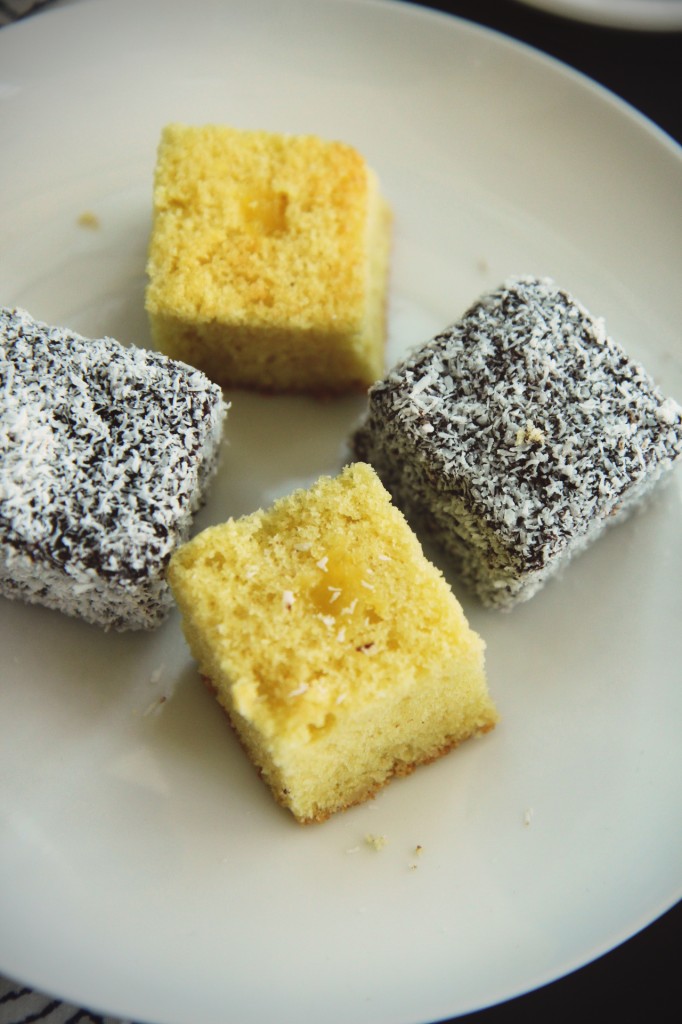 A few notes about making these poofy little delights:
Trim the edges off your sponge cake! This keeps it moist and allows you to level any imperfections off.
Don't worry too much if your cubes are kind of wonky, mine were like that too.  They taste just as good.
If your pastry cream is a bit thick, just stir it around vigorously, or fold in stiffly whipped cream.
The pastry cream recipe unavoidably makes more than you'll need, but you can use it to sandwich more cakes, or thin it with a bit of milk or cream for coconut pudding!
To pipe it into the cake, don't be shy.  Stick the tip of your pastry bag into the center of the cake and apply pressure.
As the crevices in the sponge cake fill up, the tip will be shoved out of the cake, and you'll know that it's full!
When covering the cakes with the glaze, less is more.  Scrape off as much as you can, leaving only a thin lacquer of chocolate.  Otherwise a lot of it will drip into your coconut, and the cakes won't be as neat.
Desiccated coconut may be a little difficult for some to locate; look for it in ethnic sections or ethnic supermarkets (mine was an Arabic brand).
If you can't find it, it seems that flaked or even shredded coconut does the job well enough.
Don't let the coconut hold you back from trying lamingtons!
As always, serve with a good strong cup of milky English tea.
(Yes, Australians have teatime too, thank you O Great British Empire.)
P.S. I'm back in the States.  Woohoo. So glad…  I can feel my tan fading already.  Great.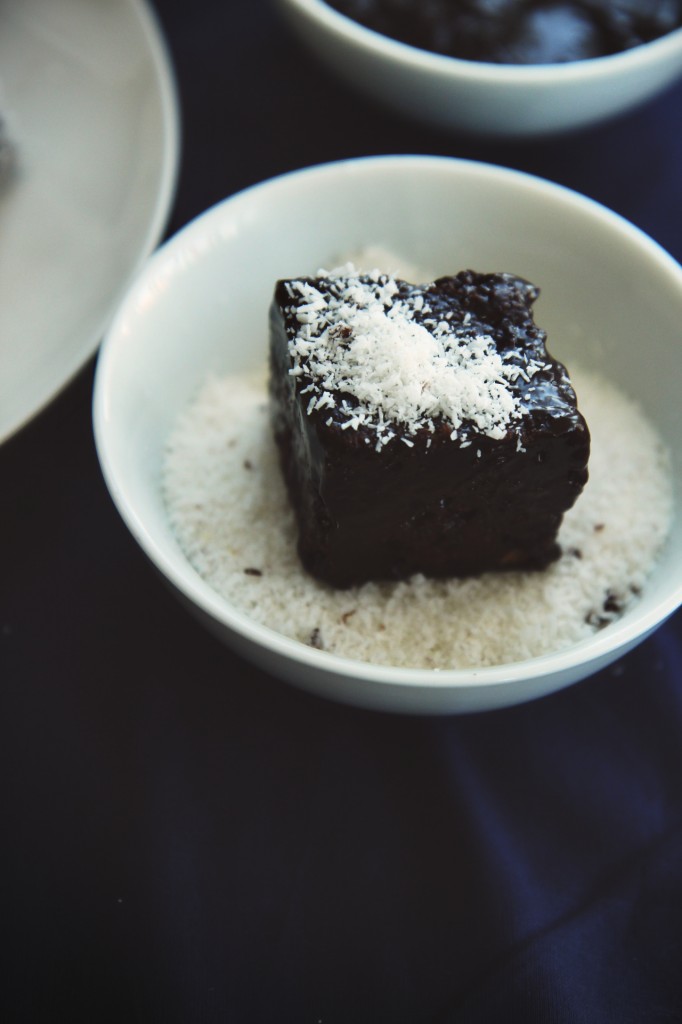 Coconut Cream Lamingtons
makes 16
cake portion adapted from Saveur
pastry cream adapted from the Kitchn

ingredients:
for the sponge cake:
3 eggs
1/2 cup sugar
1/2 teaspoon kosher salt
1 teaspoon vanilla
8 tablespoons butter, melted
1 cup flour
1 teaspoon baking powder
for the pastry cream:
3/4 cup full fat coconut milk, well stirred
1/4 cup sugar
2 tablespoons flour
big pinch kosher salt
2 egg yolks
for the ganache:
6 ounces bittersweet chocolate, chopped (approximately 1 cup)
scant cup powdered sugar
1/4 cup cocoa powder
3 tablespoons milk (feel free to use coconut milk)
pinch salt
1 1/2 tablespoons butter
to assemble:
1- 2 cups desiccated coconut
directions:
Make the cake: grease and flour an 8×8 pan.
Preheat oven to 350 degrees F.
Place eggs in the bowl of a stand mixer fitted with the whip attachment.
Whip on high for 3 full minutes– set a timer.
With the mixer running, add the salt and slowly stream in the sugar.
Beat for another full 3 minutes– set a timer.
Whisk the vanilla extract into the melted butter, then pour it into the whipped eggs.
Dump the flour (gently) on top, then add the baking powder to the flour mound.
Gently, using folding motions, incorporate the butter and flour into the eggs.
The batter should be homogeneous– you will have to mix thoroughly yet gently– but not completely deflated.
Spread the batter into the pan.
Bake for 25-30 minutes, until a tester comes out clean and the cake is golden.
Allow to cool completely, then slice off the edges and top so that it's all level.
Meanwhile, make the pastry cream: blend all ingredients except vanilla together, either with an immersion blender or in the canister of a regular blender.
Pour into a small saucepot and cook over medium heat, whisking constantly, until thickened to a pudding-like consistency.
Remove from heat, blend again if there are chunks, and allow to cool before filling lamingtons.
Make the ganache: melt the chocolate, gently, in a double boiler or in the microwave.
Add in the powdered sugar, cocoa powder, milk, salt, and butter, and blend with an immersion blender (or, again, in a regular blender or food processor) until shiny and smooth.
Ganache should be thin enough that it will not pull many crumbs off the cake, so add another tablespoon or two of milk if need be.
To assemble lamingtons, slice cake into 16 cubes.
Fill a pastry bag fitted with a plain tip with the coconut pastry cream; stick the tip into the center of a cube of cake and fill until the pressure forces the tip out of the cake.
Dip the cakes into the ganache, being sure that the chocolate coat is very thin, not thick and heavy.
Brush any excess ganache off, then roll the wet cube in coconut.
Set on a parchment-lined baking sheet to set for at least 2 hours.