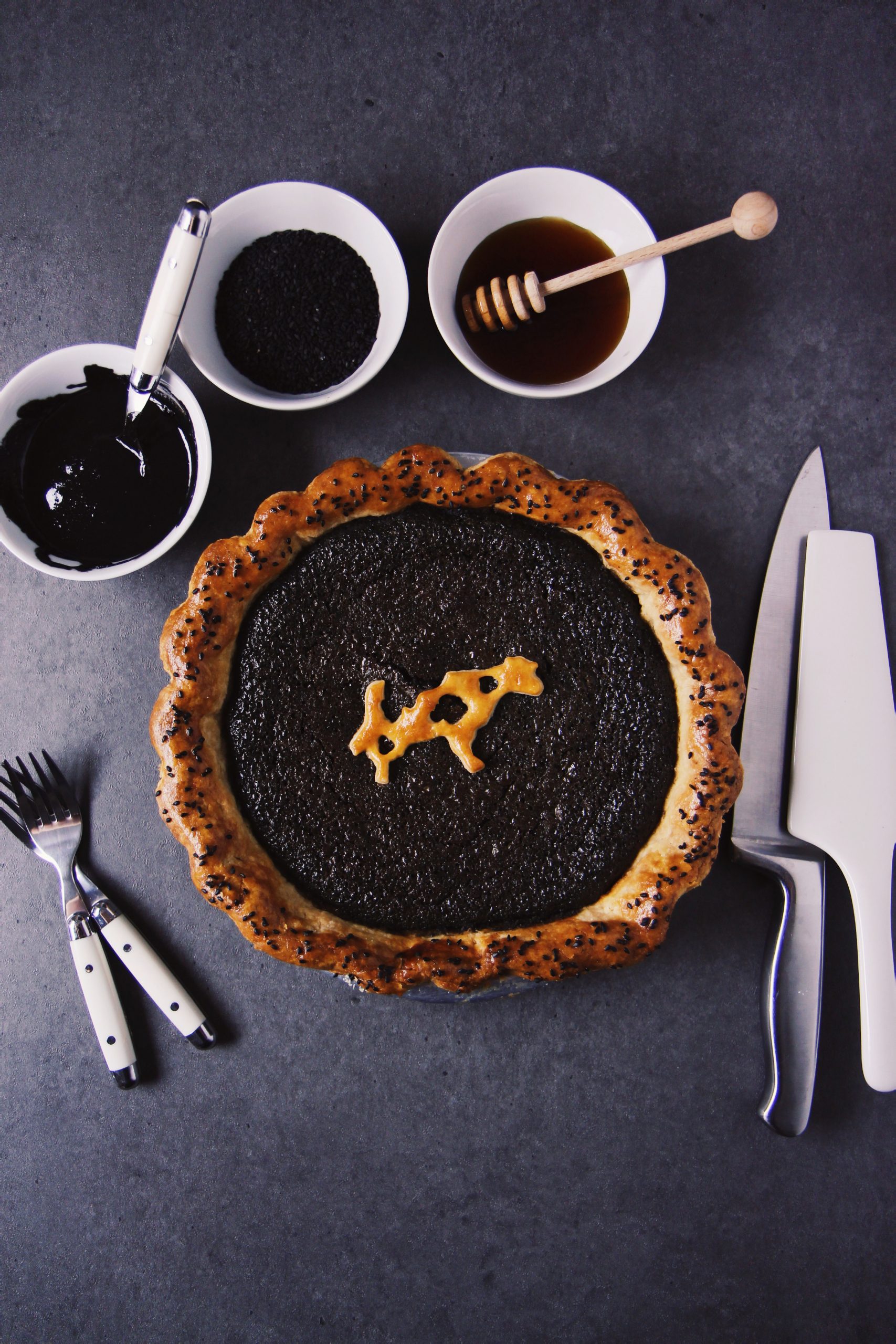 Oh, the wonderful sounds
Mr. Brown can do!
He can sound like a cow.
He can go MOO MOO
—Dr. Seuss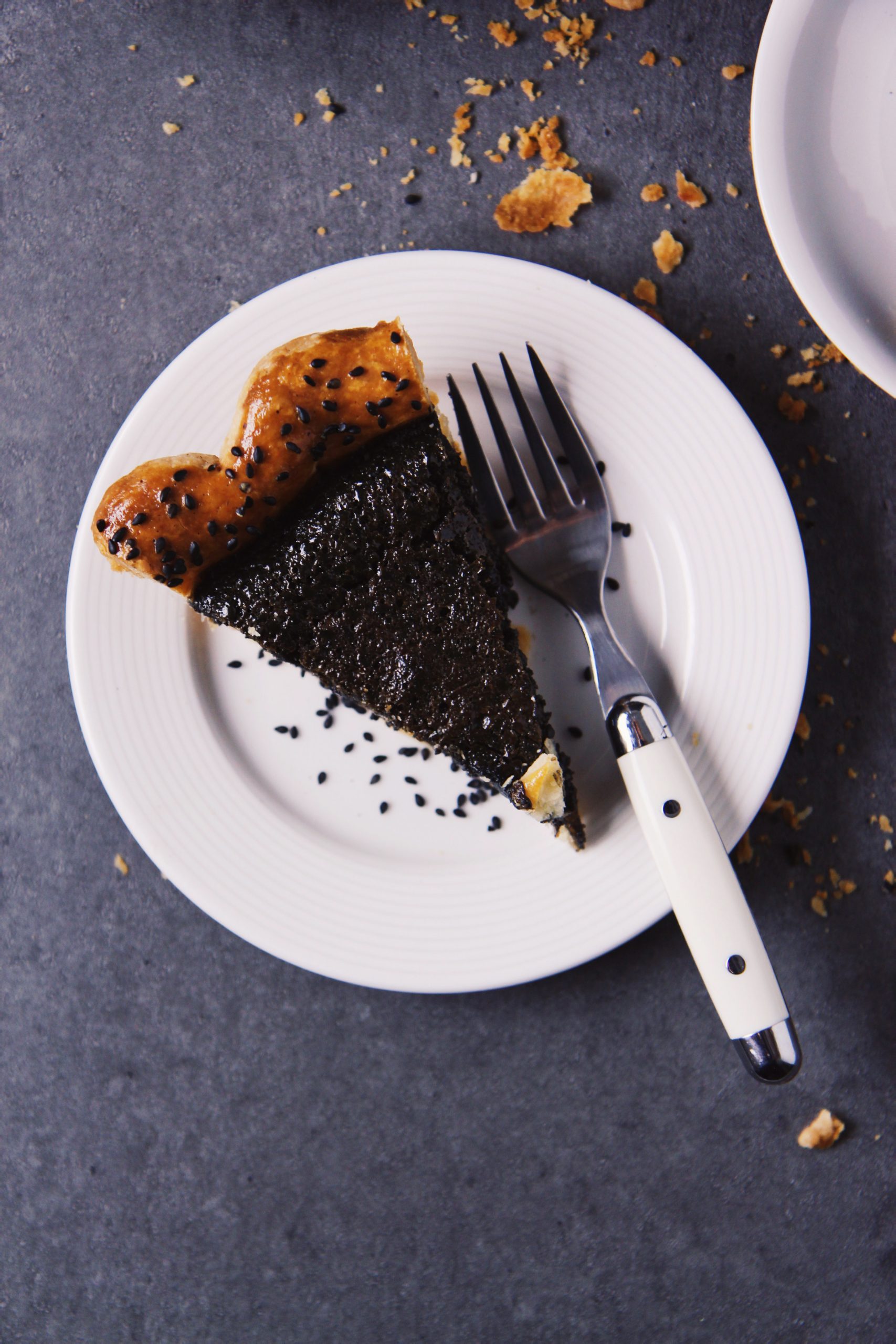 Happy Pi Day. 3.14!
I hope you are all safe and well today.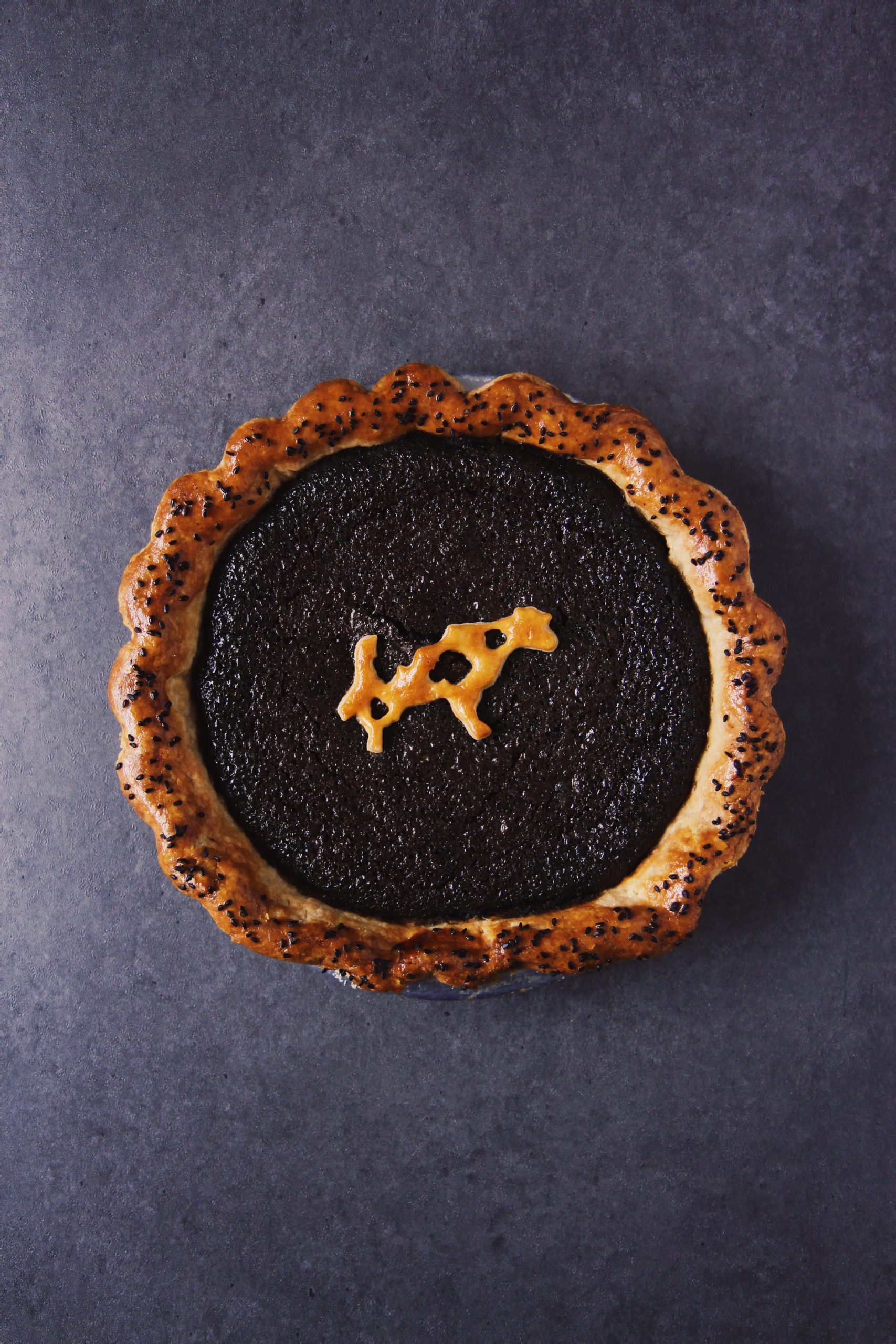 It feels a little strange to be thinking and writing about something as trivial as pie right now, while doctors and health care workers around the globe suit up to face the covid-19 pandemic.
These are strange times all around. NYU School of Medicine has gone virtual for the M1s (that's me), so I'll be packing my bags and headed home upstate for the foreseeable future. As I do so, I can't help but feel a bit out of body, what with the news swirling around and what feels like mass panic here in NYC, which is looking to be an epicenter here in the states for the virus.
It is so important to stay calm and keep your wits about you, as difficult and confusing as it may feel.
I am lucky to be in a privileged position of being taught about this virus by expert doctors at NYU, but even I know that the information comes hard and fast and in so many waves that it can be hard to digest.
The bottom line is: the more we can do to slow the spread, the better.
The more you can stay at home, avoid travel, and avoid other people, the better. Reframe it in a positive light! More time to be cozy and spend time doing things you otherwise wouldn't have at home.
Watch some comforting TV or movies; do a puzzle; avoid the news if it's stressing you out.
Wash thy hands with soap and water, frequently and for a minimum of 20 seconds. Look up a video so you know where the commonly missed surfaces of your hands are. Become a pro at singing happy birthday to yourself (x2).
Wipe down surfaces often and avoid touching surfaces when possible.
Rethink travel plans. I have cancelled my vacation to Portugal to see my brother and SIL and my niece. It's sad, and it sucks, but this is a bigger issue than just a vacation. The last thing I want to do is be a public health menace, spreading the virus without knowing it.
Stock up, moderately, on some foods. Don't buy anything you wouldn't normally eat—it will just go to waste!
If you are buying 750 rolls of toilet paper at Costco, or stocking up on thousands of bottles of hand sanitizer and selling them for a 50x markup, f*** you. You are a bad actor here. Bye.
Be conscious of the people most vulnerable in our society, and be kind.
Anyways, this pie I'm sharing today was made with just ingredients in my pantry (although my pantry is weirdly well stocked), and it's a fun and different baking project to try while at home!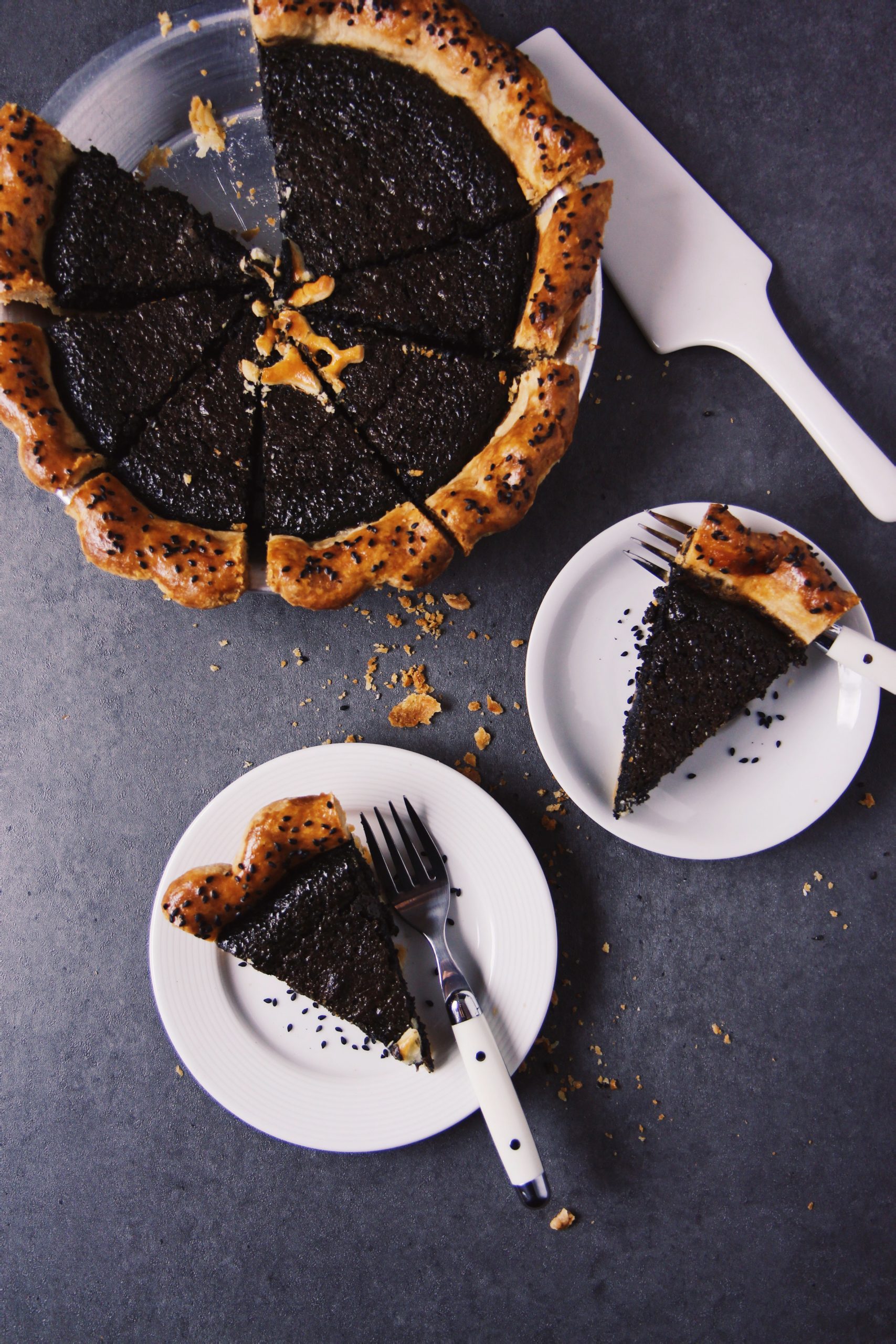 This chic, black pie is alluringly mysterious, and she hides a depth of surprising flavors.
Under a crisp and shiny top, there is a custardy filling with roasted, toasted black sesame paste and seeds, brown sugar, honey, and maple—a trio that creates a warm, rounded sweetness with a certain je-ne-sais-quoi, a little sugary lilt that curls itself around the end of your tongue.
The black sesame adds a bitterness that cuts through the richness of the crunchy, crisp all-butter crust.
Woven through the whole thing is the nutty, luxurious flavor of browned butter.
This really is an incredible and unique pie. It would be amazing served with whipped cream or vanilla ice cream. There's a part of me that wants to say it would be great with matcha ice cream, but I suspect that the combination would read a little too bitter to be enjoyable.
Love you all. Stay safe and well.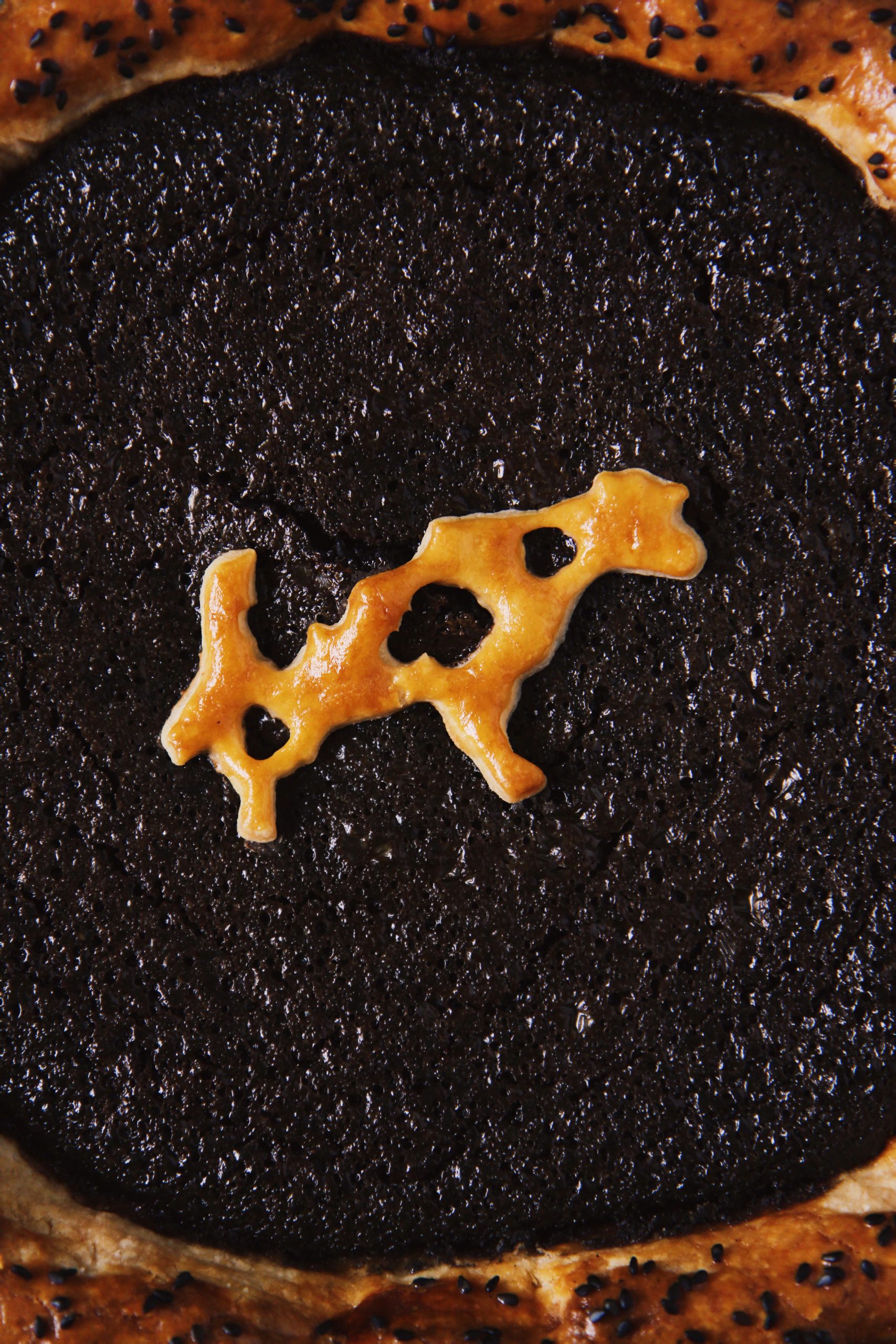 Pi day, previously:
2019: black bottom cherry pie
2018: brown butter smoked salted honey pie
2017: vegan campfire pie
2016: brûléed citrus and lime pie
Pie, previously:
2018: plum and frangipane pie
2017: perfect peach pie
2016: pumpkin meringue tart
2015: apple, pear, butterscotch, and cheddar pie
2015: fig, rosemary, and lemon tart
2014: coconut buttermilk chess pie
2014: peach slab pie
2014: American pie
2013: Pumpkin spice brown butter chocolate pecan pie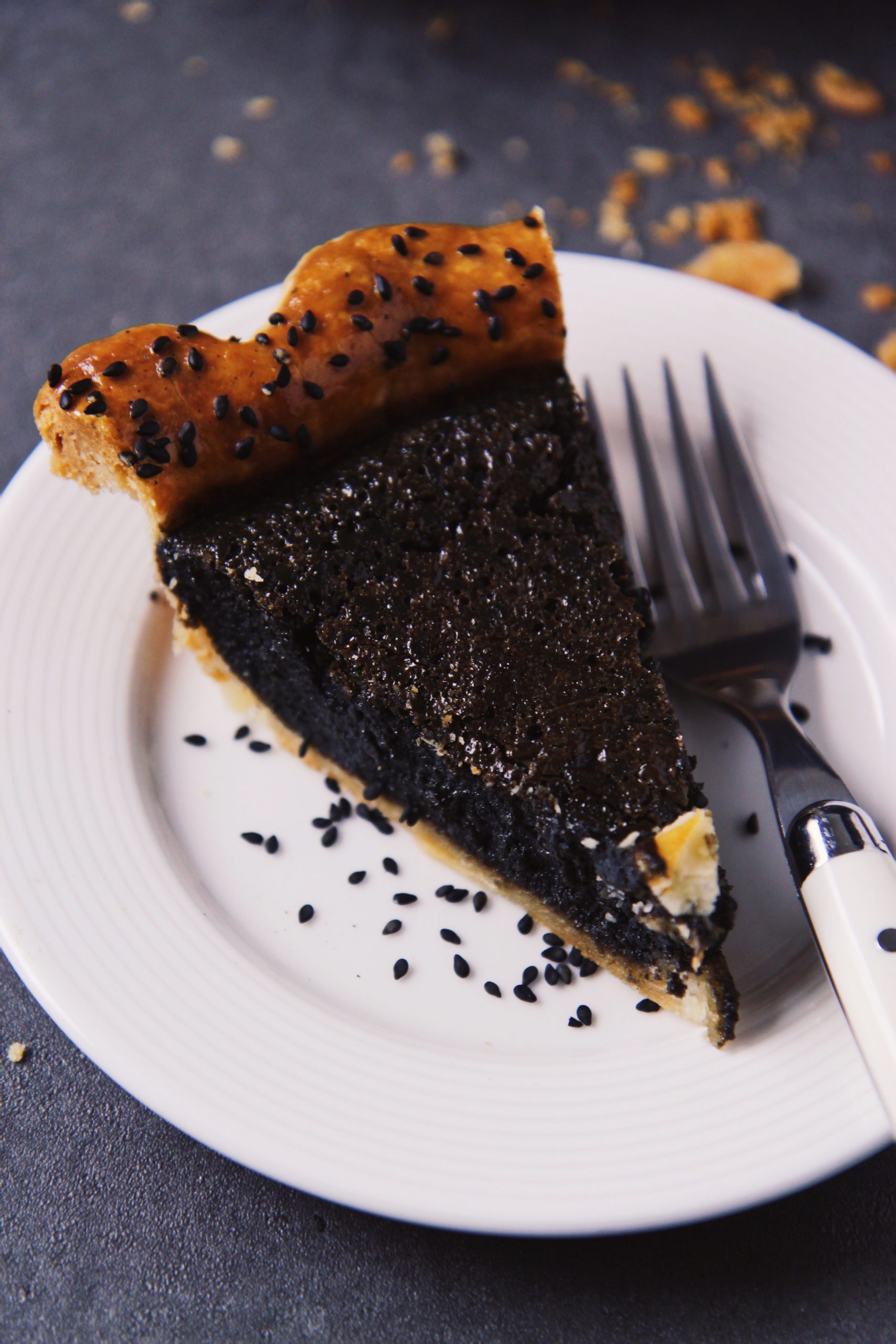 Cosine, secant, tangent, sine,
Three point one four one five nine,
Square root, cube root, BTU,
Sequence, series, limits too.
Themistocles, Thucydides, The Peloponnesian War,
X squared, Y squared, H2SO4.
Who for? What for? Who we gonna yell for?
Go, Maroons.
Logarithm, biorhythm, entropy, kinetics,
MPC, GNP, bioenergetics!
Maximize and integrate, titrate and equilibrate—
Go, Maroons.
—Very Unofficial UChicago football cheer, or whatever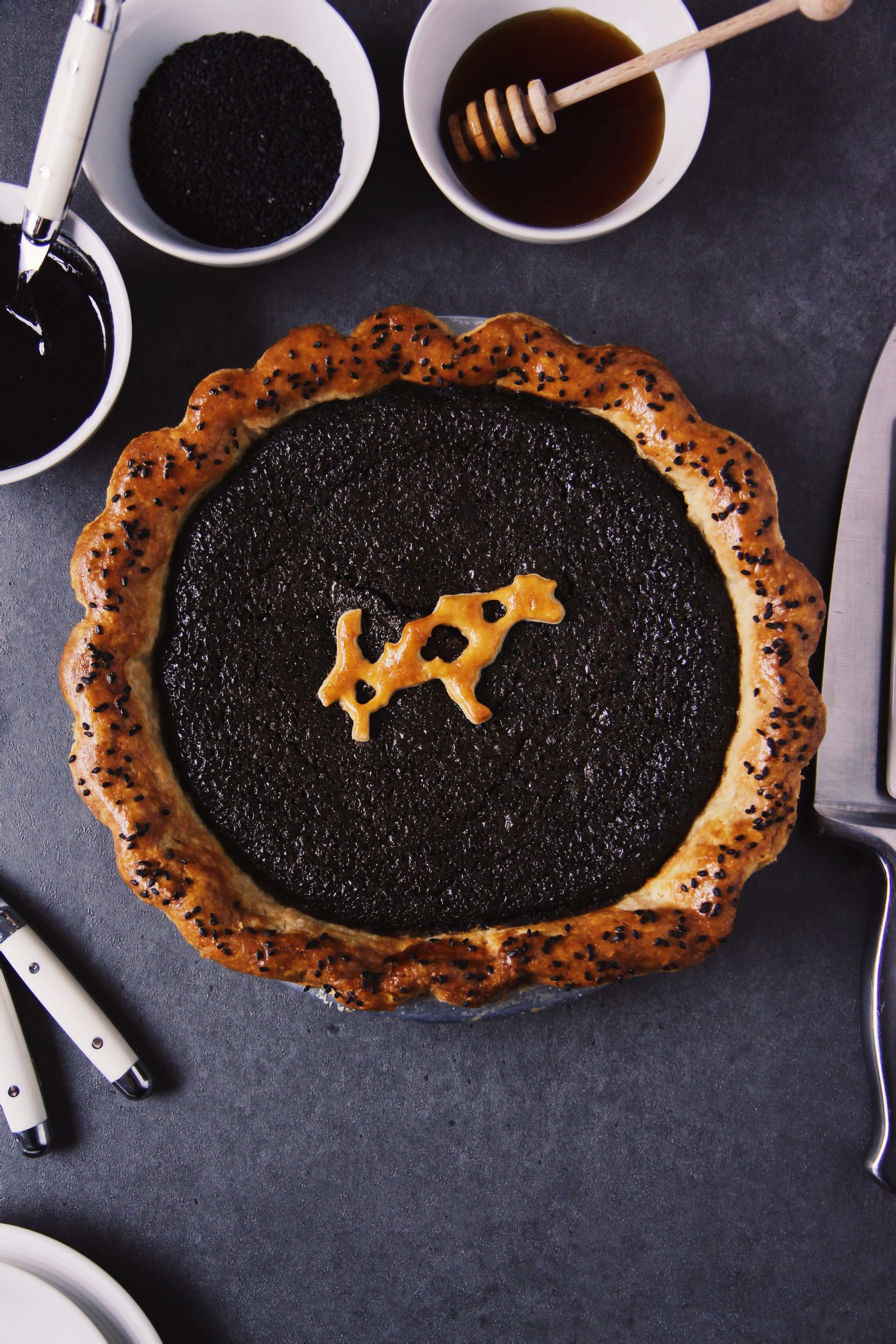 Toasted Black Sesame Pie
makes 1 9-inch pie
filling adapted from The Boy Who Bakes
ingredients:
for the pie crust:
315 grams (2 1/2 cups) unbleached all-purpose flour
1 teaspoon salt
1 tablespoon granulated sugar
240 grams (17 tablespoons, or 2 sticks plus 1 tablespoon) cold cubed unsalted butter
120 grams (1/2 cup) cold water
for the filling:
120 grams (1 stick) unsalted butter, browned
150 grams (2/3 cup packed) light brown sugar
25 grams (3 tablespoons) fine cornmeal
1 teaspoon salt, plus extra for topping
1 teaspoon vanilla extract
100 grams (scant 1/3 cup) honey
150 grams (7 1/2 tablespoons) maple syrup
3 large eggs
125 grams (4 tablespoons plus 1/2 teaspoon) roasted black sesame paste
3 tablespoons black sesame seeds, optional
1 egg yolk, optional, for blind baking
directions:
Make the crust: whisk flour, salt, and sugar together.
Cut and mix the butter into the flour mixture until the largest piece is pea-sized.
Sprinkle on the ice water 1 tablespoon at a time so that you can gather the dough into a cohesive mass.
Divide dough into two unequal disks: one that is ~2/3 of the dough and one that is 1/3 and refrigerate for at least 30 minutes.
Roll out the large disk into a 10 1/2 inch round and drape over the pie plate, crimping the edges, then refrigerate.
Roll the other disk out and cut out shapes as desired; freeze the shapes while you make the filling and preheat the oven.
Preheat oven to 375 degrees F.
Place buttered aluminum foil in the prepared crust and weight with pie weights (I use dried beans).
Place on a baking sheet and bake until puffed and very lightly golden, about 20 minutes.
Meanwhile, make the filling: brown butter in a large saucepan until it is darkened and nutty-smelling.
Pour butter over brown sugar.
Whisk in cornmeal, salt, vanilla, maple syrup, and honey (mixture may not homogenize at this point due to the large amount of fat).
Whisk in eggs one at a time, making sure that they fully incorporate before adding the next.
Whisk in the black sesame paste and 2 tablespoons of the black sesame seeds (reserve the last tablespoon).
Set aside.
Once your pie crust is lightly golden (after roughly 20 minutes in the oven), remove from oven and remove pie weights.
Whisk egg yolk very well and brush over edges of crust, then sprinkle the reserved 1 tablespoon of black sesame seeds over the edge.
Return to oven until very slightly more golden, about 5-7 minutes minutes.
Remove from oven and pour in the filling carefully, then return to oven.
When the filling has partially set (still wobbly and jiggly in the center, but not runny at all), about 35 minutes, brush the reserved egg yolk over your frozen decorative shapes.
Remove pie from the oven, and arrange shapes (carefully!) how you desire.
Return pie to the oven on the top rack to encourage browning of the decorations and bake for an additional 10-20 minutes, or until the center is barely jiggly and the pie has puffed on the edges and the decorations are browned.
Allow to cool completely, then ideally chill for at least 2 hours or overnight. (The texture will be better if allowed to chill down, but serving from room temperature is also good! Don't sweat it too much.)