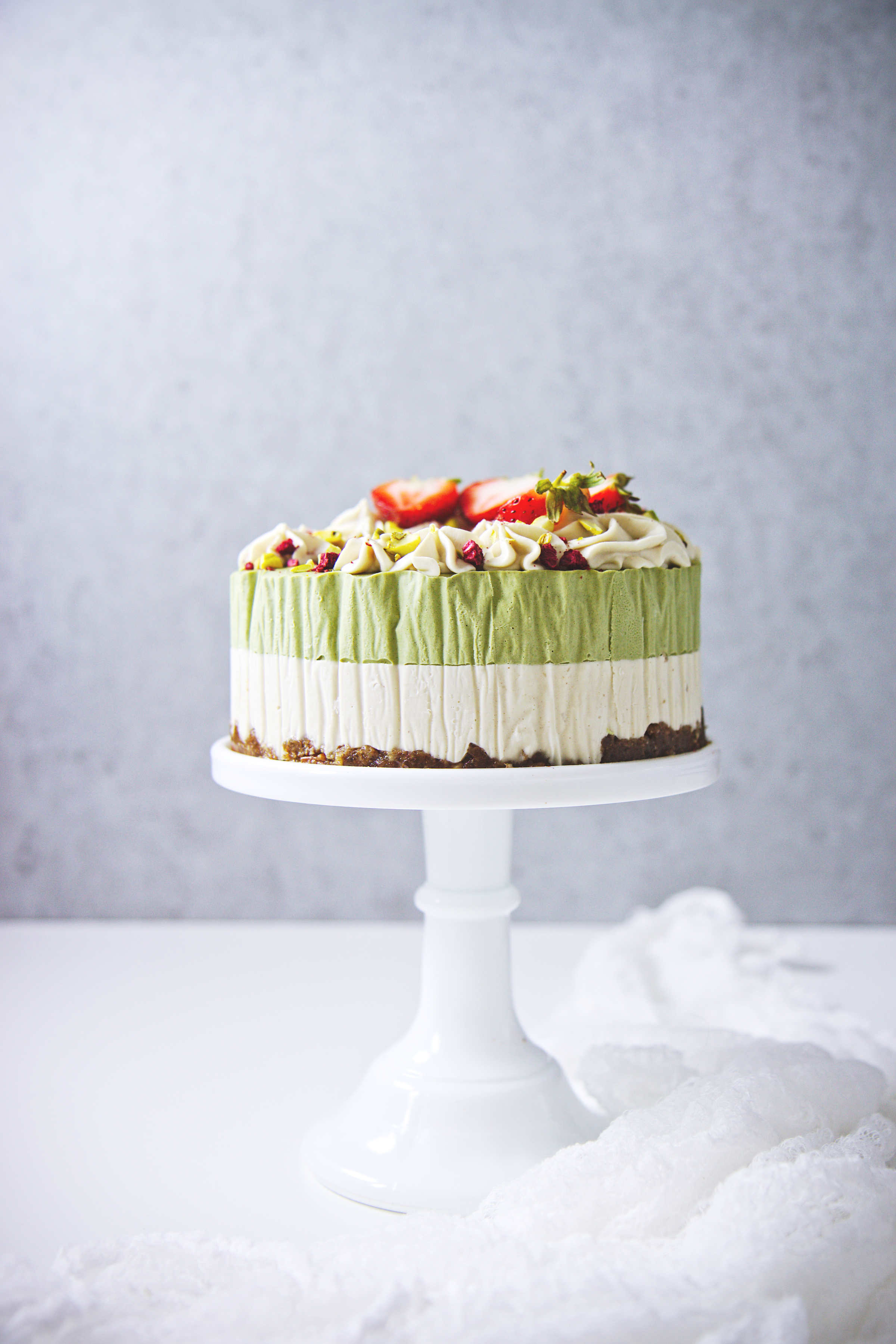 When I was one-and-twenty I heard a wise man say,
'Give crowns and pounds and guineas
But not your heart away;
Give pearls away and rubies
But keep your fancy free.'
But I was one-and-twenty
No use to talk to me.
When I was one-and-twenty I heard him say again,
'The heart out of the bosom
Was never given in vain;
'Tis paid with sighs a plenty
And sold for endless rue.'
And I am two-and-twenty
And oh, 'tis true, 'tis true.
A. E. Houseman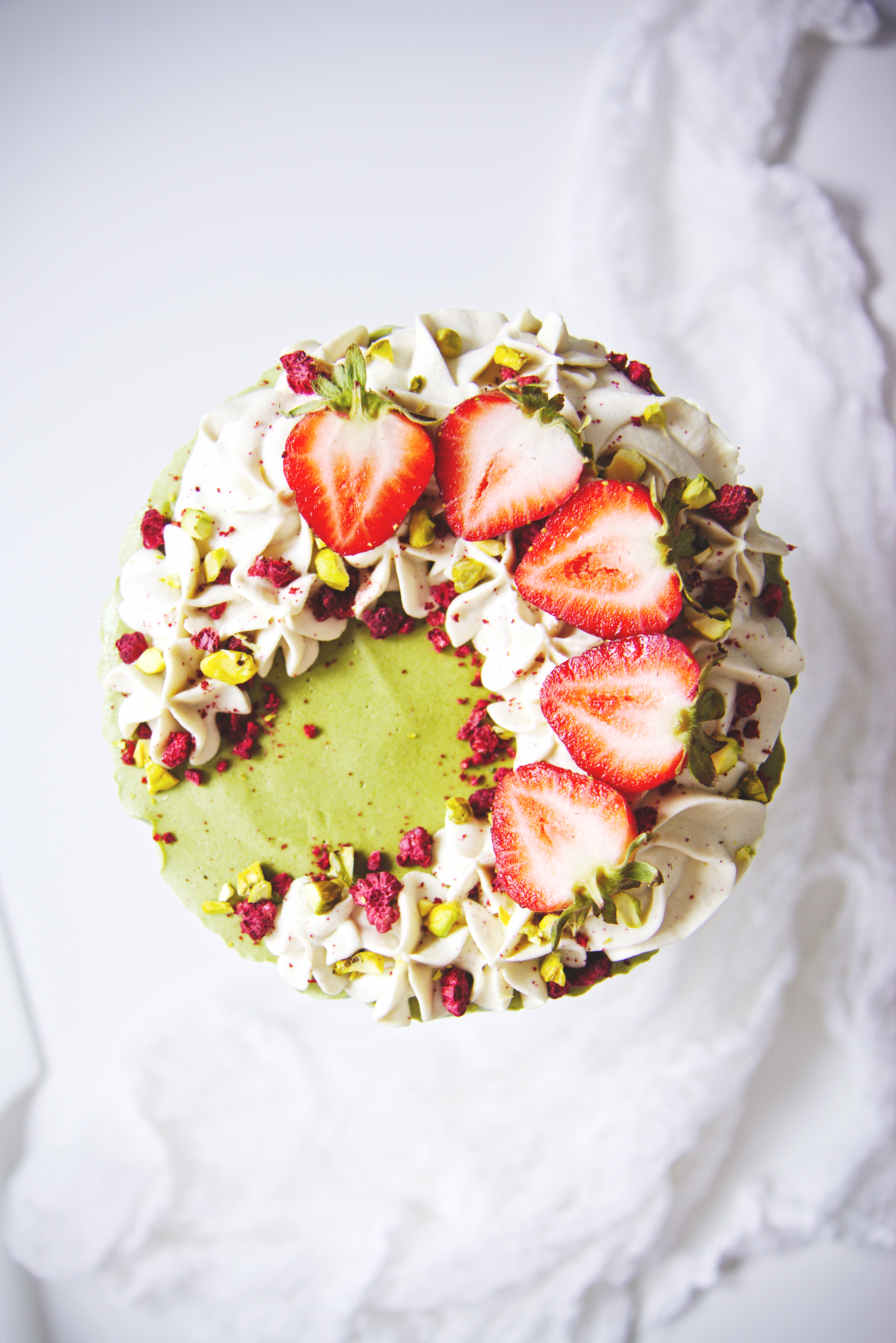 I am awaiting the cool luxury of September and Autumn to sink into me, into my bones and the clouds and the breeze and the branches of the trees.
Instead, New York has gotten a miserable late-season heatwave. It's a disgrace to my favorite month. Just yesterday, the heat index was 105 degrees F! Gross! I am legitimately just a puddle of sweat and skin cells. Lovely visual, I'm aware.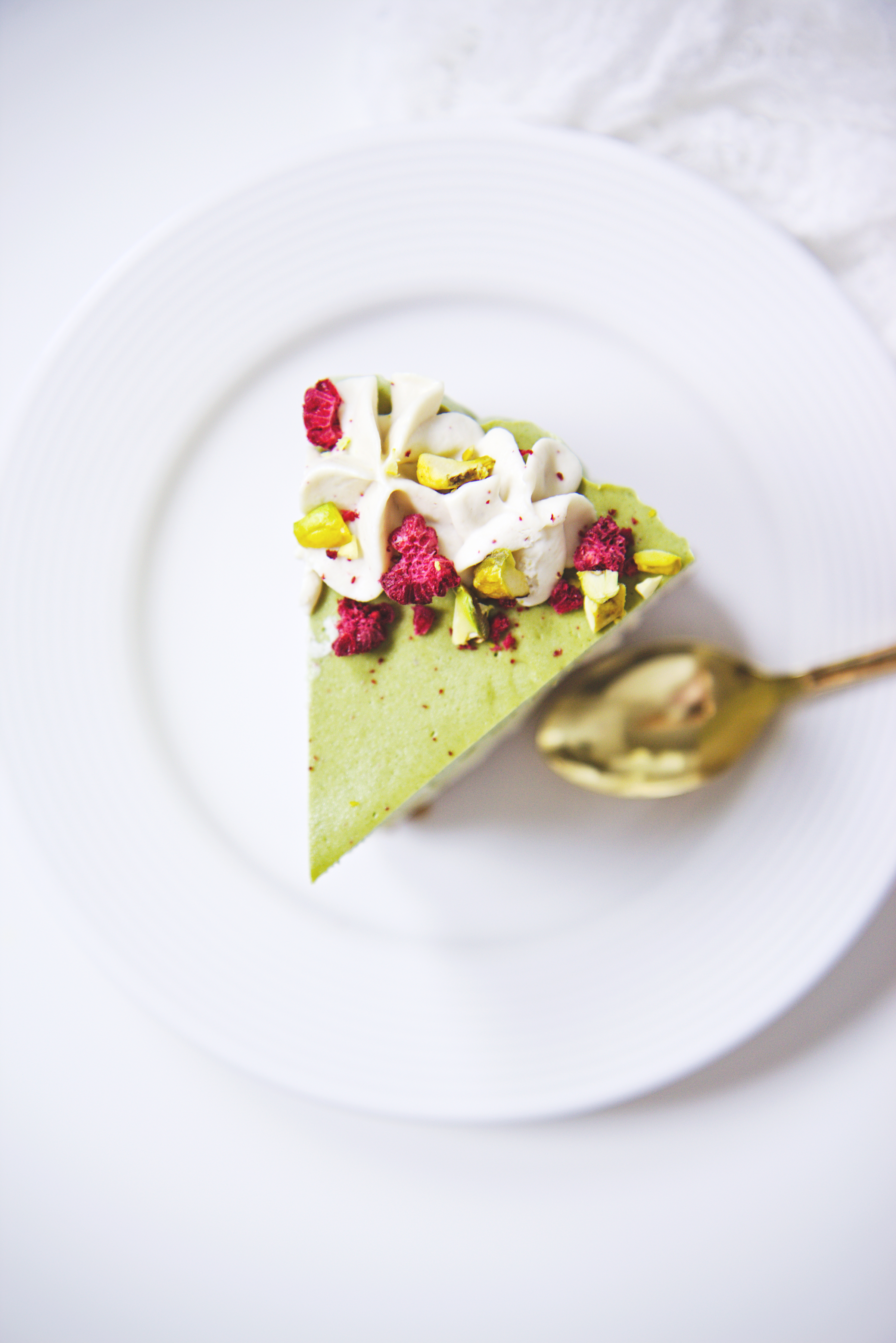 As I mentioned in my last post, I can't be bothered in this heat to turn on the oven.
What's more, last night my air conditioner broke… I was ready to jump out of a window. There is a unique hellishness about sitting in a tiny New York shoebox apartment in sweltering heat even after the sun has set, unable to open the windows for relief due to the drive shaft trash smell and the fumes from the pizza shop below me. Pizza scent may sound appealing, but 24/7 it is truly nauseous. Trust me on this one.
The heat makes me lazy and a little insane. I'm much more prone to losing my shit over little things; I am lethargic (still haven't fully unpacked from LDW in the Hamptons…) and unmotivated. And mostly, I am antsy! Give me fall!
I am praying it won't be this hot for my birthday, which is next Sunday! I think we should all expect a pavlova to show up on this page in honor of, well, me. /shrug/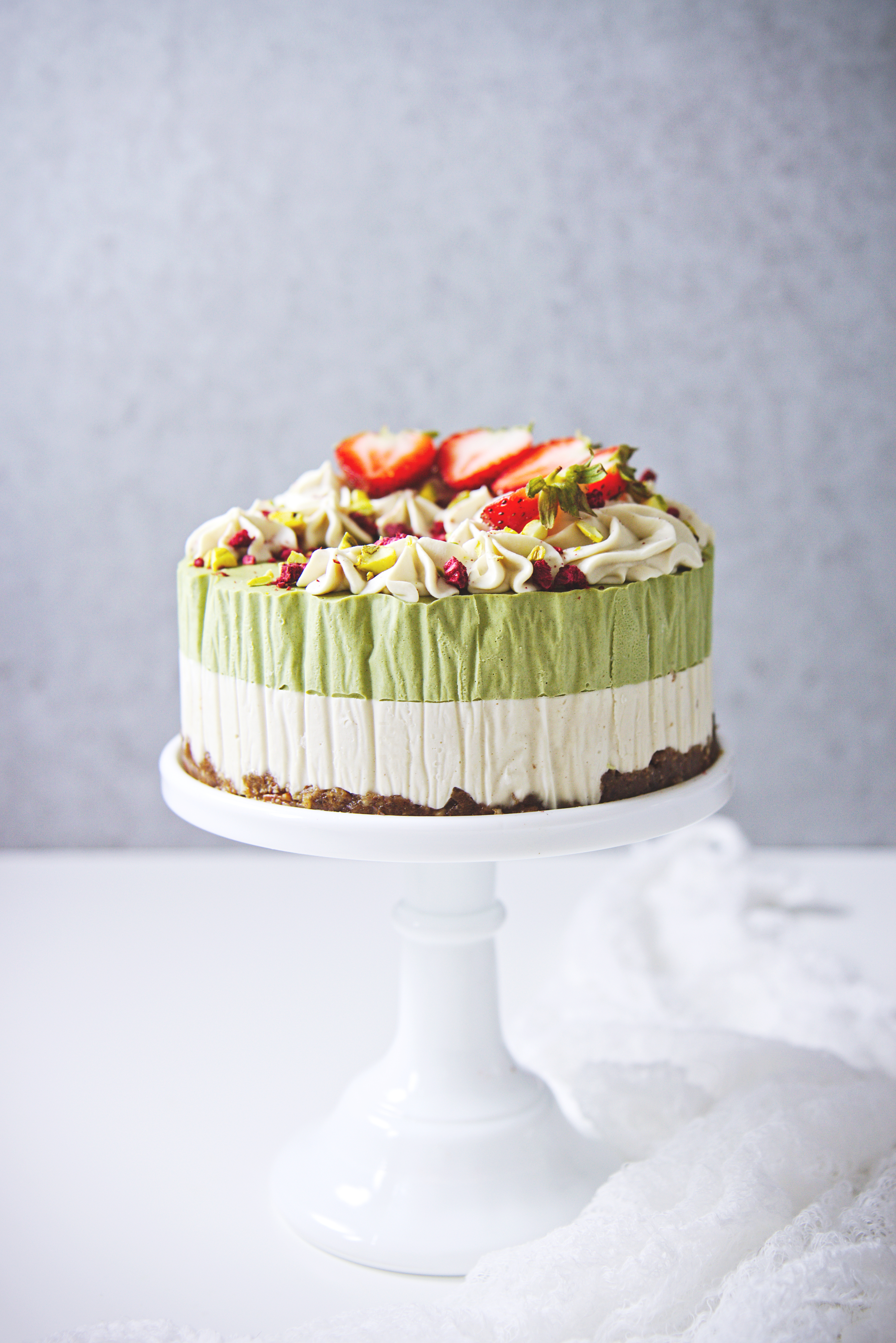 This beaut of a cheesecake is raw, vegan, gluten- and sugar-free, and utterly virtuous.
I've made cheesecakes like this before, and I really enjoy them, even if I don't follow a raw lifestyle.
The cashew and coconut milk base is ultra creamy. It barely need any sweetener, so a drop of maple syrup does the trick.
A bracing helping of matcha helps to balance the richness, and a salty-sweet date and almond crust provides a thoughtful chewiness to each bite.
I decorated mine with strawberries, freeze-dried raspberries, and chopped pistachios, because it's what I had on hand. And, for the record, with this heat, it's still summer fruit season so stock up on strawbs!
When I was home, I even picked and devoured some rhubarb. And the peaches I bought at the farmer's market this week were better than the apples that I bought, so that says something.
Enjoy it while it lasts; you don't know what you've got, etc. etc.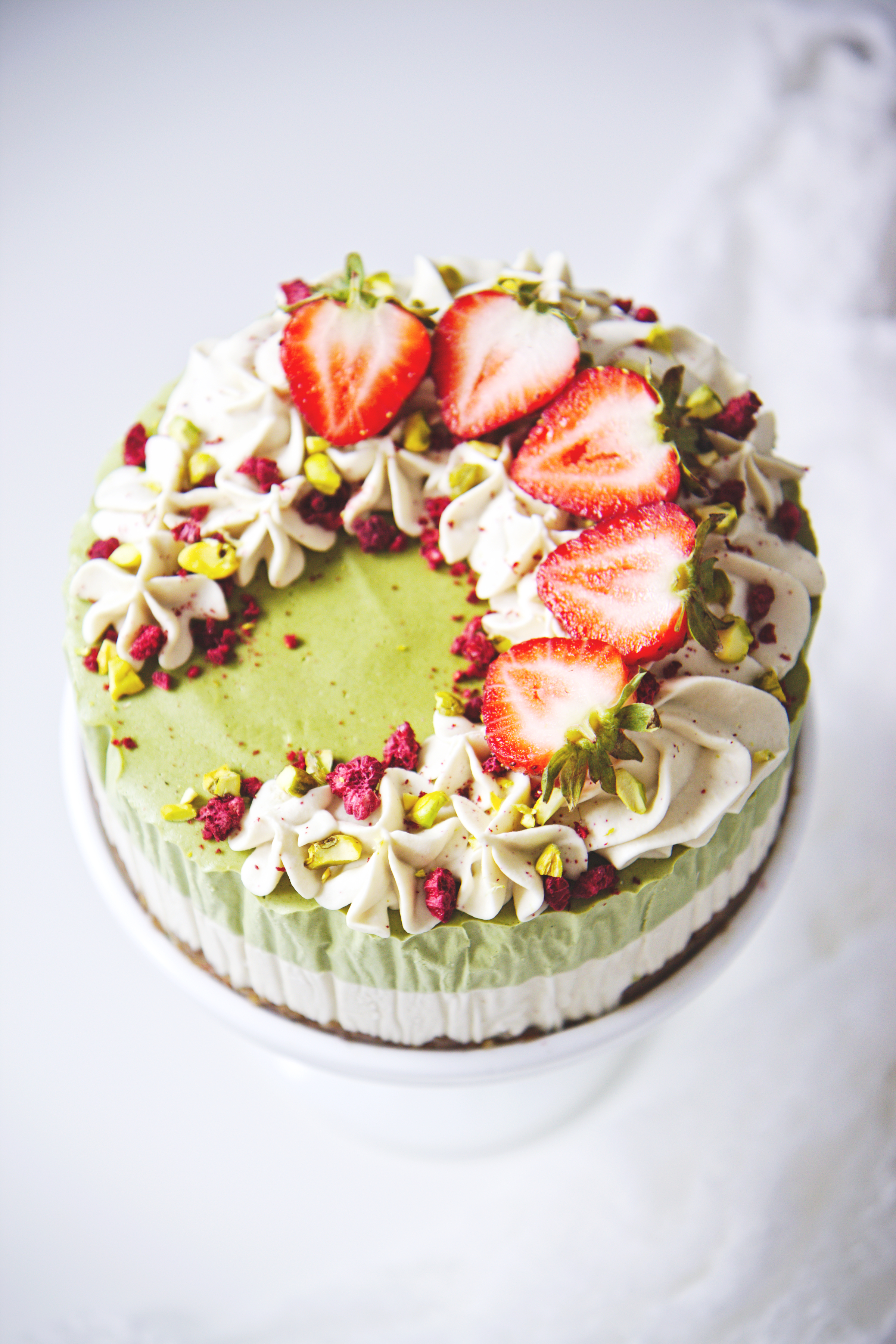 A few tips about successfully making a raw cheesecake:
Don't line your pan with parchment paper unless you want divots in your final cake.
If you don't have a high powered blender, soak your cashews in cold water for at least 8 hours. They should be swollen and soft, but not slimy. You can keep them at room temperature or in the fridge.
If you have extra crust, or want less crust, don't toss it! And don't lay it on super thick as it can get hard in the freezer! Just roll the extra crust into energy balls. They make for fantastic snacking and/or decoration for the cake.
Use any combination of fruit and nuts to decorate that you want. Green tea goes really well with stone fruit, berries,
nuts, and chocolate.
Use high quality matcha here: since the cake is not being baked, any overt bitterness won't be covered up by sugar/butter.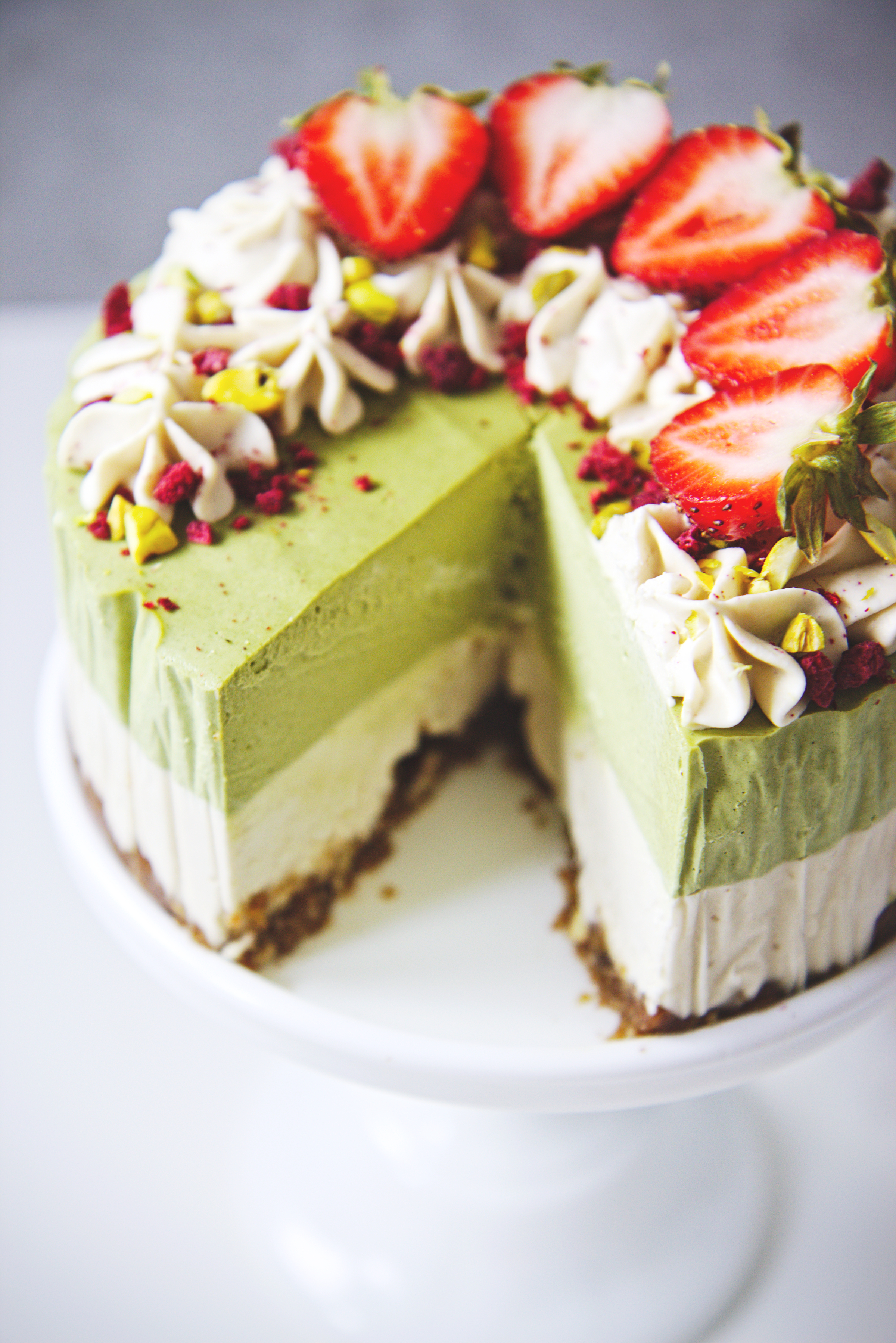 Raw vegan cheesecakes, previously:
Raw Blood Orange and Cranberry Cheesecake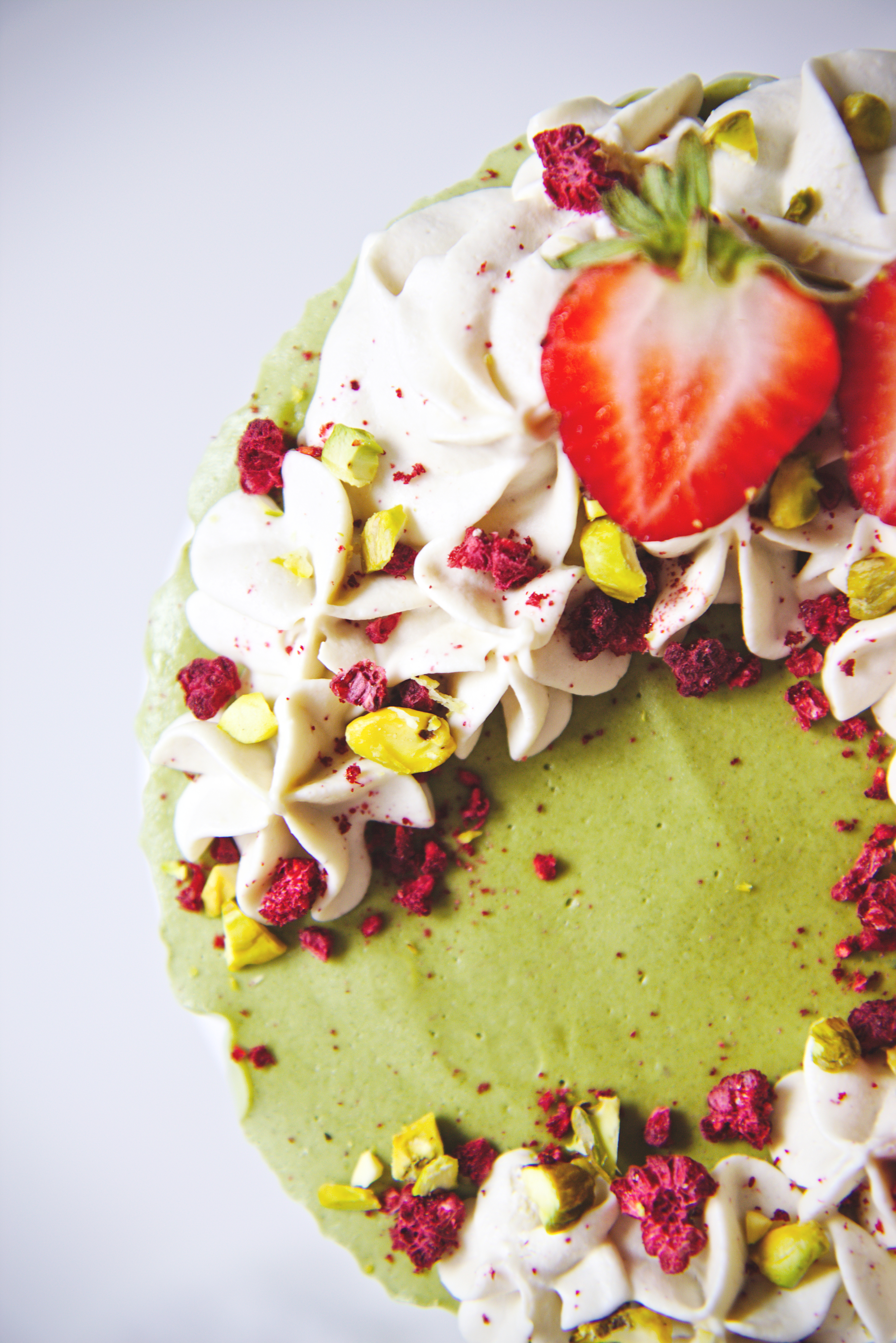 Raw Matcha "Cheesecake"
makes 1 6-, 8-, or 9-inch cheesecake, depending on how thick you want it
ingredients:
for the crust:
150 – 200 grams (1.5 heaping cups) whole almonds
12 dates (or as needed)
big pinch sea salt
for the filling:
500 grams cashews, soaked overnight
big pinch sea salt
100 grams (7 tablespoons plus 1 teaspoon) coconut oil
400 grams (1 2/3 cup) full-fat coconut milk
100 – 160 grams (1/3 – 1/2 cup) maple syrup
juice of 2 lemons
2 teaspoons matcha powder
directions:
Make the crust: pulse almonds with dates and salt until the mixture forms clumps and can be rolled into a cohesive mass.
Press the crust mixture into the bottom of a 6-inch springform pan.
Place pan in fridge while you prepare the filling.
Place all ingredients for the filling except the matcha in a large blender; start with the smaller amount of maple syrup.
Blend on high speed until smooth and creamy with no lumps remaining, about 5-10 minutes.
Take out half of the filling.
Save approximately 5 tablespoons of the white filling and place into a piping bag fitted with a star tip and place in fridge; pour the remaining amount over the chilled, prepared crust and place in freezer.
Meanwhile, blend the matcha into the remaining half of filling; taste and add more maple syrup as necessary.
Once the white filling has completely set, pour the green filling over.
Freeze until fully set.
Decorate with piped stars and swirls of the white filling; arrange freeze-dried raspberries, strawberries, and pistachios over top as desired.
SaveSave