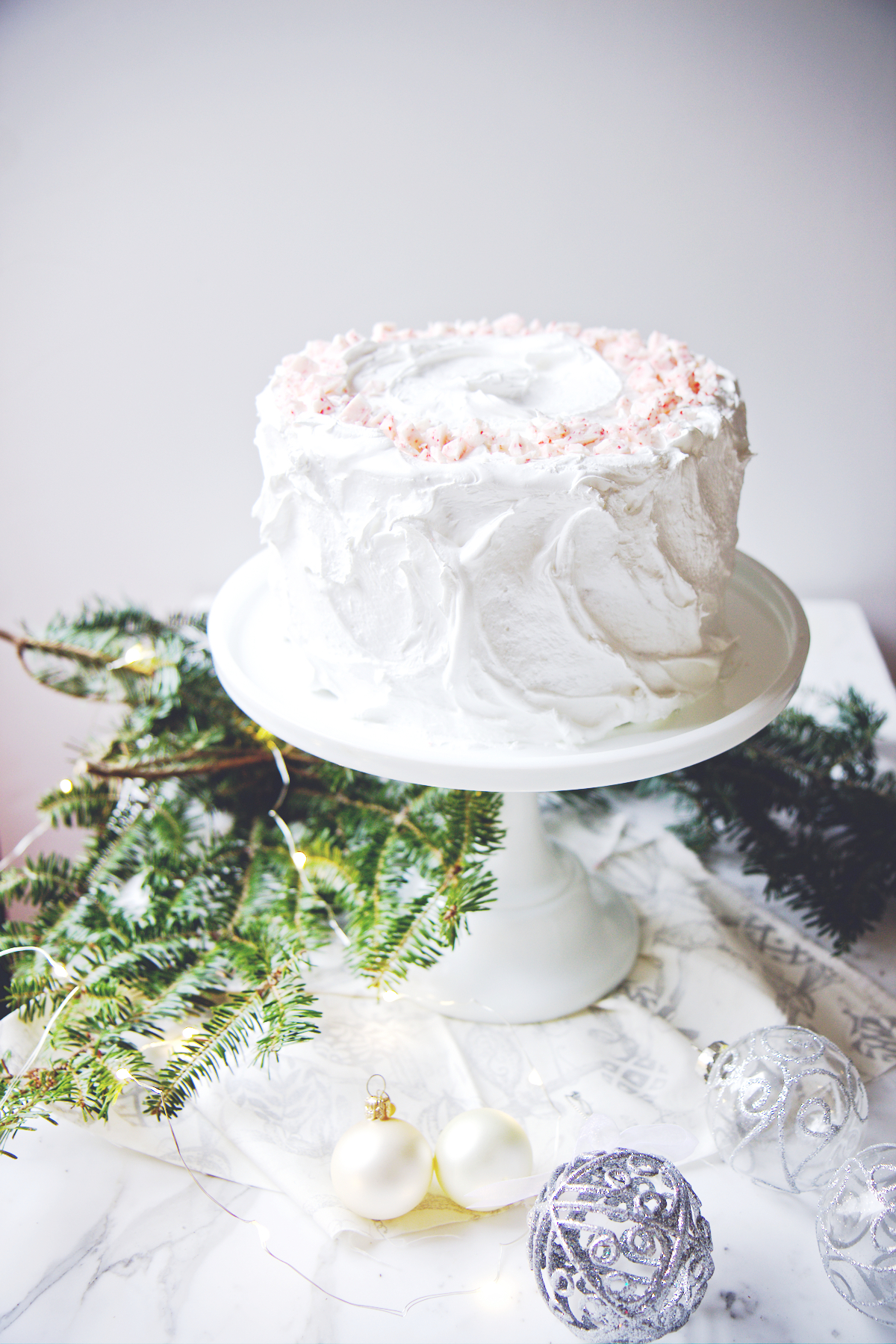 "Clouds come floating into my life, no longer to carry rain or usher storm, but to add color to my sunset sky."
—Rabindranath Tagore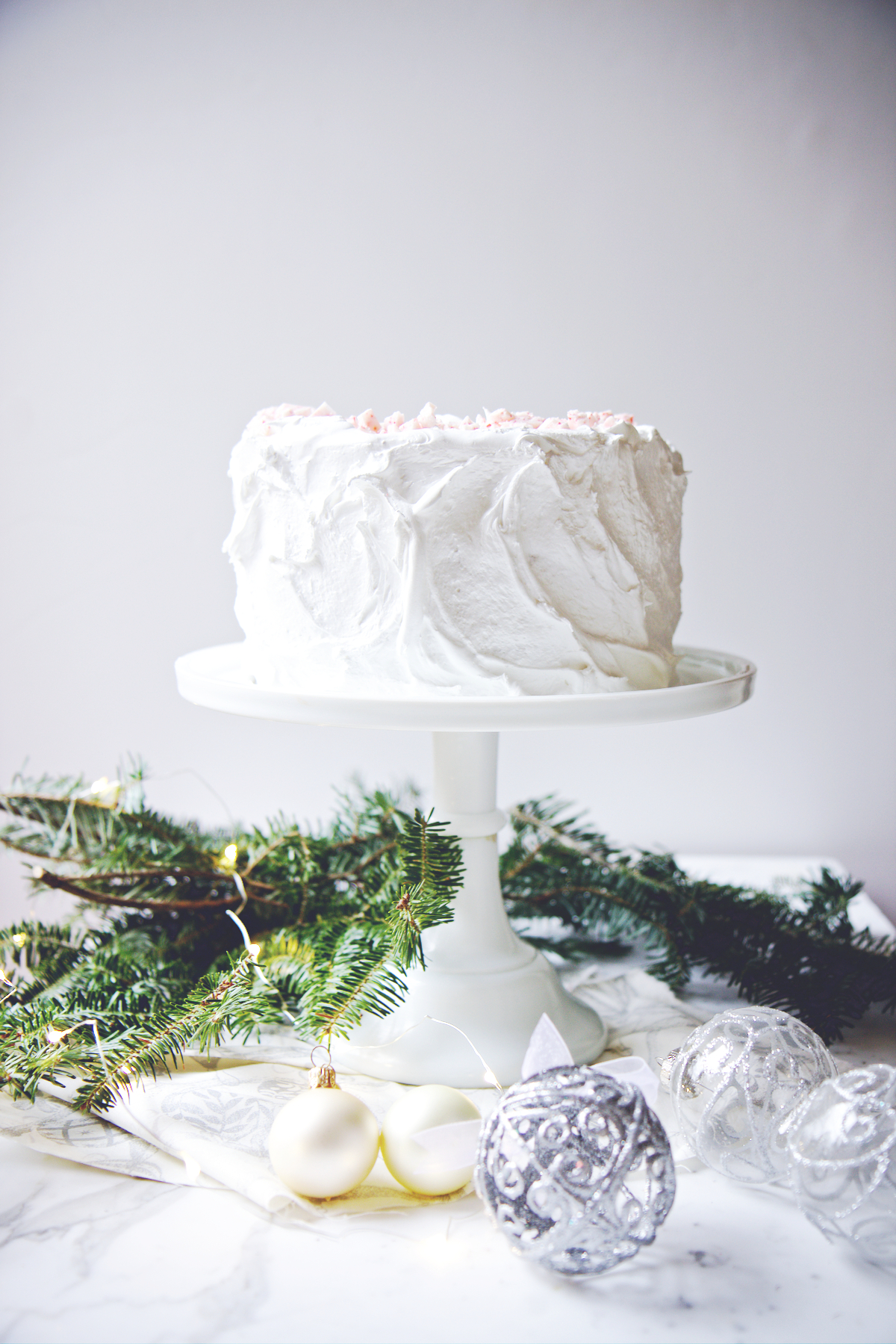 I always used to dream about sleeping in the clouds, with a giant white pillow on which to rest my head.
When I was younger, I would daydream out loud about it to my nanny.  Just thinking about it still calms me.
Clouds don't always mean rain.
(Bob Ross' happy little clouds are arguably the best example of how relaxing clouds can be…)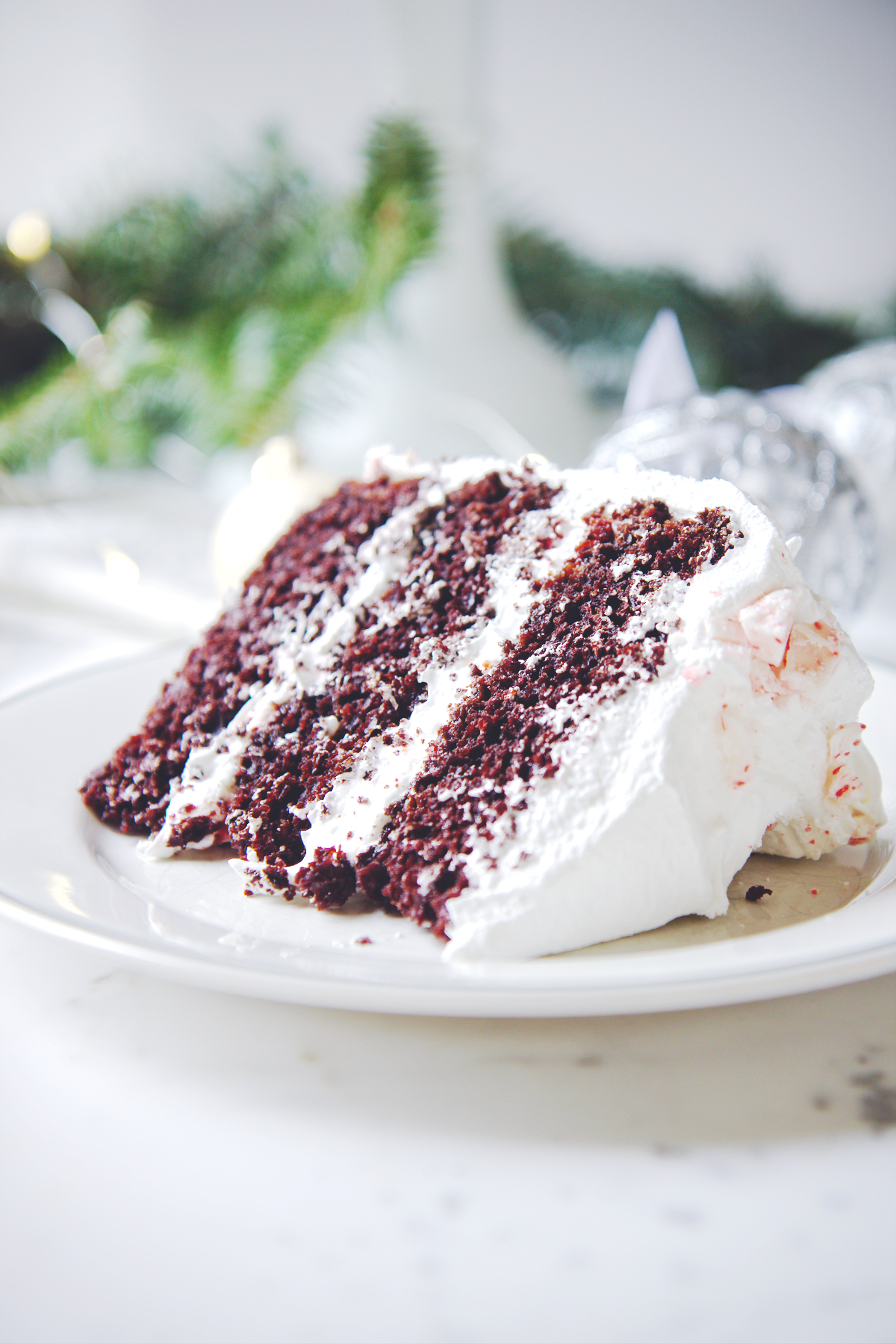 Today, I'm sharing the cake equivalent of a cloud.
My go-to dark chocolate cake, not-too-sweet and rich with fruity cocoa flavor, studded with peppermint bark chips is covered in the fluffiest dang frosting I have ever tasted.
It's a vintage icing—colonnade frosting—it's similar to a meringue, but with a greater amount of sugar syrup and a hit of powdered sugar added in at the end.
The result is a very stable frosting that is as light as a meringue but has as much body as a marshmallow; it develops a very slight crust after setting, but remains soft on the inside.
It's quite sweet, so it is the perfect offset to the dark chocolate cake.
The cake is topped with a few spare pieces of peppermint bark.  The whole thing ends up being a very sophisticated, non-toothpastey version of a Junior Mint.
It feeds a crowd and it's quite festive.
Little slivers with a cup of hot tea are a brilliant way to finish off a wintry night.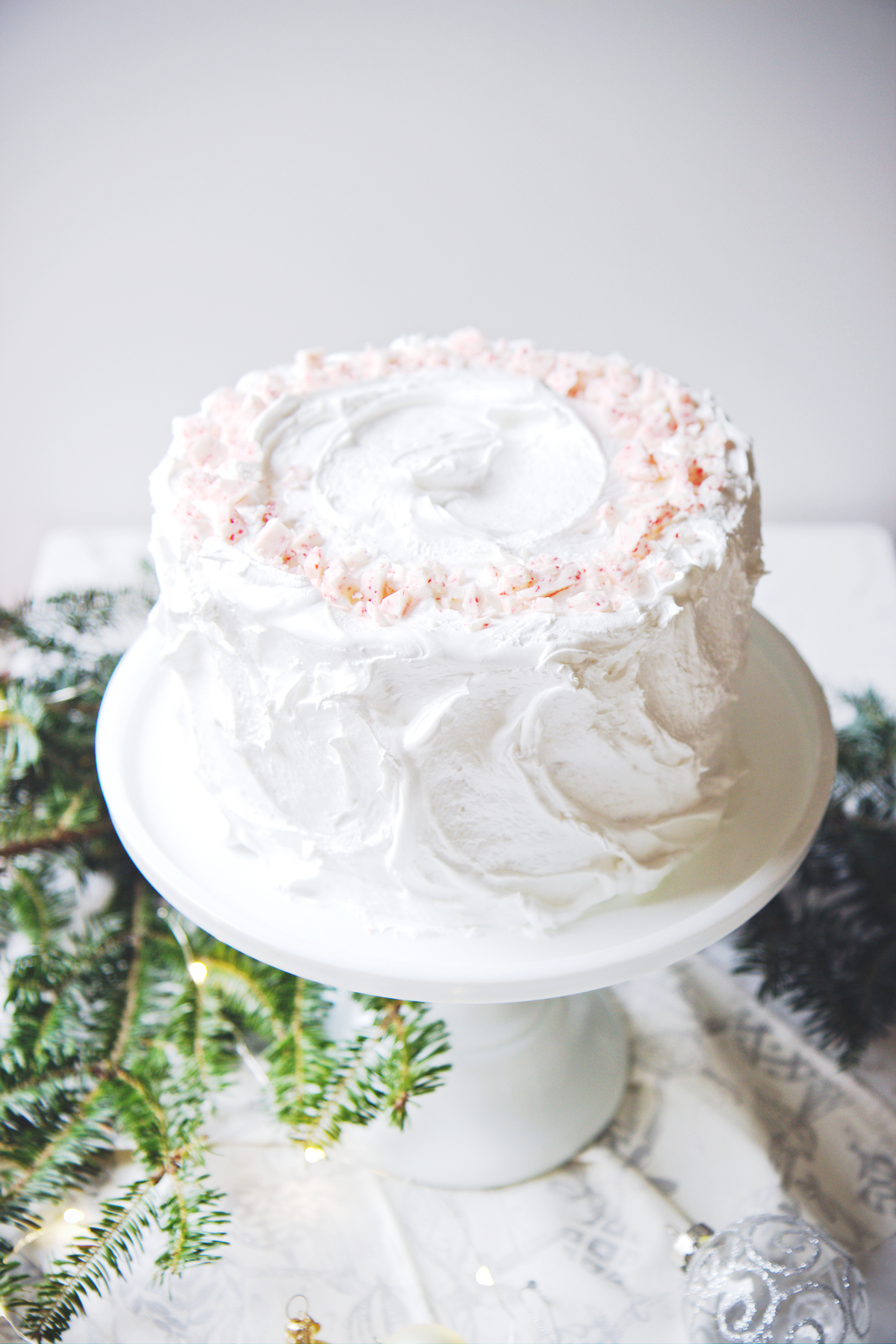 A word on this (fantastic) frosting: it sets up rather quickly, and when it does, it becomes sticky and somewhat of a pain to work with—similar to marshmallows.
Thus, make the frosting only when you're totally ready to finish the cake; this will decrease the likelihood of this irritation.
That being said, it's still spreadable when it's sticky, but it will not be smooth and shiny (see my photos—mine set up before I started with the swoops, so they look a little rough).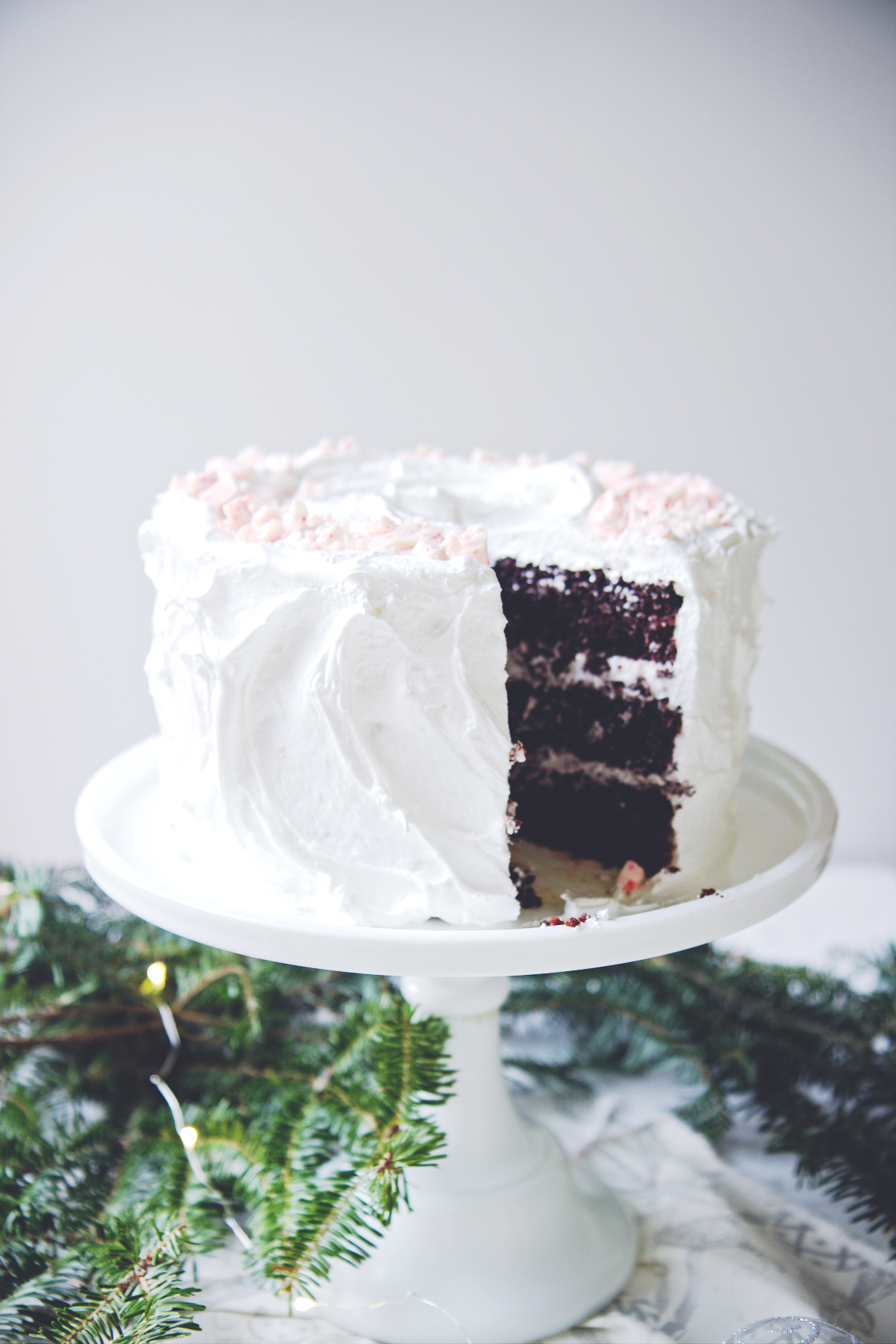 Peppermint not your thing?
Other Christmas/holiday posts as follows.
This year: chocolate peppermint shortbread, 5-spice snickerdoodles, Russian teacakes, and cinnamon cereal marshmallow treats
festive marshmallow ropes
1 year ago: honey spice and dark chocolate roll-out cookies
chocolate, sour cherry, and coconut cookies, grapefruit butter cookies, and dark chocolate pecan snowcaps.
peppermint and chocolate cupcakes
souche de Noël (eggnog layer cake with ganache)
2 years ago: pepparkakor
candy cane and chocolate macarons,
Nutella and various fruity jam Linzer cookies,
maple, nutmeg, and rye roll-out cookies
gingerbread layer cake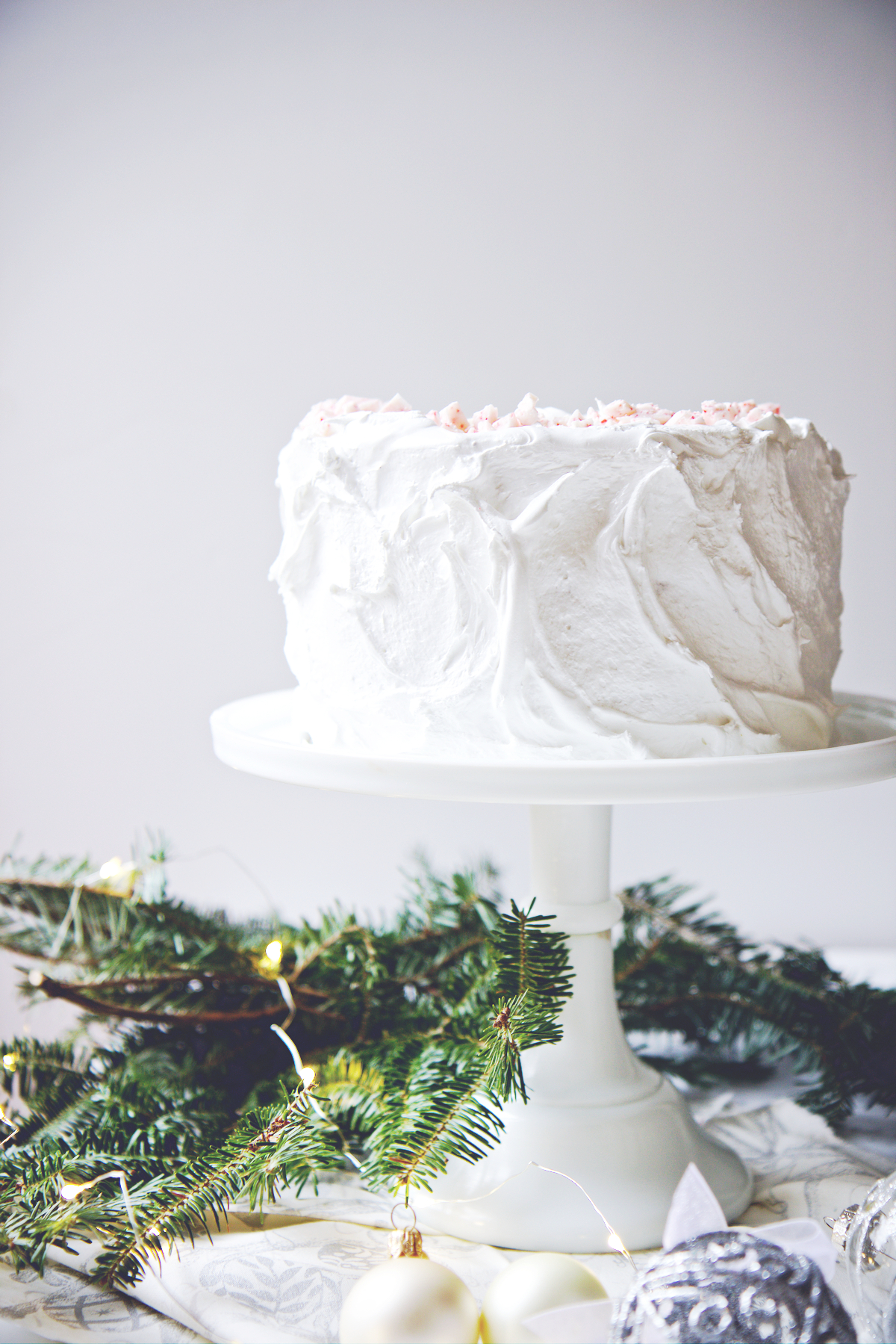 Chocolate Peppermint Cloud Cake
makes 1 3-layer 8-inch cake
cake portion adapted from Sweetapolita
frosting adapted from Joe Pastry
ingredients:
for the cake:
220 grams (1 3/4 cup) flour
400 grams (2 cups) sugar
90 grams (3/4 cup) cocoa powder
2 teaspoons baking soda
1 teaspoon baking powder
1 teaspoon kosher salt
2 eggs
240 grams (1 cup) hot coffee
240 grams (1 cup) buttermilk
112 grams (1/2 cup) vegetable oil
1 tablespoon vanilla
1 cup peppermint bark chunks or chips, plus extra for decorating
for the frosting:
600 grams (3 cups) sugar
155 grams (1/2 cup plus 2 tablespoons) water
80 grams (4 tablespoons) corn syrup
4 egg whites
pinch cream of tartar
22 grams (7 tablespoons) powdered sugar
directions:
Make the cake: preheat the oven to 350 degrees F and grease and flour 3 8-inch round cake pans.
Place flour, sugar, cocoa, baking soda and baking powder, and salt in a bowl and whisk to combine.
Make 2 wells in the flour and pour the eggs, buttermilk, oil, and vanilla in one well; place the hot coffee in the other.
Whisk vigorously to combine the batter; it will be liquidy.
Stir in the peppermint bark chips.
Portion into the 3 pans and bake for 25 minutes, until a tester comes out with only a few crumbs.
Allow to cool 15 minutes in the pans, then turn out onto a wire rack and allow to cool completely.
Meanwhile, make the frosting: place sugar, water, and corn syrup in a pot over medium heat.
Place the egg whites in the bowl of a stand mixer with the cream of tartar and whip on medium speed; whites should be at stiff peaks when the syrup reaches 240 degrees F, so increase or decrease speed as necessary.
Once the syrup reaches temperature, carefully pour into the egg whites while whipping at high speed.
Whip the meringue until cooled a little, then carefully add in the powdered sugar a little at a time.
Whip until fully incorporated, then stack and frost the cakes.
Move quickly, because the frosting sets fairly quickly.
Decorate with a few more chopped pieces of peppermint bark.
SaveSave