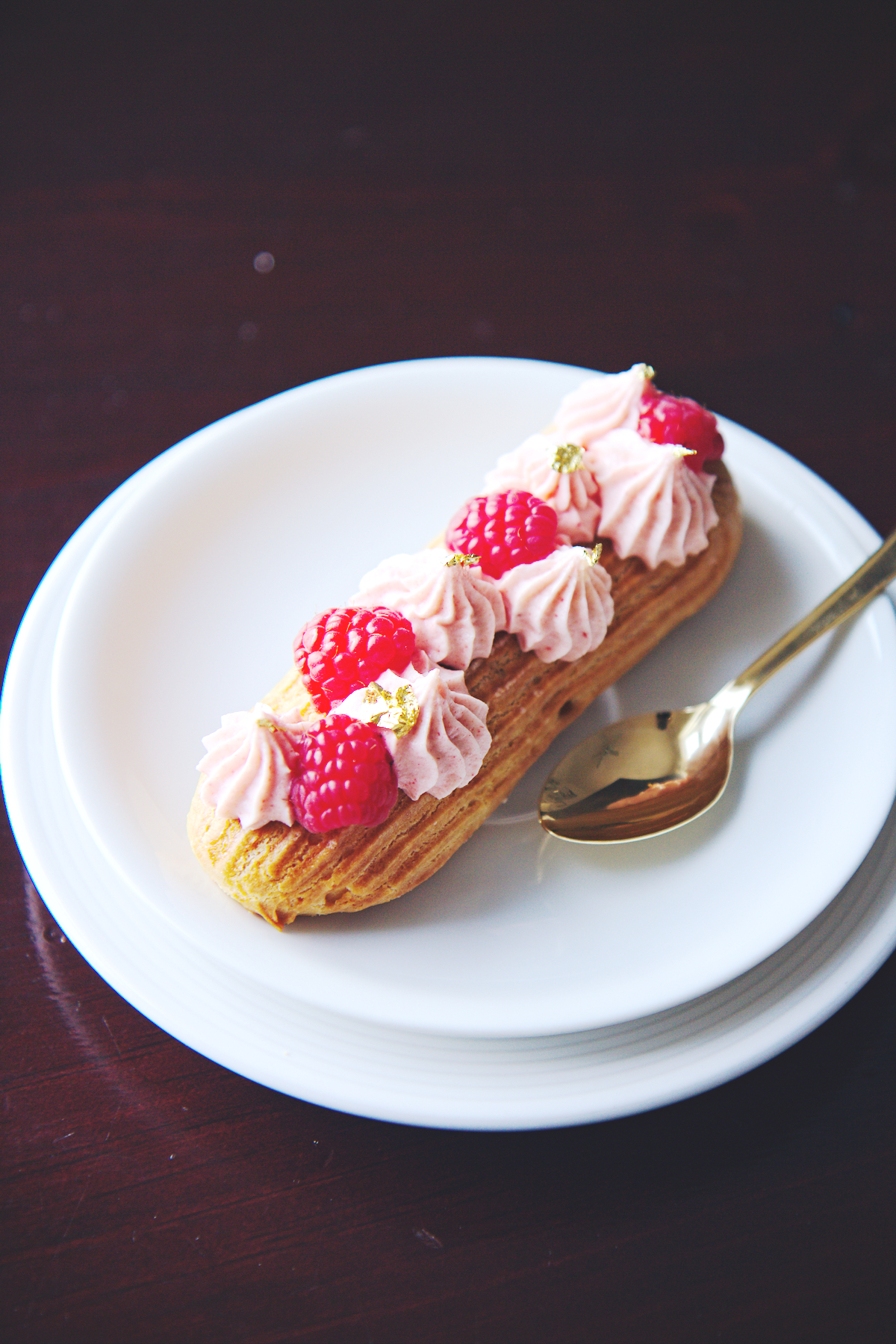 Not marble, nor the gilded monuments
Of princes, shall outlive this powerful rhyme;
But you shall shine more bright in these contents
Than unswept stone besmear'd with sluttish time.
When wasteful war shall statues overturn,
And broils root out the work of masonry,
Nor Mars his sword nor war's quick fire shall burn
The living record of your memory.
'Gainst death and all-oblivious enmity
Shall you pace forth; your praise shall still find room
Even in the eyes of all posterity
That wear this world out to the ending doom.
So, till the judgment that yourself arise,
You live in this, and dwell in lovers' eyes.
—Shakespeare, Sonnet 55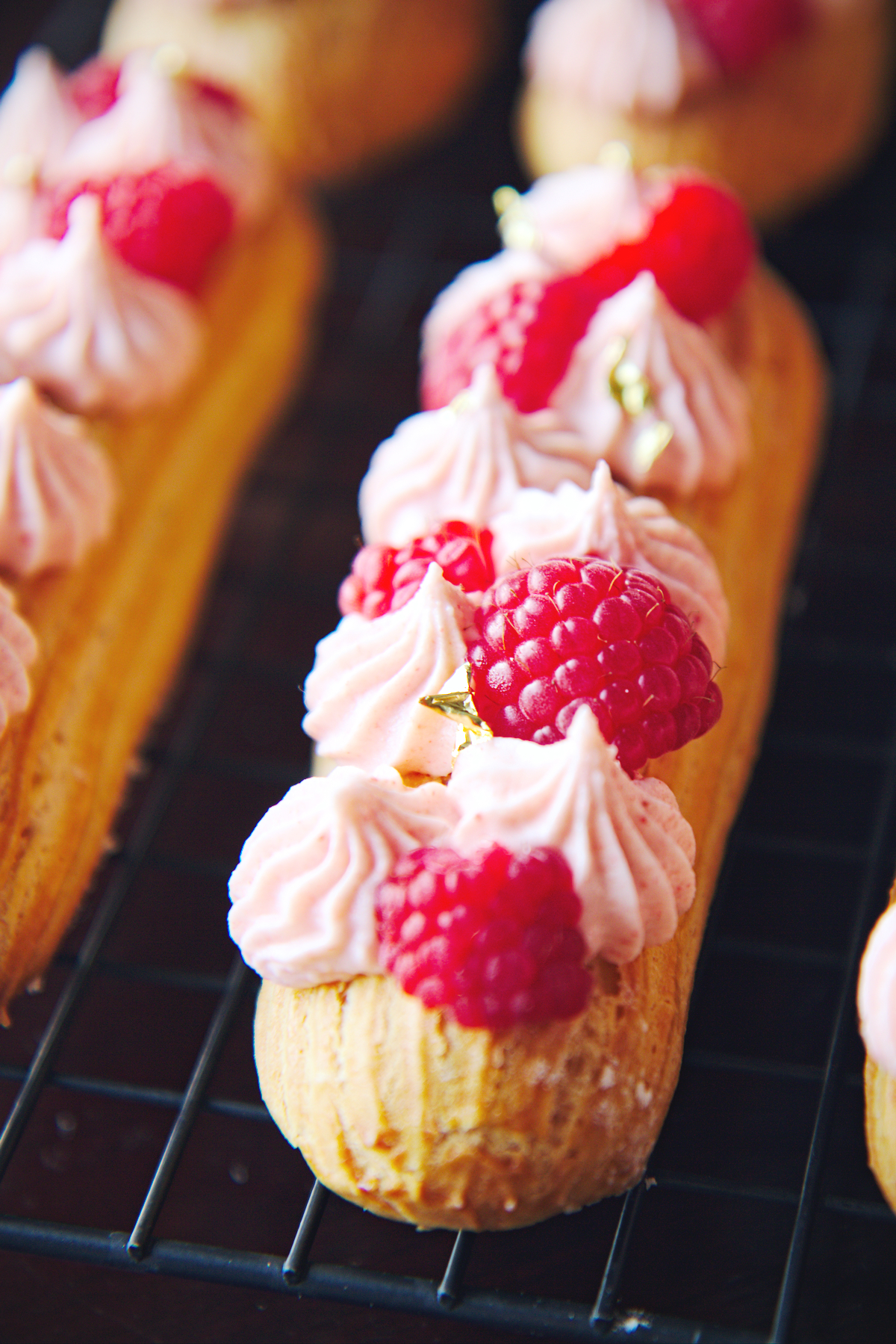 If ever there was a time for overly fancy desserts, it would most certainly be Valentine's day.
If ever there was a time for edible gold leaf, it would also accordingly be this holiday.
I can think of little else as fussily indulgent as a delicate french pastry crowned with little sheets of glittering gold.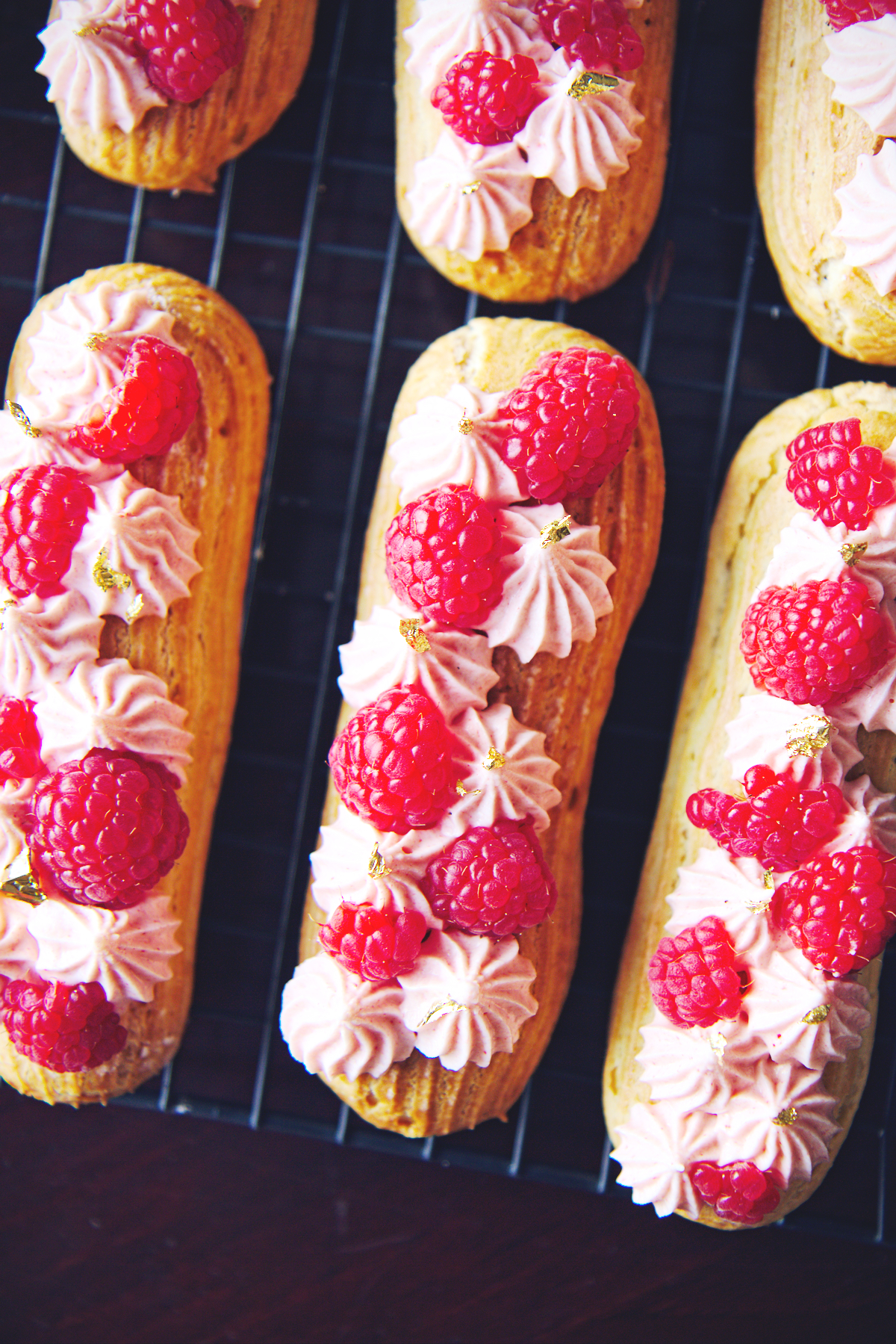 I'm trying very hard to squeeze in the ideas I've been amassing for this holiday, but I've had little opportunity to get into the kitchen.  Still, I haven't lost hope, and if all goes as planned you will see some cookies and a cake by the time the fourteenth of February rolls around.
By the way, I have been trying to figure out how in the dickens it is already Janu February 9th.  Anyone with more insight into where the first 1/12 of 2016 went is welcome to drop a line in my inbox with details about the January that I apparently missed.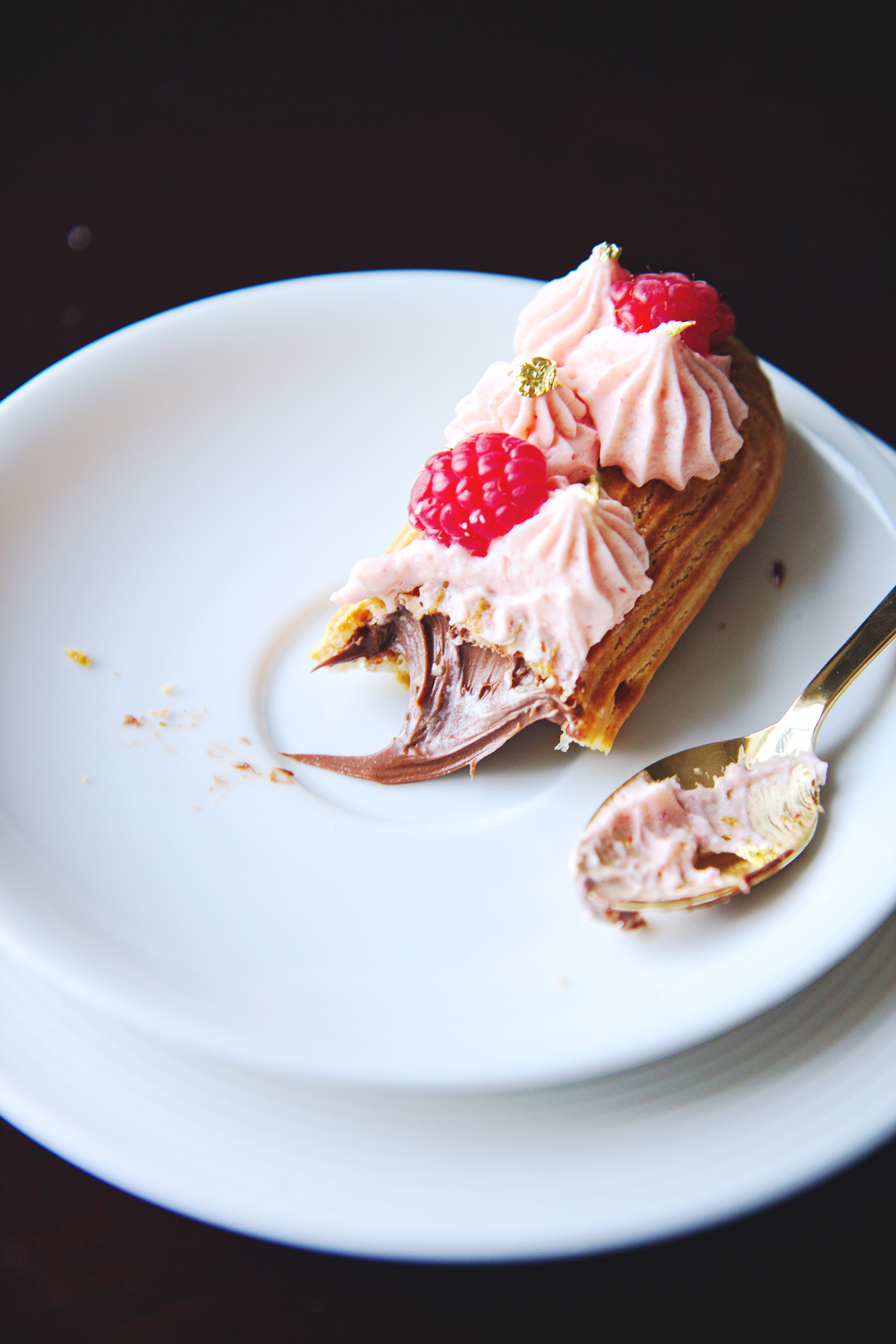 I've made éclairs before (along with choux puffs), but they tend to come out a bit misshapen and lumpy.
This makes them slightly less evenly pretty, but does nothing in terms of taste.  Still—for fancy ones, I needed perfect shells!
I found Iron Whisk's in-depth perfected recipe and knew it was the one I had to use.
It's very easy and the shells that come out are much closer to bakery type status than any others that I've seen!
Click here to jump to her blog and get the recipe.  Honestly, she put so much effort into her tutorial that there's little point in me rewriting it.  Just go check hers out!
Once I had my shells on lock, I piped them full of rich chocolate Nutella, and then I just needed to figure out what pretty pink things I wanted to go on top.
I chose an indulgent white chocolate and raspberry buttercream, silky and milky-sweet; dotted in the open space are ruby red raspberries, gently pulled apart into little fruity morsels; little pieces of 24K gold foil finish the top, making them wink and blink in the most beautiful way.
The whole effect is utterly gorgeous and quite delicious; the pastry strikes a perfect mix between white chocolate, raspberry, and Nutella; the shells are crisp and light but strong enough to hold in your hand while eating the éclair.
The pink and red and gold color scheme alone is enough to make me swoon; the chocolate and hazelnut center is a divine and decadent surprise!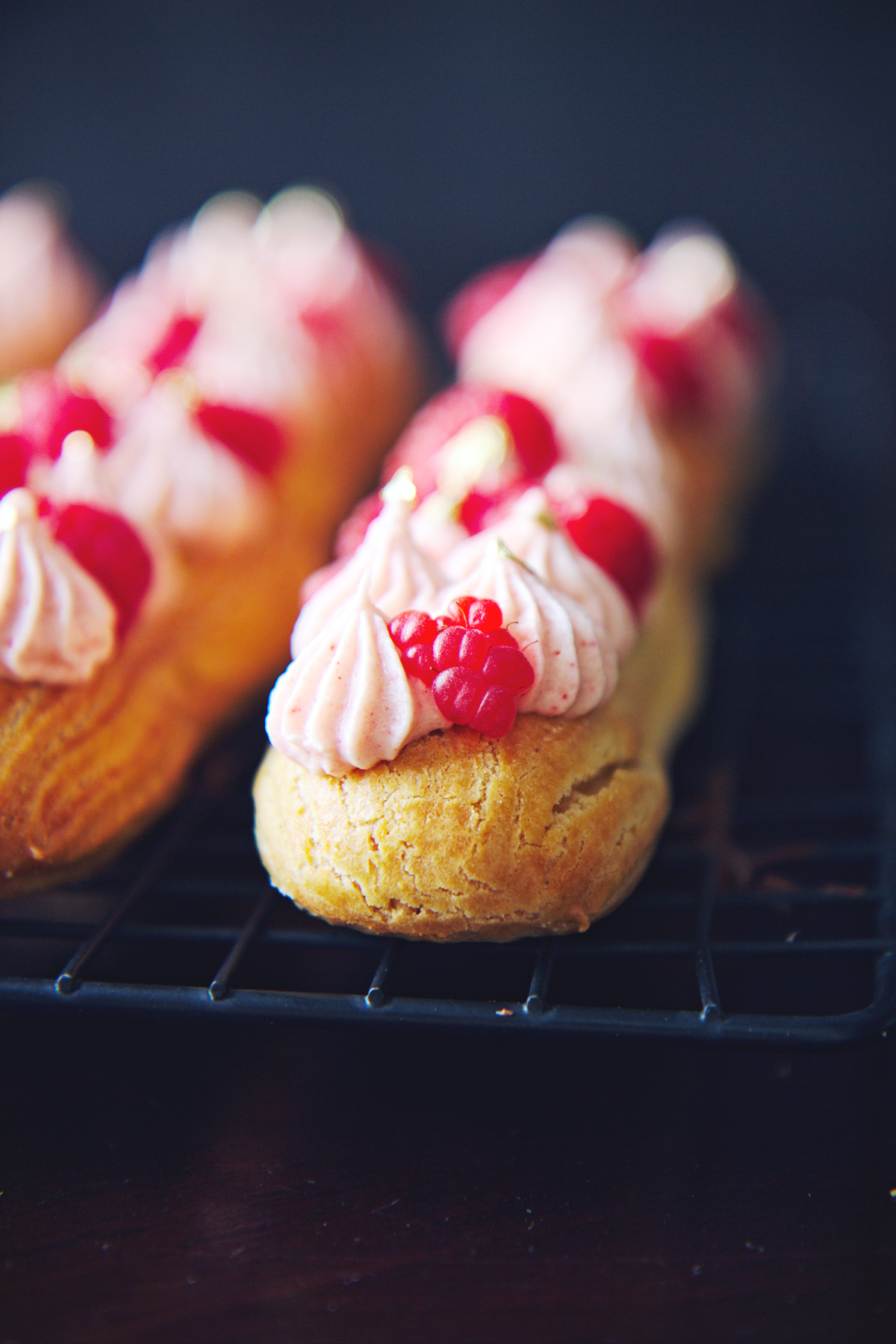 Valentine's Day, previously (I will leave these links at the bottom of all my coming V Day posts):
2016:
Brown butter and vanilla bean teacakes.  Fragrant and light—the perfect accompaniment to tea!
2015:
Fluffy, buttery copycat Lofthouse cookies, with swirls of pink buttercream and handfuls of sprinkles!
Chocolate covered strawberry cake—sinfully dark chocolate layer cake with goat cheese buttercream and chocolate covered strawberries on top.
A dolled-up red velvet cake: with cream cheese meringue buttercream and malted milk candies.
Perfectly pink princesstårta—sponge cake with whipped cream and marzipan.
2014:
The cutest, most pin-able pink grapefruit possets, with salty and buttery Ritz crunch and pistachios.  One of my favorite recipes ever!
Dark and white chocolate French mendiants, quick and healthy and pretty.
Strawberry pocky cake—love this idea, didn't love the red velvet recipe I used.  Would recommend the link above for dolled-up red velvet if recreating this idea!
Salty dark chocolate tarts—the perfect balance between flaky salt and dark, fruity chocolate.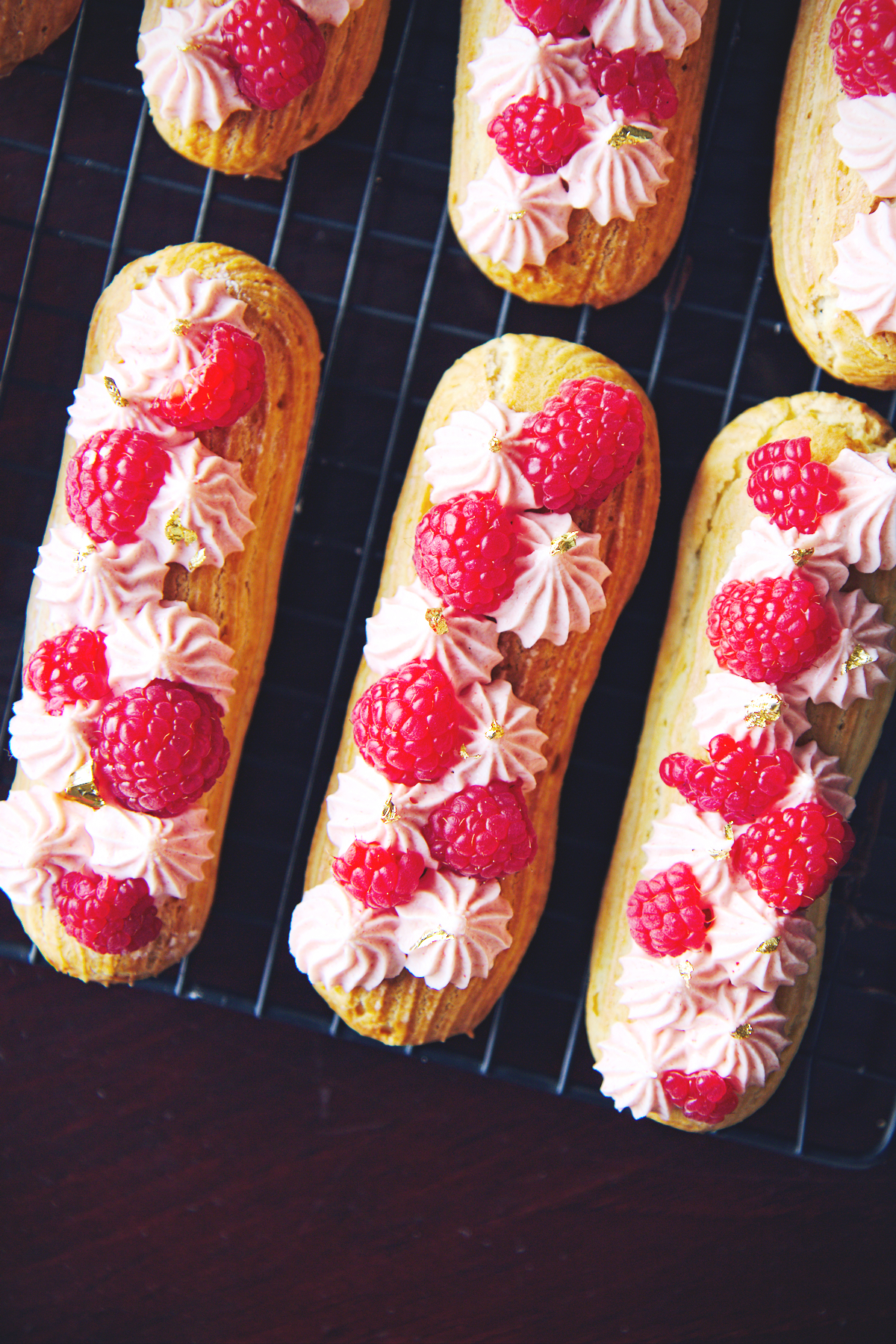 Raspberry White Chocolate and Nutella Éclairs
makes 10 large éclairs
ingredients:
10 éclair shells (1 batch of Iron Whisk's choux batter, baked)
for the white chocolate buttercream:
112 grams (4 ounces) white chocolate
112 grams (4 ounces, 1 stick) butter
pinch salt
2-3 tablespoons powdered freeze-dried strawberries or raspberries
to decorate:
1 cup Nutella
raspberries
gold foil
directions:
Poke a few holes into the bottom of your cooled shells.
Fill a pastry bag with Nutella and fill the shells.  Set aside.
Melt the white chocolate and butter together; whisk in the salt and sift in the freeze-dried berry powder.
Allow to cool until solid but scoopable, then whisk on high until fluffy and shiny.
Fill a piping bag with the buttercream and pipe a few star shapes onto each éclair.
Carefully separate the raspberries into 2-3 pieces and fill up the negative space on the éclairs with raspberries.
Finally, using tweezers, place small pieces of gold foil on top of the éclairs.
Serve the day they are filled!