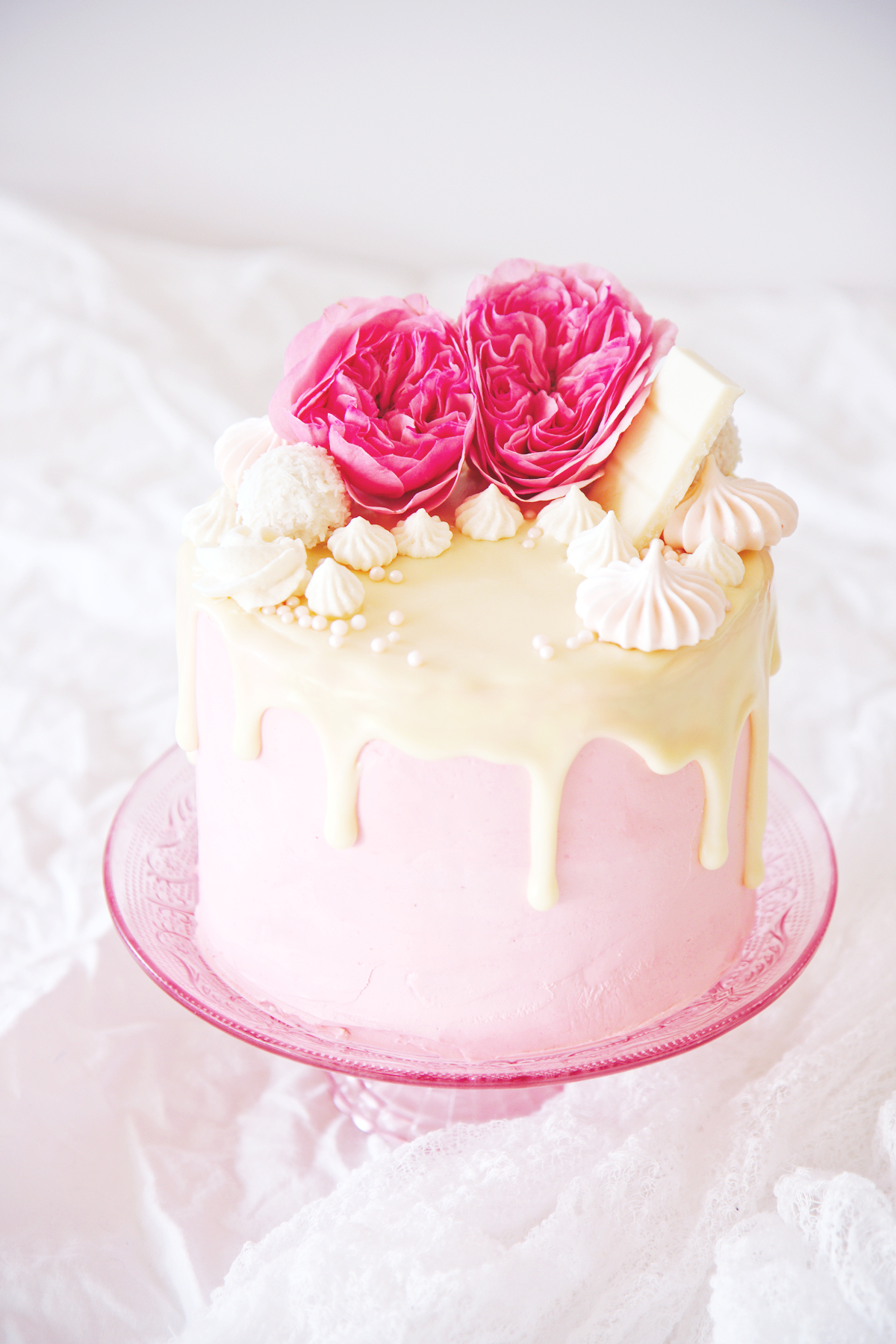 This is the miracle that happens every time to those who really love:
the more they give, the more they possess.
—Rainer Maria Rilke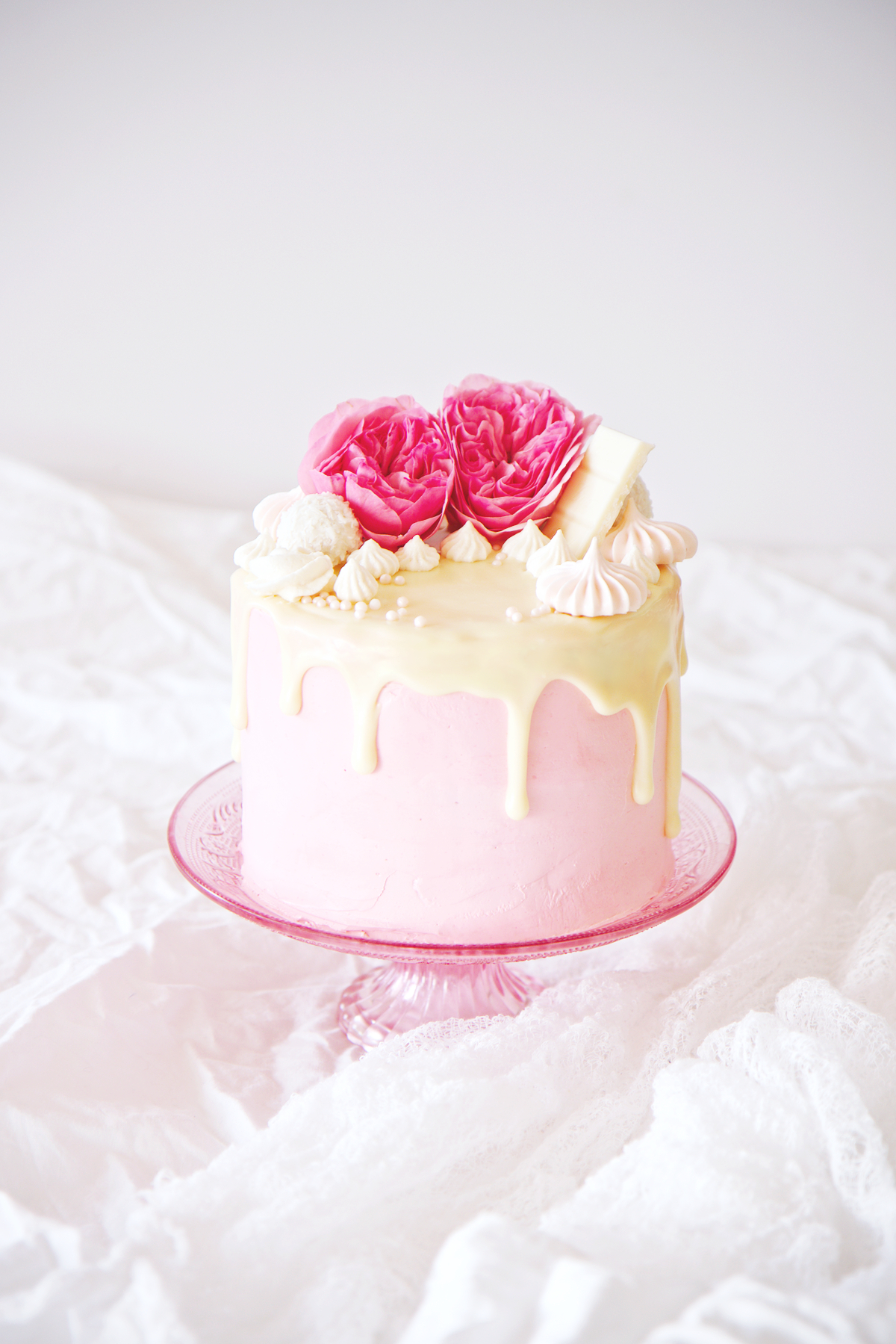 Happy Valentine's Day, dearest readers!
Today, I am feeling lazy and so I want to share some links that I've been loving this year.
As some of you might remember, way back in the day, I made conversation heart cookies.  I'm not posting a link because it was 1) before I knew how to make decorated cookies and 2) before I knew how to use a camera in any sort of appetizing way.
Better than those, then: Stephanie made ombre conversation hearts with CUTE AF messages.  I die.  I want to add, like, a million emojis to emphasize my point.
Molly's annual almond Valentine's cake with its trail of marzipan hearts has the best backstory and gets more adorable every stinkin' year.
Remember how I said that V-Day is the perfect excuse for gold leafing everything?  Well, Heather went and added pink champagne AND gold leaf to a cake and truly perfected the pink + gold + white color scheme!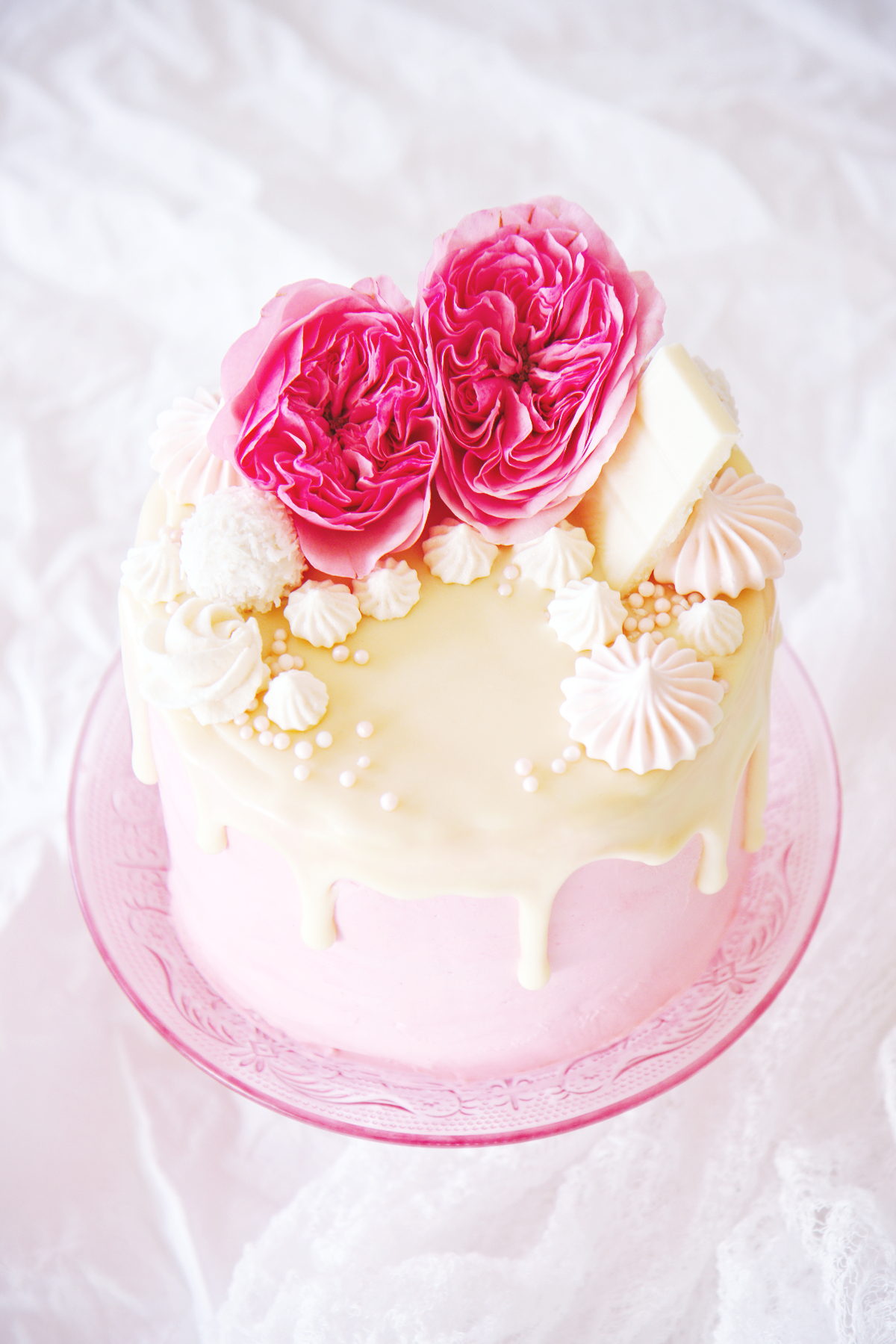 Alana poured blood orange glaze over a double chocolate loaf cake and made me drool all over my keyboard.  She is carving wooden spoons with her beau to celebrate Valentine's Day and now it is all I want to do in life, along with smushing chocolate orange cake into my face, of course.
Sarah dressed up a cake in pretty two-toned pink ruffled frosting.  Such a simple yet elegant way to decorate.
Courtney made croissant dough into cinnamon buns which is one of the most brilliant mashups I've heard of AND they're heart shaped. I mean come on. 10/10 would prefer a crinnamon bun over a cronut.  Dominique Ansel, I'm lookin' atchu.
Jen's classic chocolate souffles with raspberry puree are swoon-worthy—and a perfectly light + chocolaty way to end a meal!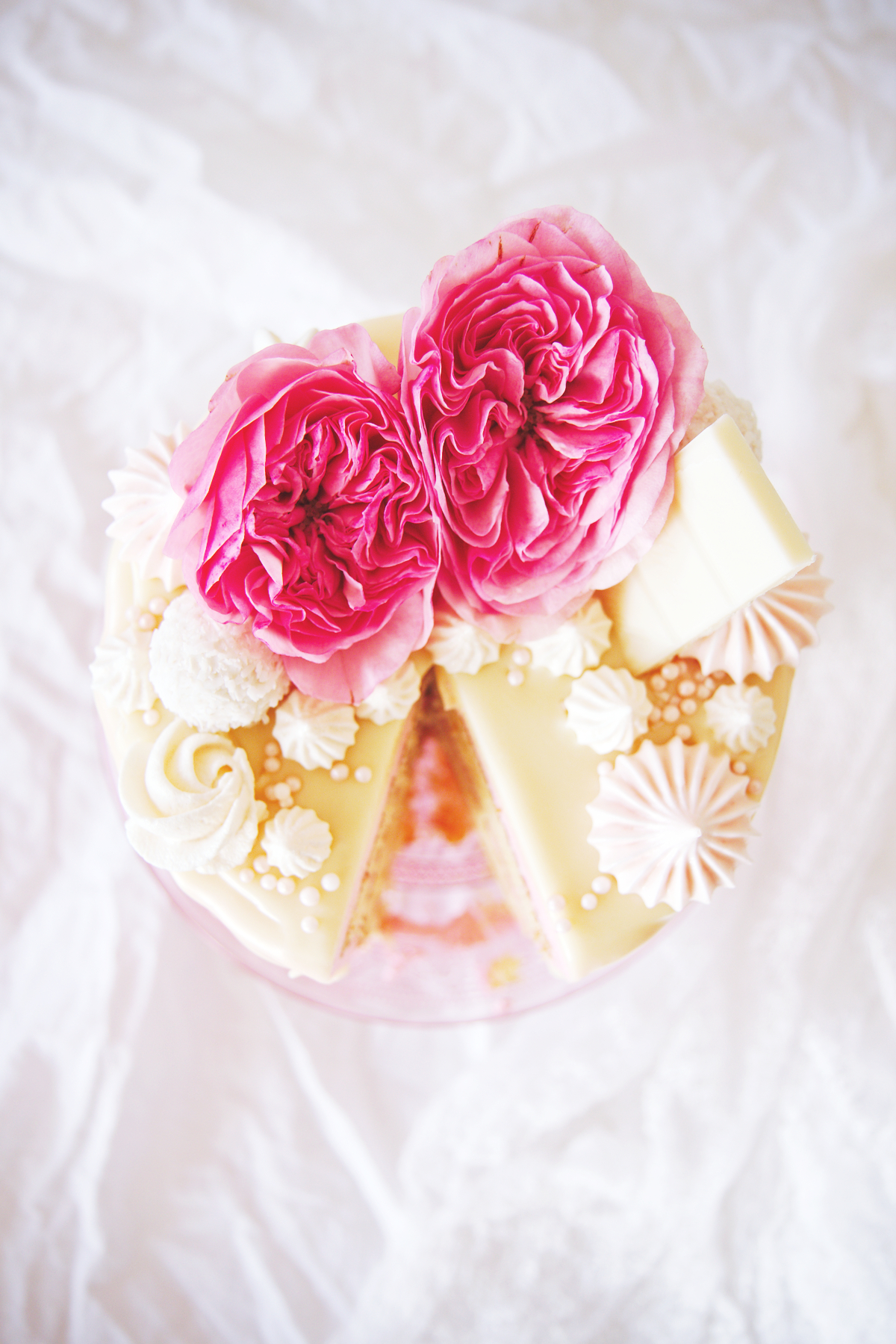 My sweet contribution of the day is this little pink and white number accompanied by the most jaw-droppingly gorgeous garden roses I have ever laid eyes upon.
I had never seen them in person before and they remind me of a peony mixed with a standard rose.
Those ruffled petals!  Be still my heart.
The cake itself is a lightly spiced and toasty ginger malted vanilla cake, dense and buttery, frosted with a super fluffy and subtle hibiscus-ginger Italian meringue buttercream and topped with drippy white chocolate ganache and every manner of bit and bob I had—light, crispy white and pink meringues, pink sugar pearls, white chocolate, and creamy, coconutty rafaello truffles.
It really is stunning.  And how could anyone NOT love a pink and white cake on this holiday?
The hibiscus ginger frosting is the product of using a Bang Candy simple syrup in my Italian meringue buttercream.  When poured into the whipping meringue, however, it turned blue (!?!), so I had to add a drop or two of pink food coloring to get it back to a rosier hue.  You could easily use a few tablespoons of strong hibiscus tea in its place, but keep the food coloring unless you want blue frosting!
The cake looks a lot more complicated than it really is, because the toppings make it looks fussy and fancy—but they really only require a trip to the baking aisle of a supermarket.
The cake and frosting, for their part, come together very quickly.
This is a happy little cake for a happy holiday: consider it a token of all my love and appreciation for all who visit my humble little corner of the internet.
Gros bisous pour tous!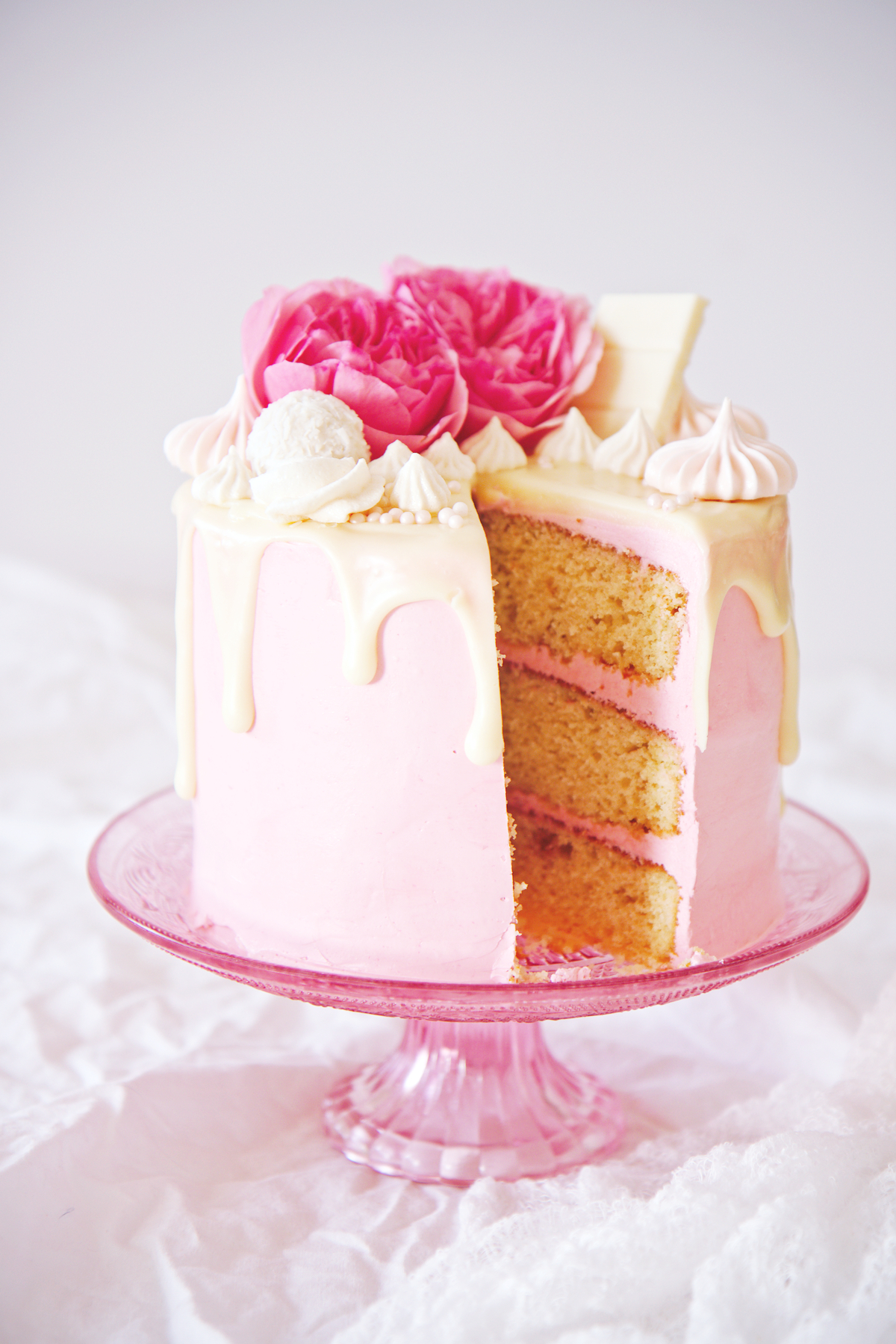 Valentine's, previously:
2016:
Baby pink salty sugar cookies dressed up in Xs and Os are very giftable and quite moreish.
Raspberry white chocolate and Nutella éclairs are the most silly, sinfully indulgent pastries, dotted with gold leaf because all I see are dolla signs.
Brown butter and vanilla bean teacakes.  Fragrant and light—the perfect accompaniment to tea!
2015:
Fluffy, buttery copycat Lofthouse cookies, with swirls of pink buttercream and handfuls of sprinkles!
Chocolate covered strawberry cake—sinfully dark chocolate layer cake with goat cheese buttercream and chocolate covered strawberries on top.
A dolled-up red velvet cake: with cream cheese meringue buttercream and malted milk candies.
Perfectly pink princesstårta—sponge cake with whipped cream and marzipan.
2014:
The cutest, most pinnable pink grapefruit possets, with salty and buttery Ritz crunch and pistachios.  One of my favorite recipes/posts ever!
Dark and white chocolate French mendiants, quick and healthy and pretty.
Strawberry pocky cake—love this idea, didn't love the red velvet recipe I used.  Would recommend the link above for dolled-up red velvet if recreating this idea!
Salty dark chocolate tarts—the perfect balance between flaky salt and dark, fruity chocolate.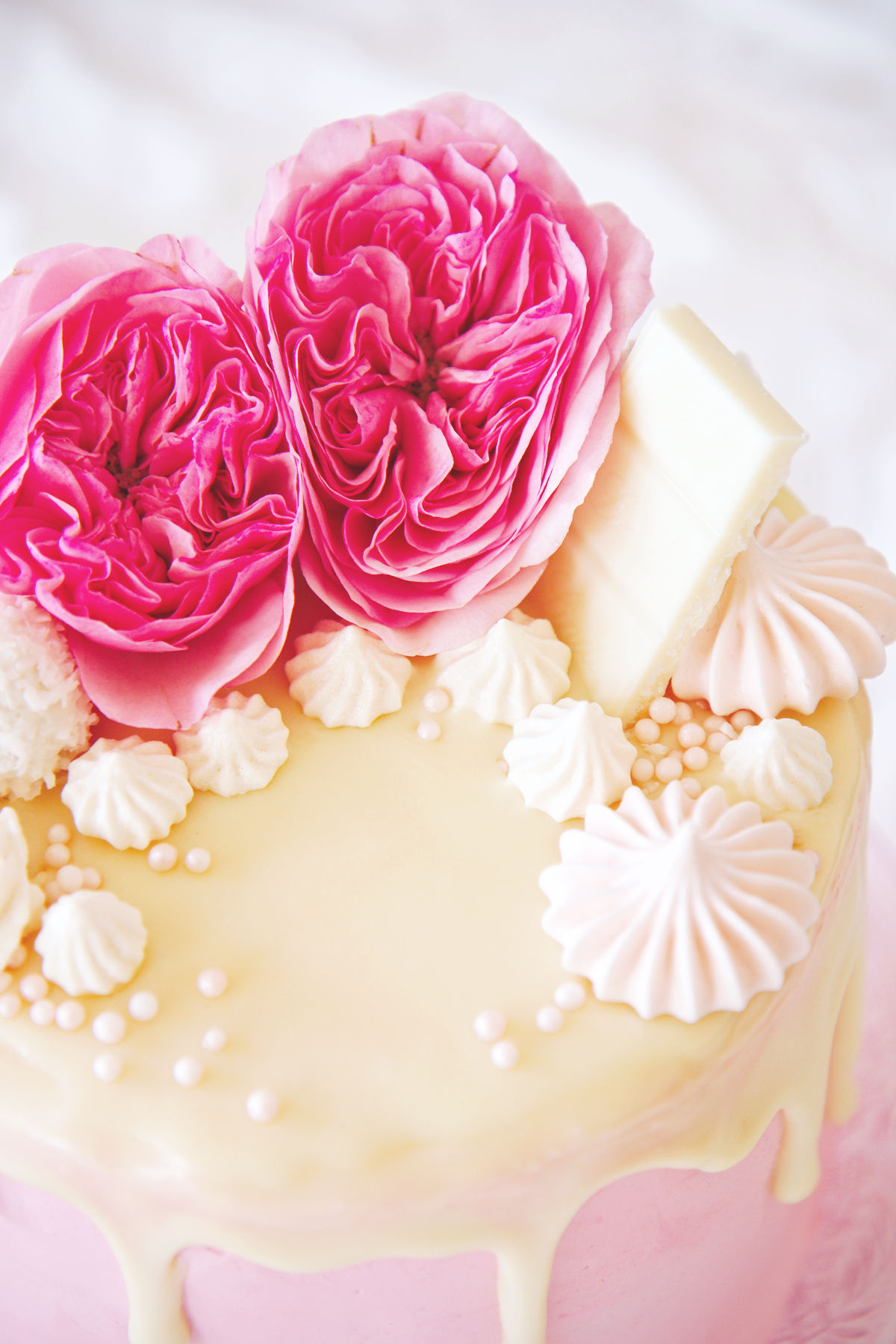 Love is a garden of thorns, and a crow in the corn
and the brake growing wild
cold when the summer is spent in the jade heart's lament
for the faith of a child
my body has a number and my face has a name
and each day looks the same to me
but love is a voice on the wind, and the wages of sin
and a tanglewood tree
—Dave Carter and Tracy Grammer, Tanglewood Tree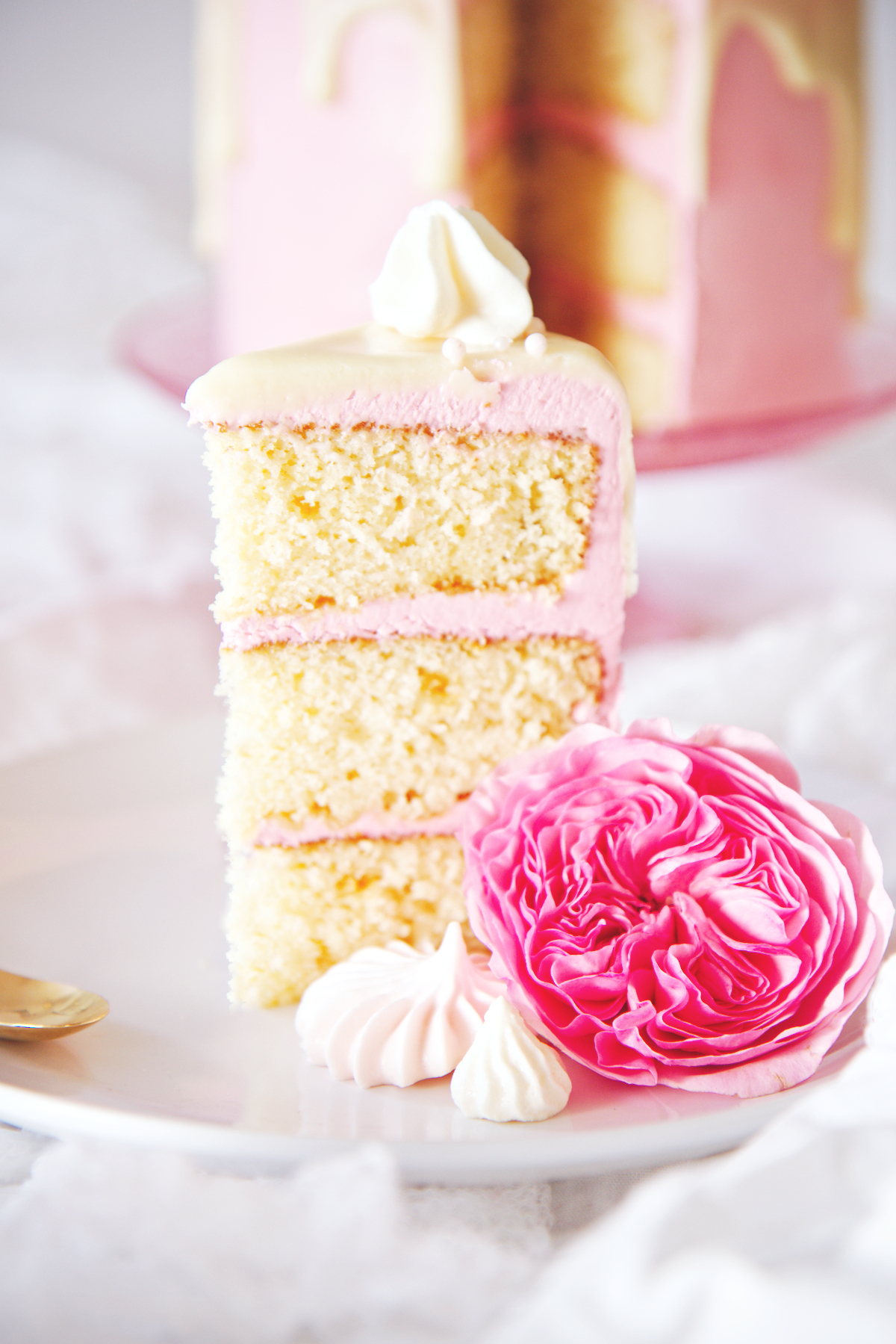 Ginger Malted Vanilla and Hibiscus Cake
makes 1 3-layer 6-inch cake, or 2-layer 8-inch cake
ingredients:
for the cake:
113 grams (1/2 cup, 1 stick) butter
1/2 teaspoon kosher salt
200 grams (1 cup) sugar
2 eggs plus 2 egg yolks
150 grams (1/2 cup plus 2 tablespoons) buttermilk
3 tablespoons malted milk powder
1/2 teaspoon dried ginger (or a small grated fresh piece)
1 tablespoon vanilla extract
180 grams (1 1/2 cups) flour
1 3/4 teaspoon baking powder
for the frosting:
3 egg whites
150 grams (3/4 cup) sugar
3 tablespoons hibiscus syrup or tea
1/2 teaspoon kosher salt
335 grams (3 sticks, 1 1/2 cups) butter, softened
1 teaspoon vanilla extract
few drops pink food coloring
for decorating:
112 grams (4 ounces) white chocolate, chopped
30 grams (2 tablespoons) heavy cream, hot
rafaello truffles
chopped white chocolate
meringues (use your favorite recipe)
pink sugar pearls
directions:
Make the cake: grease and flour 3 6-inch round baking pans and preheat oven to 350 degrees F.
Beat butter on high speed for 3 minutes, until completely fluffy and no lumps remain.
Add the salt and sugar and beat for 5 full minutes; the mixture should be very light and fluffy.
Add the eggs and the egg yolks and beat for another 3 minutes.
Scrape the sides of the bowl and add in the buttermilk, malted milk powder, ginger, and vanilla extract; gently stir with a spoon until about half is incorporated.
Add in the flour and baking powder and stir until incorporated; beat for 30 seconds on high to ensure homogeneity.
Spread the batter into the prepared pans.
Bake for 18-20 minutes, until a tester comes out with a few moist crumbs.
Allow to cool completely.
Meanwhile, make the frosting: place egg whites in the bowl of a stand mixer.
Place sugar, salt, and hibiscus syrup/tea in a small pot.
Begin to heat the sugar mixture on high as you whip the whites on medium speed.
When the syrup reaches 245 degrees F, your egg whites should be at firm soft peaks (almost hard peaks, but not dry).
Drizzle the syrup into the meringue with the mixer running; whip on high until cooled to body temperature.
Beat in butter one or two tablespoons at a time.
Beat buttercream on high speed until thick, glossy, and fluffy, about 4 minutes, then beat in pink food coloring until tint is as desired.
If buttercream is too soft, refrigerate for 20 minutes.
To frost, place 1 layer of cake on a serving platter, then top with 3/4 cup of frosting; repeat twice.
Crumb coat the cake with a thin layer of frosting, then refrigerate for at least 30 minutes.
Finish icing the cake, then refrigerate for at least 30 more minutes.
Meanwhile, make the white chocolate ganache: Heat chocolate and cream together until 1/2 melted; then stir vigorously until a glossy ganache forms.
Carefully pour over the chilled cake sides, being careful not to put too much in one spot (it will melt the frosting).
Allow to cool/set, then top with whatever you desire!