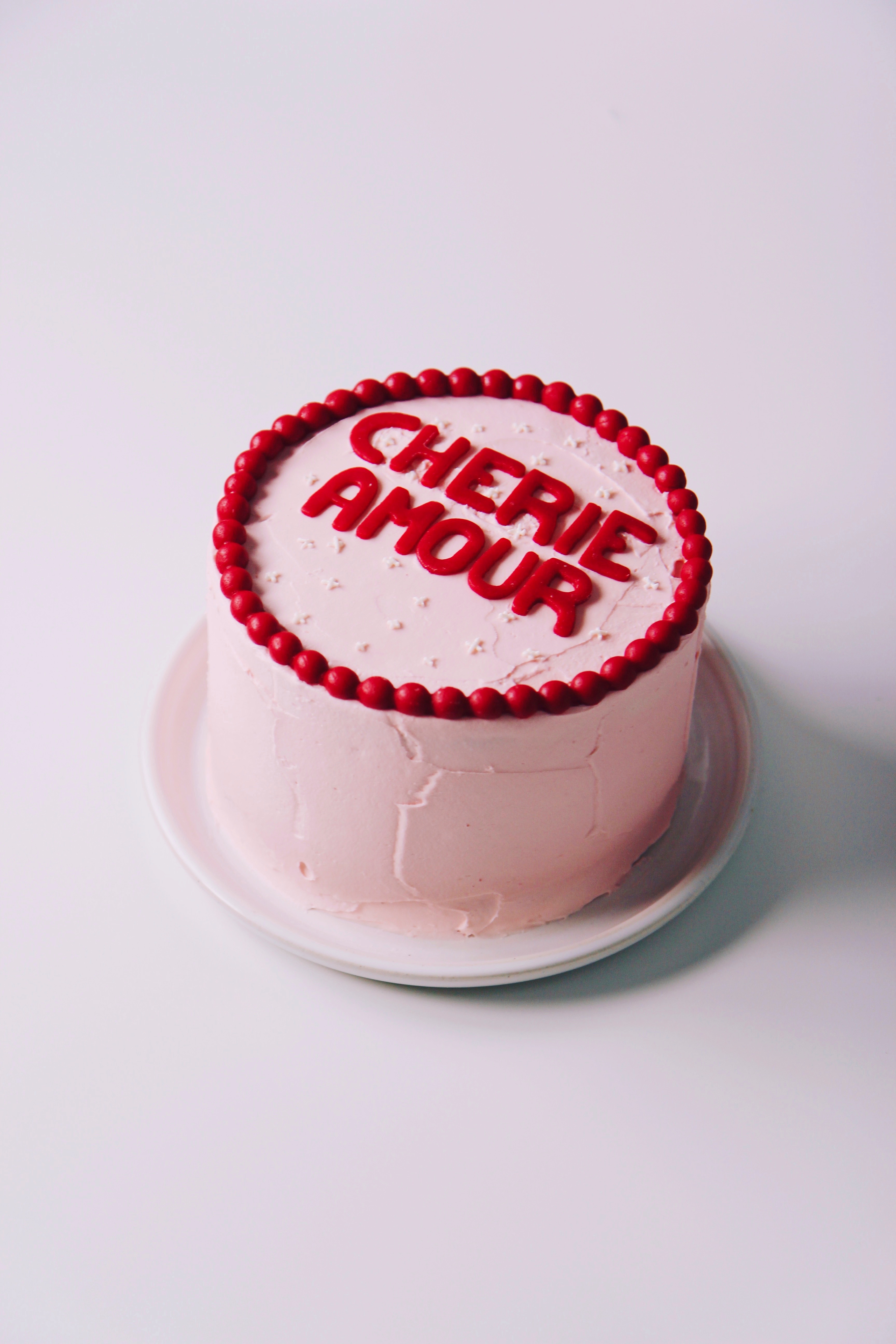 I love you also means I love you more than anyone loves you, or has loved you, or will love you,
and also, I love you in a way that no one loves you, or has loved you, or will love you,
and also, I love you in a way that I love no one else, and never have loved anyone else,
and never will love anyone else.
Jonathan Safran Foer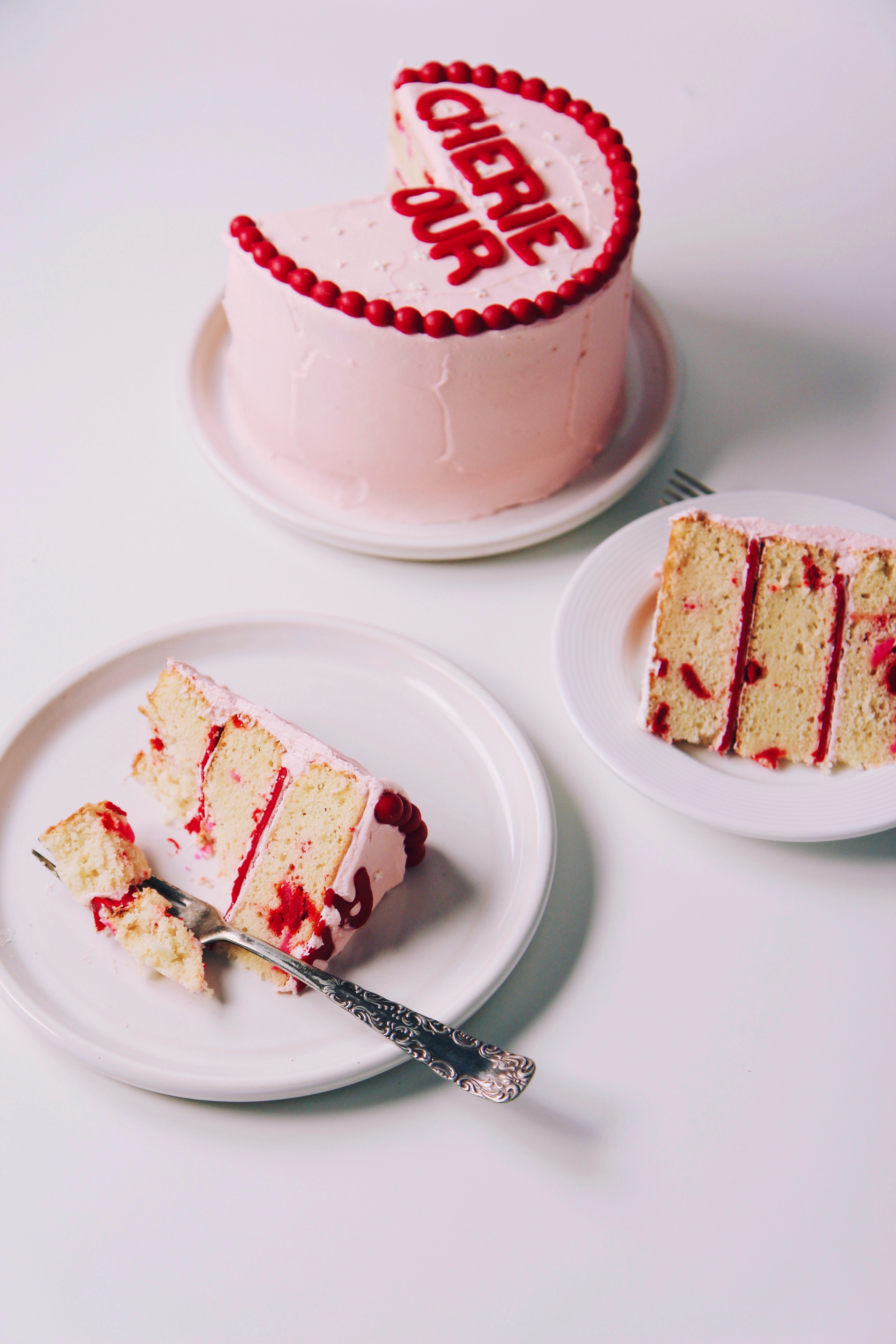 Happy lovers' day, dear readers.
I do adore Valentine's day.
How wonderful to have a day set aside expressly to celebrate love, especially in the doldrums of winter?
Even last year, after posting about what felt like my irreparable broken heart in late January, I was still happily baking for the holiday, and enthusiastically celebrating it.
As a child, Valentine's was always exciting; I remember one year hand-carving linoleum stamps with my mama to print cards to give to my classmates alongside a little piece of candy.
Somehow v-day candy was more exciting than Halloween candy. I suppose I've always been a sucker for pink.
This year, my heart feels more full of love than ever. It is like a fat, happy cat lazing about in contentment within me, purring and basking in the warm glow of joy.
How lucky and blessed I feel for all the relationships around me.
I surely must have done something right in a past life.
Remember that today is not necessarily about romantic love, or even platonic. Self-love is an extra-good thing to practice today, whether you're in a relationship or not.
Have a bath, or a glass of wine/whiskey/kombucha, or a Real Housewives marathon. Have an extra slice of delicious cake.
(The latter can only make your pants hug you even tighter, and they deserve love too, right?)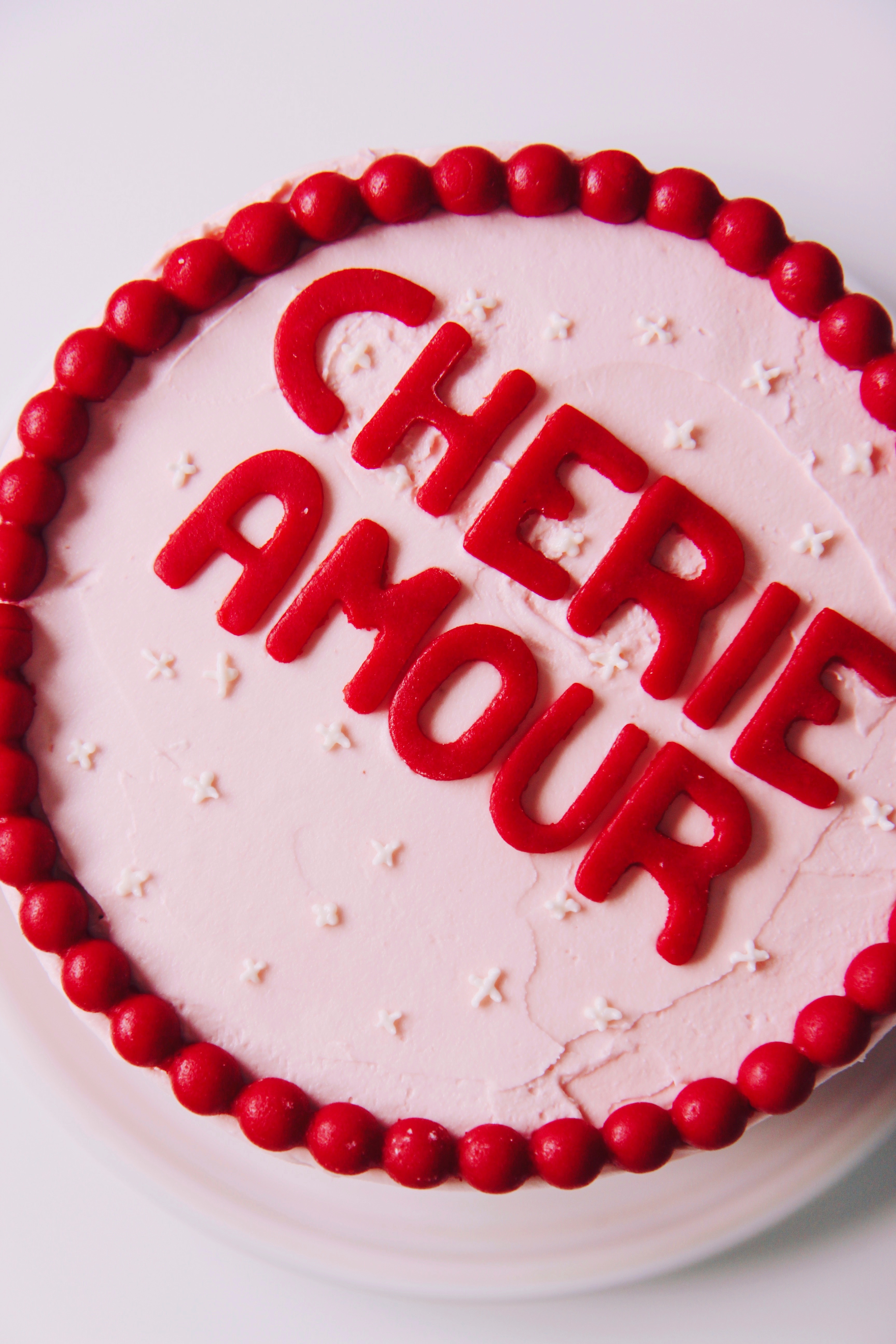 This sweet little cake has a base of buttery, vanilla-almond funfetti cake, soft and moist without being dense or heavy.
Sandwiched between each layer is a sliver of sweet, sugary marzipan, and the cake is frosted with a salted tahini icing.
The tahini provides a slight bitter nuttiness and the salt balances the sweetness handily.
I used large heart sprinkles inside the cake, and a Wilton cakes mold to create the bauble border.
I always use Americolor for red/pink food coloring.
I realize that I frequently use marzipan for my Valentine's treats.
I'm not exactly sure why, but there's something about a lightly sweet almond and vanilla dessert that is awfully romantic to me. It's my answer to the chocolate overload of the holiday, I suppose.
Anyway, I hope you get the desserts you want (or don't want) today. And if you don't like the holiday, I assure you that this recipe is a cake for any celebration!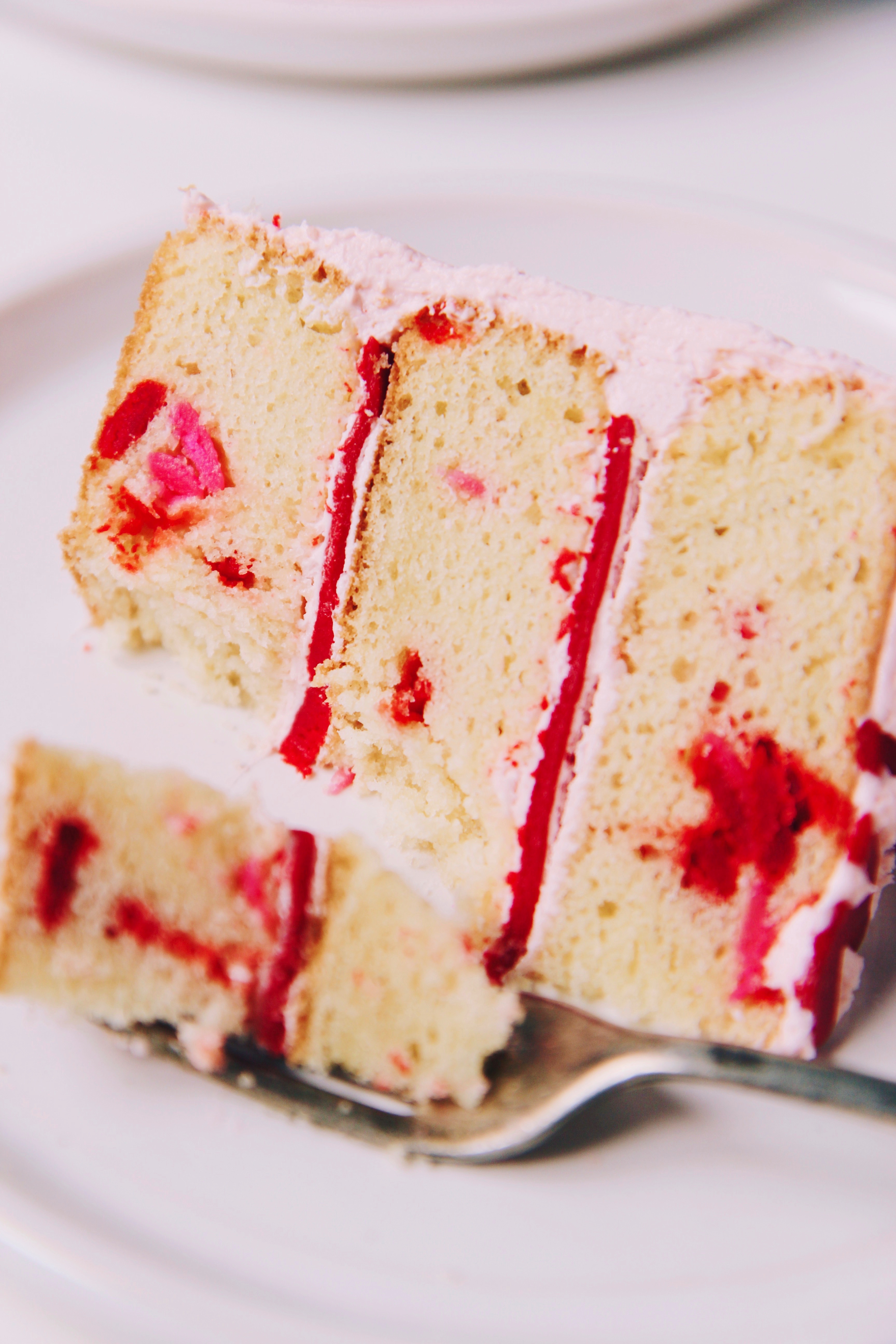 Valentine's Day, previously:
2018:
Kawaii mini strawberry cakes with olive oil and balsamic chocolate cake, strawberry jam, and marzipan
2017:
Fluffy, ruffled princess layer cake with a cascade of marzipan roses
Thick, soft M&M cookies
Mocha cupcakes topped with fluffy swirls of vanilla bean Italian meringue buttercream
2016:
Ginger, Malted Vanilla, and Hibiscus layer cake
Baby pink XO salty sugar cookies
Raspberry white chocolate and Nutella éclairs
Brown butter and vanilla bean teacakes
2015:
Fluffy, buttery copycat Lofthouse cookies
Chocolate covered strawberry cake with goat cheese frosting
Dolled-up red velvet cake
Mini pink princesstårta
2014:
Pink grapefruit possets with Ritz crunch and pistachios
Dark and white chocolate French mendiants
Strawberry pocky cake
Salty dark chocolate tarts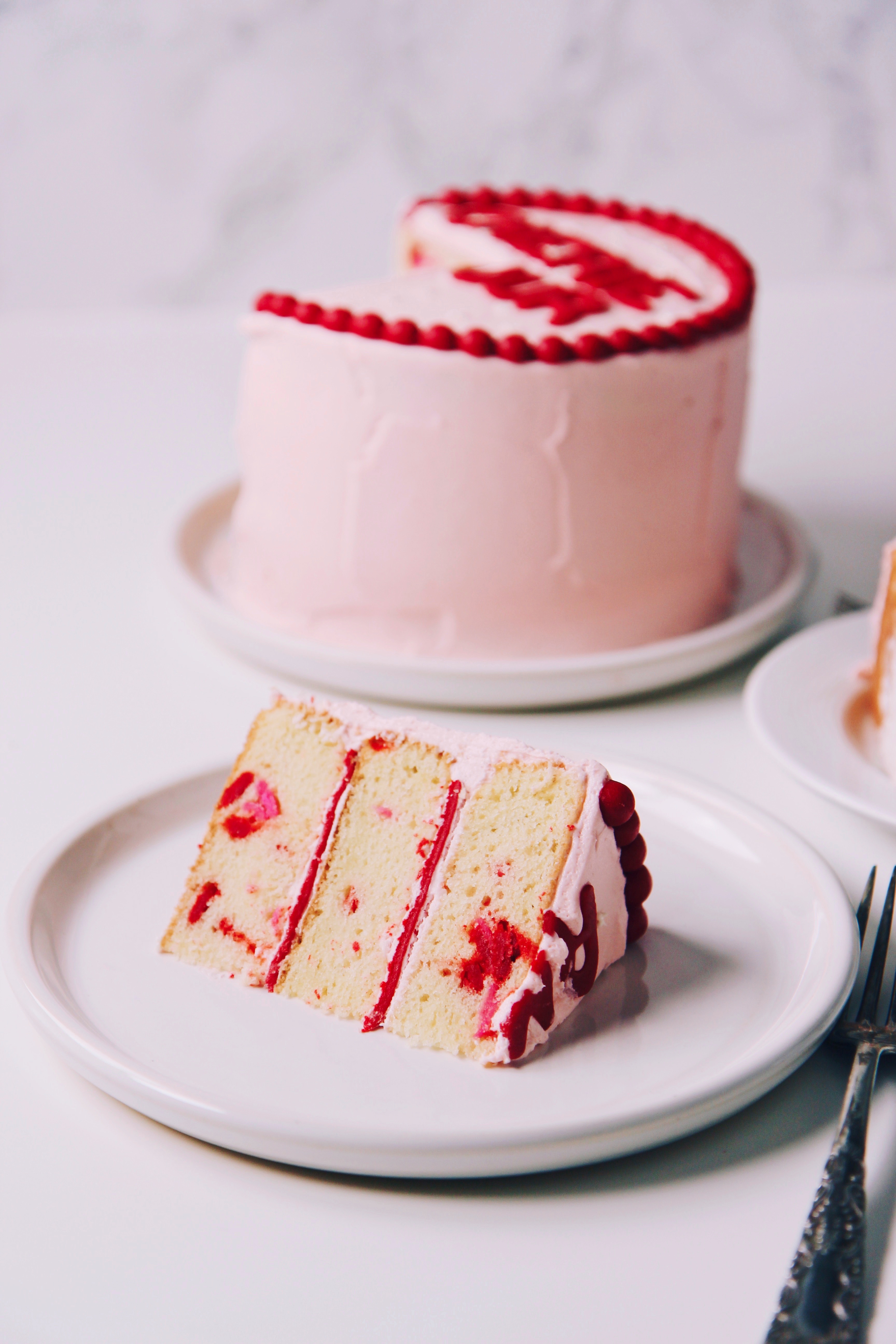 La la la la la la, la la la la la la
My cherie amour, lovely as a summer day
My cherie amour, distant as the milky way
My cherie amour, pretty little one that I adore
You're the only girl my heart beats for
How I wish that you were mine…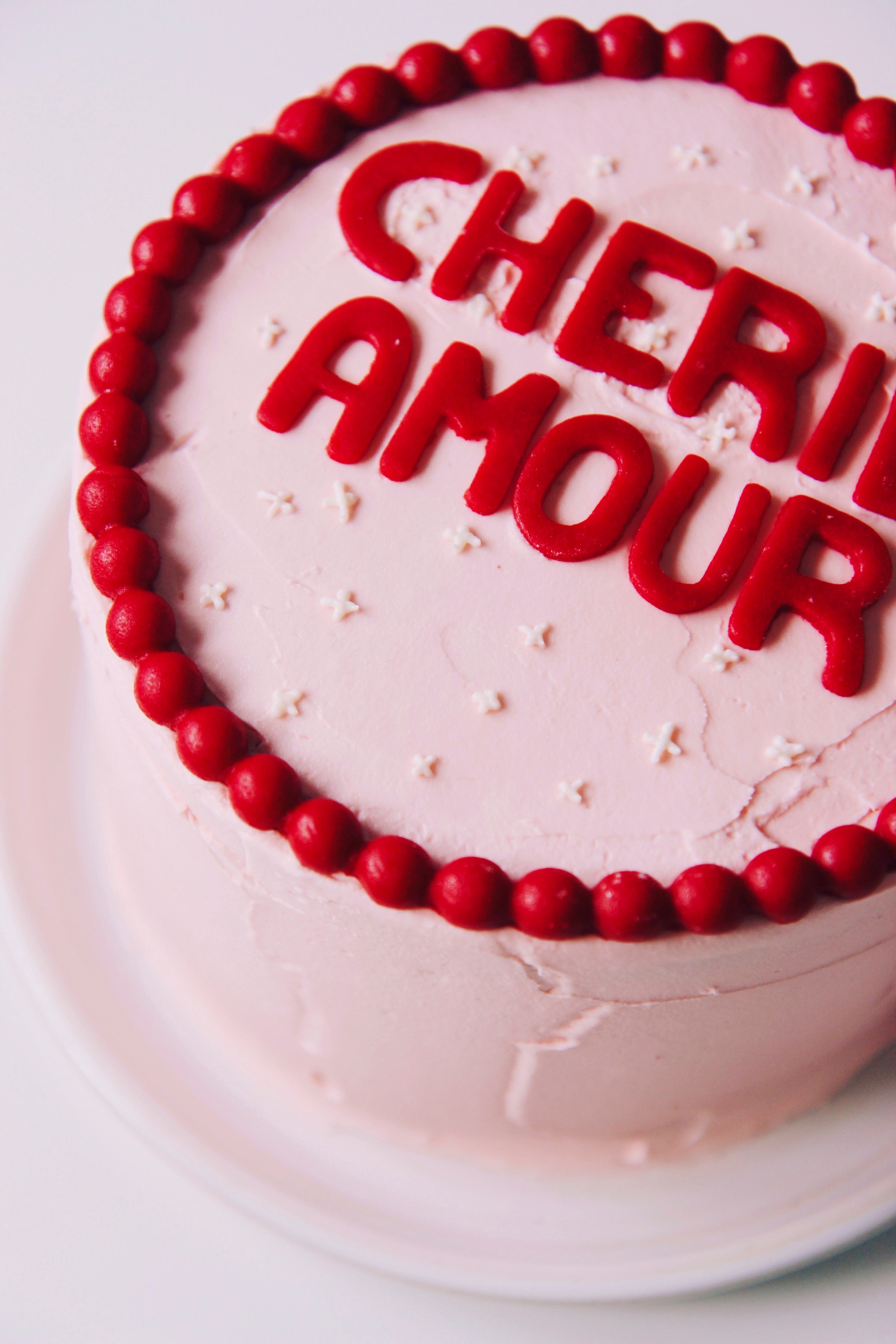 Funfetti Cake with Marzipan and Salted Tahini Frosting
makes 1 3×6-inch cake
ingredients:
for the funfetti cake:
180 grams (1.5 cups) AP flour
20 grams (3 tablespoons) cornstarch
260 grams (1 1/4 cup plus 1 tablespoon) sugar
3/4 teaspoon kosher salt
1 tablespoon baking powder
130 grams (4.5 ounces) butter, soft and cut into pieces
180 grams (3/4 cup) almond milk
3 large eggs
2 teaspoons vanilla extract
sprinkles, as desired
for the salted tahini buttercream:
200 grams (1 3/4 stick, 14 tablespoons) butter, softened
1/2 teaspoon kosher salt
300 grams (just shy of 3 cups) powdered sugar, sifted
55 grams (1/4 cup) tahini
drop red food coloring, if desired
to assemble:
200 grams (7 ounces) marzipan
red food coloring
powdered sugar, as needed
directions:
Make the cake: preheat oven to 350 degrees F and grease and flour 3 6-inch round pans.
Mix flour, cornstarch, sugar, salt, and baking powder together in the bowl of a stand mixer fitted with the paddle attachment.
Add in the softened, cubed butter one piece at a time at a low speed until the mixture looks like sand and the butter is fully incorporated.
Whisk the almond milk, eggs, and vanilla extract together, then slowly pour into the batter with the mixer running.
Scrape the sides of the bowl and beat on high speed for 30 seconds to ensure homogeneity.
Stir in sprinkles gently.
Portion batter equally into the prepared pans.
Bake for 18-22 minutes, or until the cakes are golden and the tops spring back to the touch.
Cool completely on a rack.
Before assembling the cake, tint your marzipan red: using gloves or a sheet of plastic wrap, incorporate red food coloring by kneading and stretching the marzipan.
Add powdered sugar to your hands as needed to prevent sticking.
Shape the marzipan into a border (I used a mold) and letters for the top of the cake.
Use the remaining marzipan to roll into 2 5.5-inch diameter disks for between the layers.
Carefully and lightly cover with a sheet of fresh plastic wrap and set aside.
To make the frosting, whip butter and salt on high speed for at least 5 minutes, until super fluffy (doubled in volume) and shiny.
Sift in powdered sugar and slowly stir, increasing speed once the sugar is mostly incorporated.
Slowly drizzle in tahini, whipping on high speed, then allow mixer to whip for about 3 minutes, until the frosting is very light and fluffy.
Frosting will be a very pale beige.
Set aside a small amount (3 tablespoons) to add little stars to the top of the cake later.
Add a single drop of red food coloring (or pink) to the rest of the frosting to tint it a light shade of pink.
Place the first cake layer on a plate, then top with a small amount of frosting, one of the marzipan disks, and then the next cake layer.
Repeat with remaining layers.
Crumb coat with about 2/3 cup of frosting, then refrigerate the cake for at least 30 minutes.
Finish the cake with the remaining frosting, then refrigerate for 10 minutes.
Decorate the top with the red marzipan baubles and add little decorations on the top with the reserved white/beige frosting.
Serve cake at room temperature.