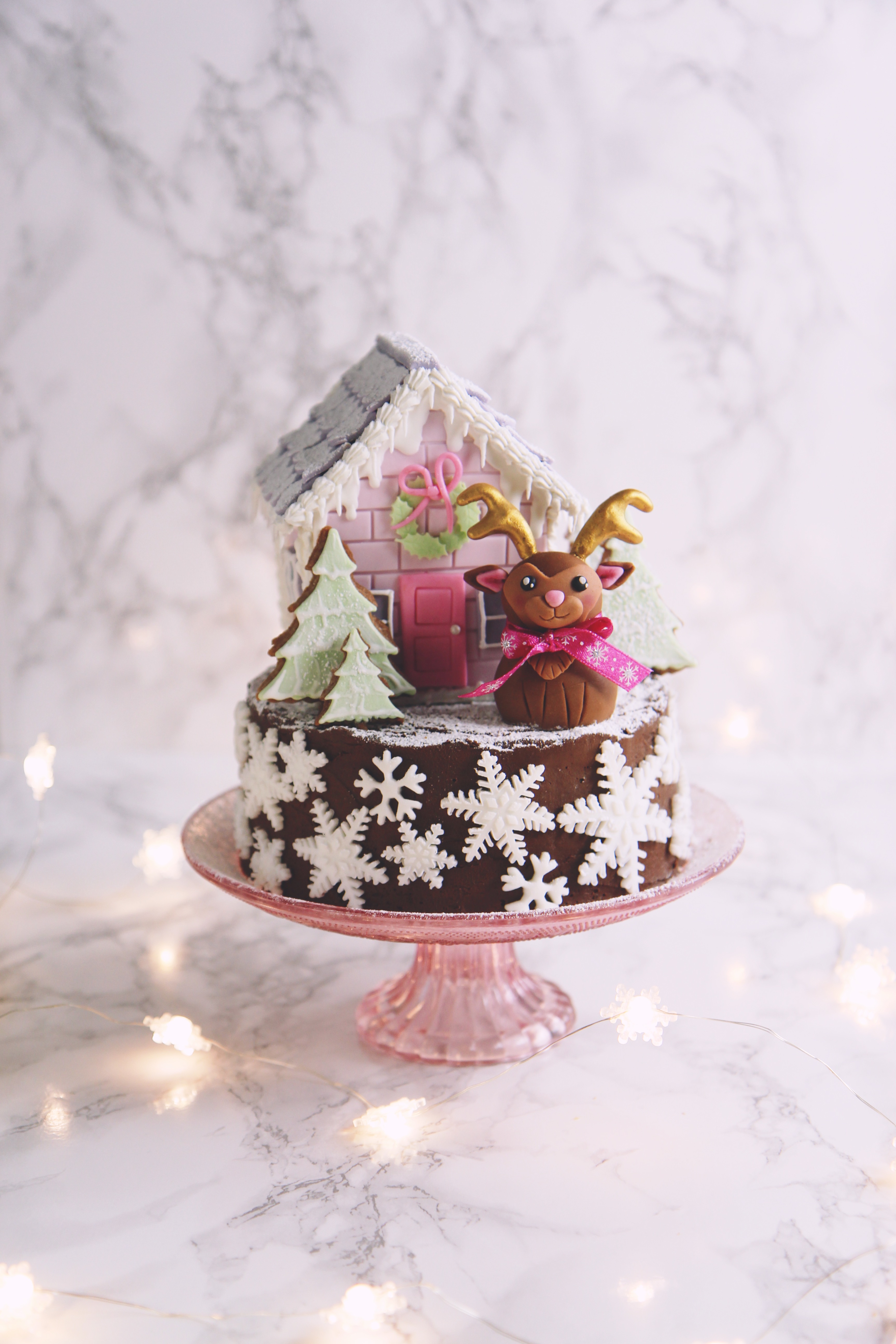 "Here we are again!
Bless me, I believe I said that before—but after all you don't want Christmas to be different each year, do you?"
― J.R.R. Tolkien, Letters from Father Christmas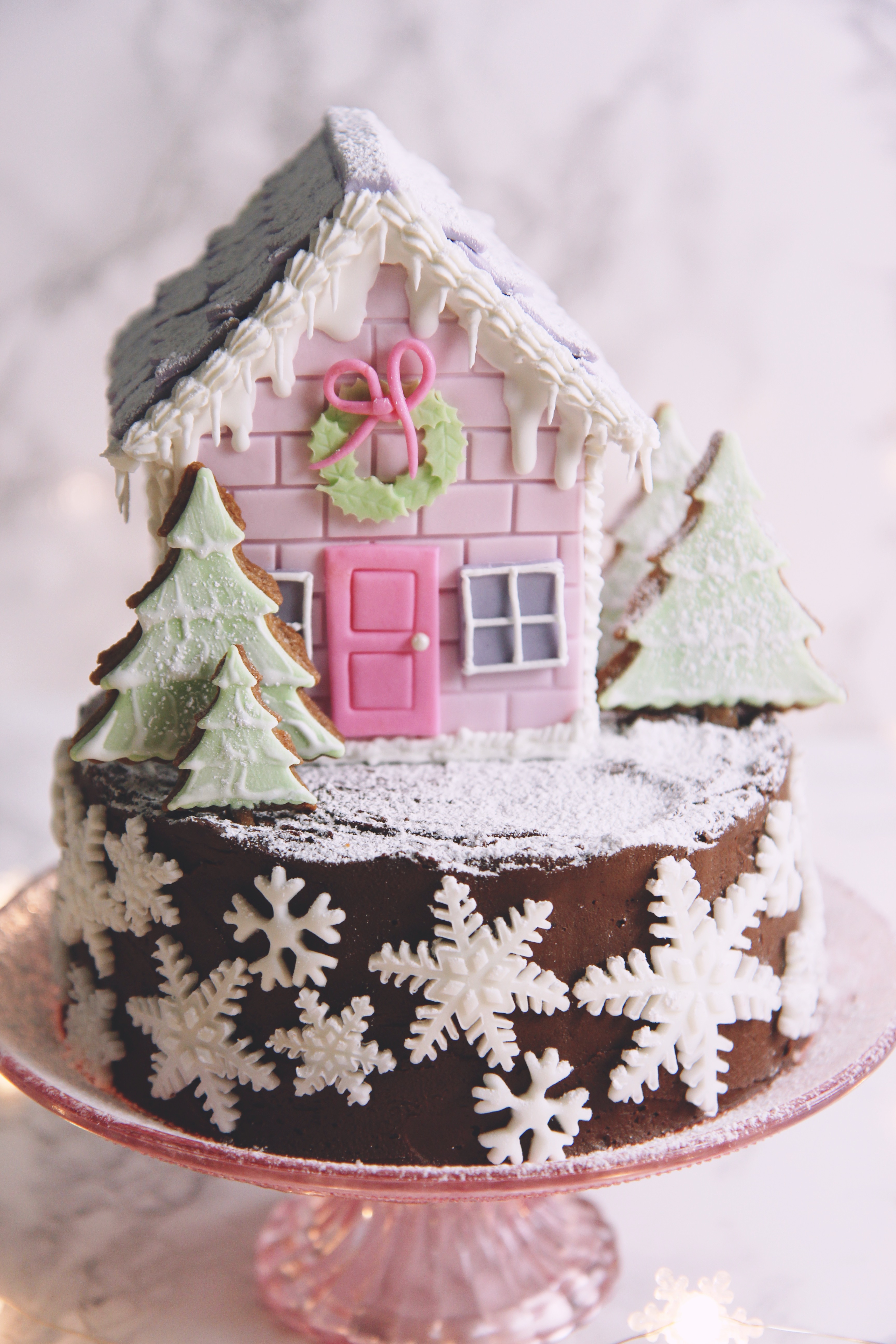 Christmas for my family was different this year.
One (1) of my three (3) brothers couldn't come to the East coast for Xmas.
We're celebrating in the city, rather than upstate, which means an apartment and a baby tree rather than a big house with a fireplace.
And we have the cutest, most adorable mini addition to our family with my baby niece, Emilia.
I honestly can't believe how perfectly cute she is.
Cannot get enough of her chub!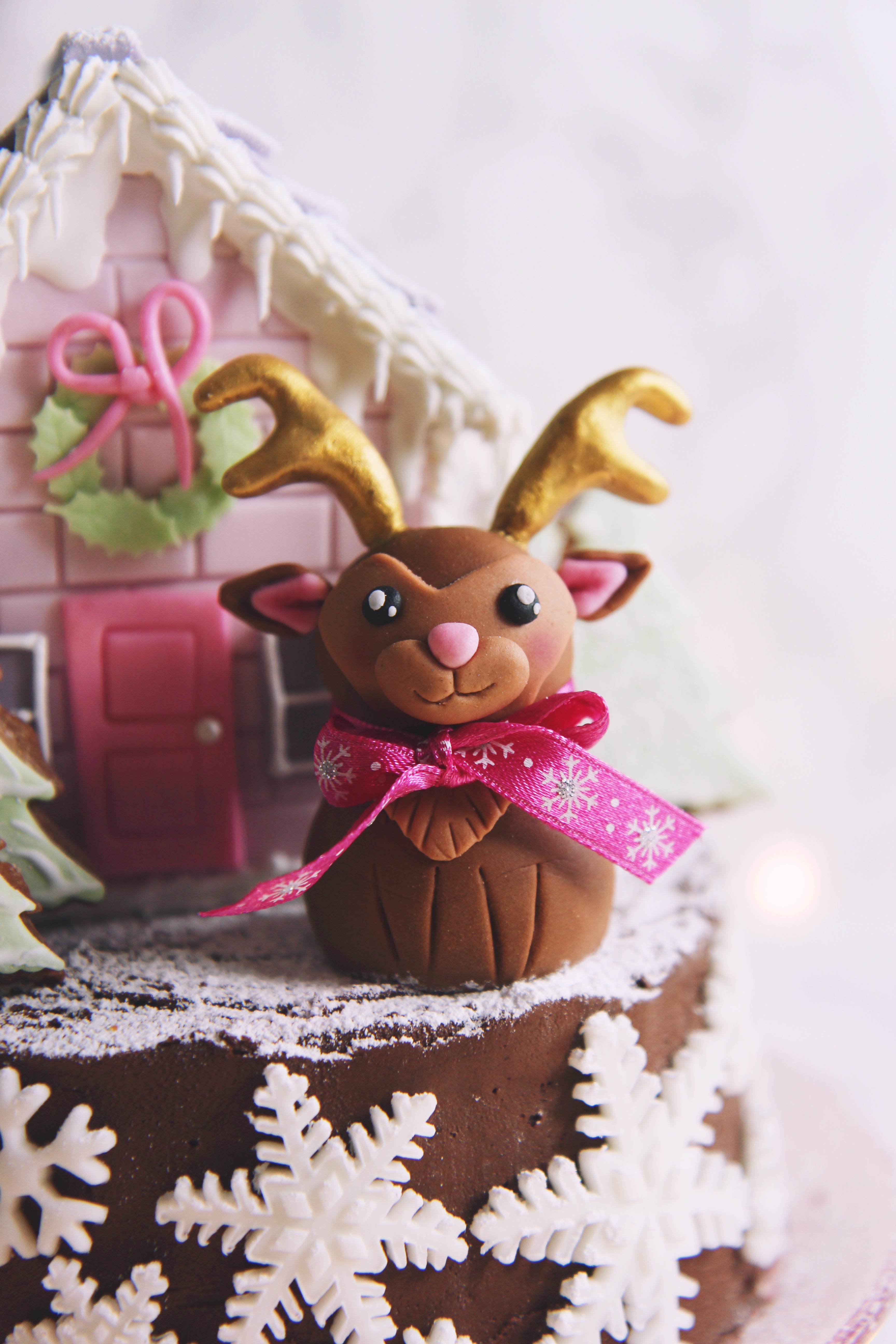 So although we didn't have some of our traditions this year, we still had a lovely time together.
Gifts were opened, brunch was had (I made Belgian waffles, my mom made a delicious polenta dish, we all drank mimosas and coffee), and much cooing over the baby was done.
Now that I'm not a kid anymore, I am reminded each year that what I love most about Christmas is being with my family.
This year, I am especially reminded that home is where your family is.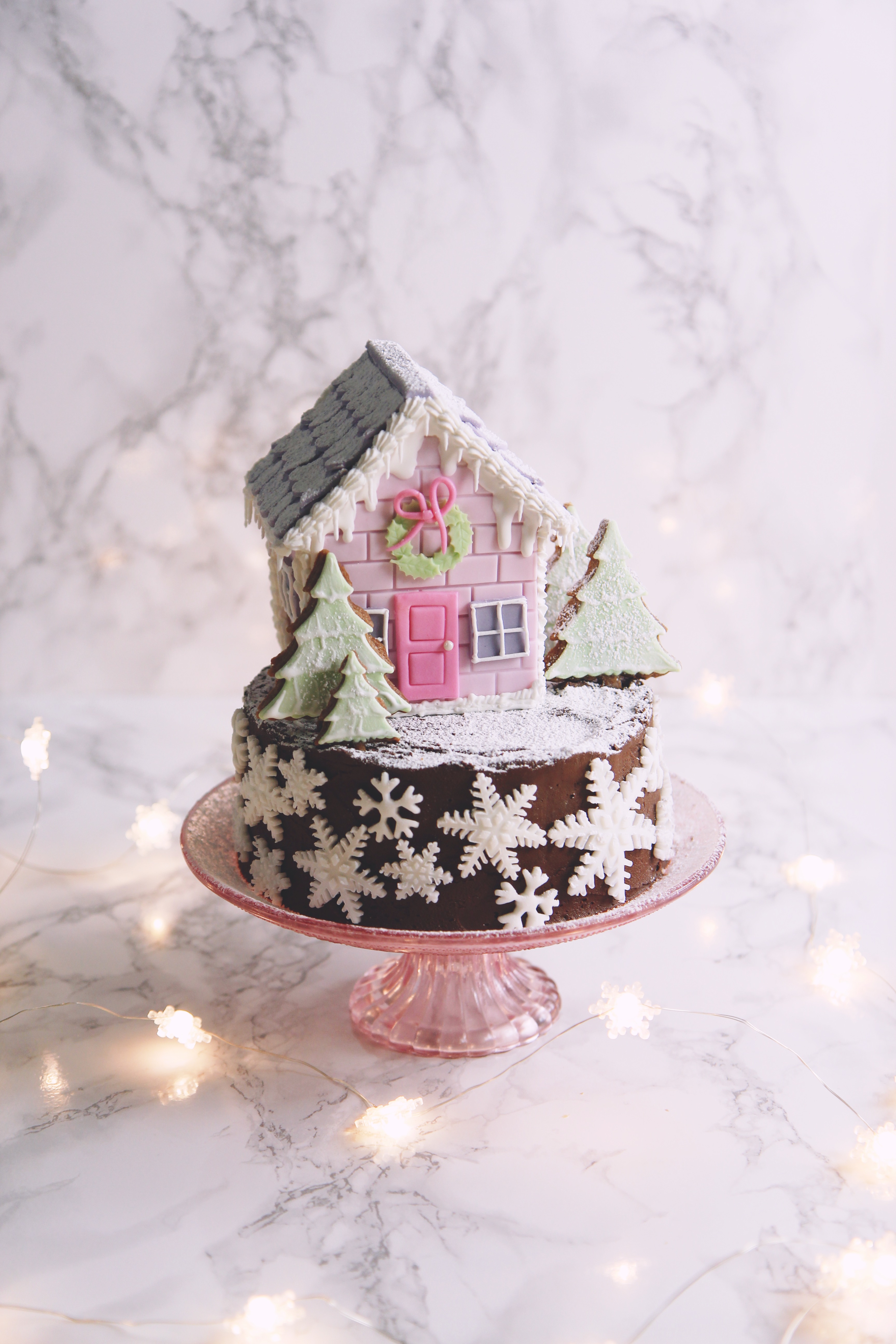 So, about this cute little pastel Christmas cake.
Technically, everything except the reindeer's ribbon scarf is edible. (No toothpicks used here, just uncooked spaghetti lol.)
The decorations are made of (non-gelatin) fondant that I added tylose powder to to make it more like gumpaste (firm and quick setting/drying).
Sculpting the reindeer took days, as I did each piece in turn.
I painted it with gold food coloring and used pink luster dust to add the blush.
The gingerbread house is made of a new recipe of gingerbread that I created, which has no eggs or water so that it doesn't bubble and maintains its shape. It's much more building-friendly, and although it doesn't taste quite as good, it is still far more delicious than "construction" gingerbread.
Let me know if you want the recipe!
I stuck the gingerbread house together with melted white chocolate, and I will never use anything else! It is far more dependable than royal icing, because it sets quickly and, importantly, is just a little bit pliable when it sets—you can avoid things cracking and falling all apart because of a little push or drop here and there. It even survived a subway ride where it was rattling around in a tupperware a little.
A simple royal icing made the piped decorations, the snow on the trees, and the icicles.
My inspiration was the endlessly creative and cute Juniper Cakery, a bakery in the UK.
I hadn't worked with fondant in so SO long, and while it's not the tastiest thing in the world, it's not entirely inedible, either. It also makes sculpting work so enjoyable and smooth.
For making something like a gingerbread house or a figurine that is unlikely to be eaten and isn't integral to the cake, I really recommend it. You might be surprised as I was!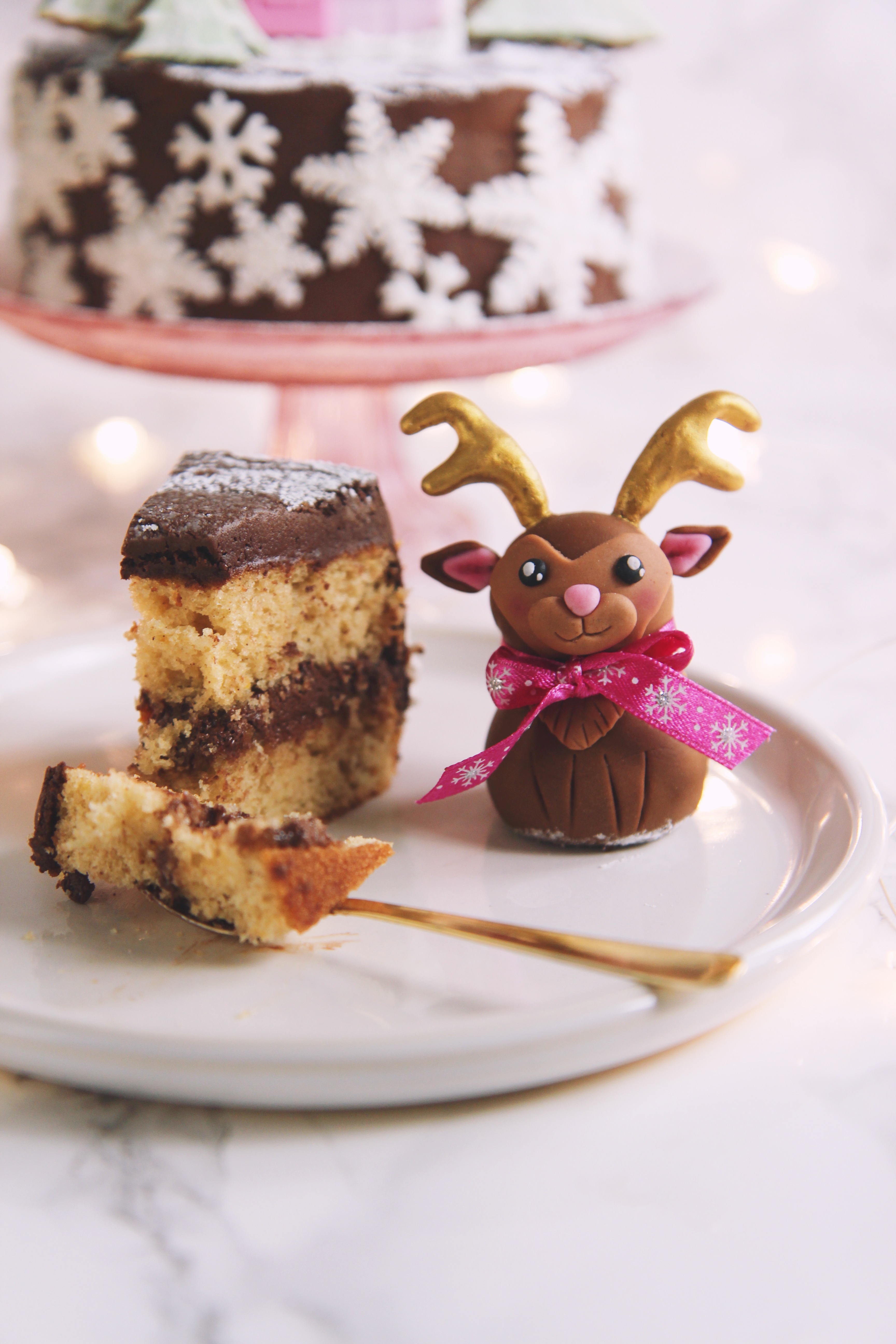 The cake itself is a soft-crumbed, lightly fragranced orange spice cake, redolent with cinnamon, nutmeg, anise, and cloves, with orange and lemon zest.
It's made using a reverse creaming method, meaning that you beat very soft butter into the dry ingredients, including the flour, before adding the wet.
Bittersweet orange marmalade is spread between the layers to add an extra hit of citrus.
Finally, salted chocolate buttercream, made with unsweetened chocolate and extra cocoa powder to really amp up the chocolate flavor, enrobes the cake.
Orange, chocolate, and spice is a warming, cozy combination that evokes winter and Christmastime to me. If you'd rather leave out the citrus, a chocolate spice cake would also be delicious.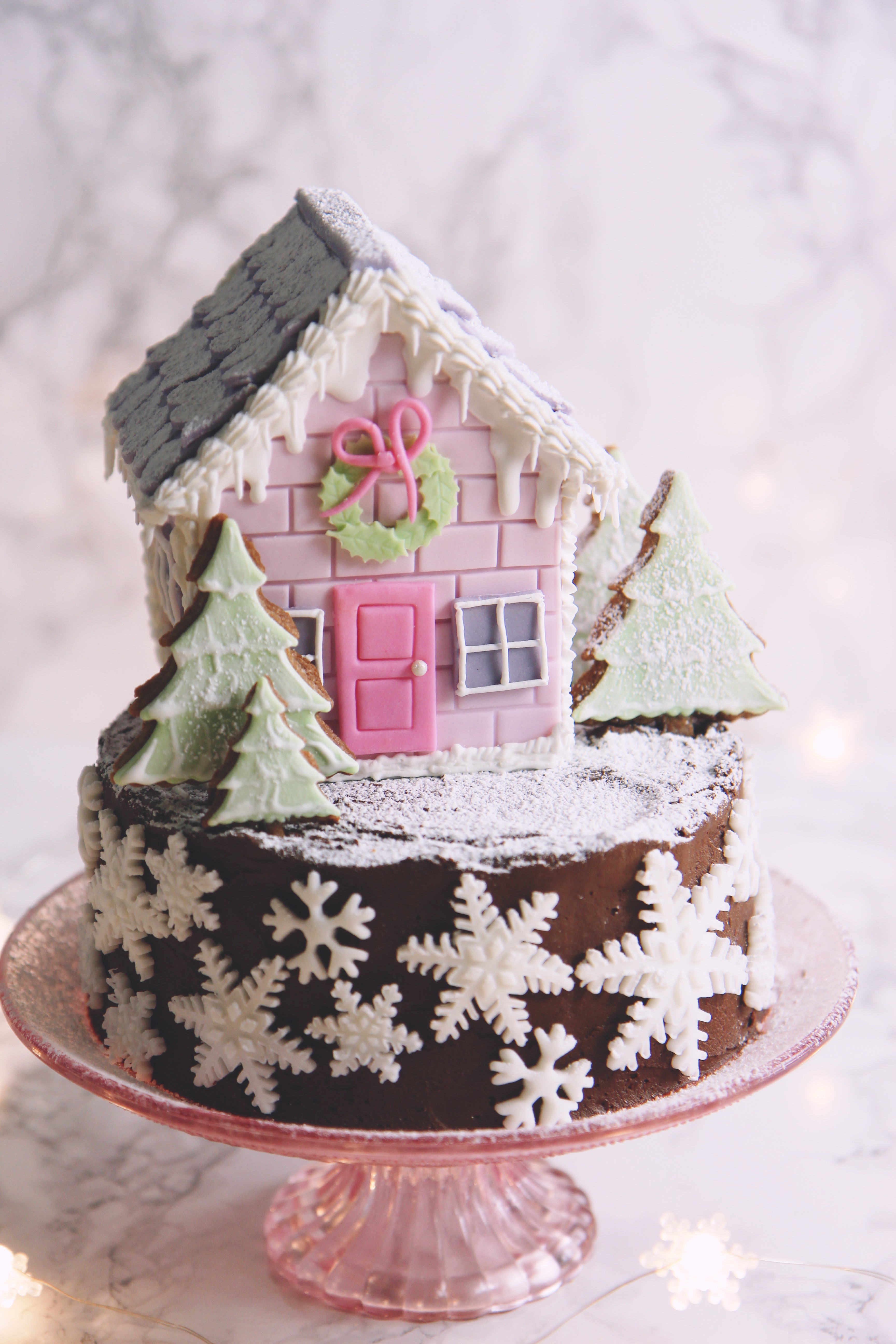 Merry Christmas, everyone! And to those who don't celebrate this holiday, a peaceful and happy day.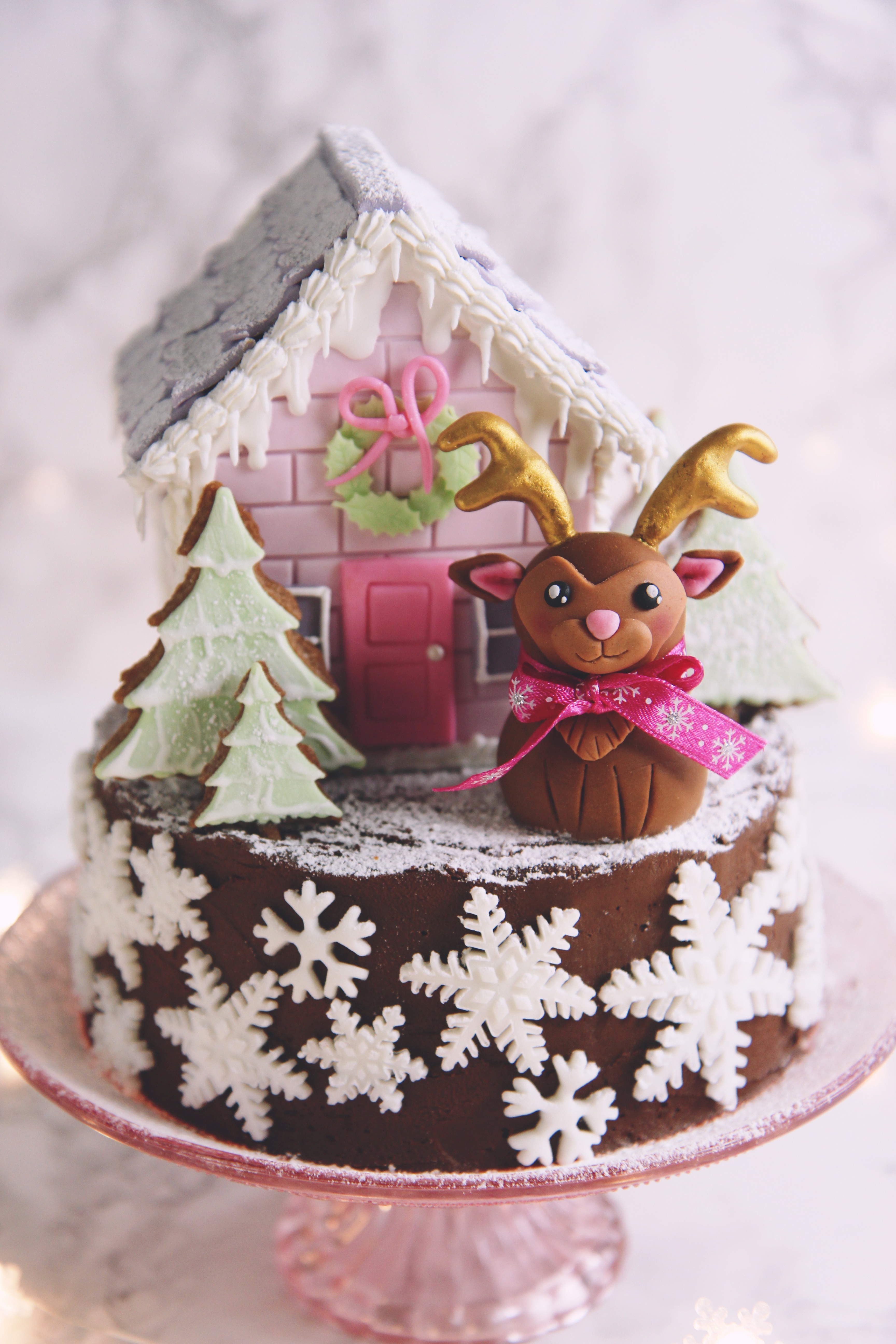 Tried and true recipes from Christmases past:
Cakes:
My pride and joy, the most elaborate cake on the blog: la souche de Noël.
A different, more whimsical take on a tree cake: this eggnog-filled, bauble-bedecked Christmas tree.
Golden and gleaming, an almond and orange spice cake.
A classic: red velvet with a winter woodland theme.
The fluffiest of cakes, a chocolate and peppermint cake with marshmallow frosting.
Oldie but a goodie: chocolate buttermilk cupcakes with peppermint buttercream.
Cookies:
Super intricate and crunchy maple and black pepper gingersnaps.
Luster-dust highlighted sugar cookie Christmas trees.
Very grown-up chocolate orange Linzer cookies.
Festive eggnog sugar cookies, decorated with royal icing and sprinkles.
Twists on the classic: honey spice and dark chocolate sugar cookies, perfect for cutting into shapes.
Pepparkakor with lemon royal icing, decorated with mehndi-inspired swirls.
Chocolate peppermint macarons… Finnicky little buggers.
Classic Linzer cookies with different fillings.
Maple, nutmeg, and rye sugar cookies, dressed all in winter white.
Chocolate, sour cherry, and coconut cookies; grapefruit butter cookies; and dark chocolate pecan snowcaps, all crammed into one post.
Cinnamon toast crunch marshmallow treats, chocolate peppermint shortbread, Russian teacakes, 5-spice snickerdoodles, another post bursting with recipes.
Whimsical peppermint marshmallow ropes; not cookies per se, but great for gifting.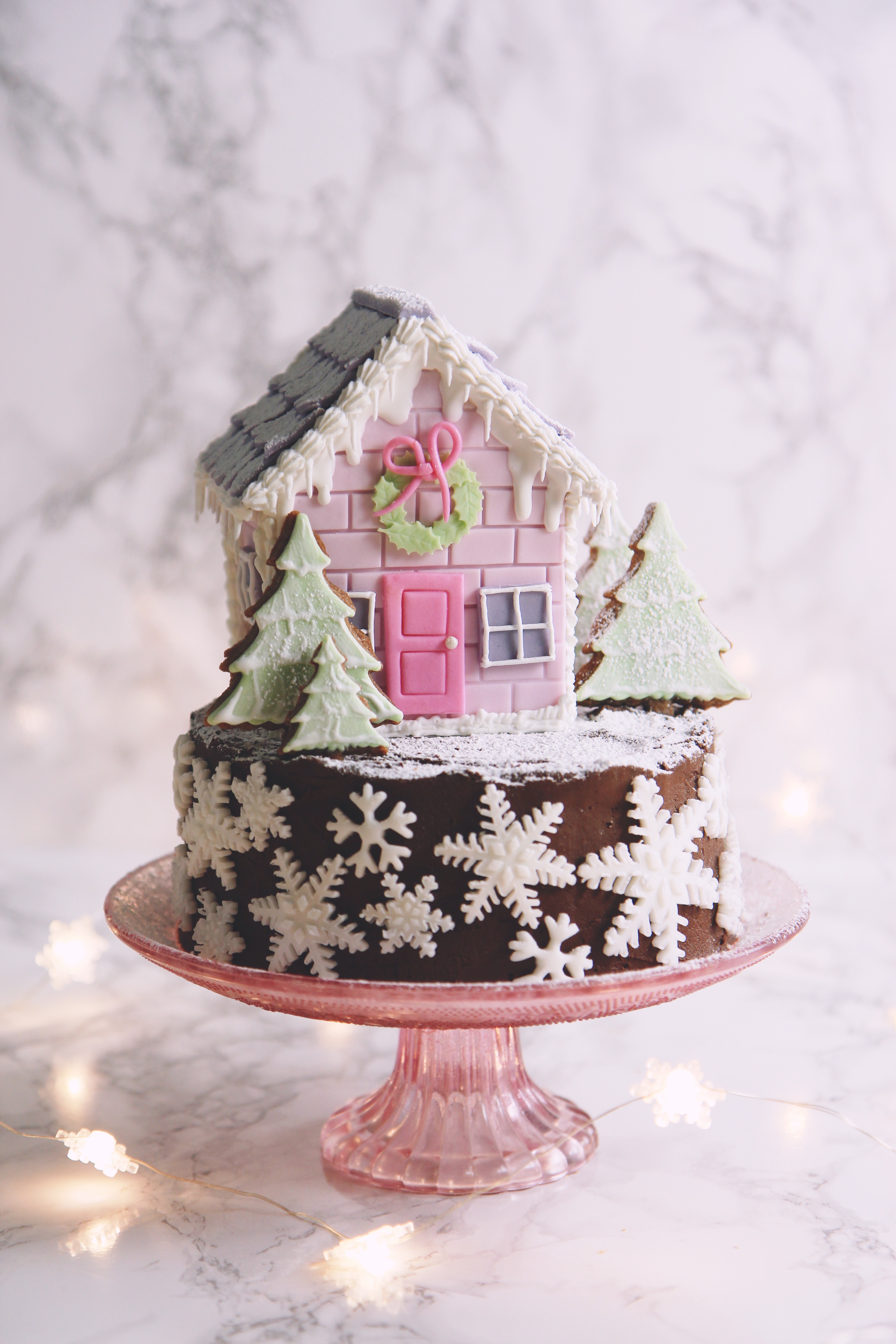 Orange Spice and Chocolate Cake
makes 1 2×6-inch layer cake
ingredients:
for the orange spice cake:
2 eggs
1 egg yolk
150 grams (1/2 cup plus 2 tablespoons) yogurt, sour cream, or buttermilk
180 grams (1 1/2 cups) flour
200 grams (1 cup) sugar
1 3/4 teaspoons baking powder
1/2 teaspoon salt
zest of 1 orange
zest of 1 lemon
1/8 teaspoon ground cloves
1/4 teaspoon ground nutmeg
1/2 teaspoon cinnamon
1/4 teaspoon ginger
1/8 teaspoon ground anise
113 grams (1 stick, 8 tablespoons) butter, extremely soft
for the chocolate frosting:
175 grams (1 1/2 sticks, 12 tablespoons) butter, softened
1/2 teaspoon salt
50 grams unsweetened or bittersweet chocolate
340 grams (12 ounces, 2 1/2 cups) powdered sugar
2 tablespoons cocoa powder
1-2 tablespoons cream or milk, only if needed
to assemble:
orange marmalade, if desired
directions:
Make the cake: grease and flour 2 6-inch pans.
Preheat oven to 350 degrees F.
Whisk eggs, egg yolk, and buttermilk together.
Whisk flour, sugar, baking powder, zest spices, and salt together.
Beat butter into the dry ingredients until it's fully incorporated; mixture should be clumpy but there should be no large pieces of butter at all—aim for more of a paste, without overmixing.
Slowly stream in the wet ingredients while whisking.
Once fully incorporated, scrape the bowl and whisk another few times.
Portion evenly into the two prepared pans.
Bake for 18 minutes, or until a tester comes out with only a few moist crumbs.
Allow to cool completely.
Make the buttercream: whip butter on high until light and fluffy, about 3 minutes.
Meanwhile, gently melt the chocolate over low heat with a bain-marie or in a microwave, going in small bursts.
Add the salt, half the powdered sugar, and cocoa powder to the butter; whip until incorporated.
With the mixer running, slowly stream in the melted chocolate.
Once fully incorporated, add the other half of the powdered sugar a spoonful at a time.
If the frosting is too thick, add a tablespoon or two of milk (I didn't have to do this) and whip to incorporate.
Level the cakes if they have domed and spread 2 tablespoons of orange marmalade over the bottom cake.
Crumb coat the cakes with the frosting, and refrigerate for at least 15 minutes, and up to 2 hours.
Frost the rest of the cake thickly; I had about 2 tablespoons of frosting leftover, so if you want to add decorative piping, frost the cake a little more sparingly.
Decorate with fondant if desired!