Then their father Israel said unto them,
"If it must be so, do this: take of the best fruits in the land in your vessels, and carry down the man a present—some balm and some honey, gum, laudanum, pistachio nuts, and almonds…"
Gen. 43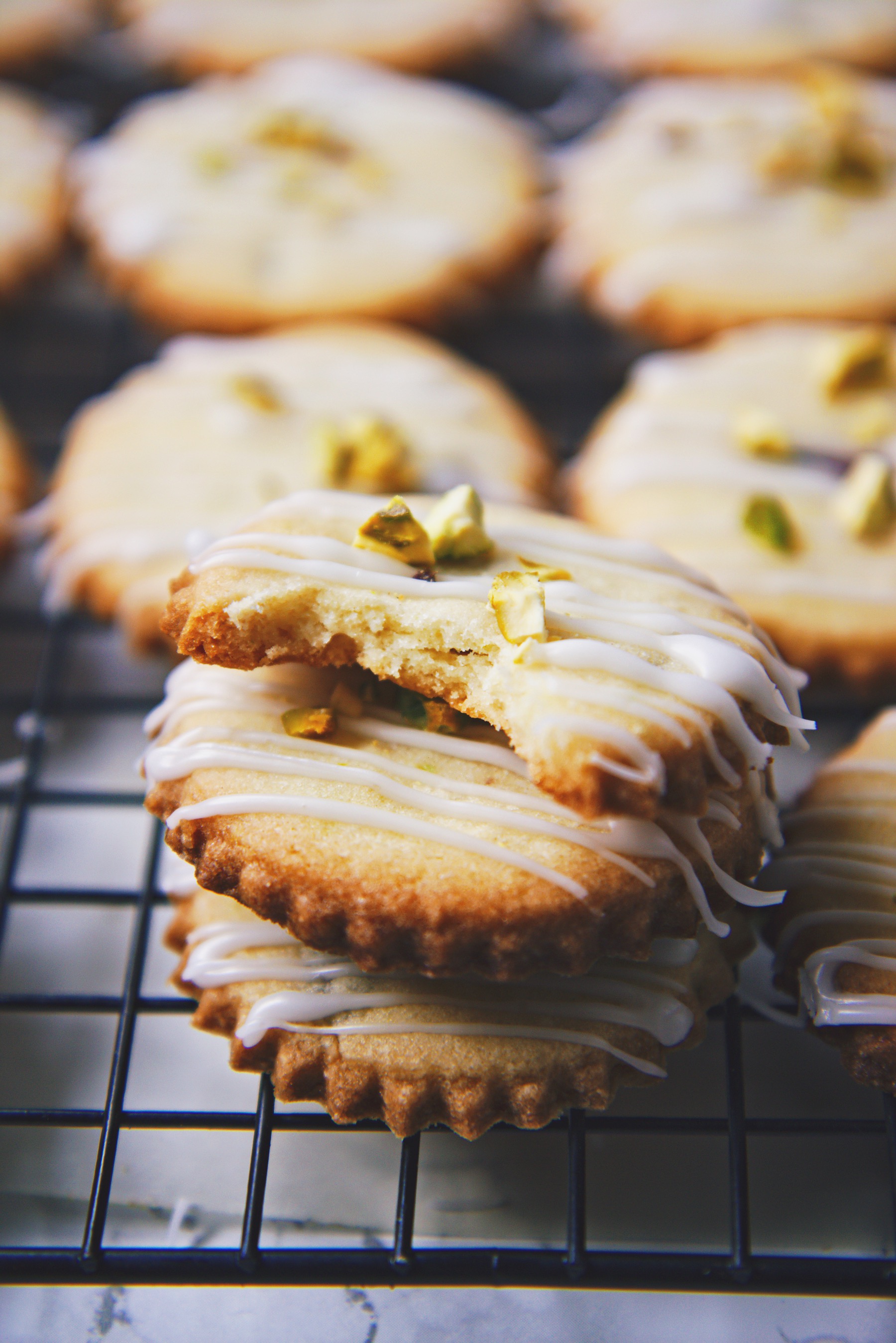 You are meant to clear your head when you finish a yoga class.
Savasana—corpse pose—we are gently admonished, is the most difficult pose of all. The stillness of your mind is a much more challenging organization than any muscular contortion.
We lay in anatomical position, palms up and arms at our sides, still as death. Smudgy palo santo mixes with sharp, acrid sweat in my nose and my eyelids flutter closed.
The day I "finished" anatomy in school (one never really finishes, but that's an aside), I didn't even attempt to rein in my racing thoughts, which immediately jumped to the corpses with whom I had been working—from whom I had been learning.
I feel immense, inarticulable gratitude for the people who so generously donated their bodies to help us learn. What a singular privilege it is to be given the gift of education not only just by the imparting of knowledge by professors, but also by those who chose to share their entire selves, who chose to entrust us with such a precious burden as their own bodies.
We pursue, hungrily, greedily, some golden nugget of truth, something that will make us unfailingly good and kind doctors; we try our best to be worthy of such a priceless gift. There is no such thing: it is a holy grail, for we are, all of us, infinitely fallible. Still, we try.
We fill our heads with numbers and figures and body parts and differential diagnoses. We hope to one day know enough to take care of others, but in order to do so—in order to treat bodies—we must first and foremost see them as people.
And I tell you truly, we could not learn to do so without spending so much time with our donors' bodies.
I am humbled to have the opportunity to learn about life in this way.
To learn about humanity from a corpse. It may sound twisted—callous even—but it is beautiful beyond measure to me. I am so thankful and I have such respect for these benevolent people.
We are made of great, ignoble lumps of gristle and bone and guts, yes, but we also contain delicate constellations of neurons, babbling endlessly; skin cells that hug each other so tightly that their connections protect us even as they die and are shed, surrounding every inch of us with desmosomal hand-holding.
We are enormous Trojan horses, holding legions, armies of white blood cells doing battle, dying each day for our singular cause; still more, inside us are countless happy bouncy baby red cells, cheerfully ferrying to and fro.
Life is as much the raw horsepower of pumping ventricles and slamming valves as it is the thin bowstring cords that hold them closed.
The next yoga class, my body thrusts—tetanic—into altar pose, knees locked and head thrown back. My muscles quiver.
I wonder what I have to offer up but my gratitude.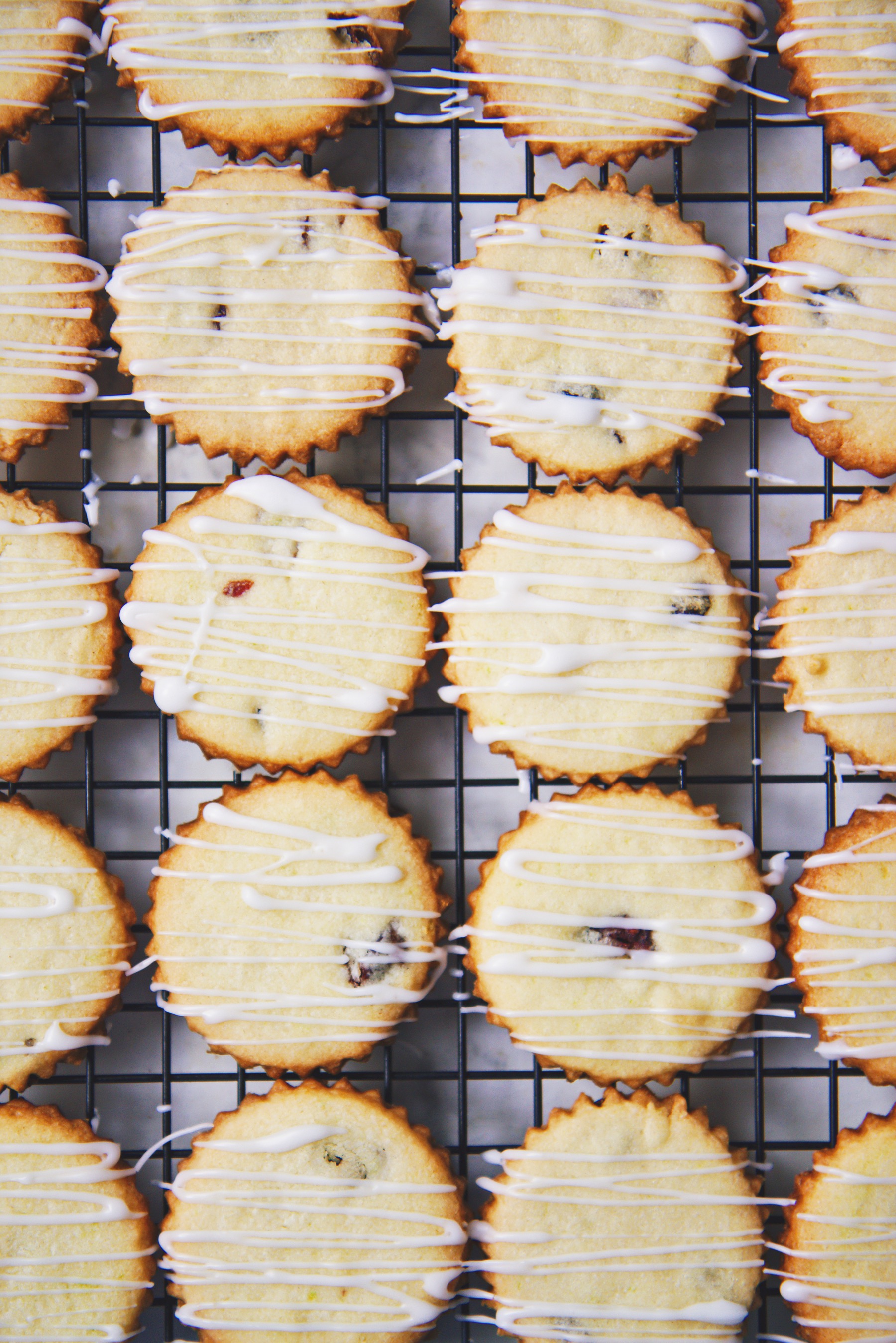 I find there is such joy to be found in gifting edible presents.
They are endlessly customizable, don't take up precious storage space, and it truly doesn't matter how they look, because the effort behind them shines through.
These are simple pistachio and cranberry butter cookies: crisp golden edges with bellies studded with little edible jewels. A light flick of glaze finishes them, as do some chopped pistachios holding on for dear life.
They're sturdy little things, and will hold up well in a cookie box or the like.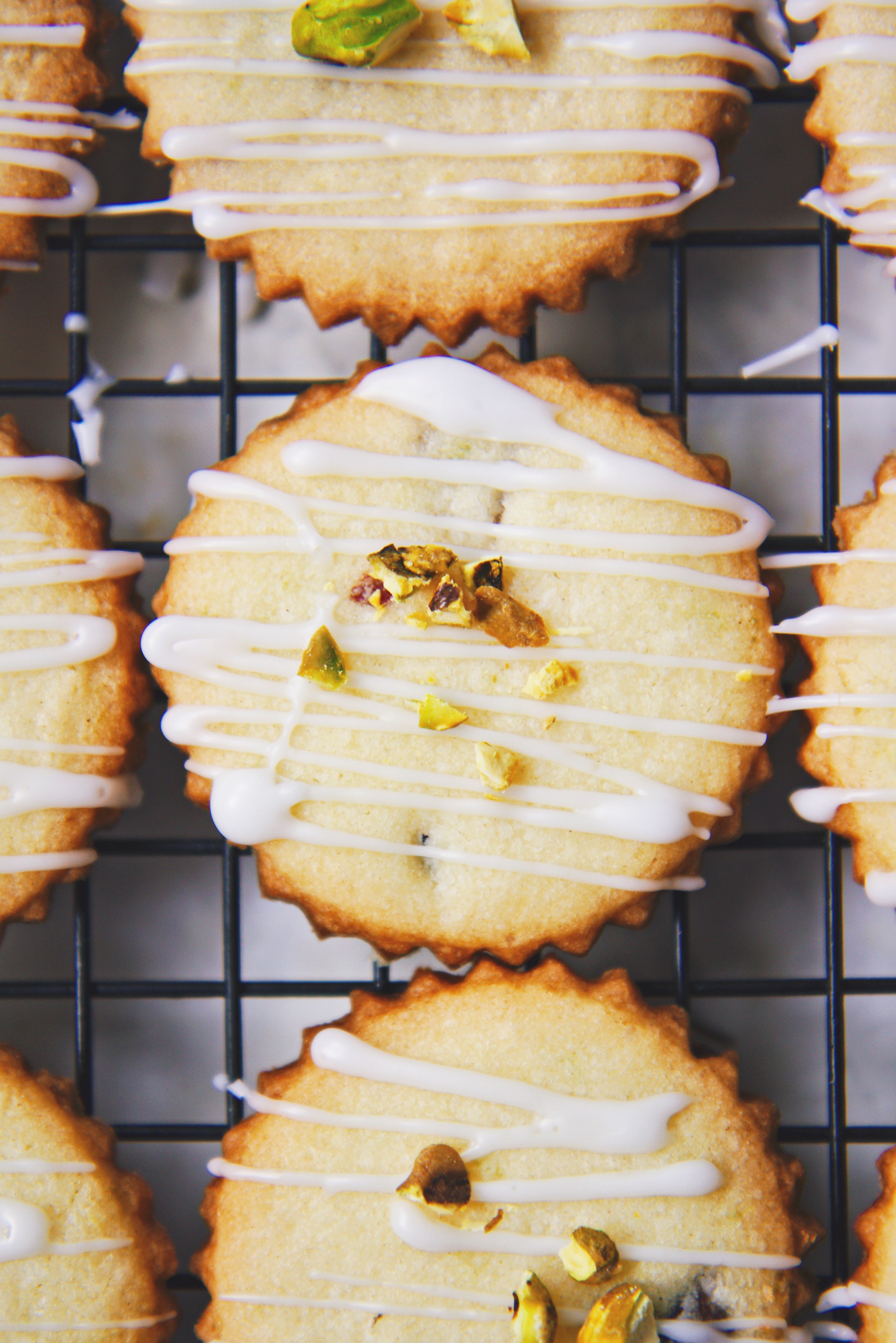 Tried and true recipes from Christmases past:
Cakes:
The cutest little pink number with an even cuter, dinky reindeer: gingerbread house on an orange spice and chocolate cake.
My pride and joy, the most elaborate cake on the blog: la souche de Noël.
A different, more whimsical take on a tree cake: this eggnog-filled, bauble-bedecked Christmas tree.
Golden and gleaming, an almond and orange spice cake.
A classic: red velvet with a winter woodland theme.
The fluffiest of cakes, a chocolate and peppermint cake with marshmallow frosting.
Oldie but a goodie: chocolate buttermilk cupcakes with peppermint buttercream.
Cookies:
Super intricate and crunchy maple and black pepper gingersnaps.
Luster-dust highlighted sugar cookie Christmas trees.
Very grown-up chocolate orange Linzer cookies.
Festive eggnog sugar cookies, decorated with royal icing and sprinkles.
Twists on the classic: honey spice and dark chocolate sugar cookies, perfect for cutting into shapes.
Pepparkakor with lemon royal icing, decorated with mehndi-inspired swirls.
Chocolate peppermint macarons… Finnicky little buggers.
Classic Linzer cookies with different fillings.
Maple, nutmeg, and rye sugar cookies, dressed all in winter white.
Chocolate, sour cherry, and coconut cookies; grapefruit butter cookies; and dark chocolate pecan snowcaps, all crammed into one post.
Cinnamon toast crunch marshmallow treats, chocolate peppermint shortbread, Russian teacakes, 5-spice snickerdoodles, another post bursting with recipes.
Whimsical peppermint marshmallow ropes; not cookies per se, but great for gifting.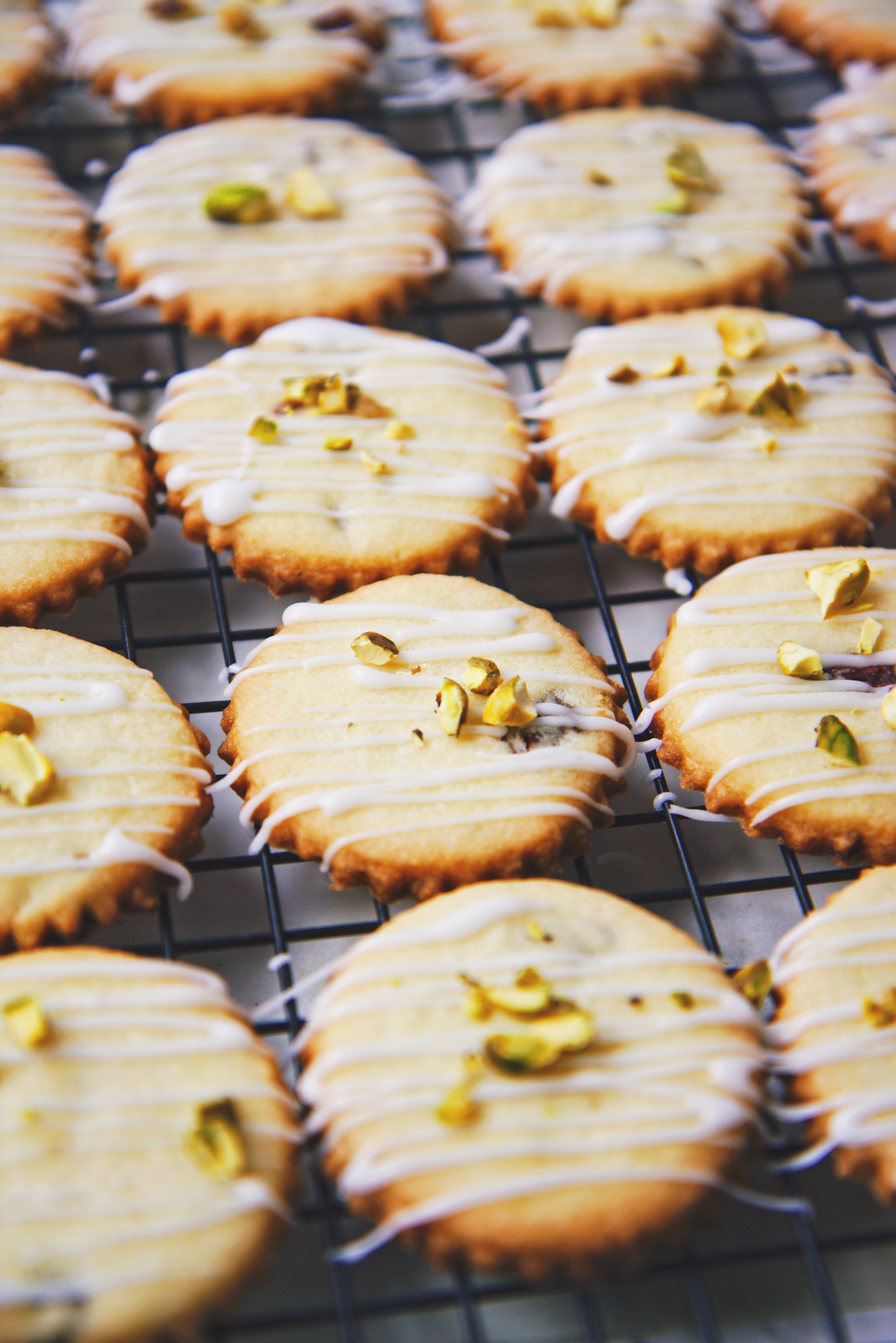 Pistachio and Cranberry Butter Cookies
makes 24 2.5-inch cookies
ingredients:
for the cookies:
225 grams (2 sticks, 16 tablespoons, 8 ounces) unsalted butter
1 teaspoon salt
200 grams (1 cup) sugar
1/4 teaspoon ground nutmeg
1 large egg
1 teaspoon vanilla extract
360 grams (3 cups) flour
1/2 cup dried cranberries
1/2 cup chopped pistachios
to decorate:
1/2 cup powdered sugar
1-2 teaspoons milk
pinch salt
chopped pistachios
directions:
Make the cookies: beat butter on high speed for 3 full minutes, until fluffy and softened.
Add the salt, sugar, and nutmeg and beat on high speed for another 3 minutes; mixture should be lightened in color and not grainy.
Scrape the sides of the bowl and add the egg and vanilla; beat for 3 full minutes.
Scrape the bowl again and add the flour; fold a few times, then add the cranberries and pistachios.
Stir on low speed for 30 seconds to 1 minute, or until the flour and mix-ins are completely incorporated and the dough comes together in a ball.
Turn out the dough and knead into a ball; refrigerate for 15 minutes (and up to 2 days).
Preheat oven to 350 degrees F and line 2 baking sheets with parchment paper.
Roll the dough out to 1/4 inch thickness on a lightly floured surface.
Cut out 2.5 inch rounds and place on prepared pans.
Re-roll dough until all has been used up (I filled 3 baking sheets and baked them 1 sheet at a time).
Place in freezer for 10 minutes.
Bake straight from the freezer for 8-10 minutes, or until edges are lightly browned.
Allow to cool completely on a wire rack.
To decorate, whisk 1 teaspoon milk and a pinch of salt into 1/2 cup powdered sugar.
If the glaze is too thick, add another 1/2 teaspoon milk; if it's too thin, add another tablespoon powdered sugar.
Drizzle over the cooled cookies, and immediately sprinkle on chopped pistachios so they stick.