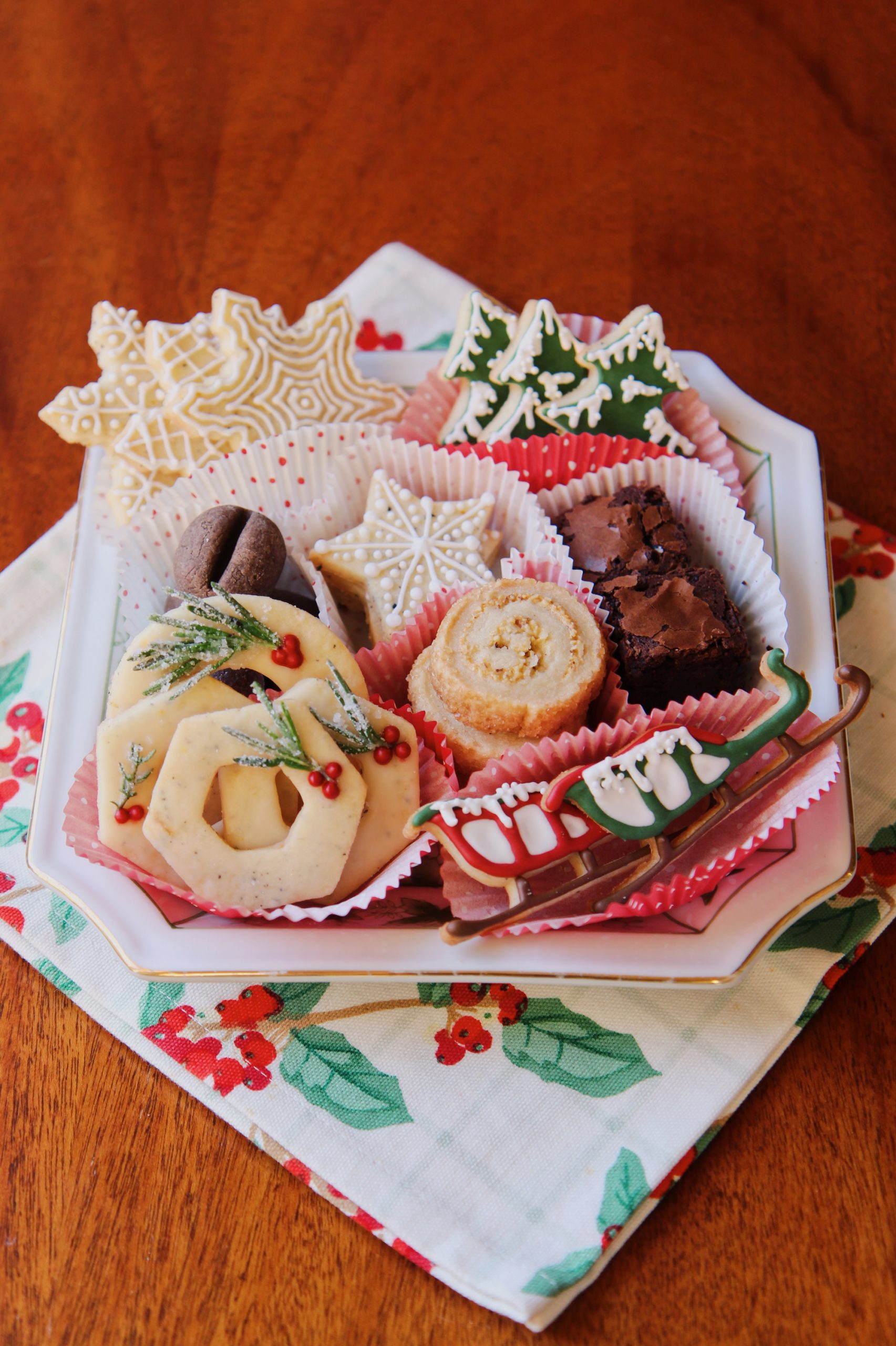 "This place reminds me of Santa's Workshop! Except it smells like mushrooms and everyone looks like they want to hurt me."
—Buddy the Elf
It's so nice to be home.
It's so nice to be able to drive a car and go to Wegman's and buy anything without worrying about how heavy it will be.
It's so nice to have a fire and a Christmas tree and a dishwasher.
Ithaca always feels like I never left.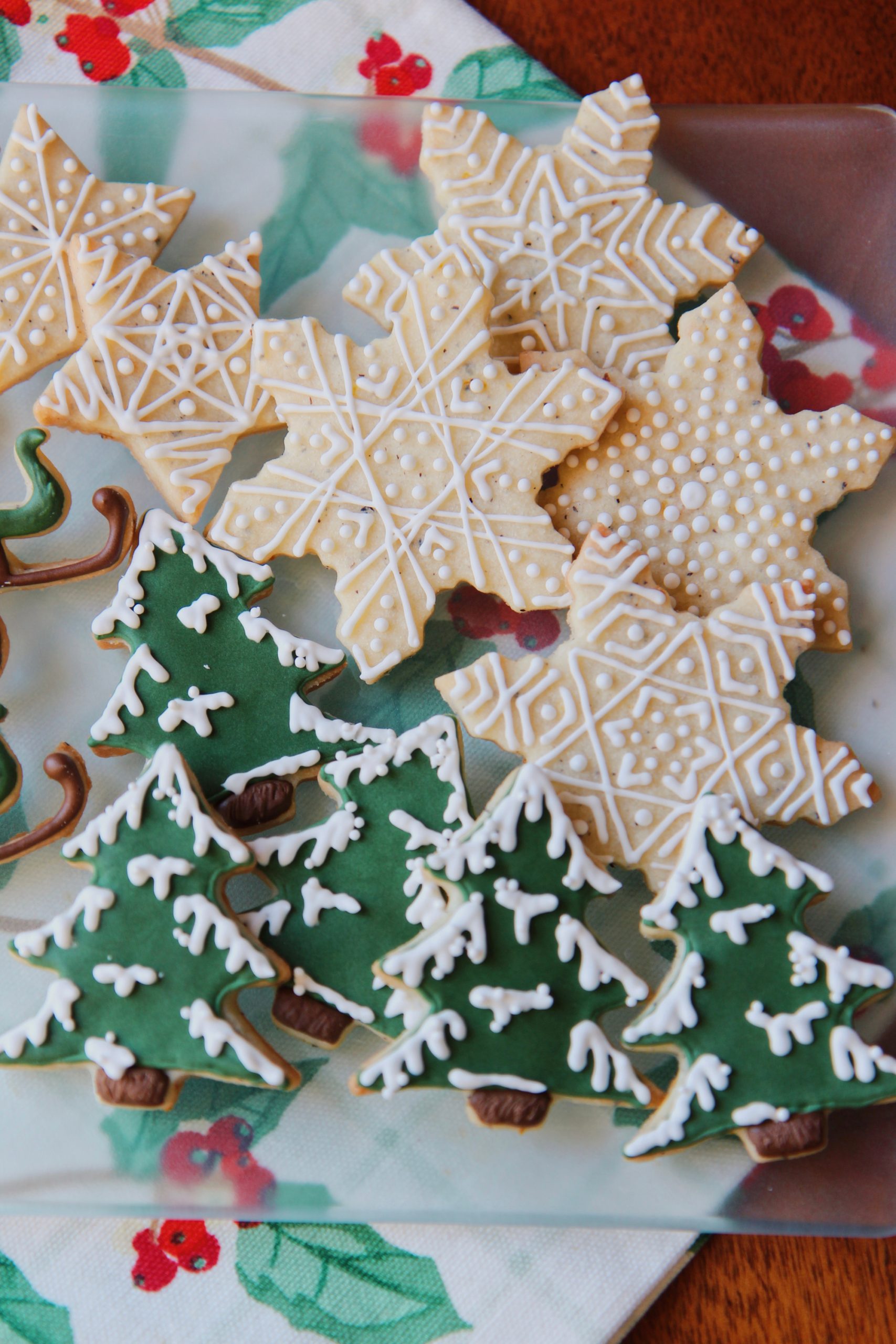 We are fostering a guiding eyes for the blind puppy this week while his trainer is away for the holidays.
Lingo is 7 months old; a yellow lab with gigantic snowshoe paws, an absolute rudder of a tail, and seemingly unending energy. He is a handful and we are loving having him around already.
It's what every kid dreams of: a puppy for Christmas!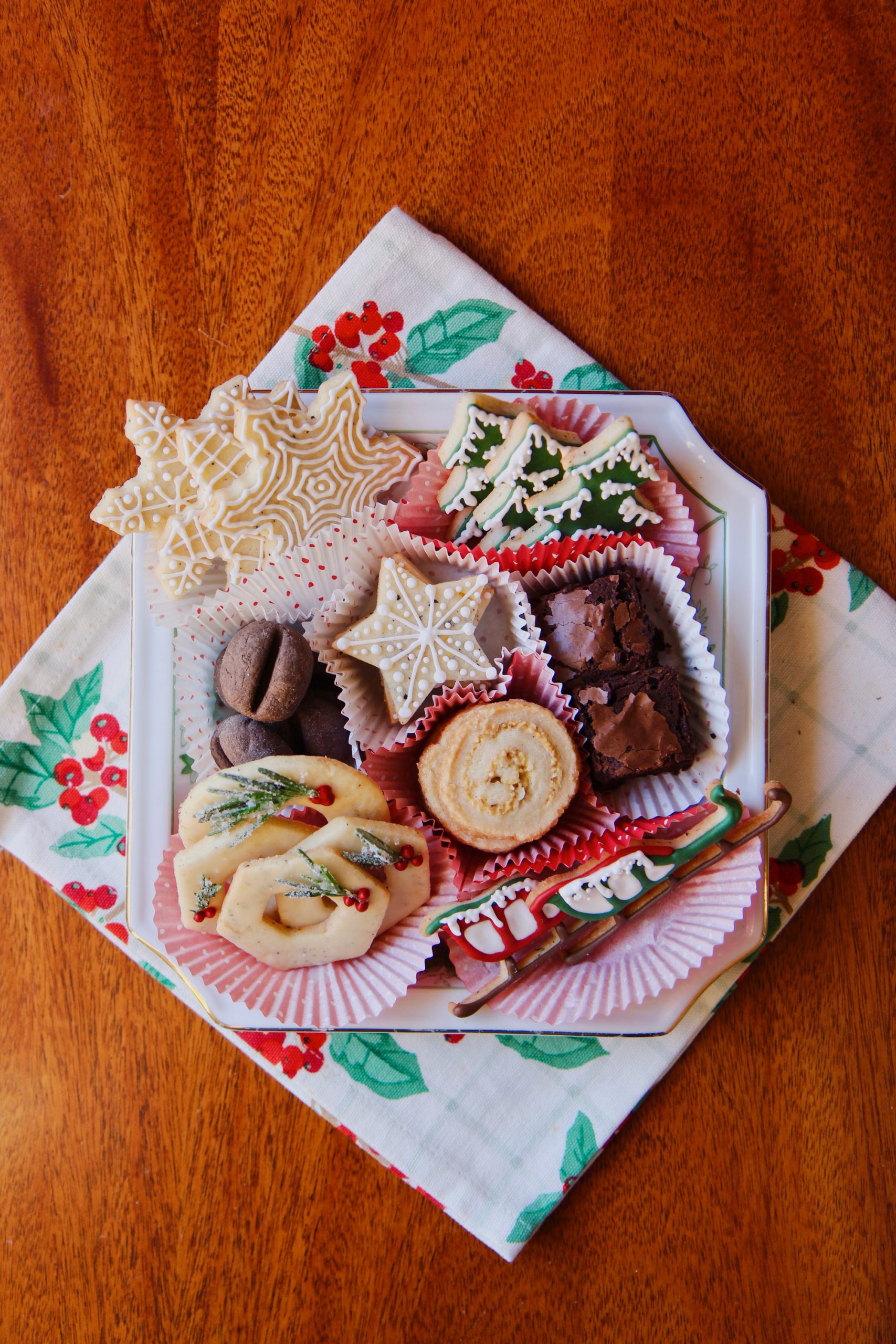 This year, the cookie lineup includes lady grey and orange sugar cookies, fragrant and crisp, decorated either with royal icing or a quick shellac of glaze and some sugared herbs.
Little coffee bean shortbread cookies have dark cocoa and a strong coffee taste, and go well with a cup of tea, coffee, or milk.
The crunchy maple almond swirls are a little caramelized on the bottom and overall very well balanced.
The brownie recipe is from Stella Parks, not adapted in the slightest because I trust her with my life.
These are great: fudgy, with a glossy, crackling top and a hint of nuttiness thanks to the brown butter in the batter.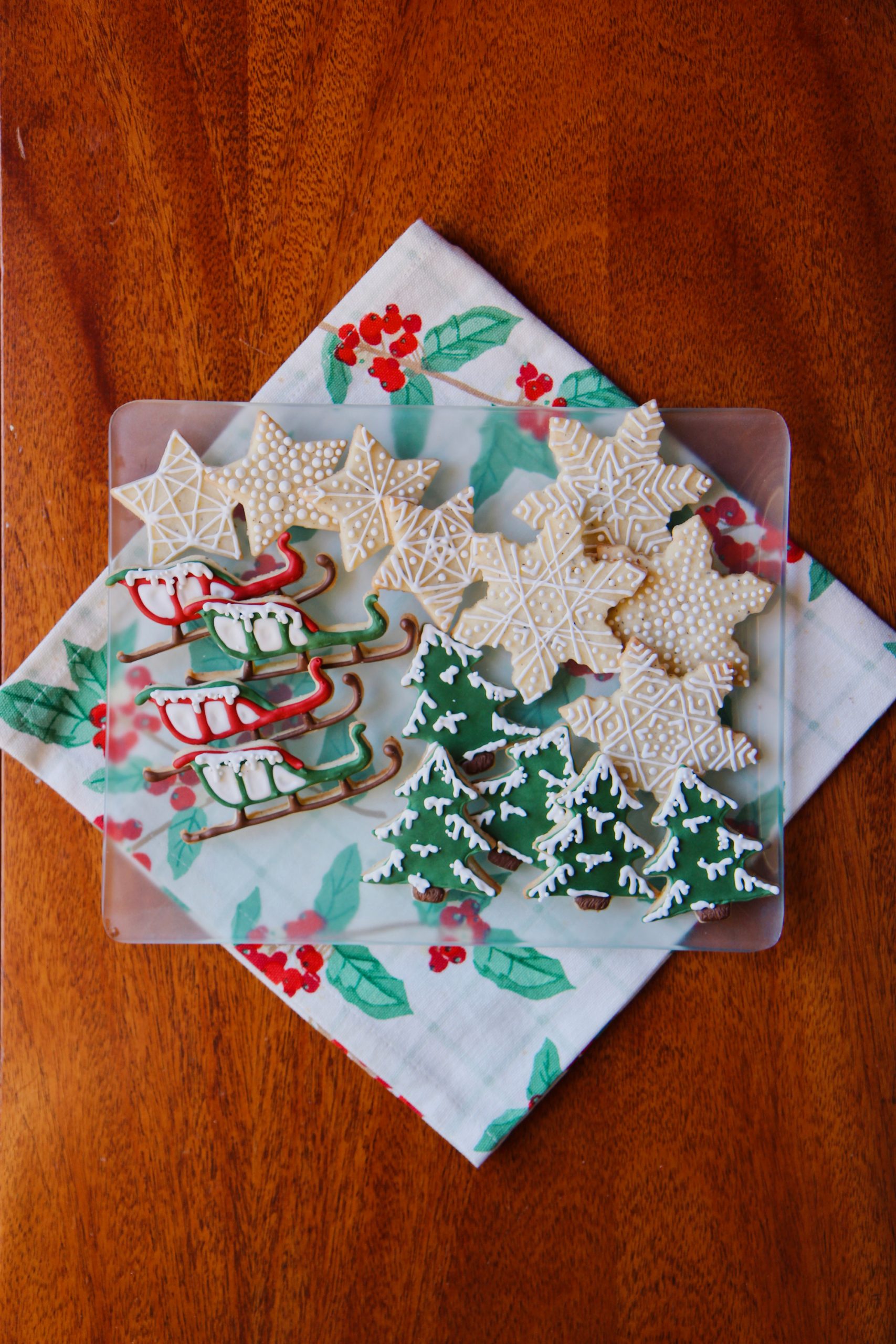 Happy Christmas Eve dears! Back tomorrow with cake, if all goes as planned.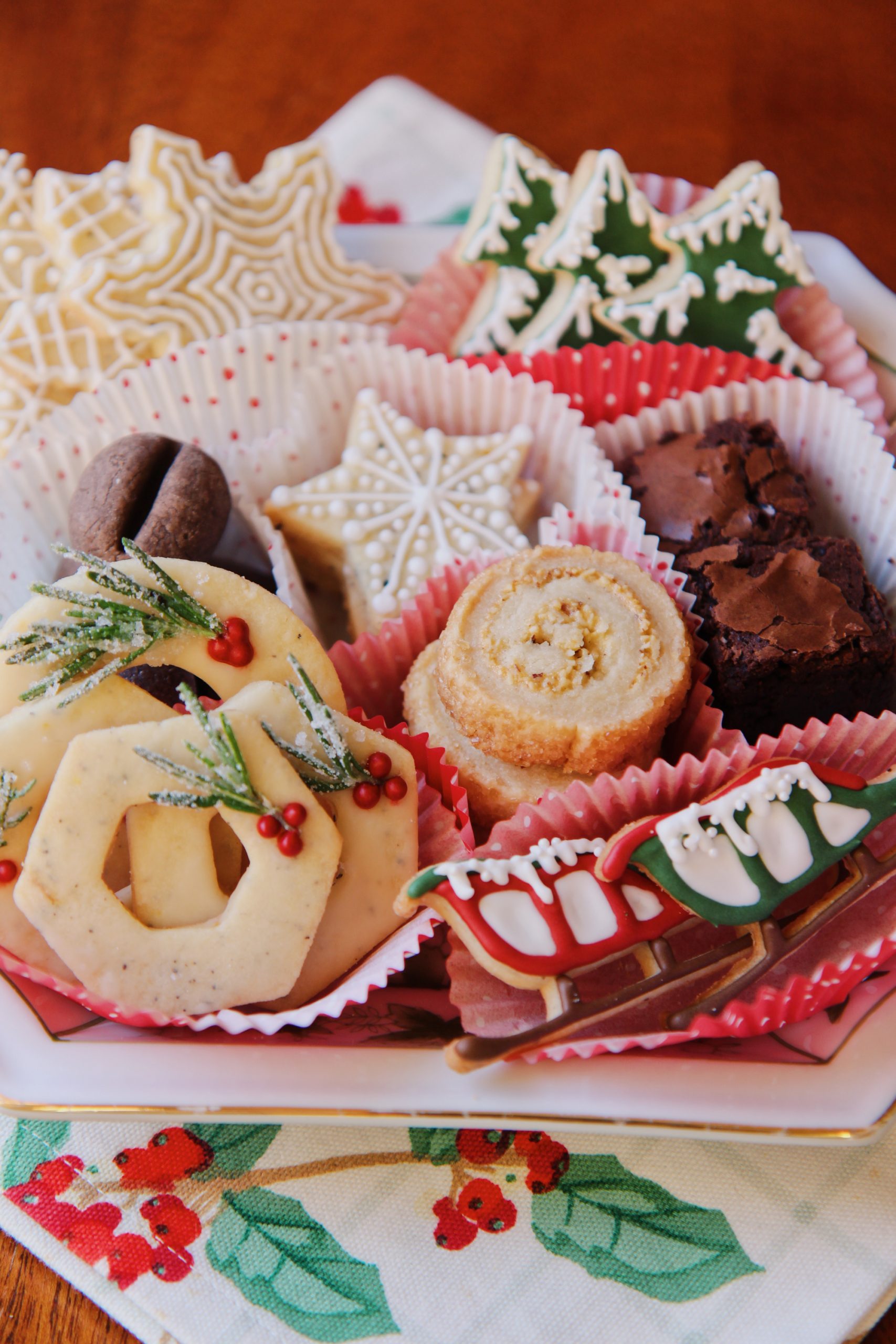 Tried and true recipes from Christmases past:
Cakes:
The cutest little pink number with an even cuter, dinky reindeer: gingerbread house on an orange spice and chocolate cake.
My pride and joy, the most elaborate cake on the blog: la souche de Noël.
A different, more whimsical take on a tree cake: this eggnog-filled, bauble-bedecked Christmas tree.
Golden and gleaming, an almond and orange spice cake.
A classic: red velvet with a winter woodland theme.
The fluffiest of cakes, a chocolate and peppermint cake with marshmallow frosting.
Oldie but a goodie: chocolate buttermilk cupcakes with peppermint buttercream.
Cookies:
Simple but effective pistachio and cranberry butter cookies.
Super intricate and crunchy maple and black pepper gingersnaps.
Luster-dust highlighted sugar cookie Christmas trees.
Very grown-up chocolate orange Linzer cookies.
Festive eggnog sugar cookies, decorated with royal icing and sprinkles.
Twists on the classic: honey spice and dark chocolate sugar cookies, perfect for cutting into shapes.
Pepparkakor with lemon royal icing, decorated with mehndi-inspired swirls.
Chocolate peppermint macarons… Finnicky little buggers.
Classic Linzer cookies with different fillings.
Maple, nutmeg, and rye sugar cookies, dressed all in winter white.
Chocolate, sour cherry, and coconut cookies; grapefruit butter cookies; and dark chocolate pecan snowcaps, all crammed into one post.
Cinnamon toast crunch marshmallow treats, chocolate peppermint shortbread, Russian teacakes, 5-spice snickerdoodles, another post bursting with recipes.
Whimsical peppermint marshmallow ropes; not cookies per se, but great for gifting.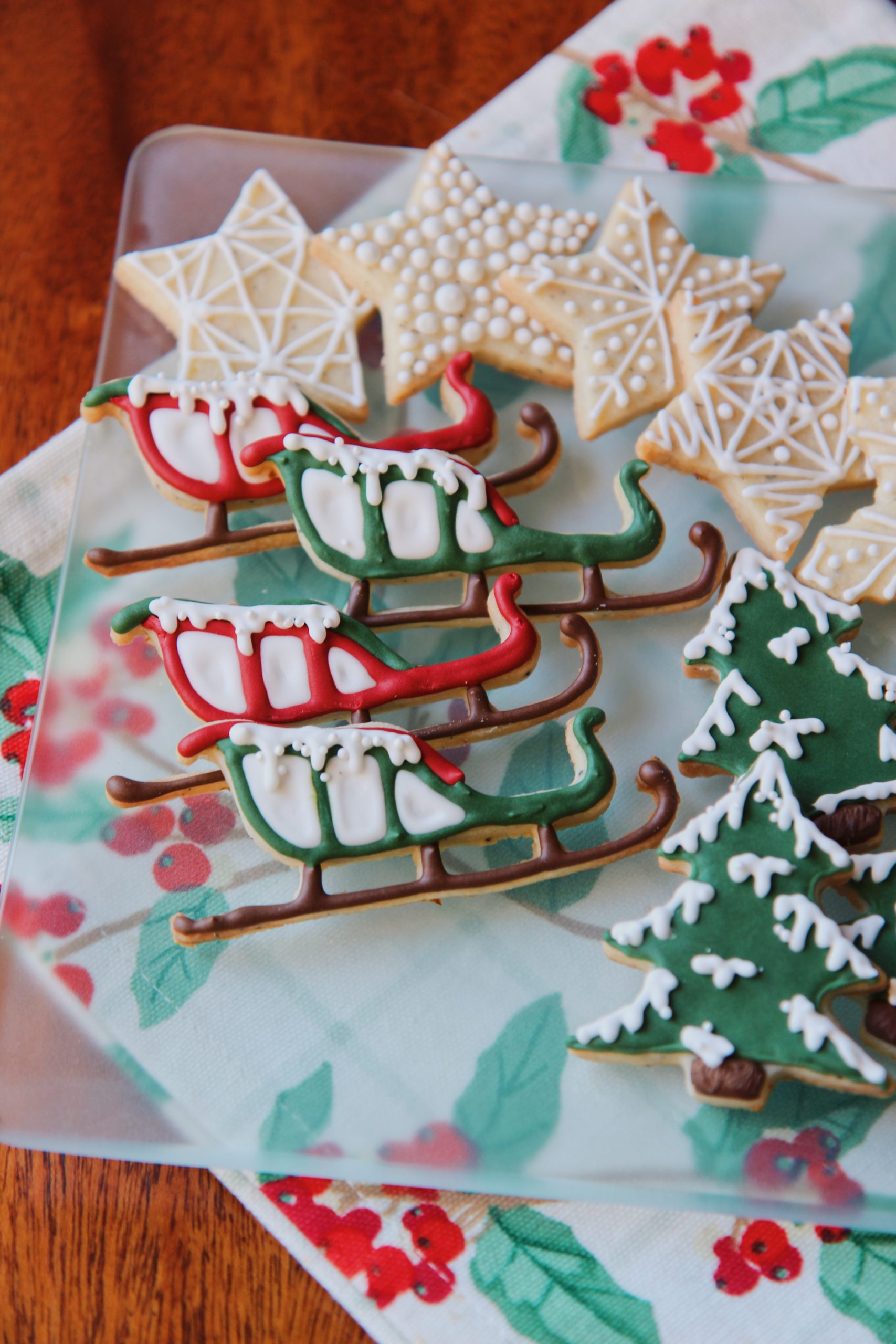 Coffee Bean Cookies
makes 30 small cookies
lightly adapted from Joconde's Baking
ingredients:
120 grams AP flour
12 grams cocoa powder
25 grams cornstarch
10 grams ground coffee
8 grams hot water
75 grams unsalted butter, softened
70 grams confectioners sugar
1 egg yolk
directions:
Preheat oven to 300 degrees F and line a baking sheet with parchment paper.
Place coffee grounds in with hot water and stir to steep.
Beat butter on high until softened and fluffy, about 2 minutes.
Add confectioners sugar and egg yolk and beat for another 2 full minutes.
Drain coffee and add to butter mixture; add 1/2 teaspoon of the grounds.
Mix to combine.
Add the flour, cocoa powder, and cornstarch and mix until the dough is homogeneous.
Portion out into 8 gram portions; roll into balls, then oblong football shapes and then use a butter knife to make a line down the center.
Place the cookies on the baking tray and bake for 10 minutes.
Maple Almond Cookies
makes 30 cookies
very lightly adapted from Cook's Illustrated
ingredients:
for the dough:
2.5 cups unbleached all-purpose flour (12 1/2 ounces)
1/2 cup superfine sugar (3 1/2 ounces)
1/4 cup packed light brown sugar
1/4 teaspoon table salt
16 tablespoons unsalted butter, (2 sticks) cut into sixteen 1/2-inch pieces, at cool room temperature (about 65 degrees)
2 teaspoons vanilla extract
2 tablespoons cream cheese
for the filling:
1 1/2 cups toasted sliced almonds (6 ounces), cooled
1/4 cup maple syrup
2 large eggs, separated
1/4 cup turbinado sugar, or demerara
directions:
In bowl of standing mixer fitted with flat beater, mix flour, sugar, and salt on low speed until combined, about 5 seconds. With mixer running on low, add butter 1 piece at a time; continue to mix until mixture looks crumbly and slightly wet, about 1 minute longer. Add vanilla and cream cheese and mix on low until dough just begins to form large clumps, about 30 seconds.
Remove bowl from mixer; knead dough by hand in bowl for 2 to 3 turns to form large cohesive mass. Turn out dough onto countertop; pat dough into 7-inch square, wrap in plastic, and refrigerate until cool and firm, 20 to 30 minutes.
While dough chills, pulse almonds in food processor until finely ground, about 10 one-second pulses. While pulsing, add maple syrup in steady stream through feed tube; add yolks and process until combined. Transfer to small bowl, cover with plastic wrap, and refrigerate until needed.
Roll chilled dough between 2 large sheets parchment paper to 11 by 16-inch rectangle, about 3/16-inch thick; chill 30 minutes.
Adjust oven rack to middle position; heat oven to 375 degrees. Using o!set icing spatula, spread almond filling evenly on dough, leaving 1/2-inch border around all edges. Starting from a long end, roll dough tightly and press to seal seam. Sprinkle turbinado sugar evenly on parchment, then roll log in sugar, pressing lightly to make sugar adhere. Wrap dough log in parchment and refrigerate until firm, about 30 minutes. (Can be wrapped in plastic wrap and refrigerated up to 2 days). Using chef's knife, slice 1/2 inch o! ends of log, then slice log into 1/4-inch thick rounds. Place rounds about 1 inch apart on parchment-lined baking sheets (about 12 per sheet). Lightly beat egg whites; brush rounds with egg whites and bake one sheet at a time until light golden brown, about 12 minutes, rotating baking sheet halfway through baking time. Cool on wire rack to room temperature.
Lady Grey and Orange Sugar Cookies
makes 50 cookies
ingredients:
225 grams (2 sticks) butter, softened
2 teaspoon kosher salt
200 grams (1 cup) sugar
zest of 1 orange
1 tea bag of lady grey tea
2 teaspoons vanilla extract
1 egg
360 grams (3 cups) flour
directions:
Beat butter on high speed until light and fluffy, about 2 minutes.
Add in the salt, sugar, orange zest, tea, and vanilla and beat on high for another 3 full minutes.
Add the egg and beat for another 2 minutes; scrape the bowl and beat until homogeneous again.
Mixture should be light and fluffy.
Add in the flour and stir on low speed until fully combined.
Roll out to 1/4 inch-3/8 inch thickness on a lightly floured surface.
Cut into desired shapes and bake for 8-10 minutes.
Decorate with royal icing.