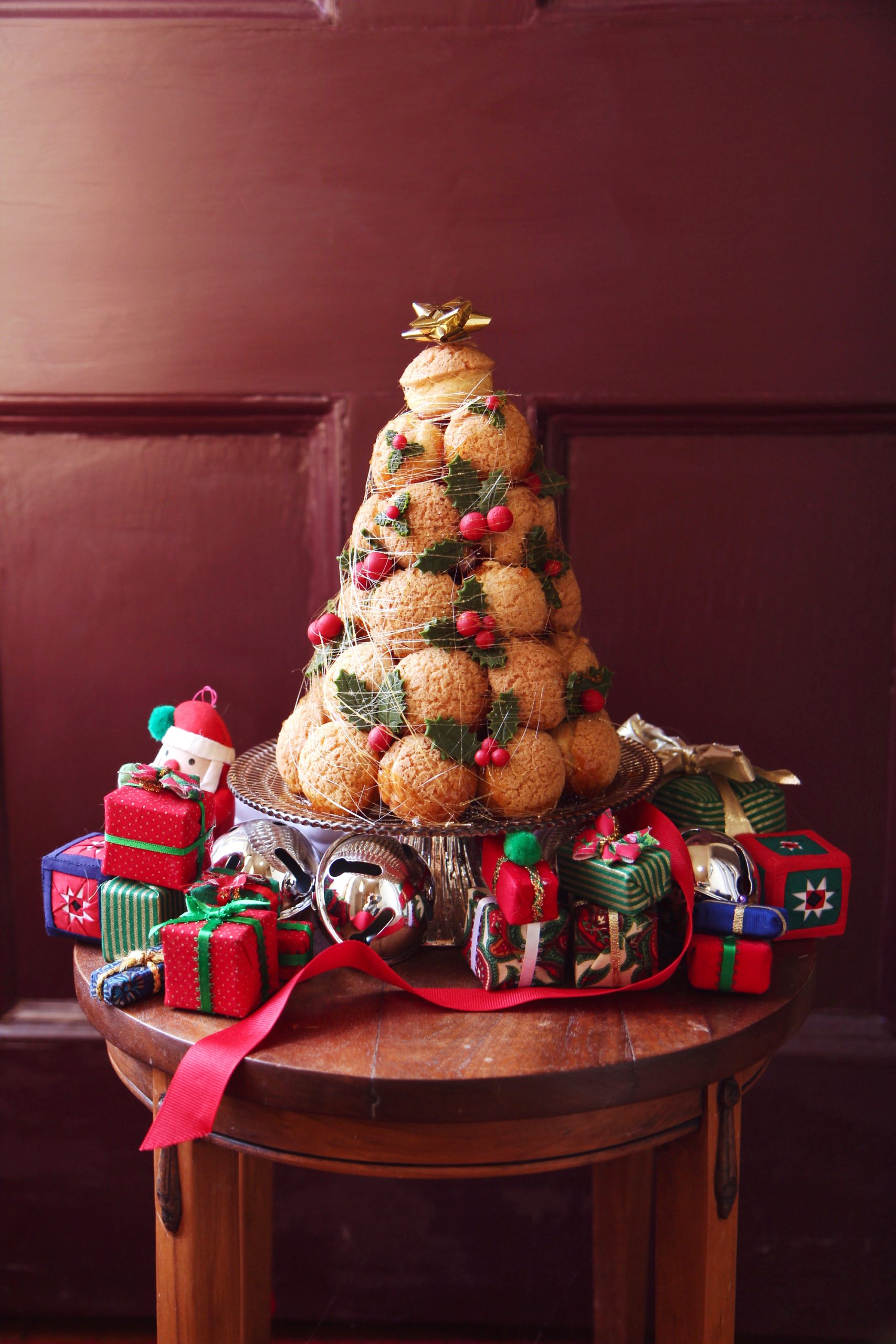 "Home wasn't a set house, or a single town on a map.
It was wherever the people who loved you were, whenever you were together.
Not a place, but a moment, and then another, building on each other like bricks to create a solid shelter that you take with you for your entire life, wherever you may go."
― Sarah Dessen, What Happened to Goodbye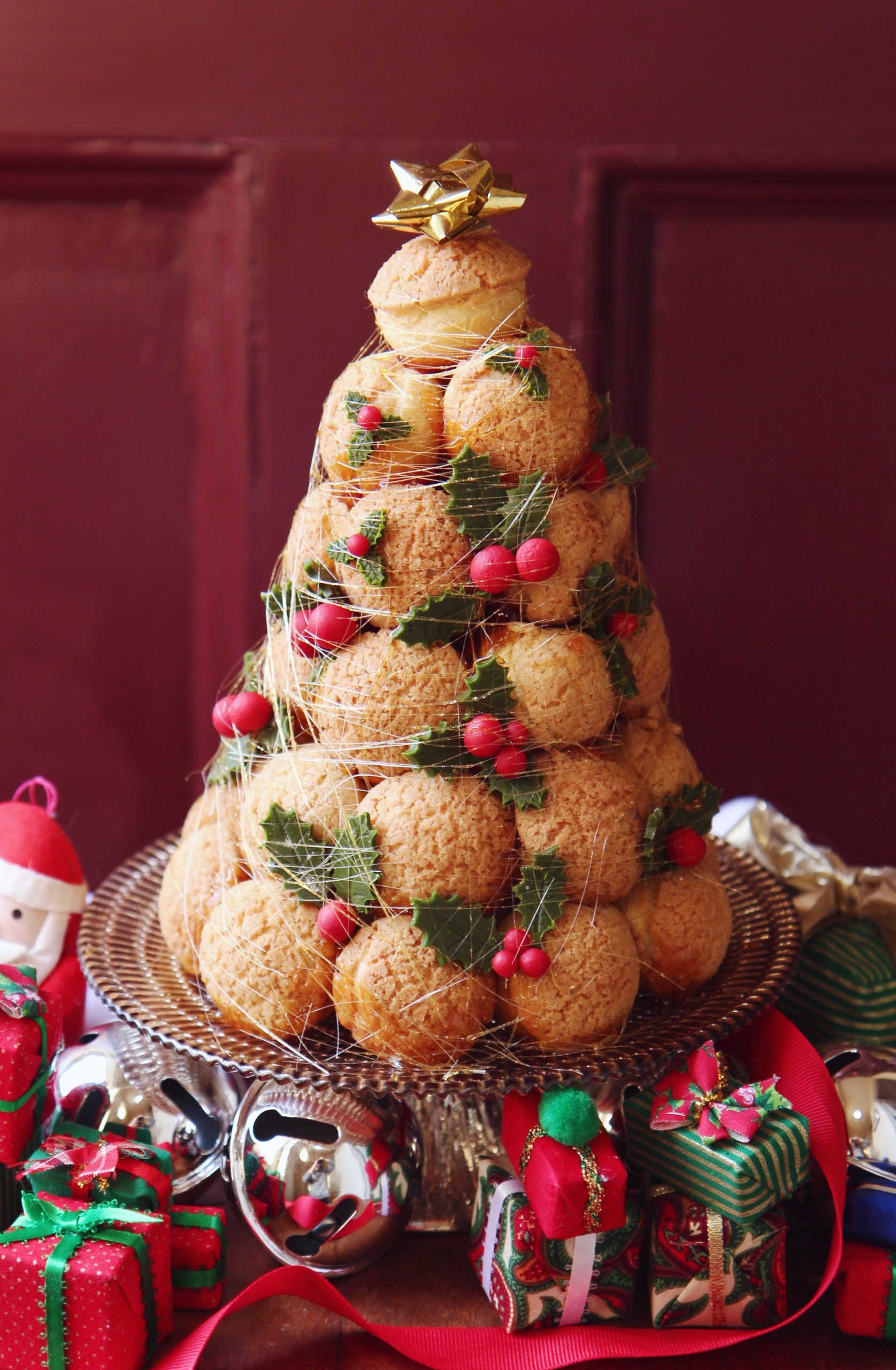 Merry Christmas dearest readers!
I hope you all had lovely days, whether you celebrate or not.
We had a peaceful, relaxed day together. It's so nice to have almost the whole family here at home; by far the most important part of Christmas for us now that we're grown up is just spending time with one another.
We opened gifts early and then spent the day planning to play board games this evening (one of my brothers got us all the game Betrayal at the House on the Hill, so we'll see how that goes) and, for me, making a ridiculous tower of cream puffs.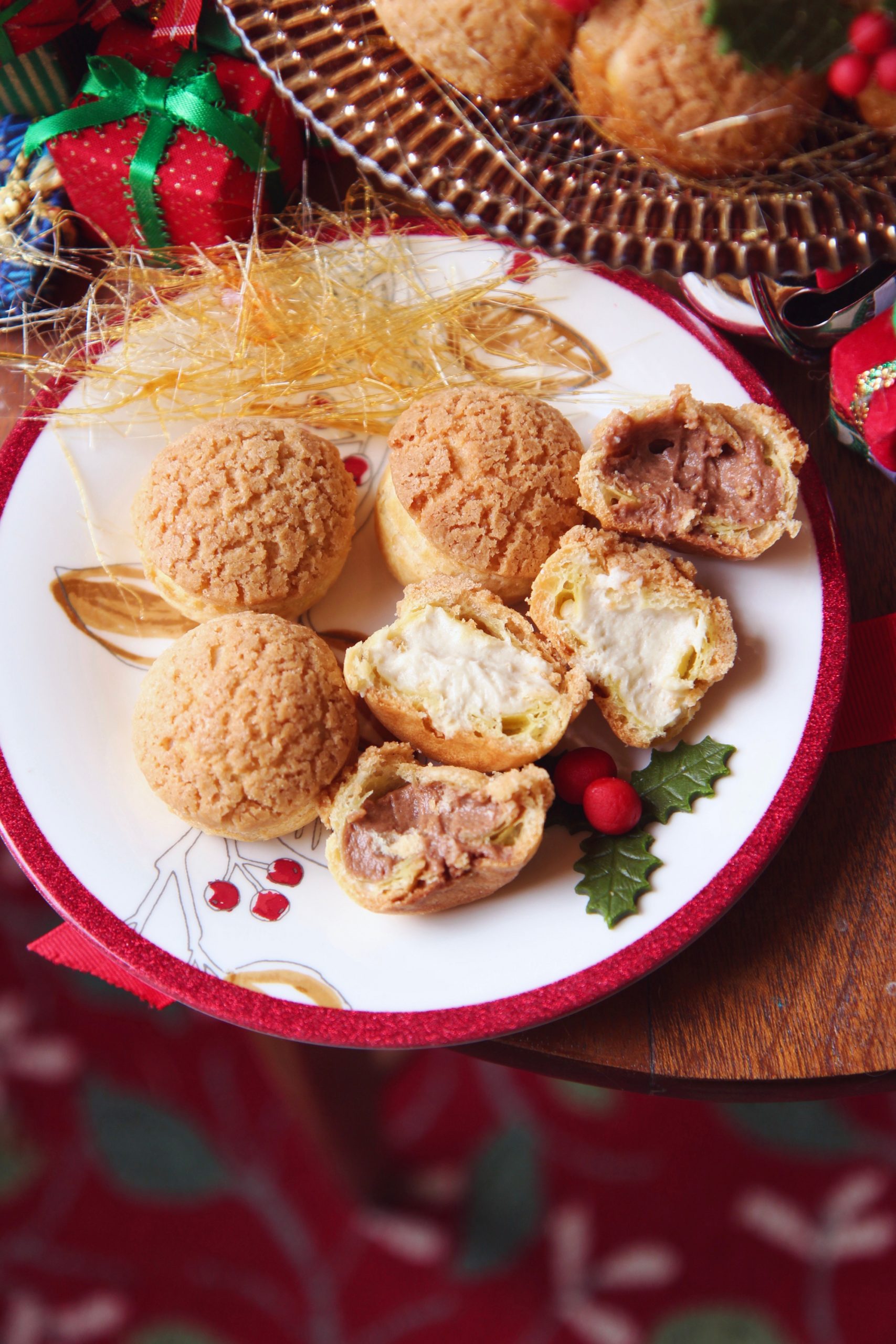 This cake, although diminutive in size, requires a ridiculous amount of work.
Each little puff is made from 4 different recipes. Whyyy did I choose this to make for Christmas? Please don't ask because I don't know.
The choux are light and airy, with a delightfully crunchy, sugary craquelin top and filled with either chestnut pastry cream, nutty and sweet and subtle, or fluffy chocolate pastry cream.
They are held together with a kiss of dark, cracking caramel and then have little marzipan baubles attached to them and a cage of golden spun sugar surrounds them.
It makes a heartstoppingly beautiful centerpiece.
Merry Christmas all!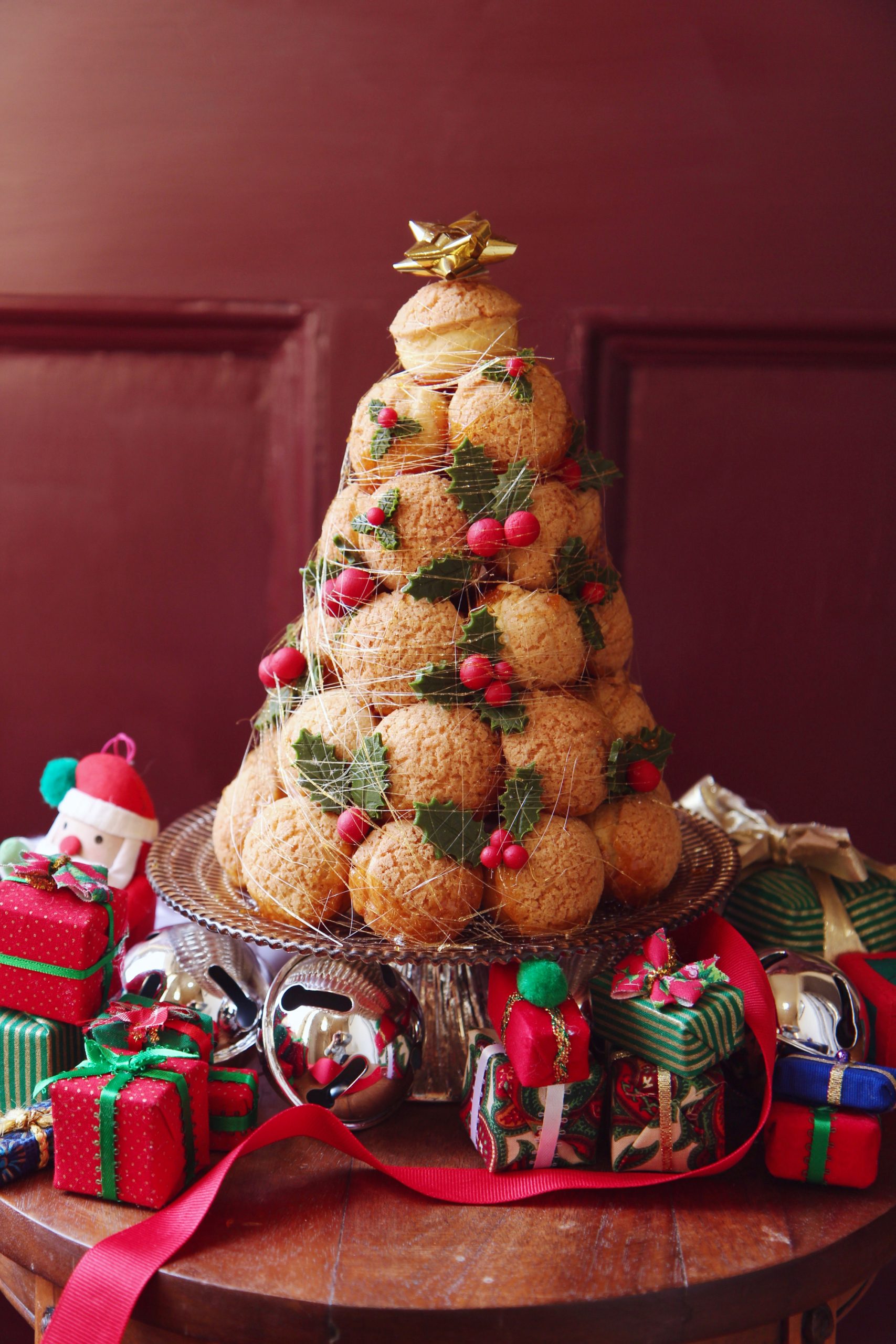 Tried and true recipes from Christmases past:
Cakes:
The cutest little pink number with an even cuter, dinky reindeer: gingerbread house on an orange spice and chocolate cake.
My pride and joy, the most elaborate cake on the blog: la souche de Noël.
A different, more whimsical take on a tree cake: this eggnog-filled, bauble-bedecked Christmas tree.
Golden and gleaming, an almond and orange spice cake.
A classic: red velvet with a winter woodland theme.
The fluffiest of cakes, a chocolate and peppermint cake with marshmallow frosting.
Oldie but a goodie: chocolate buttermilk cupcakes with peppermint buttercream.
Cookies:
A box full of brownies, coffee bean cookies, maple almond swirls, and lady grey orange sugar cookies.
Simple but effective pistachio and cranberry butter cookies.
Super intricate and crunchy maple and black pepper gingersnaps.
Luster-dust highlighted sugar cookie Christmas trees.
Very grown-up chocolate orange Linzer cookies.
Festive eggnog sugar cookies, decorated with royal icing and sprinkles.
Twists on the classic: honey spice and dark chocolate sugar cookies, perfect for cutting into shapes.
Pepparkakor with lemon royal icing, decorated with mehndi-inspired swirls.
Chocolate peppermint macarons… Finnicky little buggers.
Classic Linzer cookies with different fillings.
Maple, nutmeg, and rye sugar cookies, dressed all in winter white.
Chocolate, sour cherry, and coconut cookies; grapefruit butter cookies; and dark chocolate pecan snowcaps, all crammed into one post.
Cinnamon toast crunch marshmallow treats, chocolate peppermint shortbread, Russian teacakes, 5-spice snickerdoodles, another post bursting with recipes.
Whimsical peppermint marshmallow ropes; not cookies per se, but great for gifting.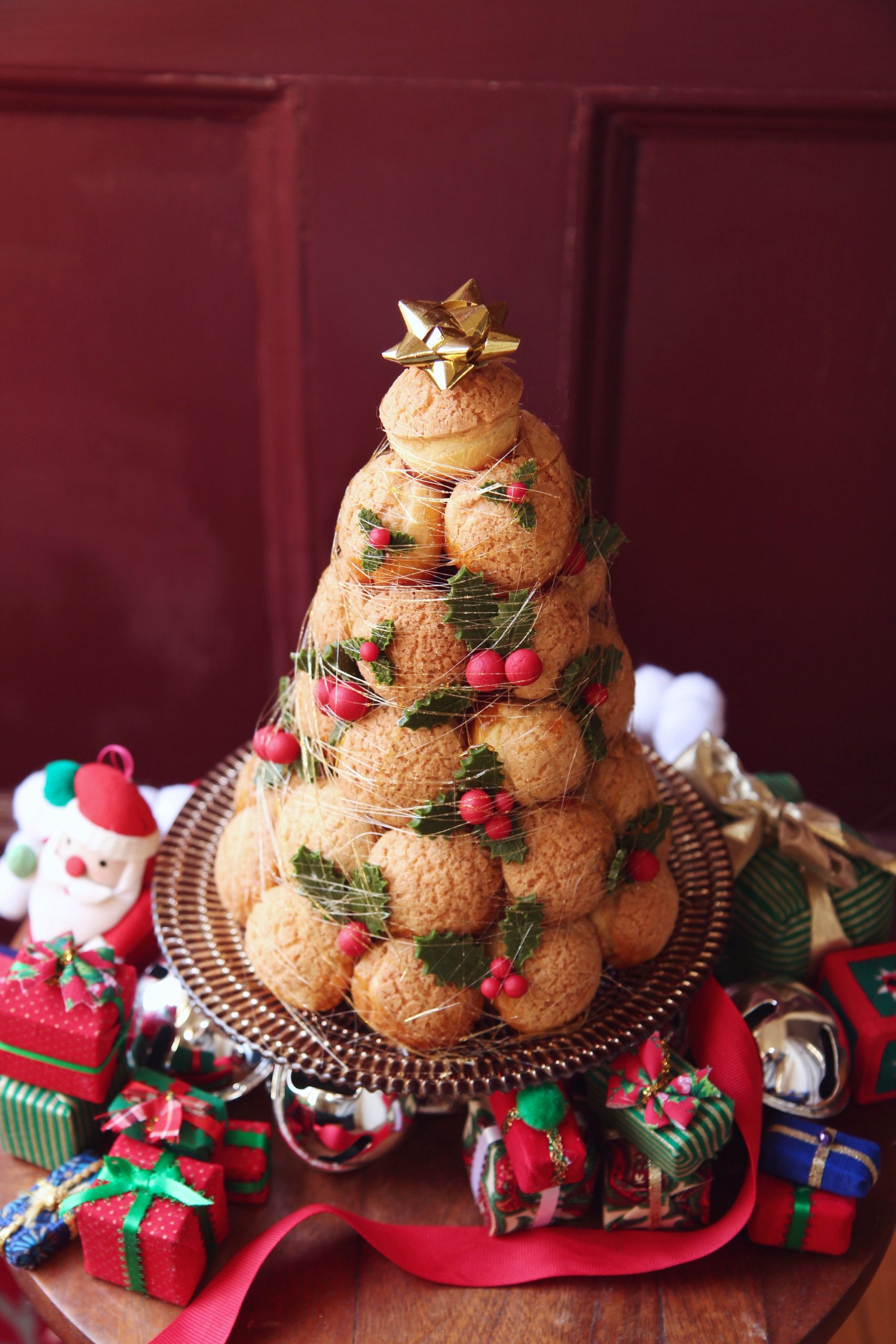 Chestnut, Chocolate, and Cream Croquembouche au Craquelin
Choux au craquelin from The Flavor Bender
makes 1 small croquembouche, about 9 inches tall and 6 inches wide
ingredients:
for the craquelin:
113 grams (4 ounces) unsalted butter
pinch of kosher salt
126 grams (2/3 cup) brown sugar
126 grams (1 cup + 1 tablespoon) AP flour
for the choux puffs:
225 grams (8 ounces) water
113 grams (4 ounces) unsalted butter
145 grams (5 ounces) AP flour
225 grams (8 ounces, about 4, weighed with shell on) eggs
1/2 teaspoon sea salt
15 grams (1 tablespoon) sugar
for the chestnut and chocolate pastry creams:
480 grams (2 cups) whole milk
55 grams (4 tablespoons) unsalted butter
1/2 teaspoon kosher salt
5 large egg yolks
100 grams (1/2 cup) sugar
32 grams (1/4 cup) corn starch
28 grams (2 tablespoons) unsalted butter
75 grams sweetened chestnut paste
50 grams (2 ounces) dark chocolate, chopped
to assemble:
240 grams (1 cup) heavy cream, cold
200 grams (1 cup) sugar
1/2 teaspoon lemon juice
marzipan decorations, if desired
directions:
Make the choux au craquelin: first prepare the craquelin: whip the butter and sugar and salt together until fluffy.
Mix in the flour until a paste forms.
Roll it out between two sheets of parchment to 1/8 inch thick and place in freezer.
Once hardened, cut out 1-inch rounds and keep in freezer.
Meanwhile, make the choux batter: place water, butter, salt, and sugar in a pot over medium heat.
Sift the flour while the butter melts.
When the water comes to a light simmer, dump all the flour in at once and immediately stir with a rubber spatula or a wooden spoon until the flour absorbs the water.
Cook, stirring briskly, until there are no dry patches and little oil droplets are showing up on the bottom of the pan (a spoon should stand up straight when stuck in).
Transfer to a bowl and allow to cool for 10 minutes.
Whisk the eggs together extremely well, until they are entirely homogeneous.
Place in the bowl of a stand mixer fitted with the paddle and begin to mix on low-medium speed.
Slowly stream in the eggs, allowing each addition to fully incorporate.
Stop adding eggs when the dough is pipeable, shiny, and smooth (I used a tiny bit less).
Place in a piping bag fitted with a round tip.
Preheat oven to 375 degrees F.
Onto a baking sheet fitted with parchment paper, pipe 1-inch round dollops.
Top each with a little craquelin disc.
Place in oven and bake for 30-40 minutes, until puffed and dry.
Remove from oven and poke a hole in the bottom; allow to cool completely in the turned off, cooled oven.
Make the pastry cream: heat milk, first measure of butter, and salt in a sauce pot.
Meanwhile, whip egg yolks and sugar in a stand mixer fitted with a whisk.
Once whipped and fluffy, add the cornstarch and continue whipping until no dry pockets remain.
Once milk comes to a simmer, stream in slowly while mixing on medium speed.
Mixture will be thin, but make sure it is homogenous and no lumps remain.
Pour back into the pot and cook over low heat, stirring constantly, until the mixture thickens.
Pour into another bowl and add the chestnut paste, stirring until all combined.
Portion out half of the hot mixture and add it to another bowl with the chopped chocolate.
Once chocolate is melted, whisk the pastry cream together.
Allow to cool with a piece of plastic wrap pressed against the surface.
When ready to assemble, whip 1 cup cream and portion into two.
Fold each portion into the chestnut and chocolate pastry creams.
Fill half of the puffs with chestnut and half with chocolate and arrange by size/shape to help with assembly.
Heat sugar and lemon juice in a small pot over medium heat.
Allow to caramelize without stirring (just shake the pot).
Once it is a dark tan, pour into a smaller bowl.
Dip 2/3 of the edge of each puff, one at a time, into the hot caramel (be very careful) and then place onto the serving dish, making a ring.
Continue stacking each layer like bricks.
Adhere the marzipan decorations using a little dot of caramel.
With whatever caramel remains, use a chopstick (or a fork) to carefully draw long strings of it around the croquembouche.
Serve quickly, because the caramel begins to melt with humidity.